Midleton Gaa, Camogie & Ladies Football Club News
04 December, 2016
Annual General Meeting
The AGM of the Hurling & Football Club will take place on Tuesday next the 6th in the Club @ 7.30pm, all members and intending members are welcome.
Gaa "grma" Programme
Gaa members can now enjoy partner discounts, special offers and earn points for going to games with the grma (go raibh maith agat) programme.
To start benefitting, register now at gaa.ie/grma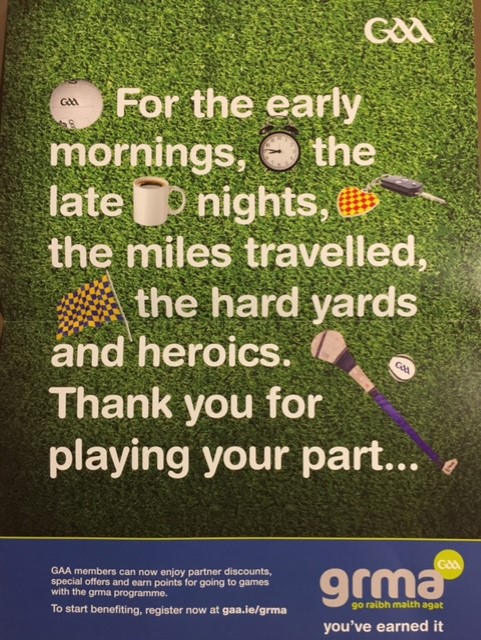 Harty Cup Hurling
A number of our Club players were involved in the Harty Cup last Wednesday, Midleton CBS overcame the challenge of Doon in Charleville by 1-15 to 1-12 with Adam Daly, Sean O'Leary Hayes, Ryan Mc Conville, Sean O Meara (capt.) and Padraig O'Brien were all part of the panel.
At Church Road Blackrock CBC had fine win over St Francis Rochestown by 3-18 to 3-12, Eoin Moloney, Tommy O'Connell (1-08, 4 frees) & Shane Finn were part of the team. Both sides have now qualified for the quarter finals in the New Year.
Ladies Football
Midleton Gaa, Ladies Football and Camogie Clubs are collecting for the SVP Food Appeal. Donations of non-perishable foods can be dropped to the Club shop between 10am and 12noon for the next two Saturdays.

Pitch Maintenance
In the past week the main field has been Sanded and Verti drained, it is hoped the goalmouths will be replaced next week therefore we would request that no activity would take place.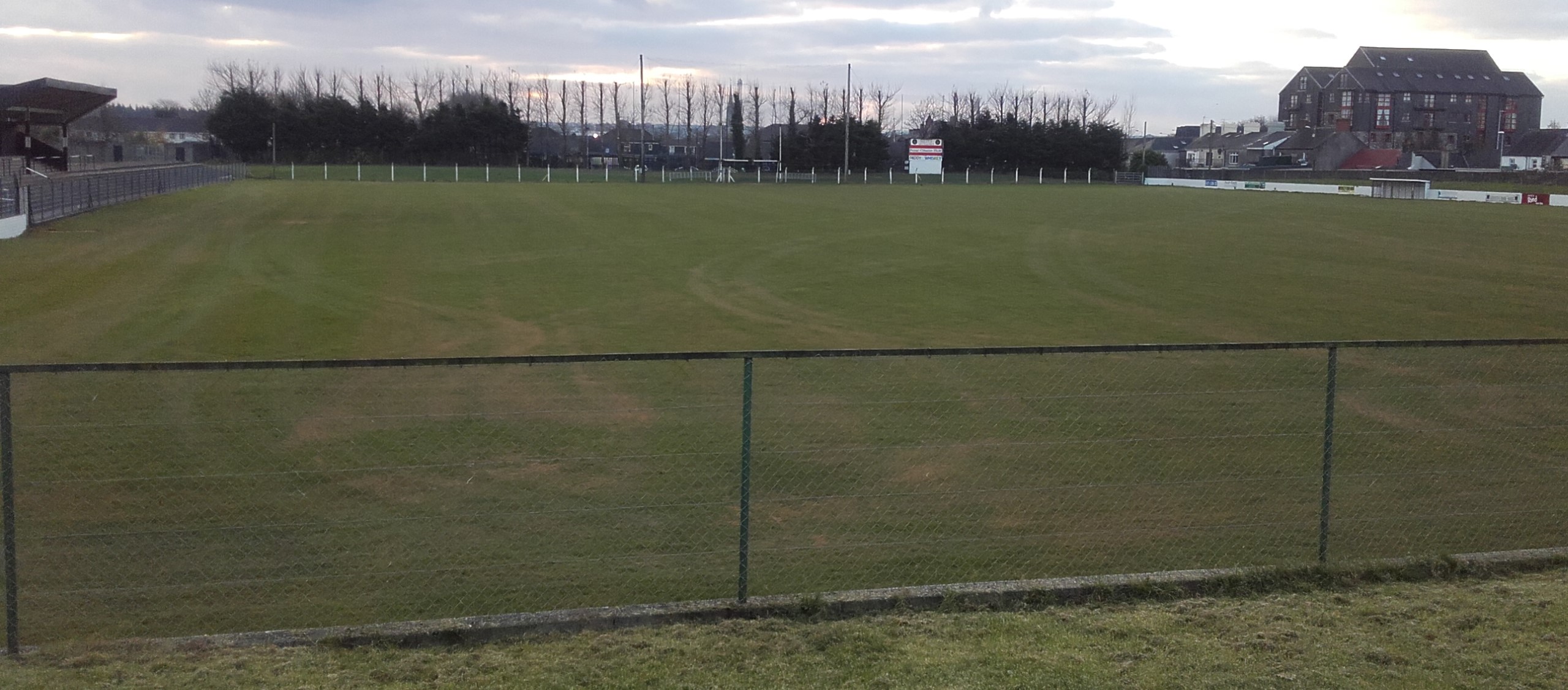 Local History Lecture
'Guerrilla Warfare in Ireland and the Munster Vanguard, 1917-1921' by Dr John Borgonovo School of History UCC on Monday 5th December 2016, 7pm in Midleton GAA Club.
Free Admission, all welcome, following the lecture there will be an information session on UCC's Diploma in Local & Regional Studies.

In his lecture, Dr Borgonovo will explore the development of an armed insurgency in Ireland during the War of Independence, emphasizing the role played by republicans in Munster. The lecture will include images, and a number of maps featured in the forthcoming Atlas of the Irish Revolution.
Dr Borgonovo lectures in the School of History at University College Cork, and is coordinator of UCC's Decade of Centenaries programme. He has published widely on the Irish Revolutionary period and Ireland's First World War experience. His books include, The Dynamics of War and Revolution: Cork City, 1916-1918 (Cork University Press, 2013) and Spies, informers and the 'Anti-Sinn Féin Society': The Intelligence War in Cork City, 1920–1921 (Irish Academic Press, 2007). He is the assistant editor of The Atlas of the Irish Revolution, due for publication in April 2017 by Cork University Press.
The lecture is being hosted by Midleton GAA Club and Adult Continuing Education in UCC. The lecture is free and all are welcome to attend. Following the lecture there will be an short information session on UCC's Diploma in Local and Regional Studies. This two-year part-time course is being offered in Midleton in January 2017. This course, which has been run in many venues across Munster, is being offered in East Cork for the first time.
Hurling great and graduate of the course, John Fenton, stated that "the course gave me the opportunity to pursue my passion for the history of Midleton and East Cork. The lecturers provided wonderful support and guidance throughout and there was a great dynamic in the class, which made it very sociable. I would recommend this course to anyone with an interest in the history and heritage of their local area." Lectures will take place on Thursday evenings from 6.30 – 9.30pm in Midleton, while there will be seminars in UCC and fieldtrips on some Saturdays.
The modules being taught in year one includes: Celtic Ireland; Studying Folklore: The Sayings and Doings of Common People; Historical Geography; and Aspects of Modern Irish History. Year two will include modules in: Local Food Studies: History, Tradition and Identity; and the Irish Medieval Church; but will primarily consist of a supervised research project, where people will have the opportunity to research an aspect of local history that particularly interests them.
Further information and application details can be found at https://www.ucc.ie/en/ace-dlrs/
or by calling Dr Griffin Murray at 021 4904731. The cost of the course is €1,250 per annum and the closing date for applications is the 16 December 2016.
Adult Continuing Education, University College Cork, The Laurels, Western Road, Cork
T: 021 4904731 E: g.murray@ucc.ie W:www.ucc.ie/en/ace/
Lotto
Our Lotto Jackpot was €7,200, there was no winner, the numbers were 3,9,12 & 17, the Lucky Dip winners were William Wallace, Caroline Wallace, Carol O Brien, Alanah Waters & Pat Tobin, next week's Jackpot will be €7,400.
Tickets are on sale at the Club Bar, O'Neills Bar, Linehan's Bar, Maple Leaf Bar, O' Farrell's Butchers, Frank Murphy Butchers, Pat Walsh Paints, Chadwicks, Teach Beag & Niall Mac's Bars.
BINGO takes place each Friday evening at 8pm in the GAA Pavilion with a weekly guaranteed Jackpot of €1,000.
Juvenile
Annual General Meeting
Our AGM was held last Thursday night 1st Dec. The meeting was very well attended at the GAA Pavilion. Chairman, Cormac Quirke gave an overview of progress, on and off the field, during the year in 2016. The Club, he said, contested and competed well in all competitions, winning trophies along the way including Fe 13 Premier 1, C3 and Autumn Hurling Leagues, Fe 14 Premier 1 Hurling League, Premier 1 Challenge Cup & Regional Feile Winners. Our Fe 16 Hurlers won the Premier 1 Hurling Championship and League double. The Fe 15's had just been pipped by one point in both the Premier 1 Hurling Championship Semi Final and also in the Hurling League final. Participation at all levels of the Club had been tremendous during the year with the younger age groups from Fe 6 up taking part in the Go Games format and in many Blitzes, Cul Camp, Easter Camp and Street Leagues. The Juvenile Club he said "was well structured" with the addition of new personnel to the Juvenile Committee. We've "achieved a lot off the field as well", he said, "catering for 430 boys and 76 coaches".
All meetings of the Committee throughout the year had been fully attended, which showed great participation. Great strides had been made in many areas including, Coaching, Membership Registration, Coaches Vetting and Child Protection and Awareness.
Each member of the Committee gave their end of year reports as did each Team Manager.
Cormac thanked all of those who had contributed to the success and workings of the Juvenile Club in the course of the year, including, Sponsors, Players, Parents, Coaches, Committee Members, Senior Club and local Schools that had made their facilities available to the Club. On behalf of the Juvenile Club, the Chairman also expressed deepest sympathies to the families of all club members that passed away this year.
Senior Club PRO Coleman Quirke presided over the election of Officers for 2017 and the following were elected (subject to Senior Club approval). Cormac Quirke (Chairman), Willie Lawton (Vice Chairman), Liam Wade (Secretary), Michael Carroll (Assistant Secretary), Mary Quinn (Treasurer), Ruth Walsh (Registrar & PRO).
As normal the appointments of Coaching Officer and Children's Officer will be sorted by the Senior Club whose AGM is scheduled for next Tuesday 6th.
Christmas Food Appeal in conjunction with St. Vincent De Paul
The Midleton GAA Clubs are holding a Christmas Food Appeal in aid of St. Vincent De Paul this Christmas. The food appeal has been running for the past 2 weeks. The final weekend of donations is next weekend December 10th.
We would like to sincerely thank all of those who have already donated to this food appeal.
Donations can be made next weekend, Saturday December 10th from 10am to 12noon at the club shop or alternatively donations can be brought along to the Juvenile social on December 10th at 7pm.
Juvenile Christmas Draw
The Juvenile Christmas Draw will take place in the Club bar at 9pm Saturday December 10th. Tickets are on sale and can be purchased from any team manager or at the Club Bar. Music & refreshments will be served in the bar at 9.30pm. We would ask that all sold and unsold tickets are returned to team managers or to the club. Please support this very important fundraiser.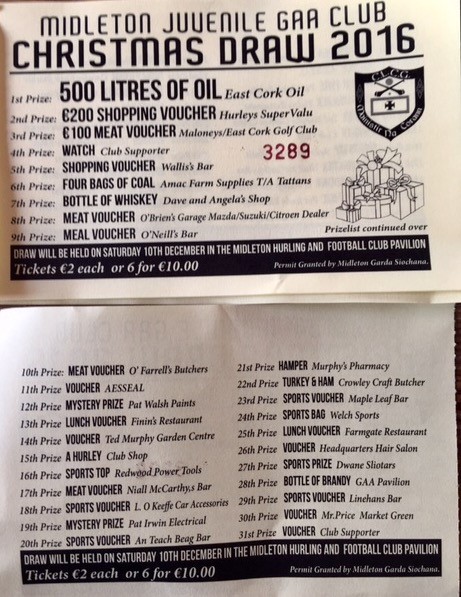 Juvenile Christmas Social for Junior Infants to Fe9
On Saturday last we had a Christmas party for the junior infants to under 9s age groups.
We had a great turnout out of players from each of the age groups and from the parents and families. Good fun was had by all and with some great dancers on show during the disco. Thanks to all the lads and parents for a all their commitment during the year and very best wishes for the Christmas from the Midleton GAA club juvenile club.
Enjoy the holidays lads, keep practising and maybe ask Santa for some new magpie gear.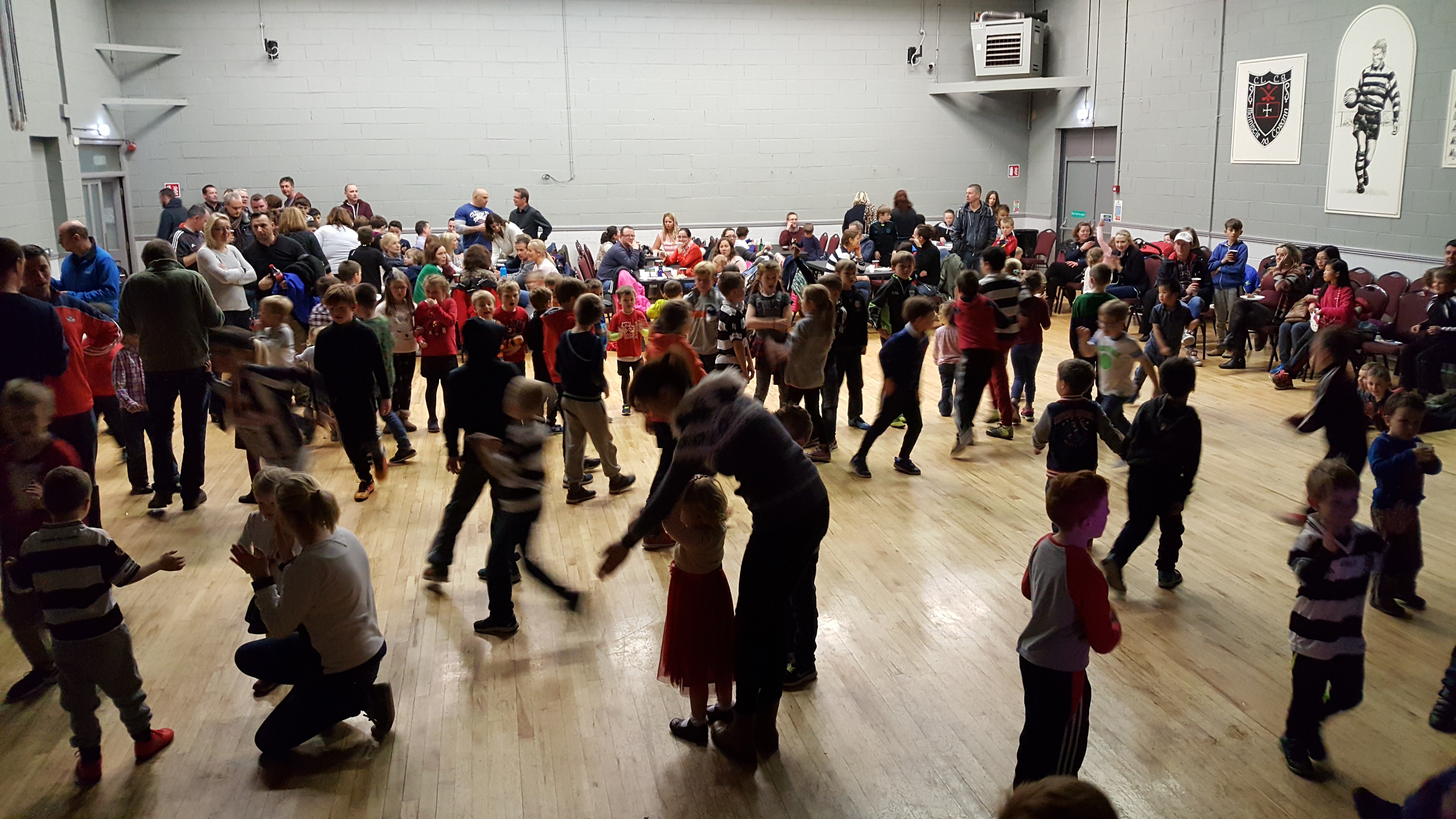 Juvenile Christmas Social for Fe10 – Fe16 Players
The annual Juvenile Social will take place on Saturday December 10th in Midleton GAA Club at 7pm. All Fe10 – Fe16 players and families are invited to attend. Light refreshment's will be served to players on arrival. Team presentation of medals for competitions won during the year together with the most improved player of the year awards for Fe11-Fe16 players will be made on the night.
Club Shop
The Club Shop is open on Saturday next from 10 to 12 selling Club gear, please note that we cuurently have a bargain rail available and that Orders for Xmas need to be in early to avoid any disapointment.