Midleton GAA , Camogie & Ladies Football Club News
27 November, 2016
Anniversary Celebrations
There was a fine crowd last Friday evening in the Club where a number of teams and individuals were honoured, the 25th Anniversary of 1991 Cork County Senior Hurling Champions, the 50th Anniversary 1966 All Ireland Senior Hurling Champions 1966 Fe 21 All Ireland Hurling Champions and All Ireland Minor runners up and the 100th Anniversary 1916 Cork County Senior Hurling Champions.
Chairman Liam Ryan welcomed everybody, PRO Coleman Quirke introduced the 1991 and 1966 players and John Fenton introduced the 1916 players giving a great insight into the players of 100 years ago. Presentations of Silver tie pins designed by Kathyrn Smyth Jewellery were made to Paddy Fitzgerald, Paddy O'Sullivan, Mrs Anne O'Neill (representing her late husband Michael), Willie Glavin and Tom Hogan (representing his brother Frank).
Copies of the book "A History of the GAA in Midleton" were presented to members of the 1916 player's family's. Thanks to everyone who contributed to a memorable night.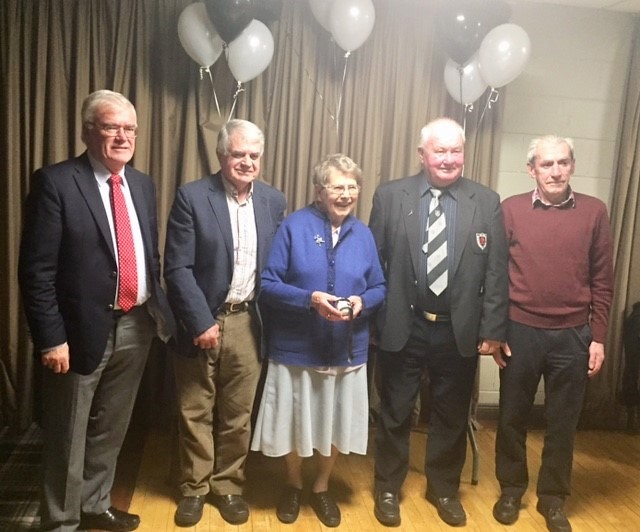 Willie Glavin, Paddy O'Sullivan, Mrs Ann O'Neill, Paddy Fitzgerald & Tom Hogan
On Tuesday last the 22nd some club members following an invitation from Shamrocks GAA Club travelled to Shanbally, Ringaskiddy to commemorate the 1916 Cork County Senior hurling final when we narrowly overcame the Shamrocks team. John Twomey representing the Shamrocks spoke about the players of the time and presented Paddy Fitzgerald representing the Club with a Silver plaque on an Oak base manufactured from 200 year old wood from the Midleton Distillery. In return John Fenton presented a 1916 runners up medal in a frame to the Shamrock Club, many thanks to them for their hospitality on the night.
Ladies Football
Midleton Gaa, Ladies Football and Camogie Clubs are collecting for the SVP Food Appeal. Donations of non-perishable foods can be dropped to the Club shop between 10am and 12noon for the next three Saturdays.
Training for all age groups continues this week. Our U8's are in the Community Centre from 6-7pm while all other age groups are at the hockey pitch from 7-8pm.
For those who are training outdoors please wrap up well girls during the current cold spell. We will take our break from training in December. A text message will inform all Parents of the dates. Please keep an eye on Facebook for all Club news.
Condolences
The Club Executive would like to offer their sincere condolences to the family of the late Risteard Moore who passed away recently.
Diploma in Local and Regional Studies
UCC's highly successful Diploma in Local and Regional Studies, is being offered in Midleton in January 2017.
The programme is taught over two years. Lectures will take place on Thursday evenings from 6.30 – 9.30pm in Midleton, while there will be seminars in UCC and fieldtrips on some Saturdays. The modules being taught in Midleton are as follows:
Year 1: Celtic Ireland (5 credits), Studying Folklore: The Sayings and Doings of Common People (10 credits), Historical Geography (5 credits), Aspects of Modern Irish History (10 credits).
Year 2: Local Food Studies: History, Tradition and Identity (5 credits), The Irish Medieval Church (5 credits), Research Skills for Local and Regional Studies (5 credits), Local and Regional Studies Research Project (15 credits).
Further information and application details can be found at https://www.ucc.ie/en/ace-dlrs/
If you have any further questions, please don't hesitate to get in touch. The closing date for online applications is the 16 December 2016. Paper applications are also accepted.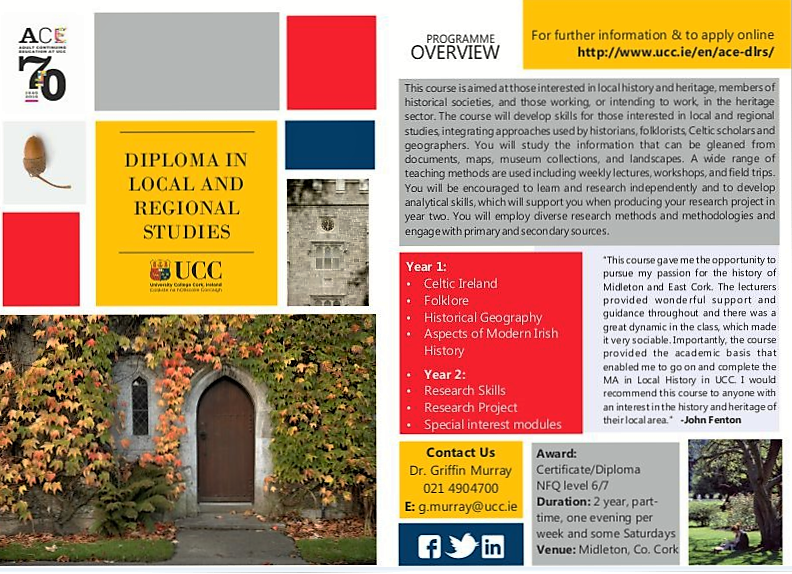 Lotto
Our Lotto Jackpot was €7,000, there was no winner, the numbers were 10,11,16 & 18, the Lucky Dip winners were Jerry O'Farrell, Kieran Murphy, Sasha Hallissey, David O'Brien Snr & Maura Deady, next week's Jackpot will be €7,200.
Tickets are on sale at the Club Bar, O'Neills Bar, Linehan's Bar, Maple Leaf Bar, O' Farrell's Butchers, Frank Murphy Butchers, Pat Walsh Paints, Chadwicks, Teach Beag & Niall Mac's Bars.
BINGO takes place each Friday evening at 8pm in the GAA Pavilion with a weekly guaranteed Jackpot of €1,000.
Juvenile
Fe 11


Fe 15
We were in Ballinlough on Saturday for the Fe15 Premier 1 Hurling League final.
The opposition was Sarsfields and based on previous games we knew from the off that this would be a battle from start to finish. In what was a low scoring first half Sars got off to the better start and went up by two points. To our credit we kept up our work rate and got back on level terms shortly after. It was nip and tuck for the rest of the half but Sars had the edge by one point at the break. The second half was more of the same with little between the teams. In the last quarter they seemed to be getting the upper hand but to the credit of our lads they kept to their task and frustrated the Sars attack. The one point lead in the first half was the difference between the teams at the end with Sars winning by 10 points to our 9 points.
In what was a disappointing end to the year it is important to remember what great strides this team made in the last 12 months. The obvious progress in the skill level shows the amount of hard work they lads have put in. Well done to all and to their parents for their support over the last year. Here's to 2017 and a big effort for what will be the lads last year as juveniles.
Team: Alex Quirke, Leo Hennessy, Jack Fitzgerald, Patrick Kane, David Scanlon, Christian Murphy, Charlie Walsh, Ethan Daly, Samuel Quirke, Gary Carroll, Aaron Mulcahy, Dan O'Sullivan, Tim O'Sullivan, Cian Crowley, Paul Connaghton, Ryan Cahill, Gavin Reddy, Rory Donegan, Adam Meade & Frank O'Brien.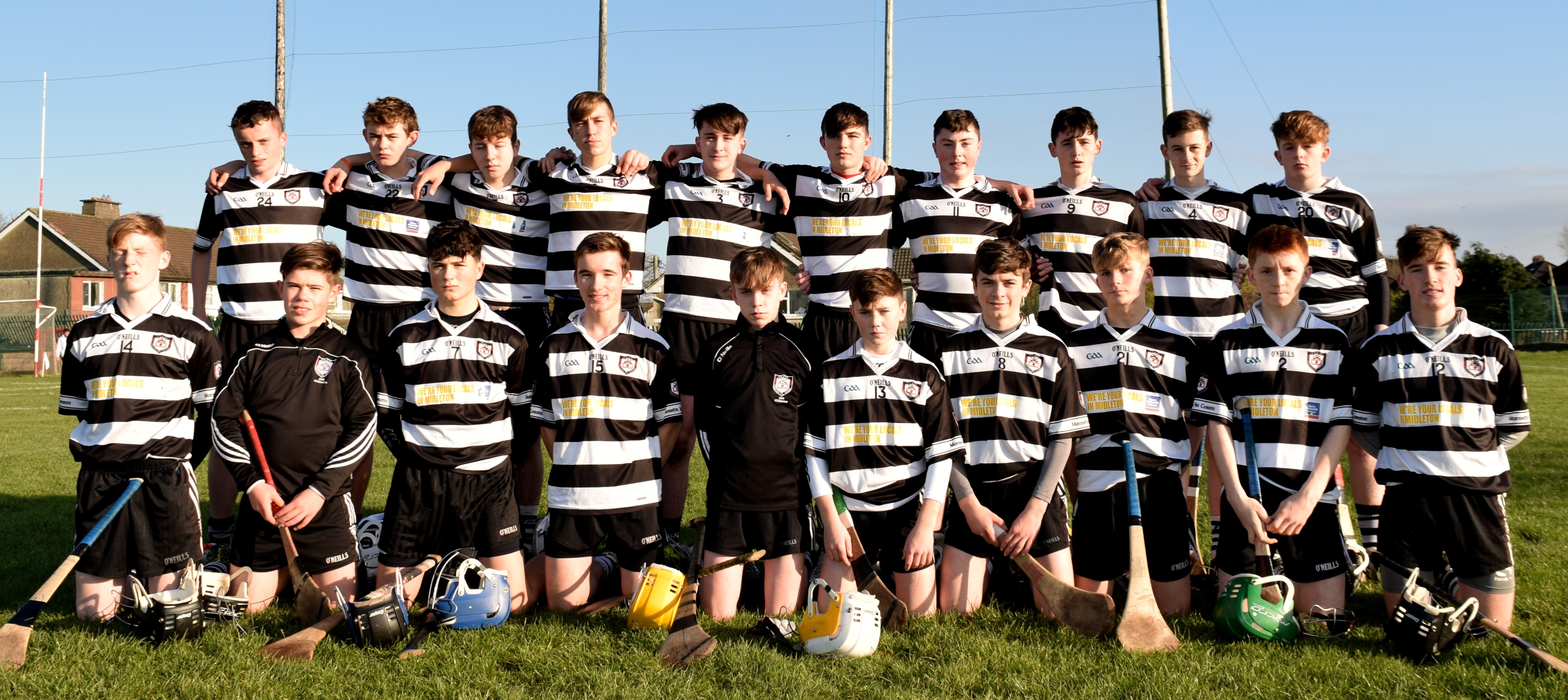 Annual General Meeting
The AGM of the Juvenile Club will take place next Thursday the 1st of December @ 7.30pm in the GAA Club.
Christmas Food Appeal in conjunction with St. Vincent De Paul
The Midleton GAA Adult & Juvenile Club, Midleton Ladies Football & Midleton Camogie Club are holding a Christmas Food Appeal in aid of St. Vincent De Paul this Christmas. Donations of non-perishable food items can be dropped into the Club Shop on Saturday the 26th of November, Saturday the 3rd of December and Saturday the 10th of December. Donations can also be brought along on the evenings of the Christmas Juvenile Socials. All donations received will be distributed locally within the community.
If you are in a position to do so please support this very worthy cause.
Award 1 Course Training Course
An Award 1 Course is arranged to take place in Midleton CBS Secondary School on December 3rd, 10th & 17th from 10am to 5pm. Only coaches who have received their Foundation certificates are eligible to progress to Award 1 training.
http://rebelogcoaching.com/coaching-courses/award-1-courses/award-1-course-payment/
Xmas Draw
The Juvenile Club Christmas Draw tickets are now on sale and can be purchased from any team manager and at the Club Bar, please support this important fundraiser. The draw takes place December 10th
Juvenile Christmas Underage Social Dates
Junior Infants, Fe6 – Fe9 Players December 3rd in Midleton GAA Club at 4pm
Fe10-Fe16 December 10th in Midleton GAA Club at 7pm, followed by Juvenile Christmas Draw in the lounge at 9pm.
Club Shop
The Club Shop is open on Saturday next from 10 to 12 selling flags and Club gear, please note that we cuurently have a bargain rail available and that Orders for Xmas need to be in early to avoid any disaapointment.