Midleton GAA , Camogie & Ladies Football Club News
20 November, 2016
Reardens Allstars
The fifth Reardens All-Stars will be held on Tuesday, December 6, and GAA supporters from Leeside are welcome to attend the increasingly popular event. A club Hurler and Footballer of the Year will be announced along with the All-Star teams on the night, as well as a Ladies Footballer of the Year and a Camogie Player of the Year.
Congrats to our players who have been nominated for these awards;
Finbarr O'Mahony, Aidan Ryan, Killian Burke, Paul Haughney Conor Lehane & Luke O'Farrell.
Senior Club breakdown: Glen Rovers 12, Erin's Own 8, Midleton 6, Douglas 5, Bishopstown 5, St Finbarr's 4, Imokilly 3, Sarsfields 2, Bride Rovers 2, Ballyhea 1, Blackrock 1.
Anniversary Celebrations
The club has accepted an offer from Shamrocks GAA club (Shanbally) to visit them to commemorate the 1916 Cork County Senior hurling final when Midleton narrowly overcame the Shamrocks team. The visit will take place on Tuesday next from 8pm to 10.30pm in the Ferry Boat Inn in Ringaskiddy. The club would like to invite any and all interested parties to attend this celebration particularly any family members of the 1916 team.
The Executive of the Midleton Hurling & Football Club will honour a number of Teams and Individuals whom are celebrating Anniversary's this year at the Gaa Club on Friday 25th November @ 8.30pm. The Teams & Individuals which will be honoured are;
25th Anniversary – 1991 Cork County Senior Hurling Champions
50th Anniversary – 1966 Cork All Ireland Senior Hurling Champions – Paddy Fitzgerald, 1966 Cork Fe 21 All Ireland Hurling Champions – Paddy O'Sullivan & Michael O'Neill (RIP Selector) & Cork All Ireland Minor runners up – Willie Glavin and Frankie Hogan.
100th Anniversary – 1916 Cork County Senior Hurling Champions
There will be light food and refreshments on the night.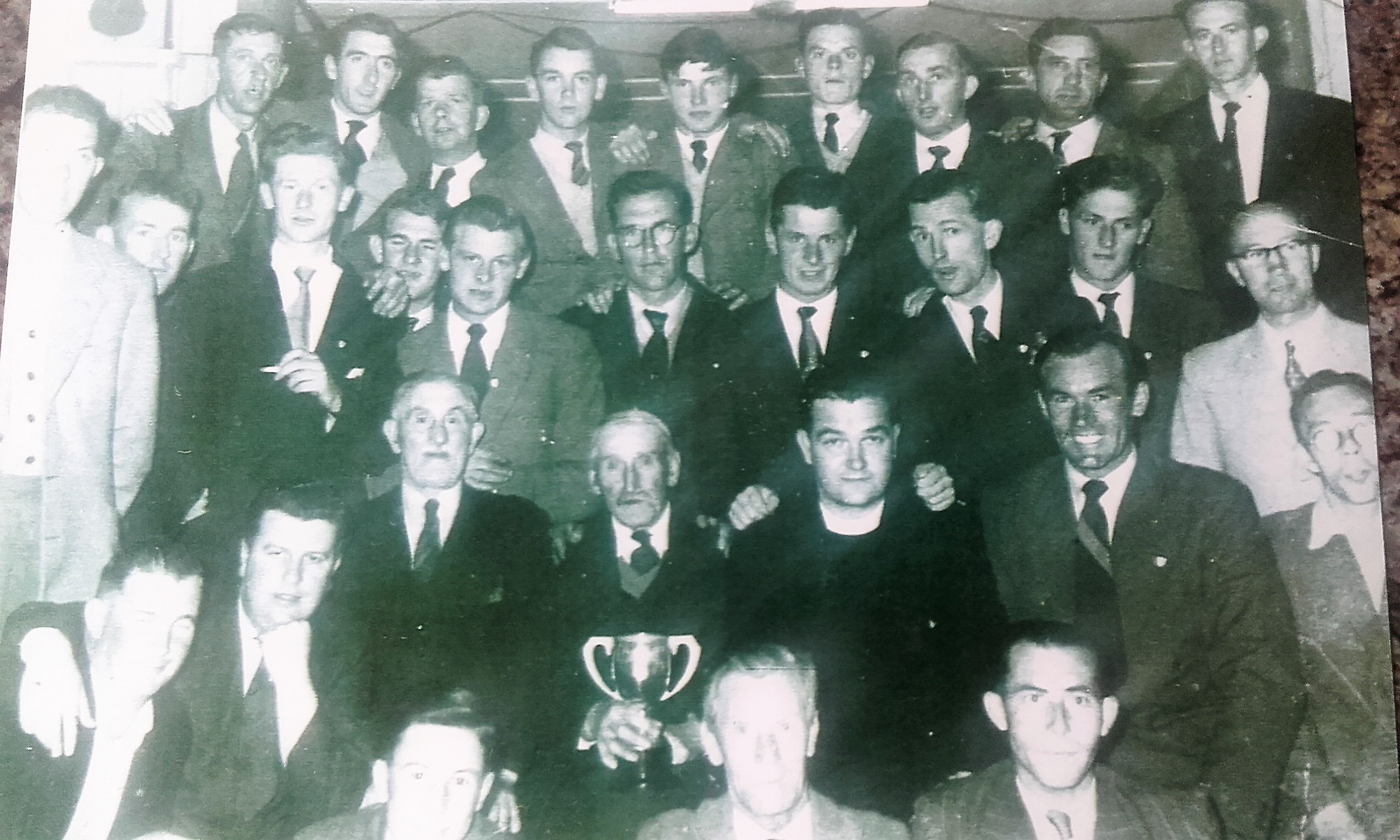 Club members at the Town Hall in the late 50's
Field Maintenance
Work on re sodding the goalmouths, verti draining and sanding of the field will start as soon as weather permits. As soon as this work commences the field will be closed to all activities until next March to allow the sods to blend in.
Scór
If anyone wishes to represent the club in any of the following competitions on Sunday 26th next in Lisgoold please contact any Club officer as soon as possible.
Figure Dancing, Leiriú, Solo Singing, Ceol Uirlise, Aithriseoireacht/Scéalaíocht, Rince Seit, Ballad Ghrúpa & Trath na gCeisteanna Boird. (Shorter Divisional just 50 Q's)
Camogie
Thanks to all who attended our AGM on November 14th where an overview of the year gone was outlined in the chairpersons and secretary report. Our membership increased by 30% on the previous year with players training playing and competing from under 6 to under 15. Training continued throughout the year from February to November inclusive with the Under 12's - Under15's training twice a week. The club participated in Go- Games up to and including U10 and competitive league in U12, U13, U14, and U15. We look forward to participating at U16 level in 2017. We currently have girls representing Midleton on both Imokilly and Cork Panels at U13, U14, U15 levels which is a great achievement for a cub in its 3rd year in existence.
This year we held a very successful summer camp, participated in what have become an annual fixture in Midleton's calendar, the Veronica Stack Memorial Tournament in Killarney and held our own inaugural Clonmult Cup and Shield Tournament, a mixed age tournament for u12-u15's . Currently our U13-U15 are taking part in a physical development programme this will continue for another four weeks.
It wasn't all hard work in 2016... off the field we participated in the St Patricks day parade, hosted an open training session for Cork Senior Camogie Team, travelled again to Croke Park for the All Ireland Camogie Final, all age groups were invited to attend a team building afternoon at East Cork Adventure centre and we are looking forward to end of year social. There was also a significant increase in our number of coaches this year, we would like to thank them for their time and commitment to the girls and to the development of the club. As the numbers of players grow we will need even more help on the coaching front any parents who would like to help out are most welcome and can contact any of the current coaches or committee to express their interest. Over the winter month we will be organising coaching courses and workshops.
We would like to thank Midleton GAA Club for the continued support we receive including the use of all the facilities without this we would not be able to provide Camogie to the girls of Midleton. We would like to thank Arthur Murphy who steps down from position on vice chair for the coming year and acknowledge his contribution to the committee in the past year. The following club officers are elected for the coming year:
Chairperson: Denis Kelleher, Vice Chairperson: Stephen Ivers, Secretary: Darina Foley, Assistant Secretary: Brian Gleeson, PRO Sheila Kelly, Treasurer: Rachel Walsh, Registrar: Shirley Garde, County Board Delegate: Keith Griffin . The Children's Welfare Officer and Coaching Officer are both positions that are appointed by the committee rather than elected and will be appointed at the next committee meeting. We register for 2017 in mid January. Follow us on facebook and twitter, any inquiries to 087 6222916.
Ladies Football
Midleton to contest East Cork Minor Plate Final
After a pulsating semi-final against Rockban played in Whitechurch this Saturday, the Midleton overcame a tough challenge from a very good Rockban footballing team.
Midleton 11:07 v Rockban 5:12
As Rockban had only 12 players, we had to reorganise the team and matched their 12. This was a fabulous game of football played in near perfect conditions. This game was much closer than the scoreline suggests. We went behind by 1:3 to 1 point in the first fifteen minutes with Rockban playing some great attacking football, and only for Kate Mary between the posts could have been much worst. She disrupted the Rockban attack on several occasions. We found it difficult to cover back from their kickouts. As the game progressed we begun to find our way and started to get a hold on the game. A great goal from Rayanna brought us into the game and went in at the break one point up. Midleton 3:4 v Rockban 2:6
The second half was very much nip and tuck we were dominant in the first ten and last ten minutes with Rockban controlling the middle ten. In Rockbans period of dominance they brought a four goal deficit back to a single goal. Moving Abby to full forward turned the game in Midleton's favour and a couple of goals in that period saw us through.
This was a game played in a very sporting competitive manner with both teams giving it their all. The reward for us is a place in this year's final which is provisionally fixed for Wed 23th November in Killeagh against Inch. This will be a repeat of last year's final where we were well beaten. But one never knows how a final goes, it will be a good way to end the season.
Team: Kate-Mary Cullinane, Ciara Stack, Caoimhe Morrison, Ellen Ryan, Lizzie Phiri, Deirdre Corcoran, Lucy Wallace, Síomha Walsh, Abby Quirke, Sadhbh Beausang, Rhea Buckley, Molly Beausang, Laura O'Leary, Ali Smith, Rayanna Power, Lucy Kenneally & Roisín O'Callaghan.
Reminder that the Ladies Football AGM is on Wednesday Nov 30th at 7.30pm in the Midleton Gaa Club. All Parents are most welcome to attend.
Training continues for all age groups. U8's are in the Community Centre from 6-7pm while the U10's upwards are at the Hockey Pitch from 7-8pm.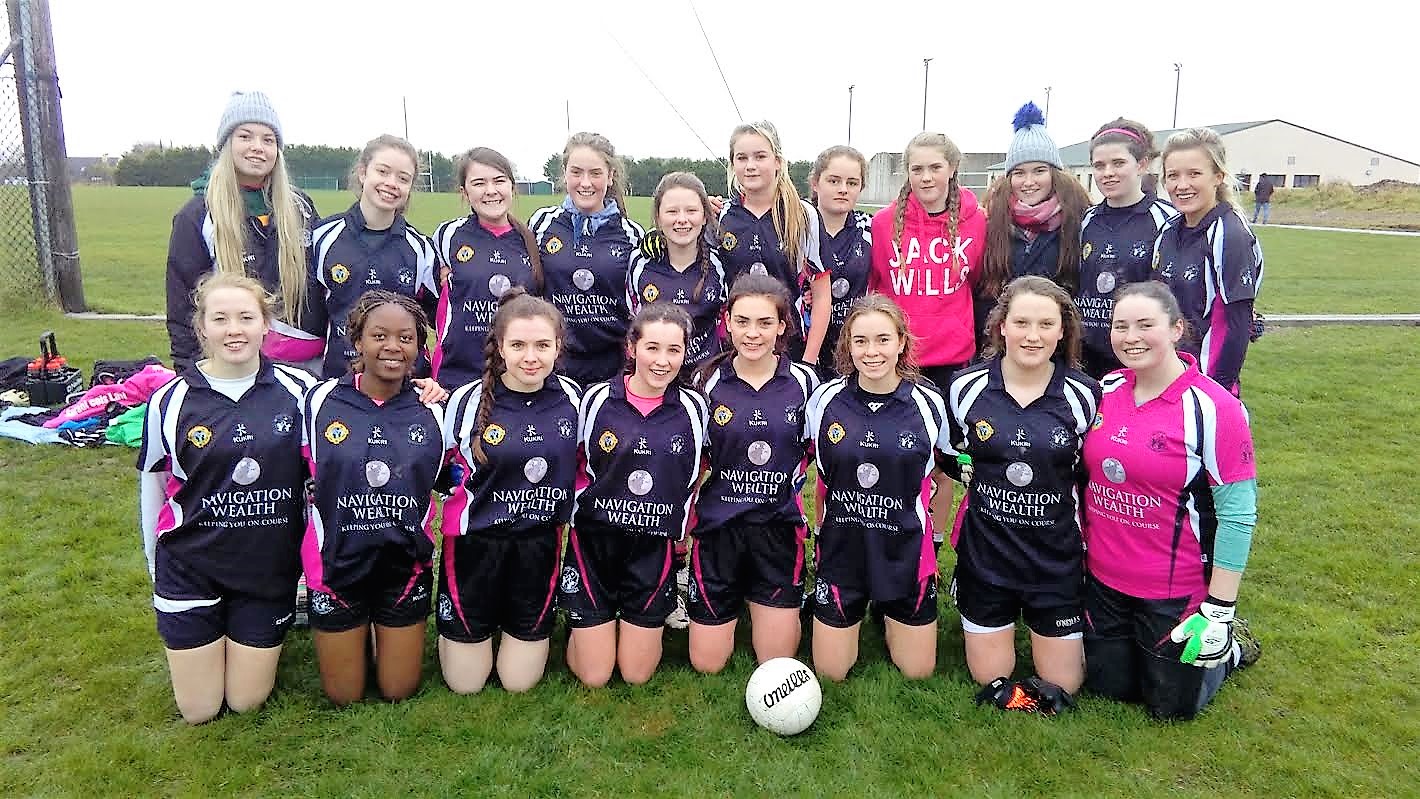 Healthy Club Project
On Saturday 19th of November the Cork County Board Health & Wellbeing Committee held a very successful Forum in St Finbarr's Hurling & Football Club. The reoccurring theme for the day was "community". GAA President Aogán Ó Fearghaíl spoke about the importance of the GAA within communities, he said the GAA is all about people and that is why Ireland is the only country in the world where the native sport is the choice of the majority, he said people matter and that is why we must look after our health and wellbeing. The four Cork Healthy Clubs Midleton, St Finbarr's, Killeagh and Castlehaven gave a brief presentation on their Healthy Club Project journey thus far. Majella Canty gave a talk on the Samaritans who are GAA partners, she said that "life is worth talking about and there is always someone to talk to". The Samaritans can be contacted 24/7 on 116123 – this is a free phone number. Aoife O'Brien representing the National Health & Wellbeing Committee informed the forum that the healthy club project was awarded for Corporate Social Responsibility at the Sports Industry Awards. The forum finished with talks from Conor Cusack who spoke very passionately about emotional well-being and Tracy Kennedy gave an emotional and extremely honest talk on her own personal health challenge. Congratulations to Janas Harrington and the Cork County Board team for a organising such a great event.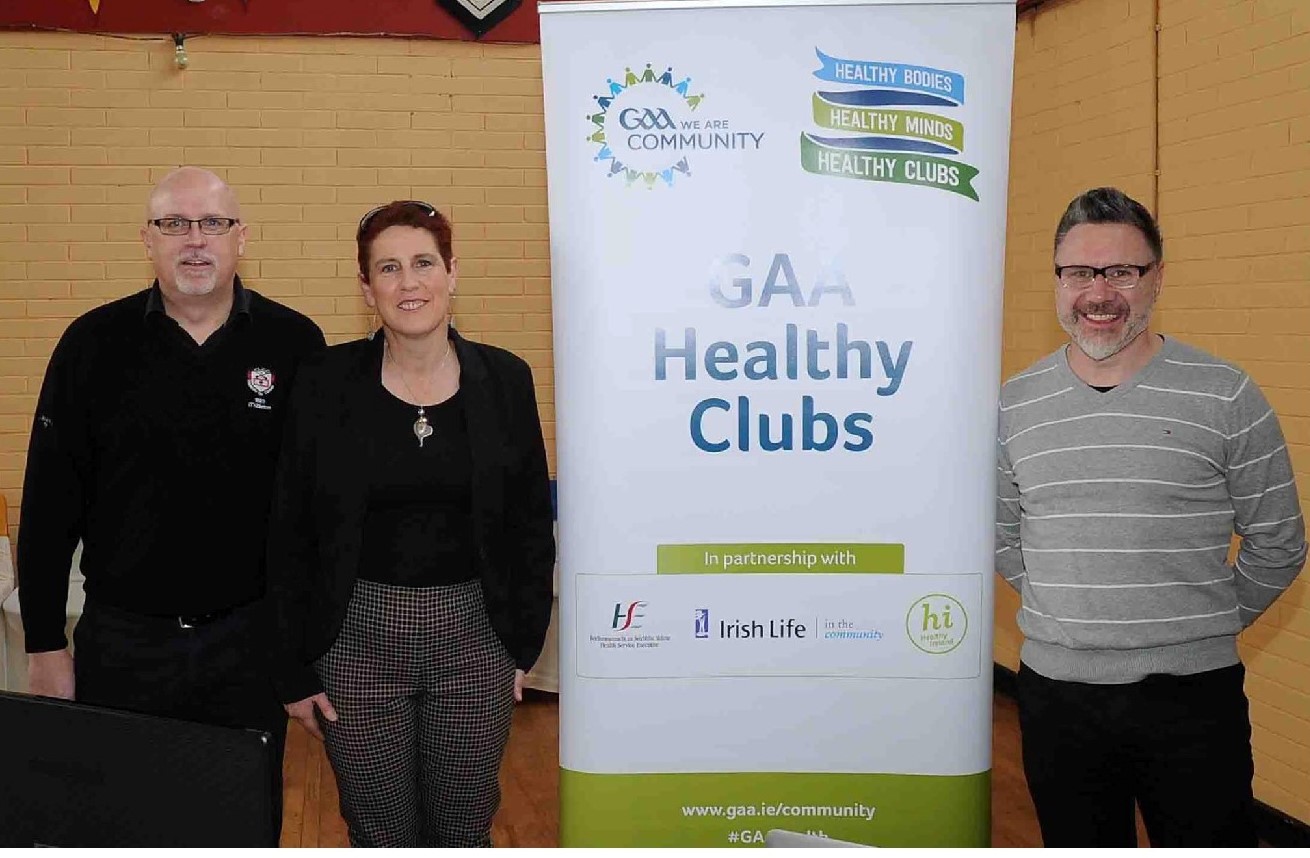 Vincent Reddy, Mairead Beausang & Paul O'Meara
Dementia/Alzheimer's Awareness Seminar
Oaklodge Nursing Home in conjunction with Midleton GAA Healthy Club Project will hold a short seminar in Midleton Park Hotel on Dementia/Alzheimer's Awareness presented by Dr Mark Tyrrell (Director of Nursing Oaklodge Nursing Home) Wednesday 23rd November in Midleton Park Hotel at 8pm. This is a free event all welcome!
Condolences
The Club Executive would like to offer their sincere condolences to the family of the late Sister Marciana O'Keeffe late of Ardfoyle Convent, Blackrock and Midleton.
Lotto
Our Lotto Jackpot was €6,800, there was no winner, the numbers were 5,9,13 & 22, the Lucky Dip winners were Dee Geary, Mary Lordam, Antoniette Scully, Clare Mc Grath & Maura Deady, next week's Jackpot will be €7,000.
Tickets are on sale at the Club Bar, O'Neills Bar, Linehan's Bar, Maple Leaf Bar, O' Farrell's Butchers, Frank Murphy Butchers, Pat Walsh Paints, Chadwicks, Teach Beag & Niall Mac's Bars.
BINGO takes place each Friday evening at 8pm in the GAA Pavilion with a weekly guaranteed Jackpot of €1,000.
Juvenile
Fe 13
Fe13s Season Summary: We had our final get together for the 2016 season last Wednesday night when we gathered for a training session at Midleton's Pairc Ui Clonmult. This panel of Young Magpies have had a very enjoyable year; their dedication, discipline, and all round approach to the season has made it very easy for their coaches and they have been great ambassadors for our club. We have had superb player numbers at all of our training sessions and games throughout a long season. This panel has also been fortunate enough to collect some silverware along the way…
Hurling: We participated in three hurling competitions. The Fe 13 Premier 1 Hurling League, the Premier C Hurling League and the Autumn Hurling League. With some skill, commitment and a little bit of luck we came out on top in all three competitions. I will not single out any one player as each and every member of the panel contributed in a big way to our success in hurling. In the finals we overcame Douglas, Ballincollig and Ballygarvan. Football: We participated in two football competitions. The Fe 13 Premier 1 Football League and the Autumn Football League. We have had some significant wins throughout the year; beating Nemo Rangers in Trabeg and Douglas at home are the ones that come to mind. A number of games were lost in both leagues by just one score and as a result of these we were unlucky in both competitions not to qualify for the semi-finals. Steady progress has been made in football and we will continue to aim high…
In Summary: We as coaches (Gerry Smyth, Pierce McCarthy, Conor Murray, David Codd, Pat Hartnett, Vincent O'Neill) want to thank the players and their parents for their support throughout the year. Finally, just to let you know plans are already being put in place for what I'm sure will be another enjoyable year in 2017…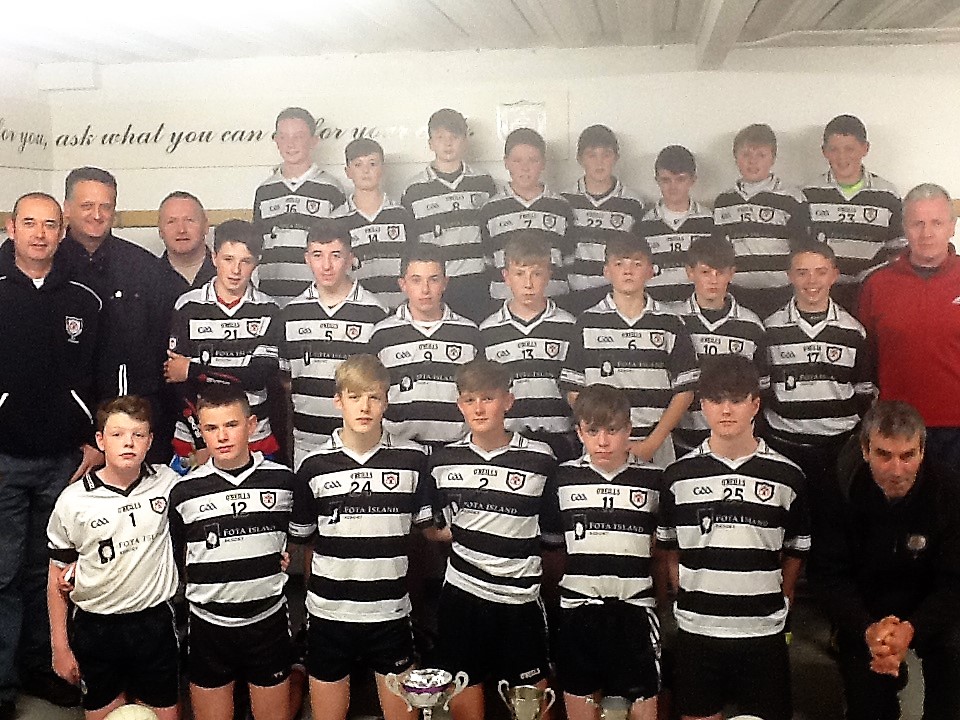 Christmas Food Appeal in conjunction with St. Vincent De Paul
The Midleton GAA Adult & Juvenile Club, Midleton Ladies Football & Midleton Camogie Club are holding a Christmas Food Appeal in aid of St. Vincent De Paul this Christmas. Donations of non-perishable food items can be dropped into the Club Shop on Saturday the 26th of November, Saturday the 3rd of December and Saturday the 10th of December. Donations can also be brought along on the evenings of the Christmas Juvenile Socials. All donations received will be distributed locally within the community.
If you are in a position to do so please support this very worthy cause.
6 Week - Youth Physical Development Programme
The club would like to express our sincere thanks to Orlagh Farmer who concluded our six Week Youth Physical Development Programme in the ball alley last Monday night. The players involved thoroughly enjoyed it. Details of the programme and all the exercise videos have been uploaded to the coaching corner on the club website.
Award 1 Course Training Course
An Award 1 Course is arranged to take place in Midleton CBS Secondary School on December 3rd, 10th & 17th from 10am to 5pm. Only coaches who have received their Foundation certificates are eligible to progress to Award 1 training.
http://rebelogcoaching.com/coaching-courses/award-1-courses/award-1-course-payment/
Xmas Draw
The Juvenile Club Christmas Draw tickets are now on sale and can be purchased from any team manager and at the Club Bar, please support this important fundraiser. The draw takes place December 10th.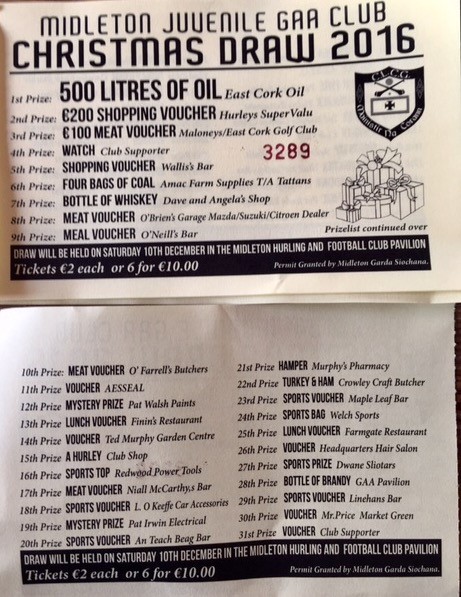 Juvenile Christmas Underage Social Dates
Junior Infants, Fe6 – Fe9 Players December 3rd in Midleton GAA Club at 4pm
Fe10-Fe16 December 10th in Midleton GAA Club at 7pm, followed by Juvenile Christmas Draw in the lounge at 9pm.
Club Shop
The Club Shop is open on Saturday next from 10 to 12 selling flags and Club gear, please note that we cuurently have a bargain rail available and that Orders for Xmas need to be in early to avoid any disaapointment.