Midleton GAA , Camogie & Ladies Football Club News
13 November, 2016
Anniversary Celebrations
The club has accepted an offer from Shamrocks GAA club (Shanbally) to visit them to commemorate the 1916 Cork County Senior hurling final when Midleton narrowly overcame the Shamrocks team. The visit will take place on Tuesday 22nd November from 8pm to 10.30pm in Shanbally (on the way to Ringaskiddy). We will have more details in next weeks news. The club would like to invite any and all interested parties to attend this celebration particularly any family members of the 1916 team.
The Executive of the Midleton Hurling & Football Club will honour a number of Teams and Individuals whom are celebrating Anniversary's this year at the Gaa Club on Friday 25th November @ 8.30pm. The Teams & Individuals which will be honoured are;
25th Anniversary – 1991 Cork County Senior Hurling Champions
50th Anniversary – 1966 Cork All Ireland Senior Hurling Champions – Paddy Fitzgerald, 1966 Cork Fe 21 All Ireland Hurling Champions – Paddy O'Sullivan & Michael O'Neill (RIP Selector) & Cork All Ireland Minor runners up – Willie Glavin and Frankie Hogan.
100th Anniversary – 1916 Cork County Senior Hurling Champions
There will be light food and refreshments on the night.
Field Maintenance
Work on re sodding the goalmouths, verti draining and sanding of the field will start as soon as weather permits. As soon as this work commences the field will be closed to all activities until next March to allow the sods to blend in. Work on a new roof in the pavilion will also start this coming week and people will need to be aware of this when visiting the club.
Camogie
Most of our girls and coaches take well deserved break from training for a few weeks, our under 14/15's will continue for another couple of weeks as they are currently undertaking a physical development and skills programme. Our AGM takes place Monday the 14th in the GAA pavilion at 7pm, all parents are encouraged to attend.
We register for 2017 in January, shortly after will begin our new season.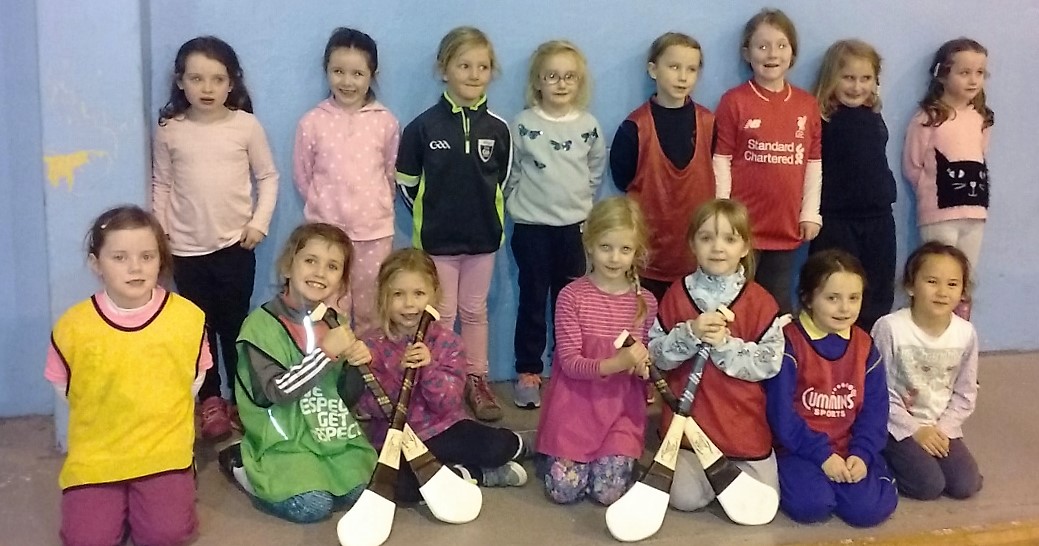 Ladies Football
Our AGM takes place on Wednesday Nov 30th at 7.30pm in Midleton Gaa Club.
All are welcome to attend. To all Team Managers please submit your team reports to midletonladiesfootballsec@gmail.com by Friday Nov 17th.
Training continues for all age groups. Under 8's are in the Community Centre from 6 to 7pm. Please bring €2. Under 10's upwards are at the Hockey Pitch from 7-8pm.
Keep an eye on the Midleton Ladies Football Facebook Page for all up to date Club News.
If there are any changes to training times etc a Club Text will be sent to all Parents. Please ensure that we have the correct contact number for your daughter.
For all those born in 1999 and 2000 Cork Minor Football Trials are on the 10th and 17th December and the 7th and 14th January at the Farm Pitch Curraheen from 10.15am. Cost is €10. We would encourage all those who fall into the age category to attend. If you are interested please inform Paddy or Mairead as the Club can only submit the names to the Cork Minor Selectors.
We would like to wish our Club Member and Player Laura O Keeffe the very best of luck on her travels to the Caribbean, safe travels Laura we'll see you next summer.
Trad Night
Oíche Ghaelach sa chlubtheach, Mainistir na Corann, 3ú Aoine den mhí / Irish night in Midleton GAA Clubhouse 3rd Friday every month.
Scaip an focal led' thoil le ríomhphost nó téacs / Spread the word please by forwarding email or text. Posters and fliers attached. / Postaeir agus fliers greamaithe le seo.
Ar siúl an Aoine beag seo an 18ú Samhain le hamhránaithe agus ceoltóirí aitíula.
The session will be accompanied this Friday night 18th November with local singers.
'Great Trad session on the third Friday every month in Midleton GAA Club at 9.30p.m. and a special fáilte for those with ceoil or cúpla focal. Bíonn Oíche Ghaelach i gClub CLG Mhainistir na Corann gach tríu Aoine den Mhí ag 9.30.i.n.. Fáilte roimh chách.'
Congratulations
Congrats and best wishes to Davy & Ailish Hogan and Justin & Aisling Costigan who got married in the past few weeks and also to Jerome & Miriam Curtin on the birth of their second boy Paídí.
Condolences
The Club Executive would like to offer their sincere condolences to the family of the late Donie Mulcahy late of Tim Daly's Terrace. Donie was a life time member of our club serving as Treasurer in 1989 & 90 and Vice Chairman of the Pavillion Committee in 1993.
For many years he was involved in the field maintenance, gate collections and Bingo.
Donie was a thorough gentleman, he loved his cards, the horses and his Silkcut cigarette's, we'll all miss the sight of him dressed in his suit cycling from town and popping inside the Club gate to catch up on the latest news. Ar dheis Dé go raibh a h-anam dilis.
His funeral arrangements are as follows;
Reposing in T Wallis & Sons Funeral Home Riverside Way, Midleton on Monday (14th November 2016) from 6pm with Removal at 7.30pm to the Church of the Most Holy Rosary, Midleton (club members will form a guard of honour from 7.15pm).
Requiem Mass on Tuesday at 2pm in the Church of the Most Holy Rosary, Midleton.
Burial afterwards in the adjoining cemetery.
The club would also like to offer our condolences to Ray Cummins and his family on the sad passing of his daughter today.
Lotto
Our Lotto Jackpot was €6,600, there was no winner, the numbers were 7,9,16 &26, the Lucky Dip winners were Chris Sheedy, Denise Moynihan, Fr Denis Kelleher, Jean Healy & Liam Ryan, next week's Jackpot will be €6,800.
Tickets are on sale at the Club Bar, O'Neills Bar, Linehan's Bar, Maple Leaf Bar, O' Farrell's Butchers, Frank Murphy Butchers, Pat Walsh Paints, Chadwicks, Teach Beag & Niall Mac's Bars.
BINGO takes place each Friday evening at 8pm in the GAA Pavilion with a weekly guaranteed Jackpot of €1,000.
Juvenile
New Magpies 2016
On Saturday last we welcomed the latest recruits to Midleton Hurling and Football academy, 36 young boys turned up for their first introduction to what we hope will be a long and productive career with the magpies . Our first month will be spent in a fun based environment, through games the boys will be introduced to the fundamental motor skills required for sport and life. Training will continue indoors until the spring, the boys will learn and develop basic skills before taking to the field. We continue next Saturday, Midleton Community Centre, 12 o'clock for junior infant boy, all you need to bring is a helmet and enthusiasm.
Fe 13
Midleton v Mallow, U13 Autumn Football League Rd 4.
The fourth and final round of the Fe13 Autumn Football League v Mallow was played last Saturday at our home pitch, Pairc Ui Clonmult. We had another fantastic turnout of 24 players (2 were present but are carrying small injuries so better not to play) for this match. Conditions were perfect when the ball was thrown in at 3pm.
We started very brightly and had Mallow on the back foot. Unfortunately we were not getting any reward on the scoreboard for all of our good play. The closest we came was when Rory Hartnett rattled the crossbar with a close in shot. Mallow then started to take control of the game and they had a bit more luck on the scoring front. But just before the half time whistle was blown Liam McGrath kicked our only first and only score of the half.
The half time score was Midleton 0:01 Mallow 1-04.
The second half started with a Midleton attack when a great cross field ball from Evan Kelly found Ben O'Neill, who punched it first time but the Mallow keeper was in the right place to bring off a great save. Mallow then once again took control and scored two goals to put the game almost out of sight. But our boys are made of tough stuff. They responded with a superbly taken goal by Cian Murray, who at the end of a solo run dispatched the ball with great control to the back of the net. Then Shay Bohan collected a high ball on the edge of the large parallelogram and hit a cracking shot to the top corner of the Mallow goal's. A third Midleton goal from Ben O'Neill when he finished the ball to the net with ten minutes to go gave a small chink of hope to the home team, but alas a fourth Mallow goal shortly afterwards did finish the game off as a contest. Our last scores - of the season - were points from Kane Rowlands and Shay Bohan.
The final score on the day was Midleton 3-2, Mallow 4-7.
After the final whistle was blown the action then moved to the Pavilion; all in attendance were treated to a cup of tea or coffee and some finger food. A special word of thanks to all parents to brought along the sandwiches and cakes. Also, a big 'THANK YOU' to the parents who helped to distribute the food and then the most important job of all: tidying up afterwards and leaving the Pavilion ready for the party that was taking place that evening.
Panel: B Saunderson, N. Corcoran, F Greenwood, R Spillane, N Fitzgerald, C Smyth, J O'Sullivan, L McGrath (0-01), A Quirke, S Bohan (1-01), E. McCarthy, C Murray (1-00), B O'Neill (1-00), E Kelly, R Hartnett, J Condon, A Fay, J O'Sullivan, J Spellman, K Rollins (0-01), K Barry & R Gies.
Fe 16
Our hurlers completed a unique double for 2016 when earlier today we added the Premier 1 Hurling League to the Hurling Championship we won earlier in the year.
We defeated Blarney in Delanys on a scoreline of 4-16 to 0-10.
We started slowly and shot four wides before registering our first score. At half time though we led by 1-11 to 0-5 and all but one Blarneys scores came from frees. Early in the second half we added another green flag and all the pressure was now on Blarney to get a few goals. This wasn't to be though and we piled on the pressure to score a resounding win and a unique Fe 16 double.
Team: Ryan O Riordan, Mark Daly, Christian Murphy, Alan Power, Cormac O Brien, Ciaran Evans, David Scanlon, Tommy O Connell, Kevin Finn, Kian Farmer, Evan Rowlands, Gary Carroll, Ross O Regan, Arthur Nganou, Jake Shanahan, Fergus Wade, Aaron Mulcahy, Sam Quirke, Ronan Lynch, Coleman Quinn, Cian Crowley, Sean O Sullivan, Cian Murray, Griffin Hurley, Craig Barry, Adam O Connell & Loic Nguefang.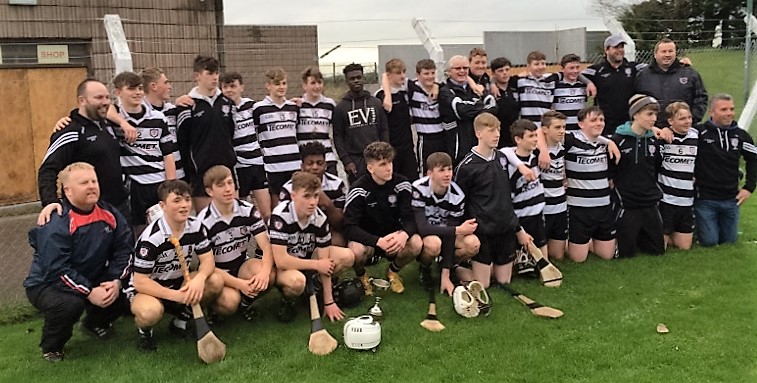 6 Week - Youth Physical Development Progamme in conjunction with Orlagh Farmer
A reminder to all coaches that the final week of the Clubs Youth Development Programme takes place in the Ball Alley on Monday 14th of November. The session will run from 7.30pm to 8.30 pm. All coaches across the club are invited to attend this.
Details of the programme and all the exercise videos have been uploaded to the coaching corner on the club website.
Award 1 Course Training Course
An Award 1 Course is arranged to take place in Midleton CBS Secondary School on December 3rd, 10th & 17th from 10am to 5pm. Only coaches who have received their Foundation certificates are eligible to progress to Award 1 training.
http://rebelogcoaching.com/coaching-courses/award-1-courses/award-1-course-payment/
Child Protection & Welfare Training
There is a Child Protection & Welfare Training course taking place at St. Finbarr's GAA Club, Togher on Thursday the 17th of November @ 7pm. Should you wish to book a place on this course kindly contact Ingrid O' Riordan, Midleton GAA's Child Welfare Officer to book your place.
Up and Coming Events
Xmas Draw
The Juvenile Club Christmas Draw tickets are now on sale and can be purchased from any team manager and at the Club Bar, please support this important fundraiser.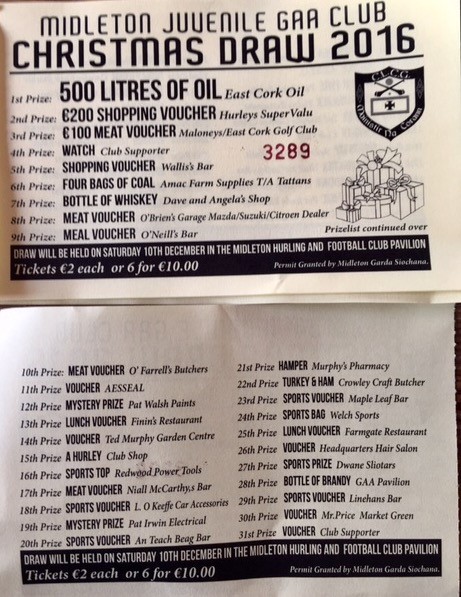 Juvenile Christmas Underage Social Dates
Fe6 – Fe9 Players December 3rd in Midleton GAA Club at 4pm & Fe10 – Fe16 Players December 10th in Midleton GAA Club at 7pm
Club Shop
The Club Shop is open on Saturday next from 10 to 12 selling flags and Club gear, please note that we cuurently have a bargain rail available and that Orders for Xmas need to be in early to avoid any disaapointment.