Midleton GAA , Camogie & Ladies Football Club News
16 October, 2016
Intermediate Hurling
Last Saturday evening in Lisgoold our hurlers lost out in the final of the Division 4 League to a very slick Dungourney side by 2-07 to 2-27. As a result we are promoted to the Divison 3 League next year.
Well done to all the players and management on their efforts throughout the year.
Team: Byran Rossiter, Adam Daly, Eoin Ferriter, Jordan Roche, Darren Quirke, Luke Dineen, Pat Stack, Sean O'Farrell, Alan Stanton, Padraic Nagle (0-01), Cormac Beausang (0-03 frees), Brian O'Sullivan, Michael Abernethy (1-00 free), Micheal Keohane (0-02) & Ian Kennefick. Subs used Kevin Daly (0-01), David O'Brien (1-00), Brendan Ferriter & Jerome Curtin.
Junior C Hurling
Our hurlers are due to play Bride Rovers in the East Cork Championship final on Saturday next the 22nd @ 4pm, the venue has yet to be decided, we wish all the players and management the very best of luck.
Junior Football
Our footballers are out next Thursday evening in the East Cork Division 1 League relegation play off against Erins Own in Caherlag @ 8pm.
Senior Hurling Anniversary
30 years ago our seniors won the County title, this team was honoured as the Jubilee team at Pairc Ui Chaoimh at the 2011 County final.
The 1986 Championship campaign began with a win over Muskerry in the Pairc, in the second round the team played brilliantly to defeat the Barrs by 4-16 to 2-13 and in the semi final after receiving a fright they defeated Carrigdhoun by 3-14 to 1-15 to reach the final against Blackrock. Having lost the previous years final to the Rockies the magpies showed great heart and conviction to win by 1-18 to 1-10 helped in no small way by their captain Kevin Hennessy who played a major role in this victory.
Team: Ger Power, Denis Mulcahy, Jerry Smyth, Michael Boylan, Edser Cleary, Sean O Brien, Pat Hartnett, Tadgh Mc Carthy, Michael Crotty, Ger Glavin, John Hartnett, John Boylan, David Boylan, Ger Fitzgerald & Kevin Hennessy (capt). Subs Sylvie O Mahony, Colm O Neill, Kevin Coakley, John Fenton, Donal Fenton, Liam Ryan, Coleman Quirke, & Michael O Mahony.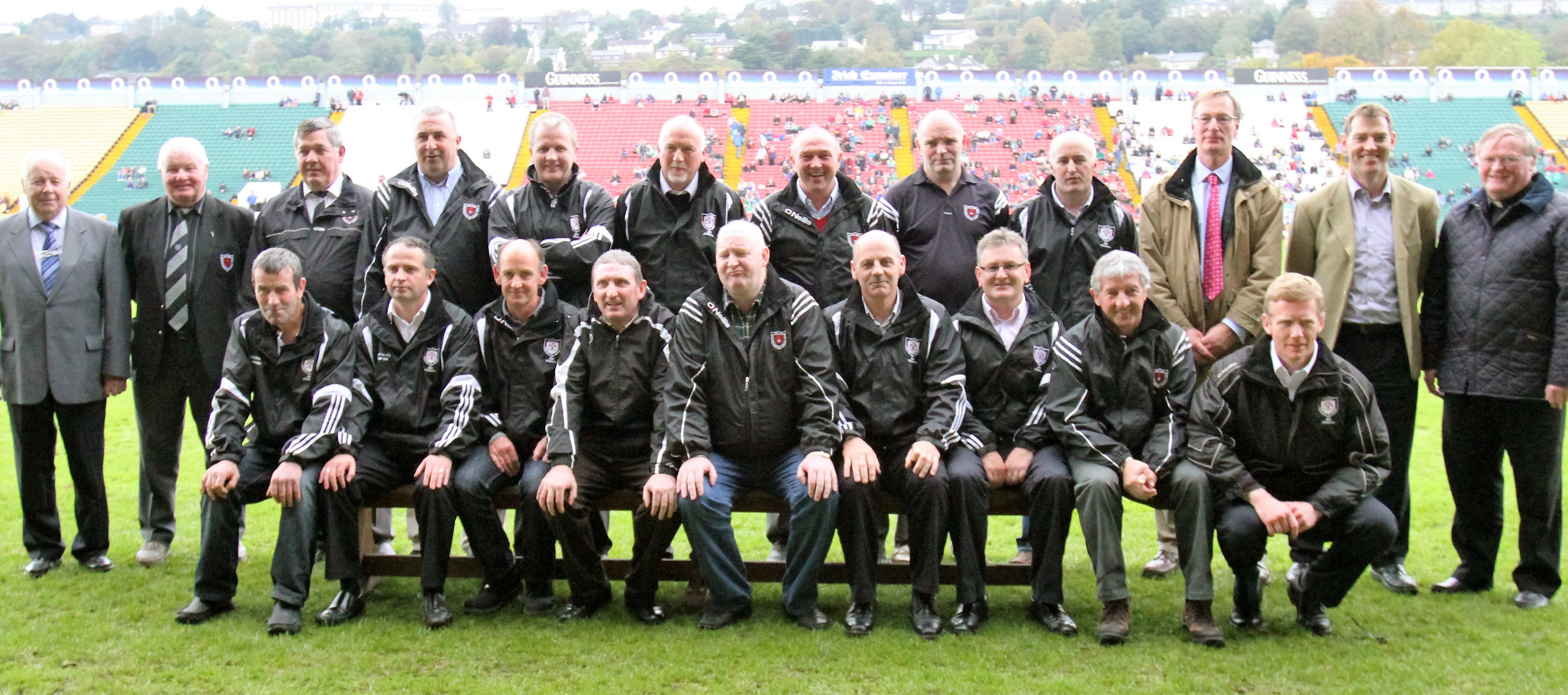 Camogie
Next Saturday we host our first under 14/15 Camogie Tournament, with five visiting teams proceedings will begin at 11am, there will be five play off matches followed by a Plate Final and Shield Final with the Cup Final at 3.30pm. We ask parents to provide sandwiches and cakes so that we can offer refreshments to our visitors. This is our first time hosting such an event and we would appreciate support on the day.
Camogie training this week is as follows;
U6 / U8: Friday 7pm -8pm Ballinacurra GAA Club (weather dependant)
U10 / U12: Friday 7pm – 8pm Ballinacurra GAA Club, U14/15: Tuesday 6.15pm -7.30pm Midleton GAA Club & Friday 7pm – 8pm Ballinacurra GAA Club.
Ladies Football
Training for our U8 group will finish this week at the Tech Pitch from 6-7pm. We will take our training indoors to the Community Centre on October 24th from 6-7pm.
Our U10 group upwards will train from 6.30 -7.15pm due to the fading light.
If there are any changes you will be notified by text message.
Strictly Midleton
The Countdown to this massive Fundraiser is now in its final stages. With just 2 weeks to go it will be a busy fortnight for our dancers and Committee.
The fundraising efforts of our dancers continues this week.
On Thursday night Pat O Farrell will host an evening with Arun of Green Saffron Spices in the newly refurbished Maple Bar at 6.30pm. Tickets are €10 and are available from the Maple Bar and O Farrell Butchers.
On Friday night Pat Hayes has organised a 45 Drive at East Cork Golf Club at 8.30pm. Entry fee is €10 and will include finger food and a raffle.
Also on Friday night Pat Kelly, Donal Keohane and Michael Boc Walsh are hosting a Musical Evening in the Club Lounge at 8.30pm. There will be a raffle on the night.
All support for our dancers would be very much appreciated. The Committee would like to express our gratitude to everyone who has supported all our dancers over the last few weeks.
Sponsor one of our dancers, just click on www.ifundraise.ie/strictlymidleton and select who you would like to support. Thanks.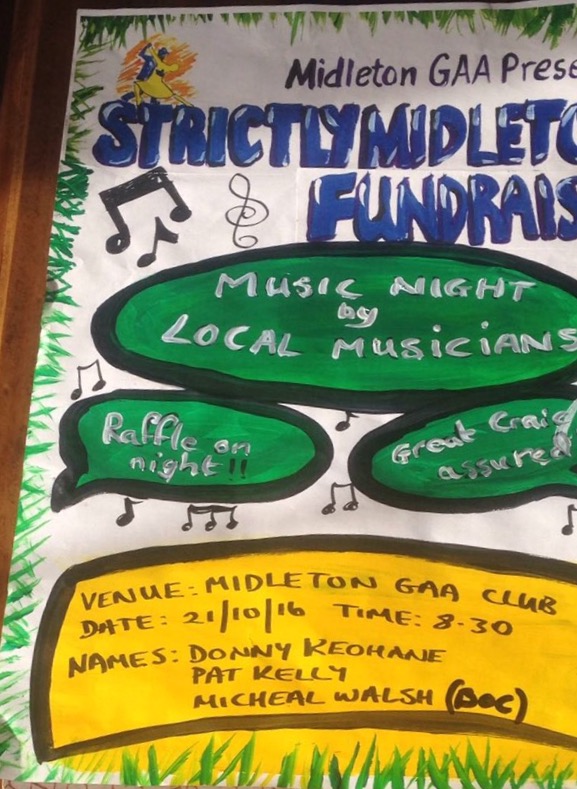 Golf Society Outing
The Xmas Hamper outing took place last Saturday at East Cork Golf Club sponsored by Patrick O'Farrell, the following were the winners;
Winner; Tom O Halloran
Category 1; 1st Mark Carroll, 2nd Conor O Brien & 3rd Cillian Hurley
Category 2; 1st Mick Hayes, 2nd Liam Williams & 3rd Hans Bauman
Category 3; 1st Paudie O Keeffe , 2nd Tim Kennedy & 3rd Ciaran Keohane
Back 9 John Hogan, Front 9 Anthony Wall & Visitor; Damian Clifford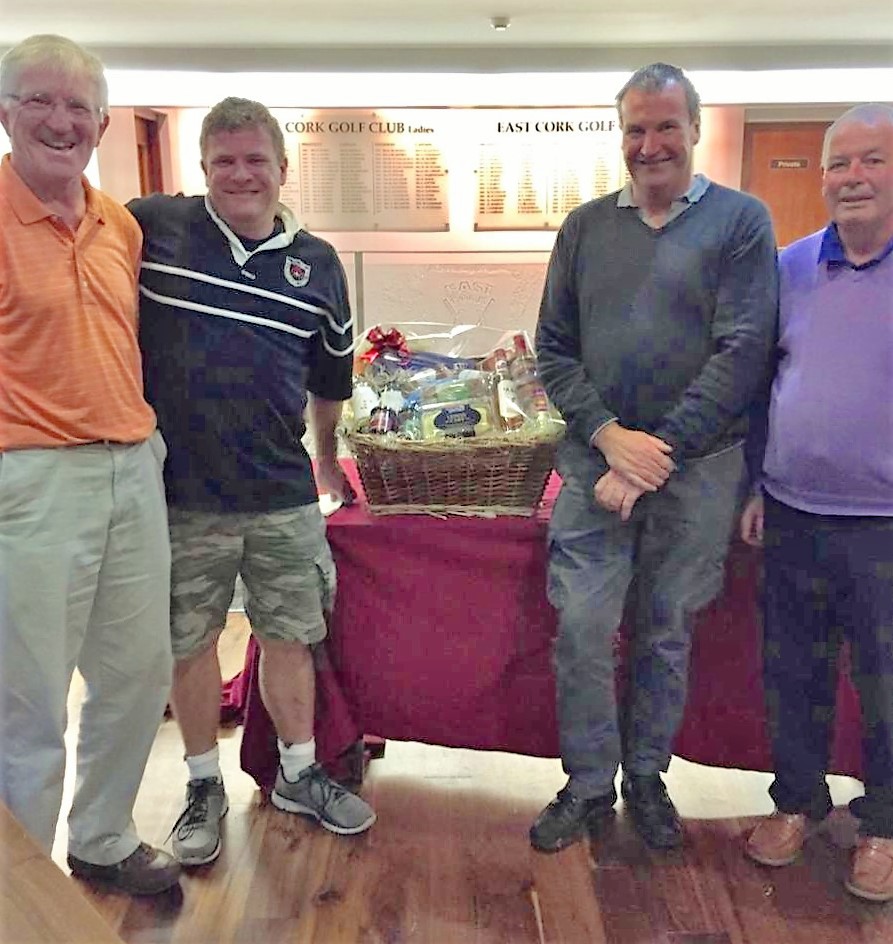 Strictly Midleton, Pat Hayes 45 Drive Fundraiser at East Cork Golf Club, Friday 21st October at 8.30pm. Raffle and spots on the night.
Condolences
The Club Executive would like to offer their sincere condolences to the family of the late Kitty O'Shea of Cloyne who was a great supporter of our Bingo and also to Peter Smith on the recent passing of his grandmother Peggy Hennessy from Aghada.
Lotto
Our Lotto Jackpot was €5,800, there was no winner, the numbers were 7,12,16 & 28, the Lucky Dip winners were Gillian/Cian Lawton, Susan Carroll, Adrian Hickey, Joe Hayes & Seamus Murphy, next week's Jackpot will be €6,000.
Tickets are on sale at the Club Bar, O'Neills Bar, Linehan's Bar, Maple Leaf Bar, O' Farrell's Butchers, Frank Murphy Butchers, Pat Walsh Paints, Chadwicks, Teach Beag & Niall Mac's Bars.
BINGO takes place each Friday evening at 8pm in the GAA Pavilion with a weekly guaranteed Jackpot of €1,000.
Juvenile
Fe 8
We finished off the season in style with a great turnout of 38 players for the final hurling blitz of the year held in Killeagh. Thanks to Shane Supple GDA and to Killeagh for hosting numerous blitzes for the young lads of East Cork throughout the year . Great performances and improvements were very evident across all our lads since our first games in March. The lads were delighted to receive medals after from Cork player Declan Dalton and they entertained the crowd with Up the Magpies. I would personally like to thank the players, parents and coaches for a fantastic commitment throughout 2016 in hurling and football. Regards, Willie Lawton.

Fe 9
On Saturday morning last ( for the final time as U9's ) our young hurlers took to the field in Ballincollig for the final blitz of the year. In an action packed morning, where we fielded three teams . Our magpies again played some very tough and competitive matches against Ballincollig, Douglas and Sars. The lad's have given great commitment throughout the year and the improvement is there for all to see. I would like to thank all involved with the team for the effort also throughout the year. Training will continue on Saturday's at 9.45, venue TBC. With the U10 hurling and football leagues starting next year. We as a group of mentors can only do so much in training. I would say that practice at home is essential for the boys to further improve their skills.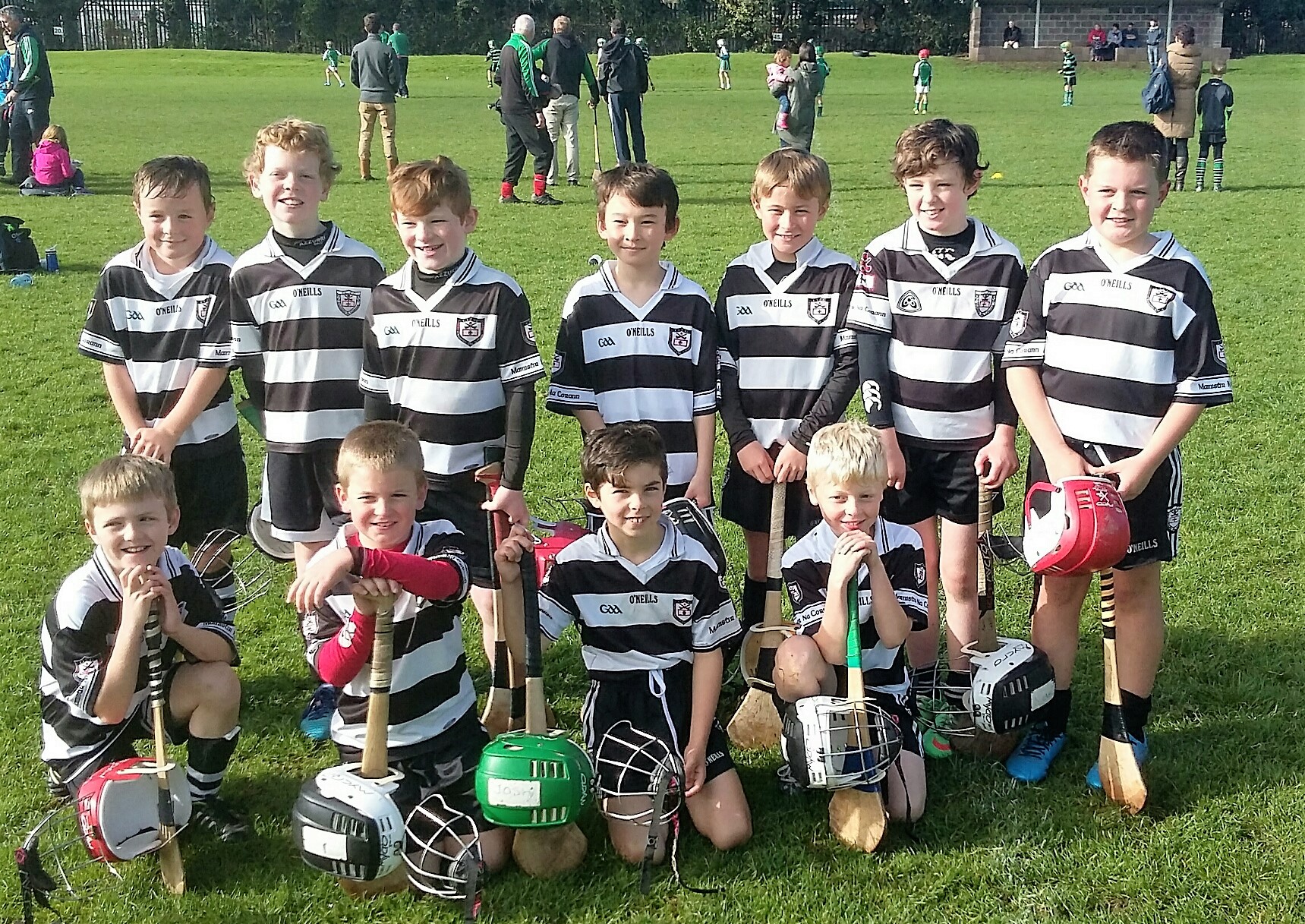 Fe 13
Midleton v Na Piarsaigh, U13 Autumn Football League Rd 1.
Our panel were once again applying their trade after a little bit of a sabbatical. The break in fixtures was due to the sporadic way the leagues are run off. The layoff meant there was a lot of clearing off of the cobwebs from the players football skills; commitment, dedication and focus on their tasks is never a problem with this panel of players. But the long layoff was a bridge too far this time. Na Piarsaigh were the better team on the day but the Midleton boys never stopped battling. The final score was Midleton 1-03 v Na Piarsaugh 1-11. The goal came from either Kelvin Barry or Alex Quirke and the three points came from the deft, left foot of Evan McCarthy, who hit a purple patch midway through the second half when he slotted all three points from very acute angles in a 10 minute spell. Evan is quickly making himself one of the lynchpins of this football team's forward line.
Panel: B Saunderson, J O'Sullivan, C Smyth, N Fitzgerald, E McCarthy (0:03), N Corcoran, E Kelly, K Rowlands, S Bohan, K Barry (1:00?), D Codd, C Murray, R Hartnett, A Quirke 1:00?), B. O'Neill, R Spillane, J Condon, F Gies, & J Spellman.
Fe 15
Our footballers had a great win over hosts Sam Maguires in Dunmanway last Saturday afternoon in the first round of the Premier 2 Championship by 2-05 to 1-06.
We now await the winners of Castlehaven or Macroom on the 29th.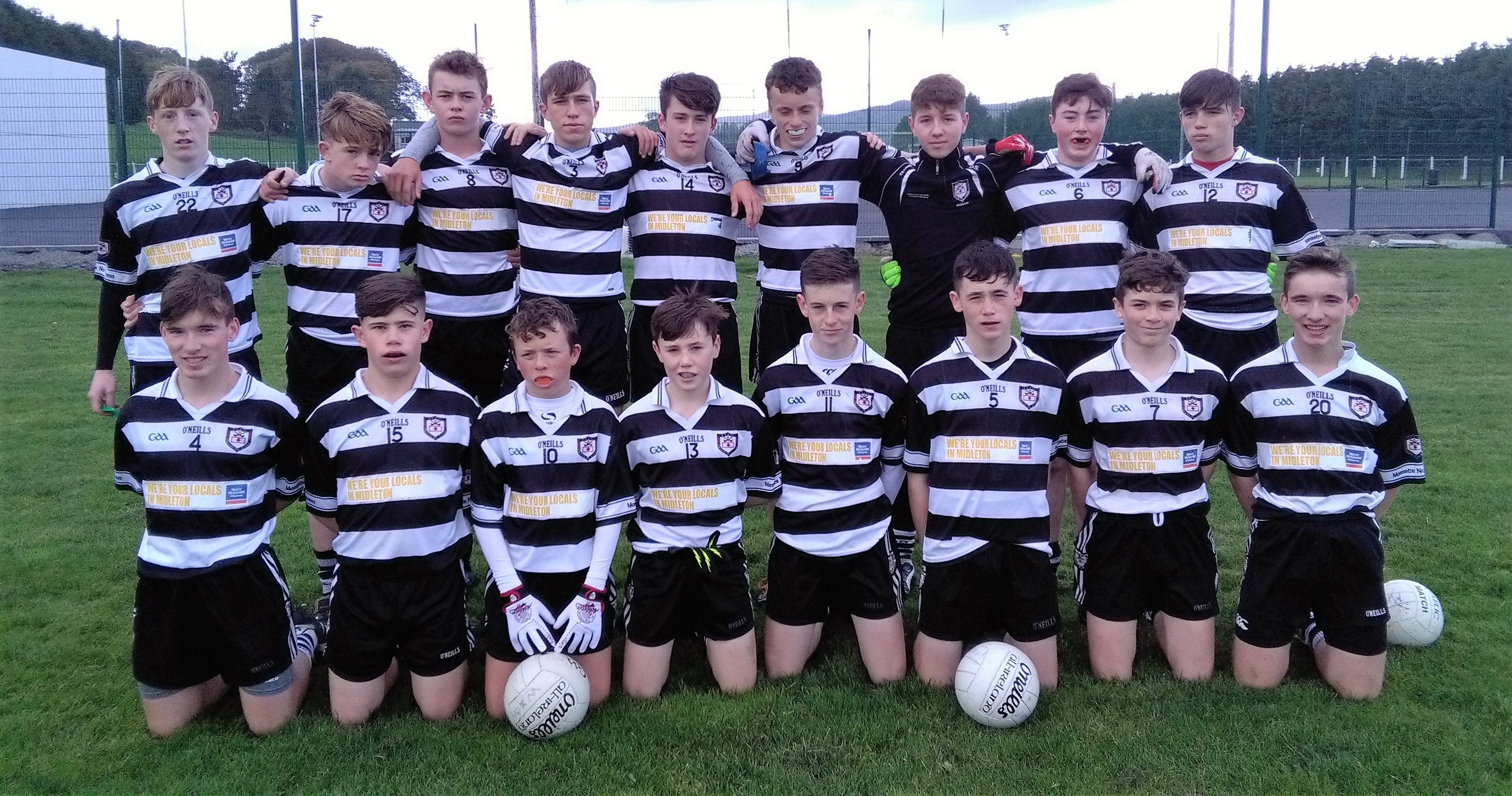 Juvenile Registrations
If there are any players who missed the Fe6 Juvenile Registrations they can still register at the club shop on Saturday mornings. Indoor training for this group of players will commence in the Community Centre (Former GaelScoil) on November 12th at 12noon. Indoor hurleys will be provided. Players will require a helmet for training. These can be purchased at the Club shop which is open from 10am to 12noon every Saturday morning.
Davy Hogan Street Leagues
The rain that fell on Friday last and the heavy rain that continued to fall during the night left those organising the tournament very nervous that the fate that befell the tournament and caused it to have to be cancelled previously might be repeated. Thankfully that was not the case and Saturday morning arrived and we all awoke to clear blue skies, no rain in sight and the perfect autumn morning to host the final of this great tournament.
The players, their parents and coaches gathered in Market Green shopping centre at 9.45am. There was a fantastic buzz around the shopping centre and at times the noise volume was quiet deafening with the players anxiously awaiting the start of the parade. Piper Christy McCarthy from Youghal Pipe Band started the pipes and the procession of magpies proceeded down the centre aisle of the shopping centre. Briefly stopping at Tesco's to gather some supplies kindly donated by Tesco and Market Green for the players party after the games. Christy, like the pied piper, marched our 70 magpies out of the shopping centre, over the bridge down the mill road and up passed the Grotto to the Club Grounds. On arrival into the club grounds the players followed Christy down the steps and out onto the pitch where all players lined out into their respective teams and the National Anthem was played.
We would like to express our sincere gratitude to Tom Kelly of Market Green, Kevin O'Connor of Tesco Midleton and Christy McCarthy Youghal Pipe band for their kind support of our Juvenile Players.
At 11am the playoff matches commenced with Owenacurra playing the Saints and Sons of Rest playing the Forkums. The Saints and Forkums won their respective play off matches. Both matches were refereed by our young whistler referees Tommy O' Connell and Adam O' Connell. Both did a great job and we thank them and all the young whistlers who have referred the group matches in this years' tournament. Quickly following the play off matches the final got underway with tremendous support from all the supporters who turned out in large numbers to watch the final. We would like to thank Pa Beausang for refereeing the final. As with all sports there can only be one winner and in 2016 the winners were Garryowen in what turned out to be a very competitive final. The truth is that all these players were winners. They were all a credit to themselves, their parents and the club. In the presentation address by Martin McSweeney, Martin described Davy Hogan as a true Club Man who loved his Club and the game of hurling. Davy's wife Anne and his son Colm Hogan were in attendance at the Club on Saturday morning. Colm presented the St. Enda's and Garryowen players with their medals and the cup presentation to Garryowen. Following the medal presentations all players and supporters were treated to a party in the lounge. We would like to thank all the parents who supplied the delicious cakes and sandwiches for the party and sincerely thank those parents who provided the teas and coffees throughout the morning and helped with both the setting up and tidying up afterwards of the lounge and club grounds.
Days like these are made of great memories for all our magpies. These memories were once again captured in beautiful photographs by Andrew Foley. A link to these photographs can be viewed on the Photo Gallery section of the club website under 'Other Photo's'.
Thank you Andrew. Magpies Abú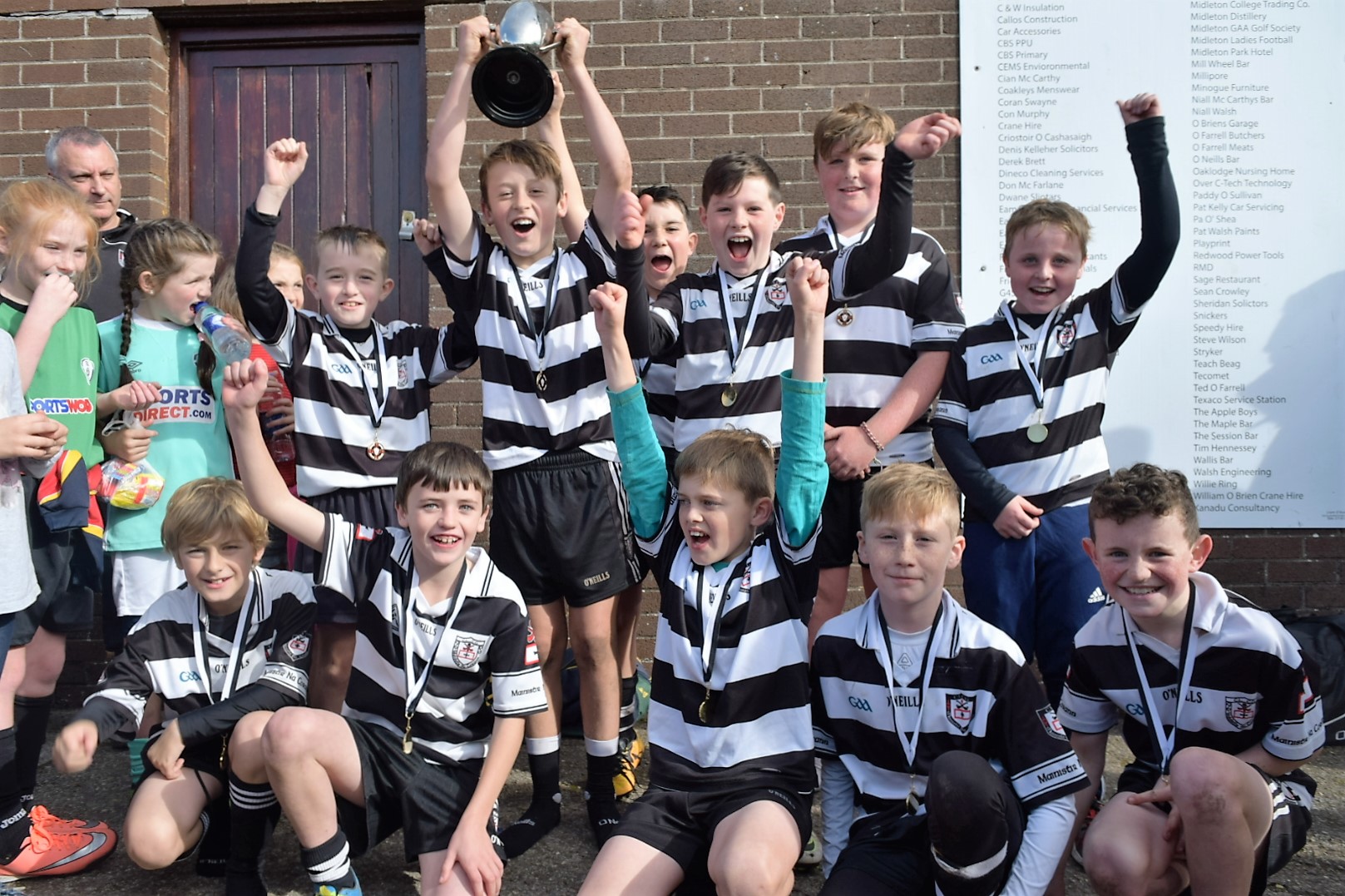 Concussion Awareness in Children
A concussion awareness in Children Public lecture is to be held on Wednesday 19th October, 7pm – 9pm in the Maryborough Hotel, Douglas. The speakers are; Dr. Niamh Lynch, Consultant Paediatrician, BSH Cork, Aoife McMahon, Senior Physiotherapist plus panel members from the IRFU and GAA.
6 Week - Youth Physical Development Progamme in conjunction with Orlagh Farmer
A reminder to all coaches that week 3 of the Clubs Youth Development Programme continues in the Ball Alley on Monday 17th of October. This week's session will run from 7.30pm to 8.30 pm. Orlagh will be once again putting our Fe15 players through their paces. Details of the programme and all the exercise videos have been uploaded to the coaching corner on the club website. All coaches across the club are invited to attend this.
Foundation Training Course
Training course details have been released for Foundation courses taking place at the following Clubs in October.
St. Colmans GAA Club - 21st & 22nd of October , Eire Og GAA Club - 21st & 22nd of October, Please follow the link below to book your place. http://rebelogcoaching.com/coaching-courses/foundation-courses/foundation-course-payment/
Award 1 Course Training Course
An Award 1 Course is arranged to take place in Midleton CBS Secondary School on December 3rd, 10th & 17th from 10am to 5pm. This course is limited to 4 qualified foundation coaches per course.
An email has been sent to coach mentors from Fe11 to Fe14. Please ensure a coach from each of these age groups books a place on this course. Only coaches who have received their Foundation certificates are eligible to progress to Award 1 training.
http://rebelogcoaching.com/coaching-courses/award-1-courses/award-1-course-payment/
Child Protection & Welfare Training
There is a Child Protection & Welfare Training course taking place at St. Finbarr's GAA Club, Togher on Thursday the 17th of November @ 7pm. Should you wish to book a place on this course kindly contact Ingrid O' Riordan, Midleton GAA's Child Welfare Officer to book your place.
Indoor Training Schedule
Indoor Training will commence on Saturday November 12th at the Community Centre Midleton. Fe 8's from 10-11, Fe 7's from 11-12 and Fe 6's from 12-1.
Juvenile Christmas Underage Social Dates
Fe6 – Fe9 Players December 3rd in Midleton GAA Club at 4pm & Fe10 – Fe16 Players December 10th in Midleton GAA Club at 7pm
Club Shop
The Club Shop is open each Saturday from 10 to 12 selling flags and Club gear.