Midleton GAA , Camogie & Ladies Football Club News
09 October, 2016
Senior Hurling Jubliee team
Last Sunday the Senior Hurling County winning team of 1991 were honoured at the County final in Pairc Ui Rinn. In advance of the game the team, wives and friends met up at the Temple Inn, Longboats Bar & Restaurant on the Blackrock Road for lunch.
The panel and selectors were led out onto the field after the Intermediate final by Ger Fitzgerald (captain) and Patrick Dunlea representing his father Paddy who was a selector and is currently in hospital. Finbar McCarthy introduced everyone to the crowd with special mentions for Kevin "the legend" Hennessy and Paddy Fitzgerald celebrating 50 years of his All Ireland success of 1966.
Many thanks to the County Board for arranging this, special thanks to PRO Donal Leahy and Michael Byrne for their parts in this, it was very much appreciated.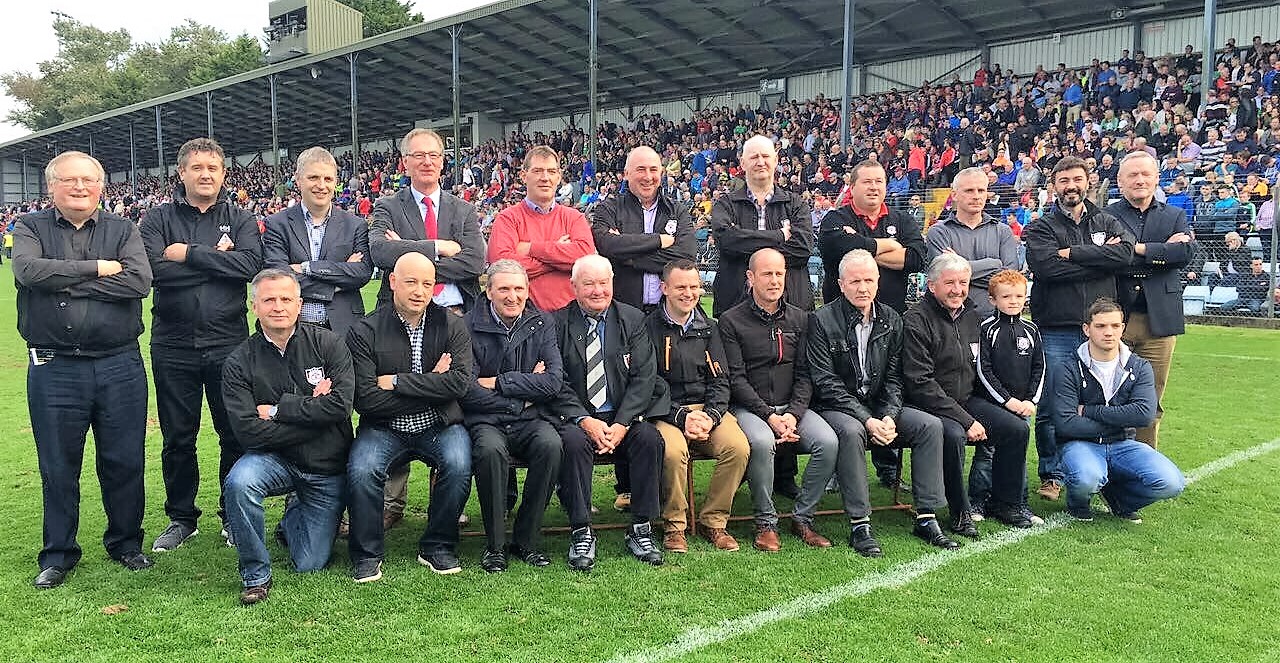 Our senior hurlers as a result of finishing second in the Red FM League have qualified for the semi final and await our opponents over the coming of weeks.
Intermediate Hurling
Our hurlers have qualified for the final of the Division 4 League against Dungourney, this game has been provisionally fixed for Saturday next the 15th in Lisgoold at 3pm.
Junior C Hurling
Our hurlers are due to play Bride Rovers in the East Cork Championship final on Sunday next the 16th, the venue and time has yet to be decided, we wish all the players and management the very best of luck.
Minor Hurling
Well done to our hurler's who won the Premier 3 Championship when they defeated Na Piarsaigh on Sunday morning last at home by 5-12 to 1-12.
Team: Cormac Higgins, Alan Power, Conor O'Farrell, Cormac O'Brien, Andrew Nestor, Ciaran Evans, Timatayo Abdullagh, John O'Dwyer, Kian Farmer (0-07, 4 frees), Christian Daly (2-00), Arthur Nganou (0-03), Harry Wall, Kevin Daly (1-00), Tom Scanlon (1-00), Evan O'Meara (1-01). Subs Mark Daly & Ryan O'Riordan.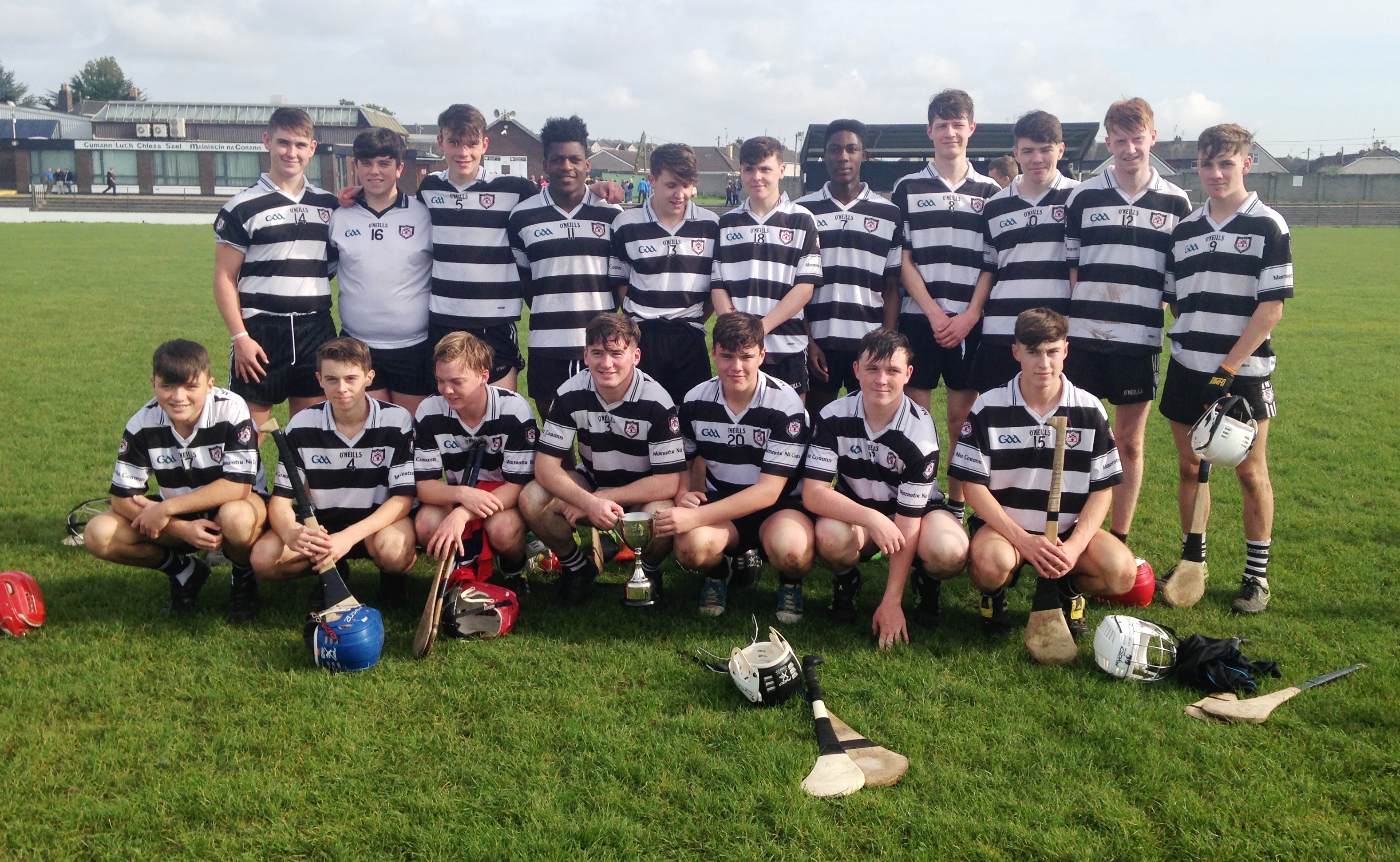 100 Years ago
In 1916 we defeated Shamrocks in the County Senior Hurling final by 4-00 to 3-02 to win our second title, the game was played on the 15th of October at the Cork Athletic Grounds.
The match was a hard fought close encounter with the lead changing hands frequently and in the end we were fortunate to secure victory by a single point.
The then Cork Examiner reported that "the attendance was of enormous proportions and the weather was fine but as expected the sod was slightly on the soft side".
Team: Jim O'Connell (capt), Jack Grandon, Pats Cahill, Dan Twomey, Tom Deasy, Michael Kearney, Jerimiah Egan, Gerald O'Shea, Bertie Walsh, Jimmy Ramsell, Dave O'Keeffe, Tom Twomey, Dick Gorman, William Twomey & Johnny Desmond.
The referee was Mr. Thomas Irwin, Secretary of the County Board.
Camogie
Camogie training this week: U6 / U8: Friday 7pm -8pm Ballinacurra GAA Club (weather dependant) , U10 / U12: Friday 7pm – 8pm Ballinacurra GAA Club, U14/15: Tuesday 6.15pm -7.30pm Midleton GAA Club, Friday 7pm – 8pm Ballinacurra GAA Club.
Ladies Football
Midleton claimed the Phil McCarthy 7 a side tournament at Lisgoold for the second year.
Having being cordially invited back to Lisgoold to defend our title, the girls triumphed in a very entertaining and sporting 7 a side tournament played on Sunday 2nd October.
Four teams played in this year's tournament, the hosts Mayfield and Cobh completed the fixture. The format was each team play each other in twenty minute games. We topped the group and with Lisgoold coming in a close second, both teams contested the final. They made us work hard for this one fighting tooth and nail for every ball. We were just too strong on the day and came out on top. This was a great way to end the year and we start building again for next session. Overall, this was a most enjoyable day and a superbly run competition. Again this year Lisgoold club could not have been better hosts with food and hot drinks available in the clubhouse. Well done and thanks to all who helped organise the event.
Midleton Panel: Kate Mary Cullinane, Molly Beausang, Laura O'Leary, Deirdre Corcoran, Abby Quirke, Orlagh Farmer, Olivia Walsh, Ciara McGrath, Elaine Seacy & Laura O'Keeffe.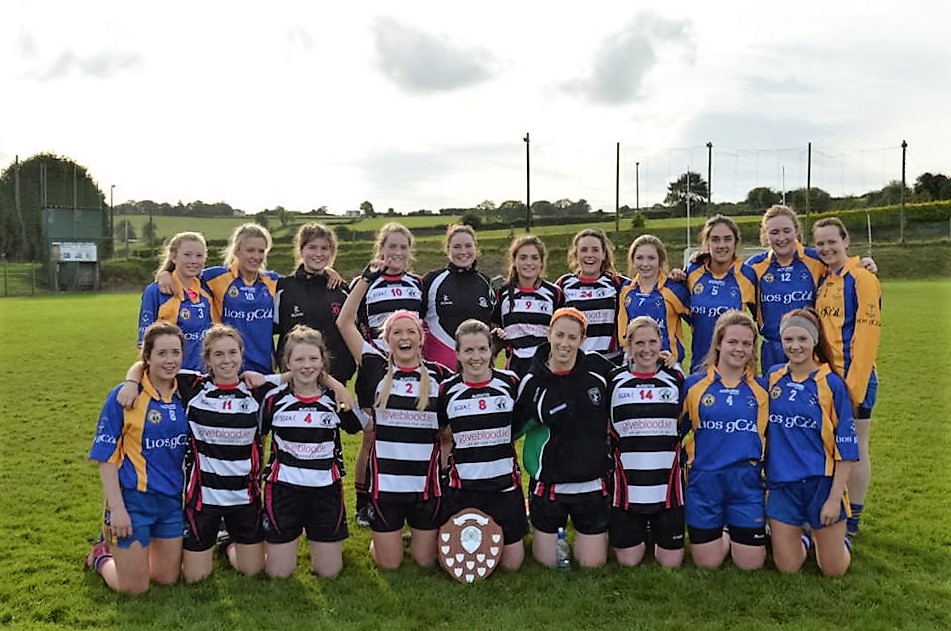 Training - U12 training will recommence in early November in Midleton College date and time will be sent by text to parents. Training for other teams will be in the Tech Field remembering to use the St Mary's Road entrance and please do not block any entrance for residents in the area. As always keep an eye on Facebook for upcoming events and changes in training times/venues.
Strictly Football Camp - Thanks to all who took part in Orlagh Farmer's Football Camp last Saturday it was a fun day which the kids thoroughly enjoyed with a lot of football thrown in also – well done Orlagh!
Condolences - Midleton Ladies Football would like to extend sincere sympathies to our dear friend, coach and club PRO Tracy Saunderson on the death of her mother Maura, our thoughts are with Tracy and the Brohan family at this very sad time, may she rest in peace.
Strictly Midleton
The committee would like to thank everybody for their wonderful support of this event to date, last Sunday the video shoots took place all day and great craic was had by all.
We have limited advertising space left in the program, anyone interested in an advert please contact any member before the closing date next Wednesday 12th.
Please note that all tickets for this event have successfully sold out and we also wish to remind everyone that this night is strictly over 18's.

John O'Connell held a very successful Fashion show in conjunction with the Arcade Midleton last Saturday, many thanks to everyone who supported John.
Sinead & Justin Dunlea held a Coffee Morning and raffle last Saturday morning to support their friend Nicola Shanahan, many thanks to everyone who supported Nicola.
Orlagh Farmer held a Football camp last Saturday afternoon and had a great turnout of over ninety juvenile footballers, thanks to all who helped out and supported this event.
Golf Society Outing
The Xmas Hamper outing will take place on Saturday next the 15th of October at East Cork Golf Club from 12.30 to 1.30pm, this event is kindly sponsored by Patrick O'Farrell. The presentation of prizes and the AGM will take place afterwards.
Condolences
The Club Executive would like to offer their sincere condolences to the family of the late Maura Brohan of Blackrock, mother of Tracy Saunderson PRO of the Ladies Football.
Lotto
Our Lotto Jackpot was €5,600, there was no winner, the numbers were 3,11,18 & 21 the Lucky Dip winners were Pearse Dunlea, Patrick Ahern, Kathleen Fitzgerald, Louise Dunlea and Jerry O'Farrell, next week's Jackpot will be €5,800.
Tickets are on sale at the Club Bar, O'Neills Bar, Linehan's Bar, Maple Leaf Bar, O' Farrell's Butchers, Frank Murphy Butchers, Pat Walsh Paints, Chadwicks, Teach Beag & Niall Mac's Bars.
BINGO takes place each Friday evening at 8pm in the GAA Pavilion with a weekly guaranteed Jackpot of €1,000.
Juvenile
Fe 13
Midleton V Ballygarvan, U13 Autumn League Final.
We are currently on a good run of form. This game versus Ballygarvan was our third final this year. Having been successful in the other two (Premier 1 Hurling League Champions, C3 Hurling League Champions) we were hoping to make it three wins out of three competitions in the one season. Ballygarvan was the setting for the final leg of their trilogy of finals. The pitch and the weather were both perfect on last Saturday 8th October as both teams lined up for the game.
The match was only a couple of minutes old when Rory Hartnett registered our first point. Shortly afterwards Rory's 'stick work' allowed him control brilliantly a long clearance and he then dispatched the sliotar with aplomb to the Ballygarvan net. Our dominance at this stage was being reflected on the scoreboard. Darragh McCarthy came thundering into the game with three excellently taken points. A Kelvin Barry point was followed by another point from Darragh McCarthy. The backline was contributing to this performance by not allowing the Ballygarvan forward line any latitude. Every time Ballygarvan attacked our defence hassled and harried their opponents and so their forward line were finding it difficult to find the target. Alex Quirke scored our final three points of the first half.
Half time score Midleton 1-10 v Ballygarvan 0-05.
The second half started with another Kelvin Barry point for the Magpies. Darragh McCarthy and Alex Quirke added one point apiece. Our final score of the game was a goal scored by Darragh McCarthy. The second half in particular will be remembered for some outstandingly disciplined and controlled defense. The blocking, hooking and clearances from our defensive unit was worth travelling to see alone and they all deserve great credit for their performance.
When the referee blew the 'long whistle' the Magpies were victorious on a score line of Midleton 2-13 v Ballygarvan 0-09.
Panel: B Saunderson, J O'Sullivan, C Smyth, N Fitzgerald, E McCarthy, F Greenwood, A Fay, E Kelly, A Quirke (1-04) K Barry, D Codd, C Murray, P Magann, D McCarthy (1-05), R Hartnett (1-00),S Bohan, B. O'Neill, R Spillane, A Fay, L. McGrath, N Corcoran & J Spellman.
As the hurling year is over it's time to give great credit because of their many successes to the full panel of players as well as the U13 mentors: Gerry Smyth, Tracey Saunderson, Pierce McCarthy, Conor Murray, Dave Codd, Pat Hartnett and Vincent O'Neill.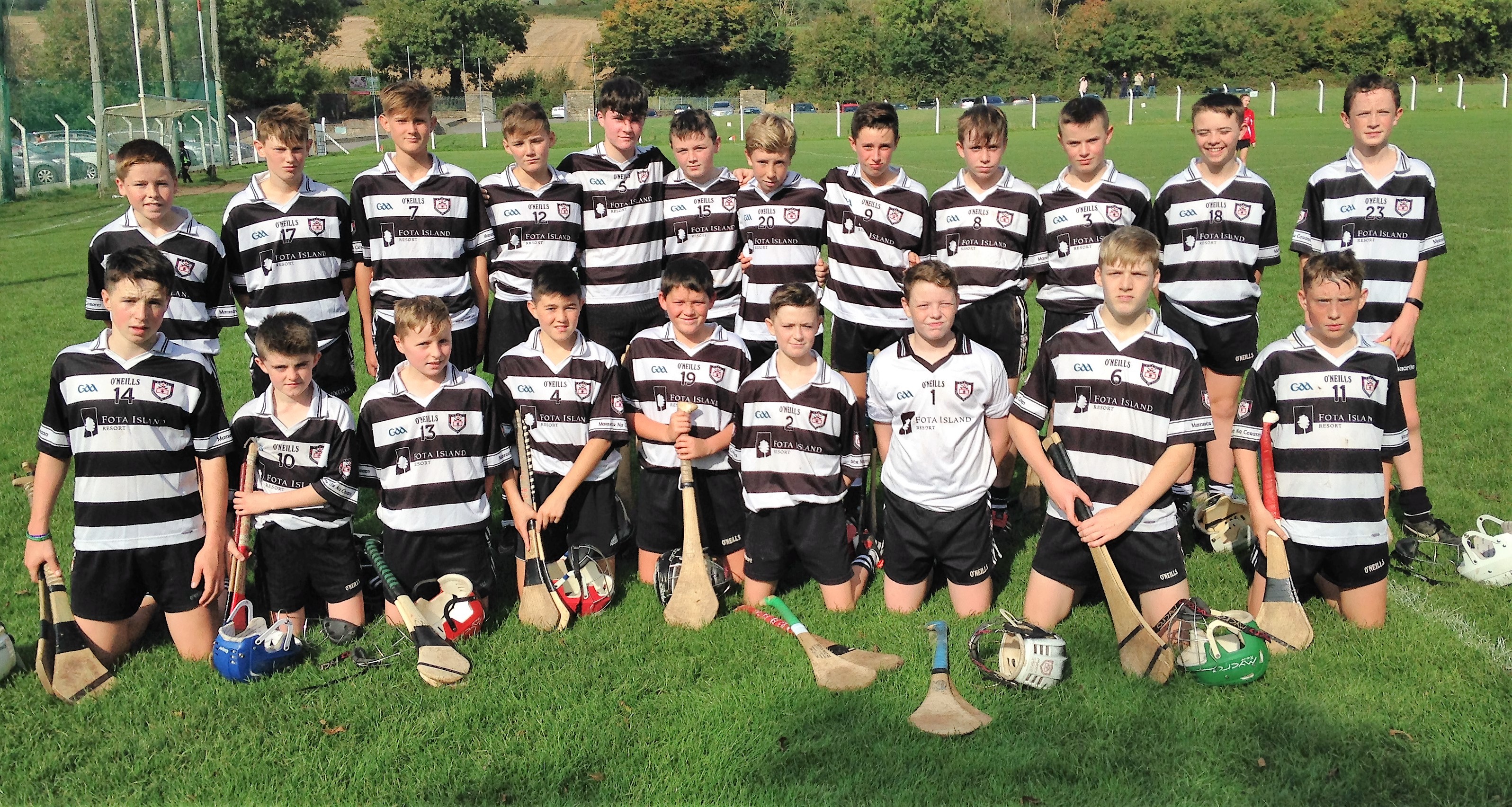 Fe 14
On Sunday 2nd of October our hurlers welcomed Blackrock to Midleton for an eagerly anticipated semi-final of the C3 league. The match was played in a competitive but very sporting manner with both sides giving 100% effort from start to finish.
We proved too strong and ran out winners on a scoreline 3-11 to 0-13, well done lads.
Team- Daniel Cagney, Conor Fitzgerald, Aaron Coughlan, Darragh Crowley, Ben Cummins, Luke Deane, Nickey Hayes, Liam Kelly, Christopher Leahy, Thomas McGrath, Jack McKay, Oliver Murray, Kevin O Brien, Alex Pranger, Gavin Reddy, Darragh Ryan, Brion Sanderson, Bradley Savage, Trevor Shine, Aaron Coleman, William O Sullivan, Joshua Pennant and Rory Lang.
Juvenile Registrations
It was a busy morning at the Club with a great turnout for Fe6 Juvenile Registrations. We would like to extend a very warm welcome to all our new magpies and their parents. Indoor training for this group of players will commence in the Community Centre (Former GaelScoil) on November 12th at 12noon. Indoor hurleys will be provided. Players will require a helmet for training. These can be purchased at the Club shop which is open from 10am to 12noon every Saturday morning.
Davy Hogan Street Leagues
The Round 3 matches for this tournament took place on Wednesday last the 5th of October. It turned out to be another great evenings Hurling.Finals day has been rescheduled for October 15th. All players are to meet and assemble in Market Green outside Sam McCauleys at 9.45am and parade behind a piper to the Club. We hope the weather will be kind to us this time! The play off matches and finals are as follows;
6th v 5th Play Off Match Owenacurra v Saints @11am
4th v 3rd Play Off Match Sons of Rest v Forkums @11am
Final 1st v 2nd Garryowen v St. Enda's @ 11.45am
We would encourage parents, Club members and supporters to come out and support this great event. Parents of players are asked to bring along along cakes and sandwiches for aftewards so all these players can enjoy a party to mark the ending of this tournament.
Concussion Awareness in Children
A concussion awareness in Children Public lecture is to be held on Wednesday 19th October, 7pm – 9pm in the Marybourough Hotel, Douglas. The speakers are; Dr. Niamh Lynch, Consultant Paediatrician, BSH Cork, Aoife McMahon, Senior Physiotherapist plus panel members from the IRFU and GAA.
6 Week - Youth Physical Development Progamme in conjunction with Orlagh Farmer
A reminder to all coaches that week 2 of the Clubs Youth Development Programme continues in the Ball Alley on Monday 10th of October from 6.30pm to 7.30 pm. Orlagh will be once again putting our Fe15 players through their paces. Details of the programme and all the exercise videos have been uploaded to the coaching corner on the club website.
Foundation Training Course
Training course details have been released for Foundation courses taking place at the following Clubs in October. Glanmire GAA Club - 14th & 15th of October, St. Colmans GAA Club - 21st & 22nd of October, Eire Og GAA Club - 21st & 22nd of October
Please follow the link below to book your place.
http://rebelogcoaching.com/coaching-courses/foundation-courses/foundation-course-payment/
Award 1 Course Training Course
An Award 1 Course is arranged to take place in Midleton CBS Secondary School on December 3rd, 10th & 17th from 10am to 5pm. This course is limited to 4 qualified foundation coaches per course. An email has been sent to coach mentors from Fe11 to Fe14. Please ensure a coach from each of these age groups books a place on this course. Only coaches who have received their Foundation certificates are eligible to progress to Award 1 training. http://rebelogcoaching.com/coaching-courses/award-1-courses/award-1-course-payment/
Child Protection & Welfare Training
There are two Child Protection & Welfare Training courses taking place at St. Finbarr's GAA Club, Togher on Wednesday the 12th of October and Thursday the 17th of November @ 7pm. Ingrid O' Riordan, Midleton GAA's Child Welfare Officer has contacted those coaches who need to undertake this course. We thank those you of you who have already booked your place and would ask those that haven't yet reserved their place on the course to contact Ingrid O' Riordan to confirm your booking.
Up and Coming Events
Indoor Training Schedule - Indoor Training will commence on Saturday November 12th at the Community Centre Midleton. Fe 8's from 10-11, Fe 7's from 11-12 and Fe 6's from 12-1.
Juvenile Christmas Underage Social Dates Fe6 – Fe9 Players December 3rd in Midleton GAA Club at 4pm & Fe10 – Fe16 Players December 10th in Midleton GAA Club at 7pm
Club Shop
The Club Shop is open each Saturday from 10 to 12 selling flags and Club gear.