Midleton GAA , Camogie & Ladies Football Club News
02 October, 2016
Senior Hurling Jubliee team
On Sunday next the Senior Hurling County winning team of 1991 will be honoured at the County final in Pairc Ui Rinn. In advance of the game the team will meet at the Temple Inn, Longboats Bar & Restaurant on the Blackrock Road.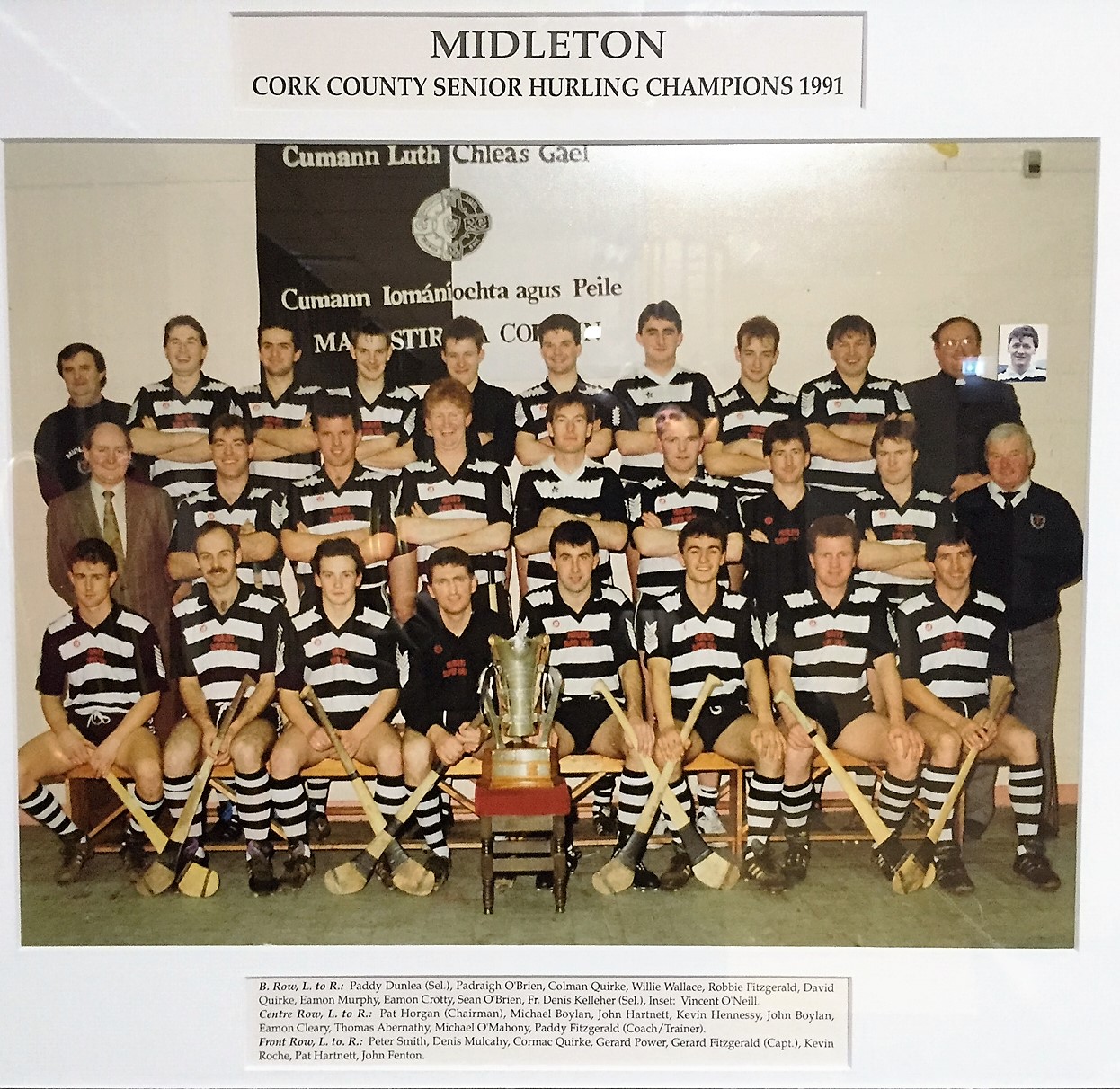 Minor Hurling
Our hurlers were very unlucky to go under to Blackrock last Sunday morning in the Minor C League final by the narrowest of margins 0-16 v 3-08 in Midleton.
Team: Cormac Higgins, Jordan Roche, Conor O'Farrell, Cathal Gunning, Timatayo Abdullagh, Ciaran Evans (0-01), Luke Smith, John O' Dwyer, Kevin Finn (0-01), Harry Wall (0-02), Conor O'Neill (0-02), David Mulcahy (0-09), Evan O'Meara, Tom Scanlon and Kevin Daly. Subs used Christian Daly, Alan Power, Andrew Nestor, Cormac O'Brien & Arthur Nganou.
Junior Football
Last Sunday morning our footballers defeated our hosts Lisgoold in the East Cork Division 1 League by 3-12 to 1-11.
Team: Keith Ryan, Eoin Ferriter, Sean Corcoran, Joe Collins, Brendan Ferriter, Eoin Walsh, Jerome Curtin, Seanaidh Smyth, Seamus O'Farrell (1-01), Kevin Daly (1-01), Brian O'Sullivan (0-01), Niall Madden, Coran Swayne (1-00), Kieran Mulcahy (0-08) & Andrew Rea (0-01).
Pitch & Club Closure
Please note that due to numerous STRICTLY MIDLETON tasks taking place next Sunday we are requesting that no games or other activity's take place between 10am and 7pm.
100 Years ago
On the 1st of October 1916 Tipperary defeated Cork in the Munster Senior Hurling final in Dungarvan by 5-00 to 1-02, Jimmy Ramsell of Midleton played at full back.
Camogie
It was a busy Saturday for Midleton Camogie with every age group on the field in one day. Our under 6 girls travelled the short distance to Carrigtwohill for an end of year blitz, fielding two teams, each played two games against Castlelyons and Carrigtwohill. The girls played very well and had a great morning.
Thanks to Carrigtwohill for hosting and for their hospitality.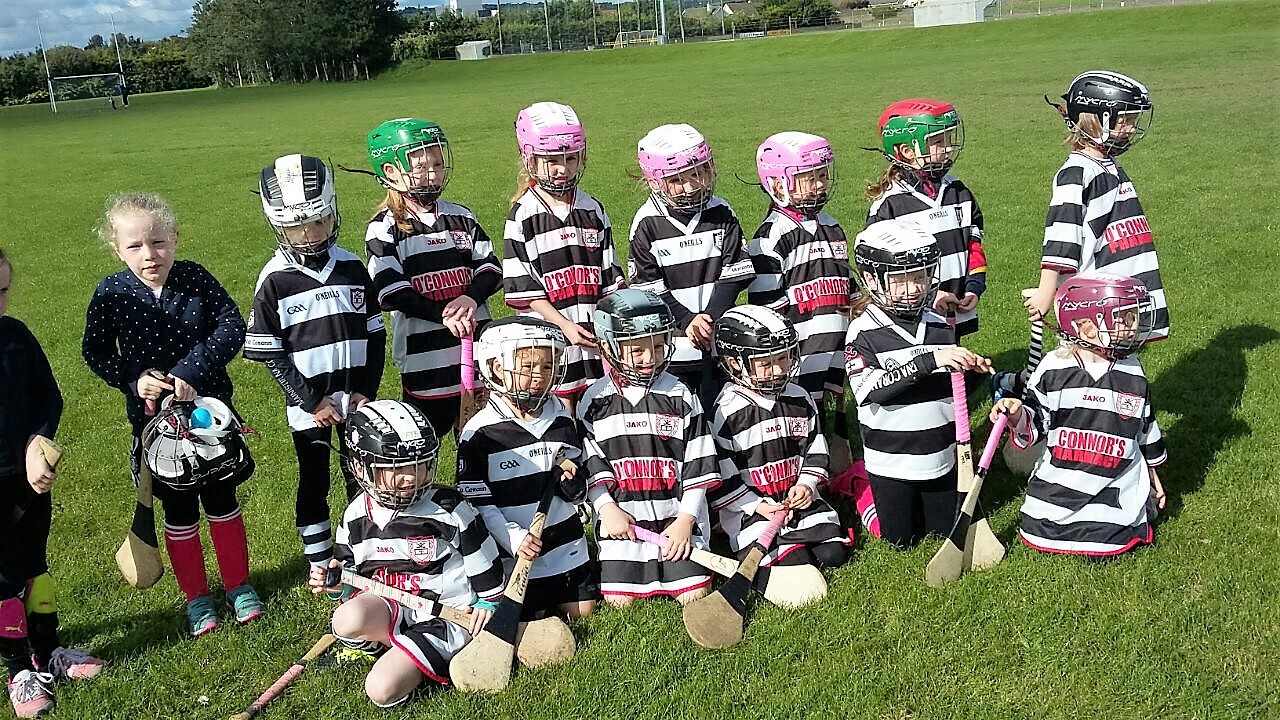 For the second year we were invited to the Veronica Stack Memorial tournament in Dr. Crokes GAA on Saturday and what a great day it was!
Under 8 - 14 of our under 8 girls travelled to Killarney for the Veronica Stack Memorial tournament. We played 5 matches at 7 minutes a side. We played were Killarne , St Colums Black, Kilbrittan and Laochra Og . What fantastic games they were, our girls played brilliant camogie in every match. A big thank you to the parents who were able to make the journey and also to the coaches Stephen and Grainne for all their help on the day.
Team: Robyn Keating, Hannah O' Brien, Emma Ivers, Nicole Quirke, Sarah Goulding, Eabha Kelleher, Emma Fitzgerald, Ciara Ryan Dardis, Hayley Bermingham, Jamie Healy, Mai Woods, Faye Lordan Bailey, Thea Howard & Rosin McManus.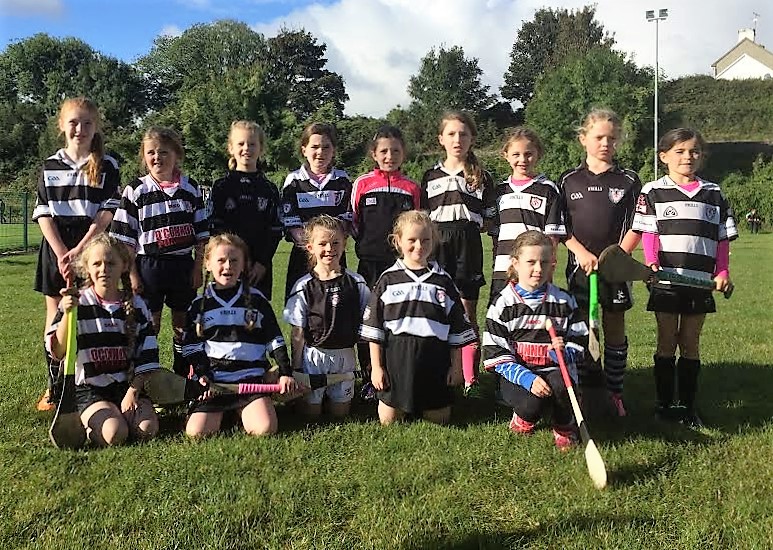 Under 10 - Well done to our 16 under 10 girls who also made the long trip to Killarney and again represented our club so well with some excellent skill and determination on display. Team: Amy McCarthy, Jade Fitzgerald, Chloe Griffin, Miriam Finn, Aisling Naughton, Mia Collins, Sorcha Cronin, Laura Goulding, Catherine Finn, Faye Dunlea, Leila Berdassa, Rionach Finn, Suin Crowley, Rachel Yu, Grace Kelleher & Sarah Crean.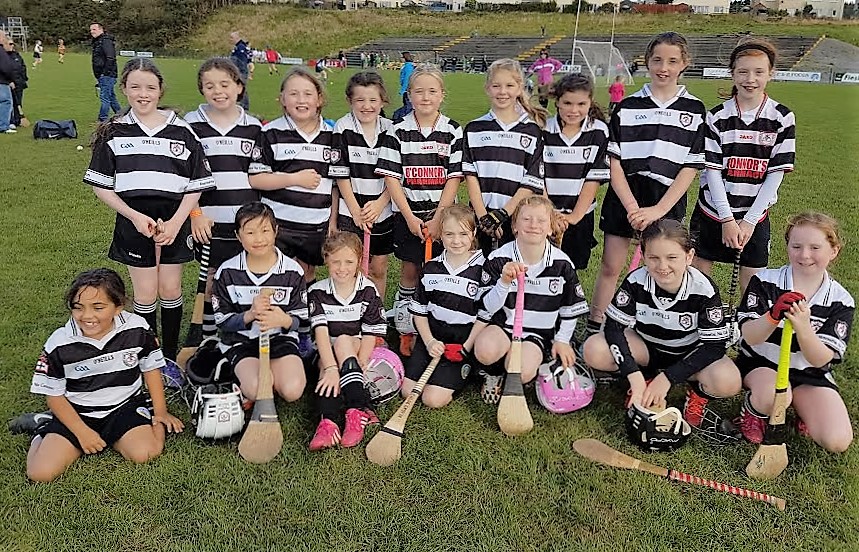 Under 12 - Our under 12's girls played 4 competitive and fast moving round matches against Causeway, Milstreet, Tralee Parnells and Clonakilty coming out of the group to play Cillard in the Shield semi-final. We secured a win in the semi-final against a strong Cillard team to go on to play Milstreet in the final. We started out strong with nothing between the teams. Millstreet went ahead with a goal which was answered very quickly with a goal by Midleton to equalise the match. We battled hard in the second half but missed a few chances to go ahead. Milstreet took their chances and the match ended in their favour on the final whistle.
The effort, dedication and work rate that the girls gave on the day is a credit to them and they should be hugely proud of their achievements not only today but throughout the year. Well done to all involved.
Team: Chloe Garde ( Captain), Jill Connaughton, Mia Tarrant, Elle McManus, Abbie Foley, Aisling Kelleher, Caoimhe Murray, , Ellie O'Keefe, Emma Lynam, Rebecca Crowley, Aoife Fitzgerald, Ines Costa, Emma O'Sullivan, Meabh Morrisey, Anna Sheehan, Ciara Naughton, Cadence O'Sullivan, Holly Duggan & Rachel McSweeney.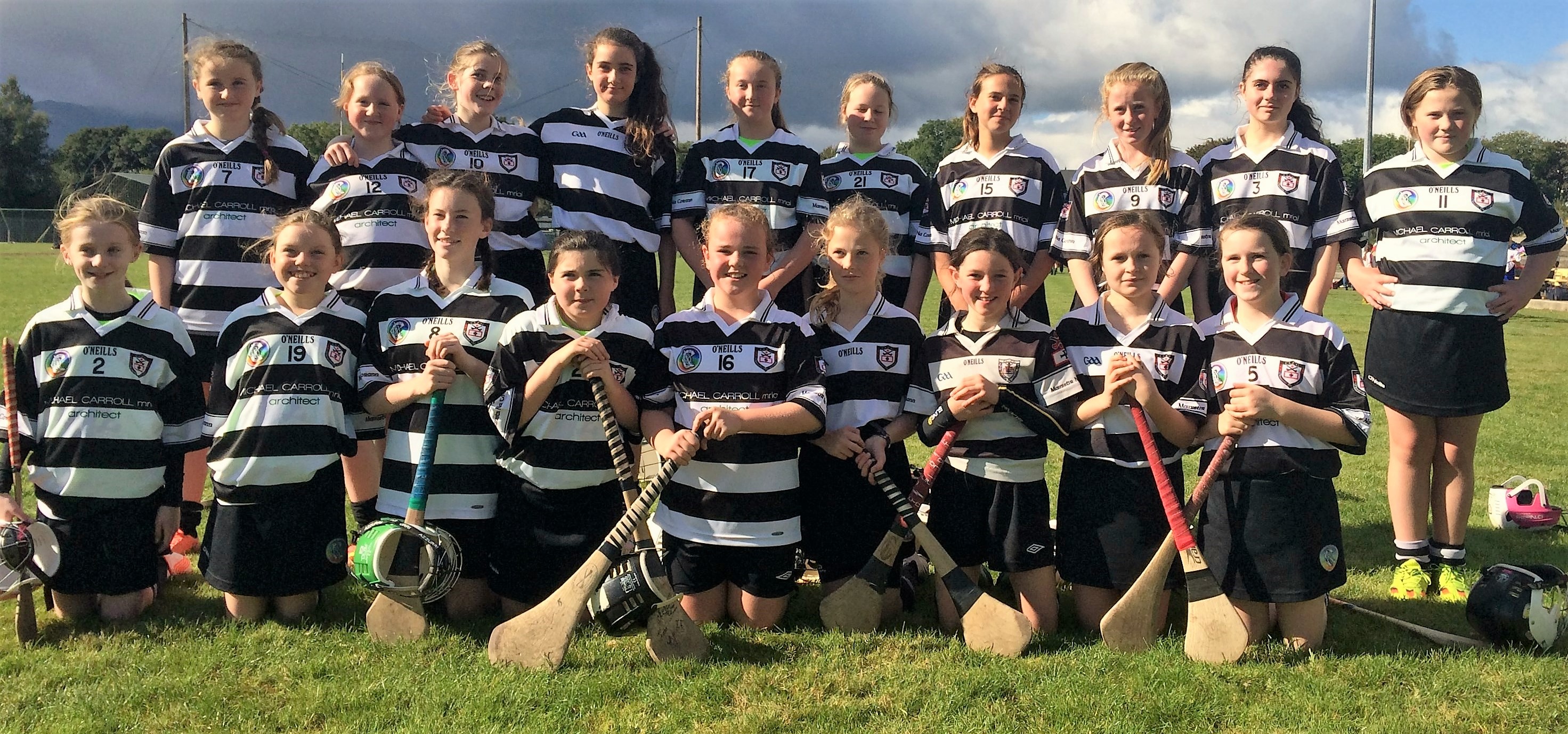 Under 14/15 - Our under 14/15's also put in a fine performance in Killarney playing their way the semi –final stage of the tournament. Winning two of our three group games in the first round in what were very competitive and sometimes physically tough games the girls showed remarkable resilience and skill. Making it to the semi final of the Verconica Stack Memorial Cup is a great achievement, this is a mixed age blitz and our girls were up against team that included girls two years older than ours, it was a particularly tough match and we narrowly missed out on a place in the final. The girls did themselves and the club proud and no more could be asked of them.
Team: Lucy Wallace (Captain), Ellen Ryan, Hannah Wall, Orla Evans, Ryanna Power, Leah Hogan, Ali Smith, Vivienne Gleeson, odi Keegan O'Connell, Caoimhe Cronin, Grace Maloney, Aine O;Neill, Kim moran, Katie Horgan, Teresa Geary & Abbey Purcell.
Well done to all the girls playing yesterday. Thanks to the parents and coaches who travelled and thanks to Killarney for the invitation and for hosting such a well organised tournament.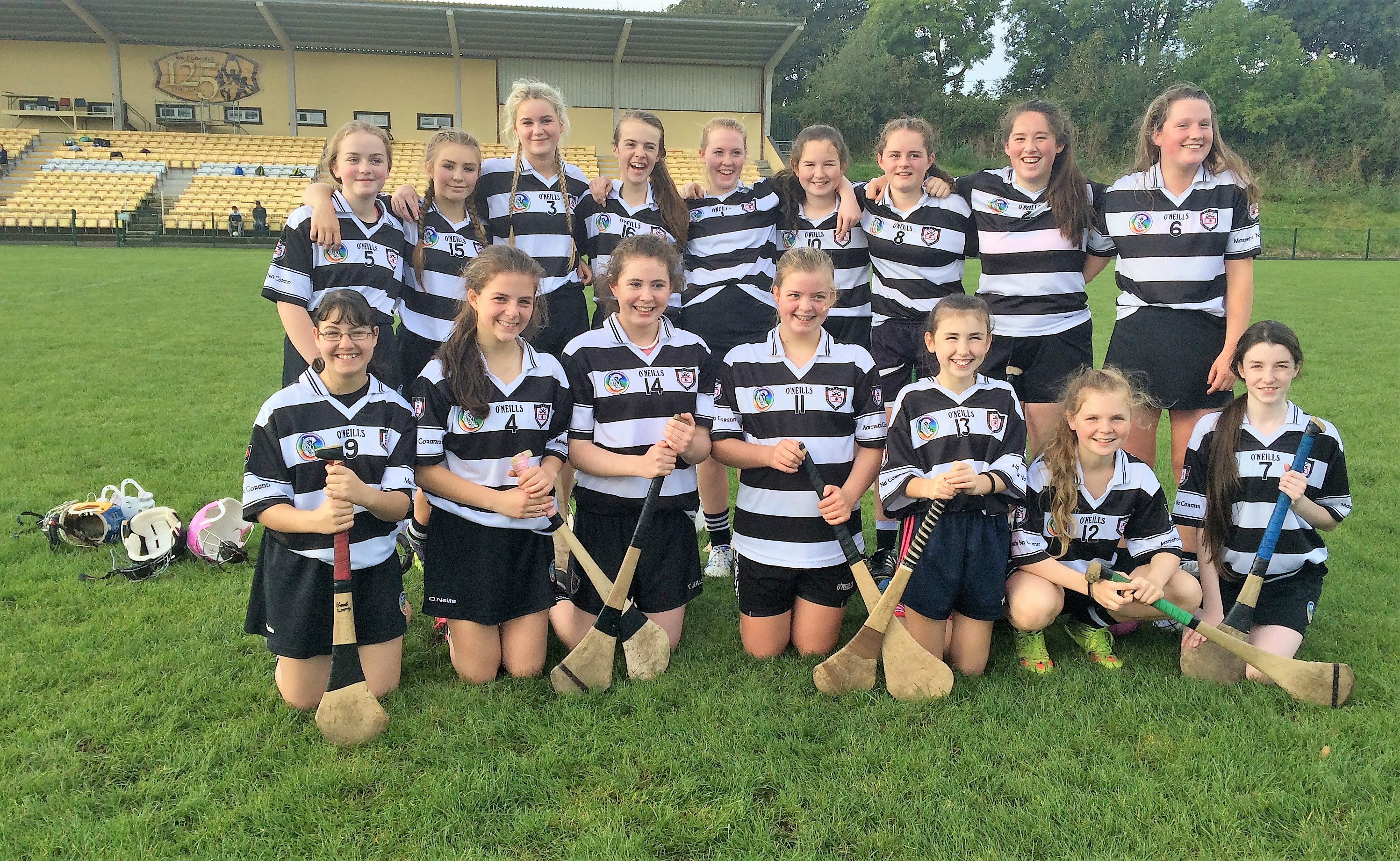 Training - We change training to of season training from this week on as follows,
Under 6's and Under 8's begin indoor training from this Friday, Community Centre 7pm -8pm. Under 10's Under 12's Under 14/15's Ballinacurra Pitch 7pm-8pm.
Ladies Football
U10 Final - A crisp and blustery Watergrasshill was the venue for our U10 ladies football final last Saturday. A great occasion indeed for this fantastic group of players. We were treated to a fine display of football skills, an exciting and very close game. Thrilling to watch and certainly gave spectators, parents and coaches reason to be extremely proud of this Midleton squad. We would like to say well done to Youghal who won on the day and look forward to our next campaign. After the game we went back to the Club we would like to thank all the parents who supplied cakes and sandwiches for the team.
Team: Kate Saunderson, Lily Kelly,Kate O Sullivan, Katie Smith, Kelly Quirke, Chloe Carr, Saoirse Tagney, Mia Hegarty, Emma O Leary, Grainne Finn, Lara Geary, Rachel Ryan,A ine Ryan, Kate Griffin ,Alyx Cahill, Sheila O Leary Hayes, Isabelle Nestorr, Alannah Magan, Sadhbh Hartnett, Anna Dupas ,Katie Tarrant, Amy Keeshan, Roisin Crotty and Ellen O Neill.
Training - Training has finished in Midleton Rugby Club again this year we are indebted to the Rugby Club for the use of their facilities every Monday night over the summer months and would like to thank them most sincerely.Training for the next few weeks will be in the Tech Field remember to use the St Mary's Road entrance and please do not block any entrance for residents in the area. As always keep an eye on Facebook for upcoming events and changes in training times/venues.
Condolences - Midleton Ladies Football would like to extend their sincere condolences to the Rooney family on the sudden death of Dominic last weekend, may he rest in peace.
Strictly Midleton
Last Friday night Susan Fitzgerald held a very successful Family Fun Table Quiz in the Club Lounge. Well done to Susan and thanks to everyone who supported it.
Connie Walsh held a raffle last Saturday evening in An Teach Beag, thanks to Paul Spillane for hosting this event and to everyone who supported it.
John O'Connell in association with the Arcade Midleton is holding a Fashion Show on Saturday October 8th at 10.30am upstairs at their Shop, tickets are €10, you can contact John at 085/1145993 for further details. Mistress of Ceremonies is Shin Hayes Fashion Blogger, all support for John would be greatly appreciated.
Sinead & Justin Dunlea are hosting a Coffee Morning and raffle to support their friend Nicola Shanahan who is a contestant in STRICTLY Midleton at their house 7, Willowbank Crescent on Saturday 8th of October from 10-1pm.
Golf Society Outing
Last Saturday there was a good turnout at Youghal Golf Club for an event sponsored by Robbie Fitzgerald of Fitzgerald Commercials, Youghal Rd.
The winners were; 1st Michael Crotty, 2nd Tadgh Horgan, 3RD Sean Cahalane, Front 9 – Padraig O'Keeffe and Back 9 – John Droog.
Operation Transformation
Operation Transformation is back for a 10th series and they are looking for 5 new leaders to lead the nation on the Operation Transformation health and fitness plan.
This is a chance to change your life while motivating others to do the same.
If you're ready to take on the challenge log on to www.rte.ie/ot and apply now.
If you have any questions please call 01 864 1444 or email ot@vipmg.tv
Condolences
The Club Executive would like to offer their sincere condolences to the family of the late William Gleeson, Ballyedmond father of club member Brian and also to the family of Dominic Rooney late of Waterock and former referee who died suddenly over the weekend.
Lotto
Our Lotto Jackpot was €5,400, there was no winner, the numbers were 6,16,22 & 28, the Lucky Dip winners were Fr Denis Kelleher, Margaret Fahy, Ronan Murphy, F Carroll & Lily / Fiachra Ryan, next week's Jackpot will be €5,600.
Tickets are on sale at the Club Bar, O'Neills Bar, Linehan's Bar, Maple Leaf Bar, O' Farrell's Butchers, Frank Murphy Butchers, Pat Walsh Paints, Chadwicks, Teach Beag & Niall Mac's Bars.
BINGO takes place each Friday evening at 8pm in the GAA Pavilion with a weekly guaranteed Jackpot of €1,000.
Juvenile
Fe 6
On Sunday 25th September last our Fé 6 hurlers travelled to Aghada to play their long awaited first game against Aghada. The morning weather was perfect and the excitement was palpable amongst the 32 team members who made it along with their parents and 8 mentors. We fielded four teams and all our lads gave a great account of themselves and won a number of matches also. Aghada had the advantage of playing at home and also due to numbers played a few Fé 7 so our lads did very well to hold them so well. Our four teams had eight close, competitive and fair games from Aghada. Our hosts led by Nigel Condon, were very well organised and put on a lovely spread in the Clubhouse afterwards which was enjoyed by all. This bunch of players are very committed to training and each week they give their all and the improvement is there for all to see. The hard work and determination paid off and well done to all. As the year draws to a close, I would like to thank all the mentors involved with the team and also to the parents for your continued support and help. We will continue training over the next few weeks as weather permits and will move indoors on the 12th November.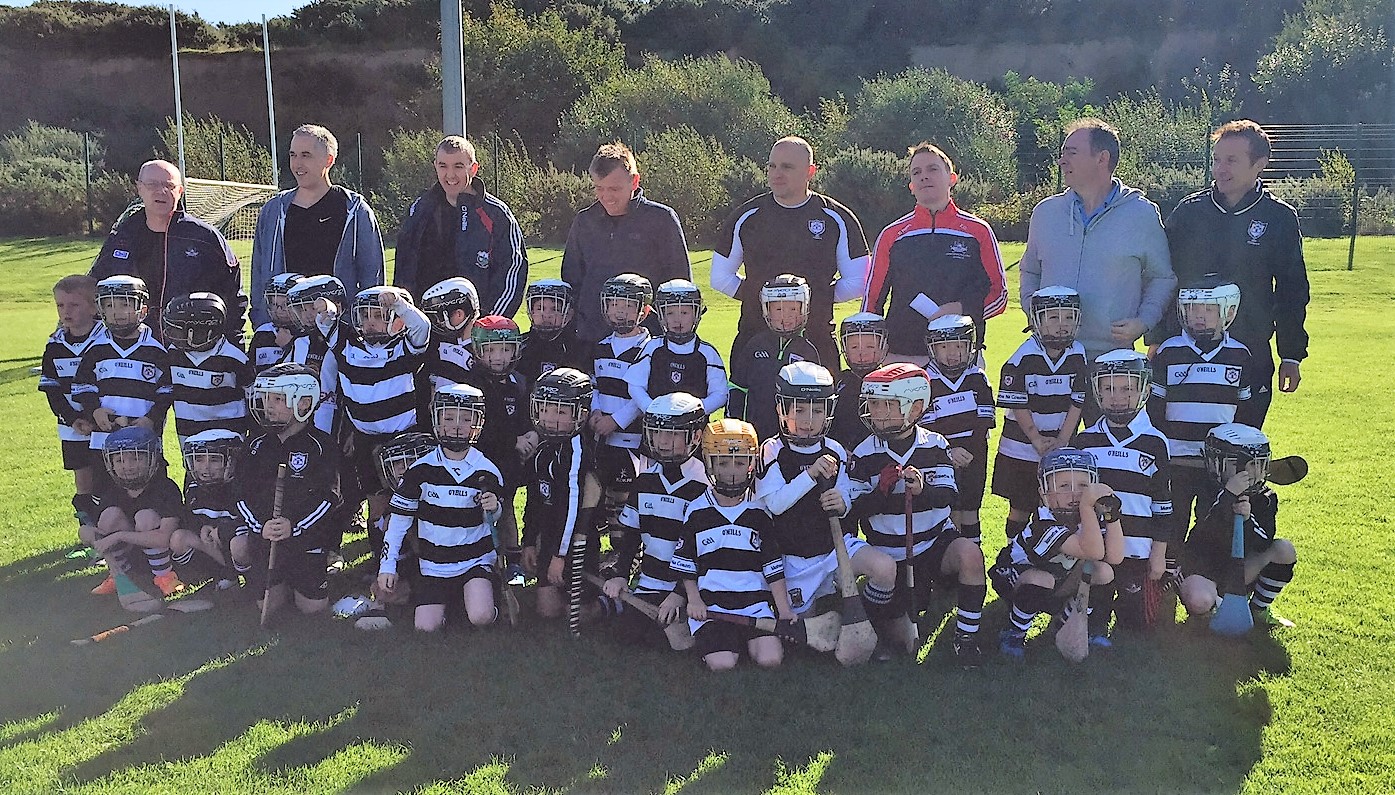 Fe 9
On Saturday morning last, we took to the field once again. This time we made our way Douglas. On what was a great morning for hurling, we had 33 enthusiastic young magpies ready for action. It turned out to be a very tough, physical and competitive morning of games and ours lad's showed great commitment and skill throughout. The lad's have given great commitment to training all year. As a result the hurling is improving all the time. Well done to all involved. Training will continue on Saturday's and all details will be confirmed soon.

Fe 12
Last Saturday we held the annual James O'Brien Tournament in plentiful sun-shine with teams competing from Erin's Own, Lisgoold, Ballygunner, and the hosts. All league games played were competitive, with a good standard of hurling from all, and resulted in Lisgoold and Midleton contesting the final. Ben Kenneally, Sean Fraser, Niall Lang and Caolán Dennigan played huge roles in winning the league games, with Diarmuid Murphy, Dara Fitzgerald, Odhran Prenter, Conor O'Shea and Alex Moloney shining during the day.
The final was a great culmination of the excellent hurling on display all day, and both teams exchanged score for score and were neck in neck until the final few minutes of injury time. A Midleton attack was rewarded with a 65 and Mickey Finn stepped up to take the last play of the game – with a wristy strike, he coolly converted the free to put Midleton ahead by the narrowest of margins, and winners of the tournament for the third year in a row.
Our thanks to the parents for contributing all the sandwiches and cakes, to Mary Quinn for all her help on the day – a special tribute to Molly Beausang, and Alan Kenneally for all their help in the kitchen, and keeping the refreshments going all day.
Finally, thanks to the referees, Mike Franklin for taking charge of four matches, and Pa Beau-sang, a new member of the 50 something club.
Panel: Dara Fitzgerald, Diarmuid Murphy, Sean Fraser, Fionn Dalton, Ben Kenneally, David Green, Riain de Barra, Alex Howard, Brian O'Connell, David Cremin, Ti-arnán Roche, Tadhg Bohan, Cathal Beausang, Dara Scanlon, Odhran Prenter, Niall Lang, Mikey Finn, Caolán Dennigan, Alex Moloney & Conor O'Shea.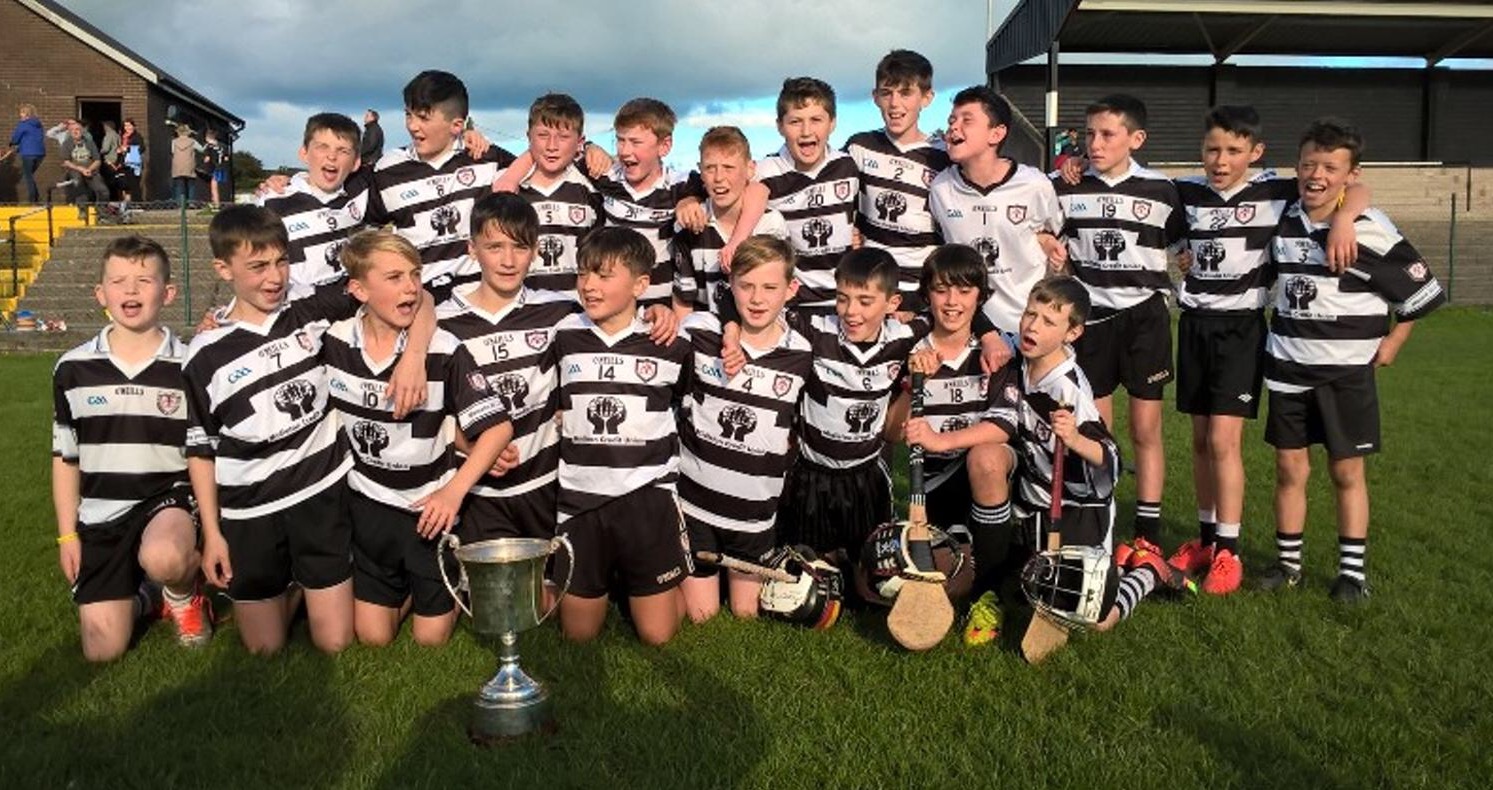 Fe 15
On Wednesday last we travelled to Cobh for the first round of the Premier 1 Hurling Championship. With wind and rain it wasn't ideal conditions for quality hurling. However both teams produced to a great standard. We won the toss and opted to play against the wind for the opening half, we started well but Cobh finished the half stronger and lead at the break by 0-07 to 0-03. The second half was very even but in the final quarter we finished very strong scoring 3-03 to their single goal running out winners by 3-08 to 1-09.
Panel: Alex Quirke, Patrick Kane, Christian Murphy, Jack Fitzgerald, Dan O'Sullivan, David Scanlon, Ethan Daly, Samuel Quirke, Leo Hennessy, Frank O'Brien, Aaron Mulcahy, Gary Carroll, Tim O'Sullivan, Cian Crowley, Paul Connaughton, Adam Meade, Rory Donegan, Ryan Cahill & Gavin Reddy.
Last Saturday we made our way to Delaneys Fields to play Douglas in the semi final of the Premier 1 Hurling Championship. Playing with the wind, we started well and finished the first half ahead by six points. On a frustrating day for both teams the second half proved a ferocious battle and saw Douglas come back into the game from early in the second half.
We worked hard against the wind but in the final seconds of the game conceded a point which saw Douglas take the honours by 0-12 to 0-13.
Great praise is due to our lads who gave everything they had were a credit to both themselves and our club. We will now focus on the league for the rest of the season.
Panel: Alex Quirke, Patrick Kane, Christian Murphy, Jack Fitzgerald, Dan O'Sullivan, David Scanlon, Ethan Daly, Samuel Quirke, Leo Hennessy, Frank O'Brien, Aaron Mulcahy, Gary Carroll, Tim O'Sullivan, Cian Crowley, Paul Connaughton, Adam Meade, Rory Donegan, Ryan Cahill & Gavin Reddy.
Davy Hogan Street Leagues
The Round 3 matches for this tournament are set to take place in the main pitch at 6pm on Wednesday the 5th of October.
St. Enda's v Sons of Rest, Owenacurra v Forkums and Garryowen v Saints.
Finals day has been rescheduled for October 15th. All players are to meet and assemble in Market Green outside Sam McCauleys at 9.45am and parade to the Club.
Play off matches will commence at 11am with the Final scheduled to take place at 11.45.
We would encourage parents, Club members and supporters to come out and support this great event. Parents of players are asked to bring along cakes and sandwiches for afterwards so all these players can enjoy a party to mark the ending of this tournament.
6 Week - Youth Physical Development Progam
On Monday next the 3rd of October the club will begin (as part of our Gold Coaching Award) a youth physical development program. The course will begin at 6.30pm and finish at 7.30 pm, continuing at the same time for the next six weeks. The course will take place in the ball alley and weather permitting some aspects of the course will take place on the side pitch. We are delighted to have six times All Ireland winner Orlagh Farmer leading the program. Orlagh is a P.E. teacher and second year PhD student in the field of youth physical development and sport participation. We would encourage all coaches to attend this coaching youth development program and believe those that will attend will derive great benefit from it in preparing your players for competitions next year.
Coaches interested in attending please contact Martin 087 6972147 or Cormac 086 078 3365.
Foundation Training Course
Training course details have been released for Foundation courses taking place at the following Clubs in October. Glanmire GAA Club - 14th & 15th of October, St. Colmans GAA Club - 21st & 22nd of October, Eire Og GAA Club - 21st & 22nd of October
Please follow the link below to book your place.
http://rebelogcoaching.com/coaching-courses/foundation-courses/foundation-course-payment/
Award 1 Course Training Course
An Award 1 Course is arranged to take place in Midleton CBS Secondary School on December 3rd, 10th & 17th from 10am to 5pm. This course is limited to 4 qualified foundation coaches per course. An email has been sent to coach mentors from Fe11 to Fe14. Please ensure a coach from each of these age groups books a place on this course. Only coaches who have received their Foundation certificates are eligible to progress to Award 1 training. http://rebelogcoaching.com/coaching-courses/award-1-courses/award-1-course-payment/
Child Protection & Welfare Training
There are two Child Protection & Welfare Training courses taking place at St. Finbarr's GAA Club, Togher on Wednesday the 12th of October and Thursday the 17th of November @ 7pm. Ingrid O' Riordan, Midleton GAA's Child Welfare Officer has contacted those coaches who need to undertake this course. We thank those you of you who have already booked your place and would ask those that haven't yet reserved their place on the course to contact Ingrid O' Riordan to confirm your booking.
Up and Coming Events
Juvenile Registrations for Junior Infants - Saturday October 8th from 10am -12noon registrations will take place at the GAA Club. All are welcome.
Indoor Training Schedule - Indoor Training will commence on Saturday November 12th at the Community Centre Midleton. Fe 8's from 10-11, Fe 7's from 11-12 and Fe 6's from 12-1.
Juvenile Christmas Underage Social Dates Fe6 – Fe9 Players December 3rd in Midleton GAA Club at 4pm & Fe10 – Fe16 Players December 10th in Midleton GAA Club at 7pm
Club Shop
The Club Shop is open each Saturday from 10 to 12 selling flags and Club gear.