Midleton GAA , Camogie & Ladies Football Club News
18 September, 2016
Senior Hurling
Next Sunday afternoon our hurlers will play Erins Own in the County Championship semi final in Pairc Ui Rinn at 2.30pm, we wish the players and the management the very best of luck in this game.
The second semi final between Douglas and Glen Rovers will take place immediately afterwards at 4.15pm.
Thanks to Home & Away Real Estate for their recent sponsorship of training Bibs.
Junior C Hurling
Following our great first round win over Fr O'Neills we now take on Killeagh in the semi final next Wednesday evening at 8pm in Killeagh, we wish the players and management the very best of luck in this game.
Minor Hurling
Our second hurling team had a fine victory over Douglas last Saturday morning in the semi final of the Premier 3 Championship in Douglas on a scoreline of 1-17 to 1-05.
We now await the winners of Sars and Na Piarsaigh in the final.
Team: Cormac Higgins, Alan Power, Conor O'Farrell, Cormac O'Brien, Andrew Nestor, Ciaran Evans (0-01), Timatayo Abdullagh, John O'Dwyer, Kevin Finn (0-03), Harry Wall, Christian Daly, Kian Farmer (0-06), Kevin Daly (0-04), Tom Scanlon (1-02) & Evan O'Meara. Sub Ryan O'Riordan.
Extraordinary General Meeting
The Hurling & Football Club will hold an EGM on Monday next the 19th @ 7.30pm in the Club Lounge to discuss further Club Development; all members are we come to attend.
UCC Course in Midleton Gaa
UCC's highly successful Diploma in Local and Regional Studies, is being offered in Midleton in September 2016. This is a part-time level 6/7 programme that is aimed at members of historical societies, those working or volunteering in the heritage sector, and those with an interest in local history and heritage.
The programme is taught over two academic years. Lectures will take place one evening a week in Midleton, while there will be seminars in UCC and fieldtrips on some Saturdays. The modules being taught in Midleton are as follows:
Year 1: Celtic Ireland (5 credits), Studying Folklore: The Sayings and Doings of Common People (10 credits), Historical Geography (5 credits) & Aspects of Modern Irish History (10 credits).
Year 2: Local Food Studies: History, Tradition and Identity (5 credits), The Irish Medieval Church (5 credits), Research Skills for Local and Regional Studies (5 credits) & Local and Regional Studies Research Project (15 credits).
Further information and application details can be found at https://www.ucc.ie/en/ace-dlrs/
Camogie
U14 Championship v Tracton - We took on a very strong and physical Tracton team in Tracton last Saturday morning in round 2 of the U14 Camogie Championship. We started the opening twenty minutes of the match with us trading scores with Tracton but in the last ten minutes of the half when we should have scored ourselves at one end Tracton got a goal at the other. We finished four points down at half time but still very much in the game.
The girls started the second half of the game with great determination to get back into the game. We got the opening point of the second half and we were now creating chance after chance in front of the Tracton goal but to no avail. They came to life after fifteen minutes and again scored a goal to increase the margin to six points.
To our girls credit they again took the fight to Tracton and pulled a goal back reducing the margin to three points with ten minutes to go. Unfortunately that was as close as were to get to them who would go one to get a couple of more scores to run out the winners in the end.
The girls willingness to fight for every ball and never give up attitude is a credit to them. Tracton may have been the better team on the day but our girls matched them for long periods in the game and only just came up short.
All eighteen girls that took part in the match were brilliant and a credit to themselves and their club. On behalf of all the management team we would like to thank the girls for their hard work in both our league and championship campaigns.
We will now turn our attention to the upcoming Veronica Stack Tournament in Killarney at the end of the month after which we will start our preparations for next years competitions.
Team: Aoife Lomasney, Hannah Wall, Leah Hogan, Abby Purcell, Katie Horgan, Orla Evans, Ellen Ryan, Jodie Keegan O'Connell, Ali Smith, Caoimhe Cronin, Chloe Garde, Caoimhe Murray, Nikola Smolonova, Vivienne Gleeson & Grace Moloney. Subs: Theresa Geary, Abbie Foley & Rachel McSweeney.
Go Games finals - The U8, U10 & U11 teams took part in the Go Games finals in Carrigtwohill on Saturday afternoon. The weather was in our favour and over 60 girls from Midleton across all age groups participated.
Over 30 of our U8's took part in the Go Games finals on Saturday with great fun had by all. The U8's played Watergrasshill, Sarsfield,, Aghada and Erin's Own in some great matches.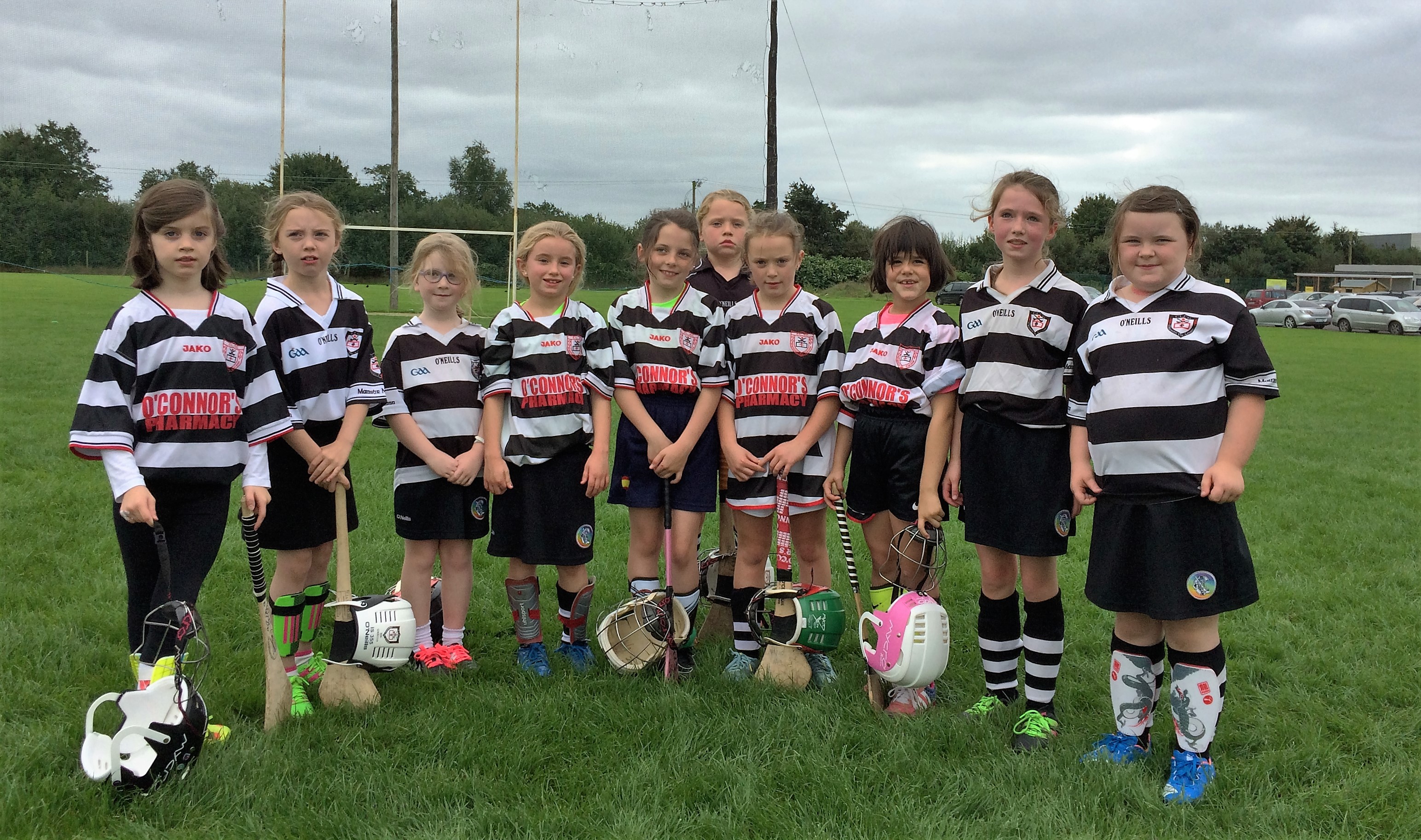 The U10 team played really well in all their matches in the Gala blitz hosted by Carrigtwohill. The U10's played Watergrasshill, Erin's Own & Cobh in three exciting matches. Team: Muireann Ni Conchubhuir, Maria Gomez, Lily Kelly, Kate Saunderson, Suin Crowley, Leila Berdessa, Kate Griffin, Emma O'Neill, Ellen O'Neill, Jade Fitzgerald, Tia Wall, Faye Dunlea, Kate O'Sullivan, Eimear Hickey, Rionach Finn, Sorcha Cronin, Rosin Hayes, Grace Kelleher & Mia Collins.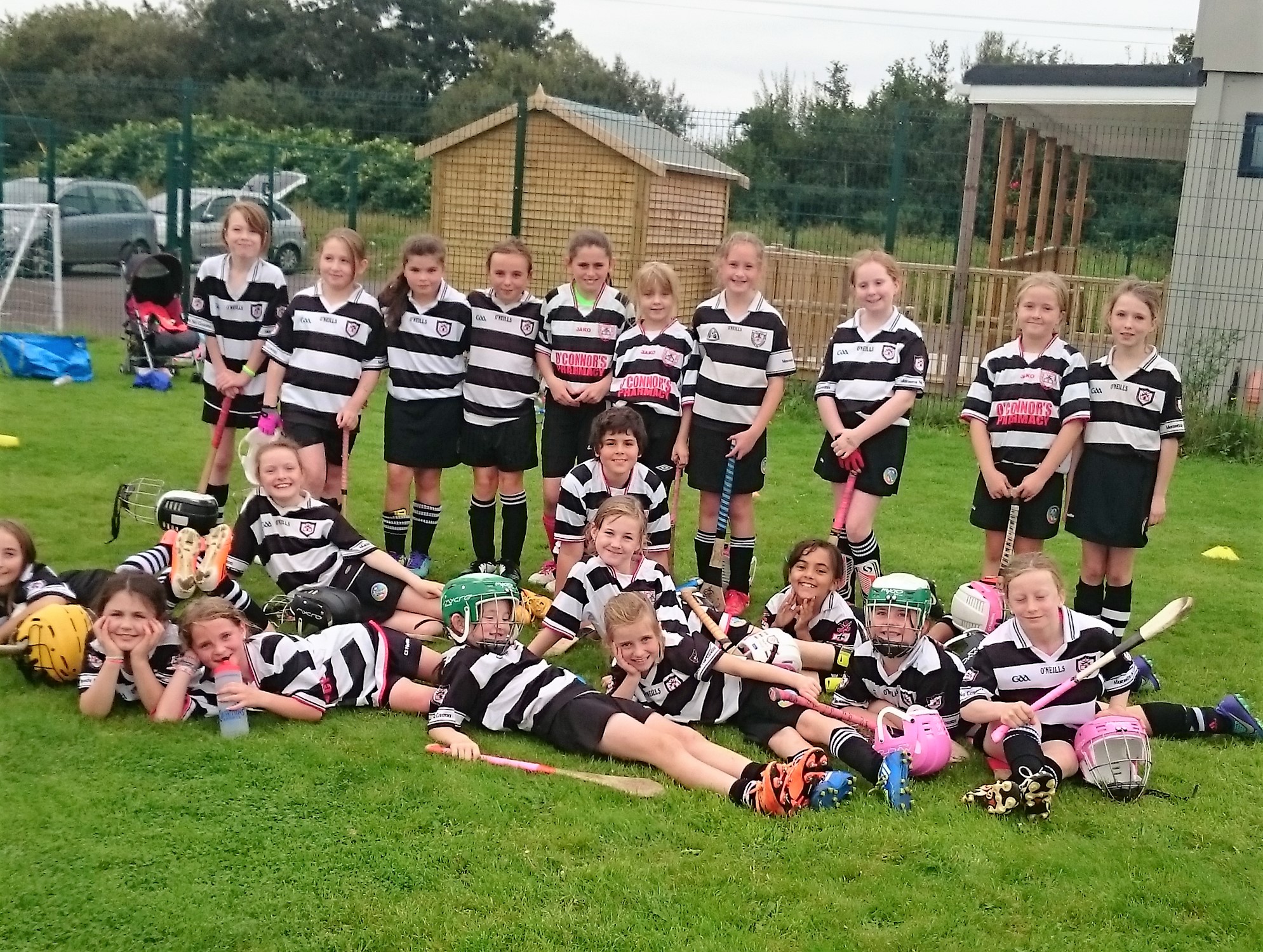 The U11's played Carrigtwohill & Aghada in two competitive & skilful matches. These girls are going from strength to strength and gaining confidence with each match they play.
Team: Emily Lamb, Rachel Ryan, Ruthi Hennessy, Jill Connaughton, Tori Buckley, Emma O'Sullivan, Elle McManus, Aoife Fitzgerald, Anna Sheehan & Cadence O'Sullivan.
Thanks to all the parents & coaches who helped out on the day and to the Imokilly Board for organising the Go Games final. Thank you to Carrigtwohill for hosting a very well run event.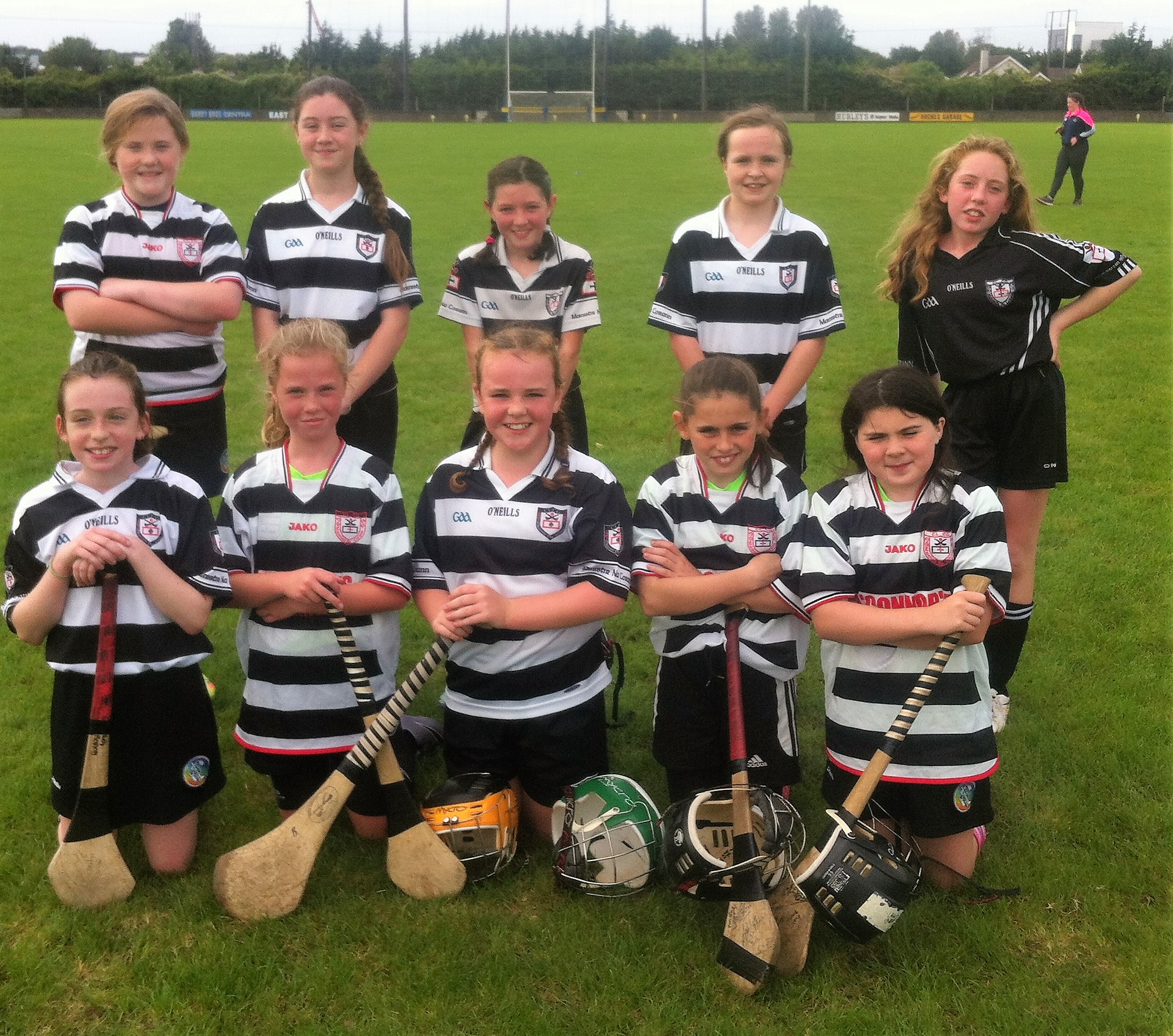 Ladies Football
We would like to wish our Club and Cork Player Orlagh Farmer and all the Cork Ladies the best of Luck in the All Ireland Ladies Football Final next Sunday v Monaghan.
U12 v Watergrasshill - Very hard luck to our girls in the East Cork quarter final replay recently in Watergrasshill. We tried their hardest and played very well but on the night were beaten by a better team. That's okay, we are proud of every one of you, well done in getting this far. This team has made great strides this year improving with every game.
You cannot ask for more. Well done Girls.
Training continues at Midleton Rugby Club from 6.30pm. Keep an eye on Facebook and text messages as we will be changing venues soon to prepare for Winter Training.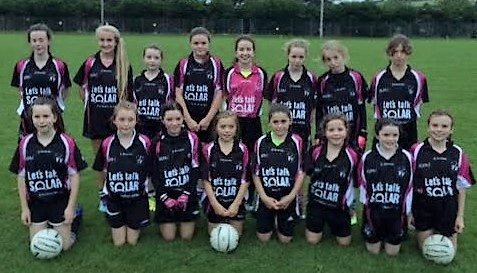 Strictly Midleton
Our dancers were back into training again last Sunday morning. They must be commended for their dedication and hard work. It is great to see such enthusiasm from each and every one of them. We are having a Launch Night on Friday September 23rd in the Club Lounge at 8.30pm. Here our dancers will find out who they will be partnered with for the Couples Dance for the Event on October 30th. All are welcome to attend, please support this Event and our Dancers. They are putting a lot of effort into the preparations for the big show.
We are delighted to announce that Claire O'Connor has won the "Guess the Score" for the All Ireland Football final, Claire had the closest prediction and will receive her prize soon.
A big thank you to everyone who supported Dee and Colette in their joint fundraiser.
Over the coming weeks a number of fundraising events will take place in advance of the Strictly event on the October Bank holiday Sunday evening.
Marie Magan has organised a "Guess the Score" for next weekend's Ladies Football All Ireland final Cork v Monaghan, each guess only costs €2 with a prize for the winner.
Marie and her husband Barry will be at Ladies Football training on Monday next, on Saturday they will in the Club from 10-12 and during the week at Fe13/14 training sessions.

Clothes for Cash, Darren wants your old clothes! COLLECTION DATE - SAT SEPT 24TH
Calling all Players, Mentors, Parents & Grandparents!
If you have any old Clothes, Shoes, Bags or Belts you want to get rid of between now and September 24th-please drop them off at the Clubhouse on Saturday mornings between 10.00am and 12.00 noon.
Susan Fitzgerald is holding a Family Fun Table Quiz on Friday the 30th of September at 7pm in the Club Lounge. Tables of 2 adults and 2/3 kids cost €20, Susan will attend Fe 9, 11 & 14 training sessions and games, please support this event.
John O'Connell in association with the Arcade Midleton is holding a Fashion Show on Saturday October 8th at 10.30am upstairs at their Shop, tickets are €10, you can contact John at 085/1145993 for further details. Mistress of Ceremonies is Shin Hayes Fashion Blogger, all support for John would be greatly appreciated.
Church Gate Collection
Our Annual Church Gate collection will take place next weekend, help is required for masses in Midleton and Ballintotas both on Saturday evening and Sunday morning.
Golf Society Outing
On Saturday the 1st of October there will be an outing to Youghal Golf Club, the tee time is from 12 to 1pm. This event is kindly sponsored by Robbie Fitzgerald of Fitzgerald Commercials. Everybody is welcome to attend.
Condolences
The Club Executive would like-to offer their sincere condolences to the family of the late Theresa Gaffney (nee Lehane) who passed away last week, Theresa was a great supporter of the Club Bingo & Lotto as indeed are many members of her family.
Lotto
Our Lotto Jackpot was €5,000, there was no winner, the numbers were 15, 21, 25 & 27, the Lucky Dip winners were Antoinette Scully, Susan Sheehy, Norah Higgins, Nuala Kearney & Alan Donegan, next week's Jackpot will be €5,200.
Tickets are on sale at the Club Bar, O'Neills Bar, Linehan's Bar, Maple Leaf Bar, O' Farrell's Butchers, Frank Murphy Butchers, Pat Walsh Paints, Chadwicks, Teach Beag & Niall Mac's Bars.
BINGO takes place each Friday evening at 8pm in the GAA Pavilion with a weekly guaranteed Jackpot of €1,000.
Juvenile
Fe 8
On Saturday last our hurlers embarked on their first big bus outing. The team continued the long tradition of accepting the kind invitation of Roanmore GAA club, Waterford city to their Monster charity hurling blitz. The blitz was run across the whole day in four pitches with 112 teams participating in lovely weather including four teams each from our club at U8 and 9's. We had an early 7.30 am start for the bus journey from the GAA club and had plenty of fun and noise all the way. We had an excellent turnout of 41 fully committed young magpies who were a credit to their parents and the club all day in their hurling and how well they behaved they were all day. Our four teams had twelve close, competitive and fair games from some great clubs such as Roanmore, De La Salle, Tramore, Ballyduff Upper. All the lads received lovely medals for their great endeavours, the cadet orange, the tayto's and the odd 99
We had plenty of singing and laughing all the way home, a memorable day came to an end.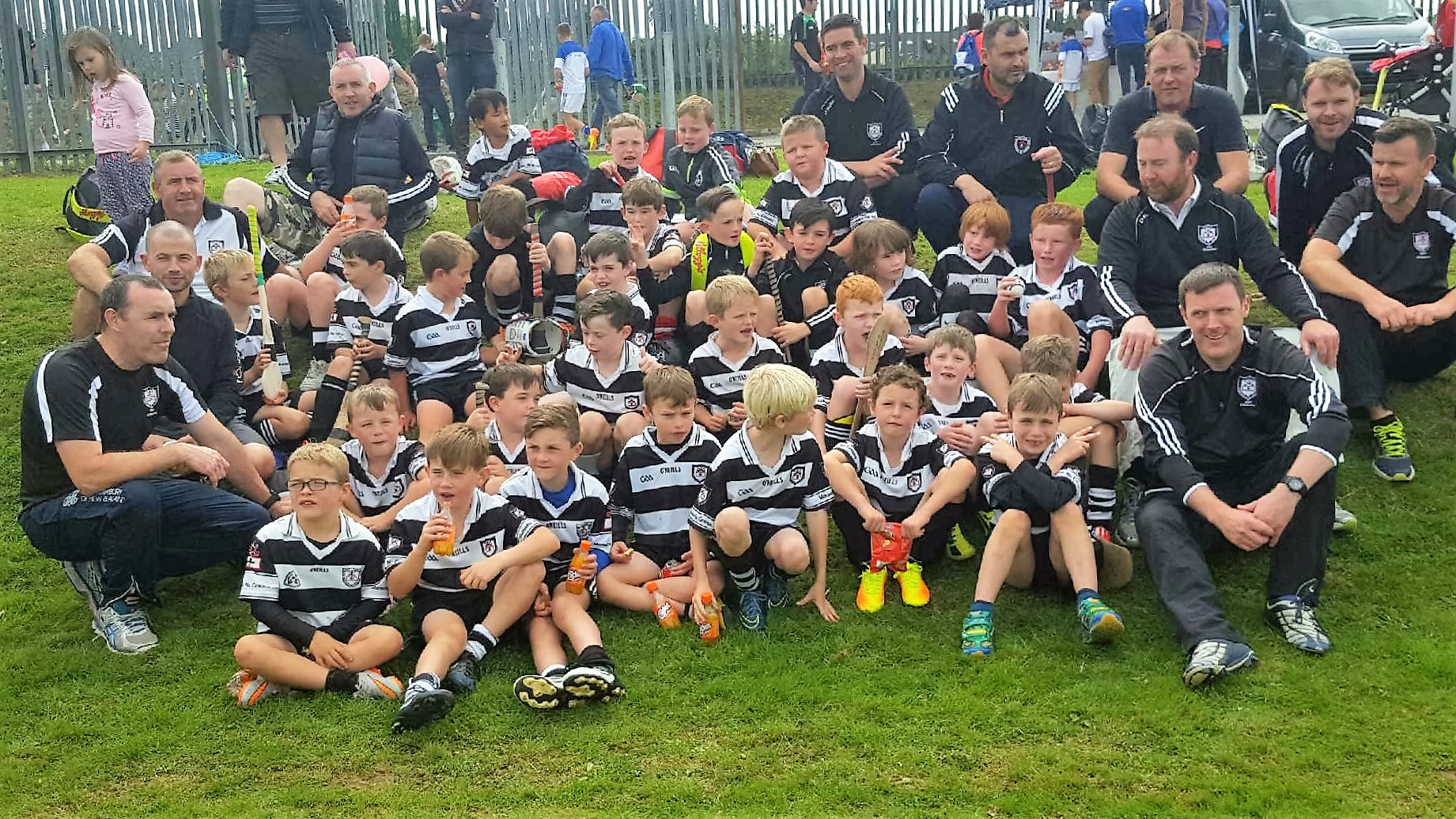 Fe 9
On Saturday morning last. Our Fe 9's made the long trip to Waterford for the 21st annual Roanmore charity hurling blitz. Travelling with 38 very enthusiastic young magpies, we made up four teams and in total played twelve matches. The blitz is an all ground hurling blitz and very well organised by all those involved. Throughout the morning every player gave a great account of themselves. The matches were tough but fair and each of the lad's got stuck in from the start .The skills of all the players was great to see with the ball always on the move. This bunch of players are very committed to training. Each week they give their all and the improvement is there for all to see. As the year draws to a close, I would like to thank all involved with the team and also to the parents for your continued support.
Panel - Aiden Jenkins, Aodhan Haughney, Ben Troy, Cian Fitzgerald, Cian Stack, Conor Bennett, Conor McCarthy, Conor Sheehan, Daniel Curtain, Daniel Donovan, Dara O Conchubhair, Darragh Cronin, Darragh Mullins, Darragh Savage, David Kelly, Diarmud Lester, Eoin Ahern, Eoin Hurley, Joey Moran, Josh Foley, Josh Hogan, Matthew McSweeney, Lochlann Stewart, Matthew Herbert, Matthew Baptista, Miah Mc Grath, Mikey Pedley, Nicky Coughlan, Odhran O Sullivan, Patrick O Dowd, Peter Kelly, Rhys Quill, Rian O Driscoll, Rory Hynes, Rory O Connor, Sean Crowley, Shane O Connor, Shane O Mahony, Tiago Fleming, Tom Smith, Tomas Botta, Tomas Geary & Conor Finn.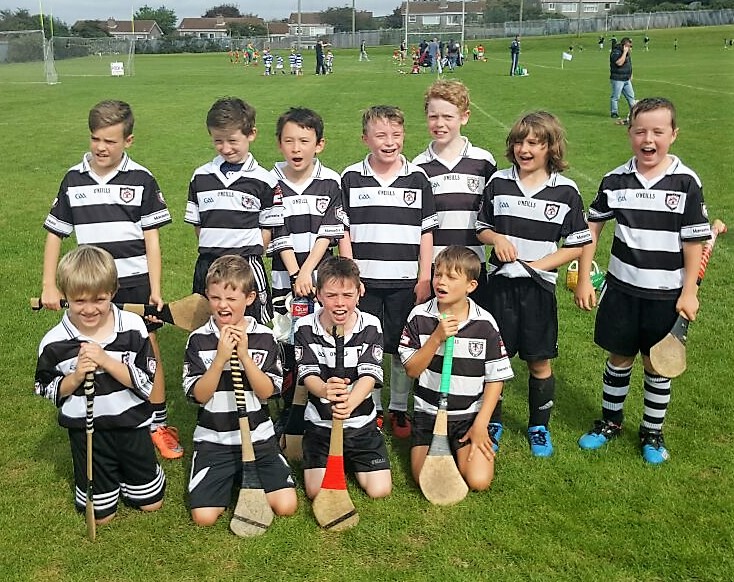 Fe 13
In the Autumn Hurling League last Saturday we began with a home game versus Ballygarvan. This league consists of four teams, Ballygarvan, Douglas & Sars, and so that equates to three games that will be run off over consecutive Saturdays. As is customary with our group there was a big turnout of players on a day that was perfect for a game of hurling. We started on the back foot and Ballygarvan were able to convert their possession into scores so that we found ourselves trailing by six points after ten minutes. But only for a number of scrambled clearances by Brion Saunderson in goal who was ably assisted by our full back line of James O'Sullivan, Niall Corcoran and Neil Fitzgerald we could have been even further behind on the scoreboard. For the last fifteen minutes of the first half Evan McCarthy, Fintan Greenwood and Darragh McCarthy started to win a lot more possession. This was the platform for a mini revival. The half time score was Midleton 0-04 v Ballygarvan 1-05. Darragh McCarthy got all of our scores in the first half. The second half started a lot more brightly for the young Magpies but we were finding it hard to take their scores. The closest we came to the lead was a two point deficit and that was with only a couple of minutes left in the match. We tried over the last few attacks to reel in Ballygarvan but on this occasion it proved a 'bridge to far'. Final score Midleton 0-11 v Ballygarvan 1-10.
Panel: Brion Saunderson, Neil Fitzgerald, Niall Corcoran, James O'Sullivan, Evan McCarthy, Fintan Greenwood, Adam Fay, Kane Rowlands (0-01), Darragh Codd, Cian Murray, Darragh McCarthy (0-08), Kelvin Barry, Ben O'Neill, Phelim Magan, Rory Hartnett, Tomas Lambe, Ronan Gies (0-02), Craig Collins, Roan Spillane, Liam McGrath, Shay Bohan & Ciarmhac Smyth.
Next outing is an away game v Douglas that's scheduled for Saturday 24th September, but as always keep an eye on texts from Tracey in case there's any change to this fixture.
Fe 15
On Sunday morning last we welcomed Ballincollig for a Hurling Challenge. On a wet morning where both teams had only 15 players this turned out to be a great workout.
From start to finish both teams battled for every ball with huge determination which was helped by our young whistler Tommy O Connell. Thanks to Liam Wade for the arranging Tommy to referee and well done Tommy for a great performance with the whistle.
As always when we play Ballincollig the game was played in the usual sporting manner with every score earned from both sides. Thanks to Ballincollig for travelling down for the game.
Team: Alex Quirke, Patrick Kane, David Scanlon, Adam Meade, Leo Hennessy, Charlie Walsh, Dan O Sullivan, Samuel Quirke, Ryan Cahill, Paul Connaughton, Aaron Mulcahy, Conor Fitzgerald, Rory Donegan, Cian Crowley &Tim O Sullivan.
Our Championship game is on Saturday October the 1st at 5pm against Cobh in Cobh.

Up and Coming Events
Juvenile Registrations for Junior Infants - Saturday October 8th from 10am -12noon registrations will take place at the GAA Club. All are welcome.
Indoor Training Schedule - Indoor Training will commence on Saturday November 12th at the Community Centre Midleton. Fe 8's from 10-11, Fe 7's from 11-12 and Fe 6's from 12-1.
Davy Hogan Street Leagues - The well anticipated Davy Hogan Street leagues kicked off on Wednesday night last the 14th of September at the GAA Club. We had 67 players taking part on the night. The Fe10, Fe11 and Fe12 players who qualified on the age were split into their respective teams, St. Enda's, Owenacurra, Garryowen, Sons of Rest, Saints and Forkums. Full details of all team players and points from round one can be viewed on the Juvenile Section of the Club Website, Davy Hogan Street Leagues 2016. All teams played two matches. It proved to be a great nights hurling with plenty of skill on show.
We wish all these players well in the second round of tournament matches.
The second round of matches will be played on the new CBS pitch at 6pm on Wednesday next the 21st of September. The finals day is set for Saturday the 24th of September. All players will assemble at 10.30am in Market Green in their Club Gear. They will march behind a piper to the GAA Club where all players will play their fifth and final match. The start time for their fifth match is 12 noon with the Final scheduled to take place at 1.15pm. We would encourage parents, Club members and supporters to come to Market Green and the club to show your support to these young magpies. This tournament has become one of the highlights of the Juvenile Calendar. Parents of players are kindly asked to bring cakes and sandwiches to the club on Finals day so that all these players can enjoy a well-deserved party in the hall afterwards.
James O' Brien Blitz - The Fe12 Annual James O' Brien Blitz will be held on October 1st in the main field.
Cork GAA Gaeltacht Scholarships to Coláiste na Mumhan 2017 - Scholarships to the Gaeltacht at Coláiste na Mumhan are available to students between the ages of 10 and 18 years of age, who are active members of their clubs. The Scholarship reduces the price of the fees by an amount yet to be determined by the Munster Council for 2017, but will possibly be in the region of €100. Please be advised that there is a limited amount of these scholarships and that they are provided on a first come first served basis.
Cúrsa A - 4/6/2017 - 25/6/2017 (3 Week Course): €845
Cúrsa B - 2/7/2017 - 17/7/2017 (2 Week Course): €575
The course fee includes tuition and accommodation, to avail of the scholarship, please follow the steps outlined below.
Complete the scholarship application form (available from the Coaching Corner on the Midleton GAA Website), and forward with the college application form together with a deposit of €300 to Coláiste na Mumhan. This will confirm your place. N.B. Please note that both forms are required and the GAA Scholarship Form alone does not suffice.
For further information, please contact an Rúnaí, Caoimhín Ó Drisceoil, at: (026) 47071/085-1709327 and eolas@colaistenamumhan.ie (PLEASE NOTE THAT THE CORK GAELTACHT SCHOLARSHIP SCHEME APPLIES TO COLÁISTE NA MUMHAN ONLY)
Juvenile Christmas Underage Social Dates - Fe6 – Fe9 Players December 3rd in Midleton GAA Club at 4pm & Fe10 – Fe16 Players December 10th in Midleton GAA Club at 7pm
Club Shop
The Club Shop is open each Saturday from 10 to 12 selling flags and Club gear for the up and coming County Senior Hurling semi final on the 25th of September.