Midleton GAA , Camogie & Ladies Football Club News
11 September, 2016
Senior Hurling
On Friday evening last in the quarter final of the County Championship we renewed rivalry's with St Finbarrs in Pairc Ui Rinn bringing back memories of the classics in the late seventies and early eighties. Thankfully the heavy rain that had fallen all day had passed away and conditions improved but the pitch was greasy.
The Barrs were fast out of the traps and scored two early goals, fortunately a goal from James Nagle kept us in the game at half time when we trailed by 2-10 to 1-07. We needed a strong start to the second half and got it with some fine points, a second goal from James put us ahead by a point for the first time in the game with twenty minutes to go.
We never looked back from here on and with a flurry of points from Conor Lehane, Brian Hartnett and Paul Haughney saw us finish deserving winners by 2-20 to 2-13.
We now play Erins Own in the semi final on Sunday 25th.
Team: Tommy Wallace, Patrick O'Mahony, Alywin Kearney, Killian Burke, Finbarr O'Mahony, Aidan Ryan, Seamus O'Farrell, Padraig O'Farrell, Paul Haughney (0-01), James Nagle (2-01), Conor Lehane (0-06), Cormac Walsh (0-06, 5 frees), Brian Hartnett (0-02), Peter Dowling & Luke O'Farrell (0-03).
Subs used Patrick White (0-01), Declan Ryan & Leslie Coughlan, not used Liam Franklin, Seanaidh Smyth, Padraig O'Keeffe, Cormac Beausang, Cillian Hurley, Sean O'Meara, Darren Quirke & Padraic Nagle.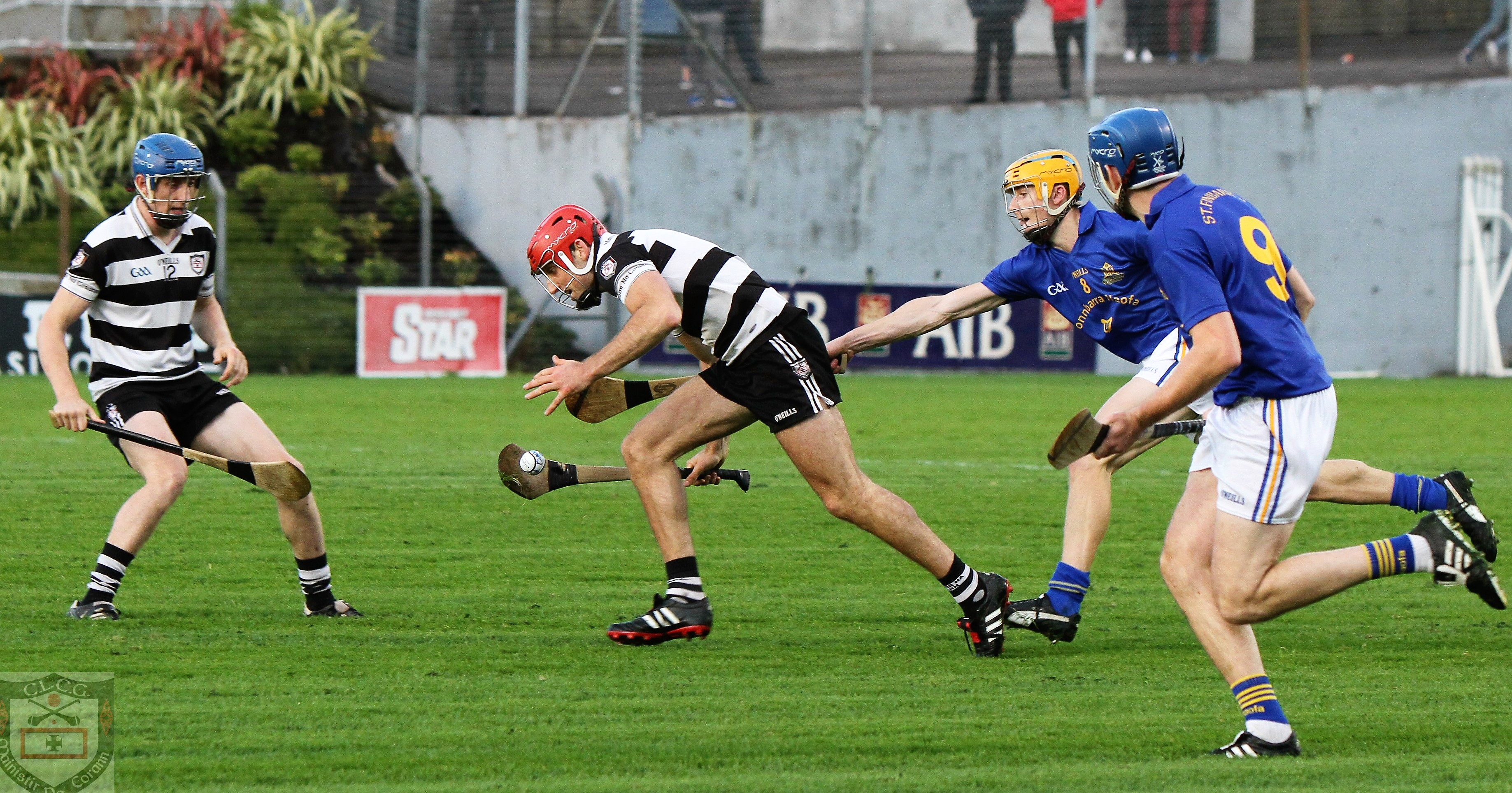 Junior C Hurling
Our fourth string team had a great win last Saturday afternoon in the East Cork Championship against Fr O'Neills in Shanagarry. Despite trailing by 2-03 to 2-07 at the break we dug deep and despite some pressure in the last few minutes we cleared our lines and emerged winners by 4-09 to 2-13. This was a great result for the management and the players some whom came out of retirement, veteran Paul Barry was the star of the show scoring 3-02.
We now look forward to playing Killeagh in the semi final.
Team: Liam Franklin, Ian Cooney, Barry Fitzgerald, James O'Brien, Aidan Moloney, Oisin Cotter, Kevin Mulcahy, Darren Quirke (0-06, 3 frees), Robbie Barry, Declan Mc Inerney, Eoin Walsh (0-01), Paul Griffin, Mark Crotty (1-00), Paul Barry (3-02) & Padraig Fitzgerald.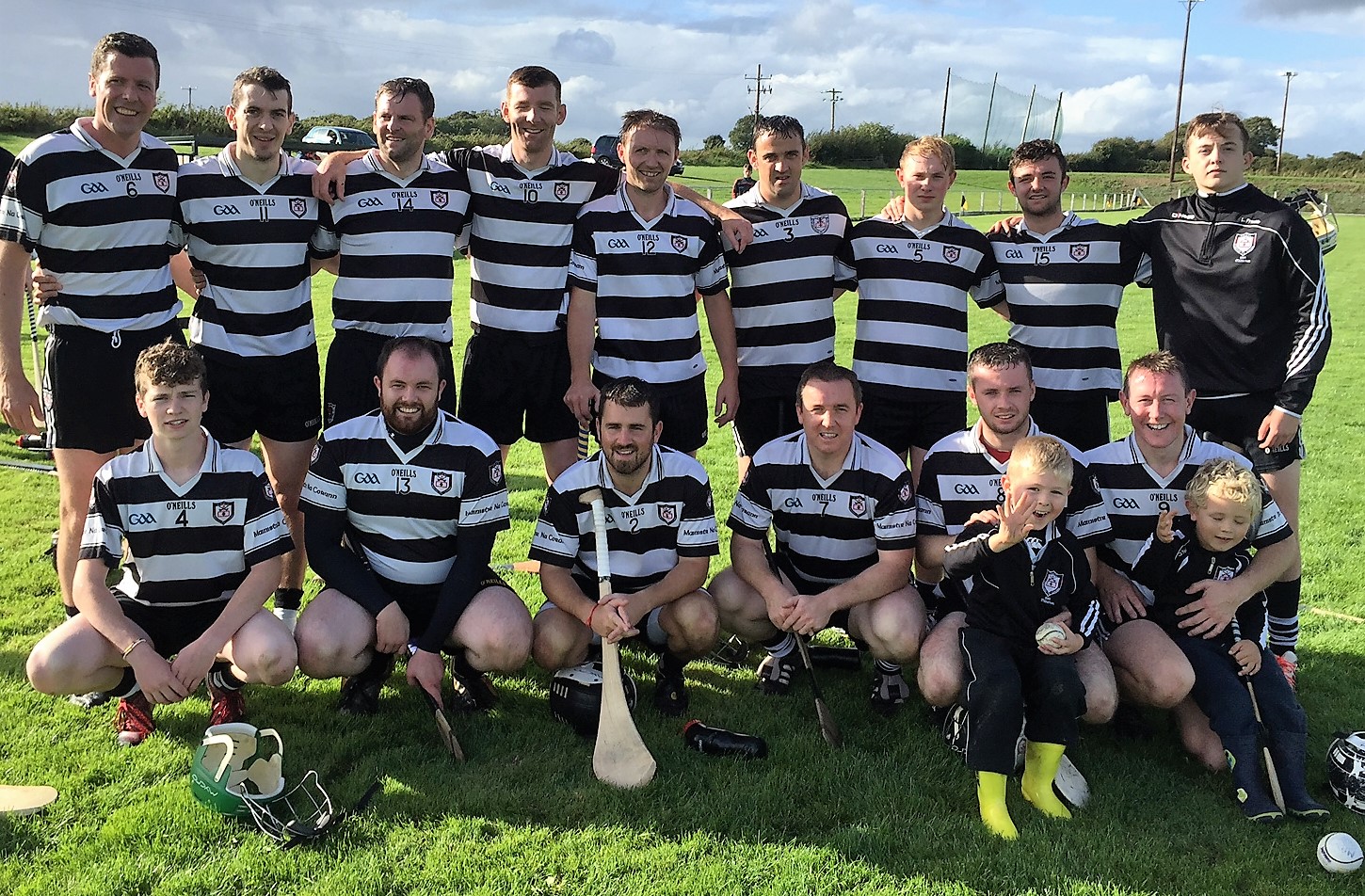 Extraordinary General Meeting
The Hurling & Football Club will hold an EGM on Monday 19th of September @ 7.30pm in the Club Lounge to discuss further Club Development; all members are welcome to attend.
Medal Donation
The Club would like to acknowledge the donation of a 1917 medal from Bill Walsh Gortacrue (former owner of the Maple Leaf) to the Club. The medal was won by his father Bertie Walsh who was a star player in the Midleton and Cork teams around 1914/1916.
It is a tournament medal hosted by Nils and was won by the Midleton senior hurling team.
Bertie Walsh hailed from 13 Rock Street in Cloyne where his family had a family business. The 1911 census gave the following information Mary Walsh (58), James (26), David (22), Robert (20). Robert (Bertie) was described as a shopkeeper and farmer. Their house in Cloyne was sometimes used by IRA volunteers and at one stage had to battle their way out of the house when challenged by the Black and Tans.
Bullet marks from that battle are still evident on surrounding buildings in Cloyne.
Bertie was a star player on the Midleton and Cork teams at the time until he returned to his native Cloyne in 1920, where he played in goals for them. As well as his hurling, shop keeping and farming business, he had a keen interest in horses which he bred. His son Billy Walsh purchased the Maple Leaf bar on the Main Street when he returned from the United States. Billy played with minor hurling with Castlemartyr and also played with the Cork team in New York when he emigrated there in the 1950's. Many players from Ireland went to New York, legally and illegally, to play there during his tenure in America and he regarded Pat Dowling from Castlemartyr as being the best player from this country to play in the Big Apple. Bill also recalls the many battles the GAA, at home and in New York, had with John 'Kerry' O Donnell who had control of the Gaelic Park in New York which was the home base for games in the city.
UCC Course in Midleton Gaa
UCC's highly successful Diploma in Local and Regional Studies, is being offered in Midleton in September 2016. This is a part-time level 6/7 programme that is aimed at members of historical societies, those working or volunteering in the heritage sector, and those with an interest in local history and heritage.
The programme is taught over two academic years. Lectures will take place one evening a week in Midleton, while there will be seminars in UCC and fieldtrips on some Saturdays. The modules being taught in Midleton are as follows:
Year 1: Celtic Ireland (5 credits), Studying Folklore: The Sayings and Doings of Common People (10 credits), Historical Geography (5 credits) & Aspects of Modern Irish History (10 credits).
Year 2: Local Food Studies: History, Tradition and Identity (5 credits), The Irish Medieval Church (5 credits), Research Skills for Local and Regional Studies (5 credits) & Local and Regional Studies Research Project (15 credits).
Further information and application details can be found at https://www.ucc.ie/en/ace-dlrs/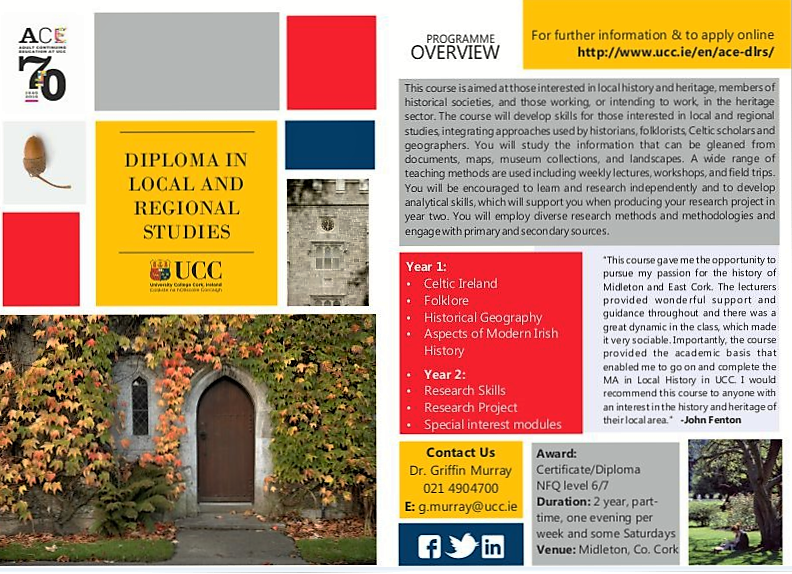 Camogie
Last Sunday a bus load of fifty players and mentors headed to Croke Park for the All Ireland Camogie finals, despite Cork's losses in both games to Kilkenny a great day was had by all.
After the game we caught up with Brenda Donoghue of the Marty squad and Ciara Magean recent bronze medal winner at the European Athletic Championships.
Congrats to Ali Smith who participated in a Fe14 Blitz yesterday in which 55 teams took part, they all paraded at halftime during the Intermediate Final.
Training continues as usual this week.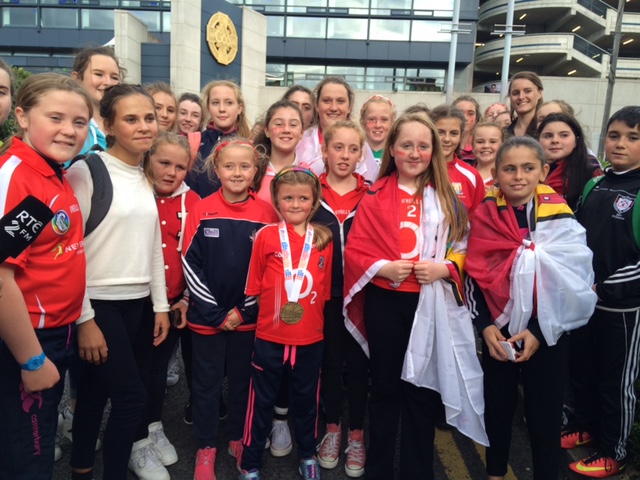 Ladies Football
Fe10 v Glanmire League Semi Final
On a miserable Wednesday evening we took on Glanmire in the League Semi Final at the Tech Pitch. Our girls dominated from the start and were very determined to come away from the match with a win. Glanmire did not make it easy for us and as they too had their own agenda. On the night we came out the winners. Thanks to Glanmire for travelling with such big numbers. Many thanks again to all the parents who brought their girls out on such a wet evening. We will now face Youghal in the League Final, date and venue to be confirmed.
Team: Katie Smith, Emma O'Leary, Amy Keeshan, Alannah Magan, Shelia O'Leary Hayes, Alyx Cahill, Sadhbh Hartnett, Rachel Ryan, Kelly Quirke, Kate Saunderson, Lilly Kelly, Anna Dupas, Roisin Crotty, Grainne Finn, Lara Geary, Chloe Carr, Saoirse Ni Theanganna, Una Murphy, Katie Tarrant, Kate O'Sullivan, Isabella Nestor, Aine Ryan, Kate Griffin & Mia Hegarty.
We would like to congratulate our former player Lisa Curtin who won a County medal with Clanna Gael (Dublin) last weekend. Well done Lisa and continued success from us all.
Training continues at Midleton Rugby Club. U8's from 6.30pm & U10's upwards from 7pm. Keep an eye on Facebook and Twitter for updates and news.
Colette Crotty mum to U10 player Roisin is taking part in Strictly Midleton Gaa. She along with Dee Dennigan are holding a "Guess the Score" for the Mens All Ireland Football Final. They will be at the training times taking entries @ €2 per guess. Let's give the girls some support. This huge fundraiser is being taken on by the three Clubs and the Ladies Football will benefit from it.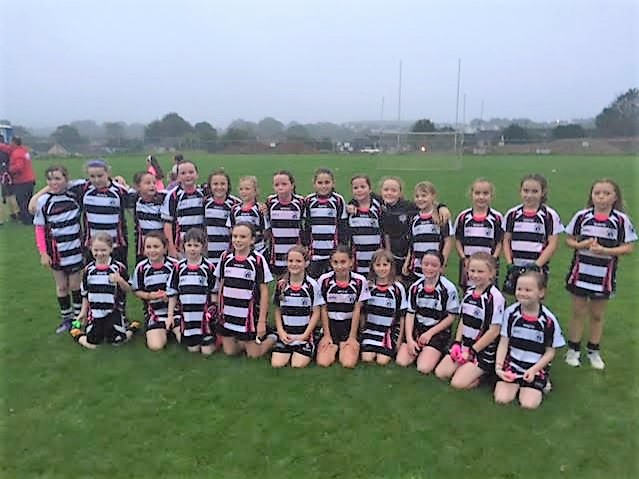 Strictly Midleton Fundraisers
A big well done to all our dancers who commenced their rehearsals in the Club today, there was a great buzz around with the choreographer putting everyone through their paces. The competition is heating up now with everyone looking forward to the imminent pairings.
Over the coming weeks a number of fundraising events will take place in advance of the Strictly event on the October Bank holiday Sunday evening.
Colette Crotty and Dee Dennigan are holding a joint fundraiser with a "Guess the Score" for the Football All Ireland final, they will be at various training sessions and games over the coming weeks, for only €2 please support them.

Susan Fitzgerald is holding a Family Fun Table Quiz on Friday the 30th of September at 7pm in the Club Lounge. Tables of 2 adults and 2/3 kids cost €20, Susan will attend Fe 9, 11 & 14 training sessions and games, please support this event.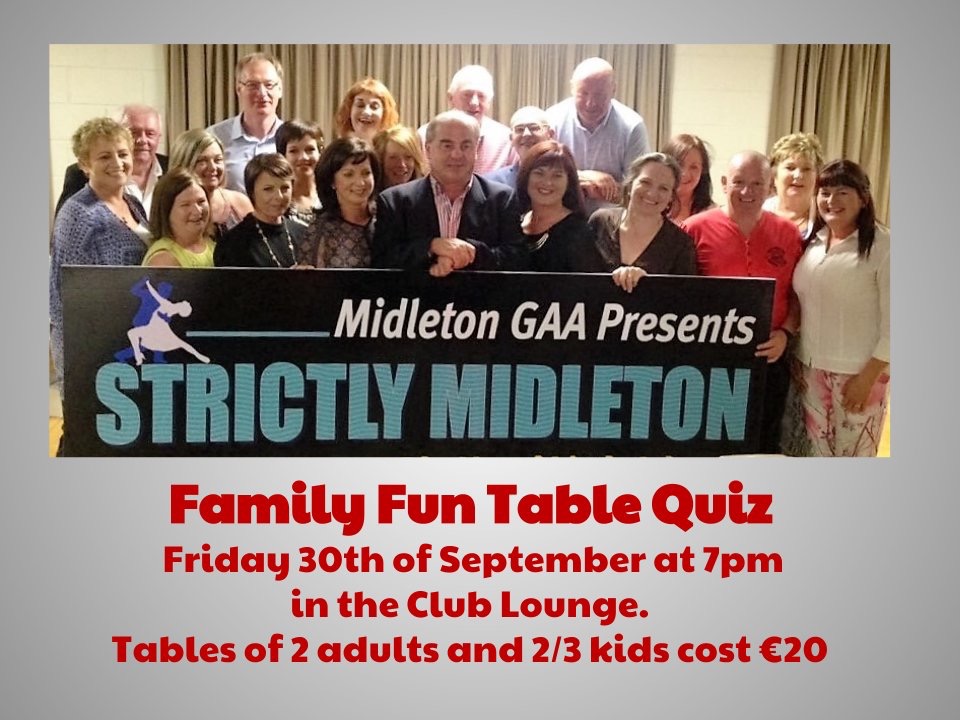 Clothes for Cash, Darren wants your old clothes!
COLLECTION DATE (1) SAT SEPT 17TH & COLLECTION DATE (2) SAT SEPT 24TH
Calling all Players, Mentors, Parents & Grandparents!
If you have any old Clothes, Shoes, Bags or Belts you want to get rid of between now and September 24th-please drop them off at the Clubhouse on Saturday mornings between 10.00am and 12.00 noon.
All monies raised will go towards Darren Quirke's Strictly Dancing Fund.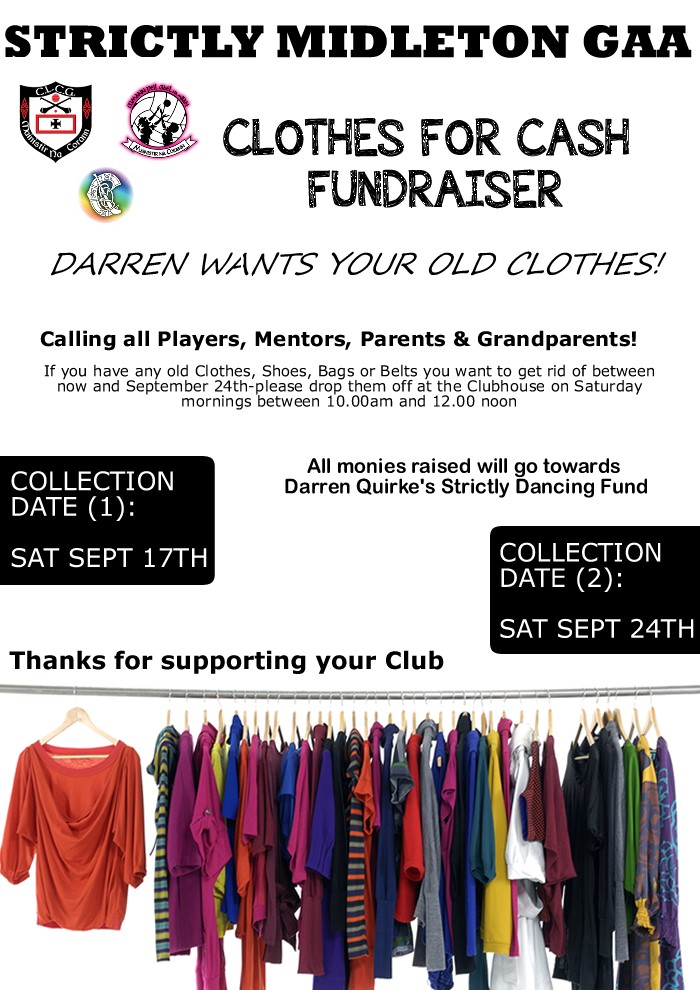 Traditional Irish Music
Continuing on from the previous months entertainment there will be a Ceoltas mucis session in the Club Lounge from 9.30pm on Friday the 16th, everybody is welcome to this free event.

Lotto
Our Lotto Jackpot was €4,800, there was no winner, the numbers were 1,2,5 & 22, the Lucky Dip winners were Dan Looney, Maura Deady, Matt Lehane, Hollie Mc Crea & Paul Britton, next week's Jackpot will be €5,000.
Tickets are on sale at the Club Bar, O'Neills Bar, Linehan's Bar, Maple Leaf Bar, O' Farrell's Butchers, Frank Murphy Butchers, Pat Walsh Paints, Chadwicks, Teach Beag & Niall Mac's Bars.
BINGO takes place each Friday evening at 8pm in the GAA Pavilion with a weekly guaranteed Jackpot of €1,000.
Juvenile
Fe 8
On Saturday morning a great turnout of 38 determined young hurlers travelled to Douglas for hurling matches versus the local lads. This was a return fixture for Douglas's visit to Midleton earlier in the year. The provided great facilities and opposition for our lads with loads very competitive close games. The improvement in skills, determination and full engagement of our players was very enjoyable and was a morning in the cork city sunshine very well spent. Thanks to Dr. Vincent Dooley of Douglas for hosting our visit very well, it was great preparation for the trip to the Roanmore, Waterford Blitz next week.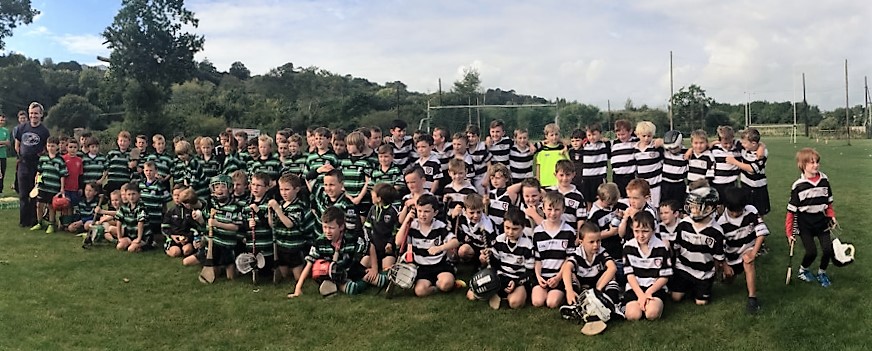 Fe 14
We had a great win over Blackrock last Wednesday evening in the P1 Hurling league. We got going very quickly from the throw in and built up a strong lead with a quick succession of goals and some great point taking. In the second half Blackrock came more into the game, ten minutes left on the clock and a point separating the two sides but we showed great determination to close out the game with a five point advantage.
Full time score: Midleton 4-9 Blackrock 2-10.
Overall this was a great team performance and most encouraging to see all the key skills of the game being performed to such a high standard in all positions. Well done lads.
Team- Brion Sanderson, Ciarmhac Smith, Charlie Walsh, Evan McCarthy, Gavin Reddy, Patrik Kane, Liam Kelly, Leo Hennessy, Alex Quirke, Paul Connaughton, Ben Cummins, Conor Fitzgerald, Daniel Cagney, Ryan Cahill, Luke Deane, Conor Hayes, Darragh McCarthy, Christopher Leahy and Dathi Magan.
Fe 16
Premier 1 Football Championship Midleton 1-05 v St Michael's 0-16
In the Quarter Final of the Championship played at Midleton on last Monday evening, we were defeated by a well drilled and competent St Michael's side. This was a game that was dominated by St Michael's from the outset and their running game had us in all sorts of bother. At half time though we were still in the game at 1-3 to 0-8, but we were limited to two pointed frees in the second half, while St Michael's piled on the pressure. Our backs played well throughout and our goal was never seriously threatened. We could never seem to get out of second gear on the night and while St Michael's played well, we underperformed somewhat, notwithstanding that we had a few players out with injury and another of our player suffered an arm injury early on. This was our first defeat in Championship Football since this group was under 13. Over the last two years, we won the Premier 2 Championship in 2014 and last year won the Premier 1 Football Championship. No doubt we were beaten by the better team on the night and we wish St Michael's every success in their remaining game(s) in the Championship. Best wishes to Tommy O Connell who suffered a broken arm during the game.
Team: Jake Shanahan, Alan Power, Ciaran Evans, Cormac O Brien, Evan Rowlands, Kevin Finn, Mark Daly, Tommy O Connell, Sean O Sullivan, Kian Farmer, Cian Murray, Ronan Lynch, Griffin Hurley, Arthur Nganou, Gary Carroll, Adam O Connell, Fergus Wade, Craig Barry, Coleman Quinn, Ryan O Riordan, David Scanlon & Conor O Leary.
Fe 16 Premier 1 Hurling League Midleton 2-15 v Bride Rovers 1-11
Played at home last Wednesday evening, our hurlers overcame a staunch test from Bride Rovers in a game that was in the balance to the end. Bride Rovers came with "fire in their bellies" and rattled (hard but fair) into our lads from the start. In what was our first competitive game since winning the Championship, Brides came to win and it took our lads a while to settle. At halftime the score was 1-08 to 1-05 and try as we might we just couldn't shake off Bride Rovers who fought for every ball. Our backs again were very solid, except for conceding the goal which was scored from a deflected high ball into the square from a long range free. The second half was again very tight but we had more scoring options up front and Bride Rovers were mainly limited to scores from frees. We justifiably won the game on the night as the better team. This win means that our hurlers continue being unbeaten in all competitions this year and we qualify for the business end of the P1 League. Team: Ryan O Riordan, Alan Power, Sean O Sullivan, Christian Murphy, Cormac O Brien, Ciaran Evans, David Scanlon, Aaron Mulcahy, Cian Murray, Kian Farmer, Evan Rowlands, Gary Carroll, Kevin Finn, Arthur Nganou, Jake Shanahan, Sam Quirke, Fergus Wade, Craig Barry, Ronan Lynch, Adam O Connell, Griffin Hurley, Mark Daly, Cian Crowley, Coleman Quinn & Loic Nguefang.
Up and Coming Events
A convoy of buses will depart the GAA Club on Saturday 17th of September to take part in the 21st Roanmore Charity Blitz in Waterford.
We have entered 4 of Fe'8 teams and 4 of Fe'9 teams.
Our Fe10's & Fe11's will participate in the Annual Davy Hogan Street Leagues.
The Semi Final & Finals are set to take place on Saturday 24th of September on the main pitch. Play off/qualifier matches taking place on Wednesday 14th & 21st of September
The Fe12 Annual James O' Brien Blitz will be held on October 1st in the main field.
Junior Infants Registration - Saturday October 8th from 10am - 12noon at Midleton GAA Club, everybody welcome
Saturday morning Outdoor Training will finish on the main pitch on the 24th of September
Indoor Training commencing on Saturday November 12th at the Community Centre in Midleton, Fe8's from 10-11, Fe7's from 11-12 and Fe6's from 12-1
Christmas Underage Social for Fe6 - Fe9 players December 3rd in Midleton GAA Club @ 4pm and the Christmas Underage Social for Fe10-Fe16 players December 7th in Midleton GAA Club@ 7pm
Club Shop
The Club Shop is open each Saturday from 10 to 12 selling flags and Club gear for the up and coming County Senior Hurling semi final on the 25th of September.