Midleton GAA , Camogie & Ladies Football Club News
07 August, 2016
Senior Hurling
In preparation for our Championship game we have a League game on Sunday next 14th v Bishopstown away @ 12.
Next Sunday afternoon we host Killeagh and Imokilly in Round 3 of the Senior Hurling Championship @ 3pm, anyone that can help out on the day are asked to be in the Club from 1.30pm.
Intermediate Hurling
On Wednesday last we played Glen Rovers in the County League away and after a competitive hour they ran our winners by 1-19 to 1-12. This game completed our League games and we currently sit on top of the Group.
Team: Bryan Rossiter, Adam Daly, Eoin Ferriter, Brendan Ferriter, Pat Stack, Billy O Shea, Shane Ryan, Robert Williams, Padraic Nagle, Conor O Neill, Kieran Maloney, Mark O Keeffe, Michael Abernethy, Micheal Keohane & Padraig O'Brien.
Subs Jerome Curtin, David O'Brien & Peter Smith.
Minor Hurling
Our hurlers had a very good workout last Sunday away to Holycross Ballycahill winning on a score of 1-21 to 2-13.
Team: Liam Franklin, Andrew Nestor, Adam Daly Cathal Gunning, Sean O Leary Hayes, Kevin Mulcahy, Eoin Mitchell, Luke Smith, Sean O Meara, Christopher Power, Conor O Neill, David Mulcahy, Shane Finn, Eoin Maloney & Harry Wall.
On Wednesday next we play Glanmire in the Premier 2 Football Championship in Killeagh @ 7.30pm.

Fixtures
Monday 8th Fe16 Premier 1 County Hurling Final v Na Piarsaigh in Kilbarry @ 7.15pm
Wednesday 10th Minor Premier 2 Football Champ v Glanmire in Killeagh @ 7.15pm
Sunday 14th Senior Hurling League v Bishopstown away @ 12
Sunday 14th Senior Hurling Championship Rd 3 Killeagh v Imokilly in Midleton @ 3pm
100 Years Ago
In 1916 on the 20th of August our senior hurlers took on hosts Charleville in the first round of the County and defeated them rather easily by 7-01 to 2-01 therefore qualifying for the semi final against Blackrock.
Team: Jim O'Connell (capt.), Dick Gorman, Jack Grandon, William Twomey, Dan Twomey, Pats Cahill, Jimmy Ramsell, Tom Deasy, Paddy Mc Carthy, Michael Kearney, Jerimiah Egan, Dave O'Keeffe, Gerald O'Shea, Tom Twomey & Patsy Kirby.
In the 1916 Munster Senior Hurling Championship semi final played in Waterford on the 6th of August Cork 8-01 defeated Waterford 3-02.
Team: B.Murphy (Cloughdubh), D.Kelleher (Shamrocks), S.Og Murphy (Blackrock), T.Murphy (St Marys), J.Lynch (St Marys), P.O'Halloran (St Marys), D.Coughlan (St Finbarrs), T.Nagle (St Marys), W.Moore (Collegians), M.Byrne (Sarsfields) (0-1), J.Hyde (Collegains)(1-0), J Finn (St Finbarrs), J.Egan (Midleton), J.Kennedy (Carrigtwohill) (7-0) & W.P.Aherne (Carrigtwohill).
The Club Executive would like to acknowledge the receipt of club literature/receipts going back to the early 1960's which were received recently from Tom Cotter. These were originally kept by his father the late Jack Cotter and are a valuable source of information on the club's history. If anybody else would have similar material we would be delighted to receive it to add to our history papers.
Camogie
On Thursday evening last our under 10's travelled to play Watergrasshill, it was a great game between two strong teams, well done to all the girls. Thanks to parents for travelling and to Watergrasshill for hosting. Team: Amy McCarthy, Sarah Crean, Jade Fitzgerald, Ellen O Neill, Laura Goulding, Chloe Griffin, Tia Wall, Sophie Wall, Una Murphy, Sorcha Cronin, Jilna Jino, Kate Griffin, Rachel Ryan, Aisling Naughton, Rachel Yu & Leila Berdassa.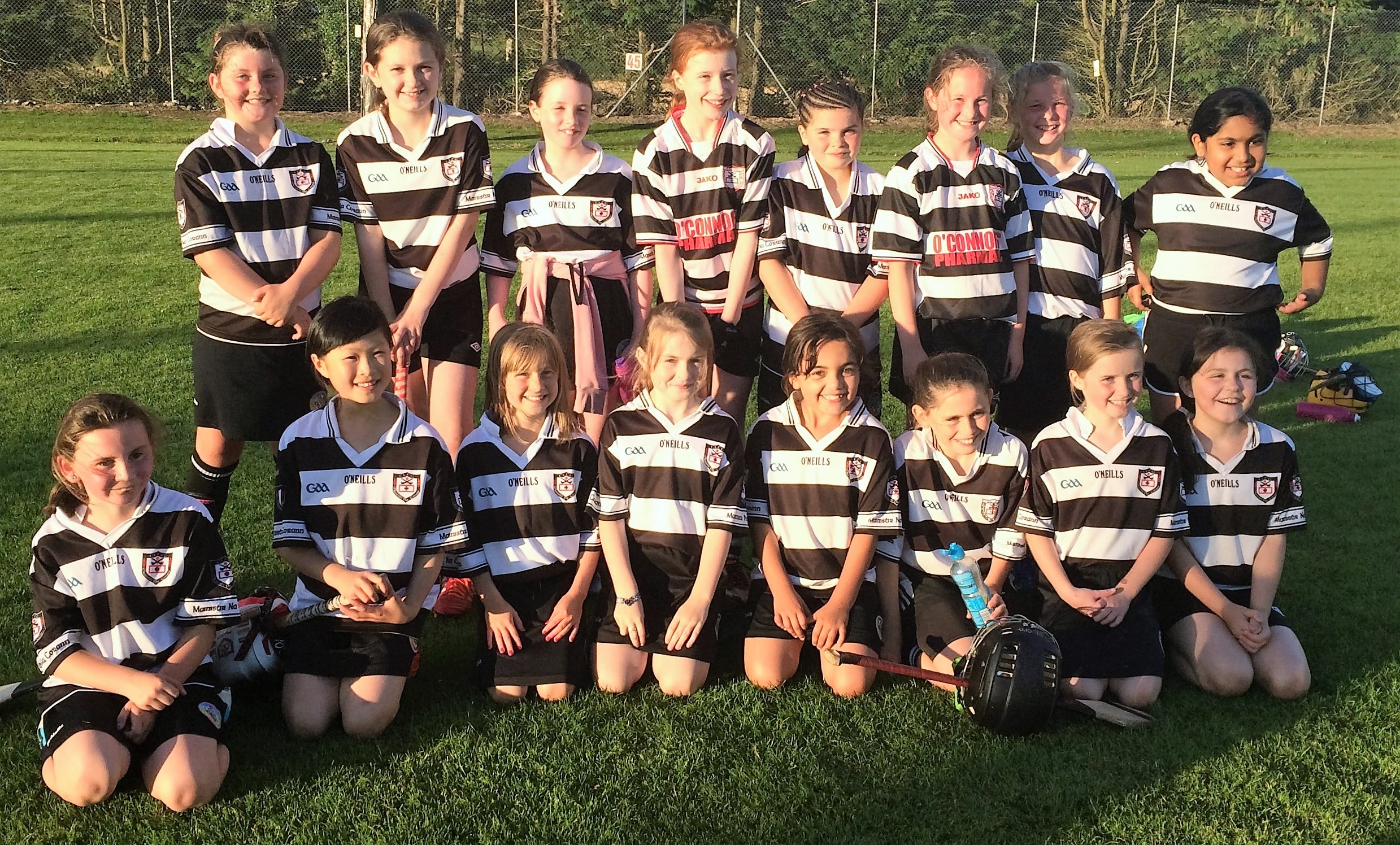 Training continues throughout the summer as follows.
U6 / U8 / U10: Friday 7.15 -8.15pm Midleton GAA Club
U12 / U14: Tuesday 7pm – 8pm St Colman's. Fridays 7.15pm – 8.15pm GAA Club
Any changes to training schedule will be text to parents.
For up to date information on training / matches and club news follow us on Facebook: Midleton Camogie Club and twitter @midletoncamogie. Enquires to 087 6972147
Ladies Football
Training continues at Midleton Rugby Club for all age groups. U8's will return on Monday Aug 15th at 6.30pm while the U10's and all other groups are training from 7-8pm.
Keep up to date will all that's happening on our Facebook page.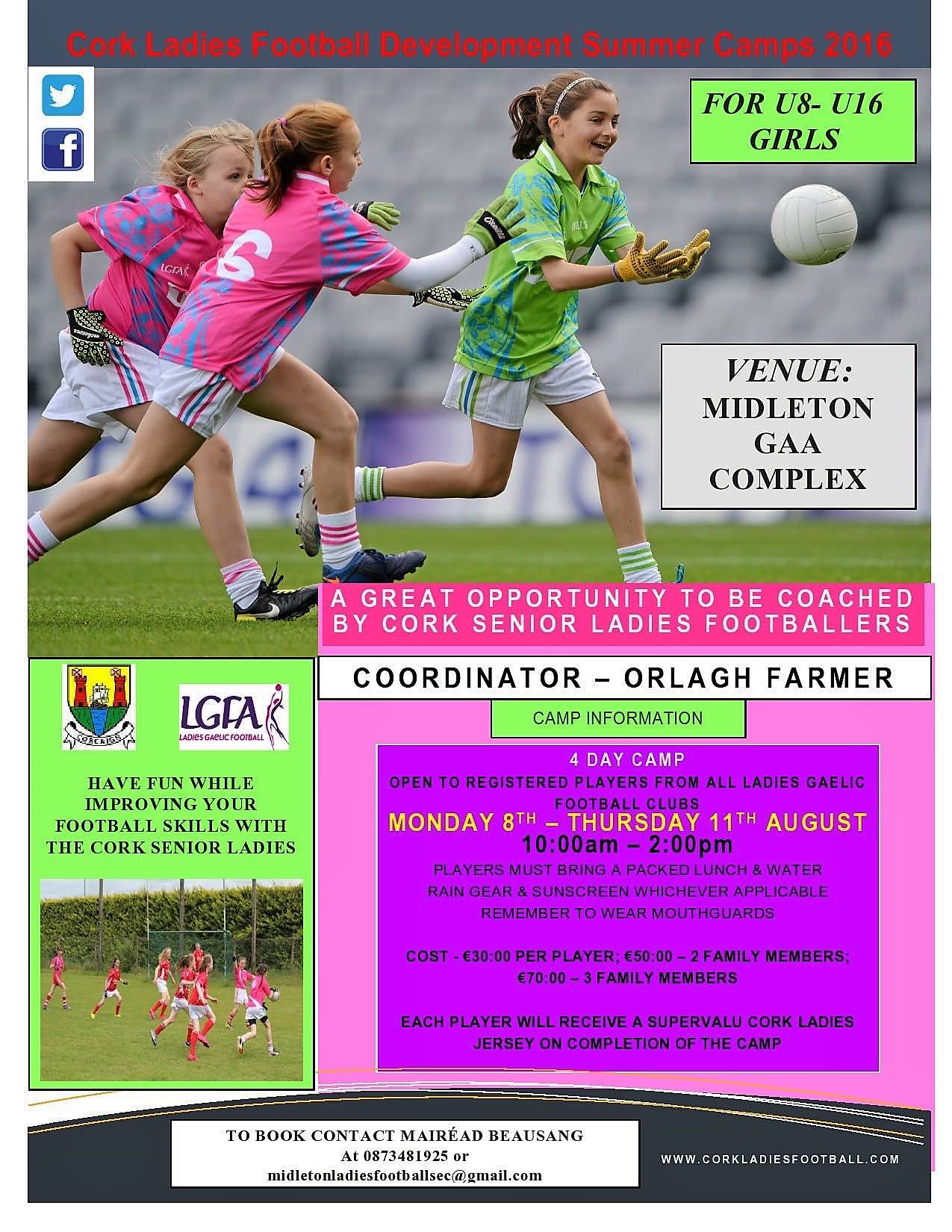 Lotto
Our Lotto Jackpot was €3,800, there was no winner, the numbers were 10,15,17 &28, the Lucky Dip winners were Phil Shanahan, Catherine Gaffney, Breda Lynch, Mary Cody & Carolanne Desmond, next week's Jackpot will be €4,000.
Tickets are on sale at the Club Bar, O'Neills Bar, Linehan's Bar, Maple Leaf Bar, O' Farrell's Butchers, Frank Murphy Butchers, Pat Walsh Paints, Chadwicks, Teach Beag & Niall Mac's Bars.
BINGO takes place each Friday evening at 8pm in the GAA Pavilion with a weekly guaranteed Jackpot of €1,000.
Juvenile
Fe 13
Midleton v Valley Rovers Hurling Challenge Game:
In preparation for their upcoming U13 Rebel Og hurling semi-final we lined out for a challenge match last Wednesday night against a very strong Valley Rovers team. This Valley Rovers team are heading the Premier 1 League and so are themselves preparing for a semi final of their own. The match was played in Midleton and there was a big turnout of 21 Midleton players. It's probably worth recording that all of these players are on the age for the U13 age group and this number of 21 does not include another couple of players that were not present on the night as they were on holiday.
The first quarter of the game was very evenly balanced. Evan McCarthy, James O'Sullivan and Niall Corcoran were prominent in our defence throughout this period. Up front Kane Rowlands, Phelim Magan and the salient Darragh McCarthy were starting to make their mark on the game and all three were to contribute some 'big' scores on the night. At half time we had built up a sizable lead. The pattern of the second half was very similar to the first half. We were just a little better than their opponents from the South-East. By the end of the game we held the advantage on a score line of 2-12 to 2-04. It was a good win but a big improvement will be required for us to progress out of the semi-final.
Panel: A Quirke, J O'Sullivan, F Greenwood, N Fitzgerald, E McCarthy, E Kelly, N Corcoran, C Smyth, L. McGrath, D McCarthy (1-05), C Murray, K Rowlands, P Magan (1-00), J Condon (0-01), B. O'Neill, C Collins, T Lambe, R Spillane, S Bohan & K Barry. Midleton v Valley Rovers U13 Rebel Og Football League:
We played our final League game recently at home. This campaign has been another successful one for our footballers, just missing out on qualifying for the semi finals. This last game of the league was used as an experiment to integrate some 'new players' from the U12 age group into the U13 panel. These players (Oran Prenter, Mickey Finn, David Cremin) played very prominently on the night and I'm sure are going to contribute handsomely to our cause over the next couple of years. There is a real ambition in this panel of footballers, the expectation is that they will keep improving and so hopefully they can progress to the semi's next year. Valley Rovers travelled with a strong team and on the night were a bit stronger. Scorers for Midleton were Alex Quirke: 2 points, Mickey Finn: 2 points, Ben O'Neill 1 point & Shay Bohan 1 point. Final score: Midleton 0-06, Valley Rovers 5-11.
Fe 16
Fe 16 Premier 1 Hurling Championship Semi Final: Midleton 1-24 Douglas 2-8
Last Monday night at the Mardyke, our hurlers powered their way to the Premier 1 County Final with a comprehensive and competent display against Douglas. We led from the outset and had five points on the board before Douglas opened their account. With twenty minutes gone Douglas had clawed their way back into the game with a goal and a few points making the score 0-7 to 1-3 in our favour. We put in a strong ten minutes before half time to make the score 0-12 to 1-4. The second half was a dominant period for us with points coming from all angles. Yet Douglas stayed manfully to the task and were rewarded with a goal.
We now play Na Piarsaigh (who had a great win against Inniscarra) in the final next Monday night 8th August at 7.15pm in Delaneys GAA in Kilbarry. This will be a really hard test for our team, but if we stick to our task and play as we can play, we'll give a good account of ourselves in the final.
Team: 1. Ryan O Riordan, 2. Alan Power, 3. Christian Murphy, 4. David Scanlon, 5. Cormac O Brien, 6. Ciaran Evans, 7. Sean O Sullivan, 8. Tommy O Connell, 9. Cian Murray, 10. Kian Farmer, 11. Ross O Regan, 12. Gary Carroll, 13. Kevin Finn, 14. Arthur Nganou, 15. Aaron Mulcahy, 16. Sam Quirke, 17. Craig Barry, 18. Fergus Wade, 19. Coleman Quinn, 20. Griffin Hurley, 21. Loic Nguefang, 22. Adam O Connell, 23. Ronan Lynch, 24. Evan Rowlands, 25. Jake Shanahan, 26. Mark Daly & 27. Cian Crowley.
Club Shop
The Club Shop is open each Saturday from 11 to 1pm.