Midleton GAA , Camogie & Ladies Football Club News
24 July, 2016
Senior Hurling
Finally after a number of weeks waiting for opponents and a date for the next round of the County Championship it looks like we will have some idea of both after next Monday evenings County Board fixtures meeting.
Intermediate Hurling
Following a few weeks off after our Championship win we are fixed to play Glen Rovers in the County League on Wednesday 3rd of August away. In the next round of the Championship we received a bye and therefore have a wait now to play the winners from Eire Og/Carrigaline and Aghabullogue provisionally fixed for the 14th of August.
Junior A Hurling
Our hurlers are back in action when they play the quarter final of the East Cork A Championship against St Catherines on Saturday next the 30th in Lisgoold @ 7pm
We wish all the players and the management the very best in this game.
Fe 21 Hurling
Well done to our hurlers who enjoyed a great result last Tuesday in the 1st Round of County Premier U21 Hurling Championship winning on a scoreline of Midleton 4-17 v Carrigaline 0-05 in Pairc Ui Rinn. Having lead at the interval by 3-05 to 0-04, we ran out easy winners following a manly & physical performance.
We now await the draw for the next round to see who our next opponents will be.
Team: Bryan Rossiter, Adam Daly, Gavin Bagnell, Seadnaidh Smyth, Alan Stanton, Luke Dineen (0-02, 1 free), Sean O'Leary-Hayes, Josh Deady , Sean O'Meara (0-02), Padraig Nagle (0-04), Billy O'Shea (Capt), Cormac Beausang (1-03, 2 frees), Padraig O'Brien, Michael Abernethy (2-02, 2 frees) & Sean O'Farrell (1-03).
Subs used Kieran Maloney (0-01), Robert Williams, Eoghan Collins, Ryan McConville & Kevin Mulcahy. Not used Liam Franklin, Conor Evans & Eoin Maloney.
Thanks to everybody who helped out on the night.
In preparation for the 1st Round our U21 Squad travelled to Thurles on Saturday 9th July to partake in the Annual Thurles Sarsfields Senior Hurling Tournament. We played 3 games against St. Vincent's (Dublin), Patrickswell (Limerick) and Holycross-Ballycahill (Tipperary). We enjoyed a great mornings' hurling and had great craic on the day. Thanks to some of the senior squad who made up the numbers on the day. The teams we played all went on to win their respective Finals.
On Wednesday last we hosted Killeagh/Ita's and Bishopstown in the Fe 21 Premier 1 County Hurling Championship which Killeagh /Ita's won comfortably in the end by 2-19 to 1-06, best wishes to Killeagh player Aaron Walsh who sustained a nasty hand injury, thanks to all our members who helped out on the night.
Minor Hurling
We lost out narrowly away to Blackrock last Sunday morning in the Rebel Og Premier 3 League by 5-13 to 3-14.
Team: Liam Franklin, Timatayo Abdullah, Conor O'Farrell, Cathal Gunning, Luke Smith, Ryan McConville, Conor Evans, David Mulcahy, Christopher Power, Tom Scanlon, Harry Wall, Evan O'Meara, Conor O'Neill & Kevin Daly.
Fixtures
Monday 25th Fe 16 Premier 1 Hurling Championship v Bride Rovers in Caherlag @ 7.30pm
Saturday 30th Junior A Hurling Championship v St Catherines in Lisgoold @ 7pm
Wednesday 3rd of August Intermediate Hurling League v Glen Rovers away @ 7.30pm
Munster Hurling Championship
Exactly 50 years to the day 24th July 1966 the Cork senior hurlers won the Munster final after a lapse of 10 years when they defeated Waterford by 4-09 to 2-09 at the Gaelic Grounds in Limerick before a crowd of 31,352. Representing Midleton that day was Paddy Fitzgerald at left half back. In the minor final which preceded it Cork defeated Galway by 6-07 to 2-08 and representing Midleton was seventeen year old Willie Glavin as sub goalkeeper.
Camogie
We travelled to Valley Rovers, Inishannon on Saturday morning last to take part in a blitz. With three matches to be played the girls got off to a great start against hosts Valley Rovers. The second match was against Enniskeane and the girls continued to show great teamwork and skill with the ball hitting the back of the net on more than one occasion. The final match was against a very skilful and experienced Inniscarra side. The girls dug deep for the final 20 minutes and showed their strength and determination under pressure. A great performance from everyone in three competitive and sporting matches.
Well done girls!! Thanks to Valley Rovers for inviting us to attend.
Team: Cadence O'Sullivan, Jill Connaughton, Tori Buckley, Catherine Finn, Laura Goulding, Sadhbh Hartnett, Ruthi Hennessy, Aoife Fitzgerald, Emma O'Sullivan, Emily Lamb & Elle McManus.
Training: U6 / U8 / U10: Friday 7.15 -8.15pm at GAA Club
U12 / U14: Tuesday 7pm – 8pm at St Colman's & Fridays 7.15pm – 8.15pm GAA Club
Any changes to training schedule will be text to parents.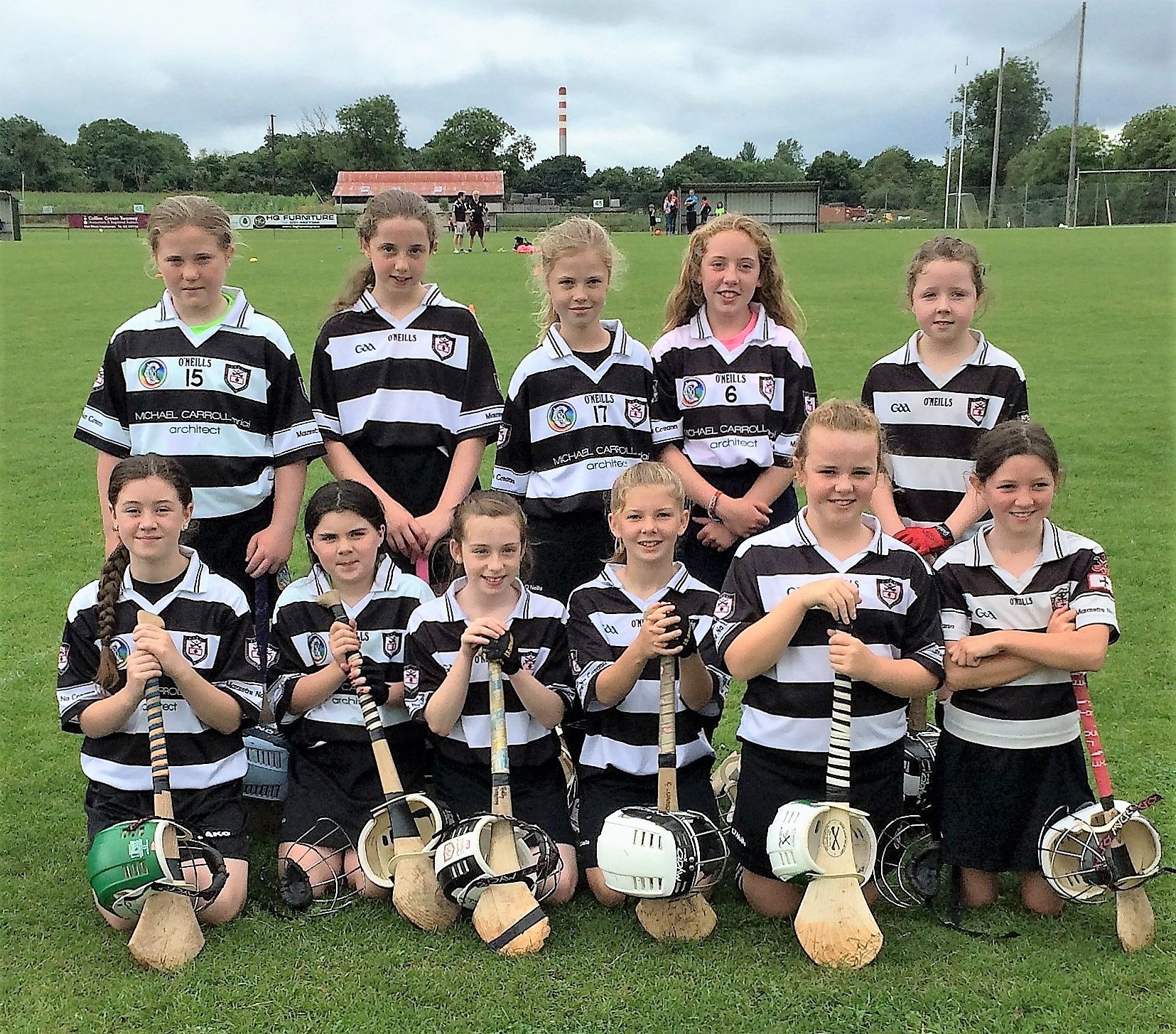 Ladies Football
East Cork Ladies Football Junior B Championship Final Midleton 3-07 v Fermoy 2-10.
We had to dig very deep and demonstrated great character in the last six minutes of this game to force a determined Fermoy outfit into a replay. This was a pulsating contest with Fermoy leading from the start, finding ourselves five points down with six minutes remaining is not a good place to be. The girls kept cool heads and forced a replay by incredibly scoring a goal and point in the last two minutes.
Football was the winner to night, great game girls, well done great result.
Team: Kate Mary Cullinane, Clare O'Mahony, Julia Cashman, Dionne Carroll, Deirdre Corcoran, Zoe McEvoy, Lucy Lawton, Ciara McGrath, Claire O'Brien, Rhea Buckly, Abby Quirke, Molly Beausang, Laura O'Keeffe, Ciara O'Doherty, Orlagh Farmer, Laura O'Leary, Charley Moore, Caoimhe Morrison, Cristin O'Keeffe, Rayanna Power.
Scorers for Midleton: Ciara O'Doherty 1-0,Claire O'Brien 1-1,Molly Beausang 1-2,Ciara McGrath 0-3,Orlagh Farmer 0-3 & Laura O'Keeffe 0-1.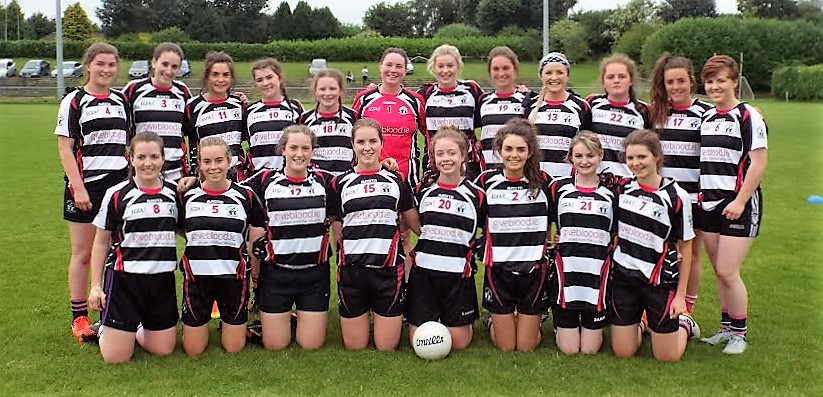 Midleton U10 v Fermoy
On Thursday night last we played a home league match against Fermoy. Unfortunately the skies opened for the night and it was tough conditions for a match. 17 players were available for selection on the night. We got going quickly from the throw in and worked through the hard working defence of Fermoy to build up a quick lead with a quick succession of unanswered goals and some great point taking. Fermoy rallied strong in the second half and scored a couple of quick goals of their own but the early scoring by ourselves set the tone for the match and the girls showed their determination and responded to Fermoys goals with a further burst of good scoring in the second half. This was a fine example of any team above this grade or age digging deep and working hard for each other which lead to a great win over a strong Fermoy team. The quality of skills on display in this match really caught the eye from our goalkeeper blocks and precise kicks out, tight tackling and numerous turnovers by our defenders, ball winning and carrying at super pace by midfielders, laying off for colleagues and scoring from difficult angles by forwards often under a lot of pressure. Overall an excellent team performance and most encouraging to see all the key skills of the game being performed to such a high standard. Keep up the good work and practise. Thanks to all the parents for bringing the girls along to the match your support is invaluable and greatly appreciated especially on such a miserable night.
The match was well referred by Grace Culloty of Bride Rovers. Well done to Grace and the rest of the Cork LGFA minors on their recent All Ireland A semi final won over Galway.
Team: Kate Saunderson, Emma O' Leary, Alyx Cahill, Allannah Magan, Kate O'Sullivan, Sadhbh Harnett, Chloe Carr, Lillie Kelly, Lara Geary, Áine Ryan, Grainne Finn, Saoirse Ní Theangana, Katie Smith, Kate Griffin, Rachel Ryan, Kelly Quirke & Isabella Nestor.
Lotto
Our Lotto Jackpot was €3,400, there was no winner, the numbers were 6,11,21 & 25, the Lucky Dip winners were Ger Lawton Snr., Gerry Smyth, M Deady, Geraldine Goldspring & Pat Ahearne, next week's Jackpot will be €3,600.
Tickets are on sale at the Club Bar, O'Neills Bar, Linehan's Bar, Maple Leaf Bar, O' Farrell's Butchers, Frank Murphy Butchers, Pat Walsh Paints, Chadwicks, Teach Beag & Niall Mac's Bars.
BINGO takes place each Friday evening at 8pm in the GAA Pavilion with a weekly guaranteed Jackpot of €1,000.
Juvenile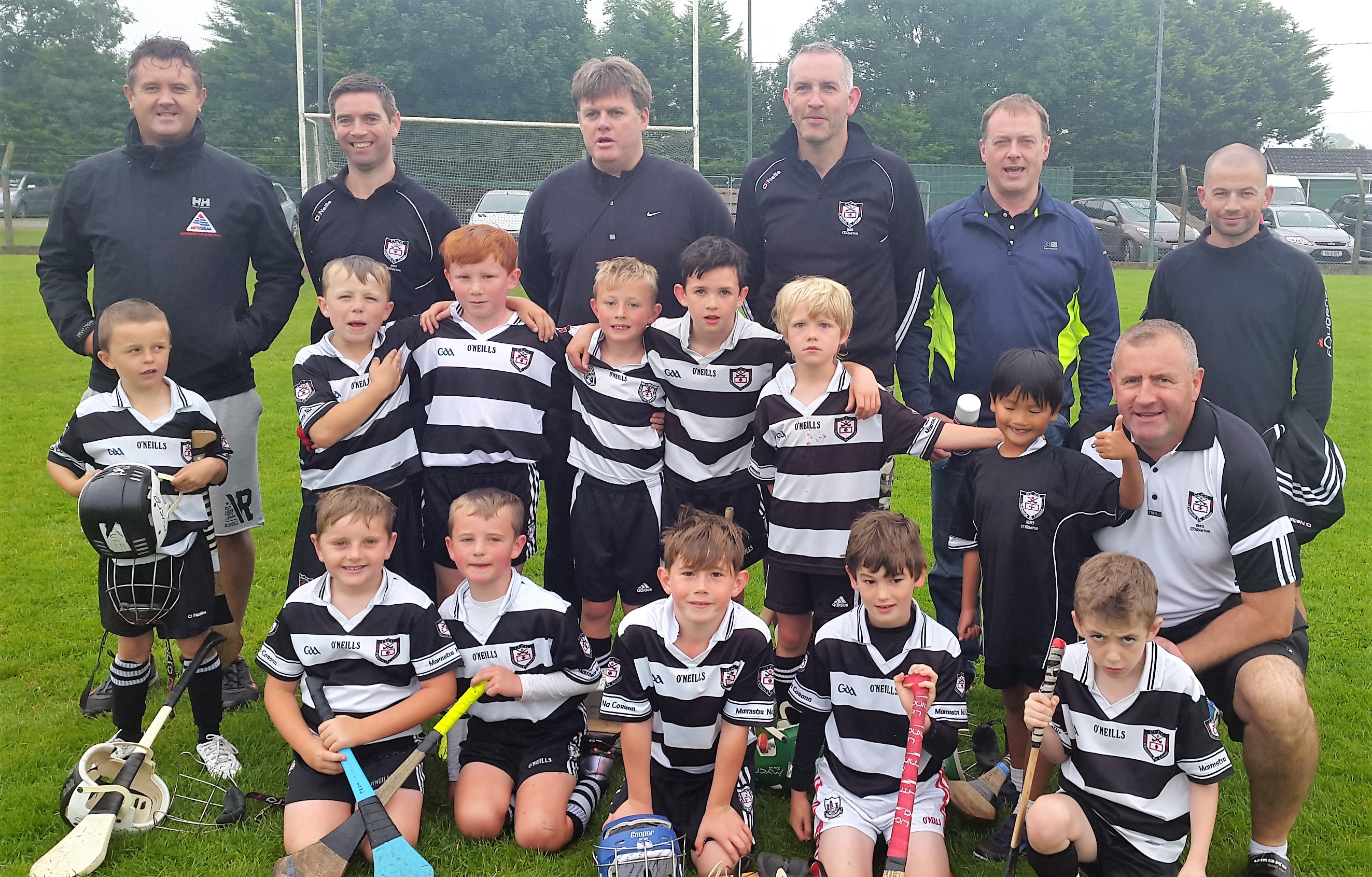 Fe 8
We attended a very well run monster Blitz with 24 teams in Killeagh on Saturday morning. Thanks to Killeagh and Shane Supple for the organisation. With plenty of lads on holidays at the moment as expected we still had 23 lads who ended up having games against Sarsfields, Killeagh, Youghal, Carrigtwohill and Fr. O Neills. Our lads did very well in all the games. Very good commitment, hard work and team efforts. Great to see improvement from the second nights training sessions and to see the lads coming off after with smiles on their faces. Thanks also to all our eleven coaches for the words of wisdom and key tactical decions.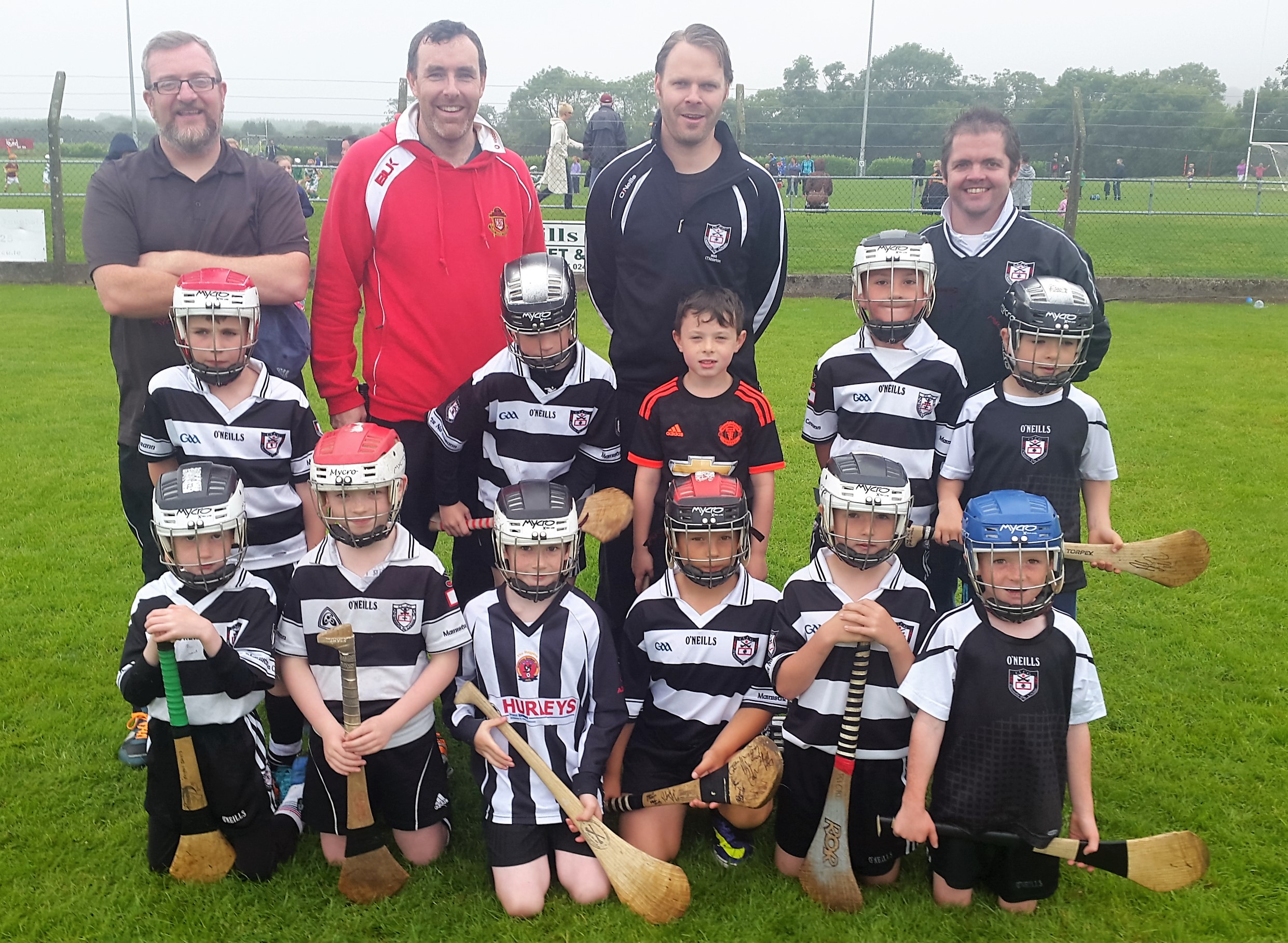 Fe 10
On what should have been a lovely summers evening, the Fe10's travelled to Ovens to play Eire Og on a night of very heavy rain on Thursday last the 21st of July. This was their second football match in the league. You could have been mistaken for thinking you were arriving at Midleton GAA Club with all the magpie jerseys on show but it turned out that both the Fe10's and the Fe12's were playing Eire Og on the same evening. The Fe10's were split into two teams and made their way to the back pitch where both games were played with a 7pm start. We played well with the very wet conditions underfoot and were unfortunate at times not to see their efforts result in scores. At half time one team was ahead of Eire Og and one team was down by a few scores. The second half saw periods of very heavy rain and our lads showed great resolve and pulled together well in their respective teams to compete for every ball. Players began working the ball far more efficiently. Block downs, tackles and some clever hand passing saw some fine goals and points scored. As the final whistle blew in both games, the scores were tallied and it ended up as a draw. We would like to congratulate all of the players on their performances on the night and thank the parents for taking the lads to Ovens and lending them their support on such a miserable night.
Fe 14
On Thursday last our hurlers travelled to Ballincollig to play in the C3 Hurling League. On a night where conditions were bad for both teams, we started well taking the half-time lead by four points. In the second half we upped our game and ran out winner's on a scoreline of 1-15 to 2-8, well done lads.
Team: Jack McKay, Christopher Leahy, Bradley Savage, Josh Pennant, Trevor Shine, Gavin Reddy, Liam Kelly, Ben Cummins, Aaron Coughlan, Luke Deane, Nicky Hayes, Conor Fitzgerald, Rory Lang, Darragh Crowley & Kevin O Brien.
Fe 15
We welcomed Cobh hurlers to Midleton on Thursday last for a Premier 1 Hurling League match. It was a poor night with heavy rain for most of the match making first touch difficult for the lads. That said both teams gave us a great game with some fine scores. The first half ended close enough with us ahead by a few points. The second half was a tough battle and Cobh at one stage looked to be getting the better of us. However our lads got stuck in for the last fifteen minutes and finished ahead. Final score Midleton 2-10 Cobh 1-07.
We will meet Cobh again in Championship.
Team: Alex Quirke, Patrick Kane, Christian Murphy, Dan O'Sullivan, Ethan Daly, David Scanlon, Charlie Walsh, Samuel Quirke, Aaron Mulcahy, Frank O'Brien, Ryan Cahil, Paul Connaught, Tim O'Sullivan, Cian Crowley & Rory Donegan.
Club Shop
The Club Shop is open each Saturday from 11 to 1pm.