Midleton GAA , Camogie & Ladies Football Club News
10 July, 2016
Senior Hurling
Fielding a much changed team we suffered only our second loss in the Hurling League last Tuesday evening to our hosts Killeagh by 1-17 v 2-13 courtesy of a last minute free.
Team: Tommy Wallace, Billy O'Shea, Alywin Kearney, Elliot Mulcahy, Cillian Hurley, Seamus O'Farrell, Luke Dineen, Padraig O'Farrell (0-01), Leslie Coughlan (0-01), Padraig O'Keeffe (0-03, 2 frees), James Nagle (0-02), Padraic Nagle, Cormac Beausang (0-01 free), Peter Dowling (1-03) & Seanaidh Smyth (1-01).
Intermediate Hurling
We have received a bye in the Championship next round and are awaiting the winners from Aghabullogue, Eire Og and Carrigaline.
Inter County Hurling
The Cork seniors were very disappointingly defeated by Wexford last Saturday afternoon in Thurles in Round 2 of the All Ireland Qualifier by 1-17 v 0-23. This was Wexfords first win over Cork in Championship Hurling for 60 years when they won the All Ireland final in 1956.
Conor Lehane scored 0-03, Luke O'Farrell 0-03 and Killian Burke was an unused sub.
Fixtures
Monday 11th Fe 13 Prmeier 1 Hurling League v St Finbarrs away @ 7.30pm
Wednesday 13th Fe13 Premier 1 Football League v Valley Rovers home @ 8pm
Thursday 14th July Minor Hurling Champ v Glen Rovers in Carrigtwohill @ 7.30pm
Thursday 14th Fe15 Premier 1 Hurling League v St Finbarrs away @ 8pm
Saturday 16th Senior Hurling League away to Ballyhea @ 5.30pm
Sunday 17th July Senior Hurling Champ Killeagh v UCC in Midleton TBC
Tuesday 19th or 21st July Fe21 Hurling Champ v Carrigaline in Caherlag @ 7.30pm ET
Wednesday 20th July Fe21 Hurling Champ Killeagh/Ita's v Bishopstown in Midleton @ 7.30pm ET
Annual Golf Classic
Once again blessed with fantastic weather and great crowds our annual Juvenile Golf Classic last Wednesday and Thursday was a great success at East Cork Golf Club.
Just over 100 teams competed over the two days with the overall winners of Rob White, John Keane and Con O'Donnell representing Fitzgerald Commercials.
Many thanks to our main sponsor Blackwater Motors of Cork , Fermoy & Skibbereen, to all our prize, team and tee box sponsors, to all the players, to the Classic committee, all the helpers over the two days, Clare Maloney and the staff and the green keepers all who contributed to make the event such a great success.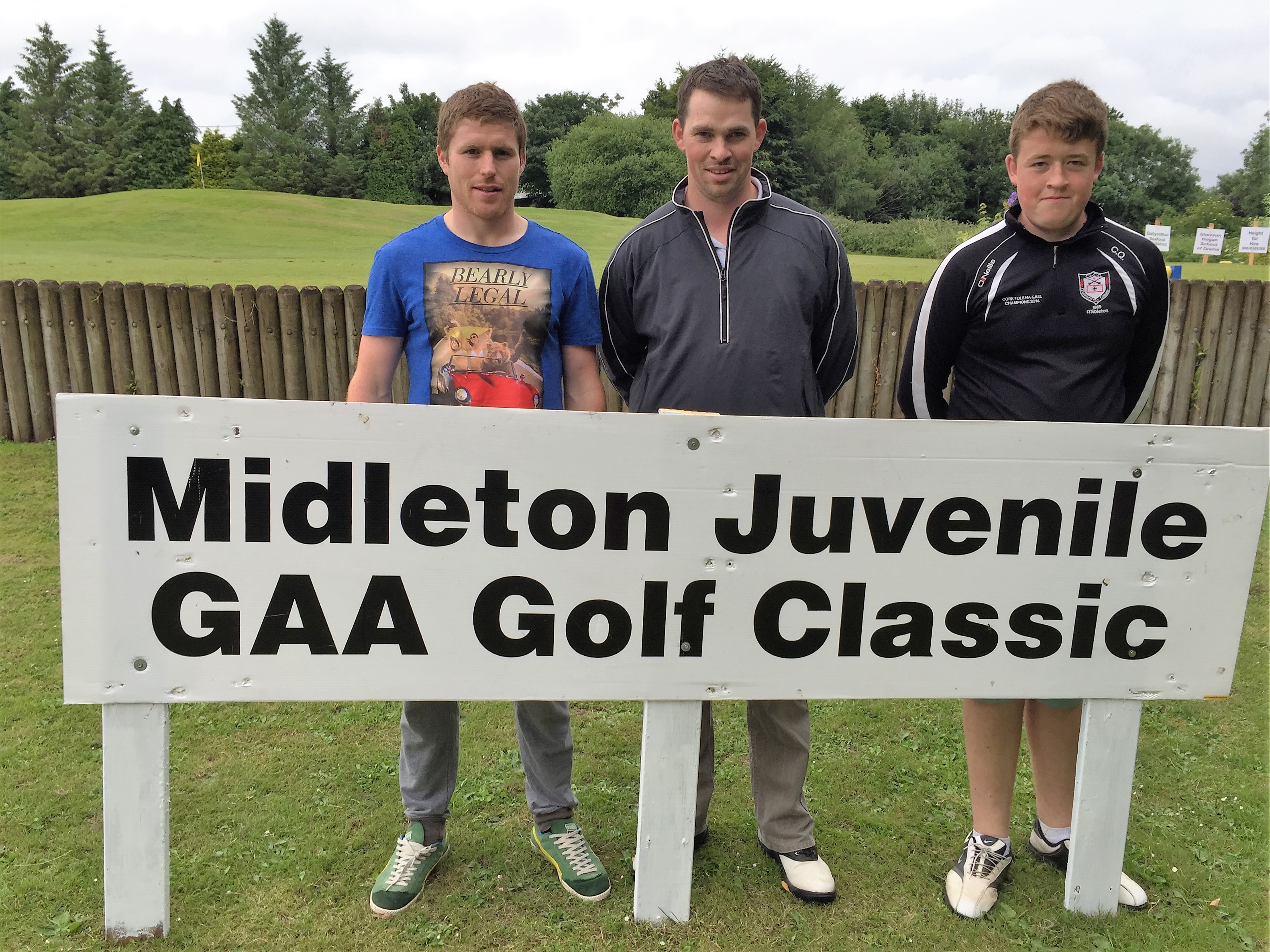 Results:
Winners (Fitzgerald Commercials) Rob White(3) Con O'Donnell(5) John Keane(11) 55.1
2nd Mick Collins (5) Cormac Cahill (7) Paul Cashman(14) 55.4
3rd Ian Stack (12) Shane Geasley(10) Colin Harkins (13) 55.5
4th Sean Crowley(18) Brendan Barry(18) Padraig O'Brien (17) 54.7 (Non GUI)
5th (Ferriter Accountants) Eoghan Collins (6) Robert Williams(4) Andy Rea (12) 55.8
6th (Paddy Sullivan) Peter Coughlan(10) Adrian Shield(7) Tom Hennessy (7) 56.6
7th Brian Healy(18) Liam Cahill (18) Liam Wade (18) 56.6
8th (Egis Lagan) Pat Hayes(14) Kevin Moynihan(17) Adrian O'Donovan(12) 56.7
9th (CBS PPU) Derek Coll (9) Willie Ring (15) Bernard Cashman(7) 56.9
10th Cormac Cahill (7) Henry O'Brien(11) Justin Dunlea(9) 57.3
11th (Brelon Builders) Pat Sexton (9)Brian O'Neill(9) John O'Neill(11) 57.5
12th (The Maple Bar) Michael Daly(7) Gary Johnson(9) Aidan Goldspring(7) 57.7
13th Garan Manley(5) Ger Manley (7) Paddy O'Brien (21) 57.7
14th (Claire Maloney) Jason Law(0) John O'Keeffe(12) John Andrews(16) 58.2
15th (Apex Fund Services) Brian Atkinson(11) Frank Walsh(7) Gavin Sloane (9) 58.3
16th (Pat Kelly Car Servicing) Michael Collins(5) Eoghan Collins(6) Pat Collins(13) 58.6
17th (Mid Gaa Golf Society) Anthony Wall(10) Denis Cashman(12) Jim O'Sullivan(22) 58.6
18th (G4S) Robert Cotter(19) John Fenton(18) Donal Fenton (5) 58.8
Mixed – (Mill Wheel Bar) Eddie J Murphy(7) Tara McCarthy(13) Finbarr Kearney(15) 57.5
Senior – (East Cork Golf Club) John Morrison(13) JJ Sheehan(11) Maurice Conway(11) 57.5
Nearest Pin Ladies - Tara McCarthy
Nearest Pin Gents - Liam Walsh
Longest Drive Gents - Ian Stack
Longest Drive Ladies - Ann Hill
The Gaa Golf Society's next outing is Tuesday the 9th of August at 5pm in East Cork Golf Club sponsored by Mr. Don Mc Farlane.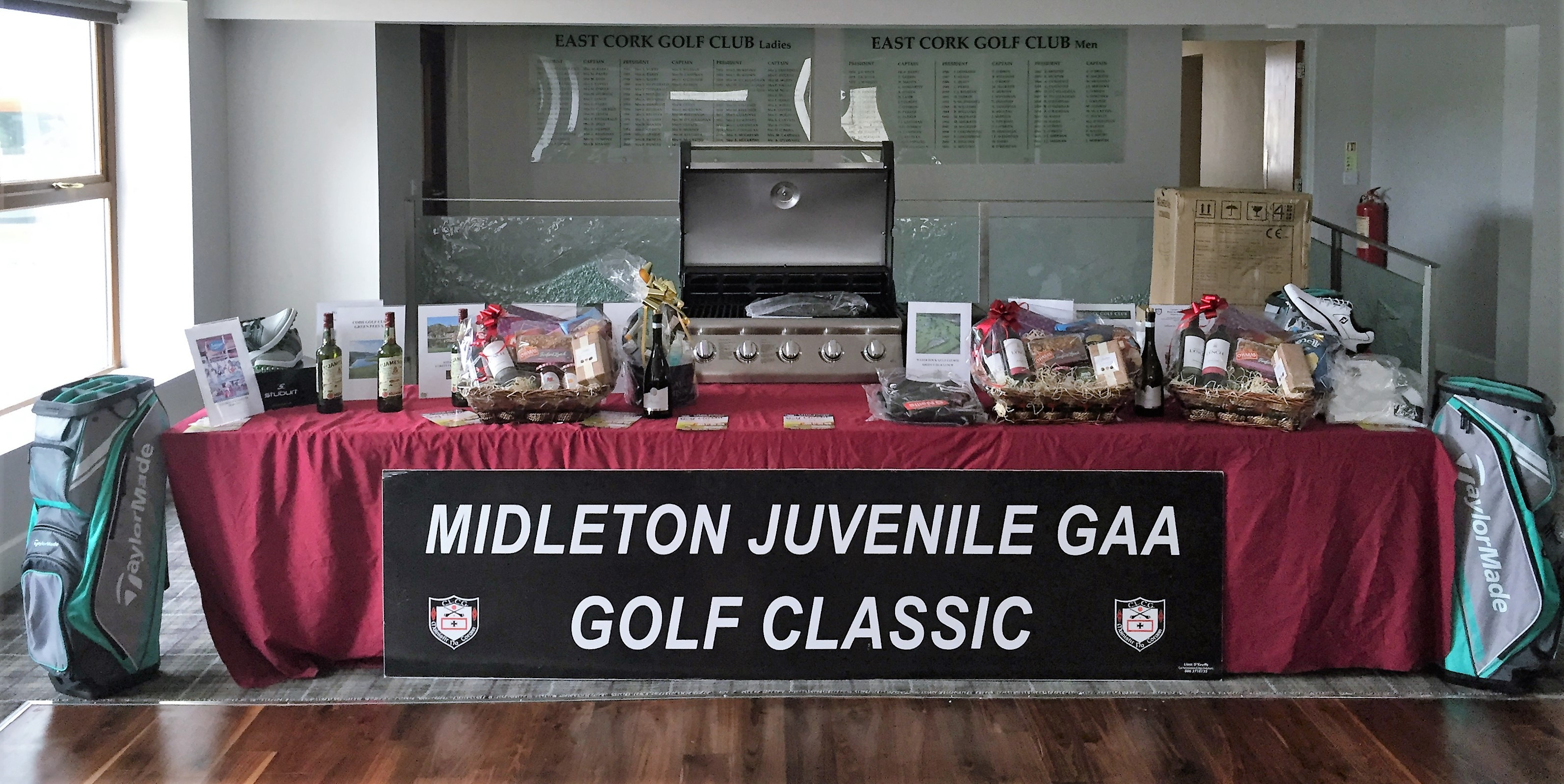 Camogie
We got our second win at home against Carrigtwohill in round 2 of the U13 Imokilly league. We dominated the match in the opening half playing against a very strong wind but this week we got the scores we deserved. Half time finished with us ahead by a very small margin.
The girls played some great hurling. Our backs and midfielders played well and there were great balls passed in from midfield to our forwards and they responded by taking every chance they could to add to the scores. The match ended with a well deserved win for us. This is a great start to our league campaign with two wins under the belt for us. The girls showed great commitment and teamwork. Next league match is against Castlelyons.
Well done to all involved!!
Team: Abbie Foley, Chloe Garde, Abby Purcell, Hannah Wall, Caoimhe Murray, Jodie Keegan-O'Connell, Orla Evans, Kim Moran, Caoimhe Cronin, Leah Hogan, Lily O'Connor, Vivienne Gleeson , Holly Duggan & Rachel Mc Sweeney.
Training Summer Camp 2016
WHEN: 14TH & 15TH JULY WHERE: MIDLETON GAA CLUB
WHO: GIRLS AGE 6 – 12 , MEMBERS AND NON MEMBERS WELCOME
HOW: TEXT CAMP + GIRLS NAME + AGE TO 087 6822916
Training Continues throughout the summer U6 U8 U10: Friday 7.15 -8.15pm @ GAA Club
U12 & U14: Tuesday 7pm – 8pm St Colman's & Fridays 7.15pm – 8.15pm @ GAA Club.
Any changes to training schedule will be text to parents.
Ladies Football
Our Junior Ladies played Mayfield in the Semi-Final of the East Cork Championship last Wednesday night in Mayfield. From the start we dominated with the advantage of the wind in the first half, our striking and passing of the ball was great and we went into the break leading by 7-4 to 0-0. Mayfield came out strong in the second half and scored first a goal….game on or so we thought but it wasn't to be the case….our girls came out on top on a final score of 10-10 to 1-0. We will meet Fermoy or Bride Rovers in the final.
Panel: Kate-Mary Cullinane, Clare O'Mahony, Julia Cashman, Dionne Carroll, Claudia Kearney (0-1), Olivia Walsh, Lucy Lawton, Ciara McGrath (Capt), Claire O'Brien (3-1), Rhea Buckley, Abby Quirke (4-2), Molly Beausang (1-5), Laura O'Keeffe, Lisa Ahern (1-0), Laura O'Leary, Rayanna Power (1-1) Ciara O'Doherty and Cristin O'Keeffe.
Wedding Bells
All at Midleton Ladies Football would like to send best wishes to our Junior player Olivia Walsh and her fiancé Tom O'Brien on their Wedding Day on Saturday 16th July next.
We wish you both a long life of happiness together.
Training times at Midleton Rugby Club: U8's are from 6.30-7.30pm, U10's are now training from 7-8pm, please note time change and U12's upwards are also from 7-8pm.
Cork Ladies Football Development Summer Camp
Midleton's Orlagh Farmer will co-ordinate the camp with some of the Cork Senior Ladies Footballers in Midleton Gaa on August 8th to 11th from 10am to 2pm. Price is as follows €30 per player, €50 -2 family members and €70 for 3 family members. Each player will receive a SuperValu Cork Ladies Jersey on completion of the Camp. For more details please contact Mairead on 087-3481925 or email: midletonladiesfootballsec@gmail.com.
This is a great opportunity to learn from the best .
Please continue to support Midleton Ladies in Hurley's SuperValu for the Kit for Kids and in Lidl. The Club appreciates all your support.
Trad Session in the Club
Great Trad session on Friday next 15th, the third Friday every month in the GAA clubhouse at 9.30pm and a special fáilte for those with ceoil or cúpla focal. Bíonn Oíche Ghaelach i gClub CLG Mhainistir na Corann gach tríu Aoine den Mhí ag 9.30.i.n.. Fáilte roimh chách.'
Lotto
Our Lotto Jackpot was €3,000, there was no winner, the numbers were 2,8,9 & 18, the Lucky Dip winners were Caroline Goldspring, Frances O'Brien, Pat Aherne, Adrian Hickey & Nancy O'Brien. Next week's Jackpot will be €3,200.
Tickets are on sale at the Club Bar, O'Neills Bar, Linehan's Bar, Maple Leaf Bar, O' Farrell's Butchers, Frank Murphy Butchers, Pat Walsh Paints, Chadwicks, Teach Beag & Niall Mac's Bars.
BINGO takes place each Friday evening at 8pm in the GAA Pavilion with a weekly guaranteed Jackpot of €1,000.
Juvenile
Fe 13
Premier Hurling C3 League v Ballincollig:
There was a great turnout last Friday night to Clonmult Memorial Park Midleton for our scheduled hurling match versus Ballincollig. All of the preparation had been put in place for the game to start when we got the news twenty minutes before start time that Ballincollig were not traveling. As a result no game could go ahead. Apologies to all of the parents who made the effort to have the boys at the field, there is consolation in knowing this is a very rare occurrence, in fact it's the first one I can remember that has happened to our group.
Midleton v St Finbarrs Premier 1 Hurling League:
On Monday 11th of July our hurlers travel to Togher for an eagerly anticipated match when they renew rivalry with their St Finbarr's counterparts. The corresponding fixtures over the last few years have always been very close affairs and the expectation is that this year will be no different. It's the last game of our league campaign before we move into the semifinal stage, which is currently penciled in on the calendar for a weekend in mid-August.
Midleton v Valley Rovers Premier 1 Football League:
On Wednesday 13th of July our footballers play their final league match. The game versus Valley Rovers is fixed for Midleton's main pitch. After a great win against Douglas in our last outing the plan is to keep building on some great performances from this campaign. Three wins so far means that a win from this game gives us a chance that we could progress to the Premier One league semifinals. But by far the most important thing is great progress has been made with this group of footballers.
Fe 14
Our hurlers had a strong away win against Douglas last Monday evening on a scoreline 4-12 to 2-8. A number of things went right for us on the night and we had a few breaks that went our way. We were always in control and picked away a number of tidy scores throughout which meant we always had the upper hand. We had a few injuries during the game notably our own Leo Hennessy who suffered a double fracture to his hand and had to have surgery the following morning, we wish all players a speedy recovery.
Panel: Daniel Cagney, Ryan Cahill, Paul Connaughton, Darragh Crowley, Ben Cummins, Luke Deane, Conor Hayes, Leo Hennessy, Patrik Kane, Liam Kelly, Patrick Kelly, Dathi Magan, Alex Quirke, Brion Sanderson, Ciarmhac Smith, Charlie Walsh, Conor Fitzgerald, Jack Fitzgerald and Evan McCarthy
We suffered a disappointing defeat at the hands of Ballincollig last Saturday, falling away in the final few minutes of the game after a reasonably solid performance up to that point. Going forward we will have to improve our decision making and take our points as the opportunities present themselves. We look forward to our next hurling match which will be against the St Finbarrs in a few weeks time. Final score Midleton 3-13 v Ballincollig 4-12
Panel: Ryan Cahill, Paul Connaughton, Darragh Crowley, Aaron Coughlan, Ben Cummins, Luke Deane, Conor Hayes, Liam Kelly, Patrick Kelly, Christopher Leahy, Dathi Magan, Alex Quirke, Brion Sanderson, Bradley Savage, Trevor Shine, Ciarmhac Smith, Conor Fitzgerald, Jack Fitzgerald and Evan McCarthy.
Fe 15
On Wednesday last our hurlers hosted the Kerry Development team in the League. On a night when we were short a number of players due to holidays and injury this turned out to be a great game from start to finish. In the end they ran out winners on a score of 2-16 v 2-12.
Team. Alex Quirke, Patrick Kane, Jack Fitzgerald, Ethan Daly, Adam Meade, David Scanlon, Dan O Sullivan, Samuel Quirke, Frank O Brien, Gary Carroll, Aaron Mulcahy, Ryan Cahill, Paul Connaughton, Cian Crowley, Conor Fitzgerald & Liam Kelly.
Thanks to all the parents for bringing sandwiches and cakes for both teams.
Our next game is Thursday the 14th at 8pm v St Finbarrs in Togher.
Club Shop
The Club Shop will re open on Saturday next the 16th from 11 to 1pm.
Cul Camp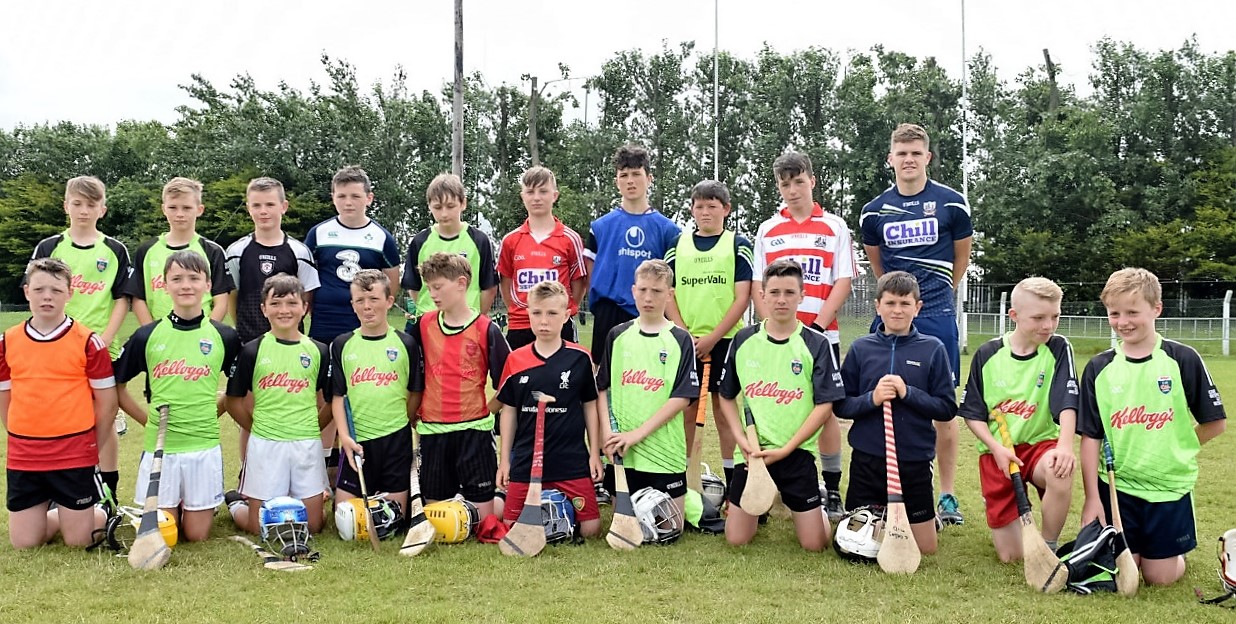 Our Cul camp started the summer holidays off on the right foot with perfect weather and great coaching a plenty. We had 220 kids from the ages of 5 up to 13 with 9 coaches, 19 helpers and 2 coordinators. Brendan Foley and Alywin Kearney would like to thank all the coaches, parents who helped out, the FAS lads in the Club, Mary Quinn, Cormac, Paudie and Hurleys Super Valu for the fruit, it made it a great week,MagpiesAbu.