Midleton GAA , Camogie & Ladies Football Club News
03 July, 2016
Intermediate Hurling
We had a hard earned victory over Inniscarra in Caherlag last Sunday evening in round two of the County Championship. There was nothing between the teams in the first half with the sides level at five points a piece at half time. After the re start some fine points from Micheal Keohane, Cormac Beausang & Padraic Nagle put us ahead and we held this lead to the very end of the game running out winners by 0-13 to 0-08.
Team: Byran Rossiter, Elliot Mulcahy, Gavin Bagnell, Adam Daly, Luke Dineen, Patrick O'Mahony, Alan Stanton, Sean O'Farrell, Padraic Nagle (0-01), Cormac Beausang (0-08, 7 frees), Billy O'Shea, Conor O'Neill, Padraig O'Brien, Micheal Keohane (0-03) & Michael Abernethy. Subs used Ryan McConville, Mark O'Keeffe (0-01) and Shane Ryan.
Inter County Hurling
Thankfully after a very tough week for Cork hurling our Seniors came good following a very close encounter against Dublin in Pairc Ui Rinn despite Dublin having only 14 men for the second half. Cork led narrowly at the break by 1-10 to 0-11. In the second half a late goal from Dublin made for a very tense finish but Cork held out to win by 1-26 to 1-23. Conor Lehane scored 0-03, Luke O'Farrell 0-01 and Killian Burke played at corner back.
Well done to all the players and selector Pat Hartnett.
After the Cork U21s were defeated by Limerick last Tuesday night there was great hope for the Minors who played Tipperary last Thursday in Pairc Ui Rinn. Despite leading by six points early into the second half Cork were over whelmed by Tipperary who outscored Cork by fourteen points to three for the remainder of the game winning on a score of 1-15 to 0-23. Sean O'Leary Hayes played at centre back and Sean O'Meara was an unused sub.
Fixtures
Tuesday 5th July Senior Hurling League v Killeagh away @ 8pm
Wednesday 6th Fe15 Premier 1 Hurling League v Kerry at home @ 6.30pm
Thursday 14th July Minor Hurling Champ v Glen Rovers/Duhallow TBC
Saturday 16th Fe14 Premier 1 Hurling League v Ballincollig away @ 3pm
Sunday 17th July Senior Hurling Champ Killeagh v UCC in Midleton TBC
Tuesday 19th July Fe21 Hurling Champ v Carrigaline in Caherlag @ 7.30pm ET
Wednesday 20th July Fe21 Hurling Champ Killeagh/Ita's v Bishopstown in Midleton @ 7.30pm ET
Annual Golf Classic
Our annual Juvenile Golf Classic takes place this Wednesday and Thursday at East Cork Golf Club. Our main sponsor is Blackwater Motors of Cork , Fermoy & Skibbereen
We will be setting up on Tuesday evening from 6.30pm on and if you can spare an hour we would greatly appreciate your assistance.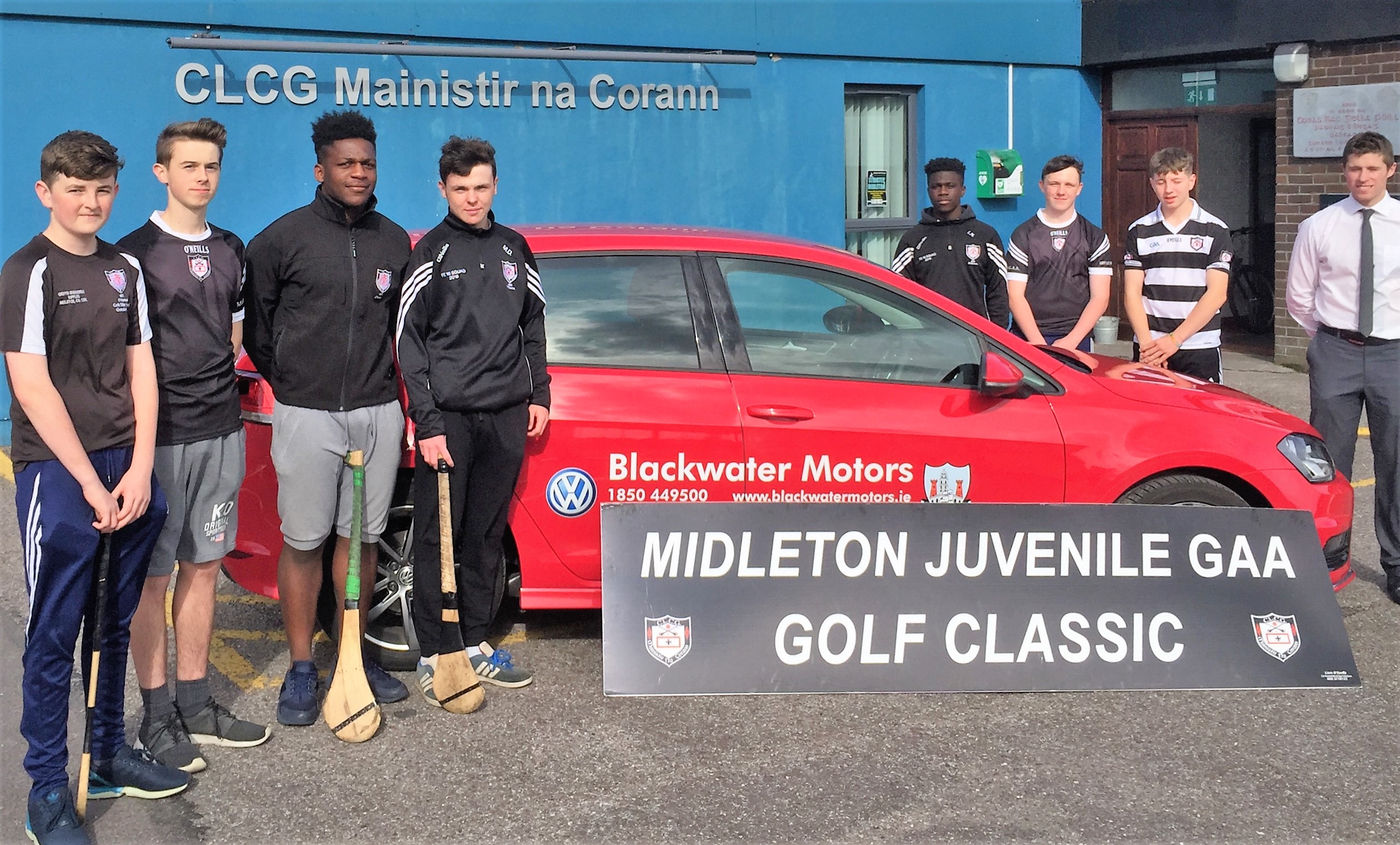 Condolences
The Executive of the Club would like to express their condolences to the Forbes family on the recent passing of Jim. Jim was a former Chairman & PRO of the County Board, PRO of the Munster Council and officer with the Crosshaven and Carrigaline clubs.
Up to the time of his untimely death he was Chairman of the Rebel Og Central Region.
Ar dheis de go raibh a h-anam dilis.

Camogie
Training for the week ahead: U6 & U8 & U10 Friday evenings 7.15pm -8.15pm @ GAA Club and U 12 & U14 Tuesdays 7pm -8pm & Fridays 7.15pm -8.15pm @ Gaa Club
Any changes to the training schedule will be texted to parents.
This year's Camogie Summer Camp will be held on 14th & 15th July at Midleton GAA Club from 10am – 1pm. This is the clubs 3rd year to host a summer camp and based on the previous years it guaranteed to be a enjoyable and worthwhile for the girls.
To book a place, please text CAMP and your name to 0876822916.
Open to girls ages 6 to 12, members and non members are welcome.
Ladies Football
On a sunny morning at the pitch in St Colmans our U8 girls took on Rockbán in their 2nd League Match. Now that the holiday season has started our numbers were low but we had 14 girls turn up. For some of our girls these matches are their first games and as a team they all played extremely well. We were delighted with their performance. Once again thank you to the parents on the side line for their encouragement and support.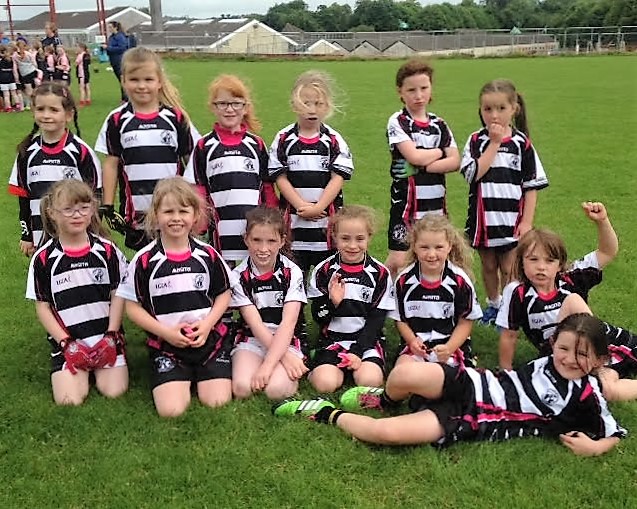 Congratulations to the following Midleton Ladies for making the Imokilly Senior Team : Ciara McGrath, Olivia Walsh, Orlagh Farmer, Julia Cashman and Claire O'Brien.
The promotion in Lidl has been extended to the middle of July so please continue to put No.1 on your card that you receive at the checkout.
Again thank you for the support in Super Valu "Kits for Kids" Promotion. Its great to see the Midleton Ladies Box looking so full.
Training continues for all age groups in Midleton Rugby Club. U8's and U10's are from 6.30 to 7.30pm while all other age groups are from 7-8pm.
There are a limited number of training socks and shorts available to buy at training. We are selling off stock at €5. See Tracy at training to see what is available.
Lotto
Our Lotto Jackpot was €2,800, there was no winner, the numbers were 14,19,22 & 26. The Lucky Dip winners were P Dorgan, Frank Mc Carthy, Geraldine Goldspring, Loretta Bulman & Lil O'Driscoll. Next week's Jackpot will be €3,000. Tickets are on sale at the Club Bar, O'Neills Bar, Linehan's Bar, Maple Leaf Bar, O' Farrell's Butchers, Frank Murphy Butchers, Pat Walsh Paints, Chadwicks, Teach Beag & Niall Mac's Bars.
BINGO takes place each Friday evening at 8pm in the GAA Pavilion with a weekly guaranteed Jackpot of €1,000.
Juvenile
Fe 10
Rebel Og in conjunction with Coiste Oiliuna are running a Fé10 Hurling & Football Tournament. It is run on a league format with Midleton in a group of 6 for the hurling.
We will host 3 games and play away in 2 games. Our opponents in the hurling league are Inniscarra, Sarsfields, Douglas, Aghada and Ballincollig. We are in a group again of 6 for the football, currently we are scheduled to host 2 games and play 1 away, with remaining matches to be fixed. Our opponents in the football league are Bishopstown, St. Finbarrs, Eire Og, Fr. O' Neills and Youghal. All matches are subject to change, parents will recieve a text when match date and venues are confirmed.
We have entered 3 teams for the Hurling and 2 teams for the Football. All teams play their matches at the same time. In line with the Rebel Og Tournament guidelines teams are graded, the purpose of grading is to ensure that each player touches the ball as much as possible and that players of similar abilities are matched together to give every player the opportunity to grow in confidence and improve their hurling and football skills.
Saturday Morning July 2nd saw the Midleton Fe10's play their first league game V Douglas. The teams were split into 3 teams. The scores for all 3 teams were aggregated to give an overall score across the 3 games. It resulted in a win for Midleton on an aggregated scoreline of 16-13 to 14-09.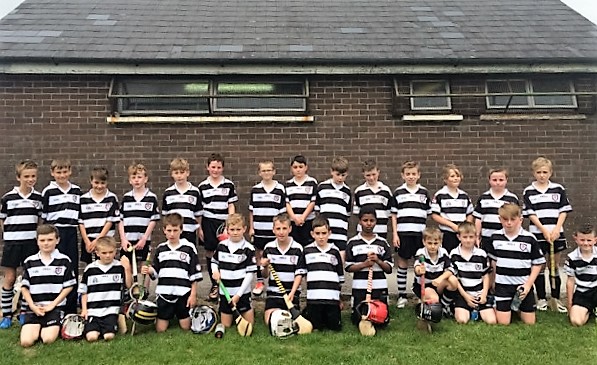 We appreciate that we are into Summer Holidays and people will be going away. It is imperative that when parents receive a text for these league games that they text back 'YES' together with the players name if available to play and 'NO' together with the players name if not available to play. A considerable amount of time is involved in making up the various team sheets prior to match day and mentors do not want to end up in a situation where players turn up to play on the day without having sent a text back to the coaches confirming that they are available to play.
Fe10 league match schedule to date (subject to change)
9th July Football – Midleton V Bishopstown (Home match, Midleton)
16th July Hurling – Midleton V Inniscarra (Home match, Midleton)
23rd July Football – Midleton V Eire Óg (Home match, Midleton)
13th August Hurling – Midleton V's Aghada (Home match, Midleton)
20th August Football – Bandon V's Midleton (Away match, Bandon)
27th August Hurling – Sarsfield V's Midleton (Away match, Sars)
17th September Hurling – Ballincollig V's Midleton (Away match, Ballincollig)
We would like to congratulate all the players on a great result today and thank the parents for their support on the sidelines and the mentors for their dedication in coaching the boys. We would also like to acknowledge our refereees today who did a fantastic job for the Club: Mark Daly, Alan Power and Fergus Wade.
Fe 12
Premier 1 Hurling League result Blackrock 5-2 v Midleton 1-14
With the last play of the match, the 'Rockies scored an equalising goal to deny our lads a victory, having played our hearts out last Sat in Church Road. Our dressing room was quiet, and disappointed afterwards, and the lads learned a big lesson on what can happen when we don't close out a game we dominate.
In typical fashion, Mickey Finn led the way with well taken scores in the first half, and with Tiarnán Roche and Odhran Prenter on top in midfield, we deserved our lead at half time, 1-6 to 2-2. Playing with a strong wind in the second half, Riain de Barra and Tadhg Bohan cleared plenty balls from defence, and Dara Scanlon continued to threaten up front. For most of the second half we led the game thanks to good work by Ben Kenneally, David Green and Cathal Beausang, but we just could not stretch our lead enough to shake off the opposition.
David Cremin, Niall Lang, and Dara Fitzgerald in goals, continued to impress, and with Conor O'Shea, Caolán Dennigan, and Daniel Coffee chasing and working hard up front, we can be proud of our workrate indeed. When introduced as second half subs, Leo Kelleher and Ashley O'Meara hurled well and contributed to our performance up front.
Once the Rockies equalised, the referee blew the final whistle denying us an opportunity to recover, but alas, it was not to be! One hurling game vs Sars remaining in our league fixtures.
Panel: Dara Fitzgerald, Ben Kenneally, David Green, Riain de Barra, Daniel Coffee, David Cremin, Tiarnán Roche, Tadhg Bohan, Cathal Beausang, Dara Scanlon, Odhran Prenter, Niall Lang, Mikey Finn, Caolán Dennigan, Alex Moloney (inj), Conor O'Shea, Ashley O'Meara & Leo Kelleher.

Fe 13
Premier 1 Hurling League result Midleton 2-14 v Ballincollig 1-06.
The penultimate hurling league match for the U13 Magpies saw them face up to their Ballincollig counterparts last Wednesday night (June 29th) in Midleton's Clonmult Memorial Park. The evening was perfect for hurling and Ballincollig travelled in big numbers. A win for us would see us progress to the semi-finals of the league.
We started well and a superbly taken point from the hurley of James Condon was followed up by a Kelvin Barry point from a narrow angle. Alex Quirke's free taking then took over as he pointed three frees in a row. James Condon added to the score line with his second point of the evening. With only a few minutes remaining in the first half Darragh Codd broke through the Ballincollig defence and was dragged back by Douglas' fullback. The referee awarded a penalty to us. Alex Quirke shot from the penalty spot was simply unstoppable; low and to the corner. This gave us a half time lead of 1-06 to Ballincollig's 0-04 points.
Shortly after the second half began Cian Murray scored a Midleton point, with a move that had begun in our own half. Alex Quirke then resumed his scoring with four points, two from placed balls and another two from play. His frees were out of the 'top drawer'; 65 meters out and near the side-line. Brion Saunderson in goals coped admirably amid pressure from the Ballincollig forward line. In particular one attack saw him bring off a save from a shot that looked a certain goal. Another Ballincollig attack was stopped by a courageous block down and clearance from Ciarmhac Smyth. Later Evan Kelly popped up on the edge of the square to score our second goal of the night. The final two points came from Mikey Finn and David Cremin. So a good solid performance saw us emerge with a victory and so progress to the semi-finals.
Midleton Panel: B Saunderson, J O'Sullivan, E McCarthy, A Fay, L. McGrath, N Corcoran, D Codd, A Quirke (1-08) S Bohan, C Smyth, E Kelly (1-00), C Murray (0 -01), K Rowlands, B. O'Neill, R Gees, R Hartnett, P Magan, J Condon (0-02), K Barry (0-01), M Finn (0-01), D Cremin (0-01), C Collins, T Lambe & R Spillane.
Premier 1 Football League result: Midleton 3-09 v Douglas 2-04.
Last Year's U12 Football Champion's Douglas travelled to Midleton on Sunday (July 3rd) to play us in the second last game of the Rebel Og Football League. It was dry, it was calm and the pitch was immaculate so everything was ready for a good game of football. A good game of football is what was served up by both teams. Midleton's Phelim Magan kicked the first point of the game. Evan McCarthy – who started for the first time at centre forward – scored our first goal with a beauty of a shot that billowed the back of the Douglas net. We were now starting to play some superb football; finding their man with passes, running off the ball looking for possession and tackling without fouling. This approach was the catalyst that allowed Midleton build up a fully deserving lead. A passage of play that saw us score some wonderful points from Kane Rowlands, Craig Collins, Ben O'Neill and the ubiquitous Alex Quirke was followed by a brilliant goal from John Spellman. Evan McCarthy's second his goal and Liam McGrath closed out Midleton's scoring of the first half with a long range point. Half Time score Midleton 3-06 v Douglas 0-02.
Douglas began the second half with intensions of over turning their half time deficit. Butour backs withheld the onslaught from the Douglas forwards. Evan Kelly, Ciarmhac Smyth and Shay Bohan stood manfully to their tasks. Liam McGrath, Roan Spillane, and Craig Collins played out-of-their-skins. James Condon, Ben O'Neill Rory Hartnett never stopped trying. Darragh Codd, Kane Rowlands, Mickey Finn and Oran Prenter never for a moment lost their focus. Midleton added a further three points to their score during the second half. Evan McCarthy, Rory Hartnett and a final free from Alex Quirke saw us safely over the line. The final play of the day was a great block down by Shay Bohan when the Douglas full forward was closing in on goals. All our players gave a great display and their level of fitness was very impressive. Panel: B Saunderson, J O'Sullivan, S. Bohan, R Hartnett (0-01), D Codd, C Smyth, E Kelly, L. McGrath (0-01) A Quirke (0-02), K Rowlands (0-01), E McCarthy (2-01), J Condon, B. O'Neill (0-01),P Magan (0-01), C Collins (0-01), J Spellman (1-00) M Finn, R Spillane & O Prenter.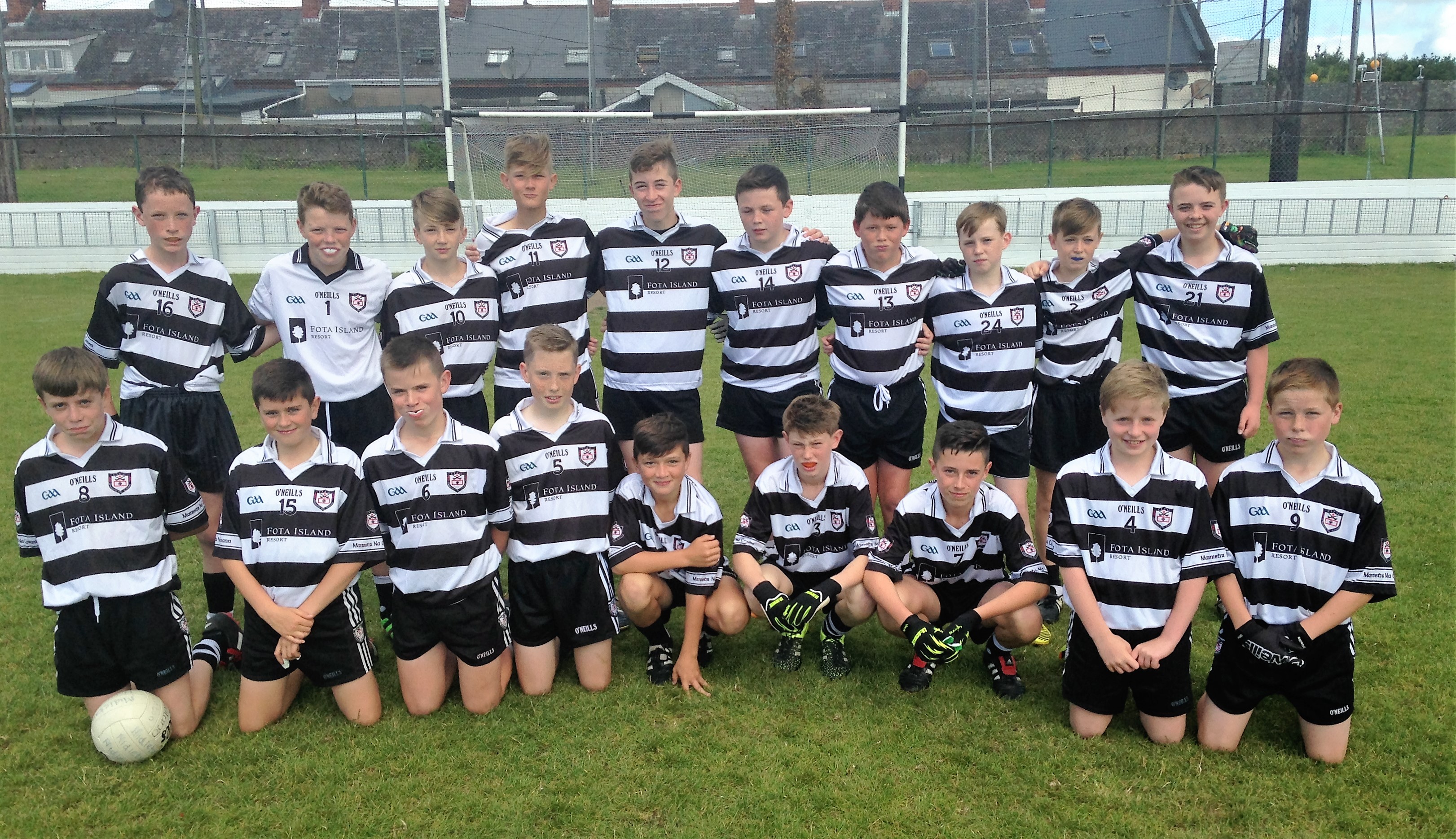 Fe 14
Well done to our hurlers, who had a great win over Inniscarra in the Rebel Og C3 Hurling League last Friday evening at home by 7-12 to 2-8.
Fe 16
Our hurlers had a strong away win against Na Piarsaigh last Monday evening on a scoreline of 2-18 to 0-13. We now have full points from all games played. A number of things went right for us on the night and we had a few breaks that went our way. Our backs played well with a number of Na Piarsaigh scores limited to long range frees. Yet they created a lot of space in front of our goal that they failed to exploit goal chances. We were always in control and picked away a number of tidy scores throughout which meant that we always hand the upper hand. Team: Ryan O Riordan, Alan Power, Christian Murphy, David Scanlon, Cormac O Brien, Ciaran Evans, Sean O Sullivan, Tommy O Connell, Gary Carroll, Kian Farmer, Aaron Mulcahy, Kevin Finn, Ross O Regan, Arthur Nganou, Adam O Connell, Sam Quirke, Fergus Wade, Mark Daly, Griffin Hurley, Jake Shanahan, Cian Crowley, Coleman Quinn, Craig Barry, Loic Nguefang, Ronan Lynch.
On Tuesday night we trained with the Senior Team. This was a fantastic occasion. In terms of fitness, the Fe 16s set the standards for the Seniors with terrific effort and application. This was a great opportunity for the Seniors to get to know the younger players and vice versa. We have no doubt that most of this team will play for the Adult Club within the next few years.
Club Shop
The Club Shop will be closed on Saturday next the 9th and will re open on Saturday the 16th.
Cul Camp
Our Cul Camp begins next week on Monday July 4th until Friday July 8th at the main pitch. This years event co-ordinator is Brendan Foley.