Midleton GAA , Camogie & Ladies Football Club News
26 June, 2016
Junior Hurling
On Sunday evening last fielding a team of youth and experience we had a fantastic victory over Bride Rovers in the first round of the East Cork Junior A Hurling Championship in Castlelyons.
The first half was very even early on but two goals from close in frees gave them a lead of 2-07 to 0-06 at the break. Some changes by us worked wonders for the most of the second half when a great goal from Cormac Beausang and fabulous points from Padraig O'Brien, Robert Williams and Padraic Nagle brought us level. A number of late missed opportunities looked to be costly when they broke to score a point with time almost up. With one last effort a huge free from Bryan Rossiter broke in the square and Padraig Nagle smashed the ball to the net. Referee Brian Murphy immediately blew the final whistle to the players and managements sheer delight. Well done to all involved.
Final Score: Midleton 2-16 v Bride Rovers 2-14
Team: Byran Rossiter, Conor Evans, Eoin Ferriter, Liam Clohessy, Jerome Curtin, Cormac Beausang (1-00), Pat Stack, Willie O'Brien (0-01), Padraic Nagle (1-02), Robert Williams (0-02), Sean Corcoran, David Mulcahy, Brendan Ferriter, Padraig O'Brien (0-11, 7 frees), & David O'Brien. Sub used Jordan Roche , unused Liam Franklin, James O'Leary & Justin Costigan.
Intermediate Hurling
Our Round 2B game v Inniscarra will take place in Caherlag on Sunday 3rd of July @ 7.00pm, we wish the players and management the very best of luck in this game.
Minor Hurling
We had a fine win over Blackrock recently in the Premier 1 League by 3-15 to 2-11.
Team: Liam Franklin, Jordan Roche, Adam Daly, Conor Evans, Ryan Mc Conville, Kevin Mulcahy, Eoin Mitchell, Luke Smith, Eoin Moloney, Christopher Power (0-04 frees), Conor O'Neill (1-01), David Mulcahy (0-04), Shane Finn (0-02), Padraig O'Brien (2-02) and Cathal Gunning. Subs Sean O'Sullivan, Tommy O'Connell (0-01), Ross O'Regan, Conor O'Farrell and Ryan O'Regan.
Our second team also had a game v Sars recently which finished in a draw 0-16 v 2-10.
Team: Cormac Higgins, Andrew Nestor, Conor O'Farrell, Alan Power, Timmy Abdullah, Sean O'Sullivan, Eoin Mitchell, Luke Smith, John O'Dwyer, Cian Farmer (0-02), Cathal Gunning (0-01), Harry Wall (0-05, 4 frees), Ross O'Regan (0-05, 2 frees), Tommy O'Connell (0-02), Kevin Finn (0-01).
Inter County Hurling
This coming week is a hugely important one for Cork Hurling with the Fe21s out first on Tuesday night v Limerick @ 7.30pm, followed by the Minors v Tipperary on Thursday @ 7.30pm and finally the Seniors v Dublin on Saturday @ 7pm, all games are in Pairc Ui Rinn.
We wish Sean O'Leary Hayes and Sean O'Meara the very best with the Minors and wish Conor Lehane, Luke O'Farrell, Paul Haughney, Killian Burke and Pat Hartnett well with the Seniors.
All Ireland Hurling Qualifier @ Pairc Ui Rinn - All tickets for this game are unreserved and are only available from tickets.ie and Super Valu/Centra Stores.
Ticket Prices - Adults €20; AOP/Students concessions on day €10; Under 16's €5
Munster Football Final 3/7/12 - Sideline and Terrace Tickets are only available from tickets.ie and from local Super Valu/Centra Stores.
Fixtures
Tuesday 28th June Fe21 Hurling Champ Cork v Limerick in P Ui Rinn @ 7.30pm
Wednesday 29th June Premier 1 Minor Hurling League v Sars at home @ 7.30pm
Thursday 30th June Minor Hurling Champ v Tipperary in P Ui Rinn @ 7.30pm
Saturday 2nd July Senior Hurling Qualifier v Dublin in P Ui Rinn @ 7pm
Sunday 3rd July Intermediate Hurling Champ v Inniscarra in Caherlag @ 7.00pm ET
Tuesday 5th July Senior Hurling League v Killeagh away @ 8pm
Thursday 14th July Minor Hurling Champ v Glen Rovers/Duhallow TBC
Sunday 17th July Senior Hurling Champ Killeagh v UCC in Midleton TBC
Tuesday 19th July Fe21 Hurling Champ v Carrigaline in Caherlag @ 7.30pm ET
Wednesday 20th July Fe21 Hurling Champ Killeagh/Ita's v Bishopstown in Midleton @ 7.30pm ET

Annual Golf Classic
Our annual Juvenile Golf Classic is less than two weeks away on July 6th & 7th at East Cork Golf Club. There are a very limited number of tee times still available.
Our main sponsor once again is Blackwater Motors of Cork , Fermoy & Skibbereen. The competition is a 3 Ball Scramble and teams cost only €120.
Tee times can be booked by contacting either Anthony Wall 086/3154016 or Coleman Quirke 087/2523759. Tee Box sponsorship is also available at €50; we look forward to your support.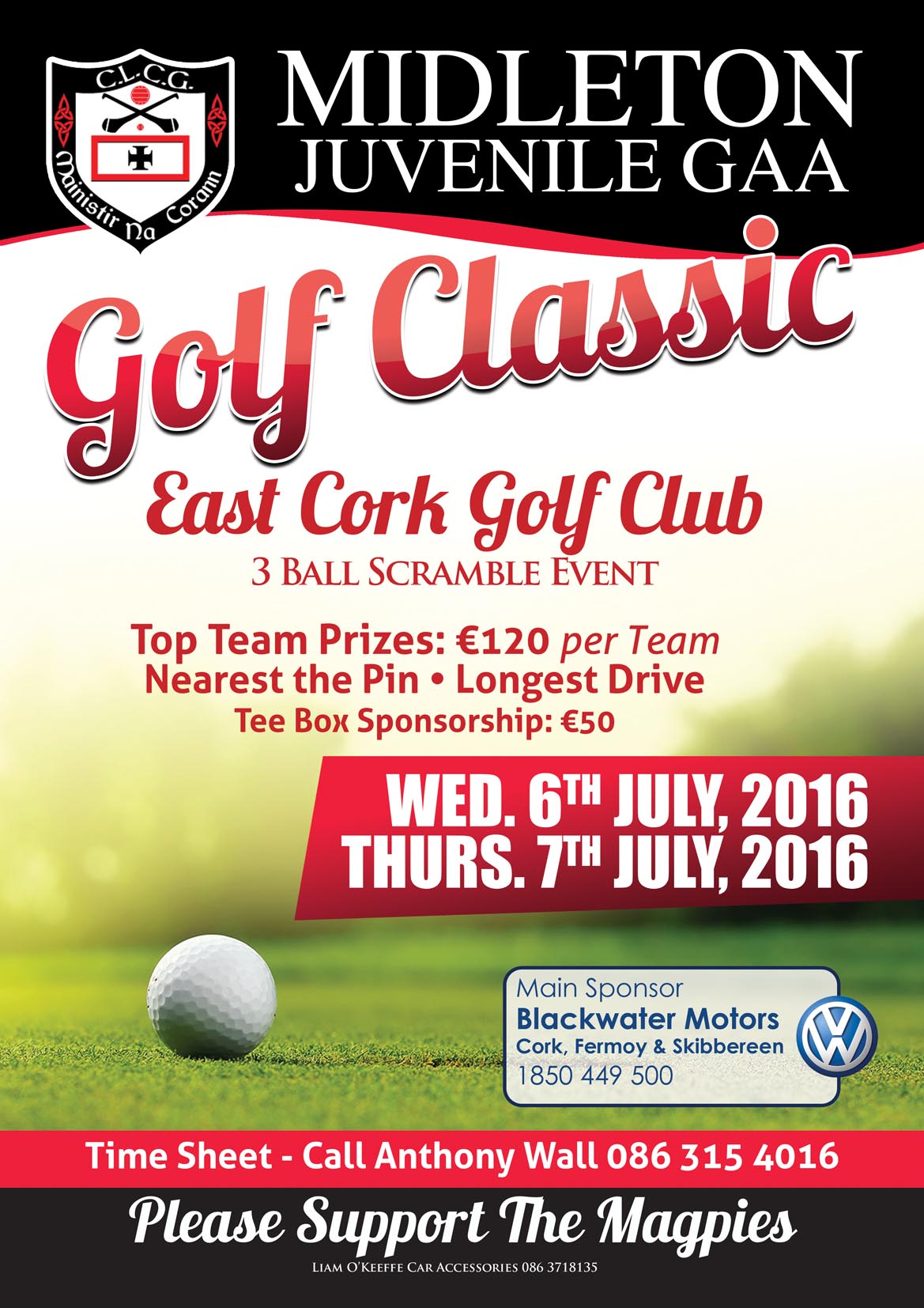 Condolences
The Executive of the Club would like to express their condolences to the Barrett, Bailey, Gunning & Hurley family's on the recent passing of their loved ones.
Healthy Club Project
Sun Awareness -
With summer here at last and Midleton's Cúl Camp starting shortly the Health & Wellbeing Committee invited John Murphy of Murphy's Pharmacy to the club to speak about Sun Awareness. John addressed a large audience made up of juvenile players and parents. He gave a very informative talk on how to take care in the sun advising the group on sun protection products and what factor to use at home and on holidays. He also gave tips on how to deal with sunburn with prevention rather than cure being the message. John told the juvenile members when and how to apply sun factor when they are playing games and training. Please see the Irish Cancer Society "Sun Smart" document which is very informative in the Coaching Corner on our website www.midletongaa.com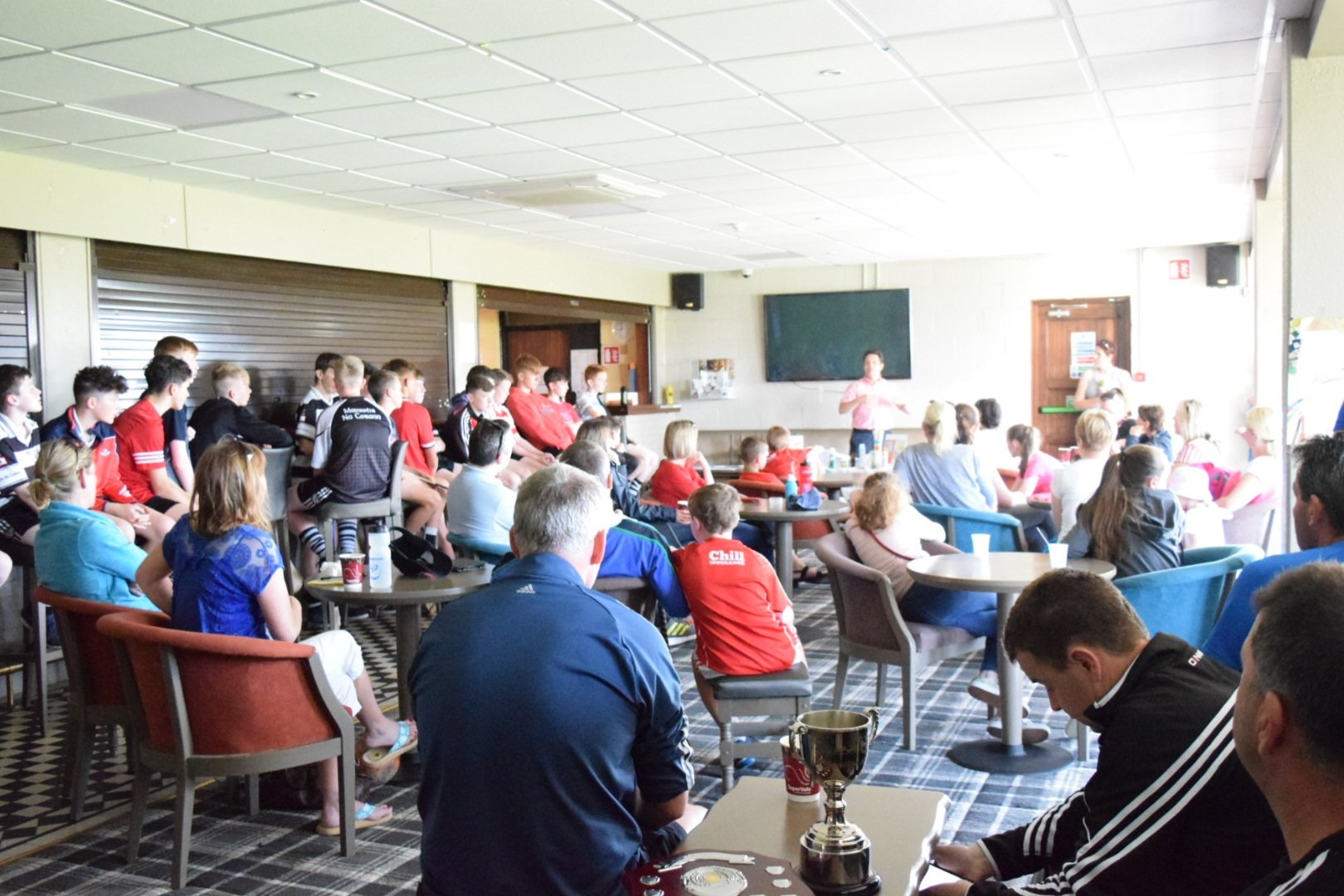 Our U14 hurlers recently won the regional Féile in Dublin and they were delighted to have their photo taken with John as Murphy's Pharmacy is the jersey sponsor of this team.
Sincere thanks to John for giving up his time to speak in the GAA Club and if anyone has any queries or concerns then just pop into John and his team in Murphy's Pharmacy.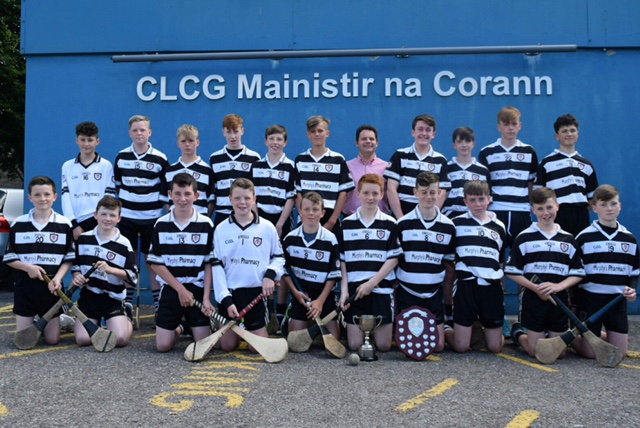 Camogie
Under 13 Imokilly League
We got off to a great start with a win against Erin's Own in round 1 of the U13 Imokilly league. We dominated the match in the opening 20 minutes but found it hard to get the scores they deserved. Half time finished with Erin's Own ahead by a very small margin. A few changes in the second half secured 2 quick goals from us which was followed by a goal from Erin's Own. The girls defended well and there were great balls passed in from midfield with the forwards taking every chance they could to add to the scores.
The match ended with a well earned and well deserved win for us. This was a great start to the U13 Imokilly league campaign. If the girls continue to show this teamwork, determination & spirit throughout the league they will be a team to watch. Well done to all involved!! Team: Ella Murphy, Chloe Garde, Abby Purcell, Hannah Wall, Caoimhe Murray, Jodie Keegan-O'Connell, Orla Evans, Kim Moran, Caoimhe Cronin, Lily O'Connor, Aisling Kelleher, Holly Duggan, Rachel Mc Sweeney & Mia Tarrant.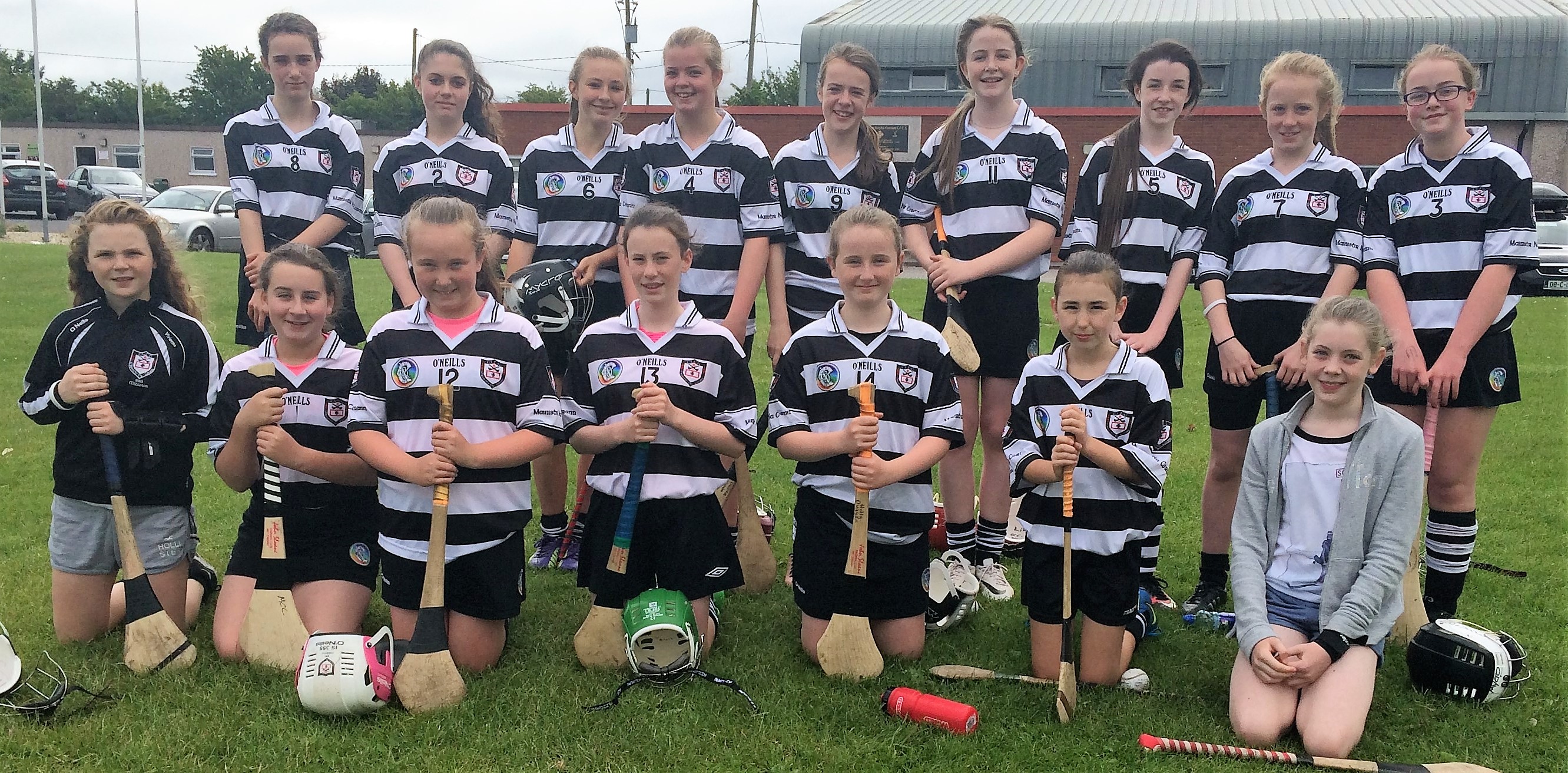 Training
Friday evening and Saturday afternoon 92 girls across all the ages enjoyed a training session with a difference when they travelled to East Cork Adventure Centre swapping hurleys and sliotars for bow & arrows, and solid ground for swamp. They climbed, crawled, ran, swam, kayaking and laughed their way around the course before drying off for the second half enjoying archery, aero ball, sumo wrestling & trampolining. Thanks to all at the East Cork Adventure Centre for looking after our girls and ensuring they all had a great time.
Training for the week ahead: U6 & U8 & U10 Friday evenings 7.15pm -8.15pm @ GAA Club and U 12 & U14 Tuesdays 7pm -8pm & Fridays 7.15pm -8.15pm @ St Colman's.
Summer Camp
This year Midleton's Camogie Summer Camp will be held on 14th & 15th July at Midleton GAA Club 10am – 1pm. This is the clubs 3rd year to host a summer camp and based on the previous years it guaranteed to be a enjoyable and worthwhile morning for the girl.
To book a place please text Sheila on 0876822916. Open to girls ages 6 to 12.
Ladies Football
On Monday last our U8 girls kicked off their Summer League with a home game against Glanmire. This team has a great mixture of girls from 6 to 8 year olds, some who were playing their very first game. It was played in three quarters and our girls played extremely well in all parts of the game. Well done to all. Our next game is against Aghada and a date has yet to be confirmed. Please keep an eye on texts as all games will require good numbers.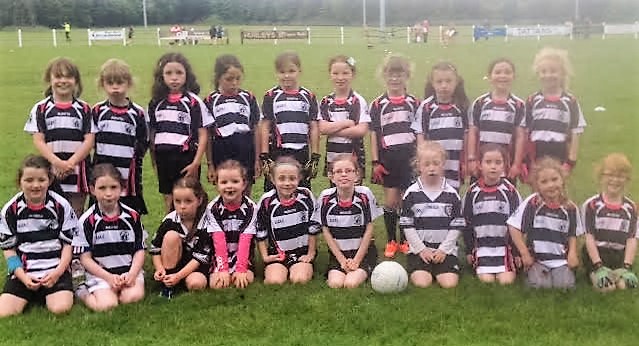 Training continues for all age groups in Midleton Rugby Club. U8's from 6.30 to 7.30pm, U10 upwards from 7-8pm. The Junior Ladies will train at 7pm on Monday night in the Rugby Club and on Thursday night at the Tech Pitch from 7-8pm.
Keep voting for Midleton in the in-store completion at Lidl. Vote Midleton "Number 1" when you receive a card at the checkout. Many thanks also for filling our box in Super Valu for the Kits for Kids. All support is greatly appreciated.
Lotto
Our Lotto Jackpot was €2,600, there was no winner, the numbers were 3,16, 22 & 28. The Lucky Dip winners were Patricia Aherne, Eoin Mc Grath, Paul Britton, Kathy Drislane & Louise Mc Guiness.
Next week's Jackpot will be €2,800. Tickets are on sale at the Club Bar, O'Neills Bar, Linehan's Bar, Maple Leaf Bar, O' Farrell's Butchers, Frank Murphy Butchers, Pat Walsh Paints, Chadwicks, Teach Beag & Niall Mac's Bars.
BINGO takes place each Friday evening at 8pm in the GAA Pavilion with a weekly guaranteed Jackpot of €1,000.
Club Shop
The shop will be open each Saturday morning from 10 to 12 at the Club.
Flags and new club gear are now in stock for our Championship games.
Juvenile
Fe 12
Premier Hurling League Ballincollig 2-09 v Midleton 2-09
Our lads travelled to Ballincollig on Thursday evening (23rd) and played out a really tough and hard fought game, and came away with a precious point that may be important for the latter stages of the competition. Our backs are improving with every game, always first to every ball and for this game were very difficult to score against. Backed up by an excellent young keeper in Dara Fitzgerald, our full back line defended very well with Fionn Dalton shining throughout. Further out, the half backs cleared plenty ball, with Niall Lang always on top and supplying the forwards time after time.
Most of our forwards scored from play which is a huge positive in addition to their work rate, constantly running, seeking scores or making it difficult for the opposition defenders. Highlight of the forwards was a second half score from Cathal Beausang, striking on the run from the left wing for a superb point.
Throughout the game, our lads battled and fought hard to secure the draw at the final whistle. Though the players were disappointed not to get the win, their attitude and approach gave huge satisfaction to their mentors. Two further hurling games remain – our target is to win both; a challenge these lads are more than capable of.
Panel: Dara Fitzgerald, Fionn Dalton, Brian O'Connell, David Green, Riain de Barra, David Cremin, Tiarnán Roche, Paul Curtin, Tadhg Bohan, Cathal Beausang, Dara Scanlon, Odhran Prenter, Niall Lang, Mikey Finn, Caolán Dennigan, Alex Moloney, Conor O'Shea,
Sean Fraser, Diarmuid Murphy & Ashley O'Meara.
Cul Camp
This years Cul Camp will run from Monday July 4th until Friday July 8th at the main pitch. All registered players from Junior infants upwards can take part. The camp is open to boys only. This years event co-ordinator is Brendan Foley. Bookings are available on line at www.kelloggsculcamps.gaa.ie.