Midleton GAA , Camogie & Ladies Football Club News
08 May, 2016
Senior Hurling
On Saturday evening last our hurlers took on Carrigtwohill in the Hurling League at home. Conditions were very trying and scores were hard to come by, at the break they led by 0-05 to 1-03. In the second half we played very well despite being a man down for three quarters of the game, two goals against the run of play kept Carrig in the game. But great work rate all over the field yielded two late points from Leslie Coughlan and Elliot Mulcahy which left us ahead at the final whistle by 0-16 to 3-06.
Team: Tommy Wallis, Cillian Hurley, Finbar O'Mahony, Alywin Kearney, Billy O'Shea, Declan Ryan, Seamus O'Farrell, Padraig O'Farrell, Luke Dineen, Leslie Coughlan, Aidan Ryan, Padraig O'Keeffe, Brian Hartnett, Peter Dowling & Seanaidh Smyth. Sub used Elliot Mulcahy. Our next League game is Sunday 15th at home v St Finbarr's @ 11.30am.
Minor Hurling
Last Thursday evening in Riverstown our hurlers defeated hosts Sars in the first round of the Premier 3 Championship by 1-12 to 4-09.
Team: Cormac Higgins, Alan Power, Conor O'Farrell, Cormac O'Brien, Andrew Nestor, Sean O'Sullivan, Timmy Abdullah, John O'Dwyer (0-01), David Mulcahy, Kevin Finn (1-04), Christian Daly (2-01), Cian Farmer (0-02), Evan O'Meara (1-01), Tom Scanlon & Kevin Daly.
We were defeated last Saturday afternoon in the Non Exam Hurling League away to Glen Rovers by 1-13 to 2-08.
Team: Tommy O'Connell, Andrew Nestor, Ryan Mc Conville, Cathal Gunning, Eoin Mitchell, John O'Dwyer, Eoin Moloney, (2-00), David Mulcahy (0-03), Conor O'Neill (0-03), Luke Smith, Kevin Daly, Christian Daly (0-02), sub used Adam Daly.
Cork Senior Hurling
Last Wednesday evening the Cork senior hurlers held a training session in the main field, it was very well received and a great opportunity for our underage members to get some valued autographs and pictures with the players. Many thanks to both the players and management for their patience shown throughout the evening.
Meet Your GAA Heroes - Cork GAA Hurling Open Night, as part of the GAA's national promotion of the Hurling & Football Championships, Cork GAA will hold an Hurling Open Night next Friday, May 13th. The Cork Senior Hurling team will be available to meet fans that night from 7.45pm at Pairc Ui Rinn.
Lá na gClúb
On Sunday last we had a great Lá na gClub day out in the Gaa Club. There was a great array of fun games with the Juvenile Club, Ladies Football & Camogie clubs all taking part. The kids had great fun with rounder's, cross bar challenge, tug of war, skill challenges and mini games on the main pitch. Light refreshments were served in the lounge to finish off a great day. Hopefully a short clip of the day will be shown on TG4 tomorrow Monday evening at 8.30pm. Thanks to the La na gClub & Healthy Club Committees for organising this event.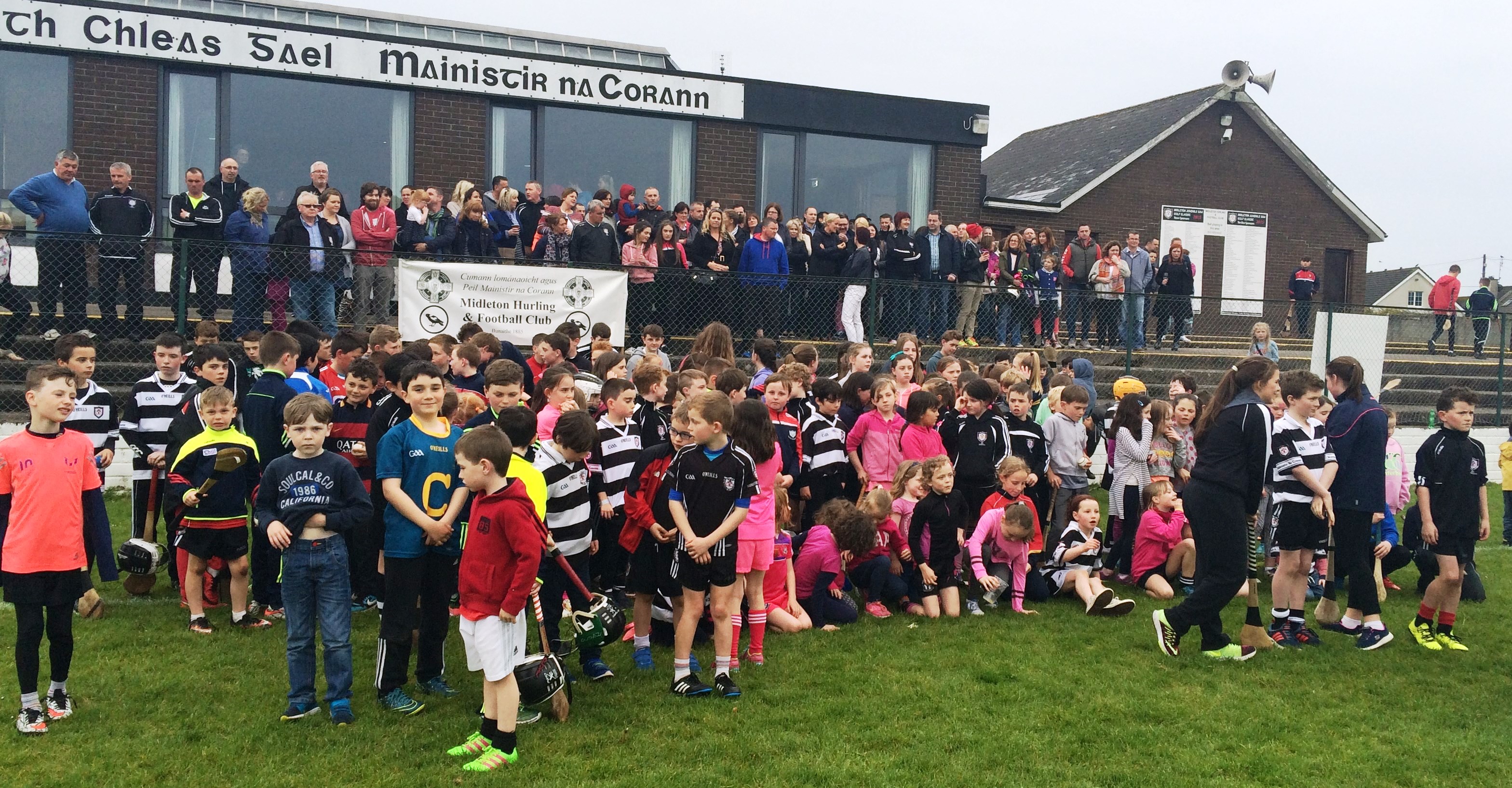 Golf Society Outing & Classic
On Thursday next 12th Gary Johnson's Captains prize will take place at East Cork Golf Club with a Shotgun start at 5pm. Everybody is welcome to play in this event.
Our annual Juvenile Golf Classic has been confirmed for July 6th & 7th at East Cork Golf Club. Our main sponsor once again is Blackwater Motors of Cork , Fermoy & Skibbereen. The competition is a 3 Ball Scramble and teams cost only €120.
Tee times can be booked by contacting either Anthony Wall 086/3154016 or Coleman Quirke 087/2523759. Tee Box sponsorship is also available at €50; we look forward to your support.

Camogie
Fé 12
Twenty of our girls took to the field on Friday evening last to play a challenge match v Cobh. It was a rare beautiful summers evening and the girls were delighted to play on home ground, thanks to Cobh for travelling, well done to all the girls involved.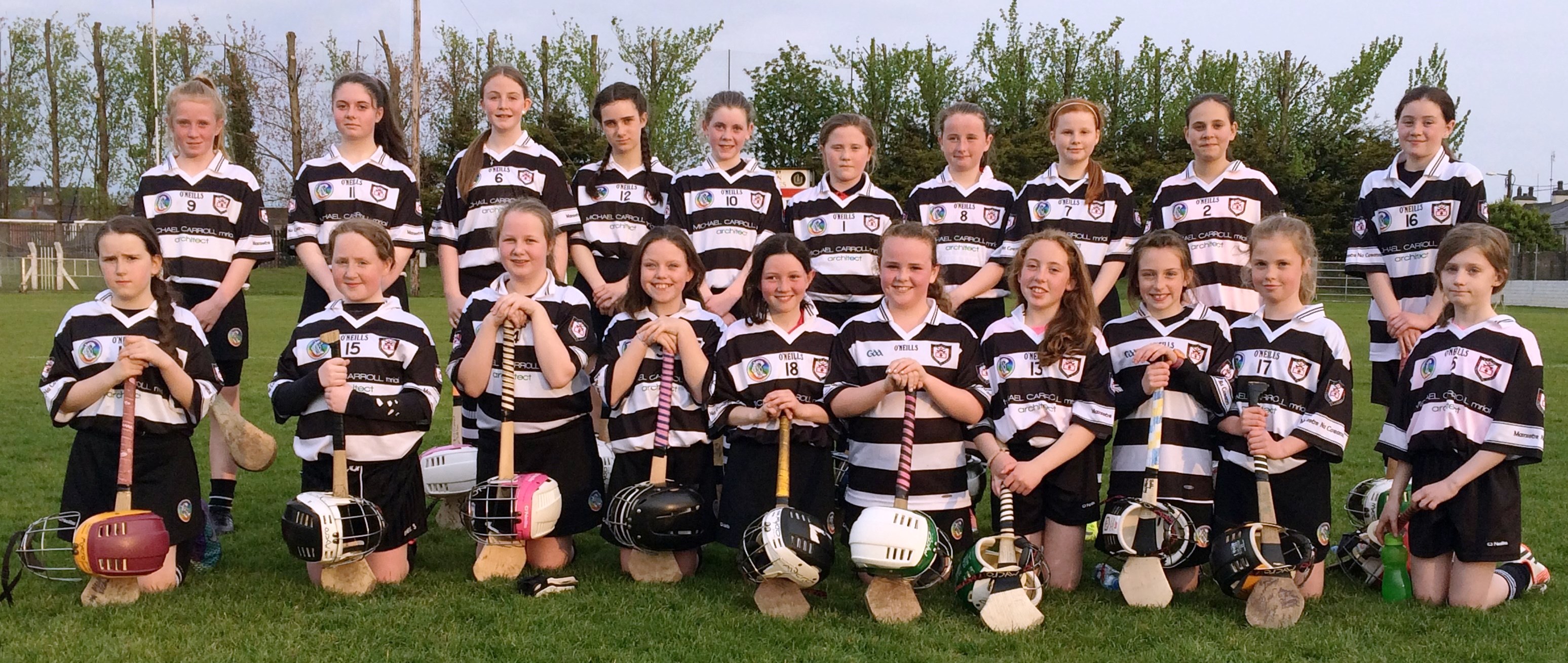 Thanks to all who turned out for La na gClubanna on Sunday last, it was a very enjoyable evening for all, our younger girls had fun games on the field including mixed games with the under 9 hurling boys while the older girls participated in a long puck and crossbar challenge. Well done to all involved.
Training times: U6, U8 & U10: Friday evening 7.15pm -8.15pm, GAA Club
U12 & U14: Tuesday 7pm -8pm, St Colman's & Friday 7.15pm -8.15pm, GAA Club.
New members welcome; girls age 6 (or will be 6 this year i.e. born 2010) up to age 14.
For information contact 0876822916, email midletoncamogiepro@gmail.com.
Follow us on Facebook: Midleton Camogie Club.

Ladies Football
Fe 10 Midleton v Watergrasshill in the League.
On Tuesday night last we travelled to Watergrasshill for our first away match of the season. With summer trying to raise its sleepy head out from a long winter hibernation it made a beautiful evening for football. 21 players were available for selection on night. Thanks to all the parents for travelling it was great to see such a good turnout.
The game was a very close match with Watergrasshill getting the better of the early exchanges and eventually getting two points from distance. What followed then was a great display of team resilience by our girls from stubborn blanket defence , working as a tight team unit and timed tackling always forcing the stronger Watergrasshill team to shoot from distance. Our midfield and forwards worked tirelessly to support their hard working defenders and goalkeepers. Eventually we became the stronger team and we got back level after a sustained period of pressure on the home team. It soon became Watergrasshill defenders trying to keep our fast running forwards from scoring. We almost sneaked ahead and with a great passing move that started from our own kick out through some quick accurate passing in our defence up to midfield and expertly of loaded from midfield with a sweet pass into our into our forwards only for their full back to clear of the line a certain goal. Watergrasshill from that save launched their own final attack to sneak a late goal. Overall it was great team performance from the girls with a great display of all the key skills of the game on show. So well done and keep up the good work.
Both teams played their part in a very close match with nothing between the teams all evening with home advantage making the difference right at the end on the night.
The game was well refereed by Ava Barry.
Team on the night was as follows;
Roisin Crotty, Anna Dupas, Grainne Finn, Isabelle Nestor, Kelly Quirke, Katie Smith, Saoirse Ní Theangana, Ellen O' Neill, Alyx Cahill, Chloe Carr, Lara Geary, Allannah Magan, Úna Murhpy, Katie Tarrant, Kate Saunderson, Sinead O'Rourke, Áine Ryan, Emma O'Leary, Rachel Ryan, Sheila O' Leary Hayes & Kate Griffin.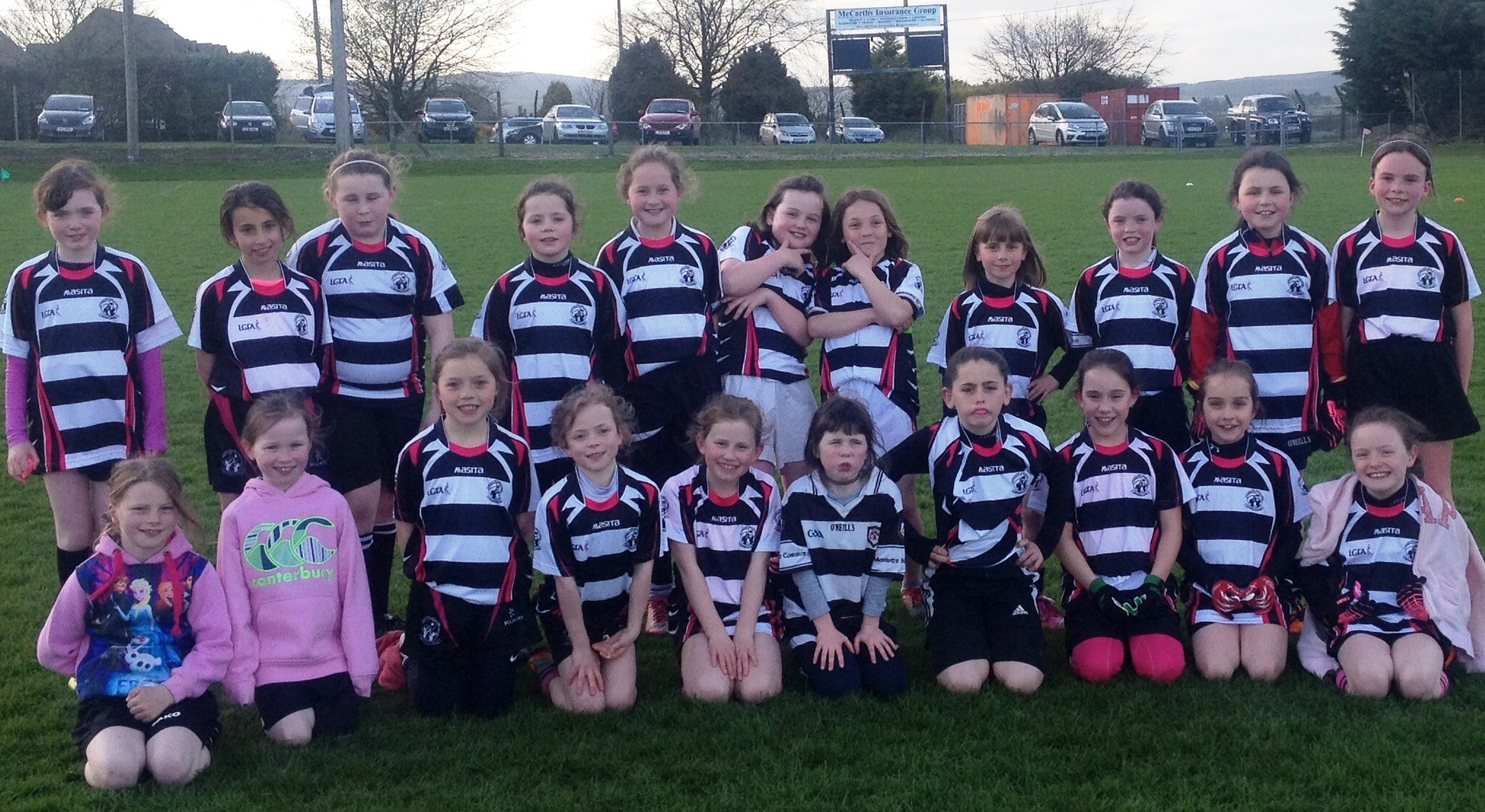 We are back training as normal from 6.30 pm Monday in the rugby pitch for U8 and U10's. U12's upwards are from 7pm. Please follow club texts and like club Facebook page for updates. Registration is now due and reminder especially as matches now are going to be coming along very fast over the coming weeks that only registered players can take part in matches and at training.
The Ladies Football Club are having a Flag day in Market Green Shopping centre on Saturday 14th May from 9am to 5pm. If you can spare an hour to help please contact the Club phone on 087-3481925. This is a very important collection for the Club as it is needed to help with running costs.
We would like to send Best wishes to all our girls who will make their First Holy Communion over the coming weeks.

Strictly Midleton
On Friday night last the committee held an open meeting for anyone interested in taking part as a dancer. We would like to thank those that came and put their name forward. For anyone who could not make it there is still time.
Please contact Committee Chairman Willie O Connell on 087-2340529.
Lotto
Our Lotto Jackpot was €1,200, there was no winner, numbers were 5,7,11 & 22, the Lucky Dip winners were Ann Mullaney, Veronica Scanlon, Dee Geary, Kathleen Fitzgerald & Kitty Aherne, next week's Jackpot will be €1,400. Tickets are on sale at the Club Bar, O 'Neills Bar, Linehan's Bar, Maple Leaf Bar, O' Farrell's Butchers, Frank Murphy Butchers, Pat Walsh Paints, Chadwicks, Teach Beag & Niall Mac's Bars.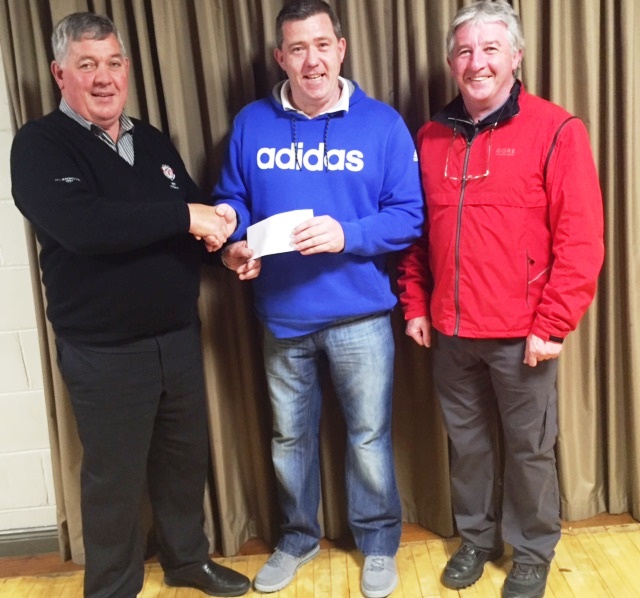 BINGO takes place each Friday evening at 8pm in the GAA Pavilion with a weekly guaranteed Jackpot of €1,000 on 52 calls.
Club Shop
The shop will be open each Saturday morning from 10 to 12 at the Club.
We now have a range of Half Zip and Gilet tops in stock.
Juvenile

Fe 12
With the rain pouring down and conditions very poor, our lads tore into this football match from the start and put in a superb winning performance in Innishannon. It was a big improvement from the previous week, and our football was very good in the conditions.
All players took notice of pre-game instructions, which resulted in less frees conceded, fewer mistakes in picking up the ball, and a confident approach to the game.
Well done to our goalie and backs for being very resilient under pressure and for not conceding any goal or soft scores. Our midfield and half-forward line worked very hard and kept pressing forward at every opportunity, and our full-forwards got the scores to win us the game. Well done all!! Final score: Valley Rovers 0-07 v Midleton 2-05
As current thinking goes, geniuses are not born but made, and 10,000 hours of practice is all it takes. Key message here to our lads is to be out with the ball, and hurley in hand, at every opportunity – just ask Conor Lehane!!
Panel on the day from: Brian O'Connell, Conor O'Shea, Riain de Barra, Fionn Dalton, Conor Newcombe, Tiarnan Roche, Odhran Prenter, Ben Kenneally, David Cremin, David Green, Alex Moloney, Dara Scanlon, Caolan Dennigan, Eoin McGrath, Niall Lang, Cian Lamb, Daniel Coffey, Mikey Finn & Sean Fraser.
Fe 14
Our competed in the Feile hurling last Saturday in Togher. We played Blarney, Shandrum and received a bye in the first game of the group. In the game against Blarney we turned out to be the stronger hurlers and finished up deserving winners of this contest.
Score: Midleton 0-11 v Blarney 0-1
Our second came against Shandrum was a one sided affair where had a very good victory resulting in us as winners of our group.
Score: Midleton 7-8 v Shandrum 0-1
Later we took on Cuchulains in the semi final and after some great hurling from both sides we came away with the victory, it was during this game that Bradley Savage picked up a nasty injury and had to be taken to hospital . Thankfully all is well; we wish Bradley a speedy recovery. Score: Midleton 1-7 v Cuchulains 0-0.
We took on the Barrs in the Group final where the winners would go on to the semi final on Sunday. The Barrs started very strong and we found ourselves down three goals to no score after five minutes. In the second half we came more into the game but it was not meant to be as time ran out. Score: Midleton 1-1 v S Finbarr's 3-2.
Team: Conor Fitzgerald, Charlie Walsh, Patrick Kane, Dathi McGann, Patrick Kelly, Paul Connaughton, Bradley Savage, Christoper Leahy, Darragh Crowley, Alex Quirke, Darragh McCarthy, Liam Kelly, Leo Hennessy, Jack Fitzgerald, Ben Cummins, Brion Saunderson, Daniel Cagney, Trevor Shine, Luke Deane, Aaron Coughlan, Gavin Reddy, Ryan Cahill and Ciarmhac Smyth.
Fe16
Our squad enjoyed a great day out at East Cork Adventure Centre, in Aghada last Friday evening when everyone started and everyone finished the gruelling 6km "Assault Course". The course included steep inclines and rapid descent over rugged and uneven ground.....through thick mud and waist high water. The Team had to get through various obstacles including climbing over stacks of huge bales, massive piles of tyres and through water filled tunnels. It was tough but everyone finished... exhausted. Great teamwork was shown throughout, with guys helping each other through the pain barrier. Great to see guys helping others who suffered cramp and others pulling, pushing and dragging each other over the end line. This was simply a tremendous team building event which hopefully will help us throughout the year in League & Championship.