Midleton GAA , Camogie & Ladies Football Club News
02 May, 2016
Junior B Football
Our footballers defeated St. Catherines in the quarter final of the East Cork Championship on Friday evening last in Killeagh by 1-17 to 1-05. Well done to all involved.
Team: Keith Ryan, Colm Leahy, Brian O'Sullivan, Brendan Ferriter, Elliot Mulcahy, Barry Fitzgerald, Alan Stanton, Liam Clohessy, Padraig O'Farrell, Robert Williams, Micheal Keohane, Padraig O'Brien, Willie O'Brien, Paul Barry & David O'Brien.
Subs used Jerome Curtin & Michael Kitching.
Senior Hurling
On Saturday evening last our hurlers took on Ballymartle in the Hurling League in Rathcormac (requested by Ballymartle in preparation for their Championship game v Avondhu). Playing into the wind in the first half a goal from James Nagle gave us a slender lead at the break by 1-10 to 0-12. In the second half our backs held firm and our attack added eleven points which saw us winning in the end by 1-21 to 0-15.
Team: Tommy Wallis, Killian Burke, Finbar O'Mahony, Seanaidh Smyth, Declan Ryan, Aidan Ryan, Seamus O'Farrell, Padraig O'Farrell, Leslie Coughlan, Paul Haughney, James Nagle, Cormac Walsh, Luke O' Farrell, Peter Dowling & Padraic Nagle.
Our next League game is Saturday 7th at home v Carrigtwohill @ 7.30pm
Intermediate Hurling
Our hurlers continued their winning ways in the County League when they overcame the home side Ballinhassig last Wednesday evening by 2-09 to 2-16.
Team: Joe Loftus, Elliot Mulcahy (0-01), Declan Ryan, Eoin Ferriter, Seamus O'Farrell (1-01), Leslie Coughlan, Seanaidh Smyth, Padraig O'Keeffe (0-05), Liam Clohessy, Pat Stack, Brian O'Sullivan (0-02), Cormac Beausang (1-05, 3 free's), Mark O'Keeffe (0-01), Micheal Keohane & Luke Finnerty (0-01). Subs used Bryan Rossiter & Luke Dineen.
Junior Hurling
On Monday evening last our hurlers had a very good victory over Watergrasshill at home in the East Cork League by 1-18 to 1-11.
Team: Coran Swayne, Jordan Roche, Gavin Bagnell, Eoin Ferriter, Ryan Mc conville, Brian O'Sullivan, Liam Clohessy, Micheal Keohane, Mark O'Keeffe, Conor O'Neill, Shane Ryan, Robert Williams, David O'Brien, James Lane & Bren-dan Ferriter.
Subs used Liam Franklin, Jerome Curtin & Willie O'Brien.
Minor Hurling
Last Thursday evening in Mallow our hurlers defeated Duhallow in the first round of the Premier 1 Championship by 2-14 to 2-10. Goals in either half from Conor O'Neill and Padraig O'Brien proved vital. Despite losing Sean O'Leary Hayes to injury after only twenty minutes we were deserving winners in the end. Congrats to all the players and the management on this victory and good luck in Round three.
Team: Liam Franklin, Jordan Roche, Adam Daly, Conor Evans, Ryan Mc Conville, Sean O'Leary Hayes, Kevin Mulcahy (0-01 free), Sean O'Meara (0-01), Luke Smith, Christopher Power (0-01 free), Conor O'Neill (1-00), Eoin Moloney, Cathal Gunning, Padraig O'Brien (1-05), Ross O'Regan (0-05, 2 free's). Subs used Eoin Mitchell & Tommy O'Connell (0-01).

Midleton GAA Healthy Club Launch 8th of May 2016
As a Club we want to ensure that everyone who engages with our club benefits from the experience in a health-enhancing way – be they members, players, supporters or members of our community. The Health Club Project will help us to achieve this aim.
With your help we would like to identify priority health issues in the club and community that the club can support. If you have an interest in health and wellbeing and want to get involved in some other projects please contact Vincent Reddy Chairman 087-2521285 Health& Wellbeing Committee or Mairéad Beausang Health & Wellbeing Officer 087-2412010 or email midletongaahealthyclubproject@gmail.com
So far in 2016 we have completed the following:
• Stress Control Course in partnership with HSE
• Recipe for Success Home Economics Workshop for 16-18 year olds
• Saturday Coffee Morning now biscuit free serving fruit only
• Upgrade of Club Defibrillator
Going forward we are considering the following:
• Sun Awareness & Protection
• Critical Incident Response Plan as required by the GAA
• Healthy Mind Map
• Walking Club
• Smoke Free Campus
• Dementia / Alzheimer's Awareness Seminar
It would be great to hear your views and if you feel you can help out in any way that would be appreciated. We intend to make the club a "healthier place for everyone to enjoy". All our members and their families are invited to come along on Sunday May 8th to support and enjoy Lá na gClub from 5 to 8pm and to help us launch our Healthy Club Project Phase 2.
Lá na gClúb
On Sunday next the 8th of May Lá na gClub will take place in the Gaa Club from 5-8pm. This day is dedicated to all Clubs across the country to promote the activities in their club. There will be fun games such as rounder's, cross bar challenge, tug of war, skill challenges and mini games on the main and side pitches for different age groups. A Ceilí will take place in the main hall and light refreshments will be available in the Lounge.
Team managers will be contacting each group over the coming days with further information.

Golf Classic
Our annual Juvenile Golf Classic has been confirmed for July 6th & 7th at East Cork Golf Club. Our main sponsor once again is Blackwater Motors of Cork , Fermoy & Skibbereen. The competition is a 3 Ball Scramble and teams cost only €120.
Tee times can be booked by contacting either Anthony Wall 086/3154016 or Coleman Quirke 087/2523759. Tee Box sponsorship is also available at €50; we look forward to your support.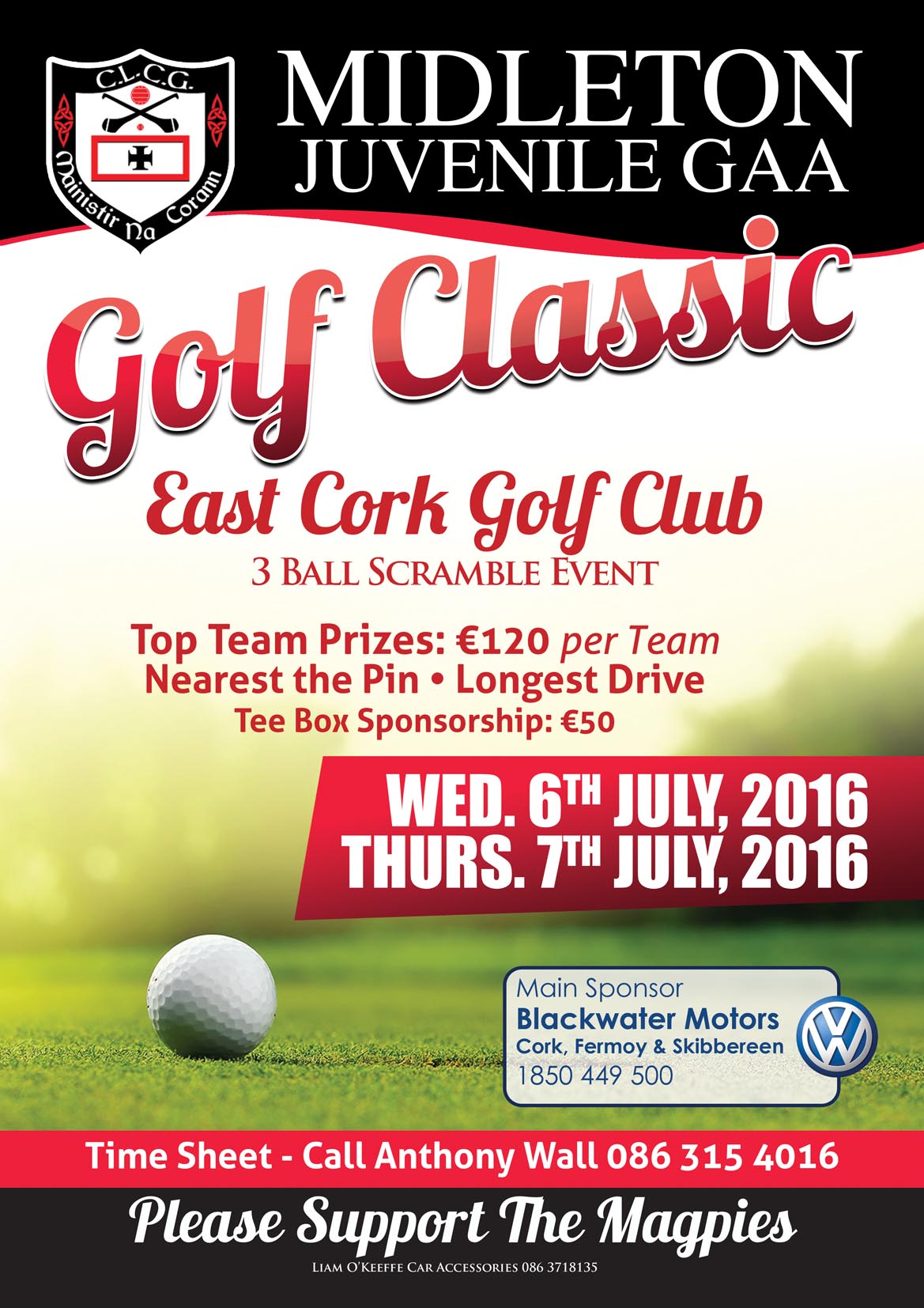 Camogie
Training as follows, any changes to training schedule parents will receive a text & any change to training will be posted on Midleton Camogie's Facebook page.
U6, U8 & U10: Friday evening 7.15pm -8.15pm, Midleton GAA Club
U12 & U14: Tuesday 7pm -8pm, St Colman's & Friday 7.15pm -8.15pm, GAA Club.
New members welcome; girls age 6 (or will be 6 this year i.e. born 2010) up to age 14.
For information contact 0876822916, email midletoncamogiepro@gmail.com. Follow us on Facebook: Midleton Camogie Club.
All members and their families are invited to Midleton GAA Club on Sunday next from 5pm -8pm to celebrate La na gClub, details will be sent to all members by text and social media.

Ladies Football
With only one match left to play in the U14 league the girls have been consistent throughout winning all of their matches so far. Tuesday is the final game of the league and hopefully progression onto the semi's. For all of these matches the girls have given their all and are all playing as a team most notably in our last two games against Bride Rovers and Cloyne.
Panel. Amy o Neill, Megan Kelly, Leah Hogan, Ellen Ryan, Megan Shanahan, Orla Evans, Leah Daly, Ali Smith, Katie Horgan, Clodagh Finn, Leah Kirby, Ella Tarrant, Sadhbh Beausang, Lucy Kenneally, Denise Collins, Eabha Collins, Neasa Ni Bhriain, Diane Perkins & Misha Harkin.
U16 Midleton v Erins Own- League
On a freezing cold evening in Caherlag our U16's took to the field to take on Erins Own in our second last game in the league. We started well moving the ball at great pace we were in control of the game but whether it was the cold (or not) we lost concentration and allowed Erins Own back into the game they were scoring points left, right and centre…..half-time couldn't come fast enough. After a stern talking to by Paddy at the break the girls went back out and dominated from the start of the second half to the final whistle. We got our mojo back and start to do the simple things right – passing the ball and direct shooting. Hats off to Roisín O'Callaghan she was very solid as our goalkeeper tonight and Claudia Kearney was her rock at full back. Full-time score Midleton 6-6 Erins Own 1-12.
Panel: Roisín O'Callaghan, Ellen Ryan, Claudia Kearney, Kate Dineen, Lizzie Phiri, Rayanna Power, Deirdre Corcoran(0-1), Rhea Buckely, Clodagh Finn(3-1), Molly Beausang(1-0), Lucy Kenneally(0-2), Sadhbh Beausang(1-0) , Ali Smith(0-1), Lucy Wallace(1-1) & Laura O'Leary.
U10 Midleton v Glanmire – League
On Monday night last the 25th our under 10 girls started their season with a home game against Glanmire on a slightly cold but otherwise perfect evening for football. 27 players were available for selection with 5 girls taking part in their first ever competitive match.
We got of to a great start with a long range point. Glanmire soon after got a goal and quickly added a second goal. Midleton then got on top on possession and created a few scoring chances that went narrowly close. We went on to win a free and took an great score from it. For the rest of the first half we were on top but Glanmire stung us a quick counter attack with a lucky goal just before half time. Our girls continued to battle and showed great determination in the second half against a much stronger and tougher opposition on the night. The Glanmire goalkeeper made a great save from a penalty awarded to us early in the second half. We scored a great point from play near the left hand sideline. Glanmire continued to push forward and finished very strong and got another late goal right at the end.
Overall it was great team performance from the girls on the first game out of season. So well done and keep practicing. Both teams played their part in a very sporting and entertaining match. The game was well refereed by Ava Barry. It was great to see a big home support and encouragement for the girls. Next up is Watergrasshill away next Tuesday the 3rd. Please respond to team texts on the fixtures. Team on the night was as follows;
Roisin Crotty, Anna Dupas, Grainné Finn, Sadhbh Harnett, Isabelle Nestor, Kelly Quirke, Katie Smith, Saoirse Ní Theangana, Ellen O' Neill, Alyx Cahill, Chloe Carr, Lara Geary, Roisin Hayes, Amy Keeshan, Lilly Kelly, Alannah Magan, Úna Murphy, Katie Tarrant, Kate Saunderson, Kate O'Sullivan, Sinead O'Rourke, Áine Ryan, Emma O'Leary, Rachel Ryan, Sheila O' Leary Hayes, Kate griffin & Mia Hegarty.
Training continues every Monday night in the Rugby Club. U8's and U10's are from 6.30 to 7.30pm and the U12's upwards are from 7-8pm. Please continue to return Registration Forms. It is very important that all girls are covered for games and training.
Strictly Midleton
Preparation is well under way for this huge Fundraiser which has been taken on by the three clubs; Midleton GAA, Midleton Ladies Football and Midleton Camogie Club.
Sunday October 30th will be the place to be at the Radisson Blu Hotel in Little Island Cork.
If you think you might be interested in taking part as a dancer please come along to the Gaa Club on Friday May 6th at 8pm where the Committee will hold an information meeting to discuss what it entails. Meanwhile keep an eye on Facebook where the Event page is now up and running. Please share and invite to spread the word.
Lotto
Our Lotto Jackpot was €6,000, there was one winner, the one and only Gavin Power, the numbers were 2,10, 18 & 26, next week's Jackpot will be €1,200. Tickets are on sale at the Club Bar, O 'Neills Bar, Linehan's Bar, Maple Leaf Bar, O' Farrell's Butchers, Frank Murphy Butchers, Pat Walsh Paints, Chadwicks, Teach Beag & Niall Mac's Bars.
BINGO takes place each Friday evening at 8pm in the GAA Pavilion with a weekly guaranteed Jackpot of €1,000 on 52 calls.
Club Shop
The shop will be open each Saturday morning from 10 to 12 at the Club.
We now have a range of Half Zip and Gilet tops in stock.
Juvenile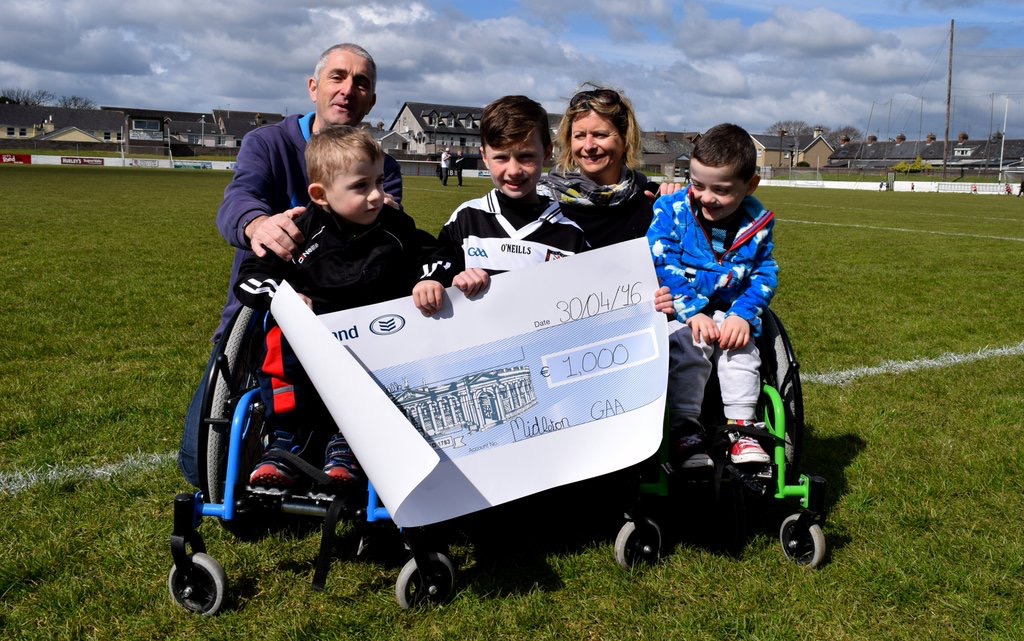 Fe 11
Our football team travelled to Glenville last Thursday night to play the second of their league games. The lads again played their hearts out but unfortunately did not hit the highs of the previous week going down in both games. It was a great learning experience though. We play again this Monday night away to Douglas in the first of the hurling league games.
Keep up the great work lads.
Fe12
Premier 2 Football League – 30th April 2016 Midleton 1-03 v Sliabh Rua 4-06:
As the song goes, "There'll be days like this"! We struggled against a strong and physical Sliabh Rua side last Saturday at home, and were happy the ref's whistle blew to end the game. Our lads were defeated, but battled gamely right through to the end. Not a whole lot of positives to be taken from the match, but we'll leave it behind us, forget it, and move on to our next football league fixture vs Valley Rovers next weekend. We also have a hurling challenge game against Aghada on Tuesday evening, and will welcome an opportunity for the lads to keep polishing their hurling skills.
Panel on the day from: Brian O'Connell, Ashley O'Meara, Tadhg Bohan, Tiarnan Roche, Odhran Prenter, Ben Kenneally, David Cremin, David Green, Cathal Beausang, Alex Moloney, Dara Scanlon, Caolan Dennigan, Eoin McGrath, Niall Lang, Cian Lamb, Daniel Coffey, Mikey Finn & Sean Fraser.
Vote for our team to represent Cogan's of Carrigaline in the U12 Inter County Challenge Hurling Match against McConnells Toyota Waterford. The team with the most votes by midday Tuesday 3rd will go play against the Waterford representatives in Fraher Field, Dungarvan on the 8th May. So please get voting on our Facebook page.
Fe 13
Premier 1 Hurling Midleton v Glen Rovers:
We played our first competitive hurling game of the season in the League last Tuesday in the Glen field in Blackpool. There was a great turn out of players and parents for the game. Our young Magpies were quick out of the blocks and had a number of scores on the scoreboard before the Glen found their rhythm. Scores from Darragh McCarthy, Phelim Magan, Darragh Codd, Alex Quirke, Kelvin Barry and James Condon put us in a good position going into the half time break. The second half had both teams serving up a good even contest. In fact the Glen were to outscore us in the second half. Alex Quirke and James O'Sullivan did manage to add to our tally on the scoreboard. We held on to record their first win of the league.
Midleton v Na Piarsaigh: Our second game of the Hurling League was played last Saturday at home. This game was against a Na Piarsaigh team who are going through a bit of a transition period currently. Some day's things can fall into place for teams and this was one of those days for the young Magpies. Similar to our first game versus the Glen the boys got off to a very strong start. Scores from Darragh McCarthy, Alex Quirke, James Condon and Ronan Gies gave us a bit of a cushion on the scoreboard at half time. Further scores from Rory Hartnett, Kelvin Barry and James Condon during the second half helped us push on and record the team's second win of the league. A good start to the campaign but a lot of big challenges lie ahead for this team beginning with the Sars match, which is up next.
Panel for the last two games: Brion Saunderson Even McCarthy, Fintan Greenwood, James O'Sullivan, Adam Fay, Ciarmhac Smyth, Neil Fitzgerald, Alex Quirks, Cian Murray, James Condon, Darragh McCarthy, Darragh Codd, Ronan Gies, Kelvin Barry, Rory Hartnett, Phelim Magan, Ben O'Neill, Evan Kelly, Craig Collins, John Spellman & Daire Mooney.
Fe 15
It was home venue for our Fe 15 hurlers who took on Douglas in the Premier 1 Hurling league. Over the years ournlads have struggled against this team and the game would be a good barometer as to our progress. We won the toss and took advantage of the strong wind in the first half and kept Douglas penned in for most of the first thirty minutes.
Four fine goals were netted by our lads and some fine points saw the half time score at 4-06 to 1-05. As expected, Douglas came out firing and put us under a deal of pressure. They inched their way back and drew the game with ten minutes to go. However we resolve was the stronger and between some strong defending and well taken scores the home team closed out the game with a goal to spare. Final score Midleton 4-09 Douglas 2-12.
Well done to all and thanks to the Fe 14's who came to help out.
Team: Alex Quirke, Jack Fitzgerald, Christian Murphy, Dan O'Sullivan, Frank O'Brien, Adam Meade, Dave Scanlon, Ethan Daly, Aaron Mulcahy, Paul Connaghton, Garry Carroll, Patrick Kane, Leo Hennessy, Tim O'Sullivan, Samuel Quirke, Cian Crowley & Rory Donegan.
Fe 16
Midleton 1-21 v Blackrock 1-10
On Monday last our Fe 16 Hurlers played host to Blackrock in the Fe 16 Premier 1 Hurling League. Playing with the strong wind, we started well and had three points on the board before Blackrock opened their account. Once Blackrock ran at our defence they looked dangerous. We got a goal after twelve minutes to open up a 1-6 to 0-3 lead. Shortly after, a high ball into our goalmouth broke for a Blackrock forward to shoot to the net. Our forwards reeled off eight points from there to the break to lead 1-14 to 1-5 at halftime. Facing into the wind in the second half, the expected Blackrock onslaught never really happened and we were on top from there to the final whistle.
Team: Ryan O Riordan, Cormac O Brien, Christian Murphy, Alan Power, Sean O Sullivan, Ciaran Evans, David Scanlon, Tommy O Connell, Cian Murray, Kian Farmer, Kevin Finn, Gary Carroll, Ross O Regan, Arthur Nganou, Jake Shanahan, Evan Rowlands, Fergus Wade, Mark Daly, Griffin Hurley, Loic Nguefang, Ronan Lynch, Coleman Quinn, Sam Quirke, Aaron Mulcahy & Cian Crowley.
Pie in the Face Fundraiser raises €1,000.00 for Culann Cashman
On Saturday last Gearoid, Culann's brother in the company of his fellow under 10 team mates presented a cheque for €1,000 to Culann. These monies were raised at our Pie in the Face Fundraiser for Culann. This fundraiser was supported by Midleton Juvenile GAA, Midleton Ladies Football and Midleton Camogie. Thanks again to the Midleton Juvenile coaches who took part in the fundraiser and for everyone who donated so generously on the day. We wish Culann and his family all the very best for the future.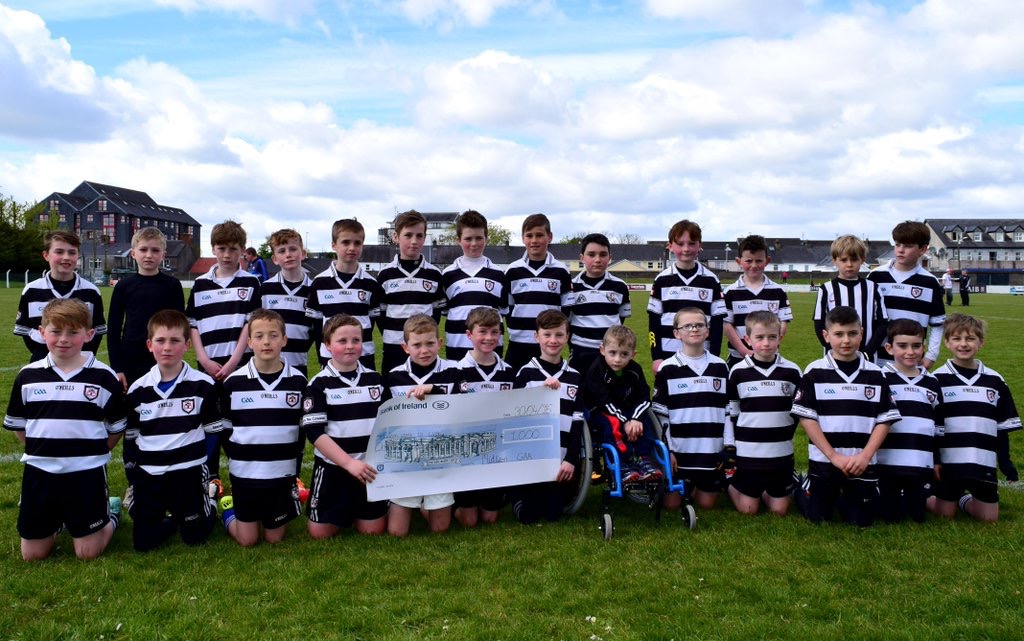 Child Protection Awareness Course
The GAA in conjunction with The Irish Sports Council has come together to devise and deliver Child Protection Awareness Workshops. These courses are now mandatory within the GAA. On Monday last the 22nd of April we had 22 participants in attendance. Midleton GAA have since October 2015 certified 88 participant's in the four courses we have run at the club, of which 70 were Midleton Juvenile Coaches. We would like to extend our sincere thanks to our Child Welfare Officer Ingrid Connaughton for arranging these courses and acknowledge the hard work of the Juvenile Committee and it's dedicated team of coaches for ensuring that GAA best practices are embraced, adopted and implemented so quickly within the Juvenile Club.
Concussion Guidelines
We have recently added a section on our coaching corner in relation to Concussion. This is a guide to players, parents and coaches on recognizing the signs and symptoms of concussion. It also outlines the gradual return to play protocol that a player should follow if they have suffered a concussion.