Midleton GAA , Camogie & Ladies Football Club News
24 April, 2016
Junior Hurling
Last Saturday week our hurlers lost out at home to Killeagh in the East Cork Junior 2 League by 1-11 to 2-12.
Team: Coran Swayne, Brendan Ferriter, Eoin Ferriter, Colm Leahy, Shane Ryan, Liam Clohessy, Gavin Bagnell, Mark O'Keeffe, Justin Costigan, Robert Willams, Oisin Cotter, Willie O'Brien, Eoin Collins, James Lane & Patrick Dunlea.

Junior B Football
Our footballers are fixed to St Catherines in the quarter final of the East Cork Championship on Friday evening next @ 7.30pm, venue to be confirmed.

Senior Hurling
On Saturday evening next our hurlers take on Ballymartle in the Hurling League in either Ballymartle or Rathcormac @ 7.30pm. Everybody would like to wish Padraig O'Shea the very best in his rehabilitation after he suffered a serious injury recently.

Intermediate Hurling
We play Ballinhassig in the County league on Wednesday next away @ 7.30pm

Minor Hurling
Last Wednesday evening at home we comprehensively defeated Glen Rovers in the Premier 1 League by 6-12 to 0-09.
Team: Liam Franklin, Jordan Roche, Adam Daly, Conor O'Farrell, Ryan Mc Conville, Sean O'Leary Hayes, Conor Evans, Sean O'Meara, Luke Smith, Christopher Power, Conor O'Neill, Eoin Moloney, Cathal Gunning, Padraig O'Brien, Ryan O'Regan. Sub Harry Wall.
We wish the players and management the very best of luck in the first round of the Premier 1 Championship on Thursday next v Duhallow in Mallow @ 7.30pm.

Inter County Hurling
The Cork senior hurlers fielded very strong team against an experimental Clare outfit in Cloyne last Saturday evening for the official opening of their new pitch and development.
Luke O'Farrell and Paul Haughney both returning from injury were introduced as late second half substitutes and scored two points each. Neither Conor Lehane nor Killian Burke were considered due to injury. The final score was Cork 1-26 v Clare 1-13.
Cork will play Limerick on Sunday the 8th of May in Killeagh when they will also have an official opening of their new complex.

Fixtures
Monday 25th Fe 16 Premier 1 Hurling League v Blackrock home @ 7pm
Tuesday 26th Fe 13 Premier 1 Hurling League v Glen Rovers away @ 7pm
Wednesday 27th Intermediate Hurling League v Ballinhassig away @ 7.30pm
Wednesday 27th Fe 15 Premier 1 Hurling League v Douglas at home @ 7pm
Thursday 28th Minor Premier 1 Hurling Championship v Duhallow in Mallow @ 7.30pm
Friday 29th Junior B Football Championship v St Catherines @ 7.30 TBC
Saturday 30th Senior Hurling League v Ballymartle TBC @ 7.30pm
Check out the up to date list of fixtures at www.midletongaa.com/club_fixtures

Strictly Come Midleton
Midleton Gaa, Midleton Ladies Football and Midleton Camogie Club's are delighted to announce that they will hold a "Strictly Come Midleton" Dance Fundraiser. The money raised from this event will go towards the next Phase of the Club Development Plan. It will take place on Sunday October 30th in the Radisson Blu Hotel in Little Island. We will hold a launch night at the start of June where we will officially announce and unveil our dancers who will be taking part. This is a very exciting opportunity for the Club and we are hoping that we will get all the support that is needed to run this event. Watch this space and see whose name will appear as the next "Fred Astaire or Ginger Rodgers".

Lá na gClúb
On Sunday the 8th of May Lá na gClub will take place in the Gaa Club from 5-8pm. This day is dedicated to all Clubs across the country to promote the activities in their club. There will be fun games such as rounder's, cross bar challenge, tug of war, skill challenges and mini games on the main and side pitches for different age groups. There will be a Ceilí in the main hall and light refreshments will be available in the Lounge.

Irish Night in the Club
On Friday night last a local Ceoltas Adult group performed some fantastic traditional music in the Club lounge. Thanks to all those who played and supported this, it's hoped that this will become a regular monthly event. More details will follow soon.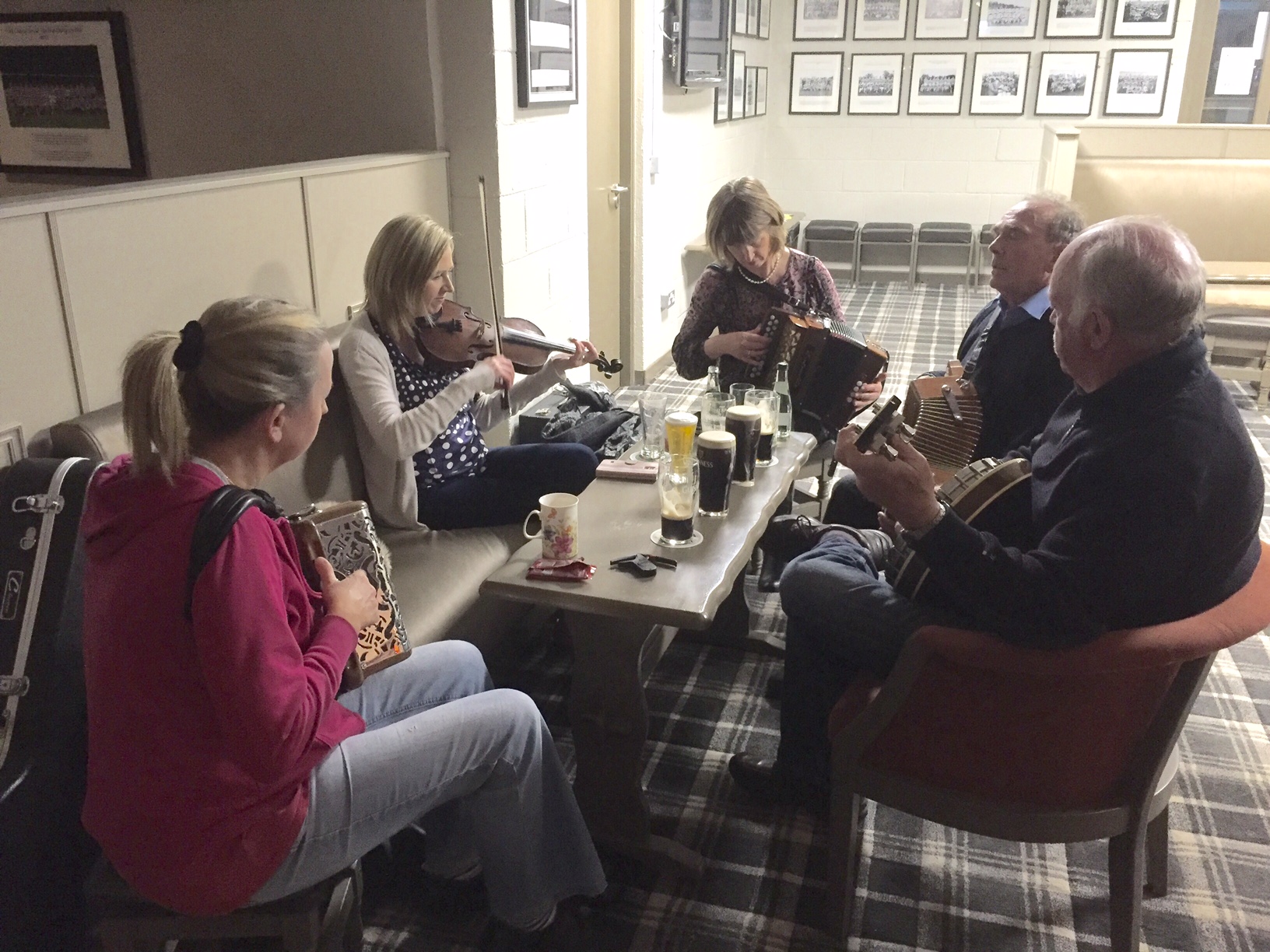 Birthday Celebrations
On Saturday night last there was a surprise birthday party for our Chairman Liam Ryan in the Club. Family and friends gathered to celebrate Liam's significant birthday. A great night was had by all, PRO Coleman Quirke spoke on behalf of the Club and told a few tales about Liam's sporting career, Charlie Mc Allister who was also celebrating his birthday acted as MC and called on a variety of family and friends to sing.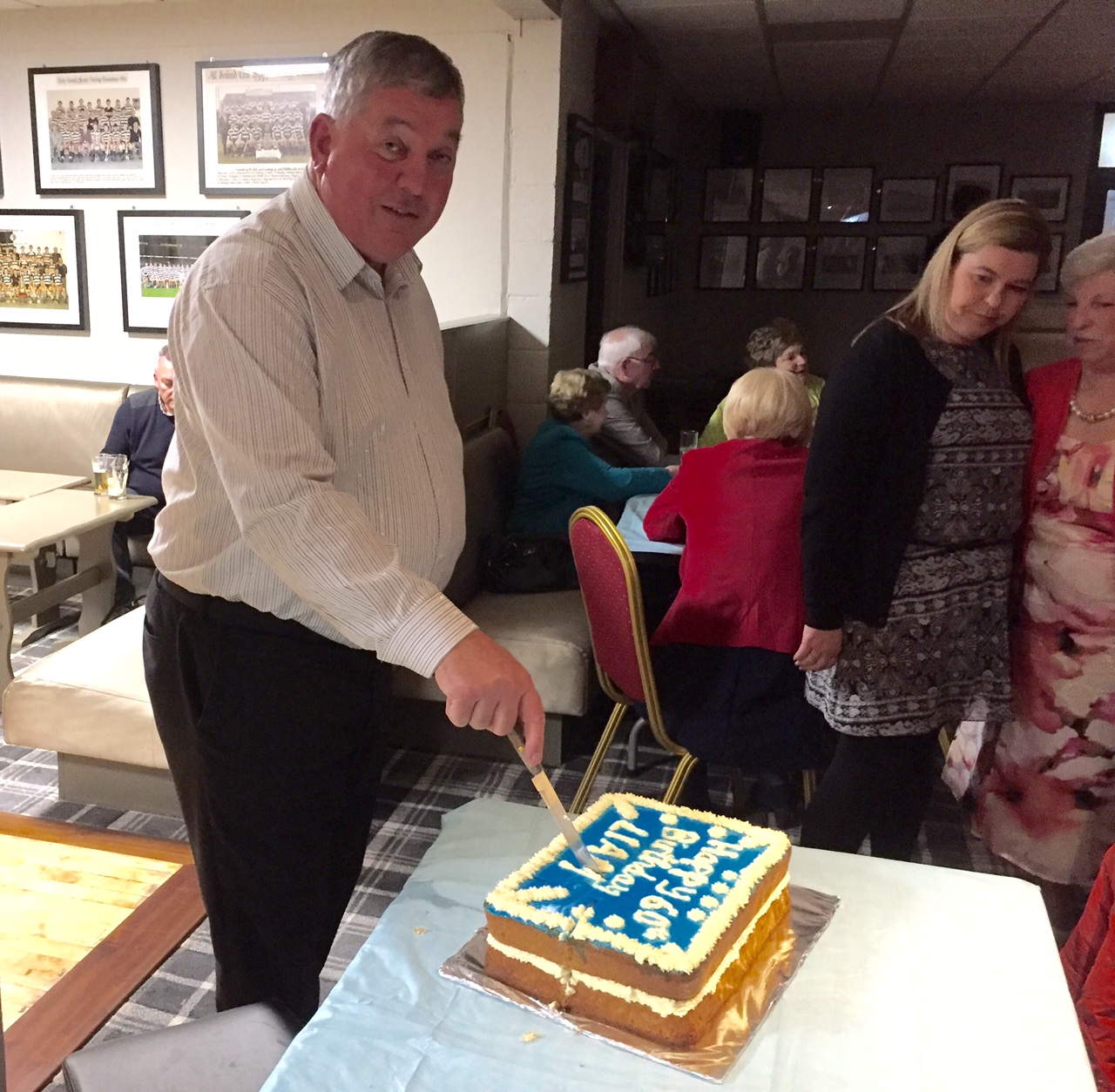 Ashes to ashes, Midleton to Melbourne
You may ask what has this story to do with Gaa and you are correct it hasn't but I came across it recently in the book "Giants of Cork Sport" by Dave Hannigan of the Evening Echo and I haven't seen it acknowledged anywhere else (I'm open to correction).
"On the first day of the first ever Test Cricket match, Tom Horan was the third batsman in. Twenty three years after being born in Midleton, he strode to the crease at the Melbourne Cricket ground to do his bit for Australia versus England on the 15th of March 1877. As a player and journalist Horan would be centrally involved in its first four decades.
His obituary went "Tom Horan was in his time the crack batsman of Victoria".
The period between the years 1879 and 1916 saw the birth and early development of Australian Cricket and the start of the wonderful Ashes Test versus England wrote Brian Crowley who co-edited an anthology of Horan's journalism. 'It was also the period during which Australia's first great cricket writer, the Irish born immigrant Thomas Patrick Horan, journalist and Test cricketer (he captained Australia v England in 1884), wrote about three million words on the noble game for The Australasian newspaper in an unbroken sequence covering 37 years'. He was born in March 1854 and died in April 1916.
(Giants of Cork Sport can be purchased from the Evening Echo office in Oliver Plunkett St.).

Camogie
On Friday evening last eleven of our coaches attended a practical coaching workshop hosted by the Midleton Juvenile Club, led by GAA GDA Shane Supple. All coaches who attended found it to be hugely beneficial especially our first time coaches who gained valuable knowledge and confidence to teach our girls the skills of the game and in developing them as players of the future. Thanks to Shane for his excellent presentation and to Midleton Juvenile Club for inviting us to take part.
Training for the week ahead as follows, any changes to training schedule parents will receive a text , & any change to training will be posted on Midleton Camogie's Facebook page.
U6, U8, & U10 : Friday evening 7.15pm -8.15pm @ the GAA Club
U12 & U14: Tuesday 7pm -8pm, St Colman's & Friday 7.15pm -8.15pm @ the GAA Club.
New members welcome; girls age 6 (or will be 6 this year i.e. born 2010) up to age 14.
For information contact 0876822916, email midletoncamogiepro@gmail.com.
Follow us on Facebook: Midleton Camogie Club.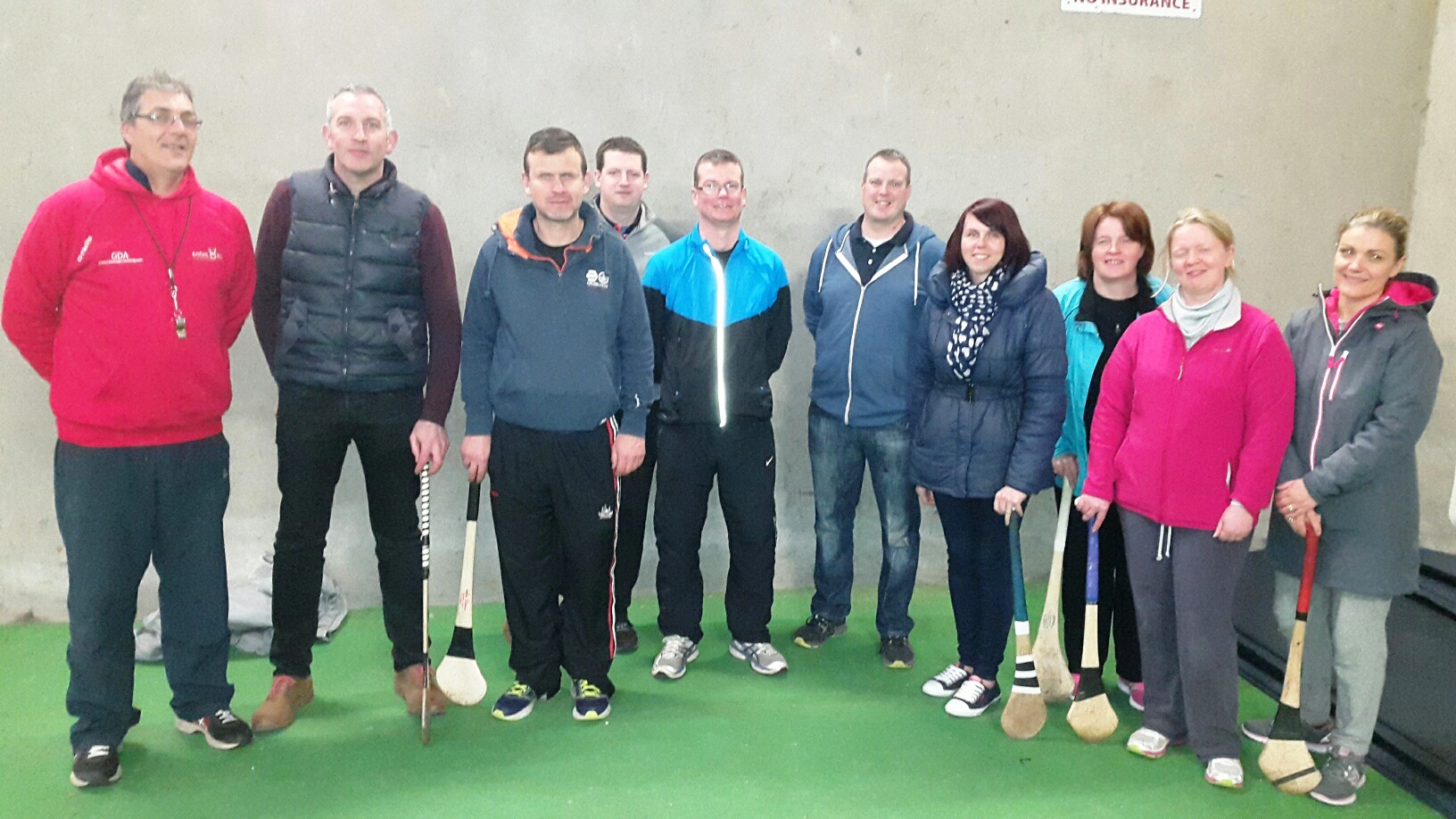 Ladies Football
Training for all age groups continues in Midleton Rugby Club.
U8's and U10's train from 6.30 to 7.30 pm. U12's up to Juniors train from 7-8pm.
A reminder to please continue to return your registration forms to training. It is vital that all girls playing and training are registered with the club for insurance purposes.
Well done to Orlagh Farmer and the Cork Ladies Football Team on their defeat against Dublin in the NFL Division 1 league. The score was Cork 01-15 to Dublin 00-11.
On Sunday May 8th Lá na gClub will take place in Midleton Gaa Club from 5-8pm. This day is dedicated to all Clubs across the country to promote the activities in their club. There will be fun games and activities on the main pitch for different age groups. A text message will be sent to all members and to the groups with more information on the day.

Lotto
Our Lotto Jackpot was €5,800, there was no winner, the numbers were 1,8,25 & 27, the lucky dip winners were Lynette Lehane, Will Hodnett, Michael Buckley, Lil O'Driscoll & Joshua Spillane, next week's Jackpot will be €6,000. Tickets are on sale at the Club Bar, O 'Neills Bar, Linehan's Bar, Maple Leaf Bar, O' Farrell's Butchers, Frank Murphy Butchers, Pat Walsh Paints, Chadwicks, Teach Beag & Niall Mac's Bars.

BINGO takes place each Friday evening at 8pm in the GAA Pavilion with a weekly guaranteed Jackpot of €1,000 on 52 calls.

Club Shop
The shop will be open each Saturday morning from 10 to 12 at the Club.
We now have a range of Half Zip and Gilet tops in stock.

Juvenile
Fe 11
Our footballers played their first competitive game last Monday night at home v Cobh. The young magpies performance was great to see especially for all those who came were there. The group was split into two even teams and we played two great games of twenty minutes a side. The young magpies came out on top in both games by a single point.
Our next games are on next Thursday away v Glenville.



Fe 12
Premier 1 Hurling League – 23rd April Midleton 4-10 v Glen Rovers 1-06
A tale of two halves would best describe this game under warm sunshine last Saturday, against the Glen at home. Our first half performance was average at best and while we led the Glen at half time by 2 points (1-03 to 1-01), we looked and played like we hadn't left the dressing room. We allowed the opposition too much space and didn't show the necessary bite in previous games.
However, we started the second half with a number of positional changes, played with greater purpose, and worked much harder throughout the field. A simple recipe, but one that brought some early points and comforting goals, that allowed us pull away from the Glen and settle the result of the game long from the finish. Nice to win and our second win from two games in the hurling league – our lads are gaining in confidence, and are benefiting from all the hurling practice being done at home. Keep it up!!
Panel on the day from: Dara Fitzgerald, Brian O'Connell, Riain de Barra, Fionn Dalton, Tiarnan Roche, Odhran Prenter, David Cremin, Ben Kenneally, Alex Moloney, Eoin McGrath, Diarmuid Murphy, Daniel Coffey, Cathal Beausang, Conor O'Shea, Mikey Finn, Ashley O'Meara, Sean Fraser, Dara Scanlon, Caolan Dennigan & David Green.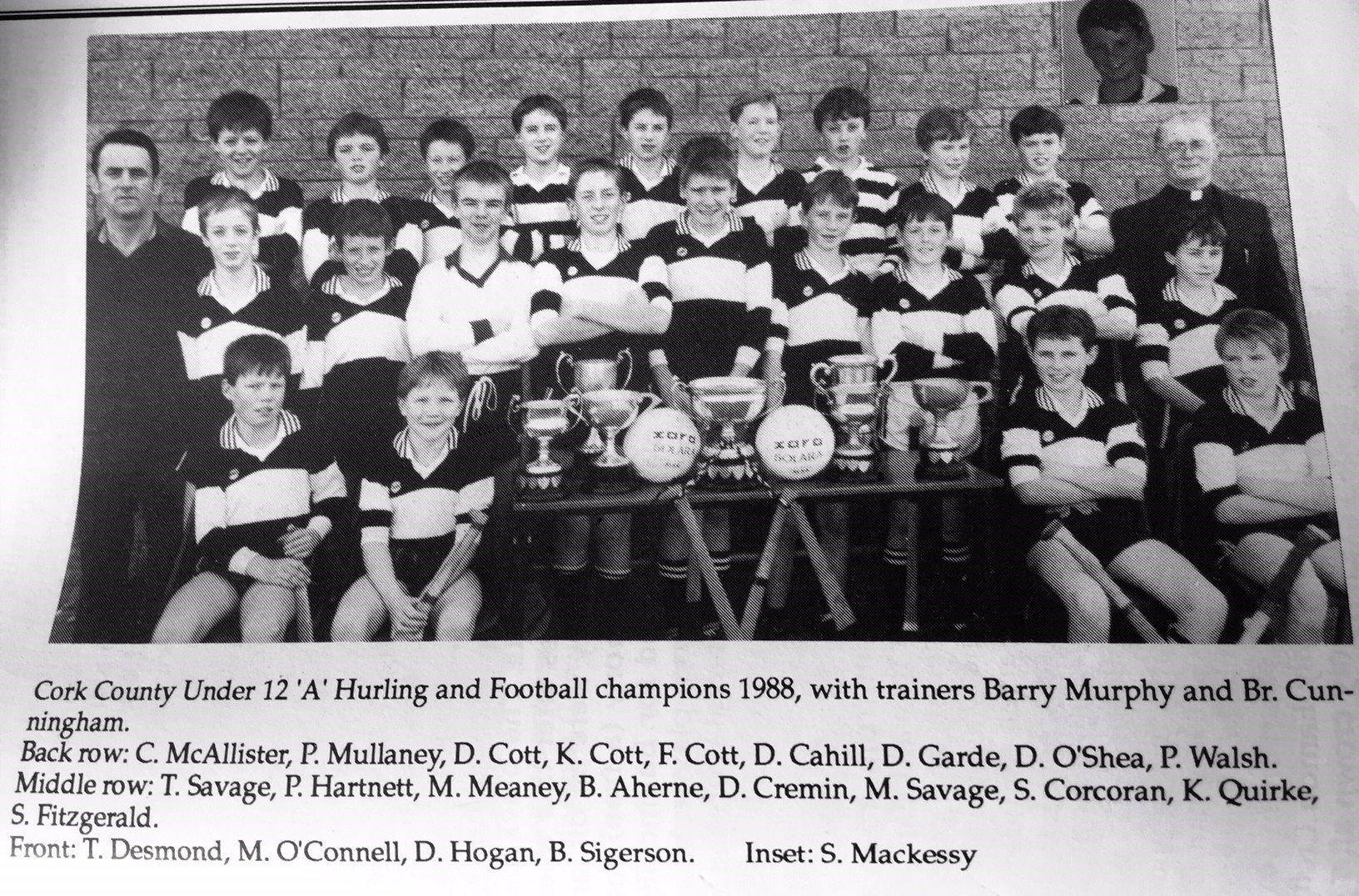 Fe 13
Our first game of the season in the Premier League 1 is fixed for this coming Tuesday 26th April on the Glen field in Blackpool. This league is very competitive other teams include Sarsfields, Douglas, Ballygarvan, St Finbarrs, Glen Rovers, Ballincollig and Na Piarsaigh. These are teams we have been meeting now for a number of years and what we are guaranteed is no easy matches. Any team from the eight in the league can rightly have ambitions of winning the competition. The rivalry is fiercely competitive between all of the teams but always sporting.
The second match of the campaign comes hot on the heels of the Glen Rovers match as we play Na Piarsaigh on the following Saturday 30th April. This game is fixed as a home game for the young Magpies. There will be full reports on next week's edition of both games.

Fe 14
On Monday last we travelled to Fermoy for Round 1 of the Premier 2 Championship game against Fermoy. The match was played under lights with an 8pm start. Within the opening few minutes Fermoy found the back of our net twice and had scored a number of points. It was evident then that it was going to be a very tough match for our lads against a very well drilled Fermoy side. It should be noted that the Rebel Og referee was not implementing the Championship rules when refereeing the match which was highlighted at half-time. We did not contest this and let the match play on. We had some very good passages of play at times in the match when we gained possession of the ball but for most parts we were scrambling to defend and win possession. The score at halftime was 1-4 to 3-8 but Fermoy pushed on to another level in the second half when we tired and the game finished on a scoreline of 1-8 to 4-14. We wish Fermoy well in the second round where they will play Mallow and commend our lads, who despite the scoreline, never dropped their heads and kept playing until the final whistle.
Panel: Bradley Savage, Gavin Reddy, Darragh Crowley, Alex Pranger, Paul Connaughton, Brion Saunderson, Conor Fitzgerald, Ryan Cahill, Patrick Kane, Charlie Walsh, Nicky Hayes, Luke Deane, Trevor Shine, Jack Fitzgerald, Aaron Coughlan, Dan Cagney, Ben Cummins & Daithi Magan.
On Saturday last we travelled to Carrigaline to take part in the Feile Peil Premier Competition. We were down to play four matches, Wolfe Tones withdrew from the competition so fixtures were reworked so a total of three matches per team were to be played against St. Nicks, Carrigaline & Eire Og.
Midleton v St Nicks - This was a tightly contested game. There were some nice passage of play by Midleton and it finished on a scoreline of 1-5 to 1-3 to Midleton. It gave the lads confidence moving into their next match.
Midleton v Carrigaline - This was a repeat of Monday night's performance v Fermoy. Carrigaline were very strong and within minutes of the games had found the back of our net and had multiple players scoring points from varying positions on the pitch. Once again our team of lads never dropped the heads. They demonstrated what a great team they are, each of them working as hard as they could to try and stop the onslaught of their attacks. Carrigaline are undoubtedly a Premier 1 side and the scoreline at the end of match was 0-2 to 3-12.
Midleton v Eire Og - After a break of a few minutes following the Carrigaline match, the lads took to the pitch to play their third and final match of the day. This was a match dominated by Midleton in the first half. They worked the ball well and had alot of possession and took their scores well and were well in control. In the second half of the game Eire Og were much a stronger side and fought well to win possession and half way through the second half had levelled the match. With a few minutes to go Eire Og were testing our defence and applying pressure which saw two of their efforts on goal strike the posts. We dug deep once again to gain possession of the ball and scored a goal and a point to secure the win.
Final score was 4-4 to 2-6.
We came second in the group overall, winning 2 of t-he 3 games, Carrigaline won all of their matches but were then defeated by Glanmire in the semi final the following day.
Panel: Bradley Savage, Gavin Reddy, Darragh Crowley, Alex Pranger, Paul Connaughton, Brion Saunderson, Leo Hennessy, Conor Fitzgerald, Ryan Chaill, Patrick Kane, Charlie Walsh, Nicky Hayes, Luke Deane, Trevor Shine, Jack Fitzgerald, Aaron Coughlan, Ben Cummins & Daithi Magan.

Rebel Óg Coaching Silver Award
Midleton GAA was awarded a Rebel Óg Coaching Silver award 2016 for coaching excellence and best practice. The award was presented to the Club on Friday evening last by GAA Games Development Administrator Shane Supple. This award reflects the amount of effort and work put in by all the coaches and committee at under age level. On the night Shane presented a hurling workshop for juvenile coaches which was very well attended by from both hurling and Camogie. The workshop was very well received; it was interactive, practical informative and enjoyable. These types of workshops are invaluable in helping our coaches deliver top class training sessions to our underage players. We would like to thank Shane for his time and his expertise. We are working towards a Gold Standard award in the coming year.
Pictured accepting the Rebel Óg Silver award from Shane Supple on behalf of Midleton Hurling and Football Club are Juvenile Chairperson Cormac Quirke and Club Coaching Officer Martin Mc Sweeney.