Midleton GAA , Camogie & Ladies Football Club News
17 April, 2016
Junior Football
Our footballers were well defeated by Carrig na bhFearr last Thursday evening in the second round of the East Cork A Championship played in Midleton. Unfortunately we never hit the heights of last year and with a number of players unavailable through injury we exited the Championship by 0-06 to 1-13.
Team: Josh Deady, Seanaidh Smyth, Sean Corcoran, Billy O'Shea, Cormac Walsh, Cillian Hurley, Leslie Coughlan, Aidan Ryan, Luke Dineen, Shane Ryan, Declan Ryan, Cormac Beausang, Brian Hartnett, Alywin Kearney & Kieran Mulcahy. Sub used Eoin Ferriter.

Senior Hurling
Last Saturday evening we took on our host's Blackrock at Church Road in the League. Two goals in either half proved decisive for the Rockies and try as we could we were unable to breach their defence for any goal.
Our next League game is away to Ballymartle on Saturday the 30th
Final Score: Midleton 0-14 v Blackrock 4-11
Team: Tommy Wallace, Seanaidh Smyth, Alywin Kearney, Killian Burke, Declan Ryan, Finbar O'Mahony, Seamus O'Farrell, Patrick O'Mahony, Luke Dineen, James Nagle, Aidan Ryan, Leslie Coughlan, Brian Hartnett, Cillian Hurley & Cormac Walsh. Subs used Padraig Nagle, Padraig O'Keeffe & Elliot Mulcahy.

Intermediate Hurling
On Sunday morning last our hurlers played St Finbarrs in the League at Togher and after a very tight game lost out by the narrowest of margins by 2-13 to 2-14.
Team: Joe Loftus (0-01), Adam Daly, Declan Ryan, Eoin Ferriter, Sean O'Meara (2-02), Elliot Mulcahy (0-01), Pat Stack, Sean O'Farrell (0-01), Padraig O'Keeffe (0-03), Billy O'Shea, Cormac Beausang (0-02, 1 free), Padraic Nagle (0-02), Mark O'Keeffe, Padraig O'Brien (0-01) & Alan Stanton.

Minor Hurling
Our hurlers got back to winning ways with a clinical victory over Bishopstown away last Saturday afternoon in the Rebel Óg Premier 1 League.
The final score was Midleton 2-14 v Bishopstown 0-08.
Team: Liam Franklin, Luke Smith, Adam Daly, Jordan Roche, Ryan Mc Conville, Sean O'Leary Hayes, John O'Dwyer, Kevin Mulcahy (0-01), Sean O'Meara (1-01), Christopher Power (0-04, 3 frees), Conor O'Neill (1-03), Eoin Moloney (0-02), David Mulcahy (0-01), Padraig O'Brien & Cathal Gunning. Subs Conor O'Farrell, Harry Wall & Evan O'Meara.

On Sunday morning our second minor team took on Douglas in the C League at home and we done very well to win on scoreline of Midleton 1-15 v Douglas 2-05.
Team: Cormac Higgins, Andrew Nestor, ConorO'Farrell, Tim Abdullah, Conor Evans, Ryan Mc Conville, Cathal Gunning (0-01), John O'Dwyer, Luke Smith, Harry Wall (1-05 frees), Conor O'Neill, David Mulcahy (0-01), Evan O'Meara (0-03), Tom Scanlon (0-01), Kevin Daly. Subs Christopher Power (0-04, 2 frees), Griffin Hurley, Jake Shanahan, Ronan Lynch, Mark Daly and Fergus Wade.
Fixtures
Monday 18th Fe 14 Premier 2 Football Championship v Fermoy in Fermoy @ 8pm
Wednesday 20th Minor Premier 1 Hurling League v Glen Rovers at home 6.30pm
Saturday 23rd Junior B Football Championship v St Catherines TBC
Sunday 24th Fe15 Premier 1 Hurling League v Kerry Development at home 6pm
Thursday 28th Minor Premier 1 Hurling Championship v Duhallow TBC
Saturday 30th Senior Hurling League v Ballymartle away @ 7.30pm

Primary Schools Football 1976
"Mayo best in under age League" was the headline in the Echo newspaper 40 years ago as reported by the late Joe Duggan.
Mayo 4-01 v Sligo 1-04
"With their average age at eight years one would not expect such a high standard of football, but following a tough campaign in their eight games Mayo snatched victory to win the "Duggan Cup" in fine style when they beat League leaders Sligo in the final at the CBS sportsgrounds Midleton.
No, it was not an inter county tie but a football league organised by teachers of first class of Midleton CBS where eight teams took part. Sligo, Mayo, Limerick, Derry, Kilkenny, Dublin, Wexford & Offaly were the names adopted.
Going in to the final game Sligo led the league with fourteen points one ahead of Mayo and with both teams meeting in the last game excitement was high.
Mayo won mainly through three great goals from Ian Harty. Miss Noelle Lomasney, Mrs Mary Healy, Miss Anne Carroll and Mr Donal Ó Ciarain organised the tournament.
Each player contributed 5p for a beautiful set of plaques and Rev. Brother T.S. O'Keeffe Principal who is leaving the school at the end of this term donated a set of medals.
Mr. Joe Duggan presented the Duggan Perpetual trophy which last year was up for competition in Hurling in the same age group".
The winning side was as per the attached photograph;
Back row L to R – Miss Noelle Lomasaney, Paul Nolan, Willie Lawton, Colin O'Keeffe, Ian Harty, Stephen Desmond, Brendan Wallace, Frank Horgan & Donal Ó Ciarain.
Front row L to R – Kevin Hurley, Kieran Walsh, Sean Murray, Declan Horgan (capt.), Gordon Laffan, Brian O'Keeffe & Walter Sheehan. Missing is Keith Strain.
Many thanks to Mossie Horgan and Walter Sheehan for this article and photo.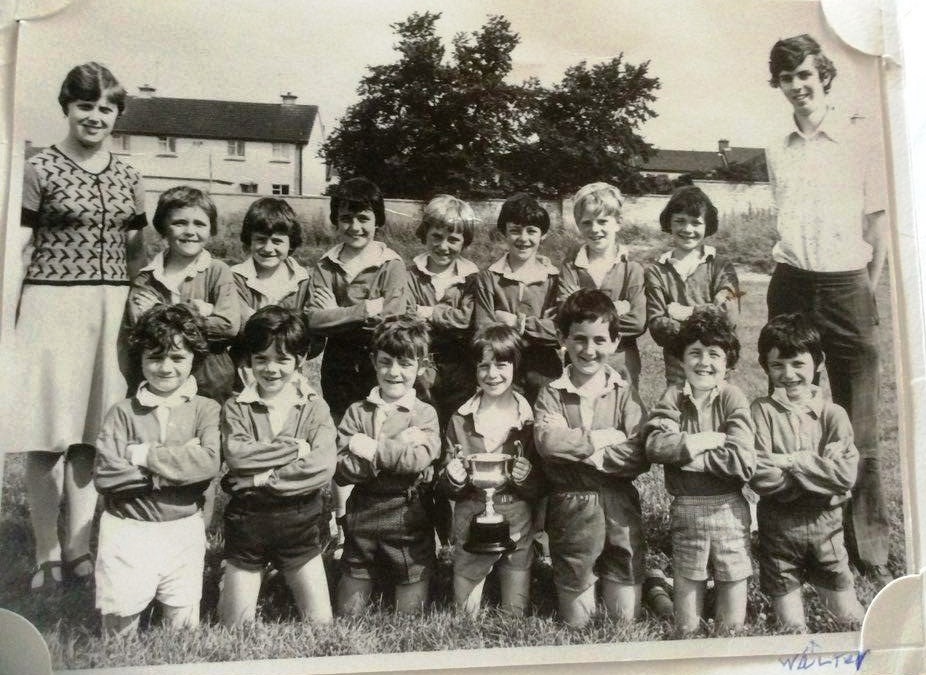 Irish Night in the Club
There will be an Oíche Ghaelach or an Irish night in the GAA Club on Friday next 22nd April at 9.30pm with some Trad music and a special warm welcome for those who wish to speak the cuplá focal. This is for everyone who can say Dia Duit and would like to practice that and more. Fáilte roimh chách.

Camogie
Our Under 12's were on the field again this weekend, this time the venue was Carrigtwohill. Two Midleton teams lined out for the blitz, each team played two matches, this week's opposition were Castlelyons, Erins Own, Cobh and hosts Carrigtwohill. While the supporters felt a bit of a chill on the side line the girls on the field had no such complaints , all the girls worked hard and played very well. Well done to all involved and thanks to Carrigtwohill for hosting.
Panel: Caoimhe Murray, Abbie Foley, Aisling Naughton, , Meabh Morrissey , Alexander McCarthy, Elle McManus ,Rachel Ryan, Holly Duggan, Ruthi Hennessey, Chloe Garde, Rebecca Crowley, Aoife Lomasney, Rachel McSweeney, Ciara Naughton, Aoife Fitzgerald, Cadence O'Sullivan & Emma O'Sullivan.
Training for the week ahead as follows, any changes to training schedule parents will receive a text , & any change to training will be posted on our Camogie's Facebook page.
PLEASE NOTE – No Under 6 training this week, training cancelled to facilitate coach workshop.
U8 & U10 : Friday evening 7.15pm -8.15pm @ GAA Club
U12 & U14: Tuesday 7pm -8pm, St Colman's & Friday 7.15pm -8.15pm @ GAA Club.
New members welcome; girls age 6 (or will be 6 this year i.e. born 2010) up to age 14.
For information contact 0876822916, email midletoncamogiepro@gmail.com.
Follow us on Facebook: Midleton Camogie Club.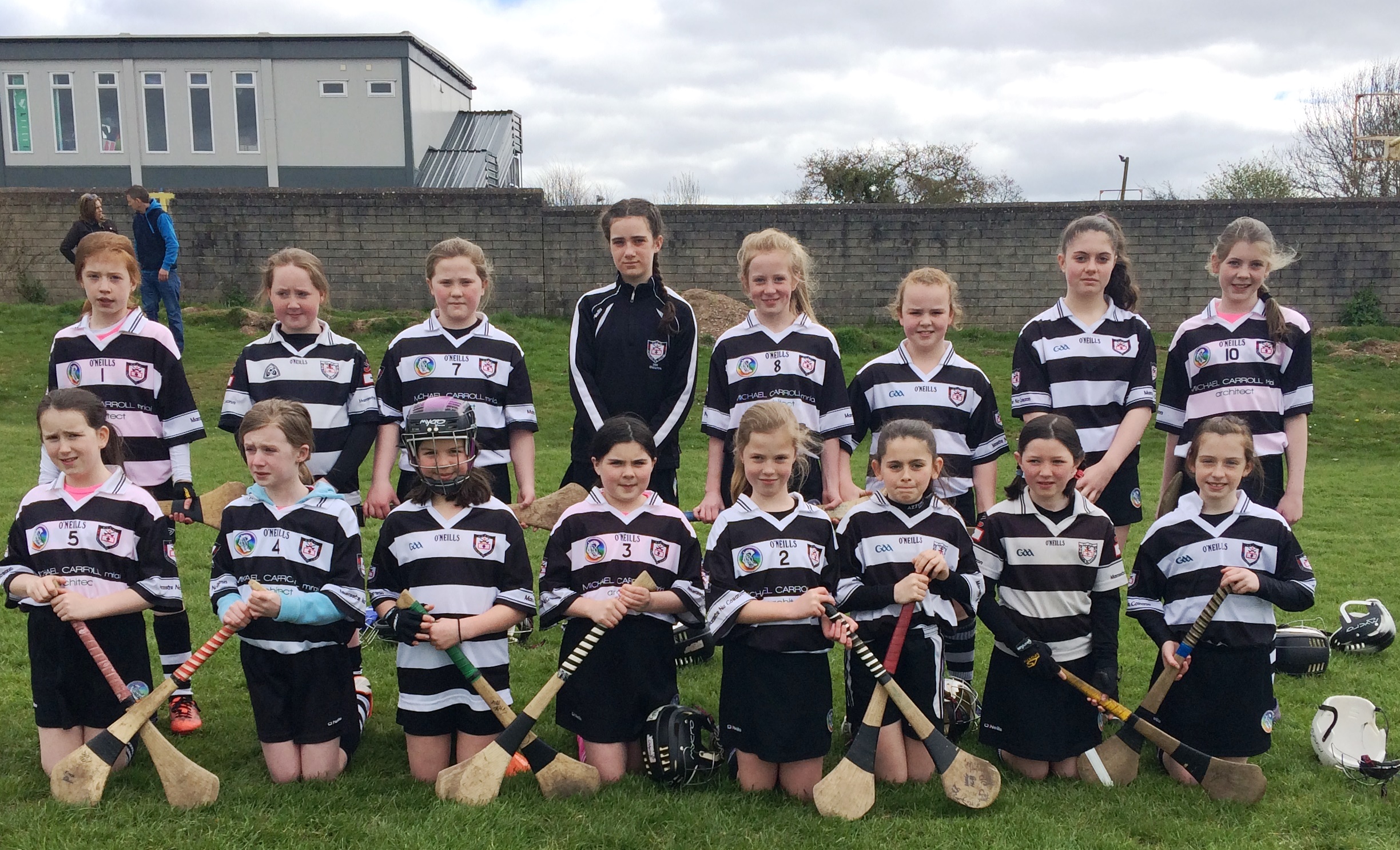 Ladies Football
Thankfully after nearly a dry week of weather we are hoping to continue our training in the Rugby Club. We ask that parents keep an eye on your text messages just in case there is a change of venue. U8 and U10's are from 6.30 to 7.30pm. U10s upwards are from 7-8pm. Please continue to return your registration forms as soon as possible.
U14 League Midleton V Rockbán
Last Saturday on a beautiful sunny afternoon Midleton U14's made their way to Whitechurch to play Rockbán. We again started very strong in this game with goals and points coming fast and furious. We had the wind at our backs and went into half-time very happy. We started the second half playing against a very strong wind but as always the girls worked the ball well with plenty of short passing and kicking. It was a great performance from 1 to 15. Well done girls keep up the good work!
Panel: Amy O'Neill, Leah Daly, Leah Hogan, Megan Kelly, Denise Collins, Clodagh Finn, Megan Shanahan, Leah Kirby, Sadhbh Beausang, Katie Horgan, Ella Tarrant,
Lucy Kenneally, Ellen Ryan, Eabha Collins, Misha Daly Harkin & Mia Tarrant.
U14 League Midleton v Youghal
At last a dry night and our second league game against Youghal away was finally played. We started strong and before we knew it we were two goals and a point up. All the girls played with great effort and gusto. We were down our goalie for the game but Megan Kelly took up the challenge and defended the goal well when the ball came our way. Great football played by all with many more matches on the way.
Panel : Megan Kelly, Megan Shanahan, Sadhbh Beausang, Lucy Kenneally, Leah Hogan, Leah Daly, Leah Kirby, Orla Evans, Eabha Collins, Denise Collins, Ella Tarrant, Katie Hor-gan, Clodagh Finn, Ellen Ryan & Ali Smith.
Gaa Golf Society
Easter Hamper played last Thursday in East Cork Golf Club
The winner was Gary Johnson
Category 1- 1st John Hogan, 2nd Cian McCarthy & 3rd Conor O Brien
Category 2 - 1st Willie Ring, 2nd Killian McGrath & 3rd Mick Hayes
Category 3 - 1st Tim Crotty, 2nd Sean Cahalane & 3rd Michael Dorgan
Front 9 - Ambrose Guilfoyle & Back 5 - Pat O Brien
Please note there is a change of date for Gary Johnsons Captains Prize, it's now on Thursday May 12th in East Cork, shotgun start at 5pm, we would encourage new members or visitors to come along.
Lotto
Our Lotto Jackpot was €5,600, there was no winner, the numbers were 6,10,11 & 27, the lucky dip winners were Mairead /Pa Beausang, Shane Ryan, Noreen O' Flynn, Mary O'Mahony & Angela Carroll, next week's Jackpot will be €5,800. Tickets are on sale at the Club Bar, O 'Neills Bar, Linehan's Bar, Maple Leaf Bar, O' Farrell's Butchers, Frank Murphy Butchers, Pat Walsh Paints, Chadwicks, Teach Beag & Niall Mac's Bars.

BINGO takes place each Friday evening at 8pm in the GAA Pavilion with a weekly guaranteed Jackpot of €1,000 on 52 calls.
Congratulations to Niamh Barton who won last week's Jackpot of €1,000.

Club Shop
The shop will be open each Saturday morning from 10 to 12 at the Club.
We now have a range of Half Zip and Sleeveless tops in stock.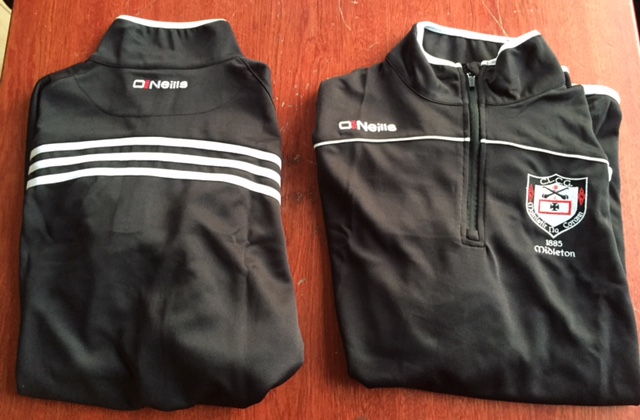 Juvenile
Fe 10
Having returned to training last week, we travelled the short distance to Aghada this morning for our first match as under 10's. We split the players into two teams and the teams played two matches each. There was some fine displays of skills from both Midleton & Aghada players and we would like to thank Aghada for the invitation.
Panel: Thomas Dunlea, Sam Murphy, Eoin Fraser, Jack Foley, Fionn Kelly, Darragh Egan, Billy Keating, Conor Morley, Filip Kupper, John Paul McManus, Callum McSweeney, James McSweeney, Kieran Connolly, Senan Gleeson, Carthaigh Cronin, Paddy Walsh, Odhran Dennigan, Peter Barrett, Aaron Crotty, Yohanis Mehigan, Daniel Garde, Sean McSharry & Ben Fitzpatrick.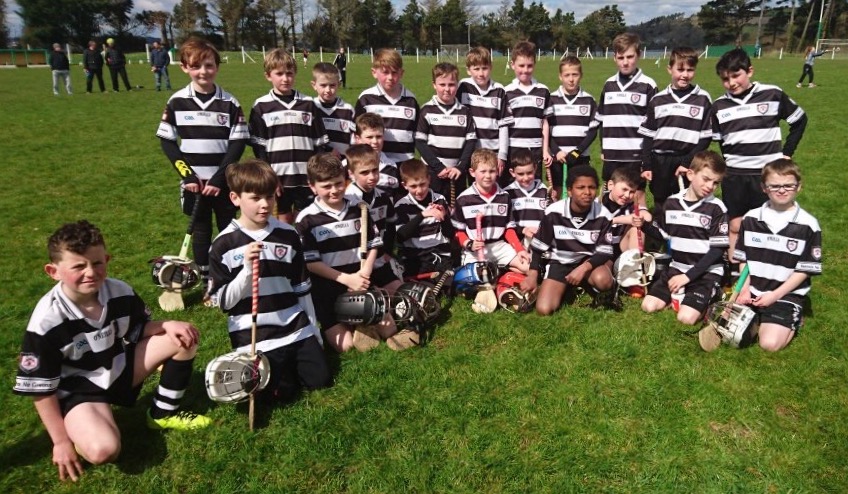 Fe12
Premier 2 Football League – 13th April Midleton 1-02 v Ballygarvan 1-06
True grit! It's not often our coaches are upbeat following a defeat, but on Wednesday evening we faced a very strong Ballygarvan side who are leading the league having demolished all before them, and we should have won the game. Our lads matched them in every position, by showing real grit and determination, and playing without any fear. We were very organised in defence, and our opponents knew that it would not be an easy evening for them. We lead at half time by 1-01 to 0-03, and our forwards can count themselves unlucky not to have put more on the scoreboard.
Throughout the second half, we worked very hard, put in all the required tackles, but allowed Ballygarvan to score an easy goal – this being the main difference between the teams at the end. However, we were proud of our performance and fighting spirit, and it put us in the correct frame of mind for our opening P1 hurling game vs Na Piarsaigh three days later.
Panel on the evening from: Brian O'Connell, Riain Barry, Fionn Dalton, Tiarnan Roche, Odhran Prenter, David Cremin, David Green, Alex Moloney, Eoin McGrath, Niall Lang, Cian Lamb, Daniel Coffey, Cathal Beausang, Conor O'Shea, Mikey Finn, Ashley O'Meara, Conor Newcombe, Sean Fraser, Caolan Dennigan & Tadhg Bohan.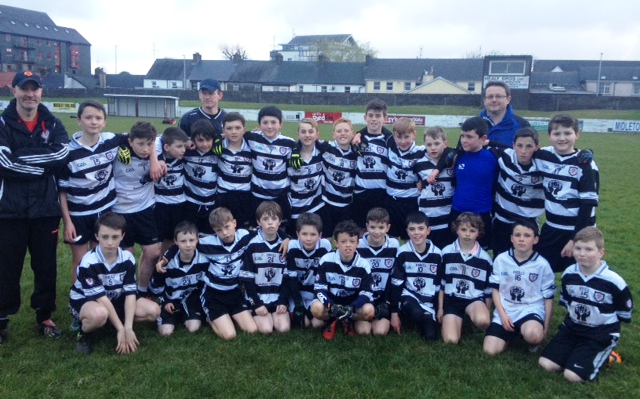 Fe12 Premier 1 Hurling League – 16th April Midleton 3-07 v Na Piarsiagh 3-04
A sweet victory, over a team that we drew with last year, kick-started our P1 campaign nicely, and allows us to approach bigger games with confidence. Again, this game vs Na Piarsaigh ebbed between both sides, but with the final result decided by a better finish from our lads due to greater determination and some greater talent.
We started brightly with a reasonably strong wind at our backs, and our forwards, Conor O'Shea, Dara Scanlon, and Cathal Beausang were first to every ball, but we missed a few chances from both open play and frees. However, as instructed before the game, they didn't let their heads drop and continued to grind out scores and tested the Na Piarsiagh defence. Further behind, Alex Moloney Ben Kenneally, and Fionn Dalton marked their forwards tightly, and Davy Cremin continued to dominate at centre back, driving ball after ball down to our forwards. Although we trailed Na Piarsaigh by two points at half-time, Mikey Finn stepped up a gear in the second half and got some badly needed scores, both goals and points. Odhran Prenter is proving to be our utility man with a great display in midfield for the second half having started the game at corner forward. Up front, Sean Fraser, Niall Lang and Caolan Dennigan continued to battle hard and not make it easy for the opposition defenders, while Diarmuid Murphy, Ashley O'Meara and Eoin McGrath impressed when introduced.
Once we went ahead in the second half, we fought strongly to hold onto our lead, and Tiarnan Roche, Daniel Coffey and Riain de Barra defended well and cleared plenty balls from our danger area. Brian O'Connell is continuing to be a solid presence at full back and his puck outs setting up many attacks.
Key moment of the game – a truly excellent save from young goalkeeper Dara Fitzgerald in the second half which without it, could have cost us our victory.
Well done all – a good win, but some improvement needed, and plenty practice required on our own at home. Roll on the Glen next Saturday!!
Panel on the day from: Dara Fitzgerald, Brian O'Connell, Riain Barry, Fionn Dalton, Tiarnan Roche, Odhran Prenter, David Cremin, Ben Kenneally, Alex Moloney, Eoin McGrath, Niall Lang, Diarmuid Murphy, Daniel Coffey, Cathal Beausang, Conor O'Shea, Mikey Finn, Ashley O'Meara, Sean Fraser, Dara Scanlon & Caolan Dennigan.
Fe 14
Rebel Og Feile Football has been rescheduled for the weekend 23rd/24th April. Midleton features in Feile Premier Group 2 and have been drawn to play St. Nicholas, Wolfe Tones and Carrigaline. The matches will take place in Carrigaline.
Our Rebel Og Championship Football match has been rescheduled to take place Monday April 18th at 8.00pm in Fermoy.
Hurling Challenge Match – On Sunday 17th April we travelled to St. Ita's pitch for a challenge match v Killeagh Ita's. The halftime score was 1-8 to 1-3 to Killeagh. We put in a better performance in the second half and were within three points at one stage but Killeagh pushed on last few minutes of the second half to score another goal and the match closed out in the end on a scoreline of 2-10 to 1-9. Thanks to Killeagh for the invitation.
Panel: Brion Saunderson, Liam Kelly, Christopher Leahy, Ben Cummins, Luke Deane, Charlie Walsh, Dan Cagney, Trevor Shine, Darragh Ryan, Oliver Murray, Thomas McGrath, Darragh Crowley, Nicky Hayes, Conor Fitzgerald, Kevin O' Brien, Joshua Pennant, Bradly Savage & Gavin Reddy.

Fe 15
Sars were the hosts for our second P1 Hurling League game of the year.
The first half saw a very close contest with scores coming slowly in the early stages.
As the half went on our lads came well into the game and looked strong. The score was even going into the second half. Again in the second half our lads were well in contention going into the latter part of the game but with ten minutes to go Sars took control of the game and went on to win on a scoreline of Sars 2-13 to Midleton 0-13.
Thanks to the Fe 14's who came up to help out.
Team: Alex Quirke, Patrick Kane, Jack Fitzpatrick, Leo Hennessy, Dan O'Sullivan, David Scanlon, Ethan Daly, Paul Connaghton, Ryan Cahill, Frank O'Brien, Aaron Mulcahy, Garry Carroll, Tim O'Sullivan, Cian Crowley, Sam Quirke, Dan Cagney, Daithi Magan & Rory Donegan.

Child Protection Course
Thanks to Ingrid Connaughton our Child Welfare Officer for arranging the Child Protectin Course which took place in the Club on Monday night last the 11th of April. We had 21 in attendance and the feedback from those who attended has been extremely positive. A further course has been arranged for April 25th and those yet to complete this course should contact Ingrid to secure a place on 087 6374748.
Workshop for Coaches Fe6 – Fe11
Shane Supple (GDA for East Cork) has been confirmed to provide a workshop for coaches from Fe11 to Fe6 on Friday 22nd April at 7pm to 8.15pm in the Ball Alley at Midleton GAA. Those interested in booking a place please contact Michael Carroll on 086 8362218.