Midleton GAA , Camogie & Ladies Football Club News
10 April, 2016
Senior Hurling
Last Thursday evening at home our hurlers had a clinical victory over Bride Rovers in the Senior League. With the aid of a strong wind in the first half we raced into a 1-11 to 0-04 lead. The second half saw defences on top with point for point throughput the half.
Final score: Midleton 1-17 v Bride Rovers 0-11.
Team: Tommy Wallace, Seanaidh Smyth, Alywin Kearney, Killian Burke, Declan Ryan, Finbar O'Mahony, Seamus O'Farrell, Padraig O'Farrell, Luke Dineen, James Nagle, Aidan ryan, Conor Lehane, Brian Hartnett, Peter Dowling & Cormac Walsh. Subs used Padraig O'Shea, Leslie Coughlan, Killian Hurley, Billy O'Shea & Sean O'Farrell.
Referee was Brian Murphy of Carrigtwohill.
Best wishes to Peter Dowling, Padraig O'Shea & Patrick White who are recovering from injuries received of late.
Intermediate Hurling
On Monday the 4th last our hurlers continued their winning ways in the Division 4 County League with a hard earned win over Na Piarsaigh at home in very tough underfoot conditions.
We led at halftime and despite making a number of changes we held on for another victory by 1-15 to 1-10.
Team: Byran Rossiter, Adam Daly, Declan Ryan, Seanaidh Smyth, Billy O'Shea, Elliot Mulcahy, Leslie Coughlan, Padraig O'Farrell, Sean O'Meara (0-01), Sean O'Farrell (0-01), Padraig O'Shea, Padraig O'Keeffe, Cormac Beausang (0-07, 2 free's), Padraig O'Brien (0-04) & Michael Abernethy (1-01). Subs used Joe Loftus, Mark O'Keeffe (0-01), Eoin Ferriter, Shane Ryan & Josh Deady. Referee was Arthur Murphy of Killeagh.
Junior Hurling
In our second game of the East Cork Junior 2 League we went down narrowly to our hosts Cloyne last Wednesday evening on a score of 2-08 to 0-10.
Team: Coran Swayne, Brendan Ferriter, Eoin Ferriter, Colm Leahy, Gavin Bagnell, Micheal Keohane, Pat Stack, Mark O'Keeffe, Niall Madden, James Lane, Sean Corcoran, Shane Ryan, Eoin Collins, Brian O'Sullivan & Robert Williams. Subs Josh Deady & Luke Finnerty.
Minor Hurling
Goals generally win games and that was the case last Saturday afternoon when our minor hurlers played Na Piarsaigh at home in the Rebel Óg Premier 1 League.
The final score was Midleton 0-14 v Na Piarsaigh 3-10.
Team: Liam Franklin, Conor Evans, Adam Daly, Jordan Roche, Ryan Mc Conville, Sean O'Meara, Eoin Moloney, Kevin Mulcahy, Luke Smith, Sean O'Leary Hayes (0-04 free's), Conor O'Neill (0-01), Ryan O'Regan, Cathal Gunning, Christopher Power (0-05, 3 free's), & Ross O'Regan (0-02). Subs Kevin Finn, Arthur Nganou and Tommy O'Connell (0-02).
Junior Football
Our B footballers had a good win over Lisgoold last Saturday evening at Lisgoold in the first round of the East Cork Championship. We dominated this game for long periods but it took a well worked goal from Robert Williams late on to settle the outcome.
Well done to the players and also to Cristoir, Michéal and Sean for getting the lads together, Bonzo would have been proud of yee !
Final score: Lisgoold 0-06 v Midleton 1-10
Team: Patrick Dunlea, Colm Leahy, Eoin Ferriter, Brian O'Sullivan, Billy O'Shea, Barry Fitzgerald (capt.), Gavin Bagnell, Alan Stanton, Alywin Kearney (0-01), Andrew Rea, Niall Madden, Sean O'Farrell (0-03), Willie O'Brien (0-03), Keith Ryan & Robert Williams (1-03). Subs used Brendan Ferriter, Eoin Collins & James Lane.
Main Pitch Closed
Please note that the main pitch is closed until further notice for all Training and Games.
Fixtures
Monday 11th Junior 1 Football League v Erins Own away @ 7pm
Monday 11th Premier 1 Fe16 Hurling League v Inniscarra away @ 6.45pm
Wednesday 13th Premier 1 Minor Hurling League v Killeagh/Ita's away @ 7pm
Thursday 14th Junior A Football Champ Rd 2 v Carrig na bhFearr TBC @ 7pm
Thursday 14th Fe15 Premier 1 Hurling League v Sars away @ 8.30pm
Saturday 16th Premier 1 Minor Hurling League v Bishopstown TBC
Saturday 16th Senior Hurling League v Blackrock away @ 7pm
Sunday 16th Premier 3 Hurling League v Douglas at home @ 11am
Sunday 17th Intermediate Hurling League v St Finbarrs away @ 12
Inter County Hurling
Congrats and well done to our club players Sean O'Leary Hayes (corner back) and Eoin Moloney (extended panel) who were part of the successful Cork Minor hurlers who defeated Waterford in the Munster Championship last Wednesday evening in Walsh Park on a scoreline of 0-17 to 1-10. They now look forward to a semi final on the 29th of June.
Last Sunday week the Churchtown club in North Cork opened a very impressive new facility. As part of their celebrations the Cork Intermediate hurlers took on their Limerick counterparts in a challenge game. With the eligibility of the Intermediate team now changed to those under 25 but not on the senior panel we had three players involved in this victory namely Tommy Wallace, Cormac Walsh & Patrick White.
Post Primary Schools Hurling
Well done to our club players Conor O'Neill, Conor O'Farrell, Cian Murray, Christian Murphy and Kevin Finn who were all part of the Colaiste an Phiarsaigh Glanmire team which recently won the Cork Colleges C title defeating St Peter's from Passage at CIT grounds.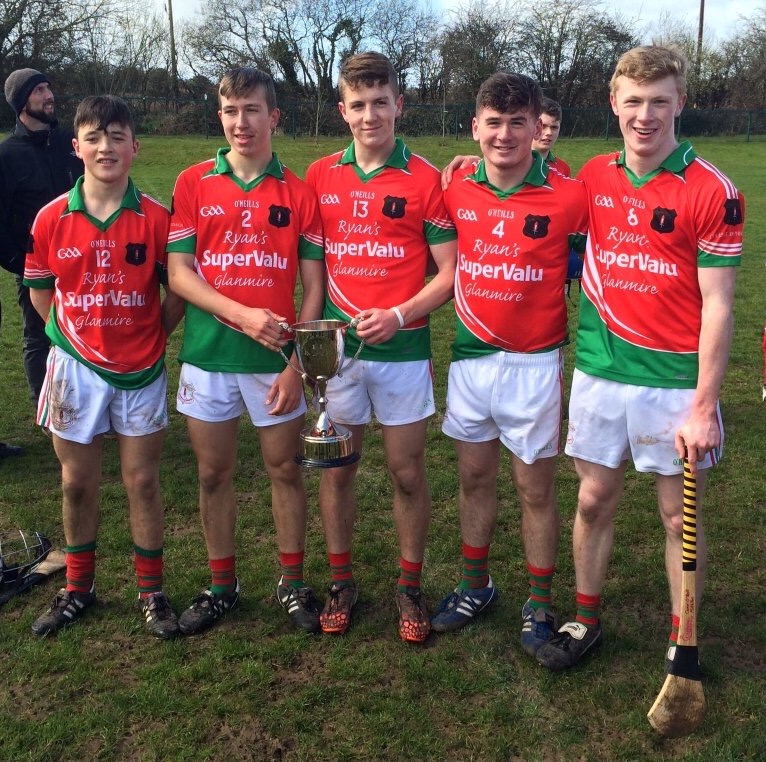 .
Camogie
On Saturday last, on a rare sunny morning our U12 girls made the short trip to Ballynoe for their first outing of the year. Five teams participated in the opening blitz of the season, Midleton, Watergrasshill, Youghal, Millstreet & hosts St. Catherine's. Our girls showed great skill and teamwork throughout. With five matches to be played it was a big ask but every girl dug deep and kept going until the final whistle. It was a great start to the season for the U12's and from their performance it looks like it will be a great year ahead!!
Thanks to our hosts St.Catherine's for organising it. Magpies Abu…..
Panel: Aoife Fitzgerald, Abbie Foley, Holly Duggan, Chloe Garde, Aoife Lomasney, Ella Murphy, Rachel McSweeney, , Tori Buckley, Meabh Morrissey, Aisling Kelleher, Elle McManus, Ruthi Hennessey, Uanionn Finn, Anna Sheehan & Caoimhe Murray.
Training for the week ahead as follows, any changes to training schedule parents will receive a text. U6, U8, U10: Friday evening 7.15pm -8.15pm, GAA Club
U12 & U14: Tuesday 7pm -8pm, St Coleman's & Friday 7.15pm -8.15pm, GAA Club.
New members welcome in all age groups for information contact 0876822916, email midletoncamogiepro@gmail.com. Follow us on facebook: Midleton Camogie Club.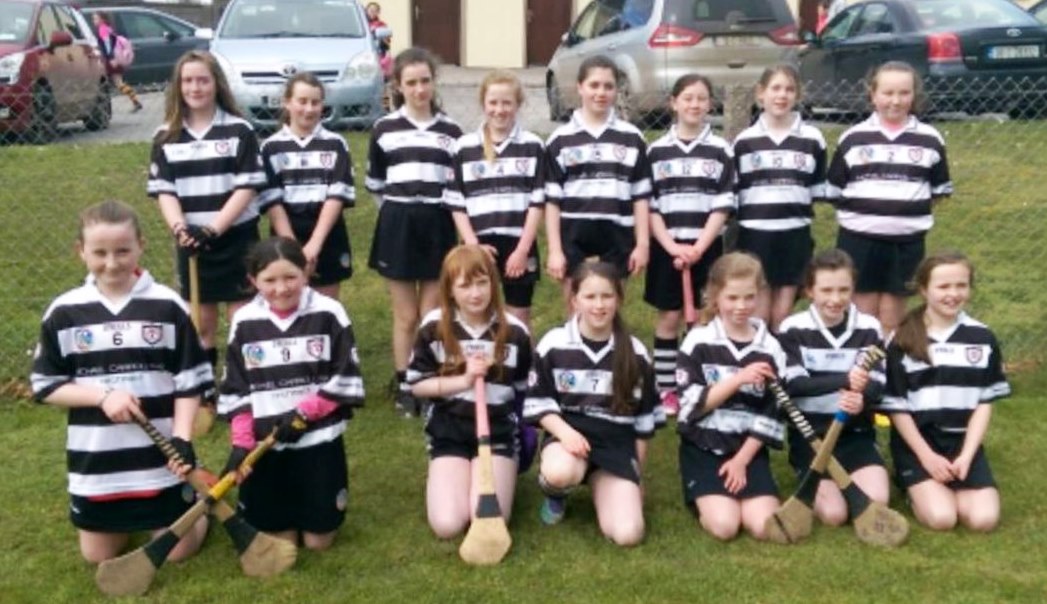 Ladies Football
Due to the return of the wet weather we will be reviewing our outdoor training venue on a week to week basis. The rugby pitch is currently not suitable for us. We ask that Parents please check your texts every Monday and we will let you know what venue to go to. For the moment we will train at the Tech Field. Please have the girls wear suitable footwear as the ground is soft under foot.
U8's and U10's will train from 6.30 to 7.30pm. U12's to Juniors will train from 7-8pm.Please note that registration forms should be returned as soon as possible.
Healthy Club Project
Last Saturday Cormac Quirke Chairman of the Juvenile Club on behalf of the Healthy Club Project made a small presentation to participants of the recent "Recipe for Success" Home Economic Workshop. Each received a Glass Germinator & Seeds – the idea is that they will grow their own "nuggets of nutrition". Here's what the Happy Pear have to say…… "Sprouts are the young shoots of seeds or beans such as alfalfa, leek, lentils, etc and are in their nutritional prime. Gram for gram they contain more nutrition then even the healthiest of green vegetables". To all those who took part we hope you learned something new and happy cooking!
Included in the photo L-R Molly Beausang, Abby Quirke, Laura O'Leary, Cormac Quirke, Cathal Gunning, Sean O'Meara & Evan O'Meara……missing Deirdre Corcoran, Ryan McConville, Padraig O'Brien & Cormac Beausang.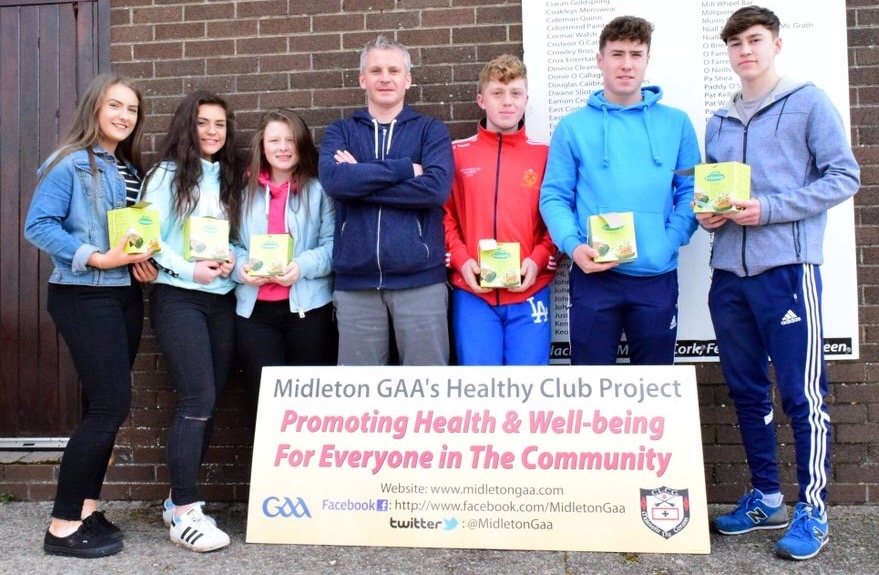 Membership
Membership is overdue and can now be also paid by Credit card.
The Monster Hamper raffle took place last week for fully paid up members, congrats to Donal Keohane who won first prize and the two runners up Jack Cotter and Tom Casey. Contact our membership Officer Terence McCarthy to arrange payment.
Scór
Comhghairdeas le Lily Ni Chonchuir a bhuaigh Craobh an Chontae Scor na bPaisti sa comortas aithriseoireacht in Ovens.
Congratulations to Lily O Connor who won the County Scór na bPaisti section for recitation in Ovens on Saturday last. She came through four competitions to achieve this accolade in what was a competition of a very high standard. She was representing the Midleton Hurling Club and was mentored by Meaghan Ni Chathraigh muinteoir sa Ghaelscoil.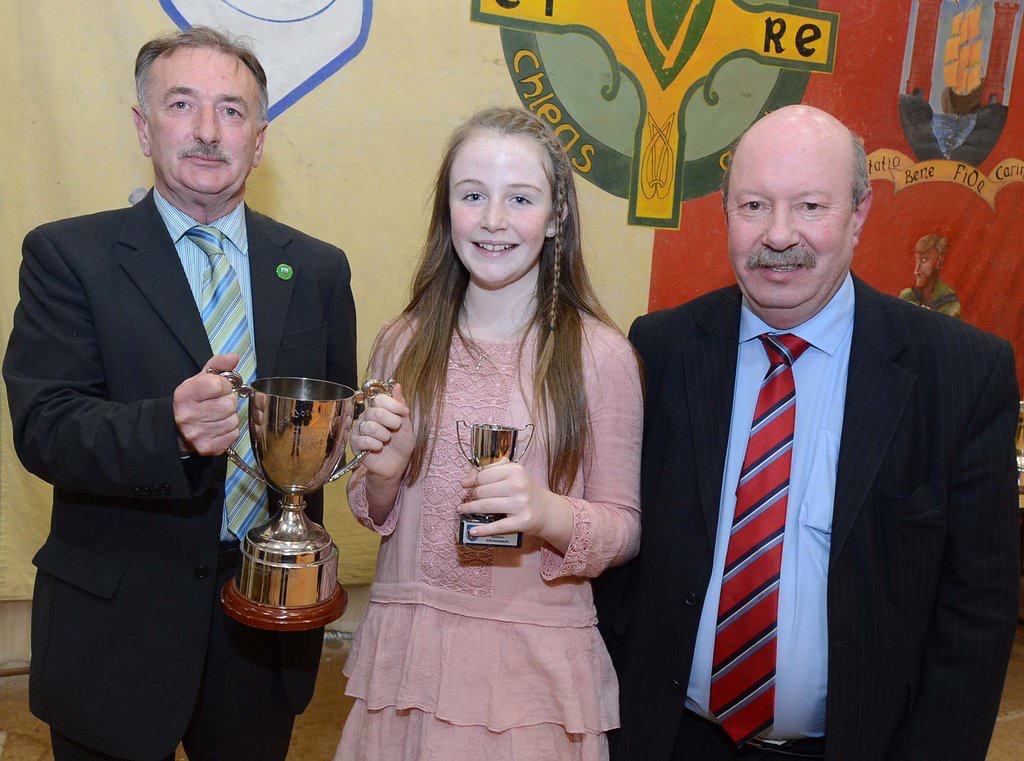 Gaa Golf Society
As a result of the poor weather our Easter Hamper will now take place on Thursday next the 14th with a shotgun start at 5pm in East Cork Golf Club (Sponsored by Mr. Bernard Cashman, Cashman Car Sales).
Mr. Gary Johnson's Captains Prize will take place on Thursday May 5th, shotgun start, 5pm, at East Cork Golf Club.
Membership for the year is just €20, GAA players are free. New members are very welcome. We would encourage existing members to bring along a new member with them.
Lotto
Our Lotto Jackpot was €5,400, there was no winner, the numbers were 14,15, 18 &21, the lucky dip winners were M Kelly, B Barton, S Hickey, C Hennessy & D Sheehan, next week's Jackpot will be €5,600. Tickets are on sale at the Club Bar, O 'Neills Bar, Linehan's Bar, Maple Leaf Bar, O' Farrell's Butchers, Frank Murphy Butchers, Pat Walsh Paints, Chadwicks, Teach Beag & Niall Mac's Bars.
BINGO takes place each Friday evening at 8pm in the GAA Pavilion with a weekly guaranteed Jackpot of €1,000 on 52 calls.
Club Shop
The shop will be open each Saturday morning from 10 to 12 at the Club.
Juvenile

Fe 12
Challenge game – 9th April Inniscarra v Midleton
Rain, freezing temperatures, hailstones and some dodgy refereeing were the features of our first hurling game of the year with an away game to Inniscarra on Saturday. Very grateful to our hosts for providing us with a game and it will certainly give us some preparation for our first competitive league game vs Na Piarsaigh next weekend.
Our lads, delighted with a hurling match after so many weeks of football, performed very well. While there is some rustiness to iron out, we showed we have the ability to match the best this summer. The weather conditions were very tough to deal with, and the pitch was not the best underfoot, but we coped, defending and scoring in equal measure.
We face a big week ahead, taking on top team Ballygarvan on Wednesday evening in the football league, while we face old rivals Na Piarsaigh in competitive hurling next Saturday. Plenty of home support will be required.
Panel vs Inniscarra from: Dara Fitzgerald, Brian O'Connell, Riain de Barra, Fionn Dalton, Tiarnan Roche, David Cremin, David Green, Ben Kenneally, Alex Moloney, Eoin McGrath, Niall Lang, Diarmuid Murphy, Cian Lamb, Cathal Beausang, Conor O'Shea, Mikey Finn, Dara Scanlon, Conor Newcombe, Sean Fraser, Caolan Dennigan, Tadhg Bohan, Ashley O'Meara & Leo Kelleher.
Note – This week's photo has been provided by Peter Moloney, while last week's was provided by Fergus Kenneally. My thanks to both – keep up the good work with the lens!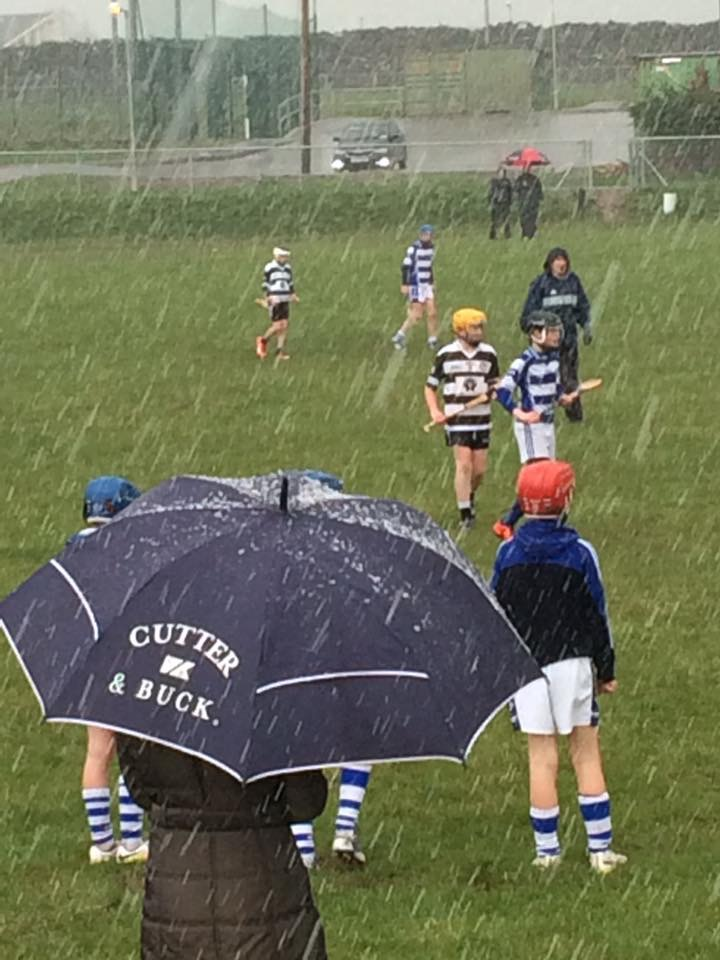 Fe 13
We travelled to Ballincollig for the fourth of the series of seven matches that will make up the Premier 1 U13 football league last Friday night (8th April). We had a great turnout for the game. Ballincollig footballers have been one of the teams that we have learned a lot from over the last couple of years. So in its own unique way it was a game we were really looking forward to so we could see what progress we have being making.
Conditions on Friday were dry overhead but the pitch was quite heavy underfoot. Ballincollig won the toss and choose to play with the breeze. Our opponents started strongly and kicked a couple of nice points. Then a speculative lob towards our goal ended up in net. This was followed by another well taken goal by the Ballincollig full forward. We gained control for the last ten minutes of the half but unfortunately our shooting was a small bit wayward.
For 90% of the second half we were to owned possession. But like Rory McIlroy on Saturday at Augusta we were just not finishing well. Time and time again Darragh McCarthy, Ciarmhac Smyth, Niall Corcoran, Cian Murray & Thomas Lambe won possession and drove at the Ballincollig defence but just to see their effort get blocked or go wide.
The final score line of 0-01 to 3-05 does not fully reflect the effort and commitment our players gave to the Black & White jersey on Friday night. Brion Saunderson played out of his skin in goals, the full back line and half back line made Ballincollig work hard for every ball they won. Niall Corcoran had a superb second half. Midfield was outstanding and with a small bit of luck could have finished with a goal and a couple of points between them. The forward line applied themselves for the whole game. As mentors we could not have asked for anything more from our players. The gap between us and these top teams is very definitely closing so watch this space as the years roll on.
Panel: B Saunderson, J O'Sullivan, F Greenwood, E McCarthy, L. McGrath, D Codd, N Corcoran, C Smyth, S Bohan, C Murray, K Barry, K Rollins, D McCarthy (0-01), B. O'Neill, R Hartnett, E Kelly, N Fitzgerald, R Gees, P Magan, A Fay, J Spellman & A Fay.
Fe 15
Our hurlers went north to the Glen last Thursday evening for our first Premier 1 League game this year. What could have been a mud bath actually turned out to be a fine battle between the two teams. Despite heavy underfoot conditions we started well and notched up some fine points. As the first half wore on, the Glen came back into the game and coming up to half time seemed to be gaining control. However our lads knuckled down again in the second half and never looked like losing. Final score Midleton 2-15 Glen Rovers 1-08.
Team: Alex Quirke, Jack Fitzpatrick, Christian Murphy, Dan O'Sullivan, Frank O'Brien, David Scanlon, Ethan Daly, Aaron Mulcahy, Paul Connaughton, Garry Carroll, Charlie Walsh, Patrick Kane, Tim O'Sullivan, Samuel Quirke, Cian Crowley, Ryan Cahill & Rory Donegan.
Culann Cashman Fundraiser
Saturday morning last marked the return to training on the main pitch for our younger teams. We couldn't have asked for better weather. All our young magpies were no doubt delighted to be back to training but they were even more delighted that the morning of the Pie in the Face for coaches fundraiser had finally arrived!
The Juvenile GAA Club, Ladies Football and Camogie had jointly promoted this fundraiser event in aid of Culann Cashman. Culann was joined by his mother Yvonne and watched with the many other onlookers as the kids joined their respective queues to take their turn in smashing cream pies into the faces of their favourite coaches. The reactions on both the kids and the coaches faces were priceless. This fundraiser could not have taken place without the coaches. We are extremely fortunate in Midleton GAA Club to have such an amazing group of coaches. The Super Pie winning coach was Andrew McCormack and Culann was on hand to help make this special pie, ensuring plenty of cream, chocolate sauce and sprinkles were added before he duly smashed the pie into Andrews face. The hour of pie slinging ended with a presentation of a Midleton Jersey to Culann by Cormac Quirke and Martin McSweeney on behalf of the Club. It was a great morning's fun in aid of a great cause.
As events don't organise themselves we would like to acknowledge all those who helped out on the day. Thanks to Mary Quinn for arranging the plates and cream, Ray Fitzgerald for the plastic which helped greatly with the clean up afterwards, to our pie makers Caroline Coughlan, Norma Quirke, Grainne O' Brien and Brid McSharry, Tracy Saunderson for looking after the parents pledges and to Susan Fitzgerald, Mairead Beausang, Grainne Murray and Sheila McSweeney for looking after the teas and coffee's and keeping the baskets topped up with fruit in line with our new healthy eating coffee morning policy.
Sincere thanks to our photographer on the day, Andrew Foley. He has ensured that all of the fun was captured in amazing photographs which can be viewed on the Club Website in the photo gallery section other-photos.
We are still collecting donations from people who unfortunately couldn't attend the event on Saturday morning so a final tally on all monies collected will be announced next week. We wish Culann Cashman and his family every good wish for the future and thank everyone for their generous contributions and support on the day.