Midleton GAA , Camogie & Ladies Football Club News
28 March, 2016
Junior A Football
Last Saturday afternoon our footballers lost out to Carrigtwohill by the narrowest of margins in the first round of the East Cork Championship in Killeagh.
Despite leading at the break by 0-05 to 0-02 we could not prevent a spirited fightback by Carrigtwohill. In the second half they outscored us by eight points to a goal and a point, the late deflected goal from Declan Ryan made for a nervy last few minutes but we failed to find an equaliser despite having a number of opportunity's.
We now face Carraig na bhFear in Round 2 to be played before the 9th of April.
Final score Midleton 1-06 v Carrigtwohill 0-10.
Team: Josh Deady, Luke Dineen, Sean Corcoran, Shane Ryan, Seanaidh Smyth, Peter Dowling, Seamus O'Farrell (0-01), Leslie Coughlan, Aidan Ryan, Padraig O'Shea, Declan Ryan (1-04, 4 frees) , Cormac Walsh, Cormac Beausang (0-01), Patrick White & Kieran Mulcahy. Subs Niall Madden, Brian Hartnett, Elliot Mulcahy, Billy O'Shea & Eoin Ferriter.

Minor Football
We were heavily defeated by Kilmurry recently in the Rebel Og Premier 2 Championship last Saturday afternoon in Delanys, we now face either Mallow or Glanmire in Round 2.
Final score: Midleton 1-01 v Kilmurry 2-12
Team: Liam Franklin, Temitayo Abdullah, Kevin Mulcahy, Conor Evans, Conor O'Neill, Eoin Mitchell, Jordan Roche, Ryan Mc Conville, Sean O'Meara, Ryan O'Regan (1-01), Padraig O'Brien, Adam Daly, Christian Daly & Cathal Gunning. Subs Arthur Nganou & Alan Power.

Intermediate Hurling
Last Sunday afternoon we played Douglas at home in the Division 4 County League and came away convincing winners on a scoreline of 2-17 to 0-11.
Due to the inclement weather the game was changed from Douglas at short notice, the conditions particularly the heavy sleet showers did not deter our lads from taking a commanding lead at halftime by 2-08 to 0-05. The second half was a tough battle for both teams with conditions worsening. We finished victorious on a scoreline of 2-17 to 0-11.
Team: Joe Loftus, Seanaidh Smyth, Declan Ryan, Adam Daly, Billy O'Shea, Seamus O'Farrell, Leslie Coughlan (0-02), Sean O'Farrell, Sean O'Meara, Mark O'Keeffe (0-01), Padraig O'Farrell (0-01), Padraic Nagle (0-01), Michael Abernethy (0-02, 1 free), Padraig O'Brien (2-02) & Cormac Beausang (0-07, 4 free's). Subs used Elliot Mulcahy, Niall Madden (0-01), Shane Ryan, Ryan Mc Conville & Eoin Ferriter.

Fixtures
2nd April East Cork Junior B Football Championship v Lisgoold in Ballinacurra @ 3pm
4th April Intermediate Hurling League v Na Piarsaigh at home @ 6.30pm
7th April Senior Hurling League v Bride Rovers at home @ 7.30pm
9th April or earlier East Cork Junior A Football Champ v Carraig na bhFear
16th April Senior Hurling League v Blackrock away @ 7pm
Senior Hurling 1916
Despite the disappointments of 1915 when our senior hurlers failed in the County semi-final there is evidence to suggest that they rallied, trained hard thereby reviving their confidence to achieve the ultimate. The political conditions of the time precluded all but the most important matches to be played. The Senior hurling team went into action on the 12th of March in the "Egan Cup Competition" at Carrigtwohill. In a hard fought game they defeated Collegians by 4-01 to 3-01.
Team: Jim O'Connell (capt), Dick Gorman, Dan Twomey, William Twomey, Thomas O'Connell, Michael Kearney, Tom Deasy, Jerh Egan, William Ahern, Dave O'Keeffe, Bertie Walsh, Jack Grandon, Patsy Kirby, Pats Cahill, Jimmy Ramsell, Paddy Mc Carthy, Gerald O'Shea and Tom Twomey.

Inter County Hurling
Cork will play Galway in the League relegation play off on Sunday afternoon next in Galway, best of luck to our players and selector Pat Hartnett.
Membership
Membership is due and can now be paid by Credit card. There will be a Monster Hamper raffle for fully paid up members who have paid by the deadline of the 31st of March.
Contact our membership Officer Terence McCarthy to arrange payment.

Easter Rising Concert
On Easter Sunday night last before a fine crowd a fantastic concert took place in the club to acknowledge the events of 1916. MC and chief organiser on the night was Charlie Mc Allister who oversaw the show from start to finish in his usual professional manner and sang us a number of songs throughout the evening.
The night began with County Councillor Noel Collins thanking the Gaa Club for the invitation and for acknowledging the events of the Easter Rising, he then read out the Proclamation. Séan Ó hArgáin formely of Knockgriffin and an avid historian gave a brilliant presentation on the events in Cork county during the Easter rising. Sean informed us that not a single shot was fired in Cork during Easter week but ironically he had a bullet on display on the night which was retrieved from the "AUD", the German gun running ship which was sunk in Cobh Harbour.
The night continued with former Tops of the Town contestant's returning to sing some of the songs synonymous with 1916. Helen O'Neill sang "The Minstrel Boy" and "Oro se do bheatha bhaile", Eimear Wall (Quirke) sang "Grace" and "She moved through the Fair", Maureen Laffan sang "Down by the Salley Gardens", Nancy O'Brien sang "Soldier Boy" and "Grá mo croí", Willie O'Brien sang "The Boys of the Old Brigade" and "James Connolly", Liam McCarthy sang "Carrigdhoun" and "Carrickfergus", Cathal Mc Allister sang "Only our Rivers Run Free" and The Green Fields of France", Steve O'Donoghue sang "The Dying Rebel" and "Meet me at the Pillar" and Barney McCarthy sang " On the road by the river that flows through Raheen".
In between the songs we had two brilliant performances from students of the Shevaun Hogan School of Drama. Ciara Cremin and Aoife Williams performed an act from the Séan O Casey play "The Plough and the Stars" and Vivienne Gleeson, Ellen O'Riordan and Aoife Mc Inerney recited poems and expertly dramatised an extract from Joe Duffy's book on 1916.
Great credit must go to our Irish & Cultural Officer Diarmuid Ó Dalaigh for the role he played in organising this event, Diarmuid recited the renowned poem by Pádraig Pearse " "The Wayfarer" and also told us the story of Sean Hurley late of Drinagh who was a neighbour of his family and the only Cork man to be killed in the Easter rebellion in Dublin.
The night was brought to a conclusion with all the participants taking to the stage to sing "Amhran na bhfiann".
Many congratulations to everybody involved in this historic production, the Club can feel very proud that this was the only event in the town to commemorate and acknowledge the events of the Easter Rising in 1916 !!
Many thanks to Pat Clohessy who provided the support music and to Kay, Doris, Alan, Liam, Marian, Mary and Jim for all their work in making this event possible.
Proceeds from the night will be donated to Marymount Hospital.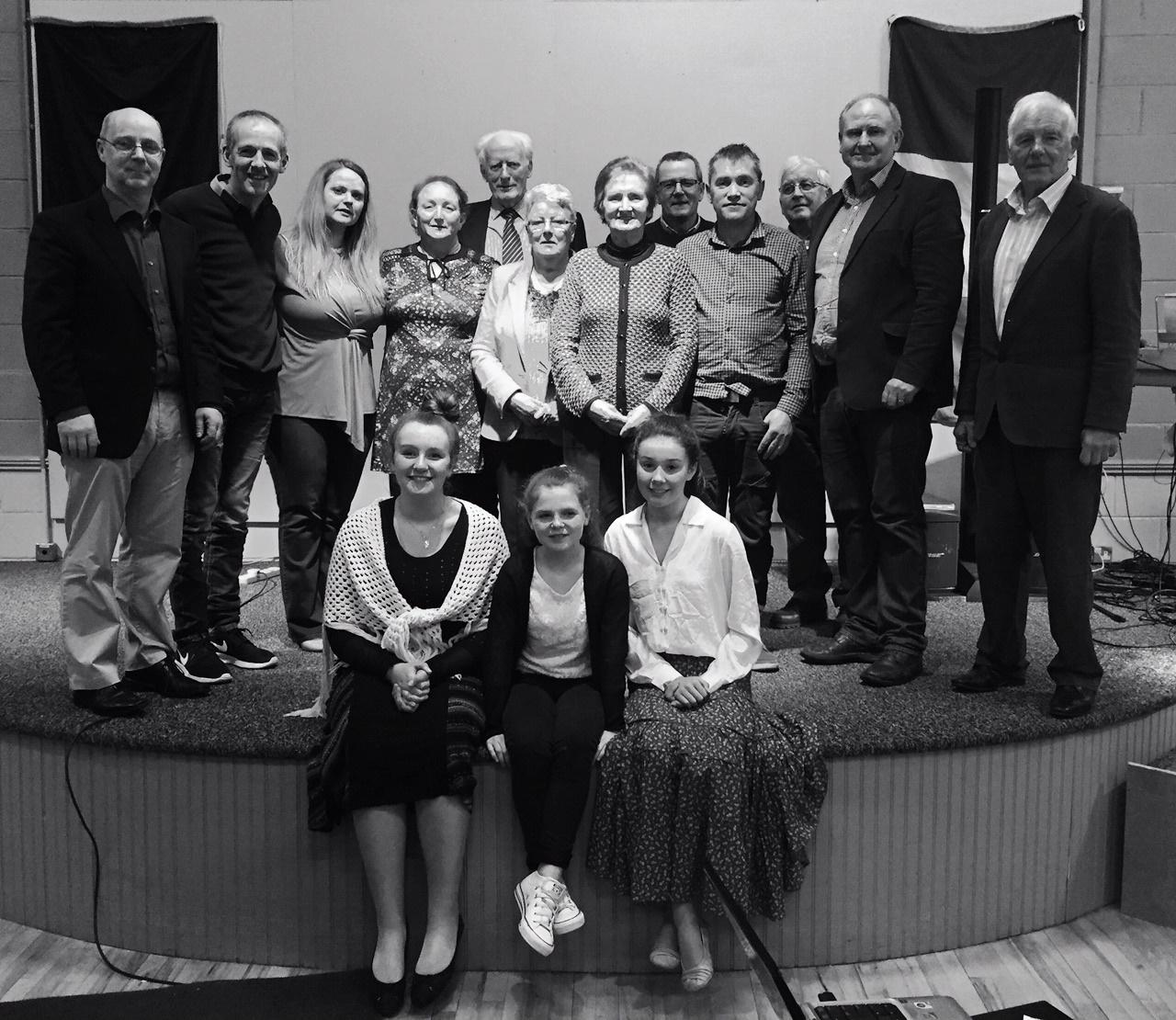 Irish & Cultural Events
Following on from the concert there will be Bilingual storytelling about 1916 on Saturday 9th of April in the Midleton Library @ 10.30am and an Irish night in the Club on Friday the 22nd of April, further details to follow soon.
Camogie
Training schedule for the coming week, as of next week we will resume outdoor training.
U 10 & U12 & U14: Tuesday evenings from 6pm -7pm at Midleton College all weather pitch. Under 6 & Under 8: Friday evenings @ 7pm -8pm at Midleton Community Centre. New members are welcome in all age groups, girls born 2010 up to age 15. Girls interested are welcome to come along to a training session to try it out ahead of registering/committing. For the younger age groups who are currently training indoors, indoor hurley's are provided. Helmets are essential and must be worn all times. They are available to buy in the club shop Sat mornings from 11-12. For further information contact Sheila on 087 6822916. Email midletoncamogiepro@gmail.com.
Follow us on facebook: Midleton Camogie and in the ladies section of midletongaa.com.

Ladies Football
In the U16 A East Cork League our girls travelled to Aghada and after a terrific game of football we came out on top on a scoreline of 5-09 to 3-09.
To put it simply it was a fantastic game of ball from two very committed teams. This was one of the best performances that this bunch of girls has produced since they started playing, and that says something. We travelled with 17 players and all played. The game started with us winning the ball from the throw in and storming into a 1-02 lead. We were camped in Aghada's side of the pitch for the first eight minutes. It took a while for Aghada to get into the game, but when they did, they stormed into the game, and from then on it was relentless stuff from one end of the field to another. There was great pace from both girls and at at the break only two points separated the teams.
The second half started the way the first half finished, at a blistering pace. It was hard to keep up. With five minutes, remaining we were leading by five points, in control andit looked like it was going to be our night. Aghada had other ideas, and struck us with a very well taken goal, and were unlucky not to get another. Our girls didn't panic and responded with a goal and two points in the last few minutes.
Great credit to both teams that gave both sets of animated and sometimes very vocal support-ers on a great night's entertainment.
Well done to the Midleton girls on a deserved win, this is our first win at this grade.
We have no regular goalkeeper, but once again Sarah stepped up and volunteered. Sarah's kick outs were the launching pad for our daunting runs into the Aghada half of the field. In front of Sarah The three full backs Aoife, Claudia and Ciara defended tenaciously and our new look half back of Molly, Roisin and Rhea, were the backbone of the team and played great football, Deirdre drifted back and offered them the support to drive forward at every opportunity.
With Ali and Abby lording it at midfield, they created the link that joined the backs play with the forwards, Ali taking a more defensive role and Abby an attacking one.
In attack our forwards performed extremely well, led by Kari from the center and gamely supported by Keri outside her on the wing. Orla, Rayanna and Laura were a handful for the Aghada girls to deal with. The introduction of Ellen and Clodagh at half time, Ellen in the back line and Clodagh in the forwards worked well with both girls putting in a great shift.
Great result girls, I'm sure everyone was tired after a fantastic team performance.
Hard luck to the Aghada girls and thanks for your hearth and commitment in making this a great sporting game.
It was a spirited performance all round, with heroes all over the pitch at different stages of the game. Thanks to all the supporters on a fine night in Aghada.
Panel: Abby Quirke(3-02), Aoife Franklin, Ciara Stack, Claudia Kearney, Deirdre Corcoran, Kari McEvoy(1-01), Kerri Brosnan, Laura O'Leary, Molly Beausang, Orla Fleming(0-04), Rayanna Power, Rhea Buckley, Roisin O'Callaghan, Sarah Murphy (Captain), Clodagh Finn(1-02), Ali Smith, Ellen Ryan.
All groups are on a break for the Easter Holidays but outdoor training will return on Monday April 4th. We will commence our training in Midleton Rugby Club.
U8's will now train from 6.30 to 7.30pm. Please note the change in time.
U10's to U16's and our Junior Ladies will train from 7-8 pm.
We look forward to seeing all our groups back in action.
Registration for the coming year is now due. Forms will be available to collect from Team Mentors at training on Monday Night or you may download your form from the Ladies Foot-ball Section on the Midleton Gaa website.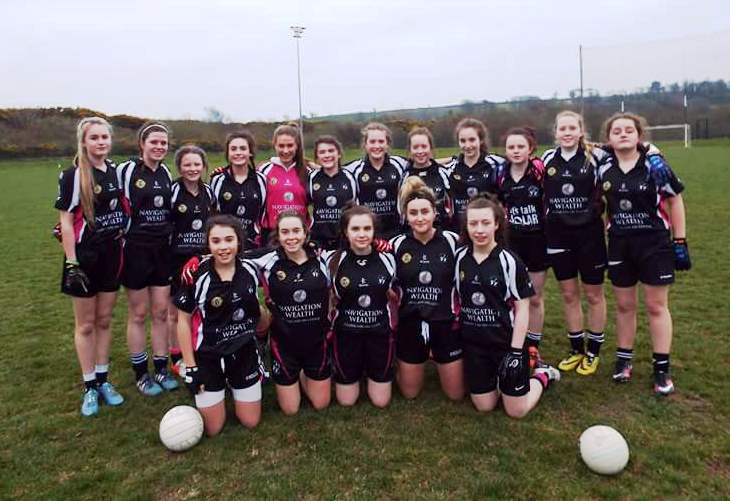 Lotto
Our Lotto Jackpot was €5,000, there was no winner, the numbers were 3,17,22 & 28, the lucky dip winners were Kay Barry, Olive Maguire, Bernie Kearney, Mairead/Pa Beausang & Eileen Lehane, next week's Jackpot will be €5,200. Tickets are on sale at the Club Bar, O 'Neills Bar, Linehan's Bar, Maple Leaf Bar, O' Farrell's Butchers, Frank Murphy Butchers, Pat Walsh Paints, Chadwicks, Teach Beag & Niall Mac's Bars.

BINGO takes place each Friday evening at 8pm in the GAA Pavilion with a weekly guaranteed Jackpot of €1,000 on 52 calls.
Club Shop
The shop will be open each Saturday morning from 10 to 12 at the Club.
Fe12
Premier 2 Football League Midleton 1-08 v St Nicks 0-02
What a difference a week makes!! One training session midweek worked on a few improvements that led to our lads putting in a formidable winning performance at home on Saturday against St Nick's last Saturday week, with an increasingly attractive brand of Wicklow type football!
The victory was based on a solid defence with Fionn Dalton and Riain Barry shining, and Conor Newcombe outstanding throughout. Between the sticks, Brian O'Connell had a clean sheet but earned it with a couple of fine saves to keep out the St Nick's forwards. Up front, David Cremin, Mickey Finn and Sean Fraser combined well and were rewarded when some nice touches resulted in Mikey finding the back of the net to put us 1-3 to 0-1 up at half time.
In the second half Tiarnan Roche continued his runs up the right wing and picked off a few fine points, exchanging passes with Alex Moloney and Eoin McGrath. Conor O'Shea started in midfield but became a big threat when he returned to his favoured forward position, linking up well with both Cian Lambe and Daniel Coffey to trouble the St Nick's defence. Our own defence was solid for all the second half where the ever improving Odhran Prenter, David Green and Cathal Beausang were all prominent.
Once again our forwards worked hard and Daire Scanlon, Ashley O'Meara, Niall Lang and Caolan Dennigan giving the St Nick's backs plenty of problems. This was a great victory and an impressive performance on the day.
Panel on the day from: Brian O'Connell, Riain Barry, Fionn Dalton, Tiarnan Roche, Odhran Prenter, David Cremin, David Green, Alex Moloney, Eoin McGrath, Niall Lang, Cian Lamb, Daniel Coffee, Cathal Beausang, Conor O'Shea, Mikey Finn, Ashley O'Meara, Conor Newcombe, Sean Fraser, Caolan Dennigan.
Premier 2 Football League Glanmire 6-07 v Midleton 1-08
Last Saturday we travelled away to Glanmire on Saturday with an understrength team and a lot of regulars unavailable. We started the game brightly and had Glanmire worried for a period with some quick taken scores but they grew in confidence and started to get a hold on the game. Glanmire scored a number of goals in the first half that we never recovered from and at half time we were 4-5 to 1-1 down. However, we stuck at it throughout the second half, and continued to have as much possession as the opposition but failed to convert. Should we have taken some of our chances we may have narrowed the gap, but we have plenty of things to work on for this weeks training.
Panel on the day from: Fionn Dalton, Tiarnan Roche, David Cremin, Alex Moloney, Eoin McGrath, Niall Lang, Cian Lamb, Daniel Coffee, Cathal Beausang, Conor O'Shea, Mikey Finn, Sean Fraser, Caolan Dennigan, Dara Scanlon, Tadhg Bohan & Diarmuid Murphy.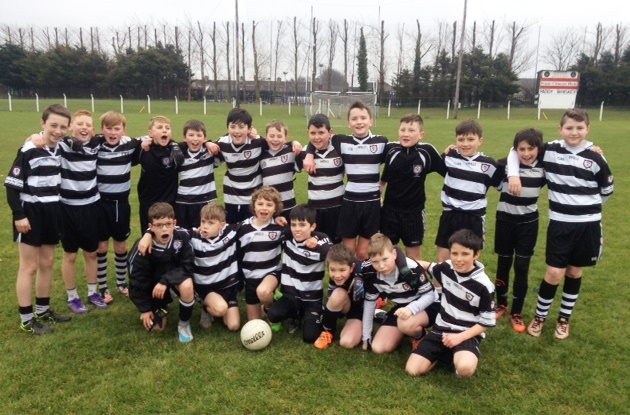 Fe 13
Easter Monday afternoon saw us play our second Premier 1 Football League game of the season. After losing our first game by a point to Glanmire the players were keen to get back on track. Conditions were perfect for our first home game of the year. We started well and had the majority of possession in the first ten minutes. It was great to convert the possession to scores. After 15 minutes we were 1-02 to 0-00 to the good. The first goal coming at the end of a free flowing movement which was started and finished by Dara Codd. The second goal was scored by Ben O'Neill when he gathered the ball on the edge of the square and slotted it to the net with his left leg just before half time. The young Magpies went in a half time leading by 2-03 to 0:02. Rory Hartnett, Alex Quirke and Niall Corcoran were the point scorers. We started very strong in the second half but failed to score during this dominance. As expected Carrigaline came back into the game with two quick goals but once Alex Quirke scored our third goal the result was never in doubt. Midleton finished very strong with points from Cian Murray, Alex Quirke and Rory Hartnett. Some great performances were on display from the Midleton team. The full back line of James O'Sullivan, Fenton Greenwood and Evan McCarthy were excellent. Dara Codd, Niall Corcoran and Ciarmhac Smyth covered a lot of ground around the middle of the field. Alex Quirke and Adam Fay contributed handsomely to the win. It was great to see Cian Murray, Ben O'Neill, Rory Hartnett and Evan Kelly work there socks off.
Final score: Midleton 3-06 v Carrigaline 2-02.
Panel: B Saunderson, J O'Sullivan, F Greenwood, E McCarthy, A Fay, A Quirke, D Codd, N Corcoran, C Smyth, K Barry, C Murray, K Rollins, B. O'Neill, R Hartnett, E Kelly, J. Condon, D Mooney, T Lambe, L McGrath, S. Bohan & N Fitzgerald.

Fe 14
Result Midleton 0-05 v Mallow 5-04, this was our third match in the Rebel Og Premiere 2 (2) grouping which took place at home last Saturday. As the scoreline shows we were lacking the ability to score goals and lost out to the better team on the day. With Feile football fixed for next weekend this group of lads will dig deep and show a good of account of themselves.
Feile Football is fixed for next weekend, Saturday 2nd April. We are in action in Group 2 in Carrigaline. The match fixtures are outlined below;
Pitch One Pitch Two
11.00 am Carrigaline v Éire Óg St. Nicholas v Wolfe Tones
Midleton Bye
11.45 am Wolfe Tones v Carrigaline St. Nicholas v Midleton
Éire Óg Bye
12.30 pm Midleton v Wolfe Tones Éire Óg v St. Nicholas
Carrigaline Bye
1.15 pm Wolfe Tones v Éire Óg Midleton v Carrigaline
St. Nicholas Bye
2.00 pm Éire Óg v Midleton Carrigaline v St. Nicholas
Wolfe Tones Bye
All Group games will be twelve minutes a side with a six minute half time interval.
Feile na nÓg semi finals-
Sunday 3rd April 2016 Togher @ 5.00 pm
Pitch One - Winner Group 1 v Winner Group 3, Pitch Two - Winner Group 2 v Winner Group 4
Sunday 3rd April 2106 Final @ Togher @ 6.00 pm - Pitch One
Winner Group 1 / Winner Group 3 v Winner Group 2 / Winner Group 4
Semi Finals and Final will be 15 minutes aside.

Juvenile Easter Camp
The Juvenile club will run a two-day Easter GAA camp this year. HOW TO BOOK A PLACE: Please text Cormac Quirke on 0860783365 giving CHILDS NAME and TEAM MANAGERS name and confirm if attending on one or both days. Details if you wish your child to attend are : • Venue: Midleton GAA club • Date: March 29th & 30th • Time: 11 -2 pm • Cost: €10 per child per day and €5 euro for each subsequent child per day to be paid each morning of attendance. • Payment: Each morning on arrival at sign in. • What to Bring: Hurley, Helmet, Gum shields, packed Lunch, Raingear, Football Boots and runners.
In the event of rain we have access to club hall and ball alley. It is vital that both football boots and runners are brought. All children MUST be signed in with a guardian in attendance each morning AND be collected from club grounds at the end of each session.

Pie In The Face Fundraiser in aid of Culann Cashman
At 11am On Saturday the 9th of April we are holding a fundraiser in aid of Culann Cashman. The Midleton Juvenile coaches will take to their seats for a pie in the face. For a small donation Young Magpies can toss a pie in the face of their favourite coaches. We haven't forgotten about the adults either, adults and fellow Coaches can pledge donations against the coaches taking part. The 'winning coach', the coach with the most money pledged against them will win the 'super pie' in the face, which will be tossed by Culann himself. All welcome, please come out and support this very worthy cause. www.culannwantstowalk.com

Child Protection Courses
A reminder to those coaches who have yet to complete the Child Protection Awareness Course to book a place with Ingrid Connaughton on either Monday the 11th of April or Monday the 25th of April. Kindly email Ingrid Connaughton, Email: ingridoriordan@gmail.com or text Ingrid on 087 6374748 to book your place on one of these courses.