Midleton GAA , Camogie & Ladies Football Club News
20 March, 2016
Senior Hurling
Our Senior hurlers had a very good win over Youghal in Copperalley on St Patrick's day, despite being behind at halftime by 1-08 to 0-09, we drive on with the aid of the wind in the second half to win by 1-09 to 1-16.
Team: Tommy Wallis, Seanaidh Smyth, Aylwin Kearney, Billy O'Shea, Declan Ryan, Finbar O'Mahony, Seamus O'Farrell, Padraig O'Farrell (0-01), Leslie Coughlan, Aidan Ryan (0-02), Padraig O'Shea (0-01), James Nagle (0-01), Brian Hartnett (0-02), Peter Dowling (1-00) & Patrick White (0-09 4 frees). Subs Padraig O'Keeffe, Padraic Nagle, Luke Dineen, Liam Franklin, and Cormac Beausang.
On Saturday last our senior hurlers had a comfortable win over Sars at home. The first half was a low scoring affair with an opportunist goal from Padraig O'Farrell giving us the lead at the break by 1-05 to 0-04. In the second half despite making a lot of changes we held the momentum and finished up winners by 2-16 to 0-11.
Team: Tommy Wallis, Seanaidh Smyth, Patrick O'Mahony, Cillian Hurley, Declan Ryan, Finbar O'Mahony, Seamus O'Farrell, Padraig O'Farrell (1-00), Leslie Coughlan, Patrick White (1-02), Aidan Ryan (0-02), James Nagle (0-01), Brian Hartnett (0-01), Padraig O'Shea & Cormac Walsh (0-09, 8 frees). Subs Padraig O'Keeffe, Luke Dineen, Sean O'Farrell, Mark O'Keeffe, Elliot Mulcahy, Sean O'Meara and Cormac Beausang (0-01).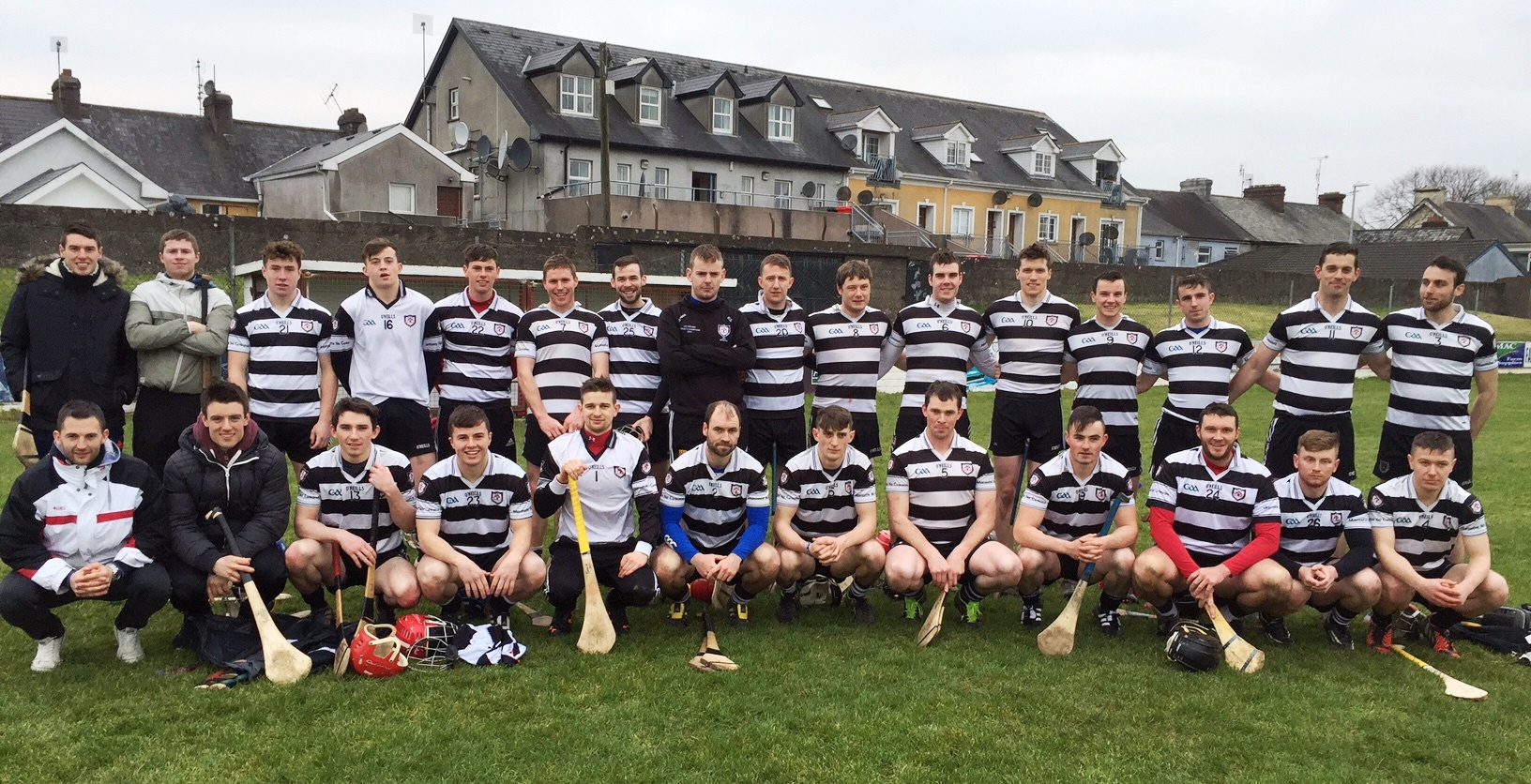 Junior A Football
Best of luck to our our footballers who take on Carrigtwohill in the first round of the East Cork Championship next Saturday in Killeagh @ 4.30pm.

Minor Football
We were narrowly defeated by Glanmire recently in the Premier 2 League by 1-03 to 1-05.
Team: Liam Franklin, Cormac O'Brien, Conor Evans, Alan Power, Conor O'Neill, Eoin Mitchell, Mark daly, Eoin Moloney, Sean O'Meara, Adam Daly, Padraig O'Brien, Ryan O'Regan, David Mulcahy, Christopher Power & Cathal Gunning. Subs used Andrew Nestor, John O'Dwyer & Evan O'Meara.
Next Saturday our footballers take on Kilmurry in the Rebel Og Premier 2 Football Championship, the venue is yet to be decided.

Inter County Hurling
We were well represented on the Cork senior hurling team who were defeated by Tipperary 2-27 to 2-15 last Sunday in Thurles by Conor Lehane (0-03) centre forward, Luke O' Farrell (0-01) corner forward, Killian Burke corner back, Paul Haughney (0-01) and Pat Hartnett selector. Cork will play Galway now in the League relegation play off at a Galwat venue on the weekend of the 2/3rd of April.
Stress Control Course
In conjunction with our Healthy Club group and Jennifer Hayes of the HSE South the last in the series of Stress Control courses will take place in the Midleton Park Hotel next Monday morning from 10 am - 11.30 am.

Membership
Membership is due and can now be paid by Credit card. There will be a Monster Hamper raffle for fully paid up members who have paid by the deadline of the 31st of March.
Contact our membership Officer Terence McCarthy to arrange payment.

Gaa Golf Society
Our Easter Hamper will take place on Saturday next March 26th from 12 to 1pm at East Cork Golf Club (Sponsored by Mr. Bernard Cashman, Cashman Car Sales).
Mr. Gary Johnson's Captains Prize will take place on Thursday May 5th, shotgun start, 5pm, at East Cork Golf Club.
Membership for the year is just €20, GAA players are free. New members are very welcome. We would encourage existing members to bring along a new member with them.
Committee: Gary Johnson (captain), Pat Hayes, Jim O Sullivan, Paudie O' Keeffe, Tom Mintern, Don McFarlane, John Droog, Hans Bauman & Conor O Brien.

Camogie
While the majority of girls had a well deserved break over the winter months some girls were taking part in trials for both Imokilly and Cork! Well done to all of the girls who participated in trials at U13, U14 & U15 age groups, you have done yourselves and the club proud. Congratulations to Lucy Wallace who was selected for the U15 Imokilly panel and Vivienne Gleeson who was selected for the U13's. The club is also represented on the Cork U13 panel by Leah Hogan & by Ali Smith on the Cork U14 panel, well done girls!! The fact that Midleton players are represented on both Imokilly & Cork panels across all age groups demonstrates the quality and high standard of players in the club which is an outstanding achievement in the club's short existence.
Training U 10 & U12 & U14: Tuesday evenings, 6pm -7pm, Midleton College All Weather Pitch. Under 6 & Under 8: Friday evenings, 7pm -8pm, Midleton Community Centre, (no training this Friday – Good Friday).
New members are welcome in all age groups, girls born 2010 up to age 15. Girls interested are welcome to come along to a training session to try it out ahead of registering/committing. For the younger age groups who are currently training indoors, indoor hurley's are provided. Helmets are essential and must be worn all times. They are available to buy in the club shop Sat am 11-12. For further information contact Sheila on 087 6822916. Email midletoncamogiepro@gmail.com. Follow us on facebook: Midleton Camogie and in the ladies section of midletongaa.com.

Ladies Football
Our U8 Girls are on their Easter break. They will return to training on April 4th were they will commence outdoor training in Midleton Rugby Club from 6.30 to 7.30pm.
All groups from U10 up to U16 will return to the Rugby Club from 7-8pm on that night also.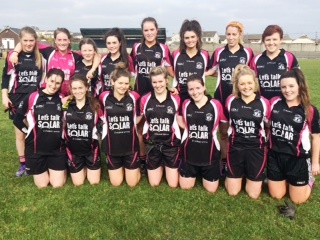 Junior Ladies Midleton v Naomh Abán Division 2A League.
Our Junior Ladies played in their first league game at home to Naomh Abán on Sunday 20th March. From the off we are a disadvantage as we only had 14 & Naomh Abán unsporting played 15 but the girls worked very hard, supporting on another and we went into half time 4 points up. We recruited Sadhbh Beausang for the second half so we had 15 on 15 but the hard work and energy spent in the 1st half started to show and before we knew it Naomh Abán had banged 2 goals into the back of the net. The girls kept plugging away and brought the score back to within a point but unfortunately time was not on our side. Julia Cashman was outstanding in goals for us and she was supported by the backs. The girls put on a fantastic display and worked hard for each other but in order to win games we need to have a full team. Naomh Abán had fresh legs to call on when tiredness set in & we did not. Onwards & upwards for next game – keep up the good work girls!!
Final score Midleton 3-11 Naomh Abán 4-9
Team: Julia Cashman, Laura O'Keeffe, Molly Beausang, Olivia Walsh, Deirdre Corcoran, Lucy Lawton, Clare O'Mahony, Claire O'Brien, Orlagh Farmer, Zoe McEvoy, Ciara McGrath, Ciara O'Doherty, Laura O'Leary, Abby Quirke & Sadhbh Beausang.
Many thanks to Mary Quinn who was on hand to help while we provided the travelling team with refreshments after the game. As always it is very much appreciated.

Easter Sunday Concert
On Easter Sunday night a concert will take place in the Gaa club at 8pm with former Tops of the Town contestant's returning to sing some of the songs synonymous with 1916.
Helen O'Neill, Eimear Wall (Quirke), Maureen Laffan, Nancy O'Brien, Willie O'Brien, Liam McCarthy, Cathal Mc Allister & Barney McCarthy will all perform their favourite songs. There will also be some recitation and poetry taking place from young girls Vivian Gleeson, Ciara Cronin & Aoife Williams. Historian Sean Horgan will oversee these events on the night. Music will be by Pat Clohessy, everybody is welcome to attend this event and any funds from the night will be presented to a local charity.
Lotto
Our Lotto Jackpot was €4,800, there was no winner, the numbers were 2,11,20 & 25, the lucky dip winners were , Kathleen Crotty, C Desmond, P McCarthy (Cloyne), M De Barra (Cobh) and W O' Donoghue (Saleen), next week's Jackpot will be €5,000. Tickets are on sale at the Club Bar, O 'Neills Bar, Linehan's Bar, Maple Leaf Bar, O' Farrell's Butchers, Frank Murphy Butchers, Pat Walsh Paints, Chadwicks, Teach Beag & Niall Mac's Bars.

BINGO takes place each Friday evening at 8pm in the GAA Pavilion with a weekly guaranteed Jackpot of €1,000 on 52 calls, congrats to Marian Ryan who won last weeks Jackpot.

Club Shop
The shop will be open each Saturday morning from 10 to 12 at the Club.

Fe 13
Midleton 5-11, Kiltha Og 1-10, our first hurling outing of the year was an away match to Kiltha Og on Saturday last 19th of March. We're coming off a good year last year and the plan is to continue to develop and maintain the progress we have been making over the last few years. Saturday was a dry cold spring afternoon in Castlemartyr and this made for perfect conditions for the game. The young Magpies started strongly and in the first ten minutes had put over a couple of points and also registered a Dara Codd goal. Midleton were finding their rhythm and continued to pick off some nice scores. Further goals by Rory Hartnett, Darragh McCarthy and Alex Quirke were complimented by some great points, mainly from the hurlies of Alex Quirke and Darragh Mc Carthy. The second half proved to be a different game. Kiltha Og found their feet a bit more and scored a number of points without a reply from Midleton. But another Darragh McCarthy goal put the result beyond doubt. This was an ideal game to start our season off and many thanks to the parents, players and mentors who helped out on the day. The final score was Midleton 5-11, Kiltha Og 1-10.
Panel: B Saunderson, J O'Sullivan, F Greenwood, E McCarthy, D McCarthy, K Barry, C Murray, C Smyth, R Hartnett, J Spellman, C Collins, A. Quirke, J. Condon, A Fay, D Mooney.
St Patrick's Day Parade
Our Underage players across Midleton Camogie, Midleton Ladies Football and Midleton Hurling and Football Club took park in the Midleton St. Patrick's Day Parade on March 17th. They were a credit to themselves, their parents and the club. We would like to thank all those parents and mentors who accompanied them in the parade.

Juvenile Flag Day
Many thanks to Hurleys SuperValu and all their customers for supporting our Flag Day on Saturday last the 19th March. We would also like to thank all those who helped on the day with the collection. This event as in previous years was a great success and will contribute greatly to the running of the Juvenile section of the club.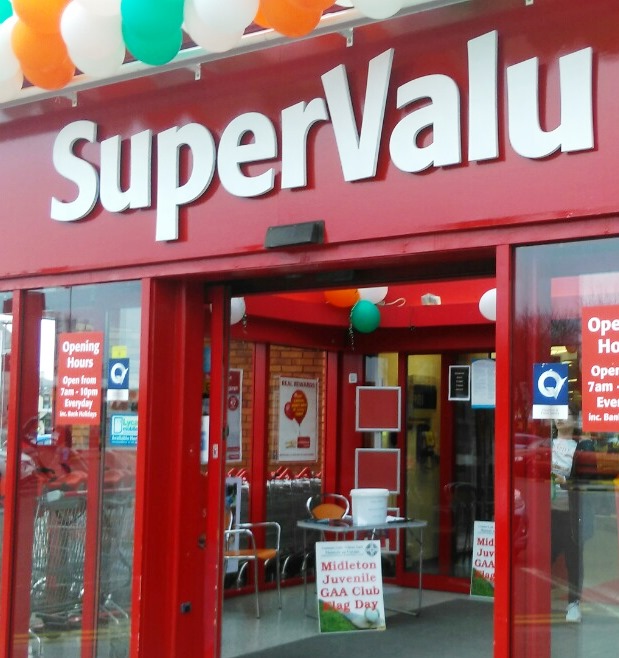 Juvenile Easter Camp
The Juvenile club will run a two-day Easter GAA camp this year. HOW TO BOOK A PLACE: Please text Cormac Quirke on 0860783365 giving CHILDS NAME and TEAM MANAGERS name and confirm if attending on one or both days. Details if you wish your child to attend are : • Venue: Midleton GAA club • Date: March 29th & 30th • Time: 11 -2 pm • Cost: €10 per child per day and €5 euro for each subsequent child per day to be paid each morning of attendance. • Payment: Each morning on arrival at sign in. • What to Bring: Hurley, Helmet, Gum shields, packed Lunch, Raingear, Football Boots and runners.
In the event of rain we have access to club hall and ball alley. It is vital that both football boots and runners are brought. All children MUST be signed in with a guardian in attendance each morning AND be collected from club grounds at the end of each session.

Rebel Og Injury Prevention/Warm Up Workshop – March 21st Nemo Rangers at Nemo Rangers GAA Complex 7.30pm -9,30pm Mon 21st March
Much research has been undertaken in recent years with regard to the effectiveness of warm ups. The warm up you will see at this workshop has been designed and researched with evidence to prove that the exercises will reduce occurrence of injuries in players once implemented over a period of time. The exercise technique is critical to the successful implementation of this Programme. It is designed for training sessions with a modified version to do before matches. Following on from our strength and conditioning workshops held in conjunction with UCC Science Department we are pleased to announce details of workshops which deal specifically with pre training (warm up) activities as opposed to formal strength and conditioning work. All clubs should get coaches of youth & adult players from their clubs to one of our workshop venues. Coach :Dr Declan Bowler, Liam O Reilly & Willie Frawley, Date : Mon 21st March, Venue :Nemo Rangers GAA Complex, Time : 7.30pm – 9.30pm, Cost : €10.00
http://www.rebelog.ie/news/372581/rebel_og_coaching_workshops-next_monday_night

Pie In The Face Fundraiser in aid of Culann Cashman
At 11am On Saturday the 9th of April we are holding a fundraiser in aid of Culann Cashman. The Midleton Juvenile coaches will take to their seats for a pie in the face. For a small donation Young Magpies can toss a pie in the face of their favourite coaches. We haven't forgotten about the adults either, adults and fellow Coaches can pledge donations against the coaches taking part. The 'winning coach', the coach with the most money pledged against them will win the 'super pie' in the face, which will be tossed by Culann himself. All welcome, please come out and support this very worthy cause. www.culannwantstowalk.com
Child Protection Courses
A reminder to those coaches who have yet to complete the Child Protection Awareness Course to book a place with Ingrid Connaughton on either Monday the 11th of April or Monday the 25th of April. Kindly email Ingrid Connaughton, Email: ingridoriordan@gmail.com or text Ingrid on 087 6374748 to book your place on one of these courses