Midleton GAA , Camogie & Ladies Football Club News
13 March, 2016
Senior Hurling
Our Senior hurlers had a very good win over Erins Own away last Sunday afternoon in Caherlag. This latest victory keeps us on top of the Red FM League table.
Final score Erins Own 1-13 v Midleton 2-14.
Team: Tommy Wallis, Seanaidh Smyth, Aylwin Kearney, Sean O'Meara, Patrick O'Mahony (0-01), Finbar O'Mahony, Declan Ryan, Seamus O'Farrell (0-01), Padraig O'Farrell (0-01), Cormac Walsh (0-02), Padraig O'Shea, James Nagle (0-02), Brian Hartnett (1-02), Peter Dowling (1-02) & Patrick White (0-03). Subs Cillian Hurley, Padraic Nagle, Luke Dineen, Liam Franklin, Adam Daly, Billy O'Shea and Cormac Beausang.
Our next League games are Thursday 17th v Youghal away @ 12 and Saturday 19th v Sarsfields at home @ 4.30pm.

Intermediate Hurling
Our hurlers had a great away win over Dungourney last Saturday evening despite trailing by 0-05 to 0-09 at halftime. The second half was very competitive and with ten minutes to go a well worked goal scored by Brian O'Sullivan proved vital in securing this victory.
Final score: Dungourney 0-15 v Midleton 1-13
Team: Joe Loftus, Adam Daly, Declan Ryan, Seanaidh Smyth, Seamus O'Farrell, Luke Dineen, Sean O' Meara, Leslie Coughlan, Padraig O'Farrell, Padraic Nagle, Padraig O'Shea, Sean O'Farrell, Padraig O'Brien, Brian O'Sullivan & Michael Abernethy. Subs used Billy O'Shea and Andrew Rea, not used Eoin Ferriter and Bryan Rossiter.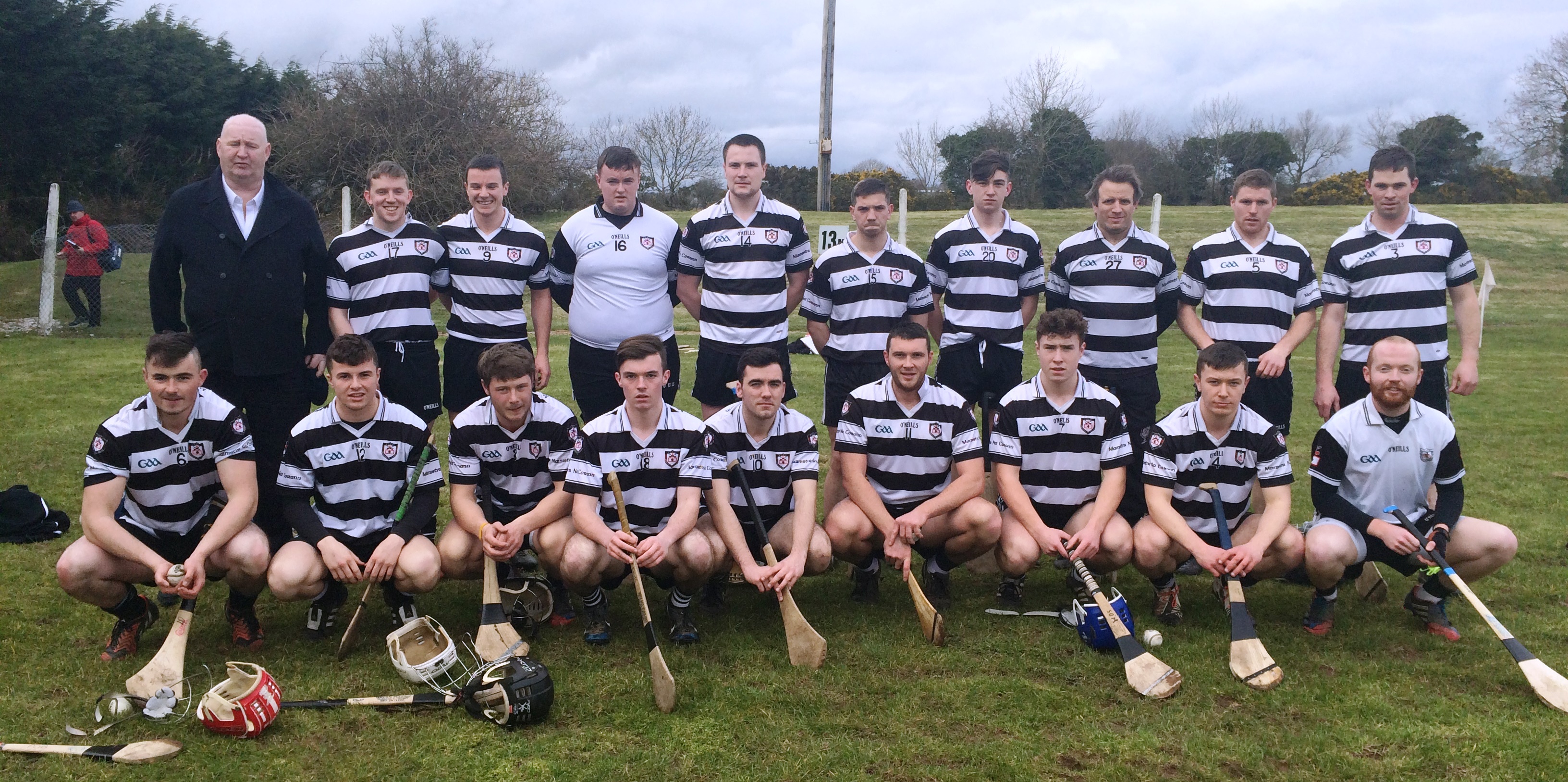 Fe 21 County Premier Hurling Championship
In the inaugural open draw of the above Championship we were drawn to play Carrigaline and the losers of our game will play the losers of St Finbarr's or Blarney in round 2.

Inter County Hurling
A heart breaking last minute winner by John Power of Kilkenny denied Cork a share of the soils before a crowd of over 8,000 at Pairc Ui Rinn on Saturday evening last. Cork led at the break by 1-12 to 0-11 but the Cats quickly pegged them back ten minutes into the second half scoring five points without reply. In the end a very late point from Conor Lehane looked to have sealed a draw only for the late late drama. Final score Cork 2-22 to Kilkenny 2-23.
We were well represented by Conor Lehane (0-06, 1 free) centre forward, Luke O' Farrell (0-01) corner forward, Killian Burke corner back, Paul Haughney (0-01) making his full debut at midfield and Pat Hartnett selector.
To mark the anniversary of 1916 Cork played in Blue and Gold the colours worn by Cork teams 100 year ago. In 1913 JJ Walsh then President of the Cork County Board chose the blue jersey with a large saffron letter "C" across the chest. It is believed that he saw these colours on the officers of the Belgian Army when the Cork Hurling team played Tipperary in Mechlin, Belgium in as exhibition game as part of the 1912 Celtic Congress. Cork teams wore this jersey until 1919.
It was noteworthy that in Saturdays match program Tom Morrison recalls a league game 70 years ago between Cork and Kilkenny played in Nowlan Park in 1946, Cork won on a scorleine of 5-06 to 4-03. On a team which included Christy Ring was Eamonn Cleary of Midleton at mid field, father of former club players John, Pat, Edser and Anto.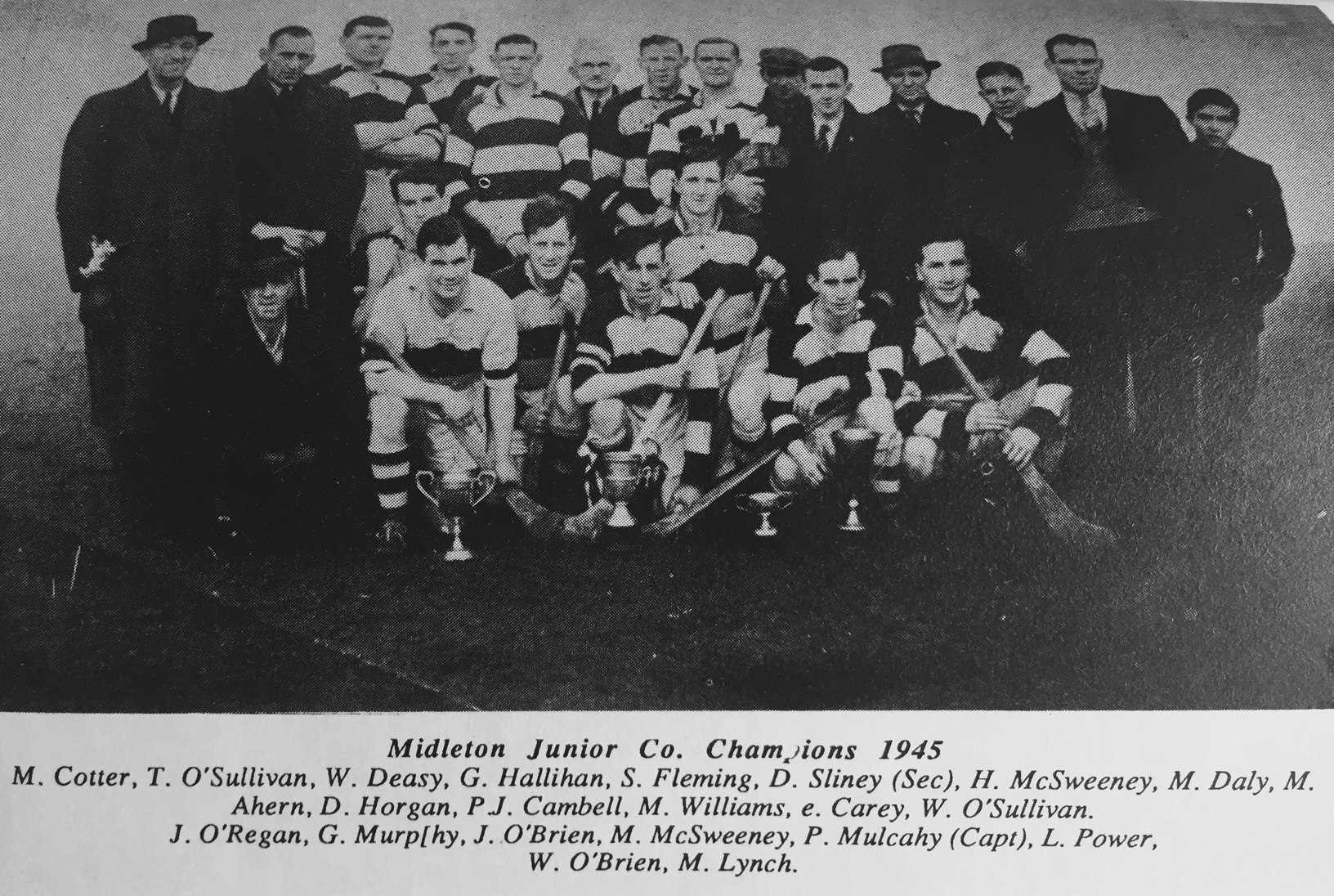 All Ireland Club Final
We would like to wish our great friends in Cushendal Ruairi Og, Antrim the very best of luck in the Club Hurling final on St Patricks day against Na Piarsaigh in Croke Park. It's a first final for both clubs and victory for either will be a remarkable achievement. Since our travels north to the "Glens" of Antrim back in February 1988 for the All Ireland Club semi final we have forged a great relationship with the Cushendall club. Many friends of ours are involved or have sons playing on St Patrick's day, to name just a few Sambo Mc Naughton, Jackie Carson and Chairman Brian Kearney.
We must not forget that we also have a connection with the Na Piarsaigh club with former club player Dave Boylan's sons Jerome and Conor both part of their panel and are also current members of the very successful Ard Scoil Rís school hurling team.

Stress Control Course
In conjunction with our Healthy Club group and Jennifer Hayes of the HSE South the last in the series of Stress Control courses will take place in the Midleton Park Hotel next Monday morning from 10 am - 11.30 am.

Membership
Membership is due and can now be paid by Credit card. There will be a Monster Hamper raffle for fully paid up members who have paid by the deadline of the 31st of March.
Contact our membership Officer Terence McCarthy to arrange payment.

Gaa Golf Society
Our Easter Hamper will take place on Saturday March 26th from 12 to 1pm at East Cork Golf Club (Sponsored by Mr. Bernard Cashman, Cashman Car Sales).
Mr. Gary Johnson's Captains Prize will take place on Thursday May 5th, shotgun start, 5pm, at East Cork Golf Club.
Membership for the year is just €20, GAA players are free. New members are very welcome. We would encourage existing members to bring along a new member with them.
Committee: Gary Johnson (captain), Pat Hayes, Jim O Sullivan, Paudie O' Keeffe, Tom Mintern, Don McFarlane, John Droog, Hans Bauman & Conor O Brien.

Camogie
Midleton Camogie training is as follows; Under 10, Under 12 & Under 14: Tuesday evenings 6pm -7pm at Midleton College All Weather Pitch
Under 6 & Under 8: Friday evenings 7pm -8pm at Midleton Community Centre.
New members are welcome in all age groups, girls born 2010 up to age 15. Girls interested are welcome to come along to a training session to try it out ahead of registering/committing. For the younger age groups who are currently training indoors, indoor hurley's are provided. Helmets are essential and must be worn all times. They are available to buy in the club shop. For further information contact Sheila on 087 6822916. Email midletoncamogiepro@gmail.com. Follow us on facebook: Midleton Camogie and in the ladies section of midletongaa.com.
Midleton Camogie will take part in the St Patricks day parade again this year, a text will be sent to all groups with further details. Children must be collected from the GAA Club after.
Ladies Football
We are holding a Fun Bingo Night on Sunday evening March 20th at 7pm in the Gaa Club. All are welcome to attend. A great fun night is in order.
Junior 13 aside challenge v Aghada
Great work out this morning girls. It was a worthwhile game with both teams fielding 13. Aghada were the stronger in the first half scoring 3:5 to our 1 point. However in the 2nd half we greatly improved and scored 1:1 to Aghada's 2 points. Great work effort by all, well done.
Team: Abby Quirke, Kari McEvoy, Dionne Carroll, Laura O Leary, Caoimhe Morrison, Kate-Mary Cullinane, Lisa Kate Ahern, Ciara O' Doherty, Laura Ní Chaoimh, Claire O Brien, Lucy Lawton, Clare O Mahony & Ciara McGrath.
Training continues for all ages on Monday nights. U8's are in the Community Centre from 6-7pm. U10's to U16's are at the Hockey Pitch from 7-8 pm. Registration will be due soon for all ages. Team Mentors will be informing all girls of details soon.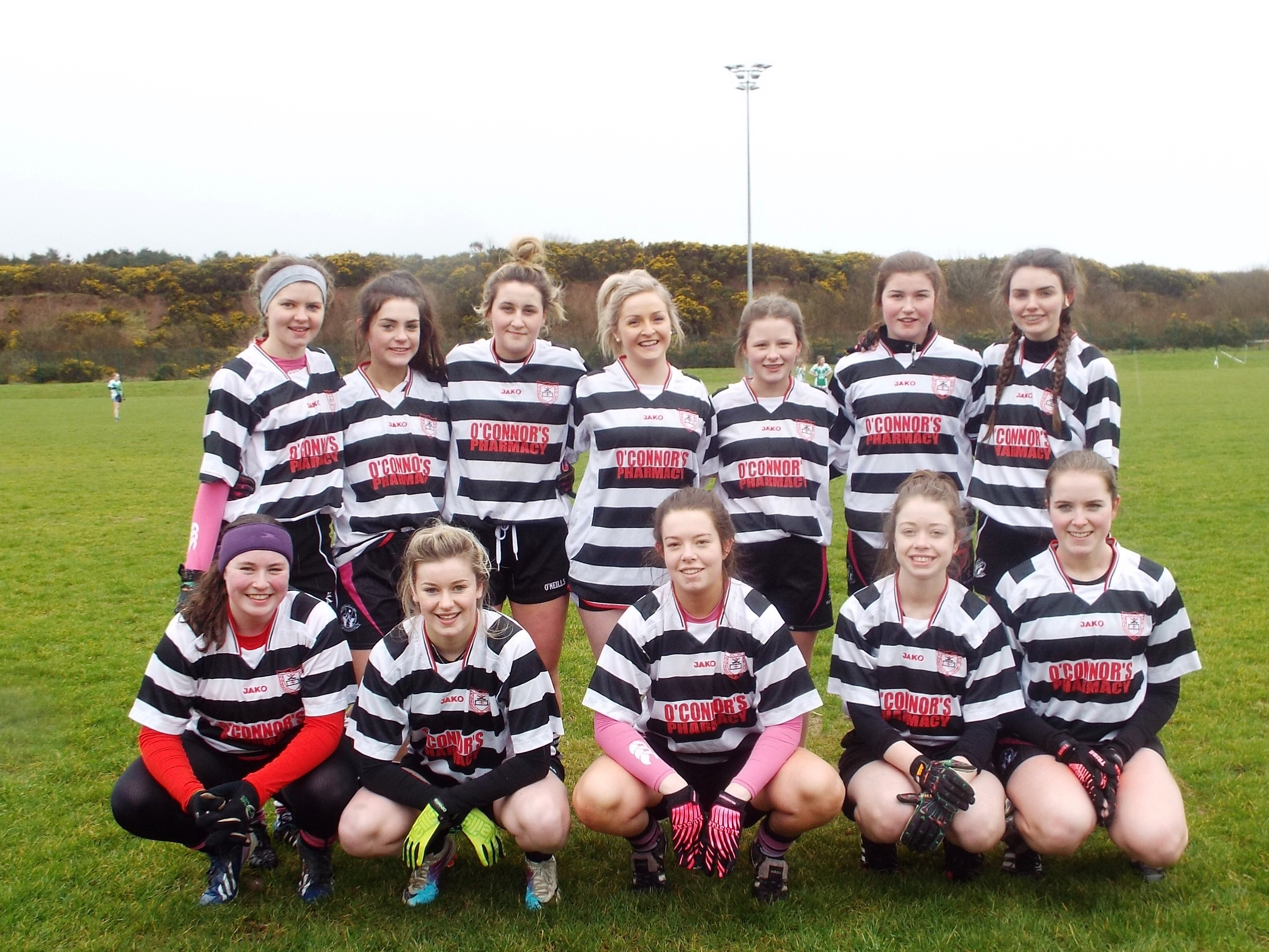 Scór
Comhghairdeas le Lily Ní Chonchúir Gael Scoil Mainistir na Corann a bhuaigh an craobh Scór na bPáistí Uí Mac Coille an tseachtain seo caite. Congratulations to Lily O' Connor who won the Recitation section of the Imokilly section of Scór na bPáistí last weekend in Watergrasshill. Lily was representing the Midleton Hurling club.
We wish her the very best as she goes on to represent the division in the County Section of Scór na bPáistí on the 9th of April.

Concert in Memory of 1916
On Easter Sunday night a concert will take place in the Gaa club at 8pm with former Tops of the Town contestant's returning to sing some of the songs synonymous with 1916. There will also be some recitation and poetry taking place, everybody is welcomed to attend this event, and any funds from the night will be presented to a local charity.
Lotto
Our Lotto Jackpot was €4,600, there was no winner, the numbers were 9,11,19 & 28, the lucky dip winners were Danny Lehane, Margaret Murphy, Maureen Laffan, Mary Fitzgerald & Phyliss Desmond , next week's Jackpot will be €4,800. Tickets are on sale at the Club Bar, O 'Neills Bar, Linehan's Bar, Maple Leaf Bar, O' Farrell's Butchers, Frank Murphy Butchers, Pat Walsh Paints, Chadwicks, Teach Beag & Niall Mac's Bars.

BINGO takes place each Friday evening at 8pm in the GAA Pavilion with a weekly guaranteed Jackpot of €1,000 on 52 calls, €920 Green Sheet 48 calls and €410 Blue Sheet Lucky number.

Club Shop
The shop will be open each Saturday morning from 10 to 12 at the Club.

Fe 12
Midleton 0-03 v Inniscarra 2-06
Our U12 boys were out last Saturday for their first outing of the year with a Premier 2 Football match away to Inniscarra. Numbers were tight for various reasons, but we were able to field a solid group of players and all performed very well, and showed great heart. We played with a strong wind in the first half, and fought for every ball in a tigerish fashion. Our half back line and midfield were very solid and played a lot of ball into our forwards who showed great promise throughout. After some nice touches and good plays, we were unlucky to be 0-2 to 1-2 down at half time.
For the second half, we were under a lot of pressure with the wind picking up in Inniscarra's favour, but our full back line and goalkeeper responded very well, and never gave up. The forwards had a number of attempts on goal and on another day, with a bit more luck, could have led to victory. We went down 0-3 to 2-6 at the end, and we know we have a few things to work on in training. A good performance from a very promising panel of players.
Panel on the day from: Brian O'Connell, Riain Barry, Fionn Dalton, Tiarnan Roche, Odhran Prenter, David Cremin, David Green, Alex Moloney, Dara Fitzgerald, Eoin McGrath, Niall Lang, Cian Lamb, Daniel Coffee, Diarmuid Murphy, Conor O'Shea, Mikey Finn.

Fe 13
Our first outing of the year was an away match to Glanmire on Sunday morning last 13th of March. It's great to witness the pride in the Midleton jersey that these young players display every time they run out onto a field. This was not an easy match to start with and I'm sure like most football games that Midleton teams go out in the odds were stacked against us. These early season football games are not about county finals or trips away to inter county matches they are much more important. These games are about camaraderie, commitment, confidence in your team mates, team spirit, respect for your fellow players etc... These are things that were taken away in spades by the 16 players that turned up on Sunday last.
It was a beautiful spring morning for the game but the underfoot conditions were a bit tricky. The young Magpies started against the breeze and Glanmire started strongly. But our full back line of Evan McCarthy Fenton Greenwood and James O'Sullivan were proving hard to break down and was our best line for the whole game.. They were aided by an inspirational goalkeeper in Brion Saunderson. Glanmire kicked 6 points in the first half and Midleton responded with 2 points of their own, one each by Darragh McCarthy and Ben O'Neill.
The second half was an outstanding game of football and all players deserve credit for the manner in which it was played, it was ding dong stuff. Cian Murray scored 2 goals one of them was created by a majestic flick from Rory Hartnett and was finished with a brilliant low drive to the corner of the goal giving the goalkeeper no chance. Rory Hartnett also contributed 2 goals himself and gave a great full forward display. Ben O'Neill scored one last point to finish off our scores. The final score was Glanmire 2-10, Midleton 4-03. A one point loss for us but a game we will take great encouragement from. Thanks to all of the players and parents who were there on Sunday morning.
Our next game is Easter Monday versus Carrigaline.
Panel: B Saunderson, J O'Sullivan, F Greenwood, E McCarthy, E Kelly, N Corcoran, D Connolly, D McCarthy, K Barry, C Murray, C Smyth, K Rollins, B O'Neill, R Hartnett, J Spellman & C Collins.

Fe 14
Our boys played their second Premier 2 league football game last Friday 11th March away to Cobh. It proved a difficult match for us on the night with many of our players having been in action all day at a blitz with school. We were within 4 points of Cobh at one stage but Cobh were undoubtedly the stronger team in the second half and the game finished on a score line of 5:11 to 2:1. Hard luck lads.

Fe 15
Our game v Cobh in the P2 Football league has been confirmed for Sunday next the 20th of March at 12 noon at home in the main field.
Training every Thursday 6-7 at the Hockey Pitch and Saturday 11-12 at the CBS Astro turf.

Fe 16
Midleton 1-15 v Valley Rovers 0-12. On Saturday our footballers had their first outing of the season with a win against Valley Rovers. We always seemed to be the better team, but an amount of turnover ball and frees that we conceded kept Valleys in the game right to the very end. This was a typical "rusty" start of season performance. In the first quarter we held sway but time after time conceded the ball unnecessarily. It was in the second quarter that we began to play like we know we can, and began to put some nice passages of play together. At half time to score was 1-6 to 0-5, with Valley's being more clinical with less of the ball. In the second half the teams traded point for point more or less and we conceded some unnecessary frees which Valleys concerted. With 5 minutes to go, Valleys had a great goal chance, but our keeper brought off a great save. Shortly afterwards the referee sounded the final whistle.
Team: Jake Shanahan, Alan Power, Christian Murphy, Cormac O Brien, Evan Rowlands, Sean O Sullivan, Mark Daly, Ross O Regan, Kevin Finn, Ronan Lynch, Arthur Nganou, Cian Murray, Loic Ngeufang, Tommy O Connell, Griffin Hurley, Coleman Quinn, Fergus Wade, Conor O Leary, Craig Barry, David Scanlon, Adam O Connell.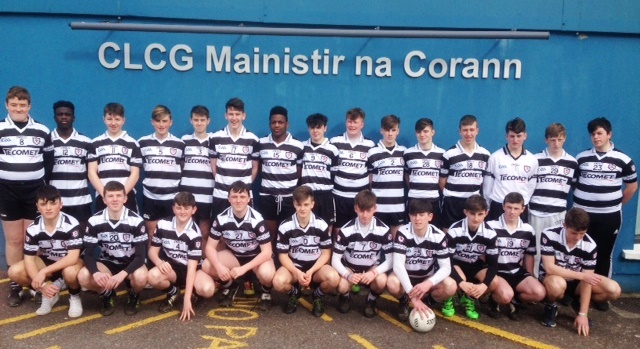 Juvenile Registration
On Saturday March 12th the Club Pavilion was very busy with Juvenile Registrations taking place from 11am to 1pm. We had over 240 registrations on the day and are grateful to all who helped out on the morning. We would like to welcome to our new Magpie members, Joshua Pennant who has joined the under 14's and Alex Curtain and Aaron Murphy who have joined the under 13's panel. Any player that missed registration day and has not yet registered must do so before March 31st. Unregistered players will not be permitted to play from April 1st.

St Patrick's Day Parade
Our Underage players will march in the St Patrick's Day Parade. The Parade starting time is 3.00pm. All magpies that are walking in the parade are to meet on Distillery Road at 2.30pm. We will march back to the Clubhouse afterwards where there will be refreshments served for both players and parents.

Juvenile Flag Day
Our annual Juvenile Flag Day at Hurley's SuperValu will take place on Saturday 19th March from 8am to 5pm. We are looking for volunteers. Please contact Mary Quinn on 086 3827737 if you would be willing to help for an hour.

Juvenile Easter Camp
The Juvenile club will once again run a two-day Easter GAA camp this year. Details if you wish your child to attend are as follows;
Venue: Midleton GAA club • Date: March 29th & 30th• Time: 11 -2 pm
• Cost: €10 per child per day and €5 euro for each subsequent child per day to be paid each morning of attendance.• Payment: Each morning on arrival at sign in. • What to Bring: Hurley, Helmet, Gum shields, packed Lunch, Raingear, Football Boots and runners.
In the event of rain we have access to club hall and ball alley. It is vital that both football boots and runners are brought. All children MUST be signed in with a guardian in attendance each morning AND be collected from club grounds at the end of each session.

Child Protection Courses
A reminder to those coaches who have yet to complete the Child Protection Awareness Course to book a place with Ingrid Connaughton on the 11th or 25th of April.
Kindly email Ingrid Connaughton, Email: ingridoriordan@gmail.com or text Ingrid on 087 6374748 to book your place on one of these courses.