Midleton GAA , Camogie & Ladies Football Club News
06 March, 2016
Senior Hurling
Our Senior hurlers had a very tough game with Douglas last Sunday afternoon at home in very testing conditions on a heavy pitch. The halftime score was Midleton 0-07 to Douglas 0-11. With less than five minutes to go we still trailed by four points but a never say die attitude kept us in the game and a goal from Patrick White and a point from Cormac Walsh ensured us a share of the spoils. Final score Midleton 1-13 to Douglas 1-13.
Team: Tommy Wallis, Cillian Hurley, Declan Ryan, Seanaidh Smyth, James Nagle (0-01), Patrick O'Mahony, Seamus O'Farrell, Padraig O'Farrell, Luke Dineen, Leslie Coughlan, Padraig O'Keeffe, Patrick White (1-00), Cormac Walsh (0-09 ,7 frees), Peter Dowling (-02) & Padraic Nagle (0-01). Subs used Sean O'Farrell, Elliot Mulcahy & Mark O'Keeffe.
Our next League game is Sunday 13th v Erins Own away @ 2.30pm.
Intermediate Hurling
Our next league game is against Dungourney on Saturday next March 12th away @ 4.30pm.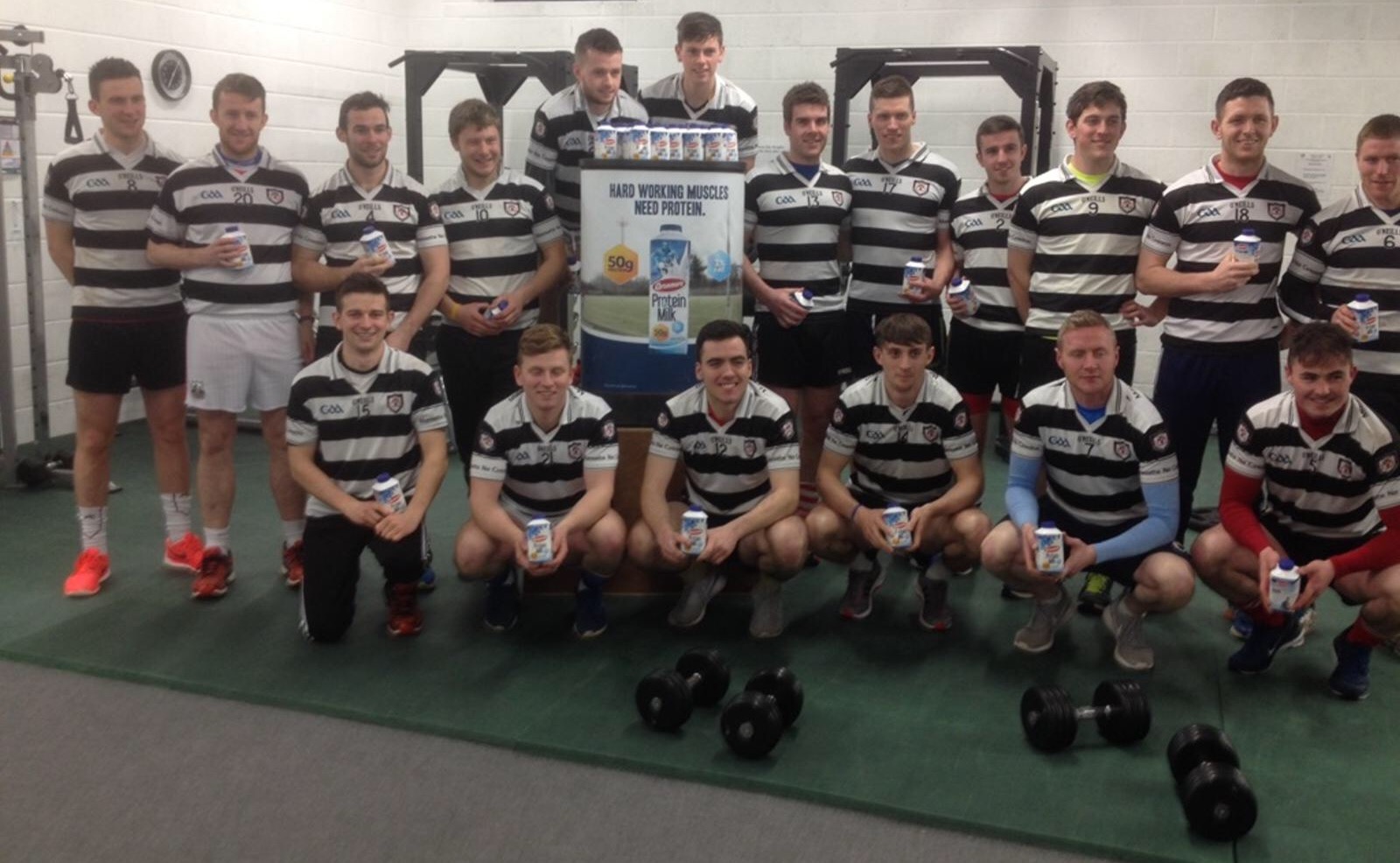 Inter County Hurling
A tough day at the office for Conor Lehane (0-04) corner forward, Luke O' Farrell (0-02) corner forward, Killian Burke corner back, Paul Haughney (0-02) came on at midfield and Pat Hartnett selector with the Cork Senior hurlers last Saturday who were comprehensively defeated by Dublin in Croke Park by 4-21 to 2-17, their next game is Saturday 12th against Kilkenny in Pairc Ui Rinn @ 7pm.

Fe21 A Football Championship
Our footballers were defeated by Aghada in the Championship semi final last Saturday evening in Rostellan by a slick Aghada side. All credit to our very young team for putting up such a spirited performance and battling to the very end.
Final score Aghada 0-17 v Midleton 0-05. Well done also to team manager Cristoir and his selectors for their efforts.
Team: Josh Deady, Conor Evans, Billy O'Shea, Sean O'Meara, Sean O'Farrell, Seanaidh Smyth, Eoin Mitchell, Luke Dineen, Cormac Beausang, Ryan O'Regan, Sean O'Leary Hayes, Adam Daly, Robert Williams, Padraig O'Brien & Byran Rossiter. Subs used Eoin Moloney & Cathal Gunning.

Minor Football
Our footballers had a tough outing in the Premier 2 League last Saturday afternoon away to Mallow. Down a number of players who were playing with the Fe21's later that evening these young lads gave a very good account of themselves.
Final score Mallow 1- 17 to Midleton 0-05.
Team: Arthur Nganou, Tim Abdullagh, Conor O' Farrell, Andrew Nestor, Sean O'Meara, Eoin Maloney, Mark Daly, Conor O'Neill, Ryan Mc Conville, Cathal Gunning, Ioic Nguefang, Harry Wall, Tom Scanlon, Christopher Power and John O'Dwyer. Subs Kevin Finn, Cian Murray, Alan Power & Cormac O'Brien.

Club Photographs
The PRO subcommittee have been hard at work cataloguing all of the clubs photographs. We're sure it is the view of many club members that they have been down from the club walls for far too long! This will be an ongoing project within the club. We have over 120 photographs with many more memories yet to be captured. As well as being an opportunity to look back at the Clubs past accomplishments it is hoped that the display of photographs will inspire great things in the next generation of players.
The photo's selected for phase one represents 126 years of success in both codes of Hurling & Football. The committee has tried to ensure that all decades are represented in this first phase. Rome wasn't built in a day and it wasn't feasible to re-frame all the photographs at once. The wish of the committee is that in time all pictures will be suitably framed and adorned on the walls of our great Club. We are working to have this first phase completed in time for St. Patrick's Day celebrations in the Club.

Stress Control Course
In conjunction with our Healthy Club group and Jennifer Hayes of the HSE South the second last in the series of Stress Control courses will take place in the Midleton Park Hotel next Monday morning from 10 am - 11.30 am and the final date is Monday the 21st of March.
Membership
Membership is due and can now be paid by Credit card , everybody is welcome to attend the Juvenile Registration morning next Saturday to avail if this facility.
Contact our membership Officer Terence McCarthy to arrange payment.

Gaa Golf Society
Our Easter Hamper will take place on Saturday March 26th from 12 to 1pm at East Cork Golf Club (Sponsored by Mr. Bernard Cashman, Cashman Car Sales).
Mr. Gary Johnson's Captains Prize will take place on Thursday May 5th, shotgun start, 5pm, at East Cork Golf Club.
Membership for the year is just €20, GAA players are free. New members are very welcome. We would encourage existing members to bring along a new member with them.
Committee: Gary Johnson (captain), Pat Hayes, Jim O Sullivan, Paudie O' Keeffe, Tom Mintern, Don McFarlane, John Droog, Hans Bauman & Conor O Brien.

Camogie
Midleton Camogie training as follows;
Under 10 & Under 12 & Under 14: Tuesday evenings 6pm -7pm at Midleton College All Weather Pitch. Under 6 & Under 8: Friday evenings 7pm -8pm at Midleton Community Centre.
New members are welcome in all age groups, girls born 2010 up to age 15. Girls interested are welcome to come along to a training session to try it out ahead of registering/committing. For the younger age groups who are currently training indoors, indoor hurley's are provided. Helmets are essential and must be worn all times. They are available to buy in the club shop. For further information contact Sheila on 087 6822916. Email midletoncamogiepro@gmail.com. Follow us on facebook: Midleton Camogie and in the ladies section of midletongaa.com.

Ladies Football
U16 East Cork League Midleton v Rockban at Whitechurch
At long last we were able to kick off the 2016 East Cork League Campaign with a journey to Whitechurch on a cold but sunny Saturday afternoon.
This was actually a Round 3 fixture in the East Cork A football league. First 2 rounds had to be deferred to a later date due to pitch closures. Even though we were missing a few from our panel we travelled with 18 players. We started brightly attacking the Rockban goal from the throw in. Points from Kari (4), Orla(1), & Clodagh(1) were the fruits of our hard working efforts in the first half. We were very unlucky not to get the ball over the goal on a number of occasions, hitting the upright on one of these. On the other side of the pitch Rockban were more productive with their efforts, ending the first half with 3-06.
The second half the Midleton Girls improved greatly and after one great passage of play starting with ball from Claudia's kick out finding its way onto Abby's boot to be rifled into the back of the net. This was our first outing and the first time we played on grass on a big pitch for 2016. This was our undoing. Not used to the big open spaced meant that our positioning was off and for most of the game we were on the back foot trying to turn over the Rockbans strong off the shoulder running game. The positives were that each of the girls put in a great effort and never gave up. The 5 U14 girls, Sadhbh, Clodagh, Ali, Lucy, and Ellen, all played and accounted for themselves very well. As this was our first game most of the girls found themselves in unfamiliar positions. Two to Mention, Deirdre & Claudia who performed very well in goals. First game down, a lot to work on but the girls are enthusiastic and their 'Give it a Go' attitude means we are in a good place. Great efforts girls, this result didn't go our way but we don't worry about things like that.....
Final Score Midleton 1:06 v Rockban 4:10.
Midleton Panel: Abby Quirke(1-0), Ciara Stack, Claudia Kearney, Deirdre Corcoran, Erin Nagle, Kari McEvoy(4pt), Kate Dineen, Laura O'Leary, Lizzie Phiri, Lucy Wallace, Molly Beausang, Orla Fleming(1pt), Rayanna Power, Rhea Buckley, Sarah Murphy, Sadabh Beausang, Clodagh Finn(1pt), Ali Smith, Lucy Kenneally, Ellen Ryan.
On Saturday Midleton Ladies Football Club held their Social Night. On the night medals were presented to the various teams who were successful during the year. First up were our super U8 girls who had an amazing year. They are a great group of girls who performed so well at all their matches and won at every Blitz they attended. They were followed by the U10 girls who were presented with the Plaque that they are sharing with Lisgoold. These girls drew after extra time in the East Cork League final so it was decided to Share the title between the two clubs. The U12 girls received medals for being Runners Up in the East Cork Championship and the U14 girls were also presented with medals for winning the East Cork Championship. Our successful Junior Ladies were presented with the winning Plaque for the 7's tournament which they won in Lisgoold.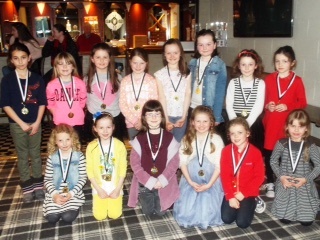 The Player of the Year Awards for the U14 and U16 were presented to Lucy Wallace (u14) and Deirdre Corcoran (U16).We would like to thank the Club for the use of the Lounge on the night and a special thanks to Mary Quinn for all her help on the night.
Well done to the Cork Senior Ladies and our own Orlagh Farmer who had a very comprehensive win over Monaghan on Saturday. The Final Result was Cork 5-16, Monaghan 1-03.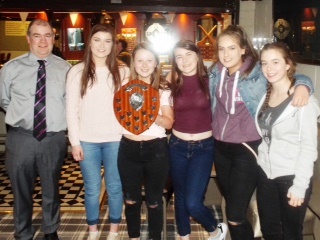 Lotto
Our Lotto Jackpot was €4,400, there was no winner, the numbers were 2,4,22 & 28, the lucky dip winners were Ann Lynch, Liam Walsh, Lil O'Driscoll, Donal Coughlan & Paul Britton, next week's Jackpot will be €4,600. Tickets are on sale at the Club Bar, O 'Neills Bar, Linehan's Bar, Maple Leaf Bar, O' Farrell's Butchers, Frank Murphy Butchers, Pat Walsh Paints, Chadwicks, Teach Beag & Niall Mac's Bars.

BINGO takes place each Friday evening at 8pm in the GAA Pavilion with a weekly guaranteed Jackpot of €1,000 on 52 calls, €920 Green Sheet 48 calls and €410 Blue Sheet Lucky number.

Club Shop
The shop will be open each Saturday morning from 10 to 12 at the Club.

Juvenile Registration Day
Our Juvenile Registration will take place on next Saturday from 11am to 1pm in the Club Pavilion. There will be no training for Juveniles on the day. The registration fees for Fe 7 to Fe 16 are 1st Child €70.00, 2nd Child €50.00, 3rd Child €40.00. We would ask that you download and complete the application forms in advance to facilitate quick registrations. The application forms can be downloaded from the Coaching Corner on the website. Please ensure you bring exact monies so as to avoid issues regarding giving of change.
Used Gear Sale
If you have any club gear, helmets, hurleys or football boots in good condition that your child may have outgrown and could be of benefit to another child starting out at the club, please contact Cormac Quirke on 086 078 3365. The gear collected will be available to buy the morning of registration and going on past used gear sales held at the club there should be plenty of bargains to be had. All funds generated will go towards the running of the juvenile section of the Club.

Child Protection Courses
A reminder to those coaches who have yet to complete the Child Protection Awareness Course to book a place with Ingrid Connaughton on either Monday the 11th of April or Monday the 25th of April. Kindly email Ingrid Connaughton at ingridoriordan@gmail.com or text on 087 6374748 to book your place on one of these courses.

St Patrick's Day Parade
Our Underage players will march in the St Patrick's Day Parade again this year. The Parade starting time will be TEXTED to all parents closer to the date. We will march back to the Clubhouse afterwards where there will be refreshments served for both players and parents.

Juvenile Flag Day
Our annual Juvenile Flag Day at Hurley's Super Valu will take place on Saturday 19th March from 10am to 5pm; help on the day would be greatly appreciated.

Fe 15
Our footballers played their first league game against a strong Mallow team in Mallow last Saturday. After we started strongly Mallow got on top and won well in the end. Our next game is a home to Cobh on Saturday the 19th.Training every Thursday 6-7 at the Hockey Pitch and Saturday 11-12 at the CBS Astro turf.