Midleton GAA news 11th July
14 July, 2011
Fe 21 Football Quarter Final
Midleton 2-11 Millstreet 1-09
Our Fe 21 Footballers enjoyed a thoroughly deserved five pouint victory over Millstreet in the County quarter final on Monday evening last in Castletownroche. Over the course of the hur Midleton were very strong physically and took the gae to our opponents. In the first half a Cormac Walsh goal ensured we led by two points at half time on a 1-04 to 0-05 scoreline. In the second half a goal from a penalty by Stephen Moore was responded to immediately by an excellent goal by Millstreet. However in the last ten inutes Midleton added some four fine points to see us over the line and into a county semi final.
MIDLETON: D O'Keeffe; L Coughlan, L O'Farrell, B O'Sullivan; K Burke, S O'Farrell, J O'Mahony; P O'Shea, P O'Mahony; N Madden, S Moore, C Walsh; S Ryan, I Kennefick, S Harrington.

Fe 21 Football Semi Final
Midleton 1-05 O'Donovan Rossa 1-14
Midleton Fe 21 Footballers were back in Championship action on Sunday last when the played O'Donovan Rossa in the county semi final at Carrigadrohid in ideal conditions. Midleton got off to a fine start and were leading 1-01 to 0-03 after ten minutes. However where we had the physical and fitness advantage in our quarter final win over Millstreet on this occasion were were matched in these aspects of the game. Our opponents were a well drilled side who footballing skills were evident and we were struggled to contain despite the whole heated commitment of all our players. It was all one way traffic for the second quarter as our opponents added on five more points without reply to lead 0-08 to 1-01 at half time. Though we had more of the possession in the second half we found scores hard to come by as Skibbereen build their tally. We were within touching distance until the last couple of minutes when the Skibbereen men goaled to seal their well derserved victory. It has been a fine achievement by the lads and their mentors to secure their first East Cork A grade title after so many years and to reach a county semi final.
MIDLETON: D O'Keeffe; L Coughlan, L O'Farrell, B O'Sullivan; K Burke, S O'Farrell, J O'Mahony; P O'Shea, P O'Mahony; N Madden, S Moore, C Walsh; C. Lehane, I Kennefick, S Harrington.
Junior A Hurling Losers Round
Midleton 0-19 Russell Rovers 2-11
Our Junior A hurlers were in losers round action in the East Cork Championship on Tuesday evening last in Ballinacurra. In a well contested game we came through with a couple of late points to secure our place in the quarter final against Erins Own. Midleton had first use of the wind and in the first quarter it was score for score. We opend up a fice pint lead by half time thanks to some fine scores from placed balls by Tom Wallis and from play by Conor Hehane and paul barry. Russell Rovers scored a soft goal right from the restart and from their to the end it was nip and tuck. A goal with four minutes left put Russell rovers a point up and the pressure was on. Tommy Wallis levelled with a free and an excellent point from sub Ian Fitzpatrick edged us a head. Paul Barry added another point to see us over the line.
MIDLETON: J Loftus; A Kearney, O Cotter, A Cahill (Cpt); W O'Brien, C Burke, L Coughlan; P O'Keefe, T Wallis; K Ryan, P Barry, C Lehane; J O'Mahony, M Keohane, D O'Brien.
Subs: I Fitzpatrick for D O'Brien (HT) E Mulcahy for O Cotter (54)
Fe 9 & Fe 10
No matches last week but training continues on Saturday mornings 9.45 – 11am and Tuesday evenings 6.30 – 7.30pm
Fixtures
Wed 13th – Minor Prem 1 Hurling Championship V Castlelyons in Lisgoold at 7.30pm
Sat 16th – Fe 16 Prem 1 Hurling League v Carrigtwohill in Midleton at 7.30pm
Mon 18th – Minor Prim 1 Football League v Charleville in Charleville at 7.30pm
Mon 18th – Fe 14 Prem 2 Hurling League v Killeagh/Itas in Killeagh/Itas at 7.30pm

VHI Cúl Camp
No sooner than our Feile Peil American visitors had gone home - it was time to look ahead to the 2011 VHI Cúl Camp.
There was some concern this year that the country's economic issues would mean reduced numbers. However we were pleasantly surprised to find that our numbers were up on last year. Over 120 kids registered for what turned out to be a fantastic week. The only possible damper was a heavy downfall of rain on Wednesday morning. This however was quickly overcome by using the indoor ball alley for the kids up to Fe 8 level. All the other kids were deemed to be waterproof and went out on the pitch.
We were fortunate to have some great coaches for the week including: Conor Lehane, Philip O'Neill, Padraig O'Brien, Alwyn Kearney, Killian Burke and Cormac Walsh. The coaches not only got some great experience with their future coaching careers but also got some good autograph practice on the last day.
We were fortunate to have Cork footballers Paddy Kelly and Ciaran Sheehan attend on Friday to give the kids some words of advice on both playing and practice issues.
This annual event is a great success due to great planning and attention to detail prior to the camp starting. It would not achieve such high standards without the hard work of its organisers. Many thanks go to the Event Manager - Jim O'Sullivan and his PA – Mary Quinn. Also thanks to all the kids who turned up and played their hearts out and their parents who brought them.
Here's looking forward to next year.


GOLF CLASSIC
Our Juvenile GAA Golf Classic will take place on Thursday the21st and Friday 22nd of July at EAST CORK GOLF CLUB, the competition is a 3 ball scramble with some great prizes for all in addition to Ladies, Seniors and Non GUI team prizes. The Main sponsor of the Juvenile Golf Classic is Blackwater Motors.
Your support is most welcome, teams cost €120.00 each which includes a burger on the 9th, a goody bag, free entry into a draw and a meal afterwards and Sponsorship of Tee Boxes is also available @ €50.00 each.
Everybody is welcome to attend the presentation of prizes in the clubhouse on the Friday night where entertainment will be provided.
Please contact Anthony Wall @ 086/3154016 for Timesheet bookings.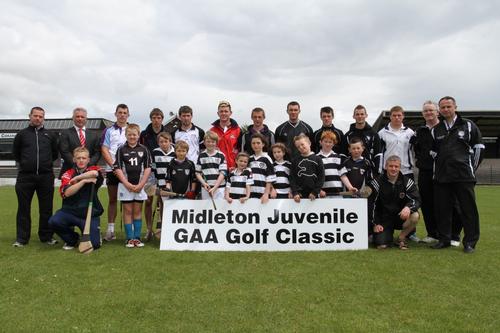 Juvenile Golf Classic organisers Coleman Quirke and Jim O'Neill along with main sponsor David Quirke of Blackwater Motors Cork and Fermoy are joined by supporters young and older.