Midleton GAA news 5th July
05 July, 2011
Midleton Juvenile GAA notes 4th July 2011
Fe 16
Fe 16 Premier 2 Football league v Killeagh Itas played in Midleton last Wednesday.
We resumed our league games last week with a good victory over our visitors, whilst it took some time to get the rustiness out of our game we finished very strongly to win comfortably in the end by 4.11 v 0.04
Team: Brian Rossiter, Luke Dineen, Billy O Shea, Luke Morrissey, Sean O Farrell, Gavin Bagnell, Cillian Deady, Darren Quirke, Patrice Tschmange, Calem Deady, Padraic Nagle, Imbiblio Bello, Robert Willams, Michael Abernethy and John O Farrell, subs used Josh Deady, Eanna O Brien, Lochlinn McCarthy, Colin Shanahan and Shane Buckley.
Fe 10
Midleton Fe 10's hosted Sarsfields on Tuesday 28th of June in Clonmult. This was the first of a series of 15 games to be played against various opposition teams. The game itself was 11 a side format and twenty minutes a half.
Midleton played well throughout the game scoring some great goals and points. It was good to see the lads helping each other out, showing some maturing in their understanding of the game.
Well done to all and thanks to Sarsfields for making the trip.

Midleton also hosted Mayfield in Clonmult Park on Tuesday last in the series.
Mayfield arrived shorthanded and three of our lads made the selfless gesture to play for the opposition.
The game itself was very much in Midleton's favor. Our lads proved strong and never seemed to struggle throughout the match.
Well played to all who attended and thanks to Mayfield for coming over.

On Saturday 2nd of July half of our Fe 10's travelled to Rathcormac to play Bride rovers in the summer series. We travelled with 13 players for this 11 a side game and unfortunately had to use substitutes. However everyone got good game time.
Both teams were evenly matched and the game finished close with some very good performances across the team.

On the same day Erins Own travelled to Midleton to play the other half of our Fe 10's aided by a couple of Fe 9's.
Again Midleton were strong and the games finished level. Well done to all who played in the four games last week.

Fe 9
On Thursday the 30th of June our Fe 9 hurlers headed for Castlemartyr to play Kilta Óg in a challenge game. On the night we had 33 players which was a great turn out, Kilta Óg had 25 so a few of our players played one half with Kilta Óg and the second with us. We picked three 11 aside teams and played two 20 mins aside games which was enough on a warm evening. There was great hurling played in all games with both teams giving everything and at the end the only winner was hurling itself with all players on the night playing a full 40mins hurling which can only improve all players. Thanks to Kilta Óg for the match and again to all the Midleton parents for the support on the night. We will continue to train all summer on Thursday nights and Saturday mornings and for anyone going on holidays enjoy and have a safe trip.

Fixtures
Tues 5th July Fe 16 Premier 2Football league v Erins Own away @ 7.30pm
Sat 16th July Fe 16 Premier 1Hurling league v Carrigtwohill in Midleton @ 7.30pm

Feile Peil
What a week for Midleton GAA Club and it's juvenile section. The once in a blue moon completion made its way to Cork and Midleton had the pleasure to host New York. The week started on Tuesday last with a welcoming party in the club and the following morning the New Yorkers played Kilta Óg in a challenge followed in the afternoon with a trip to Trabolgan.
On to the competition itself and we kicked off with a well contested match between Midleton and New York which our visitors came out the stronger. Over the next day and a half Midleton won against Fr O'Neills and lost their other matches against Crossmaglen Rangers and Erins Own while New York went on to win all their games and progress to the Semi Finals. On Wednesday night Sam Maguire made a visit to our club accompanied by the National League cup. Friday's semi final saw New York finally bow out to the eventual winners St Enda's of Belfast. On Saturday, Our visitors travelled to the finals and then returned to a BBQ in their honour. Along with the fine weather and tasty food our guests were treated to some great entertainment from Ceoltas and John Shanahan. What made the evening all the more special was the sight of Midleton's pitch full of newly made friends from both sides of the Atlantic.
Sunday saw our visitors travel to the Munster football final where at least one person arrived back happy. PRO for the New York minor board – Colm Kelly at least had the decency to hide his Kerry jersey when he returned to Midleton.
Overall a great week and here's wishing New York a safe trip home and may they like us retain some great memories of the Feile week.
One such memory may well be the poem written by Dickie Cashman. See below:
NEW YORK v's THE MAGPIES
By Dickie Cashman 25-06-2011
Welcome to our New York friends from far across the sea
For Feile Peil they have come, seeking a victory.
In Rocklands and The Bronx their football team is based
Steeped in Irish tradition in the Gaelic Games are raised.
Their names all sound with that lilt
Irish through and through
MURPHY, KELLY, WHITE and SMITH,
O'BRIEN, O'NEILL, SHERIDAN and MOORE,
HENNESSY, O'BOYLE, KERLEY and SLATTERY,
ALLEN, CORRIDAN, FOX and LANG,
RUSSELL, TIERNEY, JAMES and MATHERS,
McKENNA, HYNES and young McSTAY
All part of their emigrant clan.
Their Manager he is MARTY,
SEAN and COLM their tour guides,
Selectors COLM and ROGER
On "Who plays-those two decide!"
Without the parents where would they be-
To those I do attest,
Making the game of Football such a great success.
Proudly wear your colors and never once give in,
Playing against the "MAGPIES" and May the Best Team Win!
Give your all on that Day – you're young and in your prime
And show your art and Football skills
On the green sod of Aughavine.


VHI CuL Camp – our Cul Camp for which we have registered almost 120 boys is on this weekfrom the 4th to the 8th of July from 10am each morninguntil 2pm, more details are available on our Club website or from coordinator Jim O Sullivan.

GOLF CLASSIC – Our Juvenile GAA Golf Classic will take place on Thursday the 21st and Friday 22ndof July at EAST CORK GOLF CLUB, the competition is a 3 ball scramble with some great prizes for all in addition to Ladies, Seniors and Non GUI team prizes.
Any Sponsorship is very welcome, teams cost €120.00 each which includes a burger on the 9th, agoody bag, free entry into a draw and a meal afterwards and Sponsorship of Tee Boxes is also available @ €50.00 each.
Everybody is welcome to attend the presentation of prizes in the clubhouse on the Friday night where entertainment will be provided.
Please contact Anthony Wall @ 086/3154016 for Timesheet bookings.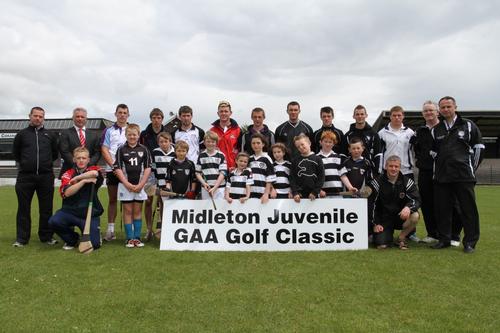 Photo shows players young and old along with Golf classic organisers and sponsor David Quirke of Blackwater Motors Cork and Fermoy