Midleton Hurling and Football, Ladies Football and Camogie Club News - November 10
10 November, 2022
TED DOWNEY HONOURED IN STYLE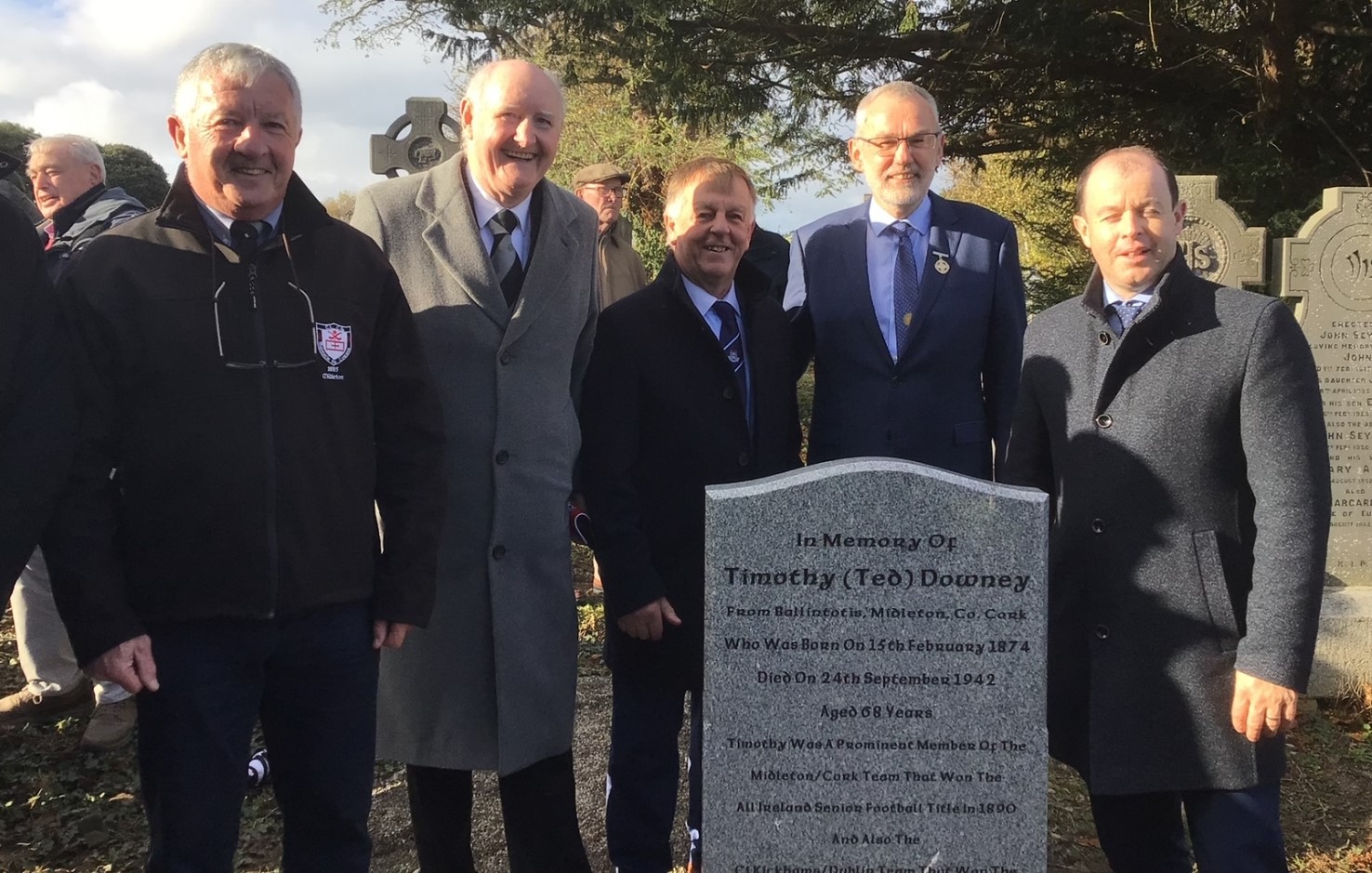 Pictured at Glasnevin Cemetery in Dublin on Tuesday were, L to R: John Fenton (Chairman, Midleton GAA), Pat Horgan (Vice Chairperson Cork GAA), Mick Seavers (Dublin County Board Chairman), Larry McCarthy (Uachtarán CLG) and Marc Sheehan (Chairperson Cork GAA).
A full bus of Midleton GAA departed the town early on Tuesday morning bound for Dublin and Glasnevin Cemetary for the unveiling of a headstone to the late Timothy 'Ted' Downey who was a member of the Midleton team that won the All-Ireland football title for 1890.
After a huge amount of research into this project for the last 18 months by our chairman John Fenton and former player Vincent O'Neill it was fitting that a brilliant and well attended event paid a fitting tribute to the late Ted.
The event was attended by GAA President Larry McCarthy, Mick Seavers (Dublin County Board Chairman), Marc Sheehan (Chairperson Cork GAA) John Fenton (Midleton GAA), Pat Horgan (Vice Chairperson Cork GAA) and plenty of members of both the Midleton and Ballymun Kickhams clubs.
A big thank you to Ballymun, Croke Park and the Cork and Dublin GAA boards and all at Glasnevin cemetary for their help in making the day such a success.
Please read the attached article from John Harrington of the GAA.ie to learn more about Ted Downey.
http://www.gaa.ie/news/memorial-to-timothy-ted-downey-to-be-erected-in-glasnevin-cemetery/
A preview of the day ahead also aired on the 8.35am Sports News with Darren Frehill on Morning Ireland on RTE Radio One with John Fenton being interviewed about the big day.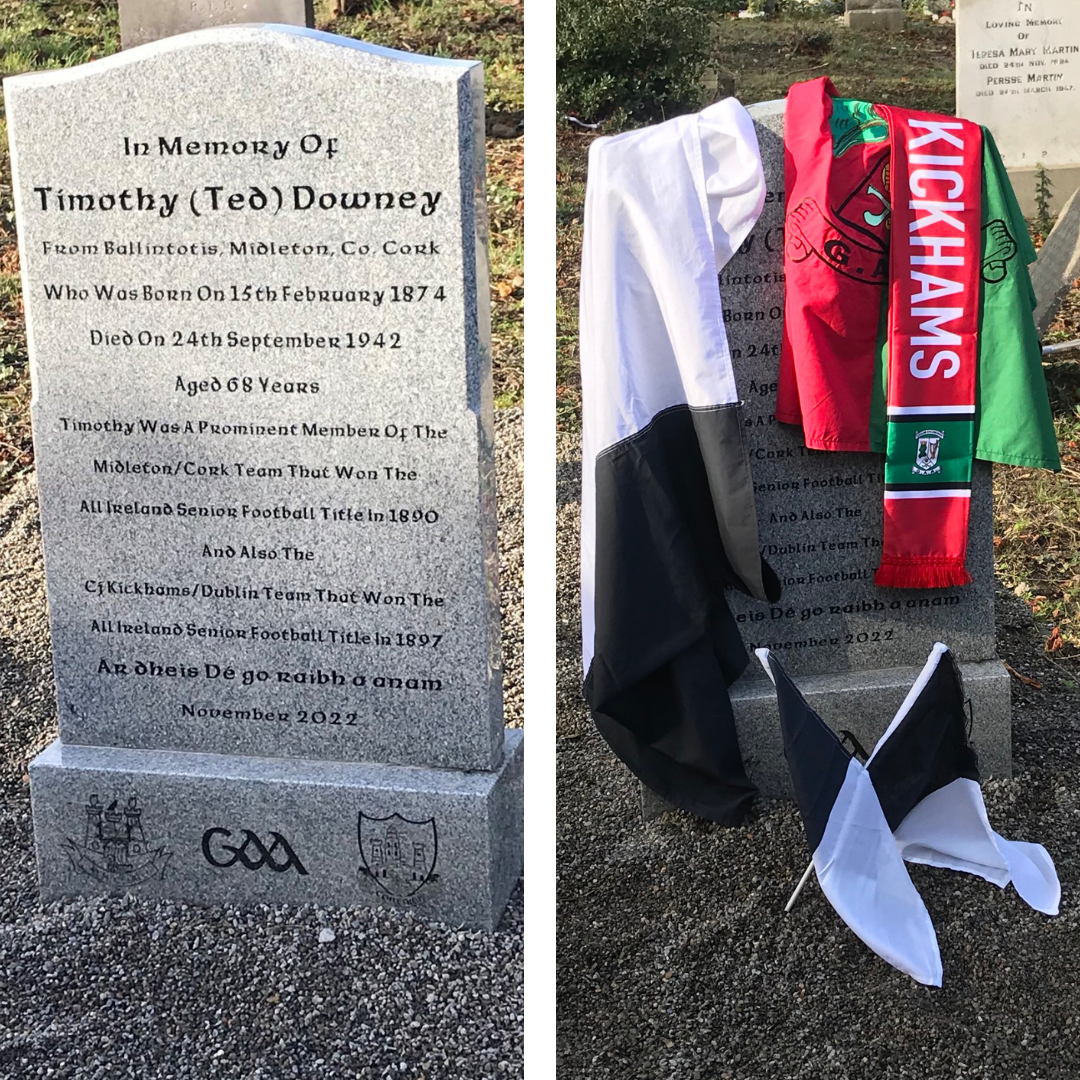 JUVENILES
FÉ12S
Congratulations to the Fé12 Midleton teams who were victorious at the weekend in the annual James O'Brien Shield and Cup.
A big thanks to Abbeyside of Waterford and Douglas for making the trip to take part in this great competition and to Jim and Ger O'Brien for making the presentations on behalf of the O'Brien family.
FÉ14S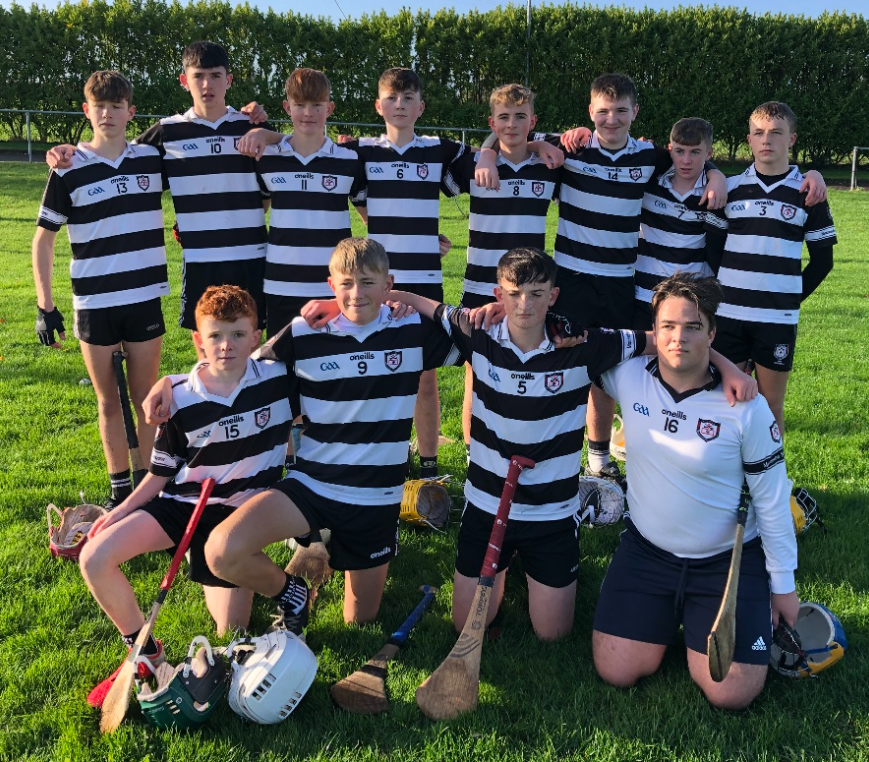 Well done to the Fé14 lads who reached the final of the Munster Super 10-a-side competition in Mallow last Saturday.
In the early group stages the lads beat Ballina of Tipperary and Roanmore of Waterford. They then progressed to the semi-final where they beat St. Joseph's Doora Barefield of Clare. This put them into the final where they took on near neighbours Killeagh who had qualified from the other side of the draw.
There was nothing to sperate the teams at full time so extra time was needed, with Killeagh winning out in the end by a single score. The lads can be very proud of the hurling they played and how they represented Midleton GAA Club across the two weekends of this tournament in both Mallow and Pairc Uí Chaoimh.
Thanks to the organisers of this very well run tournament. Thanks also to all those who came to support the lads over both days. The panel for the tournament was: James Carey, Jack Walsh, Max Murphy, Senan Carroll, Cian Lawton, Scott Dunlea, Michael Allegrini, Harry Waterman, Cuan Twomey, Patrick O'Dowd, Shane O'Mahony & Jason Morley.
Magpiesabú.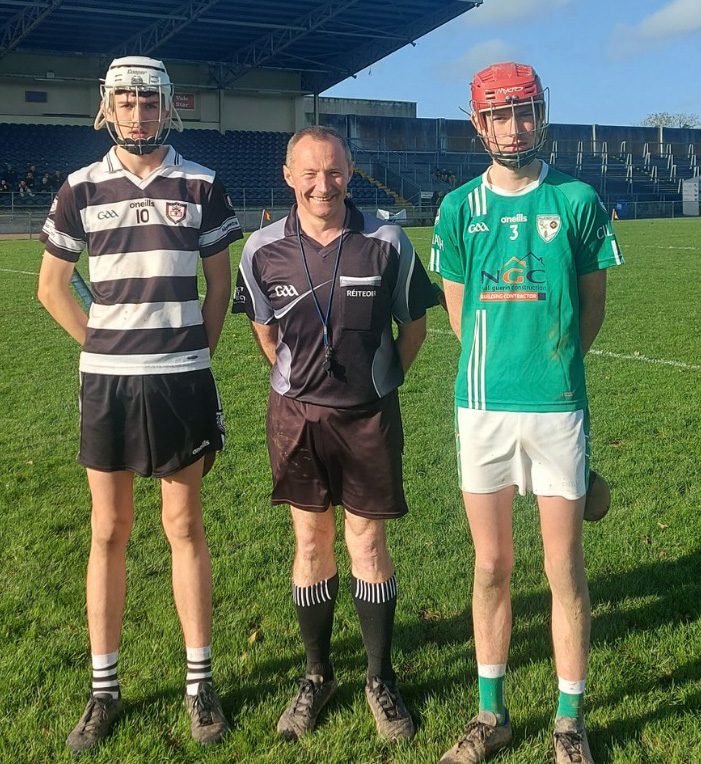 Midleton captain, Senan Carroll.
LADIES FOOTBALL
AGM
Many thanks to all those who came to support our AGM on Wednesday evening. It was a great evening reminiscing on the fantastic year we had as a Club. Success with our Junior B County final win, our U14 league winners, our U8/10 and U12s all very competitive throughout the year. Our U16 and Minors are still in Championship action in the coming weeks.
All our Officer positions for 2023 were filled. We would like to thank our Registrar Amy Quirke who stepped down from her role. She was a great asset to our committee over the past few years.
In the new year we will be looking for help with our U8 and U14 teams. If you can spare 1-2 hours per week it would be very grateful. Our club relies on parents to help run our teams and without this help we will not be able to return to training. Please contact Tracy (087-6625544) if you can assist in any way.
MINOR
Our Minor ladies are through to the County Semi Final where we will play Donoghmore. Fixture to be confirmed in the coming day. We wish you the very best of luck.
UNDER 16
Our U-16 ladies will play the East Cork Championship where we will play Youghal. Fixture tbc.
ADULT CLUB
JUNIOR C FOOTBALL
Our Junior C Footballers in are East Cork Championship Semi-final action on Saturday at 2pm in Midleton against Glanmire. Please come out and support Jerome and the lads if you can at all.
ANNUAL GENERAL MEETING
The Midleton GAA Club AGM will take place on Wednesday, November 23 at 7.30pm.
CAMOGIE
MINORS V ROCKBÁN
It had been three weeks since the Midleton Minor girls had played with a home win against Tracton Rovers. The visitors to Park South on Saturday were a strong Rockbán team who had an impressive round-robin campaign.
With the rainfall experienced over the previous few days it was a testament to the quality of the Cpitch that underfoot conditions were so good and despite an early heavy shower in proceedings, conditions weren't as bad as predicted however ball handling was very difficult for both teams.
Rockbán won the toss and elected to play with a slight wind in the opening half and opened up the encounter by playing a running game which Midleton found hard to manage. Rockbán raced into an early and well-deserved lead of 1-1 to no score. Midleton settled into their stride and managed some well-worked scores to lead by 1-3 to 1-1 midway through the half, however Rockbán controlled proceedings towards the break and the scores were level 1-4 apiece at half-time.
The opening blows of the second-half saw teams swap scores in a fiercely competitive encounter.
However, Midleton began to take control of proceedings and got some well-worked scores to dominate the scoreboard towards the end to eventually come out on top 4-9 to 1-6. However the game was much tighter than the scoreline suggests and full credit to a very stylish Rockbán team who pushed hard to the finish.
The Midleton squad was stretched to its limits throughout the match but the strength in depth showed at the finish.
MIDLETON: Jill Connaughton, Elle McManus, Kate Sanderson, Muireann Ni Chonchubhair, Ruthi Hennessy, Laura Goulding, Yvonne Abernethy, Aoife Fitzgerald, Isabelle Nestor, Emma O'Sullivan, Abbie Foley, Kelly Quirke, Saoirse Ni Theangana, Rachel Ryan, Kate O'Sullivan, Beth Ryan, Kate Griffin, Sorcha Cronin, Jade Fitzgerald, Rionnach Finn, Pippa Hennessy, Cara Foley.
MINOR QUARTER-FINAL V NA PIARSAIGH

There was no stopping our minor Girls as on Sunday we travelled away to Na Piarsaigh to play them in the Quarter Final. A great hour of Camogie was witnessed, a tight game up until the end with a final score of 1-9 to 1-5. Thanks to Na Piarsaigh for hosting us and for a great game. This win now puts us into the semi-finals, details to follow. Huge Congratulations to both the girls and their Management.
AGM 2022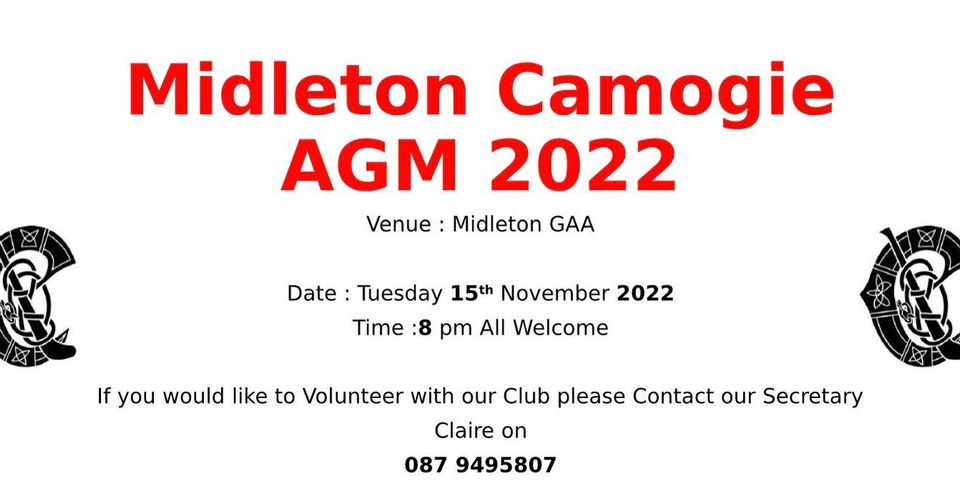 Our AGM will take place on Tuesday, 15th November @ 8pm at Midleton GAA. We encourage all our members and coaches to attend on the night. If you would like to volunteer within our club you are also most welcome to come along.
CLUB SHOP
The Midleton GAA club shop is back up and running for the 2022 season but please note that it's still online with collection only at the club on a Saturday morning.
All you have to do is go to the Klubfunder website (www.klubfunder.com/Clubs/Midleton%20GAA/ShopItems) and you will see the full range of what's available to buy. You can shop away to your heart's content, pay for it online and then collect your purchases at the club shop on Saturday morning between 9.30am and 10am. Thank you.
CHRISTMAS DISCO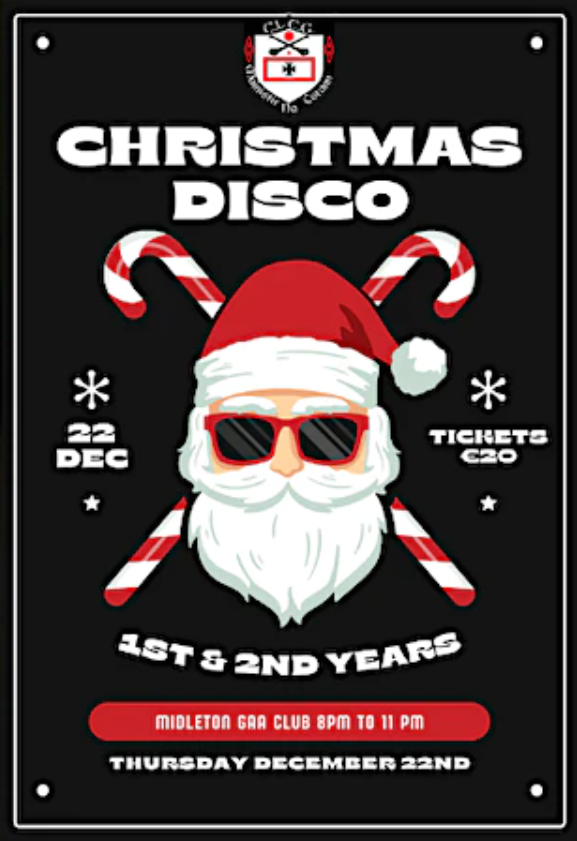 I know it's a bit early for the C word but after the brilliant success of last weekend's sold out Halloween disco, tickets are now on sale for the next disco on Thursday, December 22. They can be bought at the link below....
Midleton GAA Christmas Disco December 22nd Tickets, Thu, Dec 22, 2022 at 8:00 PM | Eventbrite
MIDLETON GAA GOLF SOCIETY
Our Christmas Hamper takes place this Saturday, November 12 at East Cork from 12noon to 1.30pm. It will be followed by a prize giving for our three outings and then our AGM.
Treasurer Jim O'Sullivan and secretary Pat Hayes are stepping down this year and so we are asking all members to give serious thought to filling these positions. If interested or know anyone interested, please let us know.
Looking forward to seeing you on Saturday.
LOTTO DRAW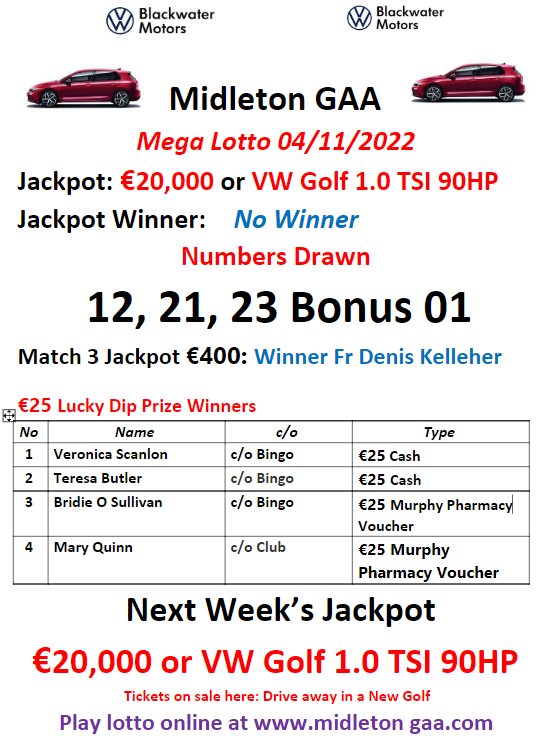 The numbers drawn this week were 12, 21 and 23. The bonus was 1.
There was no Jackpot but we had a Match 3 jackpot winner in Fr. Denis Kelleher. Well done Fr. Denis.
The €25 Lucky Dip Prize Winners were: Veronica Scanlon, Teresa Butler, Bridie O'Sullivan and Mary Quinn.
Play 24/7 at: http://www.klubfunder.com/Clubs/Midleton%20GAA/lotto
In total Midleton GAA will give out local business vouchers to the value of €3,800 every year as part of our "Shop Local, Buy Local" campaign.
How to play: tickets are on sale at Pat Walsh Paints, Chadwicks, Frank Murphy Butchers, Murphy's Pharmacy, Crowley Butchers, or buy online (see above).

LOTTO RENEWAL
The Lotto yearly renewal has come around again. You could win our Jackpot of €20k or drive away in a Blackwater Motors VW Golf. Last year we've had over 200 Lucky Dip Winners and 6 x €400 Match 3 Winners.
Support the Club by playing online at http://www.klubfunder.com/Clubs/Midleton%20GAA/lotto
Place the number of draws at 50 and pay €100 and be signed up for every draw for the next year
Play, Win & Support this important fundraiser for your Club. Thanks to those who already paid their annual Lotto renewal for the year ahead.
BINGO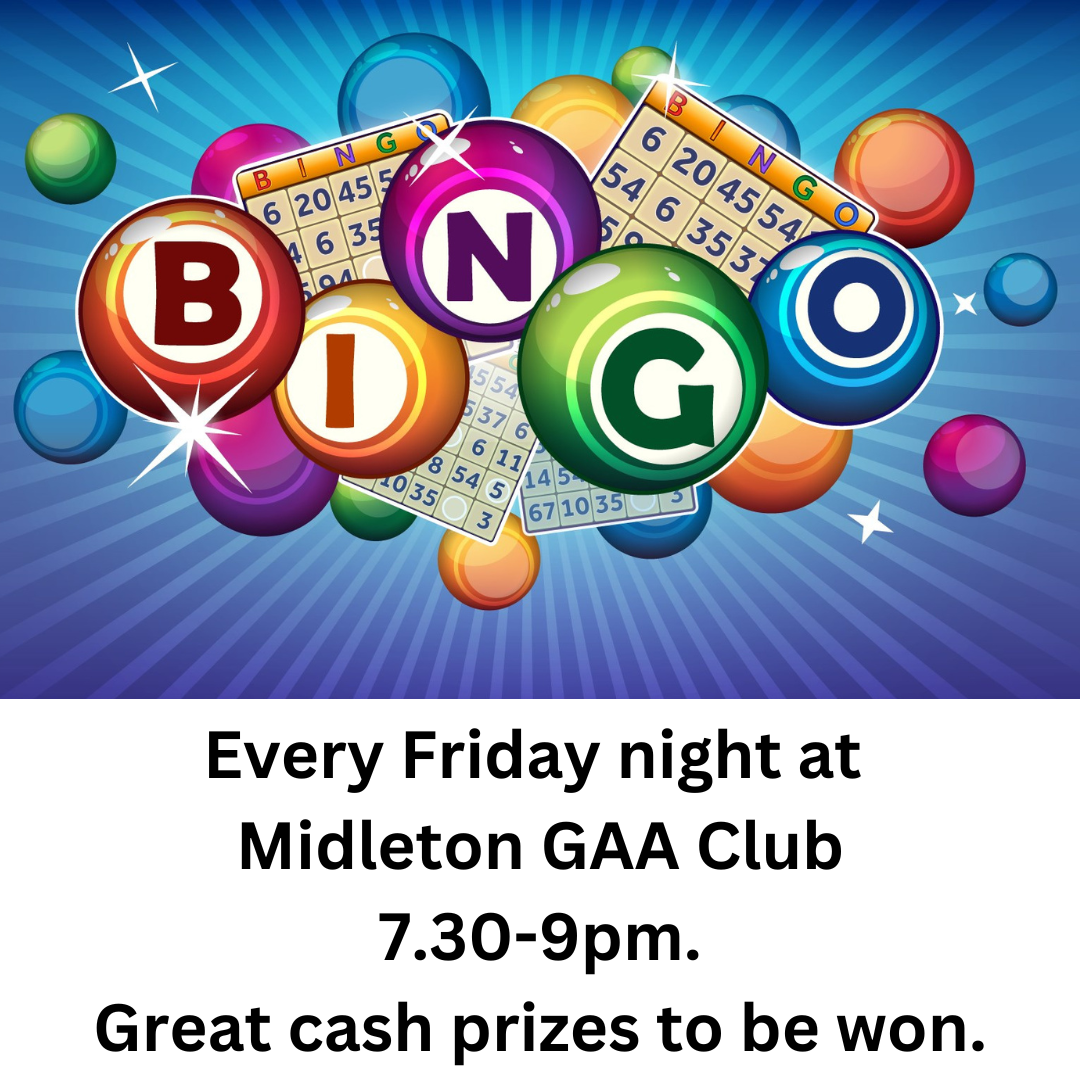 Fancy a good night which also benefits Midleton GAA club...what about bingo on Friday nights?
It kicks off at 7.30pn every Friday night and is over by 9pm. A single book is €6. A double book is €12. The numbers have been really good of late it would be brilliant to keep it going as it really benefits the club.
BAD REPUTATION
A huge thank you to Paul O'Meara and his band BAD REPUTATION who played a brilliant gig in the club pavillion on Saturday night.
SOCIAL DANCING
Social dancing returns this Saturday night with music by the excellent Declan Aungier from 9.15pm.
PLEASE PLAY YOUR PART
​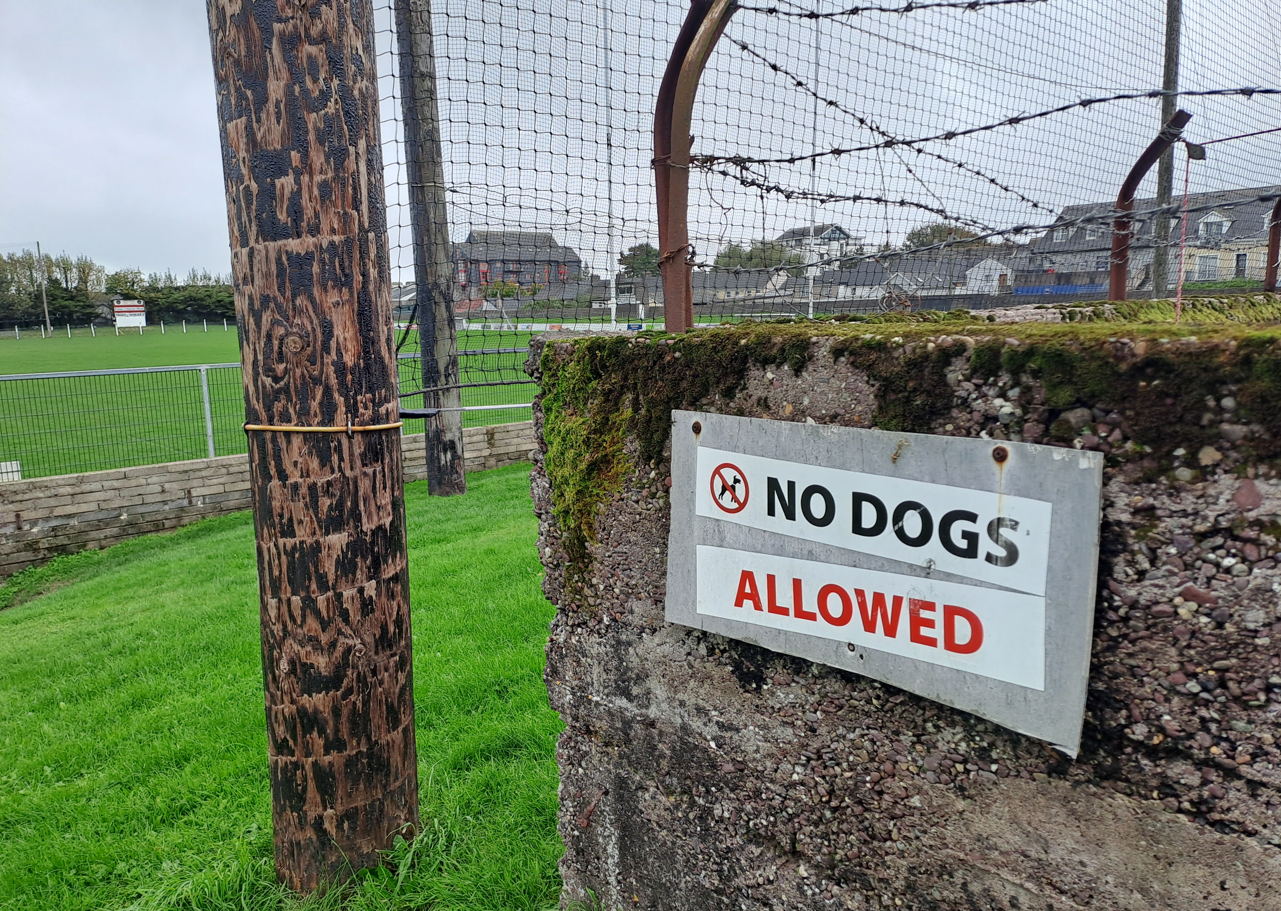 We are asking all players, mentors, parents, supporters and neighbours to please play their part by playing ball on the following.....
Please slow down entering and leaving Park South.
No dogs, except assistance dogs, are allowed at Park South or Clonmult Memorial Park.
Please do not bring single-use plastic bottles to either Park South or Clonmult Memorial Park.
Please put your rubbish in a bin or bag and please bring your gear home with you.
And always be aware of the open water surrounding the pitches in Park South.
If you are a coach, please pass on these simple messages to players and parents.
All members are asked to respect referees and their officials at all times.
Also if you are a coach, last person out locks the gate, toilet and container.
ROAD RACE
A member involved in this upcoming Road Race in Little Island asked me to share the details below....