Midleton Hurling & Football, Ladies Football & Camogie Club NEWS
03 December, 2017
Minor Hurling (Iomána na Mionúr)
Earlier today our Minor Hurlers completed their season with a comprehensive Premier 1 League Final win over our close rivals Sarsfields on a scoreline of 2-14 to 0-5.
The game was played in Riverstown in near ideal conditions for this time of year. We were dominant from the start and our half back line and midfield were hurling well and in control. With a quarter of an hour in Tommy O Connell buried a penalty in the corner after Arthur Nganou was taken down in the square. At half time the score was 1-8 to 0-2, with points coming from Kian Farmer, Kevin Finn and Aaron Mulcahy. The expected Sars onslaught happened at the start of the second half, but proved to be a false dawn as they just couldn't penetrate the Magpies rear guard. When Kevin Finn scored our second goal ten minutes in, making the score 2-10 to 0-3, the game was effectively over at that stage. We emptied the bench and went on to score another four points from Kian Farmer, Kevin Finn, Harry Wall and Tommy O Connell. The Sars pitch was in great order and fair play to the their who soldiered well to the end.
Team: Alan Power, Cormac O Brien, Sean O Sullivan, David Scanlon, Eoin Maloney, Sean O Leary-Hayes, Cian Murray, Tommy O Connell (1-4, (1g Pen, 3f)), Shane Finn (J Capt), Kian Farmer 0-4, Aaron Mulcahy 0-3 (1f), Gary Carroll, Kevin Finn 1-2, Harry Wall 0-1, Arthur Nganou. Used Subs: Cathal Gunning (J Capt), Luke Smith, Andrew Nestor, Ronan Lynch & Mark Daly. Unused Subs: Ryan O Riordan, Samuel Quirke & Cian Crowley.



Annual General Meeting (Cruinniú Cinn Bhliana)
The Hurling & Football annual general meeting will take place on Wednesday next 6th December @ 8pm.
Condolences (Coimhlint)
The Club Executive would like to express their condolences to the family of the late Willie John Daly former Carrigtwohill and Cork great. Willie John was the last remaining member of the historic Cork Hurling 3 in a row team of 1952/53 & 54. He lived in Midleton for many years and trained our Intermediate hurlers when we won the County title in 1962.
Ar Dheis Dé go raibh a anam uasal.
Ladies Football (Peil na mBan)
Minor East Cork D Championship Final v Fermoy
Our Minor Girls had a comprehensive win over Fermoy in the Final of the D Championship. What was our Clubs last game of the season our girls came out with a very positive attitude and this was obvious from the moment the whistle went. They fought for every ball and their passing and movement around the pitch was a joy to watch. Well done to all the girls on the panel and to your mentors.
Team: Aoife Franklin, Rayanna Power, Lizzi Phiri, Alice Reddy, Ali Smith, Rhea Buckley, Molly Beausang, Roisin O' Callaghan, Sadhbh Beausang, Clodagh Finn, Lucy Kenneally, Abby Quirke, Claudia Kearney(capt), Lucy Wallace, Katie Horgan, Deirdre Corcoran & Ellen Ryan.
This year Midleton Gaa, Ladies Football and Camogie Clubs are accepting non perishable food donations to present to St Vincent de Paul. You may bring items to the Club shop on Saturday morning from 10-11am. All donations will be gratefully accepted.
Training continues on Monday night. U8's are from 6-7pm at the Community Centre. U10 upwards are at the hockey pitch from 7-8pm.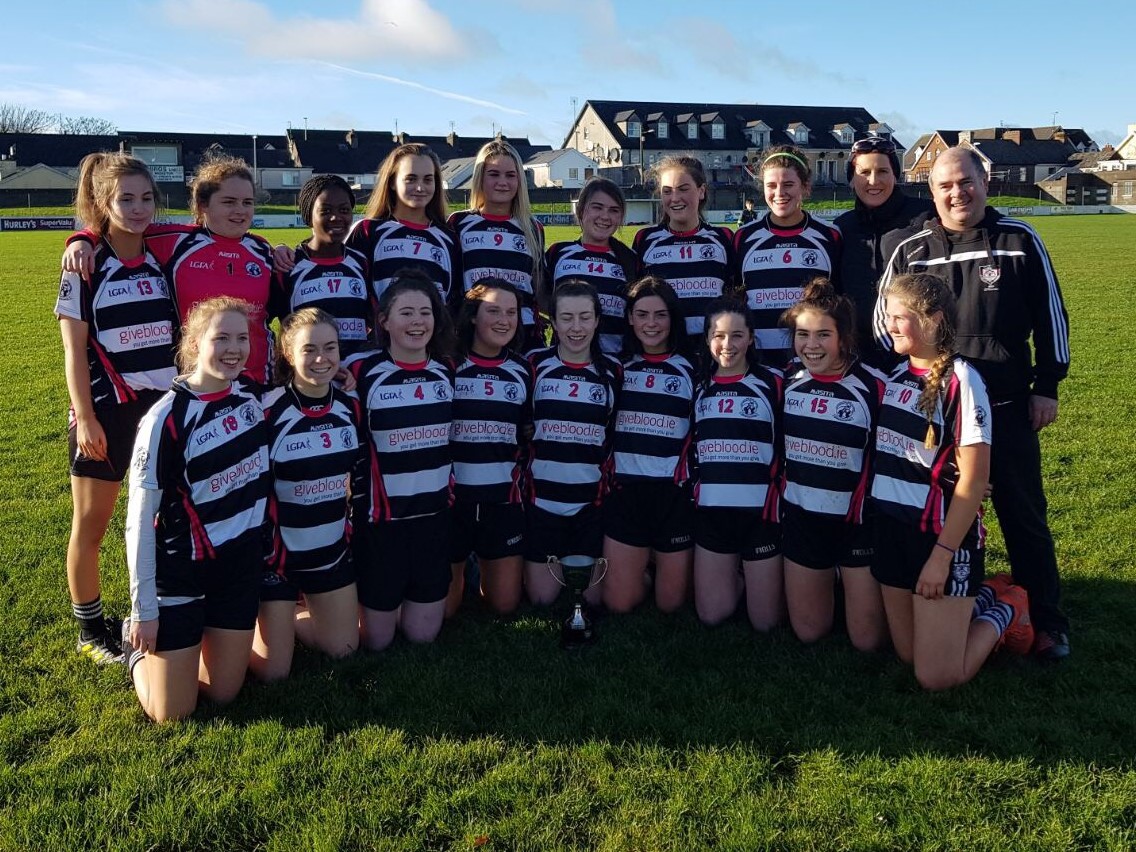 Christmas Food Appeal 2017
Midleton GAA, Juvenile, Ladies Football & Camogie Clubs Food Appeal. Donations of NON-PERISHABLE Foods (best before date well into 2018) can be dropped to the Midleton GAA Club Shop on Saturday next 9th of December between 10am & 11am. Donations will also be accepted at the Juvenile Socials on both these dates. We hope all our members, friends and the wider Midleton community will support this very worthy cause and give families in our community a very happy Christmas.
Please see www.midletongaa.com/notes for a list of suggested food items.
St Stephens Night Entertainment
Local band FLAKE the GANDER will play in the Club on St Stephens night supported by The Two Dans, Eoghan Hennessy and DJ Aaron Stanton, doors open at 7.30pm, tickets are only €15 and are available from Pat O Brien at 086/8118815 and 083/8406390.
Lotto (An Lató)
Our Lotto Jackpot was €3,00, the numbers were2,4,6 &24 , there was no winner, the Lucky Dip winners were Ann/James Mc Gann, Sarah/Sinead Crowley, Darren Ahern, Willie Lawton & Catherine Desmond, next week's Jackpot will be €3,800.
Tickets are on sale at the Club Bar, O'Neills Bar, Linehan's Bar, Maple Leaf Bar, O' Farrell's Butchers, Frank Murphy Butchers, Pat Walsh Paints, Chadwicks, Teach Beag, Niall Mac's Bar & Wallis's Bar.
Our Online Lotto is now available, logon to the Club homepage www.midletongaa.com to purchase your ticket.
BINGO each Friday at 8 pm. As well as our usual Jackpot of €1,000, the Green Sheet ( on 5 numbers ) is still there to be won at €1,200.

Juvenile
AGM
The Juvenille AGM took place in the Club on Wednesday night last the 29th of November at at 8.00pm. The meeting was well attended. The meeting opened with Cormac Quirke delivering his Chairman's Report for 2017. Cormac discussed Pitches, Schools, Rebel Og, Club Events and Juvenile Sponsors. Cormac also confirmed that this was his final year as Juvenile Chairman and convyed his thanks to everyone that helped out over the last number of years and wished the Juvenile Club and the incoming Committee the best of luck going forward. Next up was Liam Wade as Secretary of the Juvenile Club who delivered his report. Liam acknowledged all the relatives and friends of Midleton GAA Club members who paseed away in the last year and extended the Clubs deepest sympathies to all. Liam Wade also confirmed that this was his last year as Juvenile Secretary and paid a special word of thanks to Cormac who did a phenomenal job as Vice Chairman and Chairman of the Juvenile Club over the past 10 years. The next item on the agenda was to take everyone through the balance sheet for income and expenditure . A special thanks was given to Mary Quinn for another great years service and dedication in her role as Treasurer in the Juvenile Club. Ruth Walsh delivered the Registrars report and confirmed that 408 juvenile players were registered in 2017 across the Juvenie teams from the Fe6 to 16's. As PRO, Ruth Walsh thanked all the Juvenile coaches, 87 of them involved in Juvenile in 2017, for their time and invaluable contribution that they provided to the Clubs Juvenile Players and highlighted in her report all the various Juvenile events which had taken place during the year. Ingrid Connaughton delivered her Child Welfare Officer report and spoke of the landmark Cul Camp which she is co-ordinated with Darina Foley and was the first ever mixed Cul Camp held at Midleton GAA Club. Ingrid also confirmed that Midleton GAA has 100% compliance with Garda Vetting and Midleton GAA Club had responded to a Club Audit issued earlier in the summer by Croke Park. Martin McSweeney was next up to deliver his Coaching Officer Report and outlined how the Club had achieved Gold Standard Award for Coaching last year and was looking to retain that accreditation this year. Martin outlined the Primary School Coaching Programme and that coaching is delivered to the local primary schoos; Midleton CBS Primary, Gaelscoil Mahinistir naCorann, St John the Baptish N.S. and Ballintotis N.S. from October to June each year. Martin thanked and acknowledged Criostoir O' Cathasaigh, Jim O' Sullivan and Aileen Howick for their co-operation and assistance and expressed his gratitude on behalf of the Club for Jim's work in Midleton CBS and wished him well in his retirement.
The appointment of the Committee for 2017 were then nominated and seconded as follows;
Chairman – no nominations (Cormac re-elected on temporary basis)
Secretary – no nominations
Willie Lawton, Vice Chairman (Under 6's to Under 11's)
Michael Carroll Asst. Secretary, Mary Quinn Treasurer, Ruth Walsh, PRO,
Tracy Saunderson Registrar, Ingrid Connaughton – Child Welfare Officer (Appointment will be made at Adult AGM)
Martin McSweeney – Coaching Officer (Appointment will be made at Adult AGM)
All of the above nominations will now go forward to the Adult AGM taking place on the 6th of December at 8pm for ratification as will the team managers listed below.
Team Managers for 2018 Season were proposed as follows;
Fe6 To be appointed in January, Fe7 Liam Walsh, Fe8 Shane O' Dowd, Fe9 Aidan Moloney & Robbie Barry, Fe10 Willie Lawton & Michael Carroll, Fe11 Kevin McSweeney, Fe12 Martin McSweeney, Fe13 Ray Fitzgerald, Fe14 Liam Barry, Fe15 Jerry Smyth, Fe16 Steve Kane.
Coaching (Oiliúint)
On Monday night last in the warm confines of our ball alley we held a hurling coaching workshop with GDA's Colm Crowley and Shane Supple, and 15 of our club coaches in attendance. Colm outlined the do's and don'ts of a training session emphasising the importance of clear explanation and demonstration of skills and the importance of integrating this skills into game based training and setting realistic goals and targets. The session was interactive with the coaches providing the questions and answers (with a little prompting) to the scenarios they encounter in everyday training sessions. The need to challenge players but not overwhelm them was emphasised by Shane particularly when dealing with younger player age 10 and under. Referring to the club player pathway Shane highlighted the importance of age appropriate training sessions and targets paying particular attention to ensure the skill being taught is achievable i.e. not setting the child up to fail . Overall it was a very worthwhile hour and a half, credit to the coaches for turning up on such a cold night a few weeks before Christmas. As a club we endeavour to provide top class education resources so as to deliver top class coaching to our players. We achieved the Gold Standard Coaching Award for Rebel Óg in the year gone and we aspire to maintain that standard into the future by both challenging our coaches and providing them with the educational tools required to develop themselves as coaches in order to improve our players. Thanks to the GDA's and Rebel Óg who do a great job supporting the clubs and are always on hand to help out and provide their expertise when ever asked. Hopefully all our coaches will enjoy the winter break and come back rejuvenated for the new season of 2018.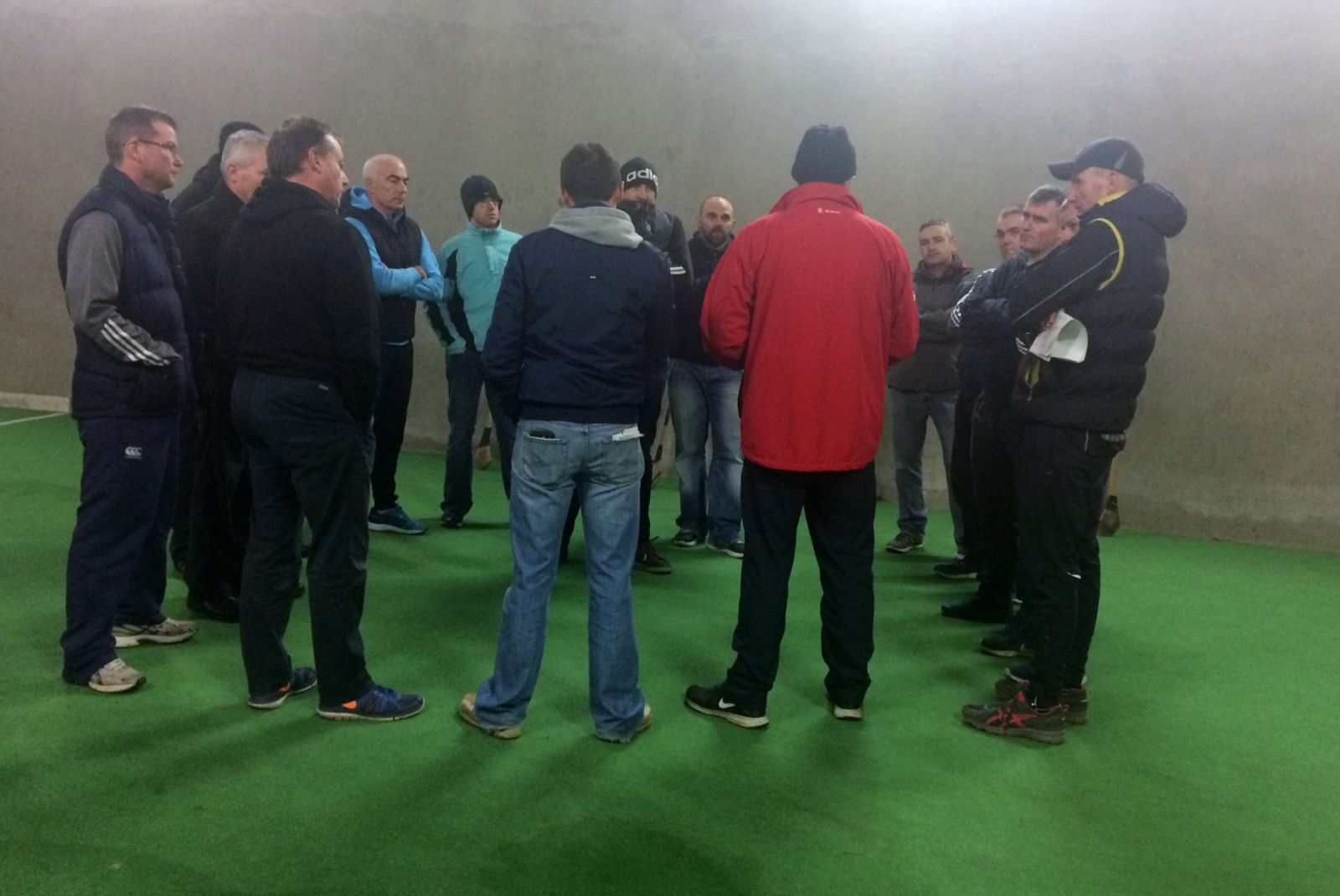 Red Cross Certified Training Course
On Wednesday December 13th at Midleton GAA Club, Ber Cotter, Health & Social Care Officer in Midleton/Carrigtwhoill Red Cross will provide a fully certified course to our coaches and will train our attendees in Adult and Child CPR and use of defibrillator, treament for choking, stroke and heart attack. The course will run from 6-10pm. We wish to extend our sincere thanks to Ber Cotter for delivering such a valuable skill to our club coaches.
Juvenile Social for Junior Infants to Fe9s
On Saturday last December 2nd we had a Christmas party for the junior infants to under 9s age groups at the GAA Club. We had a great turnout out of players and their families from each of the age groups. Good fun was had by all and with some great dancers on show during the disco. Thanks to all the lads and parents for all their commitment during the year and very best wishes for the Christmas from the Midleton GAA club juvenile club. See some photos attached of all the happy faces receiving their selection boxes from their team coaches in the Fe6's, 7's, 8's and 9's.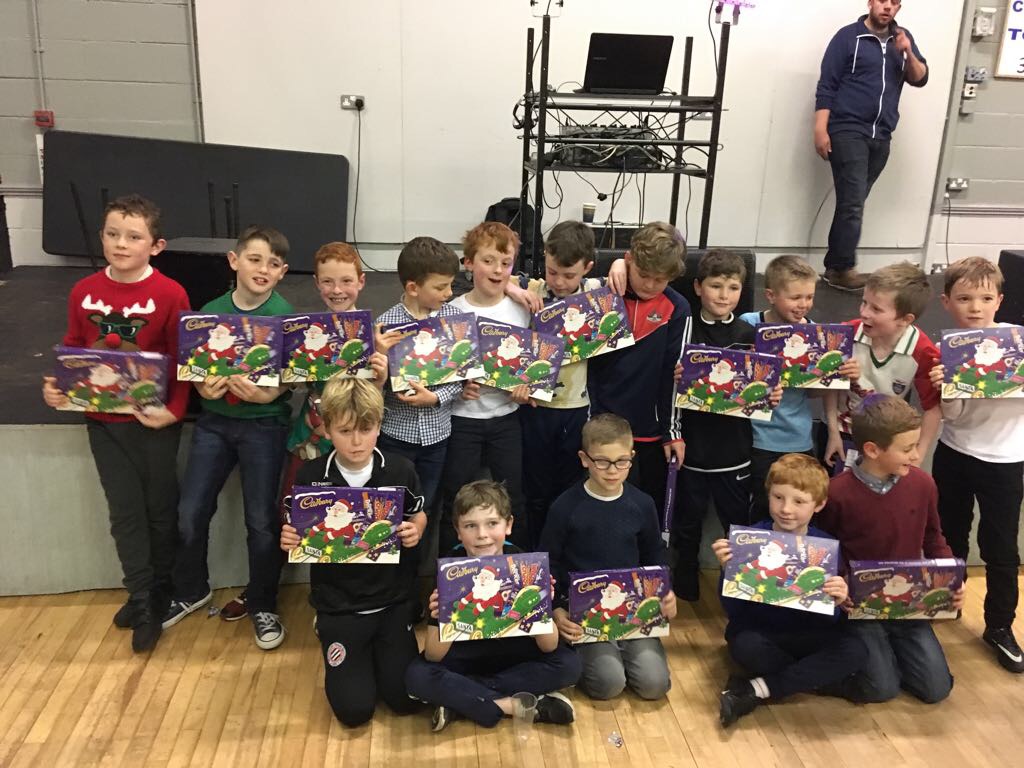 Juvenile Social for Fe10's to Fe16's
Our Juvenile Social for our Fe10 to Fe16 players will take place on Saturday December 9th at 7pm. Food and refreshments will be served to players on arrival. Most improved players award will be presented to players from the Fe11 to Fe16 teams together with all medals won by all teams during the season presented. We hope all players and their families will come to this very special evening which marks the end of the playing season. The Juvenile Christmas draw will take place in the Club Lounge at 9pm. Players and their families are invited to attend and music and food will be served in the lounge.
Christmas Draw
Tickets are still available for our annual super Juvenile Christmas Draw from our team managers and club officers, please return any tickets sold or unsold as soon as possible.
The Draw will take place on Saturday next 9th of December in the Club, everybody welcome.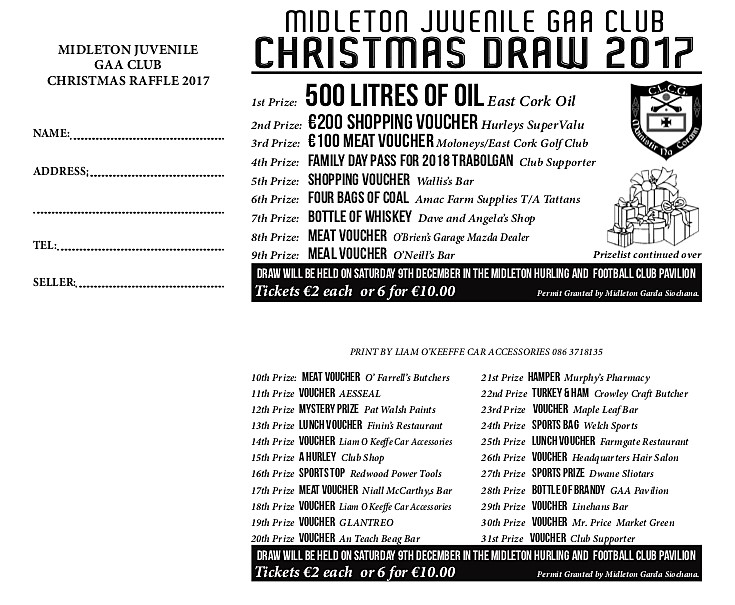 Juvenile Events (Imeacht na nOg)
Christmas Food Appeal – Saturday 2nd & 9th Donations can be dropped to the Club Shop or can be brought along on the night of the socials
Juvenile Social, Fe10's-16's – December 9th @ 7pm
Juvenile Christmas Draw – December 9th @ 9pm Club Lounge
Club Shop (Siopa Clubanna)
The Club Shop is open this Saturday from 10 to 11.30am, please note that the Shop is now taking orders for Christmas, call in as soon as possible to place your orders to avoid dissapointment.