Midleton Hurling & Football, Ladies Football & Camogie Club NEWS
15 October, 2017
Minor Hurling
Our second team had a fine win this week over Sars in the C Hurling League semi final by 4-11 to 2-10.
Team: Alan Power, Adam O'Connell, Luke Smith, Mark Daly, David Scanlon, Cian Murray (0-02), Andrew Nesto, Aaron Mulcahy (0-02), Ciaran Evans (2-00), Jake Shanahan, Kian Farmer (1-04), Tom Scanlon, Ronan Lynch (1-01), Harry Wall (0-01) & Griffin Hurley.
Subs Cormac O'Brien, Kevin Finn (0-01) & Gary Carroll.
This coming Tuesday the 17th we are playing Na Piarsaigh away in a game which is doubling up for the League final and a tournament semi final.
In the Premier 1 Hurling play off we are playing Na Piarsaigh at home next Saturday the 21st afternoon @ 2pm.
Post Primary Schools Hurling
Midleton CBS had an emphatic win over in the Harty Cup first round last Wednesday against De La Salle of Waterford in Bushy Park by 1-21 to 0-12. We were very well represented by captain Sean O'Leary Hayes, Alan Power, Cormac O'Brien, Sean O'Sullivan, Ross O'Regan, Arthur Nganou, Gary Carroll, Luke Smith, Ciaran Evans, Kian Farmer & David Scanlon.
CBC were very unlucky when a late surge by Templemore resulted in a win for the Tipperary side by the minimum 1-15 to 2-11 in Clonmel. Tommy O'Connell captained the side which also included Kevin Finn.
The next round of games takes place on Wednesday the 25th when Midleton CBS take on Charleville CBS and CBC play St Flannans @ 1.30pm, venues to be confirmed.

Best of luck to the Dean Ryan team who play the semi final against St Flannan's on Tuesday next the 17th in Charleville @ 1pm.
Cork Clubs Draw
The Cork GAA Clubs draw for 2017/8 is due to start in the next two weeks. Please contact Steve Sheehan, Pat O Brien or John Fenton with your payments. There is a bonus draw for all fully paid up members. Cost for the year €100 with the club getting €45 for every ticket sold.
Club Pavilion Bookings
Our Club facilities which include a Lounge, Hall and meeting rooms are available for Hire to all club members and supporters, we can cater for Christenings, Communions, Confirmations, Birthdays, Anniversary's, Christmas & Retirements parties, etc.
Please contact Pat O'Brien for reservations @ 086 8118815.

Ladies Football
On Saturday last the 14th of October Castlehaven made the 100km journey to challenge for a place in the semi final of this years Cork County Minor D Championship.
Missing two of our influential players Kari McEvoy and Lucy Wallace both out through injury, this was going to be a tough assignment. The game started with Abby winning the throw in who gave it to Ali who found Molly in space who slotted the ball past the Castlehaven keeper. What a start. But slowly and surely Castlehaven began to settle and slotted over four unanswered points. We hit back for another 2 and after 10 mins Castlehaven took over and blitzed us. They drove forward from their backline and with our girls not tracking back, the backs were completely over run. At the twenty minute mark the half time whistle couldn't come fast enough. To make matters worse we lost the services of Ali who had to come off with a dislocated finger. Half time score; Midleton 1-04 v Castlehaven 7-06.
If you do the maths that's 7 points to 27. What does one do here? A welcome break and time to reflect.
Rhyanna stepped forward and volunteered to go in goal to allow Rhea to take up a position outfield. We asked the girls to go back out for the second half and give us something to cheer about, and by God they did. How many times have you heard a game summed up by the cliché 'it was a game of two halves' , this was one of these games.
The first half we want to banish from our memories and the second half that we will remember for years to come. The girls were only given one instruction going back on the field 'Goals'. Our defence tightened up and led by a transformed Claudia at full pack pushed up the field. Incredibly after twenty minutes we had cut their twenty point lead down to five points and hunting the game. The only danger with pushing up so high in the field is when the opposition overturn the ball there are huge gaps in the back and Castlehaven capitalised on this twice in the last ten minutes to run in for two goals. We were not going to come back from that. They kept going right to the final whistle. You could not ask for more from an incredible group of girls and never fail to surprise us. We asked them to give us something to cheer about and they did in spades. Full-time Midleton 5-09 v Castlehaven 9-10.
All is not lost, we are still in the East Cork Minor League Final against Fermoy, and the way we played in the second half, we fear no one....
Team: Rhea Buckley, Rayanna Power, Lizzie Phiri, Claudia Kearney, Roisín O'Callaghan, Deirdre Corcoran, Ali Smith, Abby Quirke (0-2), Sadhbh Beausang (1-5), Laura O'Leary, Aoife Franklin, Molly Beausang (2-0), Alice Reddy, Lucy Kenneally, Katie Horgan, Clodagh Finn (2-2) & Ellen Ryan.
Due to the weather warning that is in effect for Cork tomorrow there will be no training for all age groups. A text message will be sent with confirmation.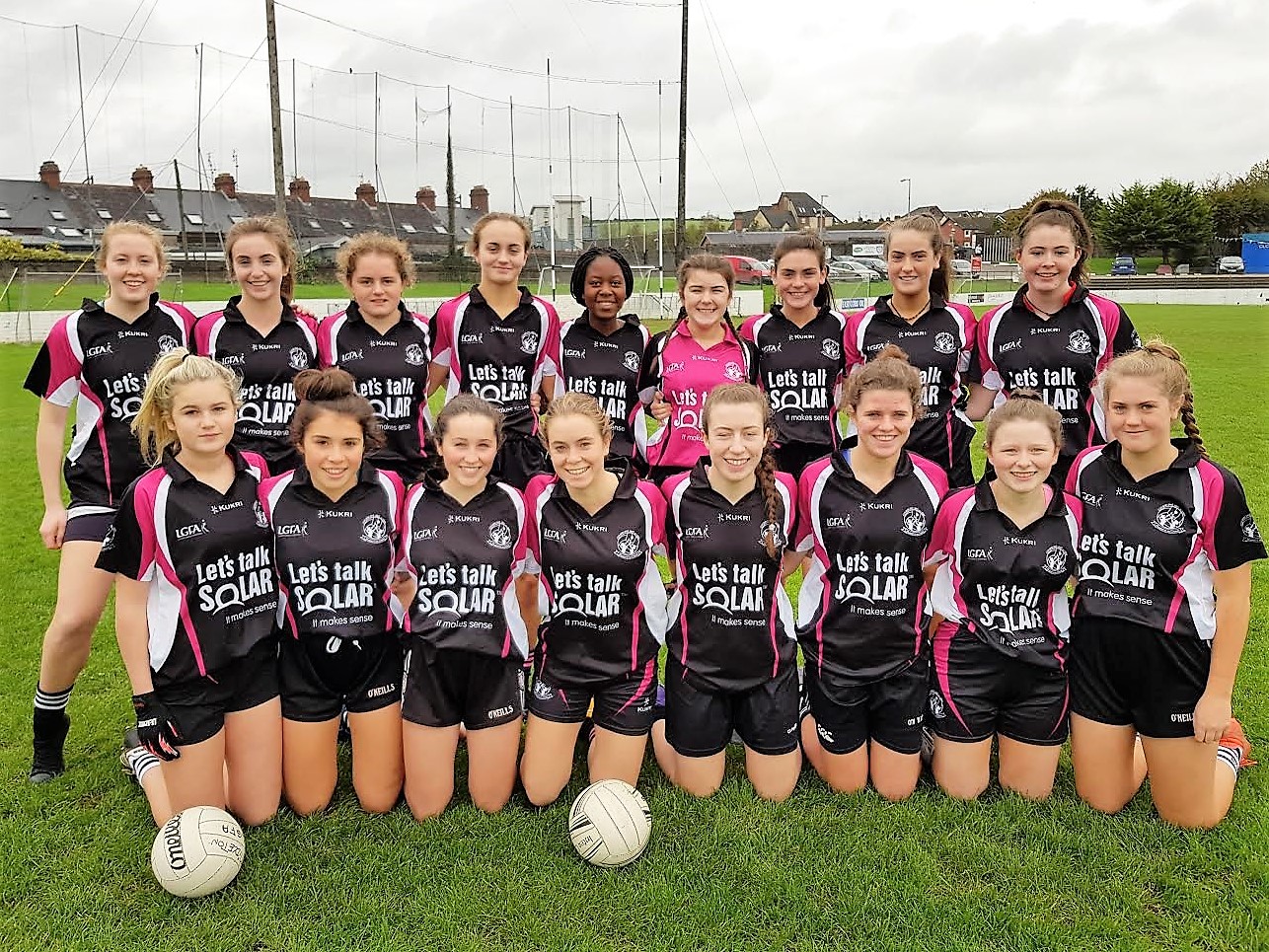 Camogie
We were delighted to be invited to Killarney again this year to take part in the Veronica Stack Memorial Tournament. This year's tournament was held Saturday the 14th October and consisted of U9 non competitive Blitz and U12 league playing for a cup and a shield. Our U9's played against Tralee and Ballinascarthy in two very competitive games, our girls rotated positions ensuring each player had the opportunity to play all positions. The rules of the competition required ground hurling only which the girls adapted to very well. The girls as always put in a huge effort and commitment throughout and are a credit to their mentors and club. Our U12's played a total of six matches on Saturday conceding a total score of only 2-02 throughout. We were drawn in a competitive group with Clonakilty, Mallow, Millstreet and Tralee securing two wins, one draw and one loss in the group stages put us into a semi-final playing for the shield, missing out on the opportunity to play for the cup by a single point. We played St Colms in the semi-final securing a place in the final v Millstreet. Our girls came out on top to be well deserved winners of the silverware. These girls have had an outstanding year it was great to see this panel lift their first spoils. We have on outing left next Sunday in Killeagh to bring the season to a close. Thanks to the parents and players for travelling, thanks to the coaches for giving of their time and for the time and effort and enthusiasm they have given to the girls and the club all year. Thanks to Killarney Camogie Club for the invitation and for hosting what is always a very enjoyable and well run tournament... we look forward to travelling to Killarney again next year.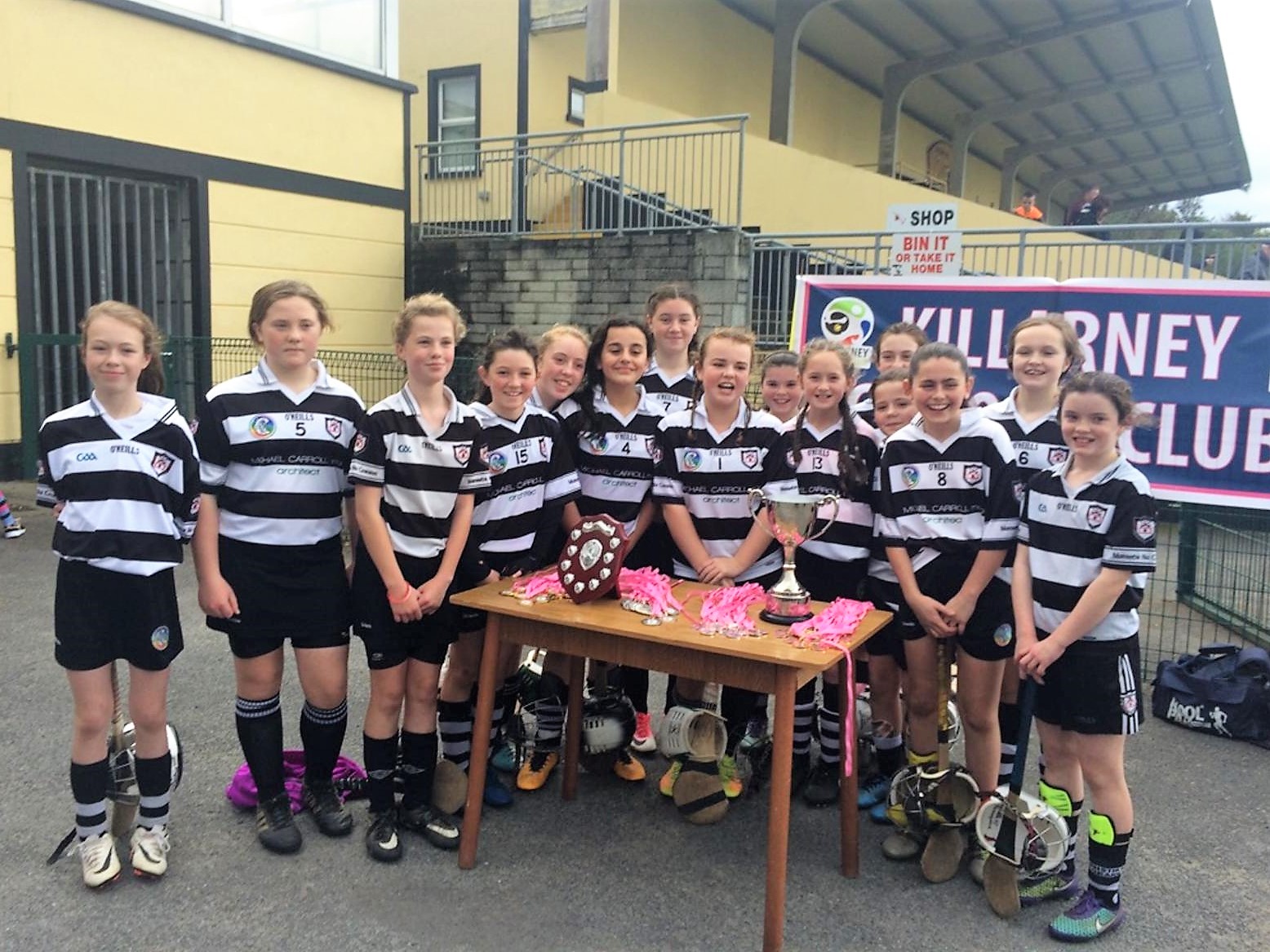 U13 - Congratulations to Chloe Garde and Caoimhe Murray playing for Imokilly U13 Divisional Blitz in Ballygarvan on Sunday morning last.
Training: U8/U9/U10 Friday in Ballinacurra at 6.30pm. U11/U12/U14/U16 Friday Midleton GAA Club 6pm. Any changes to training times will be communicated to parents.
Lotto
Our Lotto Jackpot was €2,200, the numbers were 11, 18 19 & 28, there was no winner, the Lucky Dip winners were Gerald Fitzgerald, Joe Hickey, Paul Linehan, B Byrne & Fidelma O'Reilly, next week's Jackpot will be €2,400.
Tickets are on sale at the Club Bar, O'Neills Bar, Linehan's Bar, Maple Leaf Bar, O' Farrell's Butchers, Frank Murphy Butchers, Pat Walsh Paints, Chadwicks, Teach Beag, Niall Mac's Bar & Wallis's Bar.
Our Online Lotto is now available, logon to the Club homepage www.midletongaa.com to purchase your ticket.
BINGO takes place next Friday evening @ 8pm in the GAA Pavilion with a weekly guaranteed Jackpot of €1,000.
Juvenile
James O' Brien Tournament
On Sunday last we hosted the James O Brien Fe12 tournament , under damp conditions this proved to be a wonderful day of hurling for all involved.
Carrigaline, Ballincollig, Kiltha Og, and Lismore were the teams invited to this wonderful day of hurling. We took on Carrigaline in the first match with the home side proving to strong for Carrigaline winning by 2-04 to 0-02.
The second game was a much tighter affair with Kiltha Og matching us pound for pound with some fierce tight strong hurling been played by both sides this was a cracking game of hurling and I'm sure both players and mentors will be seeing a lot of each other going forward in the years to come. We came out on top just marginally by 1-05 to 1-02.
Our third game was against Ballincollig which was a good tight game of hurling.
Our strong bench proved to be the deciding factor in the end as Ballincollig tired and our fresh legs got us over the line in the end by 2-05 to 1-01.
At this stage we had won our first three games and had secured a place in the final. The fourth game was against Lismore which was a must win game for them as it was between themselves and Lismore and Kiltha Og fighting for a place in the final.
We fielded a strong team against Lismore but there was more fight in the belly of their players and they were well on top throughout the first half. The Magpies fought back hard in the second half but left ourselves with too much work to do and were defeated by 1-04 to 3-2. With Kiltha Og losing their last game they lost out in their place in the final so it transpired it was going to be a Lismore v Midleton final. Our mentors regigged the team and made some positional changes for the final. A stern talking from Ray Fitzgerald before the final seemed to give the Magpies a new lease of life for the final. We hit the ground running from the start with some great scores from Tadgh Bohane, and flawless free taking from Darragh Fitzgerald and Darragh Scanlon keeping us well on top in the first half leading 1-05 to no score.
The start of the second half we scored three unanswered points putting us well on top. Each and every Midleton player played with their hearts out and never gave up fighting for each and every ball, The final score was Midleton 2-12 v Lismore 1-0, a great win for the home side.
The mentors would like to thank each and every member of the huge panel that showed up and took part on the day. And when captain Darragh Fitzgerald lifted the James O' Brien Cup the sense of pride and delight was visible evident in all those players equally evident in the mentors and parents. We would like to thank all who supported on the day. Also a special thanks to the O Brien family who presented the cup on the day. Finally huge thanks to all who helped out with cakes teas coffees it has been a wonderful year so far for this fantastic tight knit group of young men Magpies Abu.
The results of the Tournament are as follows;
Round 1 @ 10.30am Results: Midleton 2:4 v Carrigaline 0:2 / Kiltha Og 1:4 v Lismore 1:3
Round 2 @ 11.20 am Results: Midleton 1:5 v Kiltha 1:2 / Carrigaline 2:0 v Ballincollig 2:5
Round 3 @12.10pm Results: Midleton 2:5 v Ballincollig 1:1 / Carrigaline 0:1 v Lismore 5:7
Round 4 @ 1.00pm Results: Ballincollig 1:2 v Lismore 3:2 / Kiltha 2:6 v Carrigaline 2:4
Round 5 @ 1.50pm Results: Midleton 1:4 v Lismore 3:2 / Kiltha 2:7 v Ballincollig 4:3
Final @3pm Midleton 2:12 v Lismore 1:00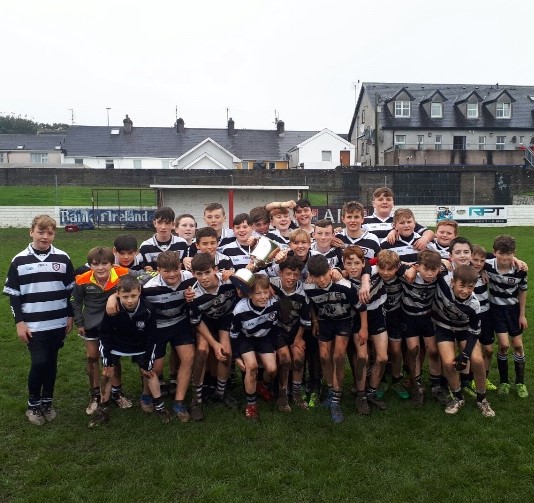 Junior Infant Registration
On Saturday morning last we held our Juvenile Registrations for Junior Infants. We would like to extend a very warm welcome to all our new Magpies and their parents. Indoor training will commence for this group of players in Midleton Community Centre (Former GaelScoil) on November 11th from 12.00 to 1.00pm. Indoor hurleys will be provided. Players will require a helmet for training. Helmets can be purchased at the Club shop which is open on Saturday morning from 10.00am – 11.30am.
Fe 7
We attended a very successful hurling Blitz last Saturday morning in Riverstown, thanks to our hosts and well done to all the players involved.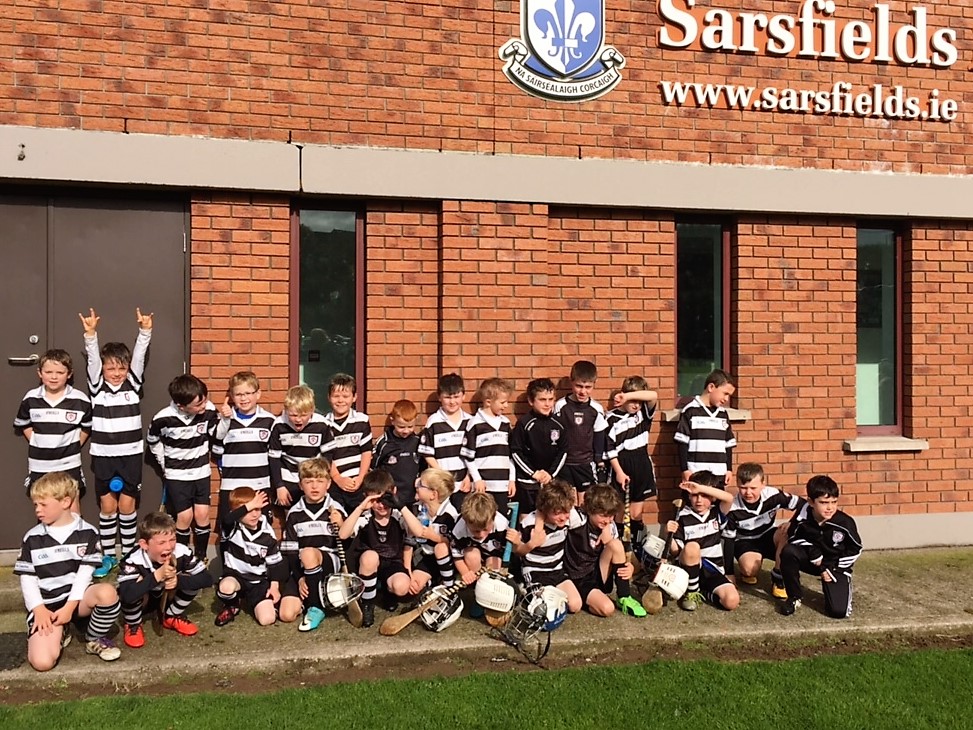 Fe 8
On Saturday last the 14th of October we attended the final football Blitz of the year in Pairc Ui Chaoimh. The club was extremely well represented fielding four teams which consisted of no less than 43 players. Each team played three matches and we were pitted against teams from all over the county that we would not ordinarily encounter such as Bandon, Boherbue and others. The event was very well run and the boys got to have their team picture taken with a member of the Cork Senior Football team. Our four teams all put in a great showing and competed vigorously from start to finish. It was a great outing and a promising first visit for our future senior stars to the newly refurbished venue.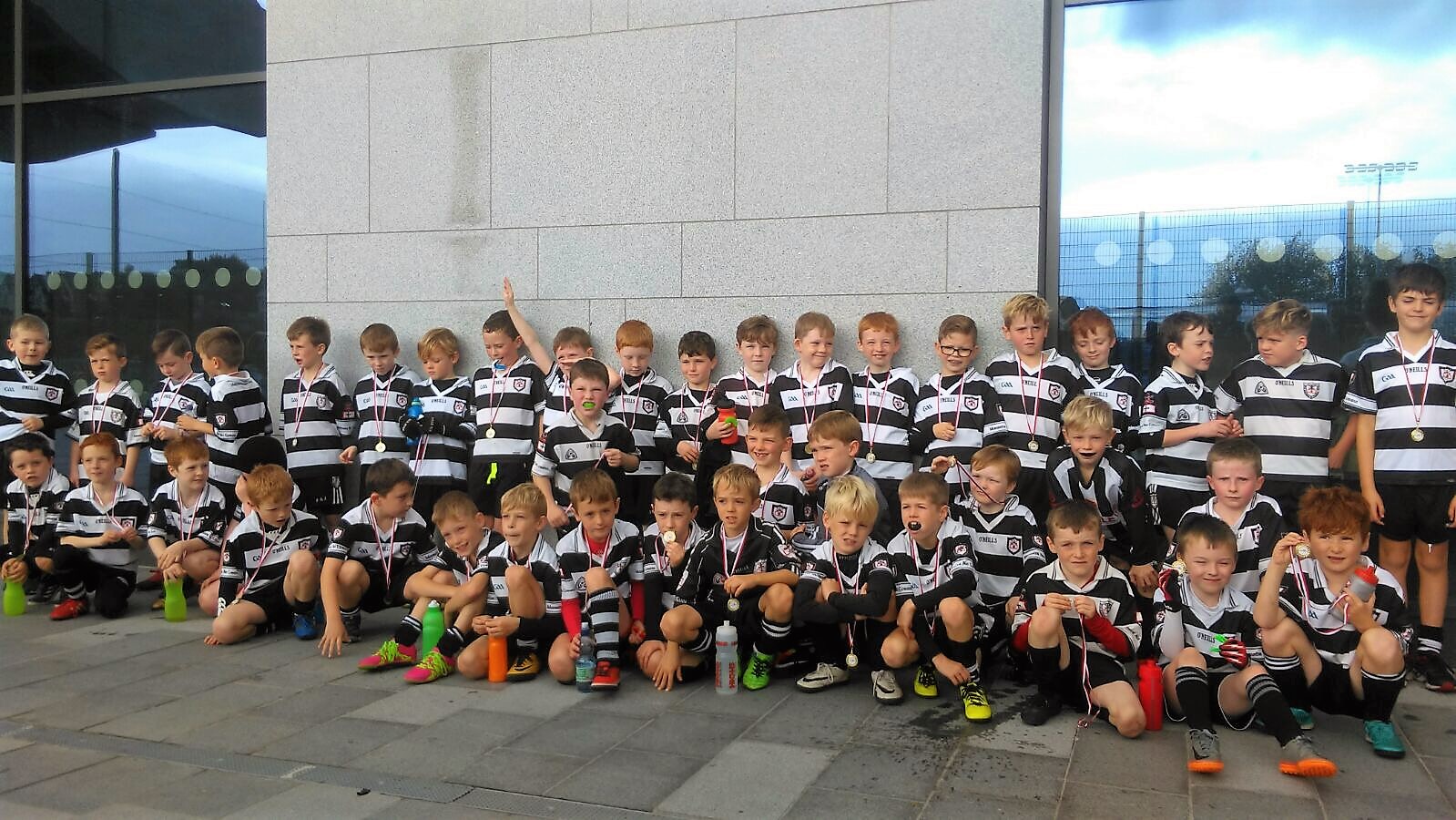 Fe 16
On Saturday the 14th we travelled to Cloudhduv to play Castlehaven in the Fe16 P2 Challenge Cup Final. We have built up a good sporting rivalry over the last few years with Castlehaven with some great games. This game turned out the same with some great football played by both sides. Both teams played with great spirit from the throw in which lasted until the final whistle. The difference between the two teams at the end was goals which we scored at vital times in the game. Our lads once again showed great spirit once they put on the Black and White jersey. Every player gave it their all which resulted in a great result for this bunch of honest players. Tim O' Sullivan received the Cup on behalf of the Magpies and gave a fantastic speech thanking everyone and especially Castlehaven for a great game.
Final score: Midleton 5-05 v Castlehaven 1-09
Team: Alex Pranger, Tim O'Sullivan, Cian Crowley, Dan O'Sullivan, Sam Quirke, Jack Fitzgerald, Ethan Daly, Aaron Mulcahy, Christian Murphy, Gary Carroll, Leo Hennessy, Patrick Kane, Paul Connaughton, David Scanlon, Adam Meade, Darragh Crowley, Gavin Reddy, Will O Sullivan & Ryan Cahill.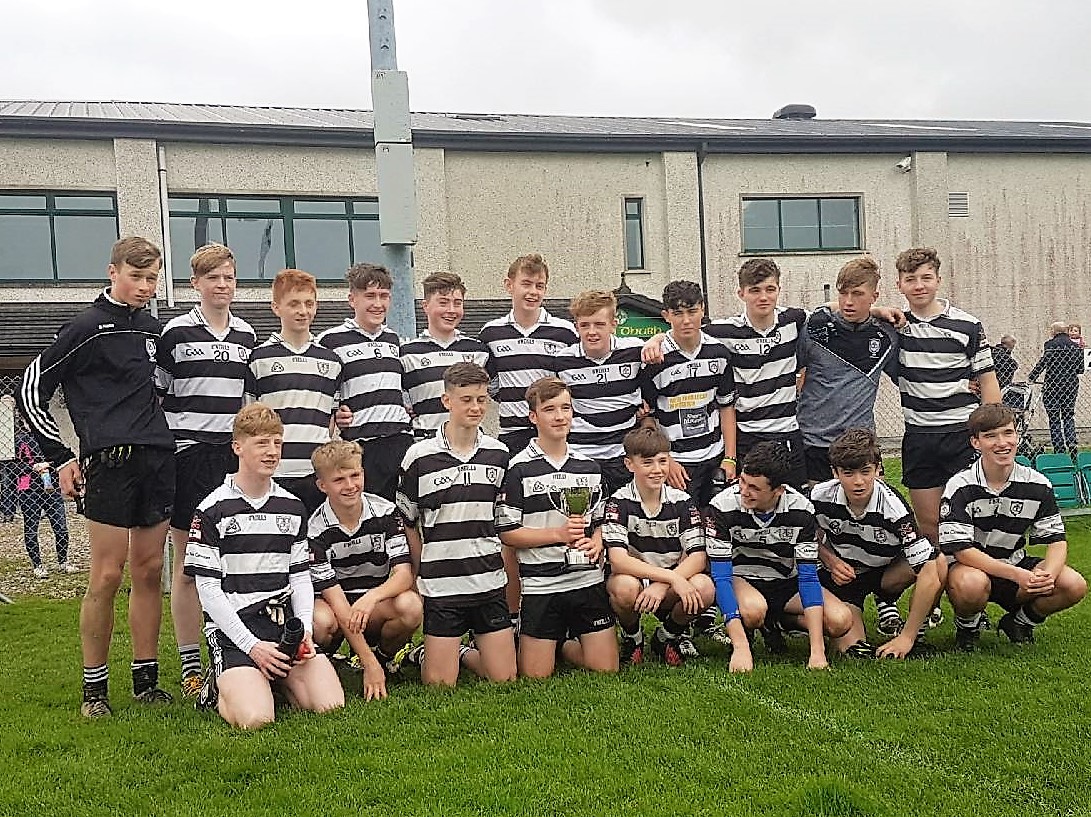 Club Shop
The Club Shop is open each Saturday from 10-11.30am with new Polo tops now in stock from ages ¾ to Extra Large.