Midleton Hurling & Football, Ladies Football & Camogie Club NEWS
08 October, 2017
Post Primary Schools Hurling
Having defeated Templemore recently the Midleton CBS hurlers defeated Ard Scoil Rís in the Dean Ryan quarter final last Wednesday afternoon at Golden by 1-22 to 0-15.
Well done to our club players Alex Quirke, Leo Hennessy, Jack Fitzgerald, Samuel Quirke, Ethan Daly & Paul Connaughton.
The semi final against St Flannan's will take place on Wednesday the 18th.
Last Friday afternoon having defeated Mitchelstown CBS in an earlier round the Midleton CBS hurlers defeated CBC in the Dr O' Callaghan Cup in Cobh by 1-20 to 0-15.
Well done to our club players on both sides.
Best of luck to all involved with both Midleton CBS and CBC in the Harty Cup first round games on Wednesday next the 11th against De La Salle of Waterford in Bushy Park (Brickey Rangers grounds) and Templemore in Clonmel respectively @ 1.30pm.
Cork Clubs Draw
The Cork clubs draw for 2017/2018 is now up and running, please support this Draw as our Club will receive a percentage of the ticket sale. Anyone interested can either go online on the Cork Gaa website or contact Steve Sheehan our club coordinator @ 085/1741460.
Gaa Golf Society
The Paddy Hayes Memorial golf outing will take place next Sunday the 15th of October at Waterock Gof Club from 11.30 to 12.30, everybody welcome.
Club Pavilion Bookings
Our Club facilities which include a Lounge, Hall and meeting rooms are available for Hire to all club members and supporters, we can cater for Christenings, Communions, Confirmations, Birthdays, Anniversary's, Christmas & Retirements parties, etc.
Please contact Pat O'Brien for reservations @ 086 8118815.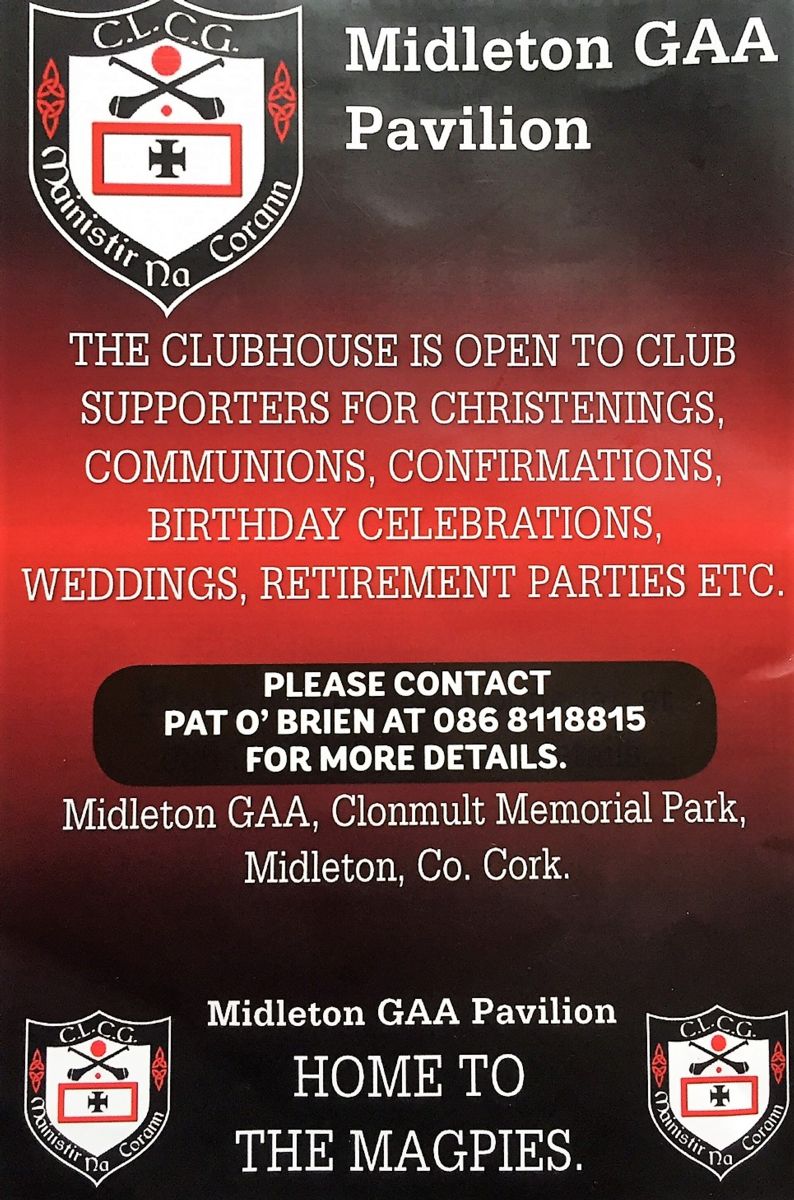 Ladies Football
Fe 12 semi final- Midleton 4-10 v Watergrasshill 1-03
Our girls were in action again this week with a home fixture in Clonmult Memorial Park.
A beautiful autumnal evening and a perfect pitch made for ideal conditions. The two teams served up a cracking game of Football. From the start our forwards were into their stride: Aoife Fitzgerald, Aisling McCarthy, Grainne Finn, Katie Smith, Kelly Quirke and Rachel Ryan all contributed to our half time lead. Jill Connaughton, Ellen O'Neill, Saoirse Ni'Theangana and Ava McAuliffe were rock solid in defence.
Our girls second half performance was as spirited as their first half one. Clara Collins, Isabelle Nestor, Selena O'Riordan-Hernandez, Amy Murray, Sheila O'Leary-Hayes, Lily Kelly and Eva McSweeney all helped propel us over the finish line and guaranteed them us one more final before the season is over.
Training for all age groups will now be from 6-7 pm, please note the earlier time especially those from U10 upwards. Our winter training will begin at Midleton Hockey Pitch from November 6th for the U10's upwards. Please keep an eye on text messages confirming this. Our U8 girls will move indoors to the Community Centre from 6-7pm. The date for this is yet to be confirmed, again please keep an eye on messages confirming this.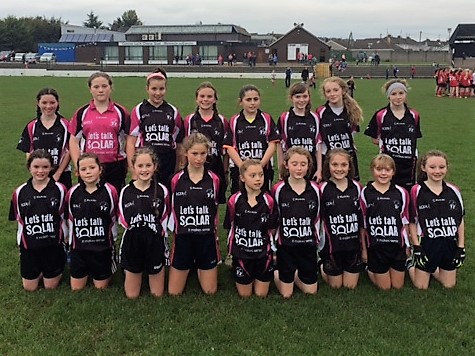 Camogie
Our Schedule for the coming week is as follows:
U6 & U7: No training
U8 / U9 / U10: Training Friday evening 6.30pm Ballinacurra.
U11 /U12/U14/U16: Training Friday evening 6pm Midleton GAA club.
U16 match V Mallow Tuesday evening in Mallow.
U9's and U12's attend Veronica Stack memorial Blitz in Killarney on Saturday next.
Lotto
Our Lotto Jackpot was €2,000, the numbers were 8,17,19 & 26, there was no winner, the Lucky Dip winners were Jackie Barry, Irene Ahern, Rose Wiggins, Margo Roche & Gerard Lehane, next week's Jackpot will be €2,200.
Tickets are on sale at the Club Bar, O'Neills Bar, Linehan's Bar, Maple Leaf Bar, O' Farrell's Butchers, Frank Murphy Butchers, Pat Walsh Paints, Chadwicks, Teach Beag, Niall Mac's Bar & Wallis's Bar.
Our Online Lotto is now available, logon to the Club homepage www.midletongaa.com to purchase your ticket.
BINGO takes place next Friday evening @ 8pm in the GAA Pavilion with a weekly guaranteed Jackpot of €1,000.
Juvenile
Junior Infant Registration
Registration for the newest crop of hurlers will take place next Saturday the 14th in the Gaa Club from 10am until 12 noon. We are looking forward to welcoming our future Magpies.
The membership fee is only €30, training for these young lads will then take place on Saturday the 11th of November in the Community centre from 12 noon to 1pm.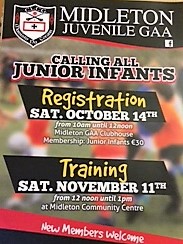 Fe 10
On Saturday morning last we took to the field for the final Rebel Óg game of the year. We welcomed Ballincollig to Clonmult Memorial Park. On a perfect morning for the small ball we produced some of our best hurling this year. All three teams played some brilliant hurling with some great hooking and blocking when they didn't have the ball. The standard is improving each week from all the teams we played. Next year's level I've no doubt will be tougher again. Also this week we had a visit from our Club captain and Cork senior hurler Luke O Farrell. Luke bought along the Munster Championship Cup and spoke to the boys about the importance of team work, sticking together as a team and never giving up on field. Afterwards he took questions from the players. Overall it was a very enjoyable experience for the boys. A big thank you to Luke for taking time out to come and talk to us. Training will continue for the next few Saturday's. Saturday's game was our last as Fé 10's and games have now finished until next year. Magpies ABÚ.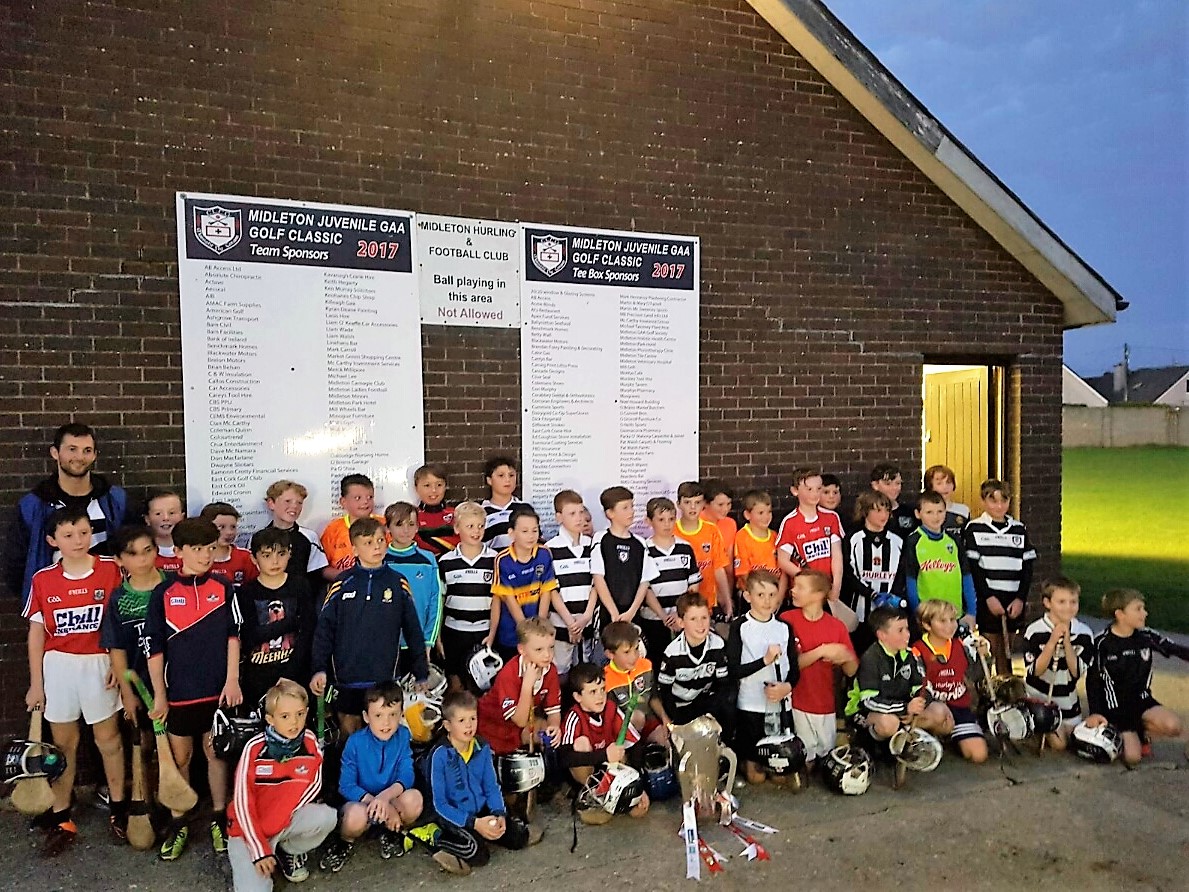 Fe 11
Last Saturday in Bishopstown was our hurling league final day. St Finbarrs, Youghal and the hosts provided the opposition. This was the culmination of the Fe 11 mini leagues which has run since March, the groupings for the finals in were based on league results. We fielded two very strong teams and after our performances last week in the Sean Fitz tournament we had high hopes of doing well. The first round saw us play Youghal with a win and a draw, it was a good start to the day's events, next up was St Finbarrs this was an excellent game of hurling with the Magpies coming out on top in both fixtures, everything rested on the last match against the hosts Bishopstown this was a very keenly contested affair with a one point and two point winning margin respectively this was a hard earned but well deserved victory. It was notable that all the fixtures were played in a very sporting manner which is a credit to all the teams involved. Even though there was no silverwear on the day we were still the outright winners of this group winning five out of six matches available. Well done to all 28 players on the day each one playing their part in a proud day for our hurlers.
Heartiest congratulations to our lads on their performance and behaviour throughout the long league campaign. Thanks again to the parents who travelled in big numbers for their support on the day, thanks to hosts Bishopstown and to GDA Colm Crowley for coordinating such a huge fixture list in both hurling and football throughout the season. Sunday morning next sees us travel to Inniscarra to play in another hurling tournament in what should be another big learning experience for our lads.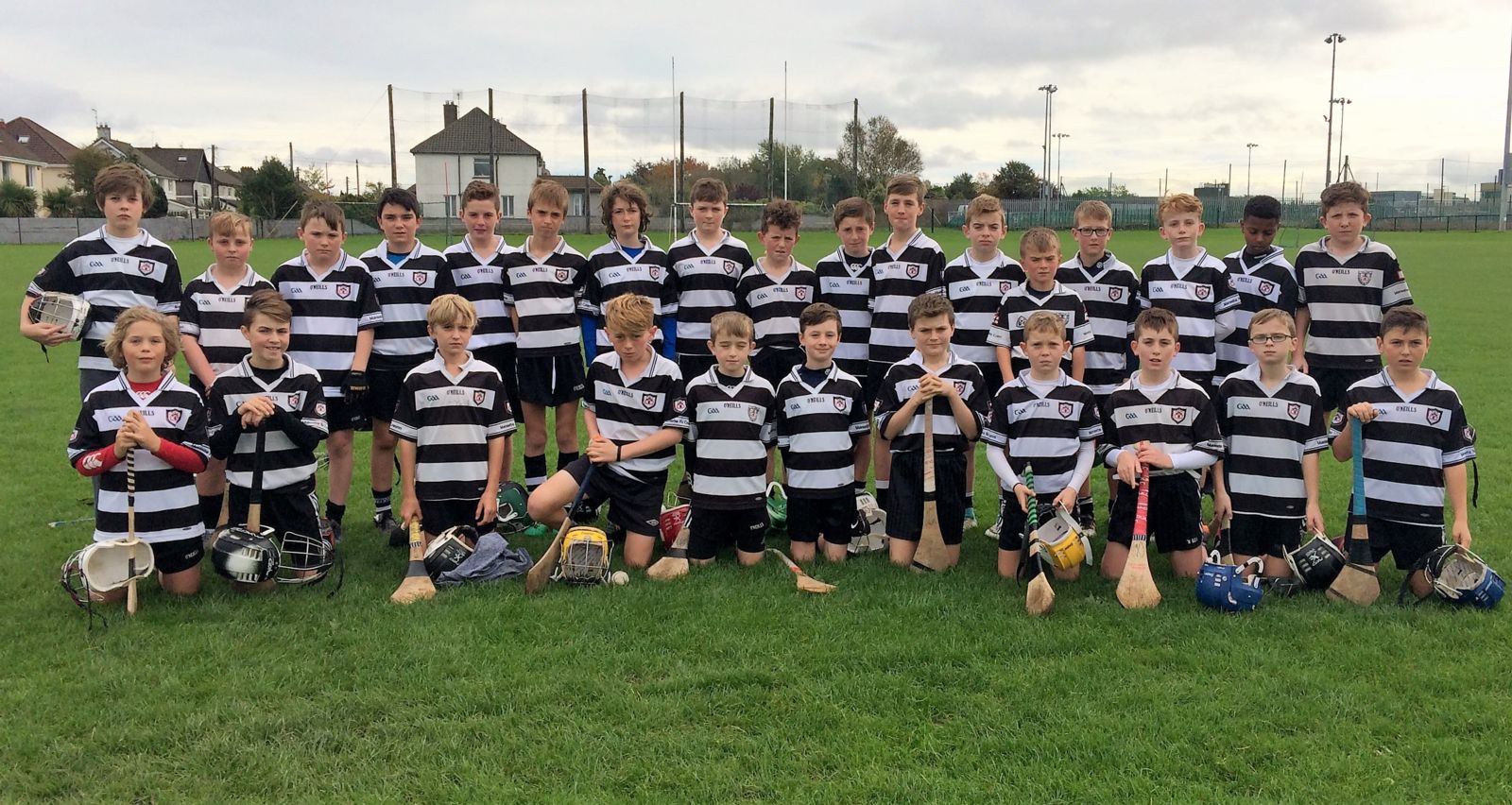 Fe 14
Rebel Óg Fe 14 Football Premier 1 Challenge Cup Championship Semi-Final v St Michaels
We defeated St Michaels on Monday 2nd October to qualify for the final of the Football Challenge Cup. Final Score Midleton 5-09 v St Michaels 1-05.
Panel: Niall Corcoran, James O'Sullivan, Brion Saunderson (2-01), Darragh McCarthy, Darragh Codd, Alex Quirke (2-01), Ciarmhac Smyth, Neil Fitzgerald, Evan McCarthy, Liam McGrath, Rory Hartnett, Ben O'Neill (1-01), Shay Bohan, Evan Kelly (0-02), Cian Murray, James Condon, John Spellman (0-01), Daire Mooney, Kelvin Barry (0-02) & Craig Collins (0-01)
Rebel Og Fe 14 Football Challenge: Midleton v Aghada
We defeated Aghada after a splendid game under lights in Rostellan on Friday evening October 6th. This was a thrilling contest and all in attendance enjoyed every minute of it. Final Score Midleton 5-15 v Aghada 3-12.
Panel: Ronan Gies, Niall Corcoran, James O'Sullivan, Fintan Greenwood, Brion Saunderson (1-02), Darragh McCarthy, Darragh Codd, Alex Quirke (0-01), Ciarmhac Smyth, Neil Fitzgerald, Evan McCarthy (2-01), Liam McGrath (0-01), Rory Hartnett, Ben O'Neill (0-04), Shay Bohan, Evan Kelly (1-02), Cian Murray (1-01), James Condon, John Spellman (0-01), Daire Mooney & Kelvin Barry (0-01).
Rebel Og Fe 14 Hurling Rebel Og C3 League.
We defeated Blackrock at home recently by 2-09 St Blackrock 3-03.
Panel: Brion Saunderson, Ronan Gies (0-02), Niall Corcoran, Neil Fitzgerald, Liam McGrath, Rory Hartnett, Ben O'Neill (0-01), Shay Bohan, Evan Kelly (0-03), Cian Murray, James Condon (0-01), John Spellman (2-00), Daire Mooney & Kelvin Barry (0-02).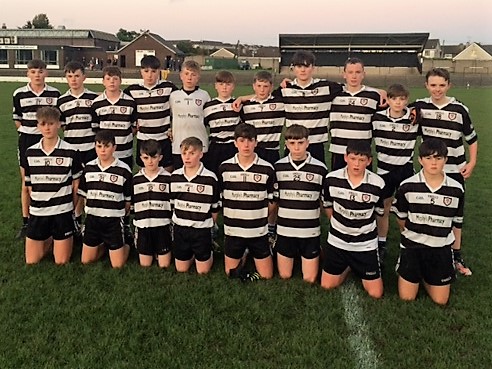 Club Shop
The Club Shop is open each Saturday from 10-11.30am with new Polo tops now in stock from ages ¾ to Extra Large.