Midleton Hurling & Football, Ladies Football & Camogie Club NEWS
01 October, 2017
Fe 21 Hurling Championship
Last Wednesday evening under lights we were defeated by Na Piarsaigh in Round 2 of the County Championship by 1-15 to 1-08. There was only the minimum between the sides at the break despite losing our captain Luke Dineen after twenty minutes through injury but in the second half they upped their game and there was only going to be one winner as a result.
Well done to all the players and the management Liam O'Keeffe, Alywin Kearney, David O'Brien , Patrick Dunlea and Diarmuid Geary for their efforts throughout the year.
Team: Alan Power, Sean O'Sullivan, Gavin Bagnell Harnett, Seanaidh Smyth, Sean O'Leary Hayes, Luke Dineen, Adam Daly, Ryan Mc Conville, Shane Finn, Eoin Moloney, Sean O' Meara, Padraig O'Brien (0-02), Ross O'Regan (0-03), Josh Deady (0-01) & Garan Manley (1-02, 1 free).
Subs used Kieran Moloney, Kevin Finn, Tommy O'Connell & Eoin Mitchell, not used Liam Franklin, Conor Evans, Cormac O'Brien, Luke Finnerty, Lochlinn Mc Carthy, Eoghan Collins, Conor O'Farrell, Kian Farmer, Jordan Roche & Conor O'Neill.
Minor Football Championship
We bowed out of the Premier 2 Championship last Monday evening with our heads held high after a thrilling game which went to extra time against St Michael's at the Mardyke, in the end we were unlucky losers by a single score 5-13 to 4-13.
Team: Conor O'Farrell, Cormac O'Brien, Eoin Mitchell (1-00), Luke Smith, Sean O'Sullivan (1-00), Eoin Moloney, Mark Daly, Sean O'Leary Hayes (0-02), John O'Dwyer, Kevin Finn (1-01), Tommy O'Connell, Shane Finn (0-01), Loic Nguefang (1-02), Ross O'Regan (0-04) & Arthur Ngangou (0-03). Subs used Kian Farmer, Griffin Hurley, Alan Power & Ronan Lynch.
Well done to the players and management for their efforts throughout the year.
Junior C Hurling Championship
We are fixed to play Sars in the first round of the East Cork Championship next Wednesday evening in Riverstown at 7.45pm. Best of luck to players and management for this game.
Championship game in the Field
Many thanks to all those who helped out last Saturday with the Senior Hurling Relegation Play off Rd 1 Douglas and Youghal in the field which after a very close encounter saw Douglas hold on for victory by the narrowest of margins 1-17 to 1-16.
Cork Clubs Draw
The Cork clubs draw for 2017/2018 is now up and running, please support this Draw and our Club will receive a percentage of the ticket sale. Anyone interested can either go online on the Cork Gaa website or contact Steve Sheehan our club coordinator @ 085/1741460.
Gaa Golf Society
The Paddy Hayes Memorial golf outing will take place on Sunday the 15th of October at Waterock Gof Club from 11.30 to 12.30, everybody welcome.

Ladies Football
U10 East Cork League Final Midleton v Inch Rovers
On Saturday last at Fermoy Gaa Club we defeated Inch on a score line of 4-04 to 1-05 in a fantastic display of football. Considering the conditions were extremely wet from rain earlier in the day the girls handled the ball brilliantly and passed some tremendous ball to each other. Well done to Inch for putting up a great fight. It was our day and the girls returned happy to the Club for some refreshments.
Many thanks to the parents once again for the very supportive side line.
Congratulations to the Mentors Ber Kelly, Gillian Murphy and Kevin Keeshan.
Panel: Emma Fitzgerald, Amy Keeshan, Emma Keeshan, Kate Saunderson, Kate O Sullivan, Lily Kelly, Ciara Murphy, Lara Geary, Alannah Megan, Keelan Fraser, Oonagh Lang, Ciara McGrath, Shelia O Leary Hayes, Cait O Leary Hayes, Alyx Cahill, Fay Dunlea, Katie Tarrant, Aine Ryan, Rebecca Crowley & Sadhbh Cronin.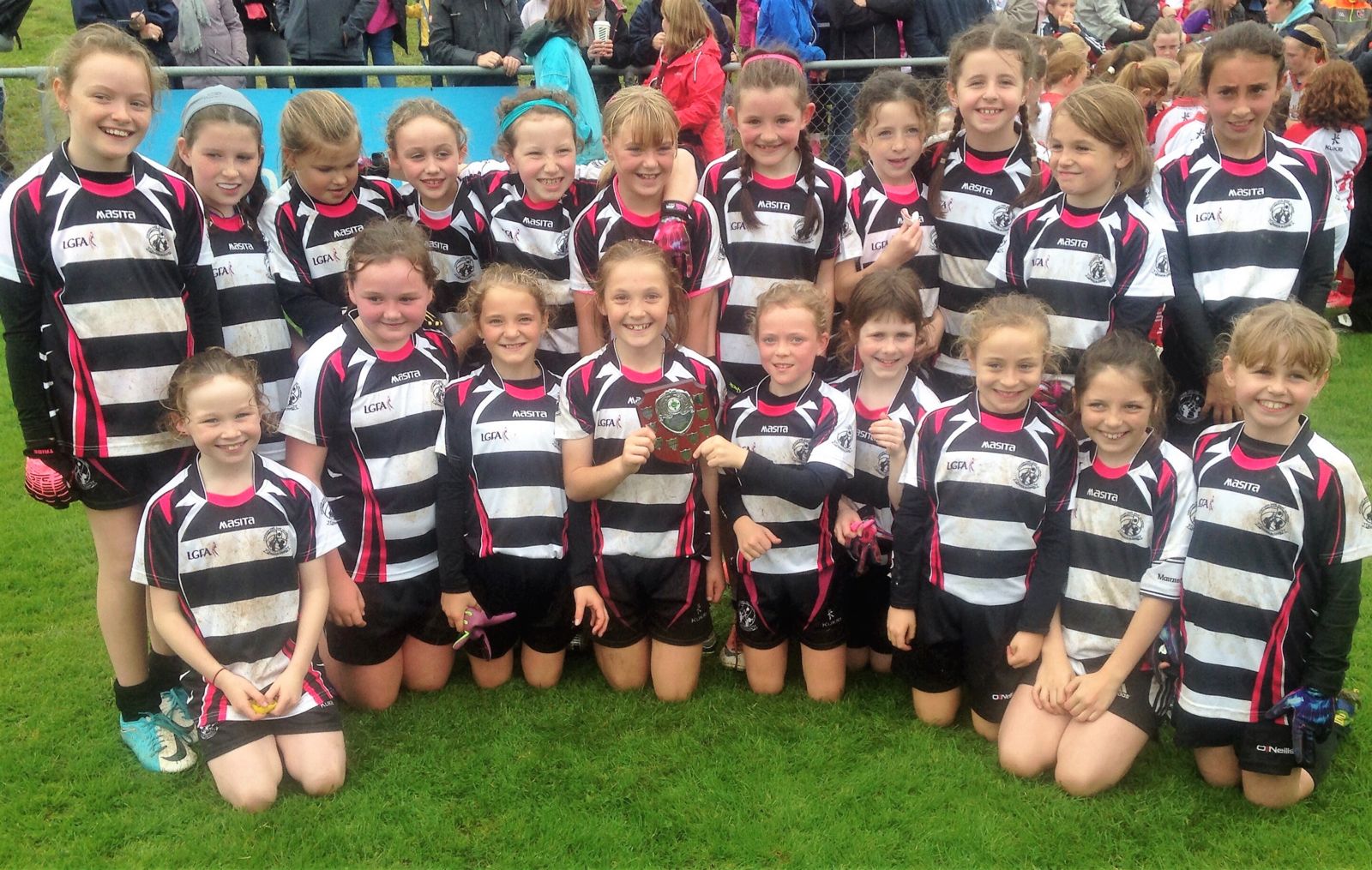 Sincere thanks to all those who helped out at our Flag Day last Saturday: Tracy Saunderson, Ger Lordan, Breeda Sheedy, Molly Beausang, Paddy Corcoran, Mairéad Beausang, Amy Quirke, Carol Franklin, Gina Tarrant, Carol O'Leary & Maura O'Leary Hayes.
Many thanks also to SuperValu for their continued support.
Best wishes to Kari McEvoy & Lucy Wallace who were both injured in a school match recently - speedy recovery to you both from everyone at the club.
Camogie
Our U6's and U7's will take a week earned break for a few weeks and will resume indoor training in November, details will be communicated to parents nearer the time. For all other groups winter training schedule to be confirmed this week, parents will receive text with details.
U11 – We hosted Fr O Neill's, Cobh and Sars (2teams) in an U11 blitz on Sunday morning, a 6th team was made up of Sars and Midleton girls ensuring that all girls got plenty of playing time . There was some great skill on display from these young Camogie players. Our girls battled hard for every ball and kept going till the final whistle. Thanks to our young referees Aine O Neill and Rayanna Power, to the parents for providing refreshment and helped out on the day. Well done to all involved.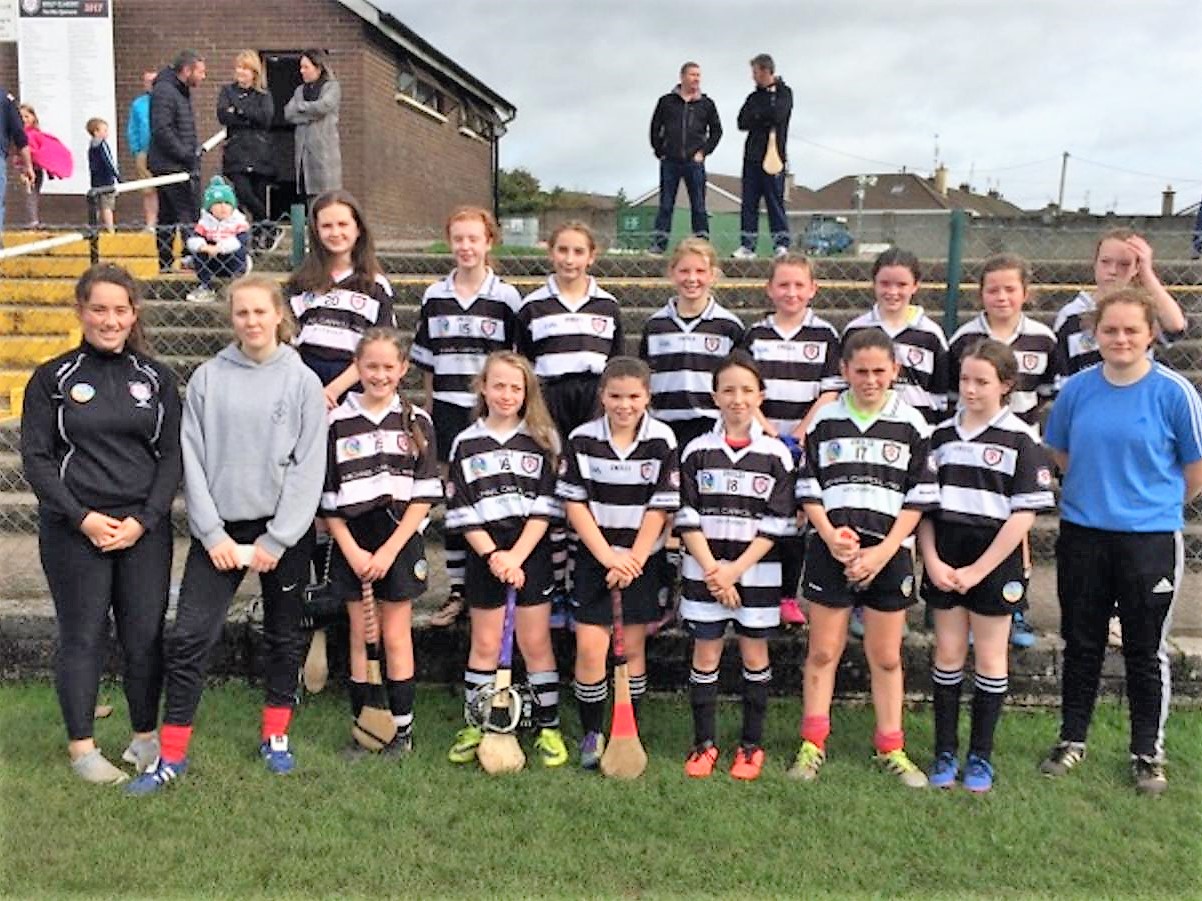 U12 - On a very rough evening weather wise we travelled to Cobh to play in the second round of the East Cork League against a strong Cobh team. The underfoot conditions were extremely heavy following all the rainfall of the previous twenty four hours. The girls had a slow start but managed several scores just before the break to lead by 3-2 to 1-1. The second half was a very tense affair and Cobh threw everything at us, however the Magpies held on to win 3-2 to 2-1. Next up will be Brian Dillon's at home with fixture, details to be confirmed.
U14 – We met Cobh in Ballinacurra on Wednesday evenings last in the second round of the U14 championship. In difficult overhead and underfoot conditions we battled against a very strong Cobh team, the girls fought hard but we finished second on the night and so exit the U14 championship. These girls have had a fantastic year and should be very proud of what they have achieved.... we certainly are. Well done girls. Congratulations to Cobh.
U16 – We made the return trip to Ballygiblin last Friday evening for our rescheduled U16 second round championship game versus St Fanahans. The previous game was cancelled as the girls were about to exit the dressing room, the referee declaring the pitch unplayable. Conditions were heavier this time around, but the game went ahead. Our girls took a while to get going but eventually found their scoring rhythm leading by six points at half time. Similarly in the second half underfoot conditions were very tough against a very physical opposition. Some great points from Aine O Neill and Rayanna Power put Midleton in a very strong position and the girls ran out winners on a scoreline of 4 -11 to 4 -01. We play Mallow in the next round, well done girls.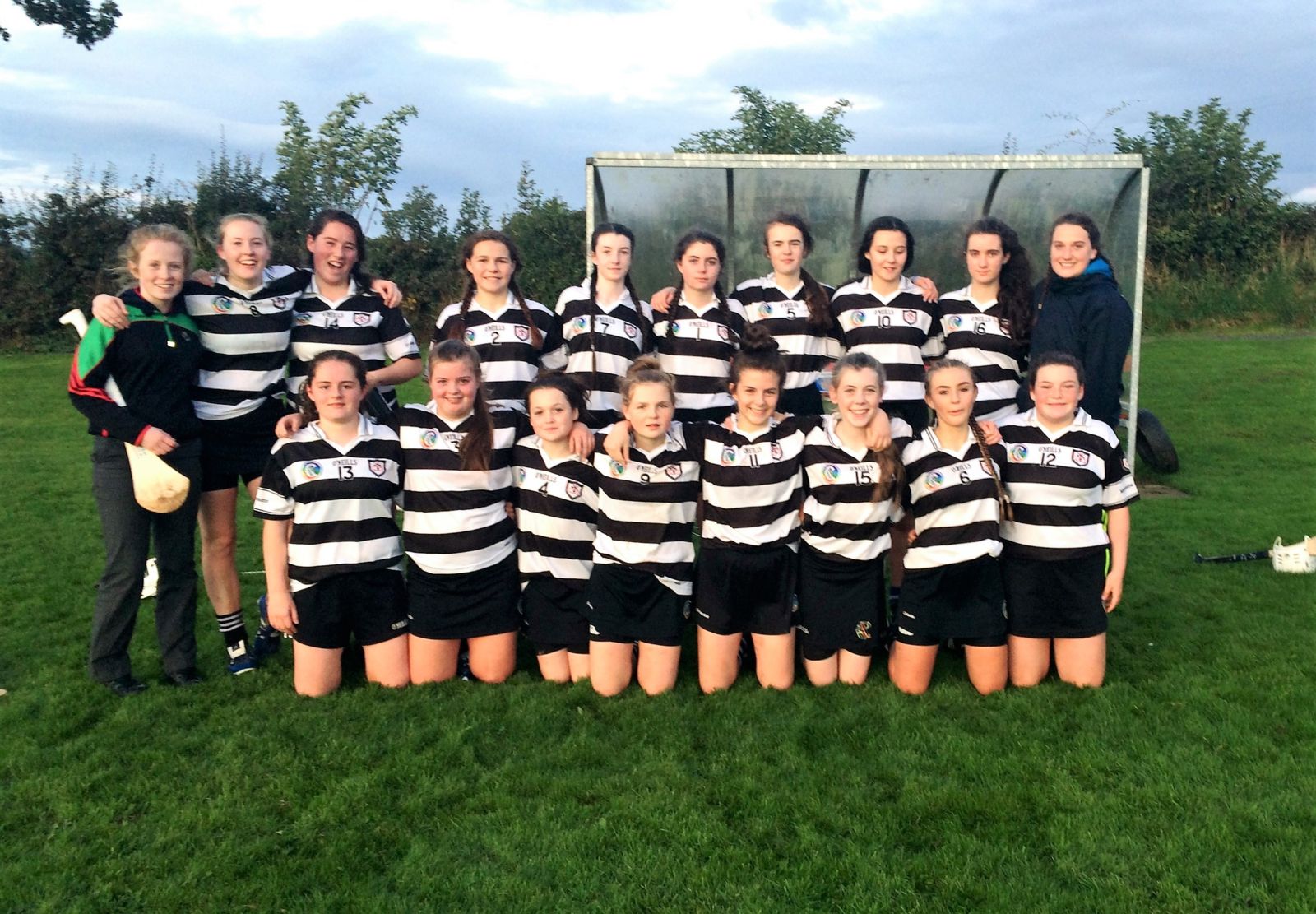 Lotto
Our Lotto Jackpot was €1,800, the numbers were 1,8,9 & 21, there was no winner, the Lucky Dip winners were Lil O' Driscoll, Diane & Fran, Kay Mackey, Eileen O'Driscoll & Louise Thompson, next week's Jackpot will be €2,000.
Tickets are on sale at the Club Bar, O'Neills Bar, Linehan's Bar, Maple Leaf Bar, O' Farrell's Butchers, Frank Murphy Butchers, Pat Walsh Paints, Chadwicks, Teach Beag, Niall Mac's Bar & Wallis's Bar.
Our Online Lotto is now available, logon to the Club homepage www.midletongaa.com to purchase your ticket.
BINGO takes place next Friday evening @ 8pm in the GAA Pavilion with a weekly guaranteed Jackpot of €1,000.
Juvenile
Davy Hogan Street Leagues Finals
Last Saturday morning the 30th September saw final's day arrive for our annual Davy Hogan Street leagues. In 2013 it was decided by the Juvenile Committee to honor Davy Hogan and call our then, Street Leagues, the Davy Hogan Street Leagues. Davy Hogan was one of many who did a lot for the street leagues and for hurling in general in Midleton during the hay days of the eighties and a lot of the success that Midleton had in those days are down to Davy and others who contributed their time on Saturday and Sunday mornings. It is therefore a fitting tribute to him and his family that the street leagues are called after him and we would like to pay our thanks to his son Dave for attending on Saturday morning and presenting the cup and medals to this years winning team Owenacurra.
The morning started with the players assembling at Midleton Hospital and parading behind a piper through Hurley's SuperValu car park, stopping at the main entrance for a photograph and continuing up to the main pitch. The Juvenile Committee would like to thank Hurley's SuperValu for their continued support. Despite the train, the atmosphere was fantastic and the pride on the faces of the players in their black and white and jerseys as they marched behind the piper to the Club was something very special indeed. On arrival at the club, the players divided into their six teams and stood proud with their mentors for the national anthem on the main pitch. With opening proceedings over and photographs of these special memories captured by Andrew Foley, thank you Andrew, it was game on for all six teams playing their fifth and final league match. The rain fell heavily at times but spectators were well prepared and were treated to some very tightly contested matches with fantastic displays of skill, courage and determination on show. Remarkable in some respects, as some of these players are as young as 9 and others aged only 10 and 11. After 15 minutes a side the 5th and final games concluded. Results in and two teams were through to the final. Garryowen had won all their matches and qualified for the final on a clean sweep of ten League points having won all their matches. Owenacurra were the next team to qualify through to the final on seven points. After a quick set-up of the finals pitch in front of the clubhouse, a few minutes for the players to get their breaths and a quick team talk from the mentors, it was time for the final. We would like to pay particular thanks to Pa Beausang for refereeing the final. It is fair to say, a lot of people saw the final as being cut and dried. Owenacurra had previously played Garryowen in round 1 and were defeated on a scoreline of 7:2 to 3:3. There is a lesson to be learned in that by us all. All teams on any given day are capable of being overturned. The best team isn't the team with the best players, but the team that plays best together. The final was hard fought and made all the more special by seeing players who hadn't progressed to the final lining up along the sidelines providing plenty of encouragement to all their fellow team mates. At half time it was very much any teams game. In the end Owenacurra dug deep and came out on top on a winning scoreline of 4:2 to 1:5. We would like to pay tribute to all players involved in the final. Dave Hogan made the presentation of the cup and medals to the Owenacurra team following an address by Juvenile Chairperson, Cormac Quirke to all the players and parents.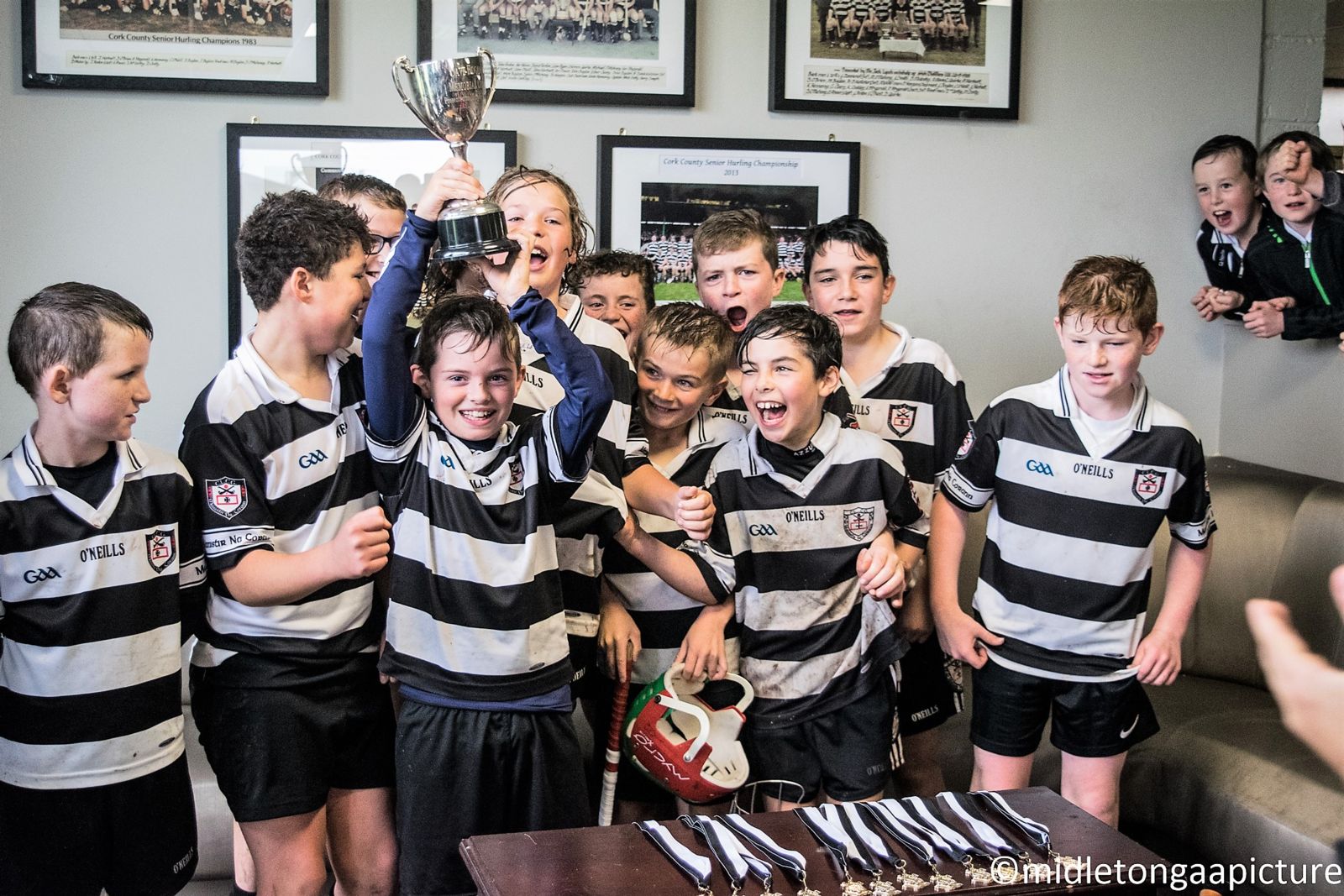 The Davy Hogan Street leagues are concluded for another year. All players now go back to their respective age groups and become unified teams again. Some players say goodbye to the Davy Hogan Street Leagues. Other players have another shot next year. If you are a player who has won the coveted title you will always cherish it, if you are a player that didn't win, you may look back in years to come and say it was the medal or title that got away! As these players progress and move up the juvenile ranks in the club they will always remember their street leagues experience.
We would like to thank Davy Hogan's family, Ray Fitzgerald & Ed Coughlan our tournament coordinators, Hurleys SuperValu our Juvenile Sponsors, Pa Beausang, our Young Whistler referees, Piper Olan McCarthy, Andrew Foley for all the photographs, our Juvenile mentors, the parents who brought food for after the final and helped out with the teas and coffees and tidying up of the Club afterwards and most importantly to our all our players, each and everyone of them valued members of Midleton GAA Club. All updates regarding match results from Saturday have been updated on the Juvenile Section of the Club website. Until next year ……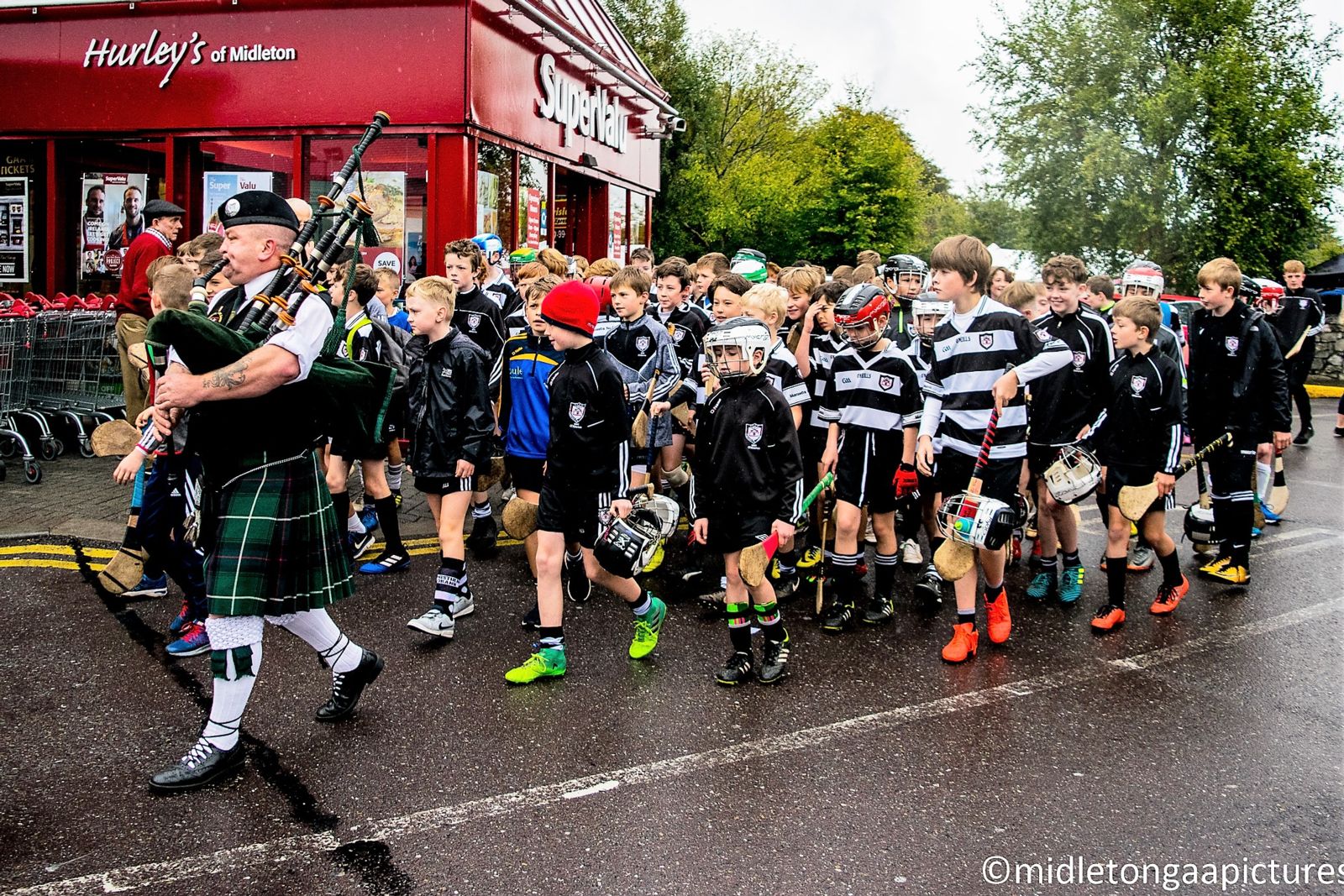 Fe 7
Rebel Og Hurling Blitz: On Saturday morning 34 young Magpies finished off their year as U7 players by competing in the Rebel Og Monster Blitz in Aghada. It was a difficult morning for hurling but our lads should great skill, determination and teamwork throughout. We have had a wonderful year and look forward to progressing to Fè 8. We would like to thank all our players and their parents for the commitment they have shown throughout the year.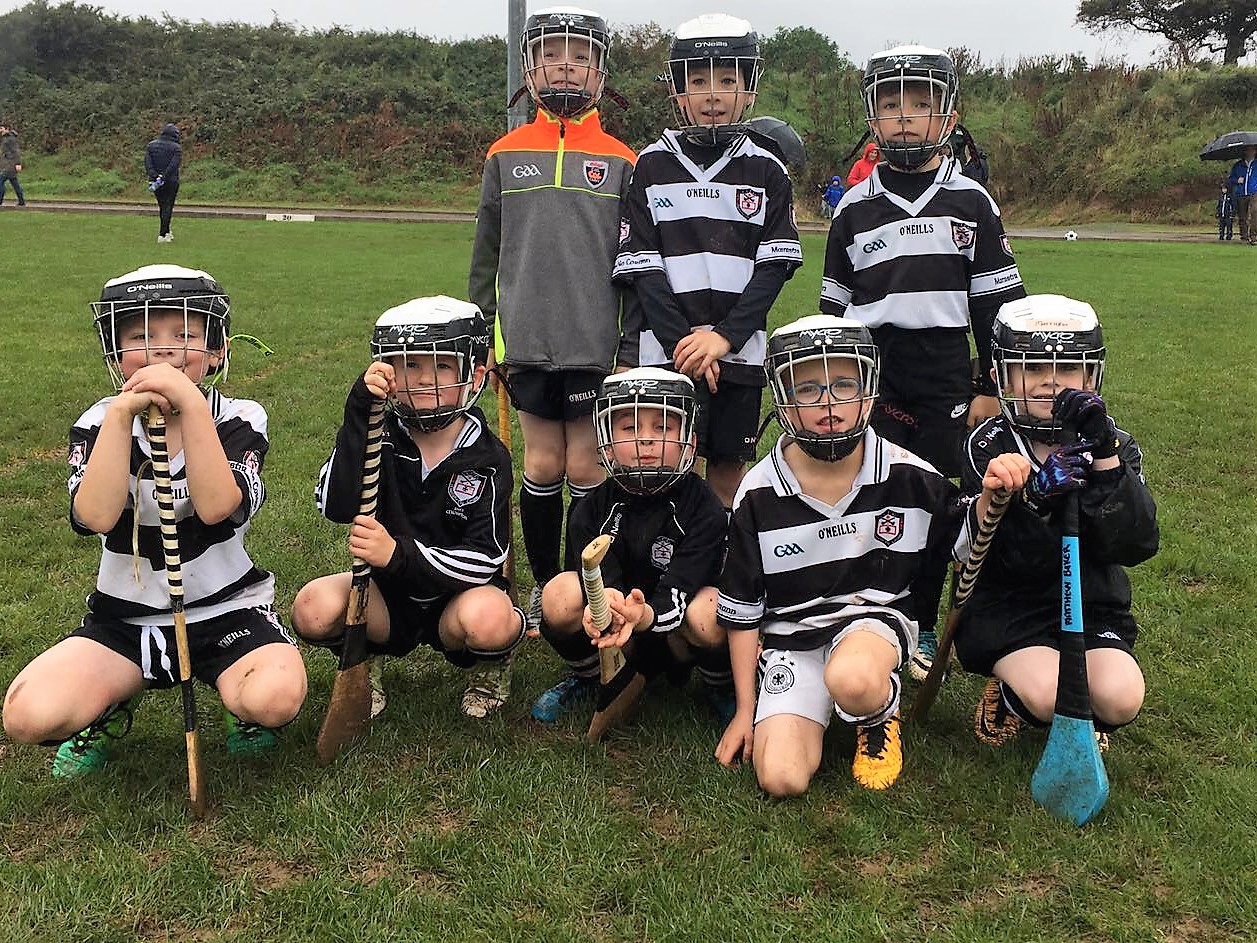 Fe 11
A very busy weekend for our hurlers, on Saturday we had the conclusion of the Davy Hogan Street Leagues with all games being keenly contested it was with a slight sense of weariness that we departed for Togher on Sunday morning to take part in the Sean Fitz memorial tournament. Fielding two teams our first outing was against our East Cork neighbours Sars, both teams performed admirably with Sars edging us out on aggregate scoring. After a short break we took on the Glen in match two this was very hard fought affair with no quarter being asked or given from both sides, after a bruising half hour the Magpies came out on top. We then moved from pitch 3 which had very challenging underfoot conditions to pitch 1 where met our tournament hosts St Finbars, two games of excellent quality were served up by two very evenly matched teams as we visibly tired in the last minutes we narrowly lost out but the players can hold their heads up high and be very proud of their performances and conduct throughout the day. Thanks to all the parents who travelled and provided great support to the lads. Our season is nearing an end with the Hurling league final day scheduled for next weekend and another tournament in Inniscarra the following weekend, details to be confirmed.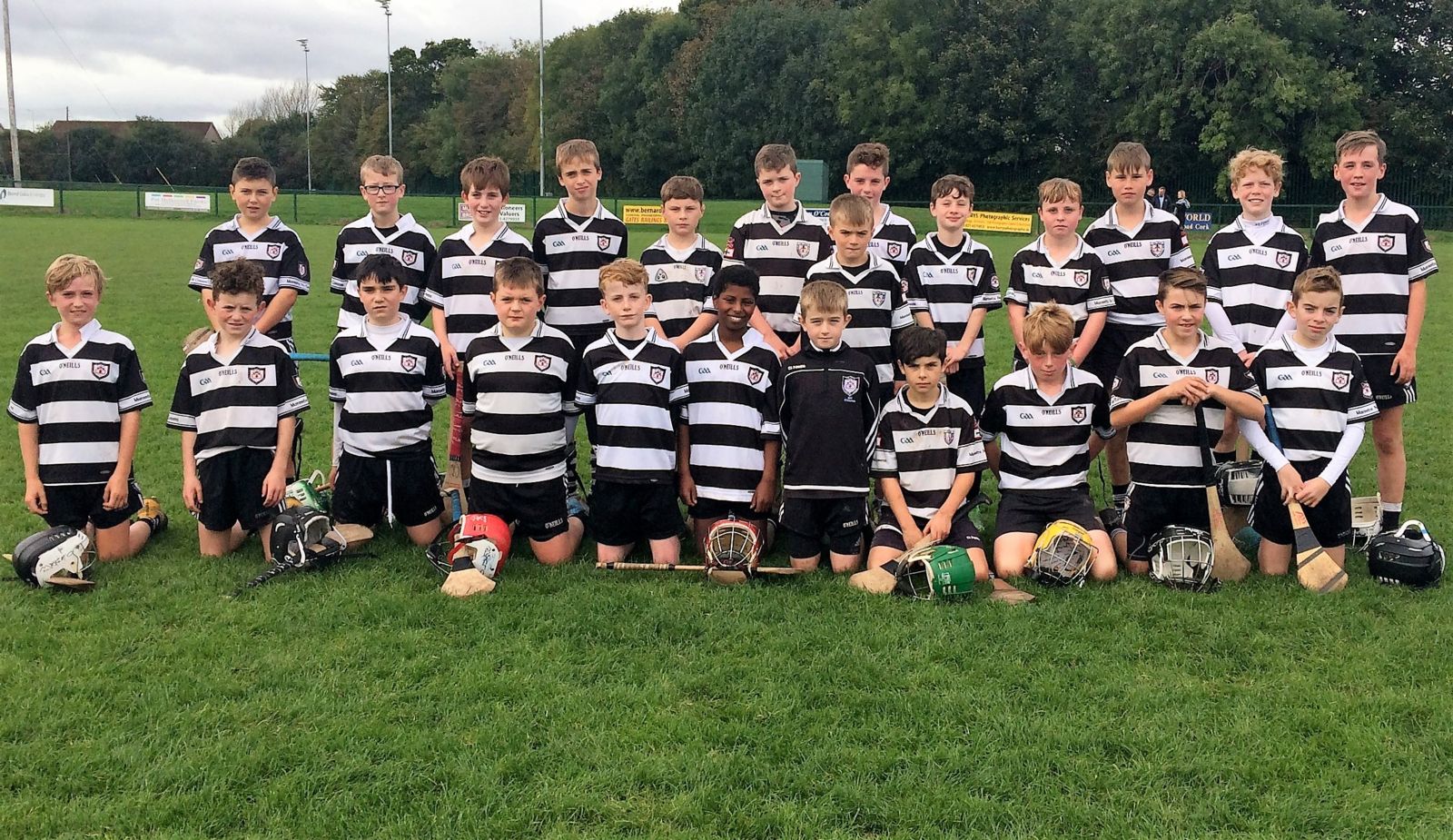 Coaching Workshop
Please find a link below for details of an up and coming Free GAA Workshop to be held in Davis College Mallow on Monday, October 9th from 7-9pm. Please register via email to Pat Bradley on pbradley@daviscollege.ie.
The Speakers on the night are Paudie Kissane, Donal O' Grady and Kevin O' Donovan.
http://rebelogcoaching.com/free-gaa-workshop-oct-9th-mallow/
Club Shop
The Club Shop is open each Saturday from 10-11.30am with new Polo tops now in stock from ages ¾ to Extra Large.