Midleton Hurling & Football, Camogie & Ladies Football Club News
24 September, 2017
Intermediate Hurling
On Saturday evening last at Carrigtwohill under lights and in atrocious weather conditions we bowed out of the Championship losing out to Aghada by 2-12 to 2-09 (halftime 1-07 to 0-04).
Against who are many's favourites for the County title we pushed them all the way but when we got to within a goal time unfortunately was not on our side.
Well done to all the players and management for their huge efforts and commitment throughout the year where we played six championship games.
Team: Joe Loftus, Adam Daly, Declan Ryan, Elliot Mulcahy, Eoghan Walsh, Luke Dineen , Eoin Moloney, Kieran Mulcahy (0-01), Cillian Hurley (capt.) , Padraig O'Keeffe (0-04, 3 frees), Sean O'Meara (0-02), Ian Kennefick (1-00), Darren Quirke , Peter Dowling & Michael Abernethy (1-01).
Subs used Leslie Coughlan, Sean O'Farrell, Garan Manley (0-01 free) & Johnny Comer.
Not used Byran Rossiter, Padraig O'Brien, Ryan Mc Conville, Michéal Keohane, Mark O'Keeffe, Conor Evans, Pat Stack, Luke Smith & Harry Wall.
Referee Ger Scully of Killeagh.
Fe 21 Hurling Championship
Last Wednesday evening under lights a youthful U21 team was defeated by last years Premier 1 County Champions Douglas by 1-13 to 2-12 in Carrigtwohill. We were very slow to start conceding a goal and number of points from frees before we eventually replied with five points of our own. A goal from them just before the break left the score at 2-08 to 0-05 and it looked like it would put the game beyond us but in fairness to our lads this wasn't to be the case.
Immediately after the restart we took the game to them reducing the lead throughout the half but we just couldn't get that elusive goal. With minutes remaining it finally came from substitute Ross O'Regan but it proved too late and the clock ran out on us.
Well done to all the players and management for a very brave and committed performance in what were very difficult conditions, we now play Na Piarsaigh in the back door game.
Team: Alan Power, Adam Daly, Gavin Bagnell Harnett, Seanaidh Smyth, Eoin Moloney, Luke Dineen, Sean O'Sullivan, Tommy O'Connell (0-03 frees), Sean O'Leary Hayes, Josh Deady (0-01), Sean O' Meara (0-02), Shane Finn, Padraig O'Brien (0-02), Garan Manley (0-05 frees) & Kevin Finn.
Sub used Eoin Mitchell, Ross O' Regan (1-00 free) & Ryan Mc Conville (blood), not used Liam Franklin, Conor Evans, Cormac O'Brien, Luke finnerty, Lochlinn Mc carthy, Eoghan Collins, Kieran Moloney, Conor O'Farrell, Kian Farmer, Jordan Roche & Conor O'Neill.
Minor Football Championship
In Fermoy last Monday evening we had to give second best to Mallow in the first round of the Premier 2 Championship by 2-05 to 1-15. We now play St Michaels in the back door on Monday next in the Mardyke @ 6.30pm.
Team: Conor O'Farrell, Luke Smith, Sean O'Sullivan, Cormac O'Brien, Mark daly, Eoin Mitchell, Kevin Finn, Eoin Moloney, Ross O'Regan (0-02), Kian Farmer, Tommy O'Connell, Shane Finn, Griffin Hurley (1-00), Arthur Ngangou (1-02) & Loic Nguefang (0-01). Subs Gary Carroll, David Scanlon, Tom Scanlon & Ronan Lynch.
Junior B Hurling Championship
We suffered a very heavy defeat to Sars last Saturday at Ballinacurra in the semi final of the Championship. Playing against a very strong wind in the first half our backs were really to the wall trying to contain a very youthful Sars side and when we lost a player to a straight red card well into the first half it all but ended our challenge.
Even with the aid of the wind in the second half we struggled with the pace of the opposition and two more goals finished the game off as a contest.
Final score: Midleton 1-10 v Sarsfields 3-23
Well done to our players and management on their efforts throughout the year.
Team: Byran Rossiter, Pat Stack, Barry Fitzgerald, Brendan Ferriter, Conor Evans, Michéal Keohane (0-01), Paul Barry, Mark O'Keeffe, Lochlinn Mc Carthy, Padraig O'Brien (0-02), Niall Walsh (0-01), Garan Manley (0-05, 4 frees), Keith Ryan, Sean Corcoran & Willie O'Brien (0-01).
Subs used Andrew Rea (1-00), Ryan Mc Conville, Brian O'Sullivan, Jerome Curtin & Jordan Roche. Not used Liam Franklin, Conor O'Neill, Eoghan Collins, Decaln Mc Inerney, Tom Scanlon, John O'Dwyer & Eoin Ferriter.
Referee Brian Murphy Carrigtwohill.
Championship game in the Field
Next Saturday afternoon the 30th we will host Douglas and Youghal in the Senior Hurling Relegation play off at 3.30pm, if you can assist at this game please contact John Fenton or Coleman Quirke.
All Star Nomination
Congratulations to Conor Lehane who recently received an All Star nomination, one of eight Cork players. As is tradition, the nominations are divided into three goalkeepers, 18 defenders, six midfielders and 18 forwards. It has also been agreed to honour all of those nominated with a specially commissioned certificate of achievement.
The final 15 that make up the PwC All-Star Hurling team of 2017 will be presented with their coveted awards at a gala black tie banquet in Dublin's Convention Centre on Friday, November 3 - an event to be screened live by RTE TV.
Irish Rail Information
Due to planned engineering works, bus transfers will be in operation between Cork/Cobh and Cork/Midleton in both directions as follows:
Friday 29th September 20.00 hrs to 23.00 hrs. Saturday 30th September 05.45 hrs to 23.00 hrs. Sunday 1st October 08.00 hrs to 23.00 hrs. Monday 2nd October 10.00 hrs to 16.00 hrs. For further information see www.irishrail.ie or call 1-850-366222.
Mobility Impaired passengers are advised to contact us in advance of travel.
Delays of up to 25 minutes may occur.
Iarnród Éireann Irish Rail regrets any inconvenience these works may cause.
"An Phairc" Documentary
TG4's documentary An Pháirc was launched in Páirc Uí Chaoimh last Thursday evening. The documentary gives an inside view into the rebuilding of Páirc Uí Chaoimh. It will air on TG4 at 9:30pm, Wednesday 27 September.
In the suburbs of Cork, not far from the city centre and on the banks of its own lovely Lee, lies Cork's favourite playground; Páirc Uí Chaoimh. For well over a hundred years, this spot has been the mecca for the people of the city and beyond to come and see epic sporting battles and headline music acts. Now as the famous old stadium has completed its refurbishment, TG4's An Pháirc will look back on some of the biggest stories to emerge from the "the park" and will tell some new ones never heard before.
Alongside the documenting of a cultural icon, the documentary follows the story of the demolition and reconstruction of a brand new stadium, with behind-the-scenes footage filmed over two years all the way to opening day.
Telling the tale will be GAA heroes such as Billy Morgan, Jack O'Shea, Paul Flynn, Seán Óg Ó hAilpín and Barney Rock, as well as legendary broadcaster Micheál ÓMuircheartaigh and Oliver Barry, the promoter who brought the likes of Michael Jackson and Prince to Cork. TG4 Sports Editor, Rónán Ó Coisdealbha says, "For scores of thousands of Irish people,this stadium holds many special memories of hurling and football matches and entertainment events held there over the years. This programme will evoke those heady days for many TG4 viewers and is bound to be popular with our audience, at home and abroad".
Produced by Nemeton TV, and directed by award-winning director Ronan O'Donoghue, An Pháirc is a must see for sports and music fans from all over Ireland.
Ladies Football
Our U18 girls travelled to Watergrasshill to take them on in the C/D East Cork League Semi-final. WGH are a highly talented outfit with two Cork minors. We started the game in high spirits but the first half didn't go our way. WGH brought a high energy running game and we found it difficult to contain them. From the first attack they had the ball in our net and we struggled finding possession from our kick outs, as they pushed up the field to put our girls under pressure. Saying that the girls plugged away and the backs were playing really well to keep us in the game. We were glad to hear the half time whistle.
Half-time: Score Midleton 1-2 v Watergrasshill's 2-6.
The girls didn't panic and didn't drop their heads, instead they did the team talk themselves and with a few positional switches took to the field again. What a second half, the attitude and work rate of the girls was incredible. Each one of them stepped up and took the game to WGH. With ten minuts to go we had turned a seven point deficit to a one point lead.
But back came WGH who ran in with a late goal, and our tired legs couldn't react. But what a game, it had everything, our two sin bins, the do or die effort from both teams. Great game, just the result didn't go our way.
Rhea in goals started the comeback with her kick outs and Kari now operating at full back played the captains role and shored up our defence, ably assisted by Laura and Katie who was playing her first minor game. Roisin at centre back ran her legs off with Lizzie on the wing playing one of her best games in a Midleton jersey. Deirdre now operating on the other wing having moved out of goal at half time added that extra pace that was needed.
Ali another of our U16 girls put in an incredible shift. She covered the length and breath of the pitch for the full hour. Lucy now operating next to Ali was involved in every attack and was tireless in her running and support play. Abby now operating on the 40 spent most of her time in her own back line winning ball and starting the counter attack, running in for three great goals. Sadhbh, Alice, Rayanna, and Aoife worked tirelessly and made it difficult for the WGH Backs to start their running game. Probably Molly's best game running in with 1-06. Congrats to WGH who now progress to the C final and representing East Cork in the County C Championship. We now progress to the D East Cork Final and will represent East Cork in the Count D Championship. A lot of football yet to play and all this team still minor in 2018.
Full-time Midleton 4-7 v WGH's 4-11
Team: Deirdre Corcoran, Katie Horgan, Lucy Wallace, Laura O'Leary, Lizzie Phiri, Roisín O'Callaghan, Rhea Buckley, Abby Quirke (3-0), Ali Smith (0-1), Sadhbh Beausang, Kari McEvoy, Alice Reddy, Rayanna Power, Molly Beausang (1-6) & Aoife Franklin.
Training for all ages continues on Monday evening from 6-8pm at the Tech Pitch.
Our Club is holding a Flag Dag at Hurley's Super Valu on Saturday 30th. If you could spare an hour we are looking for Parents to help from 12-4pm. Money raised from this collection will go towards running costs for the Club.
Best of Luck to our U10 girls who are in the League Semi Final on Saturday against Inch Rovers.
Camogie
U6/U7 - On Sunday morning last we took part in another blitz, this week the venue was Castlelyons where our young magpies played v Dungourney and hosts Castlelyons. All the girls put in huge effort, their skills continue to improve week on week and most importantly all had a good time. Thanks to the supporters, coaches and referees and to Castlelyons Camogie Club for hosting a well organised blitz. Training continues Friday evening for U6/U7/U8 at 6.30pm Midleton GAA club.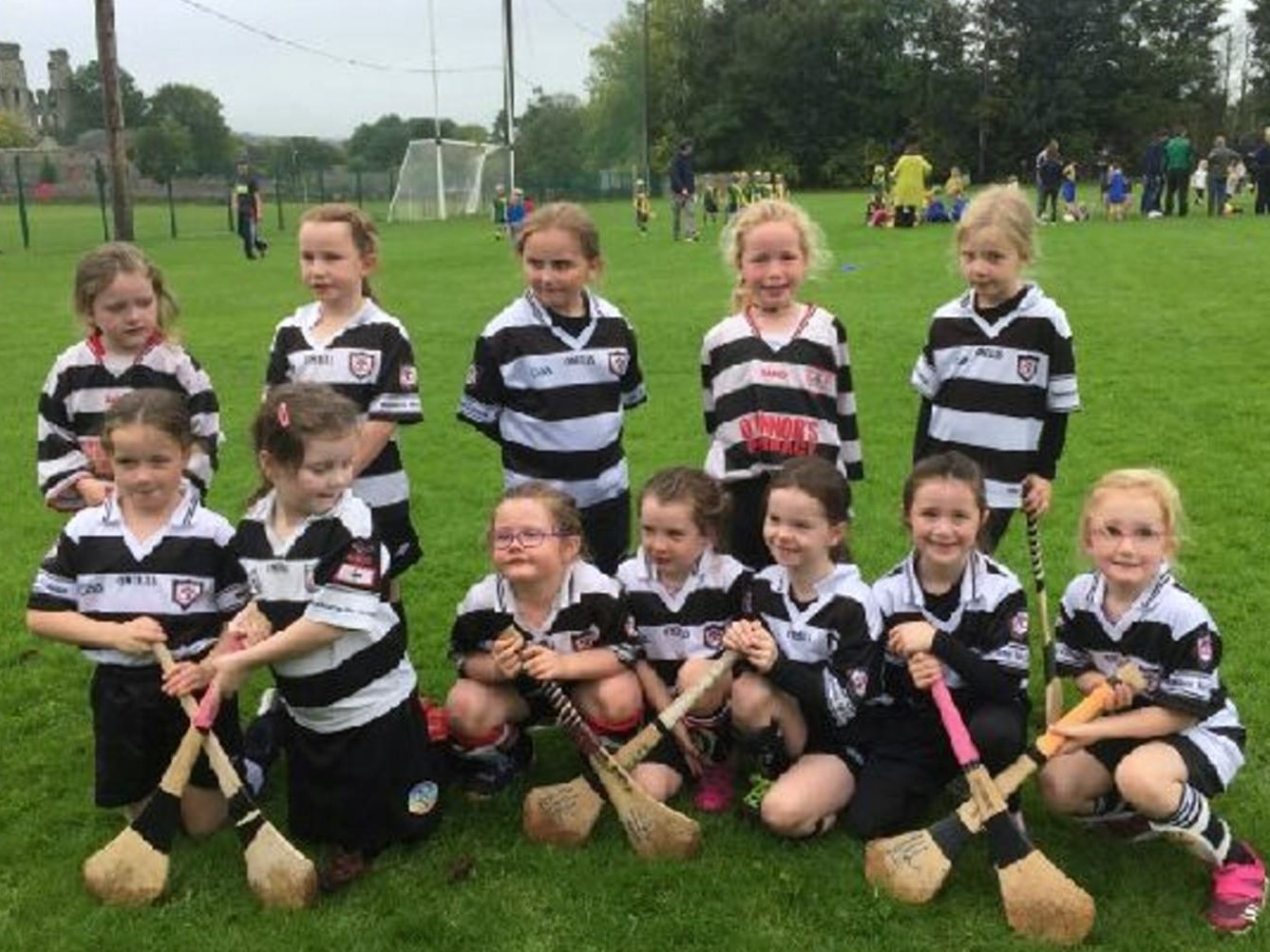 U12 -We were delighted to be invited to participate in the U12 East Cork Camogie League , we travelled to Castlelyons to play our first match on a warm and dry Friday evening last. The girls got into their stride quickly and put in a strong performance against a tough Castlelyons team to run out eventual winners on a score line of 4-09 to 1-03. It was an ideal game to get back to winning ways after the county semi final loss the previous weekend. Next match is against Cobh.
U14 – will play Cobh in Ballinacurra on Wednesday 27th Sept at 5.30pm, support appreciated.
U16 – Unfortunately our U16 championship match V St Fanahan's match was called off on Saturday last do the weather conditions. Date of rescheduled match to be confirmed
Lotto
Our Lotto Jackpot was €1,600, the numbers were 6,13,14 & 16, there was no winner, the Lucky Dip winners were Mary Keohane, Gerald Fitzgerald, Claire Lynch, John Colbert & Noreen O'Brien, next week's Jackpot will be €1,800
Tickets are on sale at the Club Bar, O'Neills Bar, Linehan's Bar, Maple Leaf Bar, O' Farrell's Butchers, Frank Murphy Butchers, Pat Walsh Paints, Chadwicks, Teach Beag, Niall Mac's Bar & Wallis's Bar.
Our Online Lotto is now available, logon to the Club homepage www.midletongaa.com to purchase your ticket.
BINGO takes place next Friday evening @ 8pm in the GAA Pavilion with a weekly guaranteed Jackpot of €1,000.
Juvenile
Davy Hogan Street Leagues 2017
Saturday morning last the 23rd of September saw almost 80 players from our Fe10's and Fe11's take part in round 2 of the Davy Hogan Street Leagues. The six teams played two matches which were refereed by the clubs young whistlers who once again did themselves and their club proud. Supporters and spectators were treated to some fantastic displays of hurling in all six matches. The finals day arrangements will be discussed at Tuesday nights Juvenile meeting and the website will be updated with the finals day arrangements. All players will receive a text from their team managers regarding the details.
The Club committee would like to express their sincere condolences to the Hogan family in particular Colm and his wife Shirley on the recent very sad passing of their daughter Keeva.
Fe 9
We welcomed Douglas to Clonmult Memorial Park on Saturday last for their final hurling home match of the Fe9 2017 league. We had a great turnout with 33 Magpies lining out across three different teams. Each team performed exceptionally well, showing off the skills that they have been practicing all year, with some outstanding scores taken and lots of great hooking and blocking. Well done to all the boys who continue to show great improvement. Thanks to all that came to support the lads on the day and thanks also to the three "not-so-young" Midleton referees, who oversaw proceedings.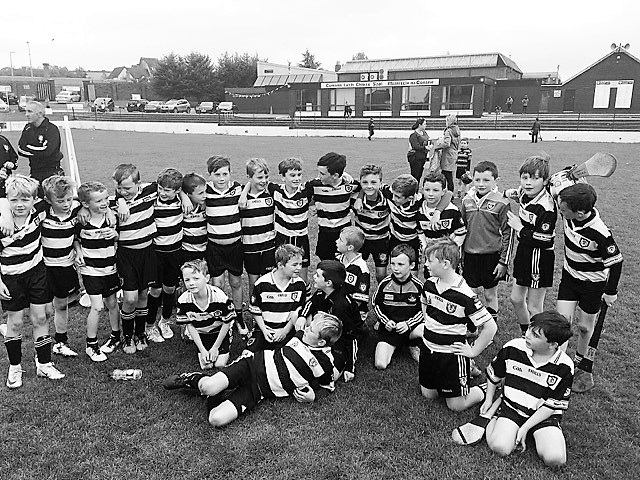 Fe 16
Carrigaline Court Fe 16 Football Challenge Cup
On Thursday night last we travelled to Cobh for the semi final of the Fe16 Football challenge cup. It took both teams a while to get into the game with the first score not coming until fifteen minutes into the game. Cobh struck first with Midleton equalizing shortly after.
We netted next which proved to be the decisive score of the half which finished in our favour 1-03 to Cobh 0-03.
They came out strongly at the start of the second half and made some dangerous runs into our defence, however we were strong and despite some hair raising moments we frustrated the Cobh attack. The fourth quarter belonged to us and we forced Cobh onto the back foot. Two more goals helped see us to a well deserved win.
Final score Midleton 3-10 v Cobh 1-08.
Team: Alex Pranger, Dan O'Sullivan, Cian Crowley, Tim O'Sullivan, Samuel Quirke, Christian Murphy, Leo Hennessy, Adam Meade, Ethan Daly, Gary Carroll, Aaron Mulcahy, Jack Fitzgerald, Rory Donegan, David Scanlon, Paul Connaughton, Patrick Kane, Darragh Crowley, Will O'Sullivan & Gavin Reddy.
Club Shop
The Club Shop is open each Saturday from 10-11.30am.