Midleton Hurling & Football, Camogie & Ladies Football Club News
17 September, 2017
Senior Hurling Championship
On Sunday evening last almost three months since we last played against Erins Own we were agonisingly defeated in the dying minutes by UCC in the fourth round of the Championship at Pairc Ui Rinn. With three minutes remaining we led by two points only for them to draw level into injury time, however when a draw looked certain they struck for two late scores. Final score Midleton 1-20 v UCC 1-22 (Halftime Midleton 1-08 v UCC 1-11).
Up against a team fielding nine inter county players from various county's our lads can be very proud of themselves with the way they hurled in this pulsating game.
Well done to all the players and the management on their huge efforts throughout the year.
Team: Tommy Wallace, Seanaidh Smyth, Killian Burke, Alywin Kearney, Sean O'Leary Hayes, Finbar O'Mahony, Seamus O'Farrell, Paul Haughney (0-03), Cormac Walsh
(0-04), James Nagle, Aidan Ryan (0-01), Conor Lehane (0-08, 4 frees), Luke O'Farrell (capt) (0-03), Padraig O'Shea (1-00) & Padraic Nagle (0-01).
Sub used Patrick White, subs unused Joe Loftus, Declan Ryan, Eoghan Walsh, Elliot Mulcahy, Ian Kennefick, Darren Quirke, Cillian Hurley, Luke Dineen, Billy O'Shea, Michael Abernethy, Adam Daly & Sean O'Farrell.
Referee Joe Larkin (Ballinora)
Intermediate Hurling
Last Friday evening in Carrigtwohill we had a comprehensive victory over Na Piarsaigh in the fourth round of the Championship by 3-20 to 2-09, having led at the break by 2-10 to 0-05. We now face Aghada in the quarter final with the date and time to be confirmed.
Well done to all involved and best wishes for the next day.
Team: Joe Loftus, Adam Daly, Declan Ryan, Billy O'Shea, Elliot Mulcahy, Luke Dineen (0-01), Eoin Moloney, Kieran Mulcahy, Cillian Hurley (capt.) (0-04, 3 frees, 1 65), Eoin Walsh (1-00), Sean O'Meara (1-04), Ian Kennefick (0-01), Darren Quirke (0-01), Peter Dowling (1-03) & Michael Abernethy (0-05, 4 frees).
Subs used Padraig O'Keeffe, Sean O'Farrell (0-01), Johnny Comer, Shane Finn & Luke Smith. Not used Byran Rossiter, Garan Manley, Padraig O'Brien, Ryan Mc Conville, Michéal Keohane, Mark O'Keeffe, Conor Evans, Pat Stack & Harry Wall.
Referee Michael O'Mahony (Kilbrittain).
Minor Hurling County Final
In Pairc Uin Rinn last Monday week the 9th we lost out to the Glen in the Premier 1 County Final by 0-19 to 1-11. It was a game the Glen took to us from the very start and we never really got close enough to them. Having gone four points down without reply we fought back to go in at the break down by 0-09 to 0-05. The second half saw both teams trade points throughout but even a late goal from Ross O'Regan could not reduce the deficit enough and they ran out deserving winners. Our lads can feel very proud of their great efforts throughout the year with many of them eligible again next year, thanks to all the players and the management for the huge effort they all put in this year.
Team: Alan Power, Cormac O Brien, Sean O Sullivan, Luke Smith, Cian Murray, Sean O Leary-Hayes, Eoin Maloney, Shane Finn (Joint Capt 0-02), Kevin Finn , Kian Farmer, Eoin Mitchell (0-01), Arthur Nganou, Ross O Regan (1-01, 1 free), Tommy O Connell (0-07, 6 frees), & Harry Wall.
Subs used Gary Carroll, Jake Shanahan, Aaron Mulcahy & Christian Murphy.
Unused Subs: Cormac Higgins, Ryan O Riordan, Andrew Nestor, Tom Scanlon, Griffin Hurley, Fergus Wade, Ronan Lynch, Adam O Connell, Coleman Quinn, Mark Daly, David Scanlon, Cathal Gunning (Joint Capt (Inj)) & Chris Power (Inj)..
Junior B Hurling Championship
Well done to our players and management on their fine win over neighbours Cloyne in the quarter final of the Championship last Wednesday evening in Ballinacurra.
In a high scoring game we deservingly came out on top by 3-16 to 0-19 having led at the break by 2-09 to 0-08.
Team: Byran Rossiter, Pat Stack, Barry Fitzgerald, Brendan Ferriter, Conor Evans, Michéal Keohane, Paul Barry, Shane Ryan, Josh Deady (0-01), Padraig O'Brien (0-01), Niall Walsh (0-03), Garan Manley (2-06), Keith Ryan, Sean Corcoran (0-01) & Willie O'Brien (0-05).
Subs used John Keane, Jerome Curtin, Mark O'Keeffe & Andrew Rea.
Referee James Hennesssy (Dungourney).
We now face Sars (who defeated us in the first round) in the semi final with the date, time and venue to be decided.
Fe 21 Hurling
Our Championship fixture against Douglas has been confirmed for Wednesday next the 20th in Carrigtwohill @ 8.15pm, ET, best of luck to all involved.
The Forkums circa 1910/12
The historic photograph attached to today's notes was recently presented to Midleton GAA club by Midleton native Mr. Michael Scannell who has been resident in Dublin for many years. Michael originated from 21 Commissioners Buildings which was renamed Clonmult Terrace in memory of the men from the area shot in the Clonmult ambush in February 1921. The photograph dates to around 1910/12 and shows a Forkums hurling team and mentors, all dressed in suits, (which probably means that the photograph was taken on a Sunday or Holy day), either preparing for or after playing a local street league competition. The photograph is remarkably clear and has the title 'Up the Forkums' typed at the bottom of the image. What makes this photo so important is that the names of all those included (with one exception) are attached. It also details the shape of the hurleys at the time which were akin to ice hockey sticks with the 'bas' being about half the size of modern day hurleys.
Apart from the hurling it is also a very historic photo as in it are the photos of some of the people who in later years were part of the IRA flying column who were active at the time. Sitting down in the middle of front row are Michael and David Desmond both of whom were shot in Clonmult. David was born in 1897 and Michael two years later. Sitting next to Michael (Mick) in the front row is Joseph (Jose) Ahern who was also reputed to be in Clonmult around the time of the ambush but was not there when the battle took place.
Joseph Ahern terrace in Knockgriffin was named in his honour.
The names of those in the photo are as follows;
Back row left to right; P.J.Curtin, Mick Regan, Jack Curtin, Ned Desmond, Tom O Mahony, Ned Stokes, A.N Other, Dick Gleeson
Middle Row; W.F.Williams, Willie Ahern, Willie Aherne (Main Street) Jerry Ahern, Pat Desmond, Johnny Connors, John Joe Gleeson, W.Gleeson, Dinny Connors, Danny Curtin, Mike Hennessy, Willie Morgan & John Joe Williams
Front row; Christie Desmond, Jose Ahern, Mick Desmond, David Desmond & Mick Duggan
In a subsequent conversation with Mr. Michael Scannell, even though living in Dublin for many years, he was fully conversant with activities in Midleton GAA club and still takes a very keen interest in the affairs of the club and town. We are very grateful to Michael Scannell for this photo and if anybody can shed more light on the people in the photo, or has similar photos that they would like to share with us, we would be delighted to hear from you. With the advent of modern technology these photos can be scanned and kept for all time and the originals handed back to the owners. We would also like to thank Marcella Scanlon O'Neill for her part in the club receiving this important part of our history.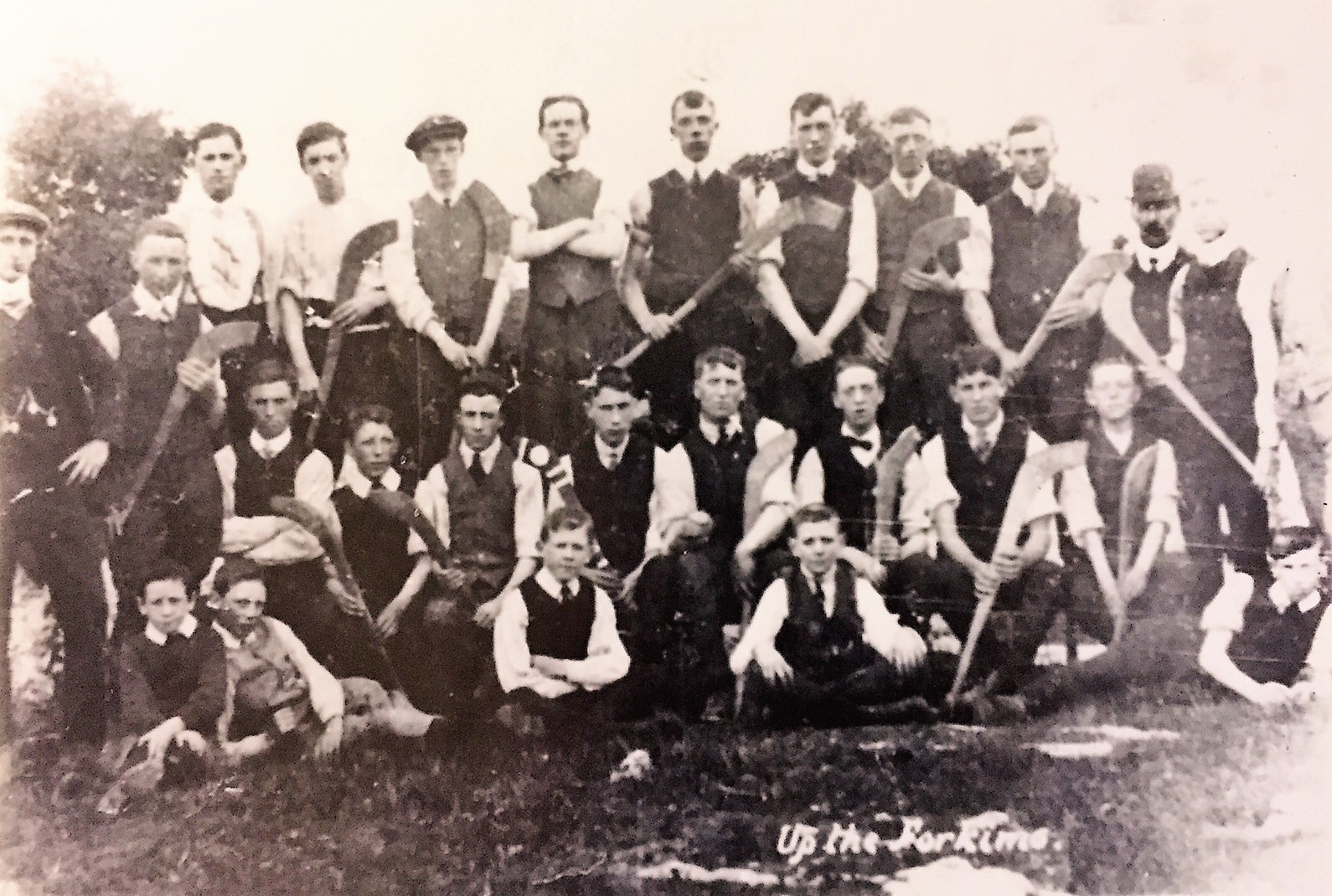 Ladies Football
U10 Midleton v St Nicks League Semi Final -
On a very breezy Monday night our U10 girls welcomed St Nicks to Clonmult Park in the league semi final. Our girls battled hard from the start and were soon on the scoreboard.
St Nicks responded quickly and there was only two points between the teams going into the half time break. In the second half we fought for every ball and played so well as a team supporting each other. Final score was Midleton 4-03 v St Nicks 1-03.
Team: Emma Fitzgerald, Kate Saunderson, Kate O Sullivan, Alannah Magan, Lily Kelly, Emma Keeshan, Amy Keeshan, Alyx Cahill, Sheila O Leary Hayes, Cait O Leary Hayes, Ciara Murphy, Ciara McGrath, Oonagh Lang, Lara Geary, Keelan Fraser, Sadhbh Cronin, Rebecca Crowley, Fay Dunlea, Katie Tarrant & Aine Ryan.
The girls will now face Inch Rovers in the Final on Saturday Sept 30th. Time and venue have yet to be confirmed.
We are having a Flag Day on Saturday the 30th at Super Valu from 10am to 4pm.
If any parent can help for one hour please contact Tracy on 087-6625544.
This is a vital collection to help with running costs for the club.
Training for all groups is at the Tech Pitch from 6pm. Please keep an eye on Facebook for all up to date Club information.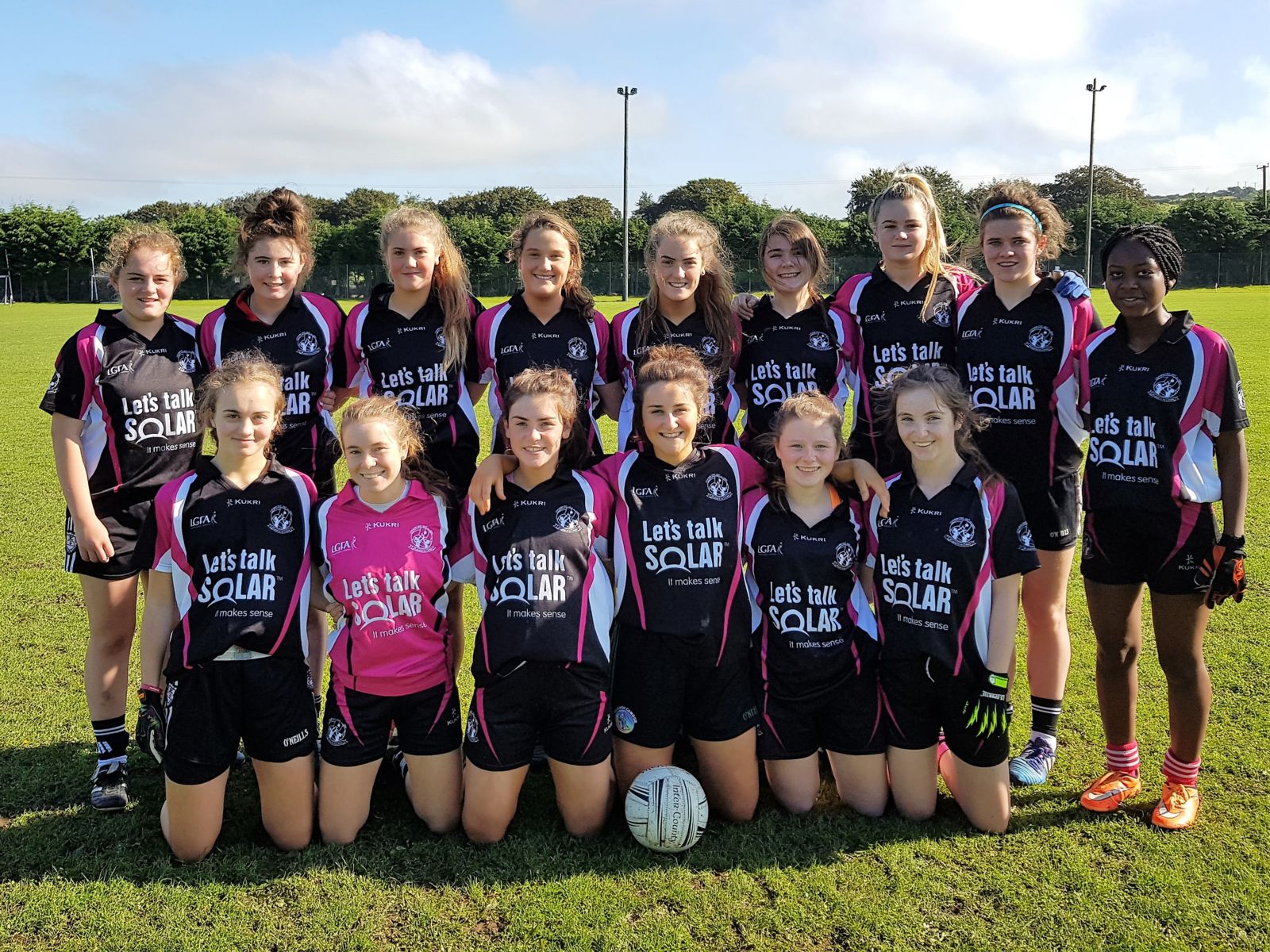 Camogie
U9/U10 - We travelled to Carrigtwohill on Saturday afternoon last, we fielded two teams and played the hosts. The girls showed fantastic commitment and play with some great scores taken. Thanks to the parents and families for their support and to Carrigtwohill for hosting.
U12B County League Final - Ballygarvan was the venue on Saturday evening last to play the hosts on the U12B league semi-final. The less than favourable weather did not dampen the spirits or determination of either team. From throw in till the final whistle in this very competitive match it was clear that both sides were evenly matched and equally determined. We finished the first half one point up but Balllygarvan came back strong in the second half and went on to claim their place in the final on a score line of Ballygarvan 4.5 to Midleton 3.1. Huge credit is due to this great bunch of girls who made it to the final four in a 36 team competition in their first competitive year. Well done girls ... Magpies abú!
U14's meet Cobh and U16's meet St Fanahan's in the next round of the championship dates to be confirmed at time of writing.
Training schedule will be communicated to parents for the coming week. Follow us on Facebook Midleton Camogie Club and twitter @MidletonCamogie. Enquiries 087 6822916.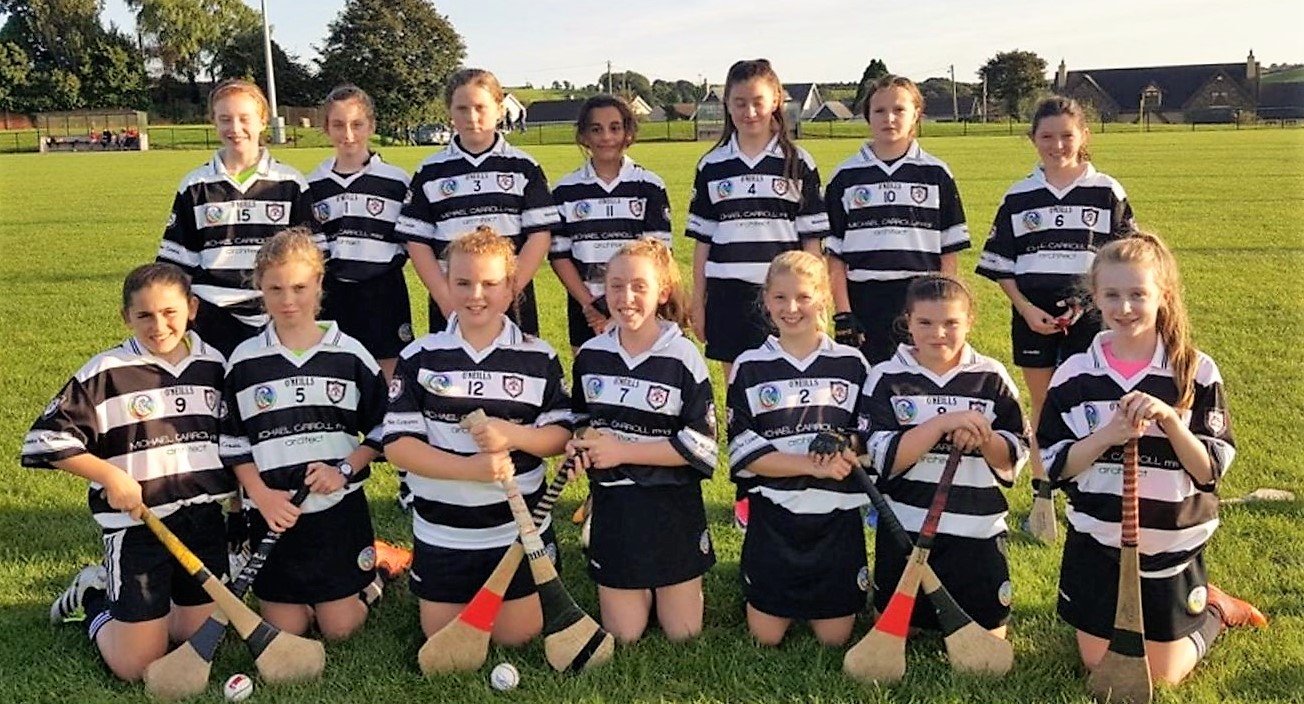 Lotto
Our Lotto Jackpot was €1,400, the numbers were 2, 26, 27 & 28, there was no winner, the Lucky Dip winners were Catherine Mc Carthy, Mary Jane/Ellen Sheehan, Mary Leahy, Edzer O'Callaghan & Billy Moran, next week's Jackpot will be €1,600
Tickets are on sale at the Club Bar, O'Neills Bar, Linehan's Bar, Maple Leaf Bar, O' Farrell's Butchers, Frank Murphy Butchers, Pat Walsh Paints, Chadwicks, Teach Beag, Niall Mac's Bar & Wallis's Bar.
Our Online Lotto is now available, logon to the Club homepage www.midletongaa.com to purchase your ticket.
BINGO takes place next Friday evening @ 8pm in the GAA Pavilion with a weekly guaranteed Jackpot of €1,000.
Juvenile
Fe 9
We had a great finish to our football games for the season. Playing Clonakilty in some very good games at home on Saturday with Midleton coming out just ahead overall. Great progress made throughout the year in the big ball game. Well done lads. Thanks also to all parents who hosted the visitor's players and parents with teas coffees and lovely buns afterwards. Some excellent work by the coaches on the "Hoover's" afterwards as well.
We have two hurling games left.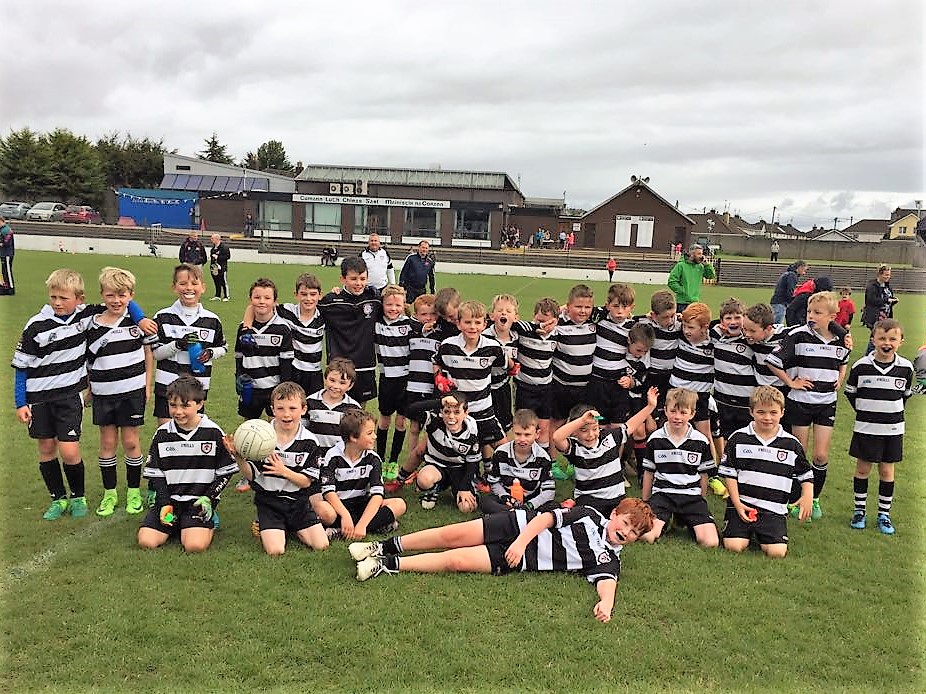 Fe 10
On Saturday week last we played our final match of the Rebel Og League. Again we had a great turnout from our lad's. This ensured that once again we were very competitive. Fielding four teams we once again showed great commitment and determination with some great scores and individual skill on display. This week the Davy Hogan street league's began and again great commitment has been shown. I would urge the boys to practice during the week. Going on this year the standard will be very high at U11. Training will continue after the street league's are finished and our finish date TBC. Magpies ABÚ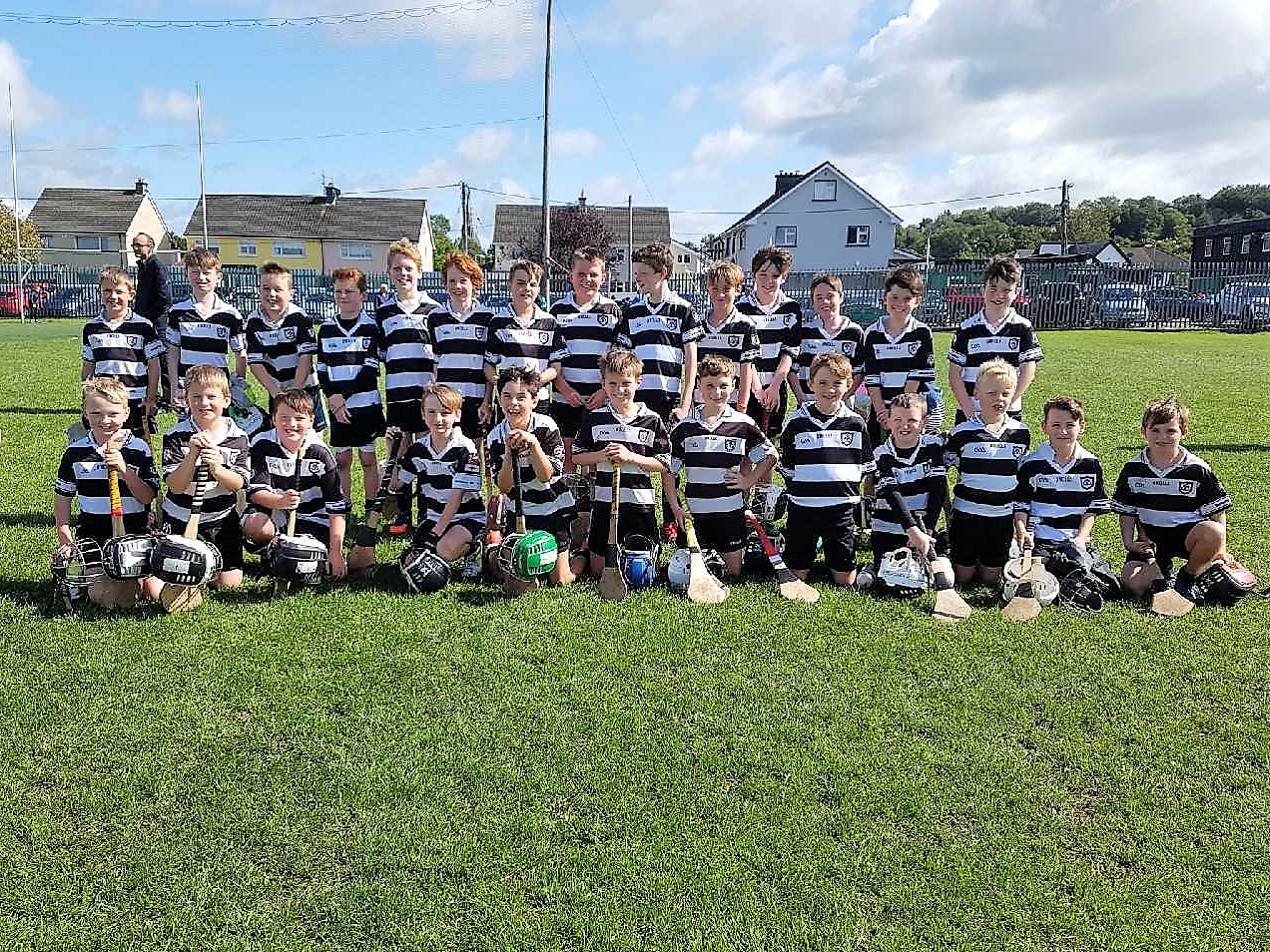 Fe 14
Rebel Og Fe 14 Football Premier 1 Championship First Round: Midleton v Douglas
We travelled to Douglas to play the first round of the P1 football championship. The journey was made more in hope than expectation as preparation for this daunting task had been very light and Douglas have been U12 & U13 football champions coming up through the years. BTW this Midleton team were the U11 football champions.
Douglas started strongly and went 2-01 up in the first ten minutes. But we responded with two points from the very resourceful Cian Murray. These scores gave our boys momentum. Our back line of Darragh McCarthy, Darragh Codd, Shay Bohan and Liam McGrath started to dominate. Ciarmhac Smyth and James Condon controlled midfield and Evan McCarthy, Brion Saunderson and Ben O'Neill were rewarded with some well merited frees which were converted by Evan Kelly just prior to the half time whistle.
Half Time Score: Midleton 0-04 v Douglas 3-04.
Our second half was full of heart and courage. Cian Murray had our first goal shortly after the resumption. Brion Saunderson then struck a cracking shot that found its way to the back of the Douglas net for our second goal. Alex Quirke deft chip was our third goal. And our last score of the game was our fourth and final goal from Evan Kelly. Brian O'Connell (U13) was brave in goal's. James O'Sullivan and Niall Corcoran were first to very ball. Ciarmhac Smyth, Alex Quirke, Darragh McCarthy and Cian Murray were colossal. John Spellman, Neil Fitzgerald, Daire Mooney fought for every ball. A great display from a small panel of players but who possess massive amounts of courage and determination.
Final Score Midleton 4-04 v Douglas 6-07.
Our next game is the semi-final of the P1 Football Challenge Cup V St Michaels which is fixed for next Saturday September 23rd; venue and time TBC.
Panel: Brian O'Connell, James O'Sullivan, Brion Saunderson (1-00), Darragh McCarthy, Darragh Codd, Alex Quirke (1-00), Ciarmhac Smyth, Niall Corcoran, Neil Fitzgerald, Evan McCarthy, Liam McGrath, Rory Hartnett, Ben O'Neill, Shay Bohan, Evan Kelly (1-02), Cian Murray (1-02), James Condon, John Spellman, & Daire Mooney.
Davy Hogan Street Leagues
Wednesday night last on what was a very cold Septembers evening, almost eighty juvenile players, their coaches and parents arrived at the Club at 6pm for the first round of this years Davy Hogan Street League tournaments. All six teams showed great skill on the night and enjoyed two matches each. Details of the results from round one can be viewed on the club website within the Juvenile sections on the club website. Round two of the tournament will take place this Wednesday at 6.30pm with the finals day set for Saturday the 23rd of September. Thanks to all our club coaches for setting up the pitches on the night and to our young whisterls who did a great job in refereeing the matches.
Club Shop
The Club Shop is open each Saturday from 10-11.30am.