Midleton Hurling & Football, Camogie & Ladies Football Club News
20 August, 2017
Minor Hurling Championship
We had a comprehensive win over Carbery in the quarter final of the County Premier1last Tuesday evening in Ballygarvan by 4-21 to 2-13.
After playing against the wind in the first half we led by 1-12 to 1-06 and we continued our dominance in the second half and finished convincing winners. Referee was Pat Lyons.
We now await our opponents in the semi final on the 6th of September.
Team: Alan Power, Cormac O' Brien, Sean O' Sullivan, Conor O' Farrell, Eoin Moloney, Sean O'Leary Hayes (0-01 free), Cian Murray (0-01), Luke Smith, Kevin Finn (0-01), Kian Farmer (0-03), Eoin Mitchell (0-02), Arthur Nganou (1-03), Ross O' Regan (2-03, 0-02 frees), Christopher Power (1-05) & Harry Wall (0-01).
Subs used John O' Dwyer, Evan Rowlands (0-01), Ciaran Evans, Ronan Lynch & Andrew Nestor, not used Cormac Higgins, Jake Shanahan, Mark Daly, Adam O'Connell, Garry Carroll, Christian Murphy, David Scanlon, Coleman Quinn, Tom Scanlon, Tommy O'Connell, Cathal Gunning & Shane Finn.
Junior Hurling
Last Monday we travelled to Ballynoe to take on St Catherines in the League and despite been defeated by 2-15 to 1-08 we put up a brave effort.
Team: Byran Rossiter, Pat Stack, Eoin Ferriter, Brendan Ferriter, Conor Evans, Josh Deady, Mark O'Keeffe, Shane Ryan, Lochlinn Mc Carthy, Niall Walsh, Brian O'Sullivan, Andrew Rea, Eoghan Collins, Sean Corcoran & Declan Mc Inerney.
We have a Junior Hurling League this Tuesday away to Youghal and the third round of the Championship against Erins Own is next Sunday evening @ 6.30pm, venue to be confirmed.
County Premier Intermediate Hurling Championship
Last Saturday we hosted Ballinhassig and Fr O' Neills in the County quarter final which Ballinhassig won after a very exciting game by 2-17 to 1-16.Thanks to everyone who helped out on the day.
Ladies Football
On Tuesday evening last our U10 girls travelled to Whitechurch to play their league fixture. We dominated in the first half and went into the break 1-02 to 1 point. Rockbán came out stronger in the second half and came back into the game with an unstoppable goal and a point and soon the sides were level. The score line could have been a lot different only for some super saves made by our goalies in the first and second half. Another point by Rockbán and a free for Midleton saw the two sides end up in a draw finish.
Final Score Midleton 1-03 v Rockbán 1-03.
Team: Ciara Murphy, Kate Saunderson, Cáit O Leary Hayes, Alyx Cahill, Rebecca Ryan, Aoife Fitzgerald, Sadhbh Cronin, Emma Keeshan, Ciara McGrath, Shelia O Leary Hayes, Fay Dunlea, Amy Keeshan, Alannah Magan & Katie Tarrant.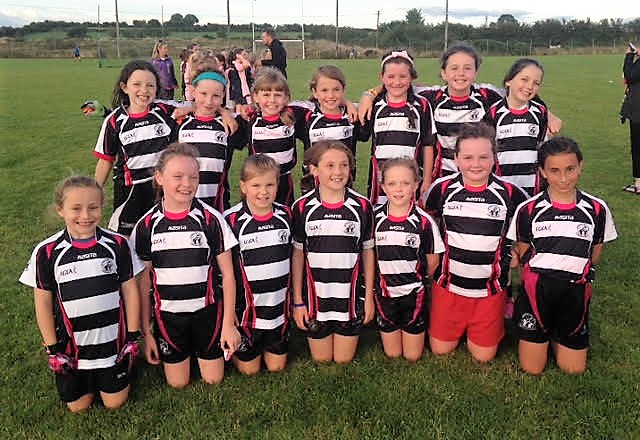 Cork Ladies Football Development Camp
Midleton Gaa Club was the venue for the last Camp for the Cork Senior and Minor Ladies. Girls turned out in great numbers for what is always a very well organised and very popular camp. In all there were 120 girls from various Clubs across Cork, Midleton, Lisgoold, Carrigtwohill, Aghada, Douglas, St Michaels and St Nicks all had girls attend the camp for the four days. On Wednesday there was a very special treat in store for them. Red Fm and Neil Prenderville arrived at 1.30pm with the Ice Cream Van and supplied ice cream for all the girls, parents and siblings. Well done to Orlagh Farmer and all the coaches on another fantastic Camp. No doubt next year will be fully booked again. Many thanks to Midleton Gaa for the use of the facilities.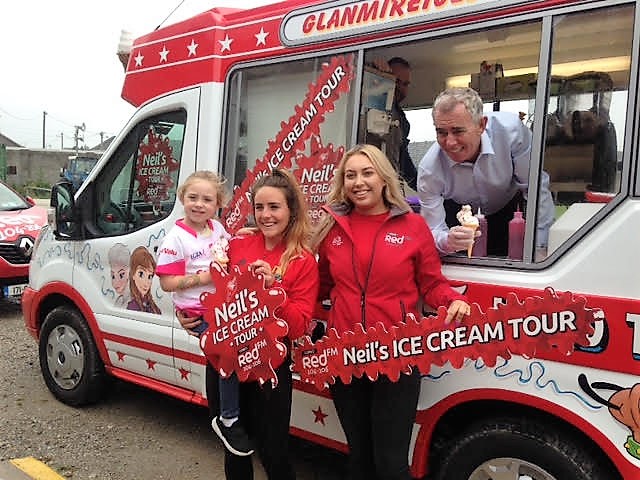 Congratulations to Orlagh and the Cork Senior Ladies Football Team who defeated Galway on Saturday and have now qualified for the All Ireland Semi Final.
Congratulations to Abby Quirke who was part of the Cork U17 squad who took part in an All-Ireland blitz in Dublin last weekend unfortunately they were beaten by Galway in the quarter final.
Training for U8's is on Monday night from 6-7pm at the Tech Field. U10's, U14'S, U16'S and Minors are from 7-8pm. Our U12 girls have a challenge away to Lisgoold.
Keep up to date with all Club News on Facebook – Midleton Ladies Football Gaa and Twitter @midleton_LGFA
Camogie
U14 training this past week included two challenge matches v Cobh and Dungourney ahead of the first round of the U14 County Championship on Saturday next the 26th August v Buttevant. Both challenge matches were very worthwhile, thanks to Cobh and Dungourney.
Training continues Tuesday evenings in St Colman's at 7.30pm – 8.30pm for U12 / 14 /16 and Friday evening in Midleton GAA Club at 6.30pm -7.30pm for all age groups, any changes to training times will be communicated to parents.
New players are always welcome. Any enquiries to: midletoncamogiepro@gmail.com,
Ph: 0876822916. Follow us on Facebook Midleton Camogie Club and twitter @MidletonCamogie
Well done to Corks Senior Camogie team overcoming Galway on Saturday evening last to secure a place in another All Ireland Final on September 9th v Kilkenny.
Gaa Golf Society
Last Thursday fortnight the 10th our Golf society held an outing in East Cork Golf Club which was kindly sponsored by Robbie Fitzgerald of Fitzgerald Commercials.
The results were as follows; 1st Bernard Cashman, 2nd Michael Dwayne, 3rd Donie O' Callaghan, 4th Willie Ring, 5th Paudie O' Keeffe & 6th Dan Buckley.
Front 9 – Jim O'Sullivan & back 9 – Tom O' Halloran & visitor Conor White.
Lotto
Our Lotto Jackpot was €14,600, the numbers were 5,7,16 & 28, there was no winner, the Lucky Dip winners were Kevin Mc Sweeney, Aaron/Roisin Crotty, Una Hennessy, Mags c/o Maple & Pat Walsh, next week's Jackpot will be €14,800
Tickets are on sale at the Club Bar, O'Neills Bar, Linehan's Bar, Maple Leaf Bar, O' Farrell's Butchers, Frank Murphy Butchers, Pat Walsh Paints, Chadwicks, Teach Beag, Niall Mac's Bar & Wallis's Bar.
Our Online Lotto is now available, logon to the Club homepage www.midletongaa.com to purchase your ticket.
BINGO takes place next Friday evening @ 8pm in the GAA Pavilion with a weekly guaranteed Jackpot of €1,000.
Juvenile
Fe 6
On Saturday morning last, our new crop of 29 young Magpies took to the field. It was their first ever game in the famed black and white jersey. On this special morning and before a very large crowd, the boys did their coaches and parents very proud. All players put in a fantastic effort during the three matches. If the boys commit to training, like they have done so far the future is looking bright. A big thank you to all the parents for their continuing support, also to John White and Kiltha Og for making the morning very enjoyable. A big thank you to Mary and Shiela for opening the club shop and for supplying refreshments for both teams. Magpies ABÚ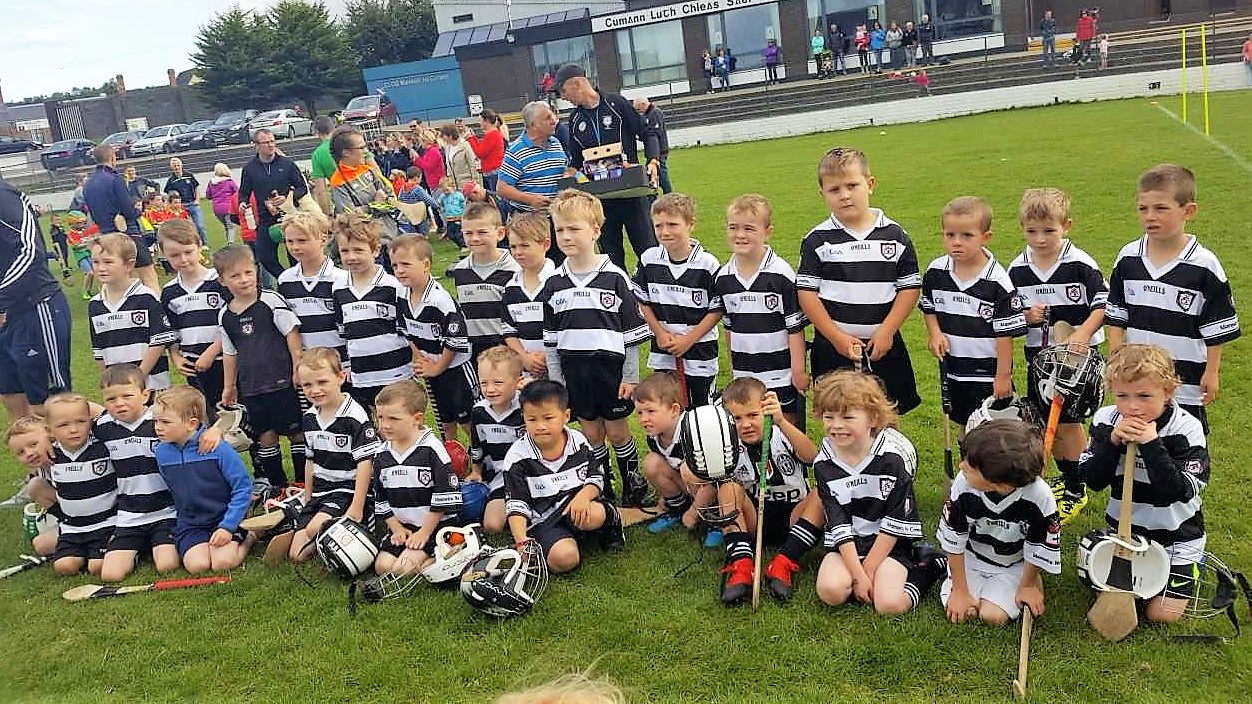 Fe 9
Last Saturday 19th of August saw the eagerly awaited return to action for our FE9 teams in the non-competitive Rebel Og league. Our first football outing after the summer break saw twenty young magpies make the short away trip to play Douglas. Having played over 50 minutes across two evenly contested matches, the honours were eventually shared between the two teams. Well done to all the boys who played with fantastic spirit and fairness throughout and showed some very impressive footballing skills, keep up the good work & practice. Thanks also to Douglas for hosting.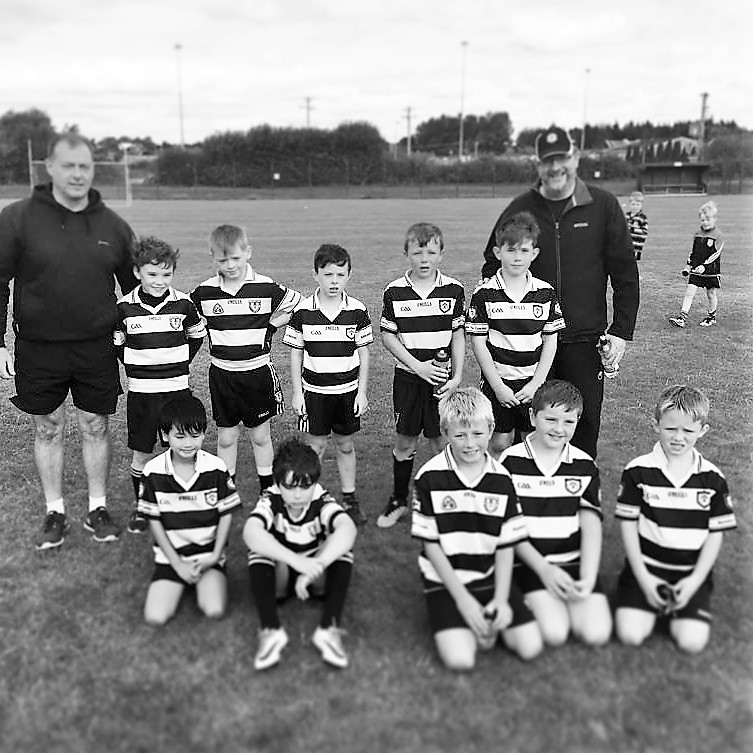 Fe 10
We were back in action this week with a home football fixture v Glanmire. With players and coaches still enjoying the summer holidays we were down more than usual. The 26 available magpies showed great commitment and resilience throughout the hour against a well drilled Glanmire side. Considering that we have not had much practice at the big ball, I've no doubt once we do, the boys will excel. As I have said again and again this committed bunch will improve as the years progress. We'll done again. Our next fixture is hurling v Ballincollig away TBC. Magpies ABÚ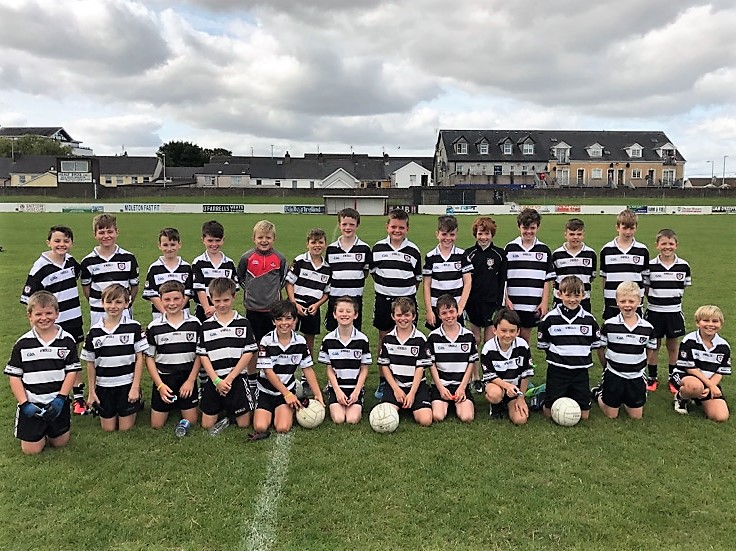 Fe 12
On Friday evening the Magpies had a home game against Sliabh Rua once again we showed up in big numbers which is a credit to all of these young players. The away team opted to play with the aid of a strong breeze in the first half and got off to a good start kicking three unanswered points. We opened the scoring with a fine goal from Cian Lambe followed by points from Eoin Higgins and Tadgh O' Leary. We got two more goals before half time leaving the half time score 3.02 to 1.03. With the help of a strong breeze in the second half we kicked on and finished very strongly leaving the full time score at 5.11 to 1.5 an excellent performance by all of the squad. The under 12 mentors would like to wish Cormac a safe trip back to Dubai and would like to thank him for his commitment throughout the summer. Once again a huge thanks to the parents on the night for their continued support we now have a semi final to look forward to our next outing is an away game against St Nicks in the Glen.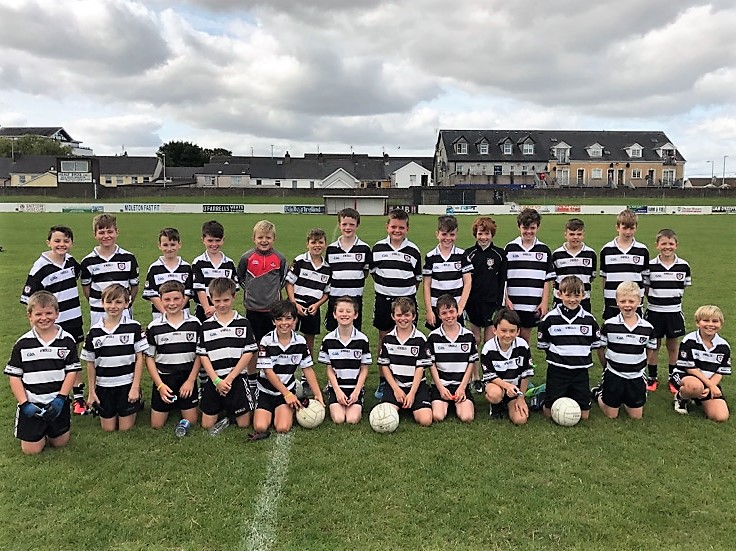 Fe 14
Rebel Og Hurling Premier 1 Championship v Blackrock.
We lined out last Wednesday evening against Blackrock for the first round of the P1 Hurling Championship at Clonmult Memorial Park. This team is coming off a string of fine results in their league but championship will always bring something different. Both teams started well and scores were evenly divided. Mikey Finn fired our first point over the bar. Alex Quirke added a second point followed by an Evan Kelly one. A collision between Fintan Greenwood and Niall Corcoran ended up with both influential players being substituted. Alex and Evan Kelly added further scores to have the half time score line of: Midleton 0-06 v Blackrock 1-02. The significant score of the game was an opportunist goal from a 20 meter free shortly after half time from the ever alert Alex Quirke. This score settled the team and we then had our best period of the game. Evan McCarthy, James O'Sullivan, Neil Fitzgerald, and Liam McGrath dominated the Blackrock forward line. While David Cremin (1) and James Condon (2) kept the scoreboard ticking over with points. A Ronan Gies goal put some daylight
between the teams. Our final scores of the game all came from Alex, two points and another cracking goal from a penalty. Final Score: Midleton 3-11 v Blackrock 4-04
Panel: Brion Saunderson, Niall Corcoran, Fintan Greenwood, James O'Sullivan, Liam McGrath, Ciarmhac Smyth, Evan McCarthy, David Cremin, Darragh Codd, Evan Kelly, Ronan Gies, Kelvin Barry, Mikey Finn, Alex Quirke, James Condon, Cian Murray, Neil Fitzgerald, Craig Collins, Rowan Spillane, Shay Bohan, John Spellman, Ben O'Neill, TJ Murphy, Michael Roe. Darragh McCarthy and Rory Hartnett were also present.
We play Ballincollig in the second round on Wednesday, time and venue to be confirmed.

Fe 16
Following our win over Blarney in the quarter final we returned to Carrigaline to take on Glen Rovers in semi final of the Premier 1 Hurling Championship.The Glen won last year's Fe 15 Championship and we knew despite a win in the league earlier this year that this was going to be a tough test. Fortunately we were back to full strength with two injured players returning.The Glen got off to the better start going three points up and looked comfortable. However our lads slowly played their way into the game and got back on level terms despite playing against the wind. It was nip and tuck for a good part of the first half with the Glen edging ahead towards the end. At the break the Glen were ahead by two points 0-10 to 0-08.
We started the second half well and when we scored our first goal there was a lift in the whole team and we moved into a ten point lead going into the final quarter. Inevitably the Glen fought back and with some loss of shape we shipped two goals and needed to draw on everything they had to keep the opposition at bay. We did just that and with a strong last five minutes saw out the game for a well deserved win.
Final score Midleton 4-14 v Glen Rovers 2-15.On now to the Final where we will meet either Sarsfields or Douglas.
Well done to all concerned and a big thanks to our travelling support, we hope to have you all behind the team in the final. Team: Alex Quirke, Leo Hennessy, David Scanlon, Patrick Kane, Jack Fitzgerald, Christian Murphy, Charlie Walsh, Samuel Quirke, Dan O'Sullivan, Paul Connaughton (1-01), Aaron Mulcahy (1-10 (8 frees)), Gary Carroll (1-02), Tim O'Sullivan (1-0), Cian Crowley (0-01), Ryan Cahill, Ethan Daly, Adam Meade, Gavin Reddy, Tony Carey, Rory Donegan, Daragh Crowley, Brion Saunderson, Will O'Sullivan, Conor Fitzgerald & Ben Cummins.
Cork Development Squads
Best of luck to all our players with the Fe14, 15 & 16 Hurling squads next weekend.

Club Shop
The Club Shop is open each Saturday from 10-11.30am.