Midleton Hurling & Football, Camogie & Ladies Football News
14 August, 2017
Junior B Hurling Championship
In the second round of the East Cork Championship we had a comprehensive victory over our near neighbours Ballinacurra in Castlemartyr last Thursday evening by 5-20 to 1-12 after leading at halftime by 4-11 to 0-05.
Referee Brian Murphy of Carrigtwohill.
We still await confirmation of our opponents in the third round.
Team: Byran Rossiter, Pat Stack, Eoin Ferriter, Brendan Ferriter, Jerome Curtin, Micheal Keohane, Paul Barry, Shane Ryan (0-01), Andrew Rea, Garan Manley (0-10, 7 frees), Brian O'Sullivan (1-03), Luke Finnerty (0-01), Padraig O'Brien (1-03, 2 frees), Willie O'Brien (1-02) & Keith Ryan (1-00 free). Subs used Mark O'Keeffe, Conor Evans & Niall Walsh, unused Liam Franklin, Eoin Collins & Tom Scanlon.
Minor Hurling Championship
Following on from our impressive first round win over Glen Rovers we are now fixed to play Carbery in the quarter final on Tuesday next the 15th in Ballygarvan @ 7pm.
All Ireland Hurling Championship semi finals
Last Sunday at Croke Park before a crowd of over 72,000 the Cork seniors went down disappointingly to Waterford by 4-19 to 0-20 after a first half which saw them behind by the minimum 1-07 to 0-09. Conor Lehane played a t centre forward (0-02), Luke O' Farrell (0-01) was a second half substitute and Killian Burke was unused.
Commiserations to the lads and to selector Pat Hartnett on their efforts.
In the curtain raiser the minor hurlers defeated Dublin by 0-23 to 2-13 with Sean O'Leary Hayes captaining the side from full back to reach their first final in ten years where they will meet Galway.
County Premier Intermediate Hurling Championship
On Saturday next the 19th we will host Ballinhassig and Fr O' Neills in the County quarter final at 7pm, anyone who can help out please be in the Club from 5.30pm.
Trad Night
Traditional Music and Singing session / Oíche Ghaelach Friday 18th August next at 9.30pm in the Club lounge, hope you can make it. Fáilte roimh chách. Thanks Gura míle
Ladies Football
East Cork Minor League Midleton v Youghal
On Thursday evening our minor Girls travelled to Youghal in Round 3 of the East Cork Minor League. We only had 11 girls at our disposal and Youghal who had 14 matched our 11. On a lovely afternoon for football we started spritely and from the throw in attacked the Youghal goal. Before try as we could we could not find the scoring target. In the first 10 minutes we were camped in their half of the pitch playing down the hill into the clubhouse goal aided by a slight breeze. Due to wayward shooting and a resilient Youghal defence it took us ten minutes to register our first score which came in the shape of a goal. This settled the girls and went on to register a further 1:8 before the break, most of these scores coming in the middle period. Soon after we lost our shape and began to tire and they owned that spell running in for 1:2 Score at half time, Midleton 2:8 v Youghal 1:2
In the second half playing up the hill against the breeze was a more difficult task, and Youghal who had the advantage of being able to recycle the girls in and out brought the game to us and had the ball over the bar from the throw in. For the next ten minutes it was all Youghal and they pulled back the game to a three point game. We were completely dead on our feet and found it difficult to deal with their running and attacking play. Then Youghal were awarded a penalty that would have levelled the game only for Rhea's unbelievable save who not only blocked the ball by diving to the bottom right hand corner, but also gathered it and bust out with it and set up a counter attack that saw us rattle the Youghal net. This inspired energy into the team and the whole unit raised their game, and for the next while the ball was moved up and down the field with abandon by two energetic teams. With seven minutes remaining Youghal had the deficit down to three points again but an opportunist goal from a cleverly taken free by Sabadh who found our full back racing up the wing to receive the pass who lobbed the ball in over the goalies head to bring us ahead by six points again. This broke their hearts and in an incredible shift we had the wind in our sails and finished strong on a scoreline of 5:14 to Youghal's 3:7.
This game is a prime example of what can be achieved when a team plays as one unit, the support they gave each other, the encouragement, their work rate, and the exhausted smiling faces at full time would encourage any girl to take up sport. Very well done girls, ye did us proud. Team: Rhea Buckely, Laura O'Leary, Deirdre Corcoran, Lizzi Phiri, Lucy Wallace, Abby Quirke, Molly Beausang, Kari McEvoy, Sadhbh Beausang, Aoife Franklin, Alice Reddy.

Football camp with Cork Ladies Senior and Minor Players. Midleton Gaa Club starts tomorrow Monday to Thursday 10 to 2pm. €40 which is payable on the day.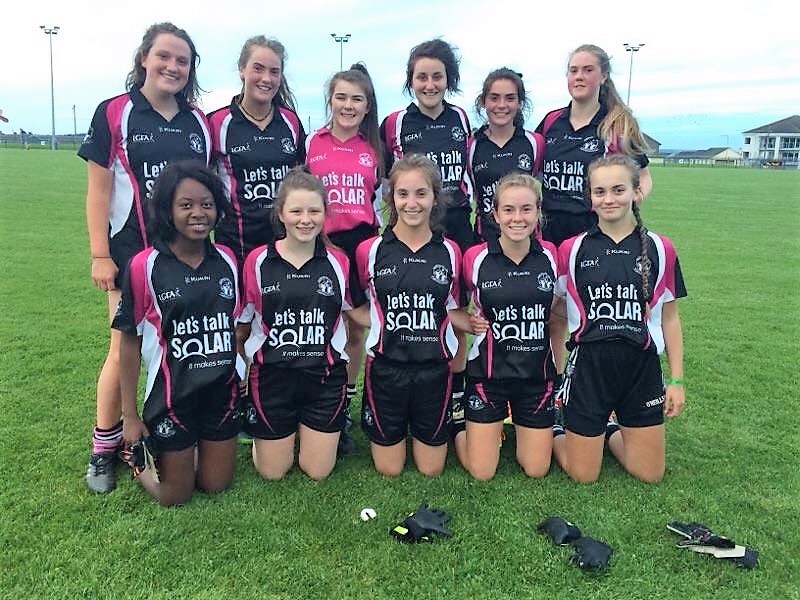 Camogie
U14 Championship begins with on Saturday the 26th August away to Buttevant.
U15 – We met Youghal in the U15 Imokilly B Cup final on friday evening last, Youghal proved too strong for us on the night, our girls played with spirit and determination against a very strong and skilful team. Well done to Youghal. Thanks to the Imokilly Board and thanks to Fr O'Neills for the venue.
Training continues Tuesday evenings in St Colman's at 7pm - 8pm for U12 / 14 /16 and Friday evening in Midleton GAA Club at 6.30pm -7.30pm for all age groups, any changes to training times will be text to parents.
New players are always welcome. Any enquiries to: midletoncamogiepro@gmail.com, Ph: 0876822916. Follow us on Facebook Midleton Camogie Club and twitter @MidletonCamogie
Thanks to all involved in the organising and running of last week's cul camp, it was great to see our girls involved in what was a very successful camp.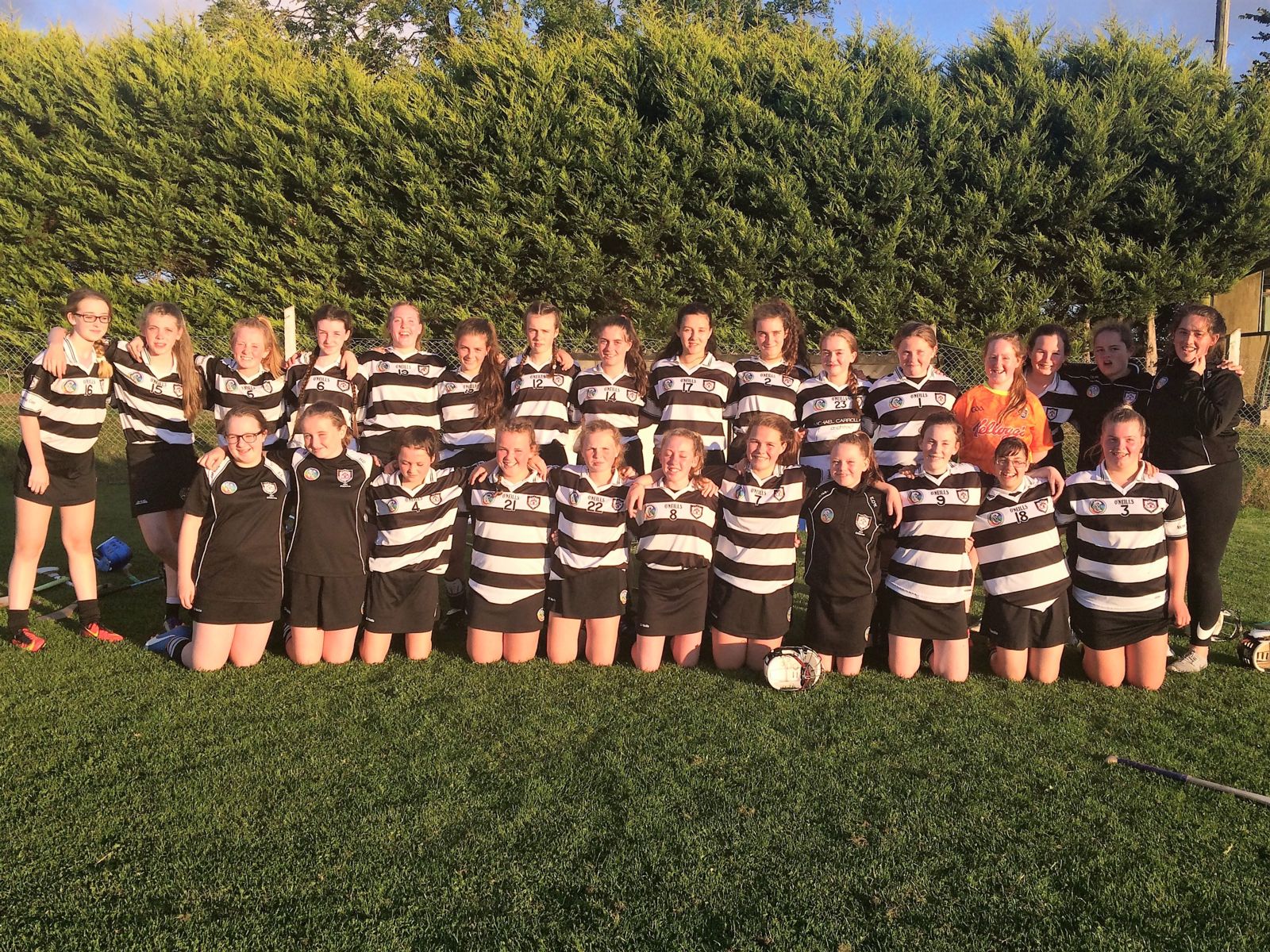 Lotto
Our Lotto Jackpot was €14,400, the numbers were 3,4,13 & 20 , there was no winner, the Lucky Dip winners were Ingrid Connaughton, Grainne Murray, Shane O'Dowd, Helen O'Brien & Brenda Walsh, next week's Jackpot will be €14,600
Tickets are on sale at the Club Bar, O'Neills Bar, Linehan's Bar, Maple Leaf Bar, O' Farrell's Butchers, Frank Murphy Butchers, Pat Walsh Paints, Chadwicks, Teach Beag, Niall Mac's Bar & Wallis's Bar.
Our Online Lotto is now available, logon to the Club homepage www.midletongaa.com to purchase your ticket.
BINGO takes place next Friday evening @ 8pm in the GAA Pavilion with a weekly guaranteed Jackpot of €1,000.
Juvenile
Fe 7
On Wednesday the 2nd of August we welcomed Aghada, Youghal and Carrigtohill to Clonmult Memorial Park to take part in a hurling blitz. It was a wonderful evening of hurling that saw over 100 players partake in the event. There has been a huge improvement shown in our own players over the passing months and this was very evident on the evening.
The Fé 7 management panel would like to thank the parents of our players for supporting the evening that was a great success. A special word of thanks to Michael O'Connell for his hard work in coordinating the blitz and facilitating its smooth running and to Tom Galvin for liaising with the parents throughout.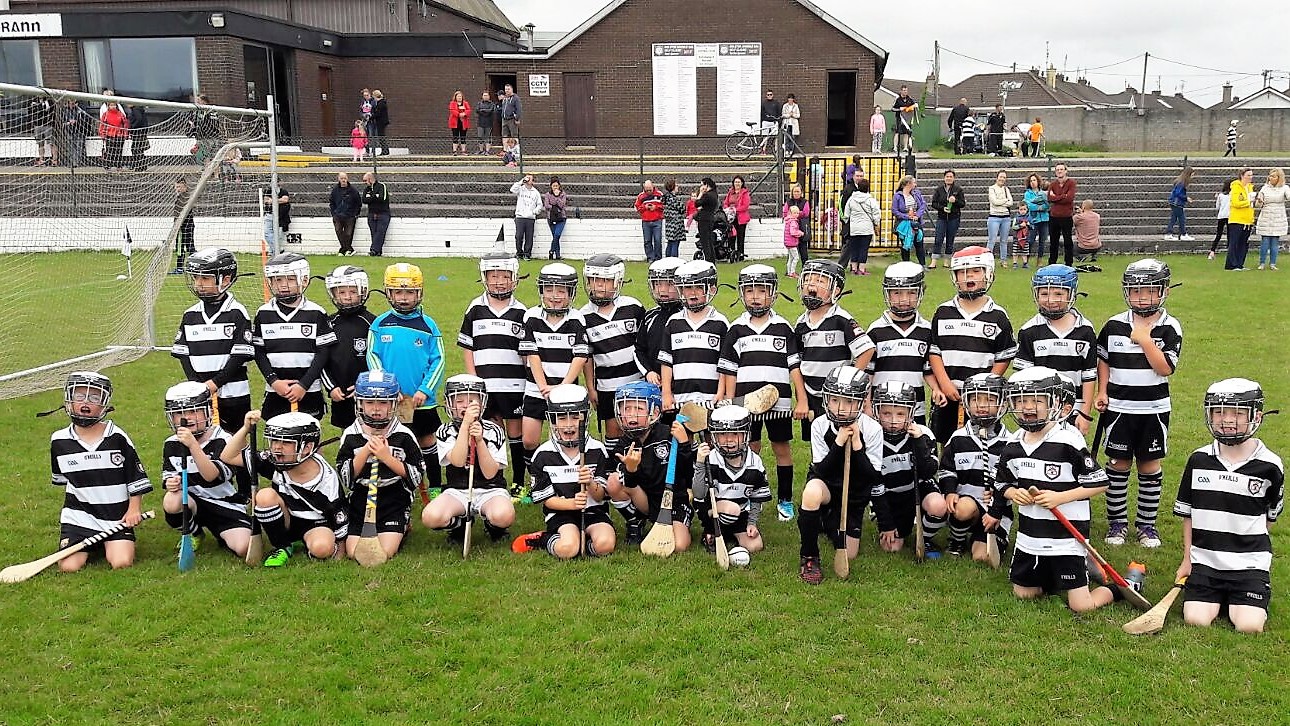 Fe 14
Rebel Og Fe 14 Hurling Premier 1 League: Midleton v Valley Rovers.
Our last league prior to the play offs was a home game v Valley Rovers last Friday night at Clonmult Memorial Park. Our boys have so far gone the league unbeaten and the hope was they could over their last game and hold the run to the finish. We started well with two points from James Condon. These points were followed by 2-02 from Alex Quirke. Kelvin Barry (0-01), Alex (1-01), Evan Kelly (0-01), Darragh Codd (1-00) and James Condon (0-01) completing the first half scores for the Magpies.
Half Time Score Midleton 5-06 v Valley Rovers 0-05.
The second half played out similar to the first half. We got the upper hand and pushed on for the remainder of the game. Scorers were Ronan Gies (0-01), Evan Kelly (0-01), Alex Quirke (1-01), Kelvin Barry (0-02), Evan McCarthy (1-00) and Ben O'Neill (2-00).
Others who performed well on the night included Ciarmhac Smyth, Liam McGrath, Neil Fitzgerald, Rory Hartnett and Niall Corcoran & Rowan Spillane.
Final Score Midleton: 9-11 v Valley Rovers: 1-07
Hurling Challenge: U14 Midleton 3-09 v Kilmacud Crokes 5-11.
On the way to Croke Park on Sunday for the All-Ireland semi-final we lined out against Kilmacud Crokes in South County Dublin. The weather was beautiful, the game was enjoyable and the players were fed afterwards. What more could you ask for?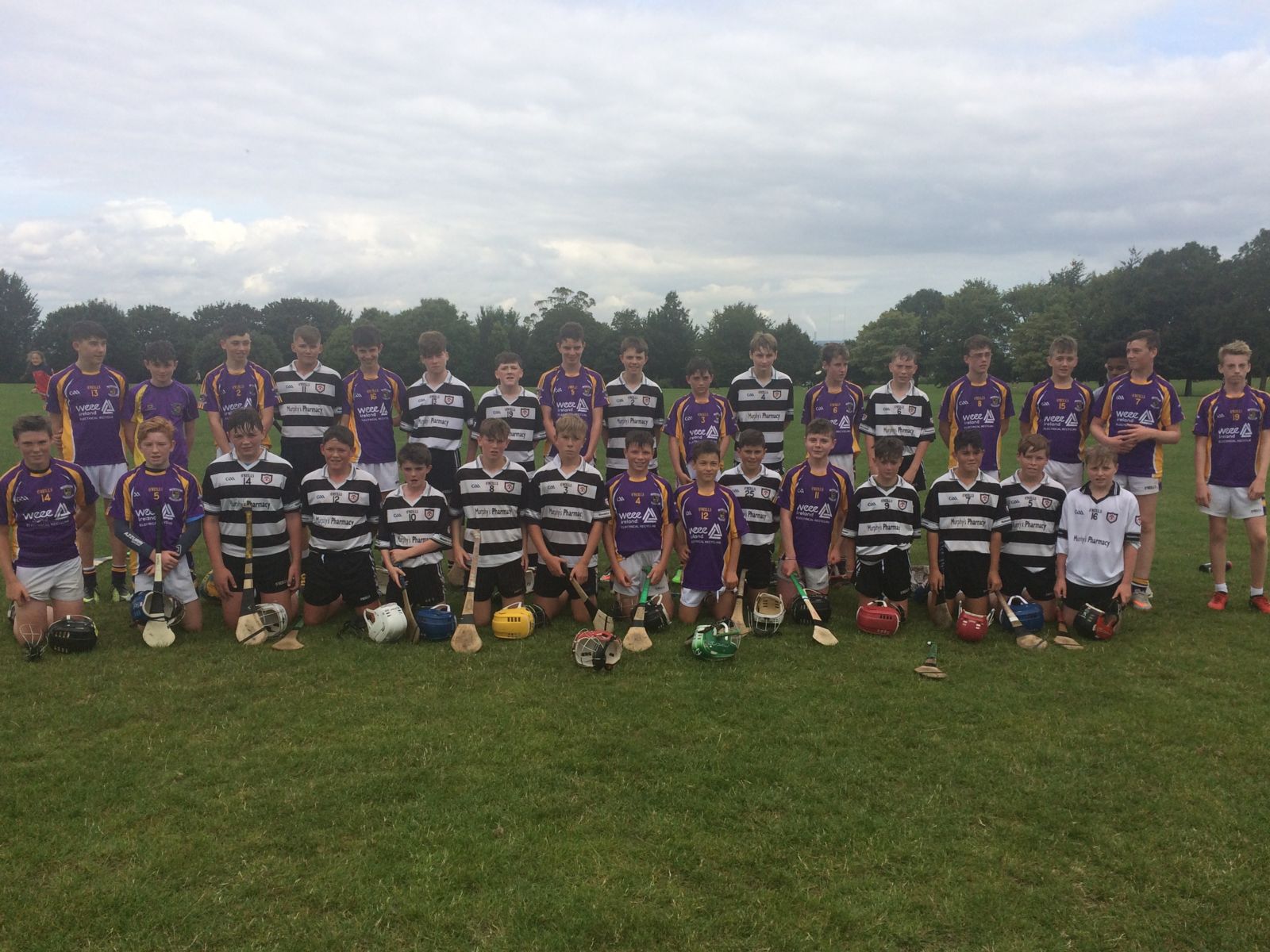 Fe 16
On Tuesday night last we started our last juvenile Hurling Championship campaign.
With a few out injured it was a big test for the team and Blarney have always given us a good test and we expected nothing different this time.
We got off to a good start and following a foul we were awarded a penalty which was expertly netted. From then until the end of the first half we took control and with another couple of goals had Blarney on the rack.
We expected a fight back from Blarney in the second half and we weren't let down.
We lost some shape and gave Blarney a way back in. The lads however fought to the end as usual and came out victors on a scoreline of 4-07 to 2-10. Well done to all.
Thanks to those who came up from Fe 15 and best wishes for a quick recovery to those on the injured list.
Team: Alex Quirke, Leo Hennessy, Dave Scanlon, Patrick Kane, Jack Fitzgerald, Christian Murphy, Charlie Walsh, Samuel Quirke, Ethan Daly, Dan O'Sullivan, Aaron Mulcahy, Cian Crowley, Paul Connaughton, Adam Meade & Ryan Cahill. Subs Gary Carroll, Rory Donegan, Tim O'Sullivan, Gavin Reddy, Will O'Sullivan, Brion Saunderson & Conor Fitzgerald.
Midleton GAA 2nd Cul Camp of the Summer 2017
Our second Cul Camp of the summer took place last week. We had a fantastic turnout for this our second Cul Camp of the summer and our first ever Cul Camp in Midleton GAA Club incorporating our female players. The weather started out mixed on Tuesday with a few heavy showers but ideal conditions for the rest of the week ensured a great week for all our participants. We had 160 children in attendance, following on from 189 at our first camp so as a Club we are extremely proud to have had 349 children attend our summer Cul camps. The camp had a visit on Thursday from Cork Player Alan Cadogan and the Club would like to thank him for taking the time to visit and go around and meet all the various groups of players. The camp coordinator for the week was Ingrid Connaughton ably assisted by Darina Foley and a number of other willing volunteers who assisted on various days throughout the week. Ingrid would like to thank all those who assisted her during the week and in the run up to arranging the camp, paying particular thanks to the Club for the use of the facilities, Rebel Og, Cormac Quirke, Mary Quinn, Tracy Saunderson, Mairead Beausang, Susan Fitzgerald, Ruth Walsh, Tara Cahill, Marcella ONeill, Shelia Kelly and all the Coaches, the Juvenile Helpers who were absolutely excellent and a credit to the club and in particular all the children who attended the camp.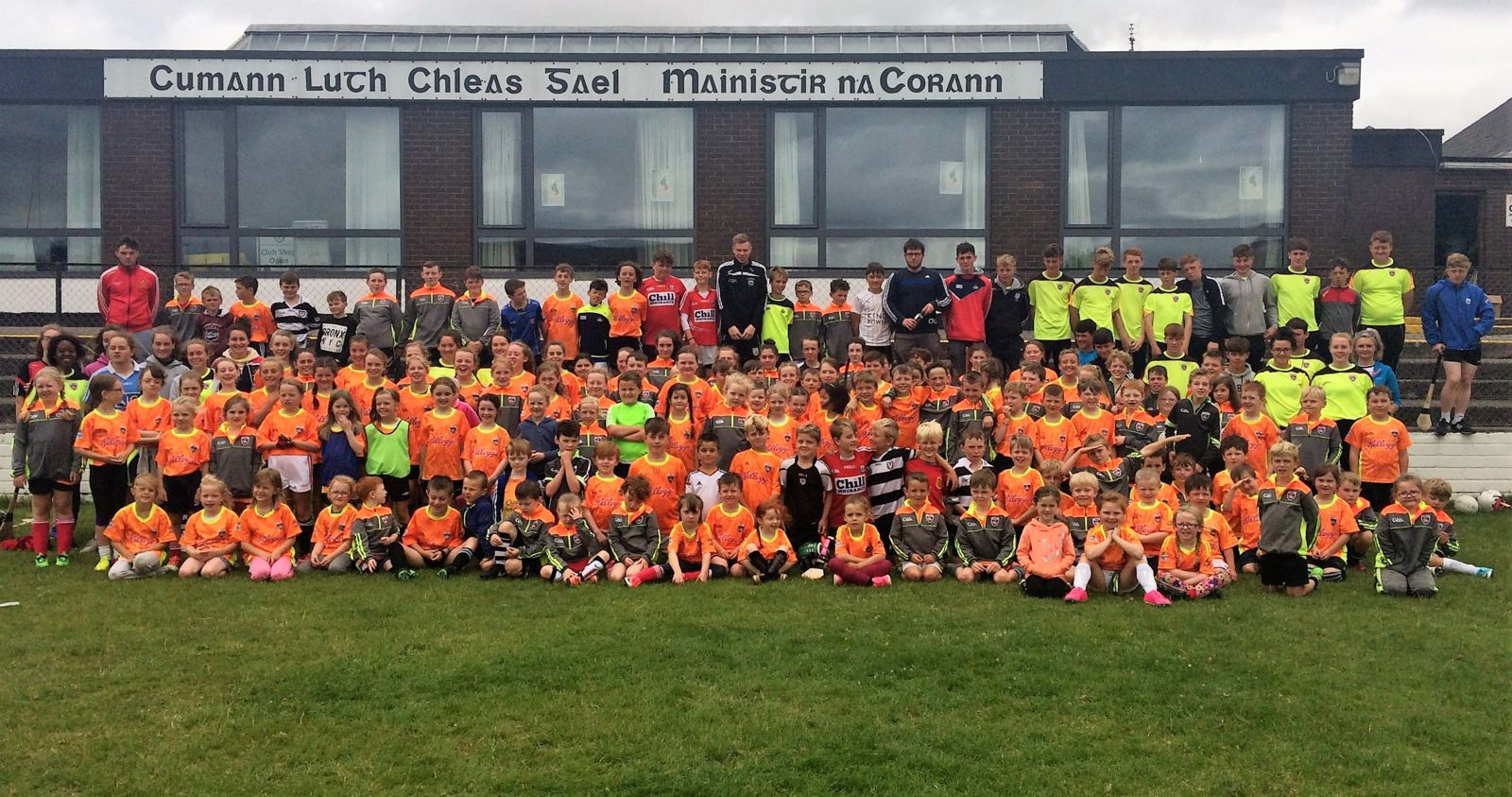 Davy Hogan Street Leagues 2017
The eagerly anticipated Annual Davy Hogan Street Leagues are set to commence on Wednesday September 13th on the main pitch at the GAA Club. Two Tournament Co-ordinators were saught by the Juvenile Commitee to oversee the running of the tournament. We are very grateful to Ray Fitzgerald & Ed Coughlan who have put themselves forward to oversee the running of this years tournament. We have 80 players eligible to take part and hope that each player enjoys the tournament. A draw for the teams took place following the Juvenile Meeting on August 1st in the presence of the Juvenile Committee & Tournament coordinators. All players will play a total of five league matches over the tournament with play off matches and the final scheduled to take place on September 23rd following a players parade from Hurleys Super Valu to the Club. Please check out the website for details regarding the teams drawn and over the coming weeks the website will be updated with the coaches assigned to the various teams and confirmed times. Information on the draw can be found on the Juvenile Section of the club website.
Lost & Found
There a considerable number of training tops, sweatshirts, water bottles and football gloves in the lost and found baskets in the club shop with more added following our recent Cul camp. Please call in to the club shop and recover any items your child may have left behind after training.
Club Shop
The Club Shop is open each Saturday from 10-11.30am.