Midleton Hurling & Football, Camogie & Ladies Football Club News
25 June, 2017
Senior Hurling
Our hurlers defeated Erins Own by 2-25 to 4-15 in Round 2 of the Championship last Sunday afternoon in Carrigtwohill after an exhilarating game which went to extra time.
After a great start to the game we went in at the break 1-08 to 0-09 ahead. The second half came to life midway through when Erins Own struck for two goals reducing our lead to a point. Almost immediately a great run out of defence by Kilian Burke set up Padraic Nagle for his second goal. With the clock running down we were ahead by two points only for Erins Own to claim their fourth goal, however in a flash we worked the ball down the field and when the ball came back off the upright from Cormac Beausang's effort Nagle was on hand to strike the equalisier. The final score after fulltime was Midleton 2-18 v Erins Own 4-12.
We began very well in extra time and led by 2-21 to 4-13 at the break, a number of chances missed in the second period put us under some late pressure but Luke O'Farrell and Paul Haughney stepped up at the end with great scores to secure the win by 2-25 to 4-15.
This was a great result having had to lift our game on several occasions throughout the hour and a half with many impressive performances.
Congrats to the players and management, we can now look forward to the fourth round of the Championship and hope to have Conor, Cormac and Padraig back available.
Team: Tommy Wallace, Killian Burke, Alywin Kearney, Seanaidh Smyth, Sean O'Leary Hayes (0-01), Finbar O'Mahony, Seamus O'Farrell, Paul Haughney (0-04), Padraig O'Farrell, James Nagle (0-06, 2 frees, 1 65), Aidan Ryan (0-01), Padraic Nagle (2-02), Patrick White (0-01), Luke O'Farrell (capt) (0-06) & Cormac Beausang (0-03).
Sub used Padraig O'Shea.
Referee Colm Lyons of Nemo Rangers.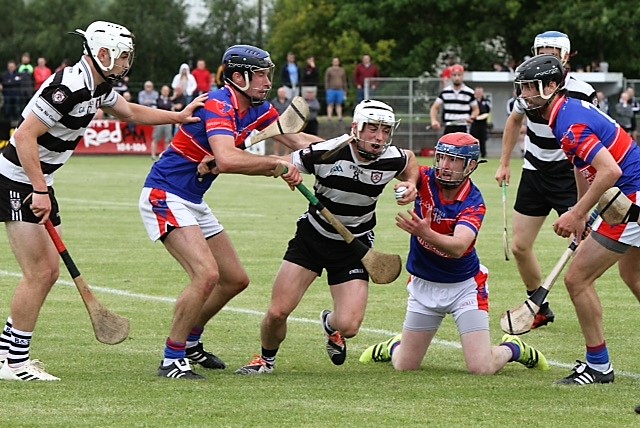 Intermediate Hurling
The Round 2A Championship replay v Glen Rovers will take place on Friday next in Caherlag @ 7.30pm ET, we wish all the players and the management the very best of luck.
Junior Hurling League
Our hurlers had a great a battle last Monday night in Cloyne with the hosts when a late goal from Sean Corcoran tied the game at 3-16 to 5-10.
Team: Bryan Rossiter, Pat Stack, Eoin Ferriter (captain), Brendan Ferriter, Paul Barry, Micheal Keohane (0-02 frees), Luke Smith, Lochlinn Mc Carthy, Padraig O'Brien, Brian O'Sullivan (0-02), Christopher Power (0-02), Jerome Curtin, Willie O'Brien (0-01), Sean Corcoran (4-00), Keith Ryan (1-01).
Subs Coran Swayne, Eoin Collins (0-01) & Tom Scanlon.
The next League outing is Tuesday next 27th away v Ballinacurra @ 7.30pm
Munster Minor Hurling Championship
Best of luck to Sean O'Leary Hayes (captain) and Shane Finn with the Cork minors hurlers when they take on Tipperary in the semi final on Thursday next 29th in Thurles @ 7pm
Field Fixture
On Saturday next 1st of July we are hosting Carrigtwohill and Killeagh in the East Cork Junior A Hurling Championship @ 7.30pm, if you can assist at this game please meet in the Club @ 6pm.
Fixtures
Monday 26th @ 7:30PM Fe 12 Premier 1 Hurling League v Fermoy at home
Tuesday 27th @ 7:30PM Junior A Hurling League v Ballinacurra away
Tuesday 27th @ 7:30PM Minor Hurling Premier 3 Hurling League v Bishopstown away
Wednesday 28th @ 7:30PM Fe 13 Juvenile Premier 1 Hurling League v Bride Rovers home
Wednesday 28th @ 8:00PM Junior A Football League v Cobh away
Thursday 29th @ 6:30PM Fe 16 Premier 1 Hurling League v Douglas home
Thursday 29th 8:00PM Fe 15 Premier 1 Hurling League v Glen Rovers home
Friday 30th @ 7:30PM Fe 14 Premier 1 Hurling League v Blackrock home
Friday 30th @ 7:30PM Intermediate Hurling Championship v Glen Rovers in Caherlag
Check the Club website for regular updates on all fixtures.
Development Update
Last Thursday evening there was an information meeting held in the Club Hall for members regarding the recent Land purchase and the possible future development.
Facilities Committee Chairman Alan Donegan welcomed the attendees and thanked all those who contributed to us securing the Land at the Youghal Rd over the past number of months.
John Fenton introduced us to the background of the Land purchase, Sean Corcoran spoke about the possible option of Phase developments and the costs associated, Alan advised us of our financial considerations. Gerald Fitzgerald introduced details of the various grant options and the criteria's required, Vincent Reddy then spoke about the proposed developments.
After a number of questions from the floor Alan thanked everyone for attending and invited comments by members via email over the coming two weeks. The Committee will now seek permission to continue as a working group and to proceed with a Planning application as soon as possible.
Gaa Golf Classic
Conor Lehane brand ambassador with Blackwater Motors Cork, Fermoy & Skibbereen (main sponsors of our Golf Classic) officially launched it in the company of our Fe16 hurlers last week.
With less than a week to go there are a very limited number of tee times available for Wednesday & Thursday 5/6th of July at East Cork Club.
Please contact Coleman Quirke 087/2523759 or Anthony Wall 086/3154016 as soon as possible to reserve your time.
If you are unable to play Tee Box sponsorship is available for only €50 which insures a quality sign on a Tee Box, further advertising in the local media and outside our Clubhouse for twelve months.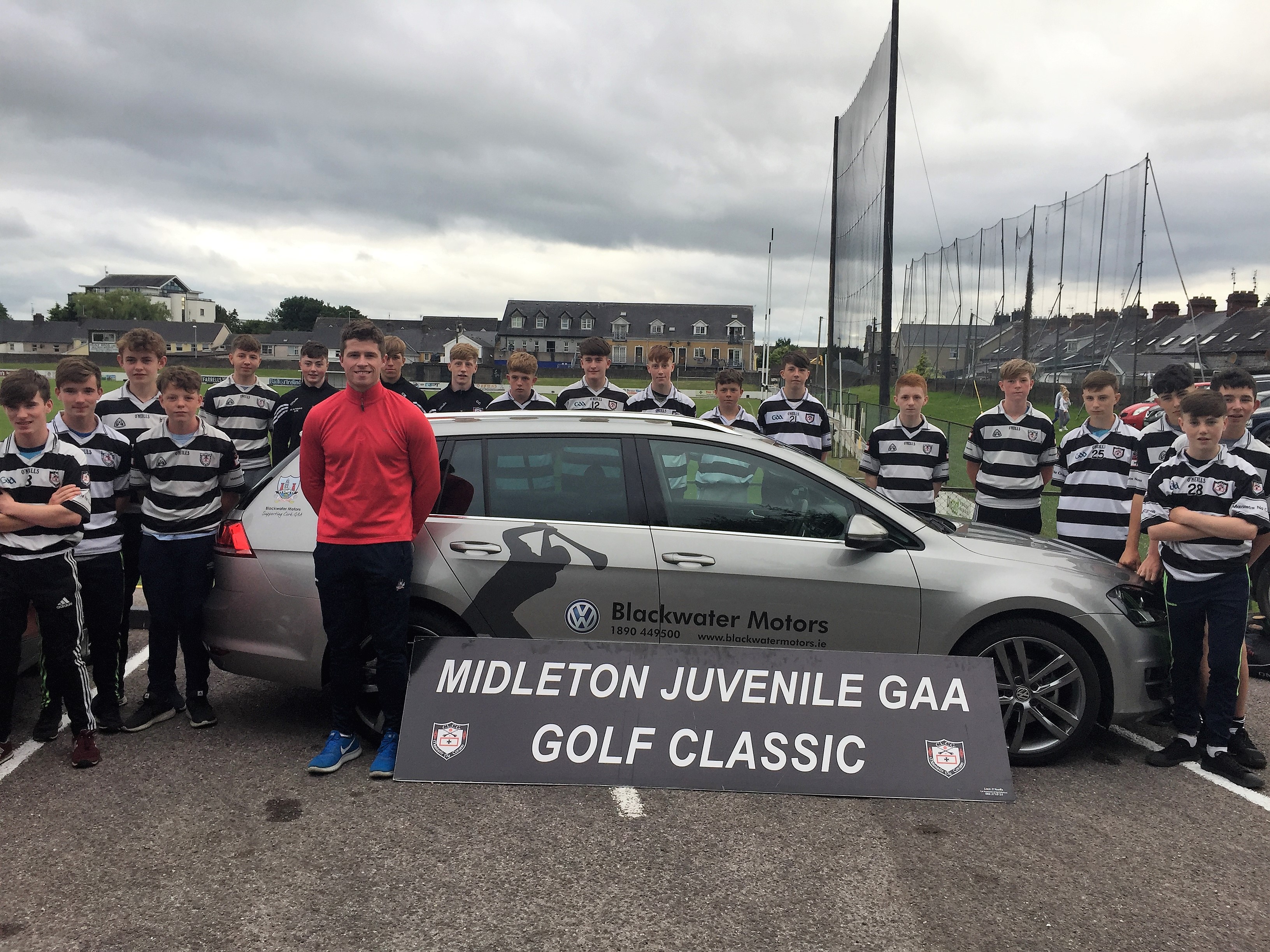 Ladies Football
Training returns on Monday night in the Tech Pitch from 6-8pm for U8 and U10 girls.
Best of luck to our U12 girls who take on Glanmire at the Pike home of Glanmire Football Club. The Cork Ladies Football are running a development football camp in Midleton Gaa Club from August 14th to 17th.
For More details please contact camp Co-ordinator Orlagh Farmer on 086-3509870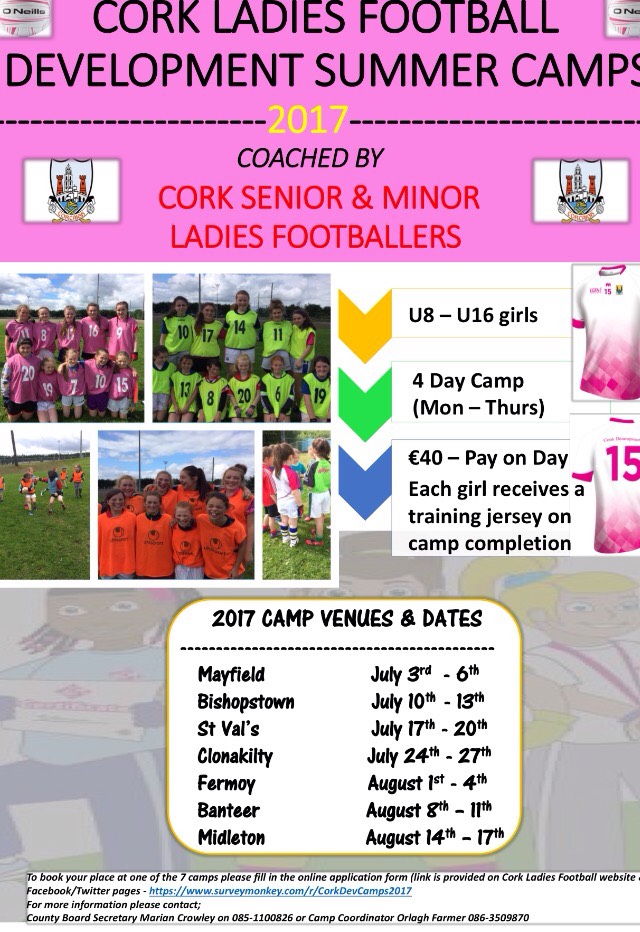 Camogie
U6/U7/U8 - Thank you to Carrigtwohill for hosting a very well organised Camogie blitz on Saturday 17th June in what were beautiful conditions. We were delighted to be part of this East Cork Blitz, there was huge excitement for our girls' first game. Our budding stars showed up in great numbers, we had thirty girls playing against Carrigtwohill, Castlemartyr, Cobh and Castlelyons. Fielding three teams at the same time, this meant that all groups rotated to play two matches against opposition and it worked out very successfully.
And what great displays there were. The girls played with great spirit and got their first experience of playing while being cheered on by a big group of spectators. The girls really enjoyed the full experience of wearing their Midleton colours. We were delighted with the support of the families who travelled with their girls and created such a great atmosphere.
A big thanks to the players, coaches, referees and our good neighbours Carrigtwohill Camogie Club for hosting us for the Blitz.
We can't wait for our next match. Here's to many more fun days like today.
U11 - We travelled to Cobh on Saturday afternoon last to take part in another Blitz. We played Sars 1, Sars 2 and hosts Cobh. They were all great games with great work rates in very hot conditions. Well done to all the girls involved and thanks to parents for their support and thanks to Cobh for hosting.
U12 – League play off blitz Tuesday evening in Blackrock to decide who goes forward as three teams in the group including ourselves have finished the first round with six points each.
U13 - We play Carrigtwohill in our next Imokilly League game on July 3rd at 7pm in Carrigtwohill
U14 – League quarterfinal draw, we play Clonakilty away, date yet to be decided.
Follow us on Facebook Midleton Camogie Club and twitter@MidletonCamogie for all the latest information.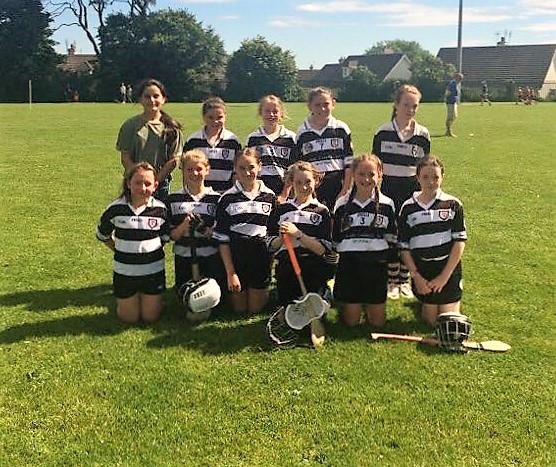 Lotto
Our Lotto Jackpot was €13,000, the numbers were 3,24,25 & 26 and there was no winner, the Lucky Dip winners were Erin/Aine/Mary, Mamie Garde, Stephen O'Brien, Paula Smyth & Michael Buckley, next week's Jackpot will be €13,200
Tickets are on sale at the Club Bar, O'Neills Bar, Linehan's Bar, Maple Leaf Bar, O' Farrell's Butchers, Frank Murphy Butchers, Pat Walsh Paints, Chadwicks, Teach Beag & Niall Mac's Bars.
Our Online Lotto is now available, logon to the Club homepage www.midletongaa.com to purchase your ticket.
BINGO takes place next Friday evening @ 8pm in the GAA Pavilion with a weekly guaranteed Jackpot of €1,000.
Juvenile
Fe 12
On Friday evening we travelled to Erin's Own for a much anticipated football game as both sides were equal on points in the league table. They opted to play on a small pitch and thirteen players which didn't suit the large squad that had travelled from Midleton. However the magpies started brightly with Cian Lambe and Darragh Fitzgerald striking for two early goals. These were followed by scores from N Lang, E McGrath, E Higgins, T O Leary, leaving us in a strong position. Tadhg Bohane got a goal just before half time leaving the score line at 3-05 to 1-02 to the visitors.
We knew we would be up against it in the second half with the home side having a strong breeze at their backs and Erin's Own made full use of it kicking a goal and two points without reply. However we rallied with scores from Darragh Scanlon and Darragh Aherne keeping Erin's Own at bay. Larry Ward kicked a goal and a point which seemed to settle the storm. Alex Cahill, Cormac Ryan and Daniel Shine also showed great guts and determination when introduced onto the field. Thomas O Connor and Liam O Neill hassled and worked hard to keep Erin's Own pinned back to their half of the field.
Final score Midleton 7-11 v Erins Own 3-04
Overall it was a fantastic performance by all of the squad with a stand out performance from Tadhg Bohane. This is a wonderful group of players and the mentors are really proud of the huge numbers turning up for training and matches week after week. Again great credit to all the parents the mentors would like to thank each and everyone for their commitment and dedication.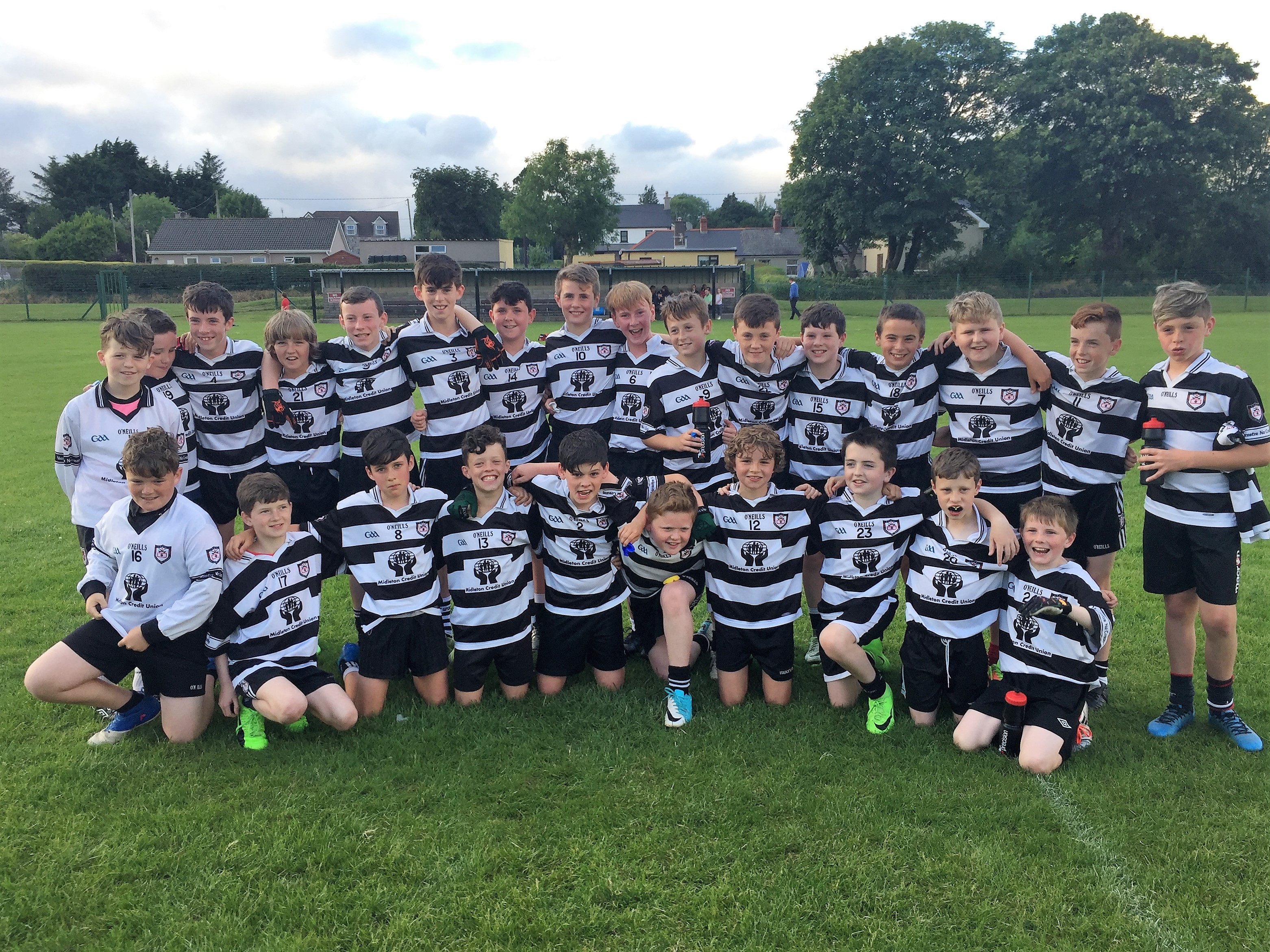 Fe 14
Munster Football Feile 2017 - Our Fe 14 footballers travelled to Mallow last Saturday 24th June to participate in the Munster Football Feile 2017 blitz. We were put into the same league as Nemo Rangers and Clondegad of Clare.
First up on the day for us was Nemo Rangers. We have had some great battles with Nemo in the Premier league over the last few years. The game started at 11am on the button. We were first off the mark when Brion Saunderson scored a cracking goal with his left-footed shot that found the top right hand corner of the Nemo net. Ciarmhac Smyth followed this up with a point shortly before half time. Half time score Midleton 1-01 v Nemo Rangers 1-06
The second half was a ding-dong battle. Brion Saunderson kicked a point from play. Ciarmhac Smyth's second point of the game followed some good work by Niall Corcoran, TJ Murphy, Tiernan Roche and Kane Rowlands. A period of dominance by Nemo saw them go into the lead by one point. Then came the crucial turning point of the game. Nemo were awarded a penalty but a fabulous save from Brian O'Connell meant we were still within one score of them. Up stood James Condon, who was sprung from the bench, and with great aplomb dispatched the ball to the net putting the Magpies back in front by two points. That was the last score of the game. Final Score: Midleton 3-02 v Nemo Rangers 1-06
To top our section we needed to beat Clondegad. We settled very quickly in this game. Early scores by Liam McGrath (0-01), Evan McCarthy (0-01) and Ben O'Neill (2-01) got the young Magpies into their rhythm. By half time we were well in control of this game.
Half time score Midleton 3-06, Nemo Rangers 1-00.
The second half followed a similar narrative. Rory Hartnett (0-01), Evan Kelly (1-00) and Kane Rowlands (2-00) kept the score board ticking over. We ran out comfortable winners.
Midleton 8-09 v Clondegad 1-00.
Our semi-final opponents were Ballymacelligot from Kerry. They had come out of a group which included Eire Og of Cork. This was a cracker of a game that had everything. After an hour of football it was incredible to see so much fitness still in all of the players legs. Brion Saunderson put us in front with a point from play. Evan Kelly's two points brought us to half time. But just before half time a Ben O'Neill shot crashed against the Ballymacelligot crossbar and rebounded back into play. A goal for our boys is no more than they would have deserved going into half time. Half time score: Midleton 0-03 v Ballymac 0-03.
Our panel again produced another great performance in the second half. Evan Kelly was our scorer in chief with all four points in this half. Going into the dying seconds of the game we were leading by two points when Ballymac were awarded a penalty. This was converted and so they progressed to the final to play Ballincollig.
Final Score: Midleton 0-07 v Ballymacelligot 1-05 (Ballincollig beat Ballymacelligot by four points in the final).
Midleton Panel and scorers on the day for Munster Football Feile:
Brian O'Connell, Rory Hartnett (0-02), Evan Kelly (0-09), Cian Murray , Brion Saunderson (3-04), Oran Prenter, Ciarmhac Smyth (2-01), Ben O'Neill (2-01), Tiernan Roche, Evan McCarthy (0-02), TJ Murphy, Darragh Codd, James Condon (1-00), Kane Rowlands (2-00), Shay Bohan, James O'Sullivan, Fintan Greenwood (0-01), Adam Fay, Niall Corcoran, Neil Fitzgerald & Liam McGrath (0-01).
Fe 15
After an extended break mainly due to exams the lads were back in action Sunday morning bright and early away to Inniscarra in the C3 Hurling League. We quickly blew away the cobwebs and took the game to the opposition with a brand of simple direct hurling. By the short whistle we were ahead on a scoreline of 2-10 to 1-01. We made changes early in the second half in order to give all squad members a run out but we continued to dominate the game and ran out eventual winners on a final scoreline of 6-13 to 2-07.
Squad: Brion Saunderson, Ciarmhac Smyth, Conor Hayes, Evan McCarthy, Dan Cagney, Ben Cummins, Liam Kelly, Conor Fitzgerald, Will O'Sullivan, Luke Deane, Daragh Crowley, Nicky Hayes, Aaron Coughlan, Aaron Coleman, Ollie Murray, Jack McKay, Kevin O'Brien & Josh Pennant.
Fe 16
With Junior Cert exams finished it was time to return to hurling league games last Wednesday. A home game against regular opponents Cobh was the game and we were expecting a good fight from this always committed team. The first half saw us start well with two early points. Cobh came back with some well taken frees but with a good goal and some fine points we led at the break by three points. The second half saw Cobh get back into the game and we needed to fight to keep their lead. With Cobh hitting the net the lads knew they had to up their game. They did just that and finished strongly winning on a scoreline of 2-15 to 1-12. Thanks to the Fe 15's who stepped up following some absences on the Fe 16 panel.
Panel: Brion Saunderson, Dan O'Sullivan, Christian Murphy, Conor Hayes, Jack Fitzgerald, David Scanlon, Patrick Kane, Samuel Quirke, Cian Crowley, Paul Connaughton, Aaron Mulcahy, Daragh Crowley, Tim O'Sullivan, Adam Meade, Will O'Sullivan, Daniel Cagney, Nicky Hayes, Conor Fitzgerald, Ryan Cahill & Luke Deane.
Primary School 3rd Class Blitz
On Wednesday last we held our annual primary school blitz, this is a very important fixture in our club/ school link. This time it was the 3rd class boys of Gaelscoil Mhainistir na Corann and CBS Primary who took to the field for just over an hour's hurling and football action. Conditions were perfect but extremely warm and at the end of the action the boys were treated to a much appreciated ice lolly (thanks to Ann and Jane). Thanks to the teachers for their cooperation and enthusiasm and to Brian, Craig, Fionn and Darragh from 6th class who did a great job as referees. For Mr Jim O' Sullivan this would be his final act (as a teacher) in a long career where he has promoted, nurtured, mentored and kept Gaelic games to the forefront as teacher in Midleton CBS. Go raibh maith agat Jim all the best in your retirement. Thanks to GDA Shane Supple for his ongoing support and assistance on the day.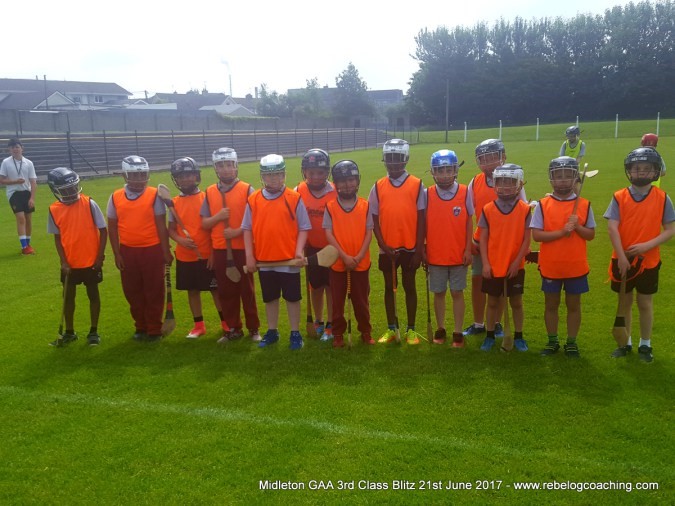 Concussion Awareness
The Juvenile Club will host a Concussion Awareness talk on Friday the 30th June in the Club @ 7.45pm for all Club coaches.
Kellogg's Cúl Camp
Midleton GAA Club will host two Kellogg's GAA Cúl Camps this summer.
Boys Only Hurling & Football Camp - Monday 3rd July – Friday 7th July – 10am to 2.30pm, Camp coordinator Aylwin Kearney
Boys & Girls Football, Hurling & Camogie - Tuesday 8th August – Friday 11th August – 10am to 2.30pm, Camp coordinator Ingrid Connaughton
Parents are encouraged to book early to avoid disappointment www.kelloggsculcamps.gaa.ie
Club Shop
The Club Shop is open each Saturday from 10-11.30am.