Midleton Hurling & Football, Camogie & Ladies Football Club News
11 June, 2017
Senior Hurling
Our hurlers defeated Bandon at home last Saturday evening in our last game in Phase 1 of the League by 1-16 to 1-13.
Team: Joe Loftus, Declan Ryan, Alywin Kearney, Seanaidh Smyth, Seamus O'Farrell, Finbar O'Mahony, James Nagle, Padraig O'Farrell, Luke Dineen, Padraig O'Keeffe, Cormac Beausang, Aidan Ryan, Eoin Walsh, Padraig O'Shea & Patrick White.
Subs used Tommy Wallis, Peter Dowling, Ian Kennefick, Darren Quirke & Kieran Mulcahy.

Intermediate Hurling
We are out in Round 2A of the Championship next Friday evening v Glen Rovers in Caherlag @ 7.30pm, we wish the management and the players the very best of luck.
Fixtures
Friday 16th June Intermediate Hurling Championship v Glen Rovers in Caherlag @ 7.30pm
Sunday 18th June Munster Hurling semi final Cork v Waterford in Thurles @ 4pm
Sunday 25th Senior Hurling Championship v Erins Own in Carrigtwohill @ 3.30pm
Check the Club website for regular updates on all fixtures.
Cork Senior Hurling
Best of luck to all our lads involved with the Cork senior hurlers next Sunday when they take on Waterford in the semi final of the Munster Championship in Thurles @ 4pm.
Tickets for this game are now on sale at Hurley's SuperValu.
Historic Signing of Land Contract
Midleton Hurling & Football Club are delighted to announce that on Tuesday last the 6th of June we signed the final contract to purchase 36.7 acres at Youghal Rd, Midleton.
This is the first step to put a modern day sports campus in place - a facility that will sustain us for many years to come.
Our current pitch was purchased in 1958, officially opened in 1962, the Club Pavilion was constructed in 1975 and over the years it has served us extremely well.
In its day, it was the envy of a lot of Clubs in the County and while our grounds remain popular, it is under extreme pressure to contain all of the demands placed on it.
Back in the early days we only had a number of Adult teams and a fledgling Juvenile section. Today we still have all our Adult hurling & football teams, a very vibrant Juvenile club, a well-established Ladies Football club and a new Camogie club fielding teams in all age groups.
In total our Membership has now reached 900 and is increasing annually, needless to say, as a result of this we have urgently needed to increase our playing space.
Midleton Hurling and Football, Juvenile, Ladies Football and Camogie Club's now have the task of driving the fundraising for future development.
It is our hope to garner the support of our members and the wider community to support this.
Many thanks to all those who have contributed their time, ideas and experience in the lead up to this purchase.
An open meeting for MEMBERS of the Hurling & Football Club to discuss our future development plans will take place in the Club Hall on Thursday 22nd of June @ 8pm.
We look forward to welcoming you there.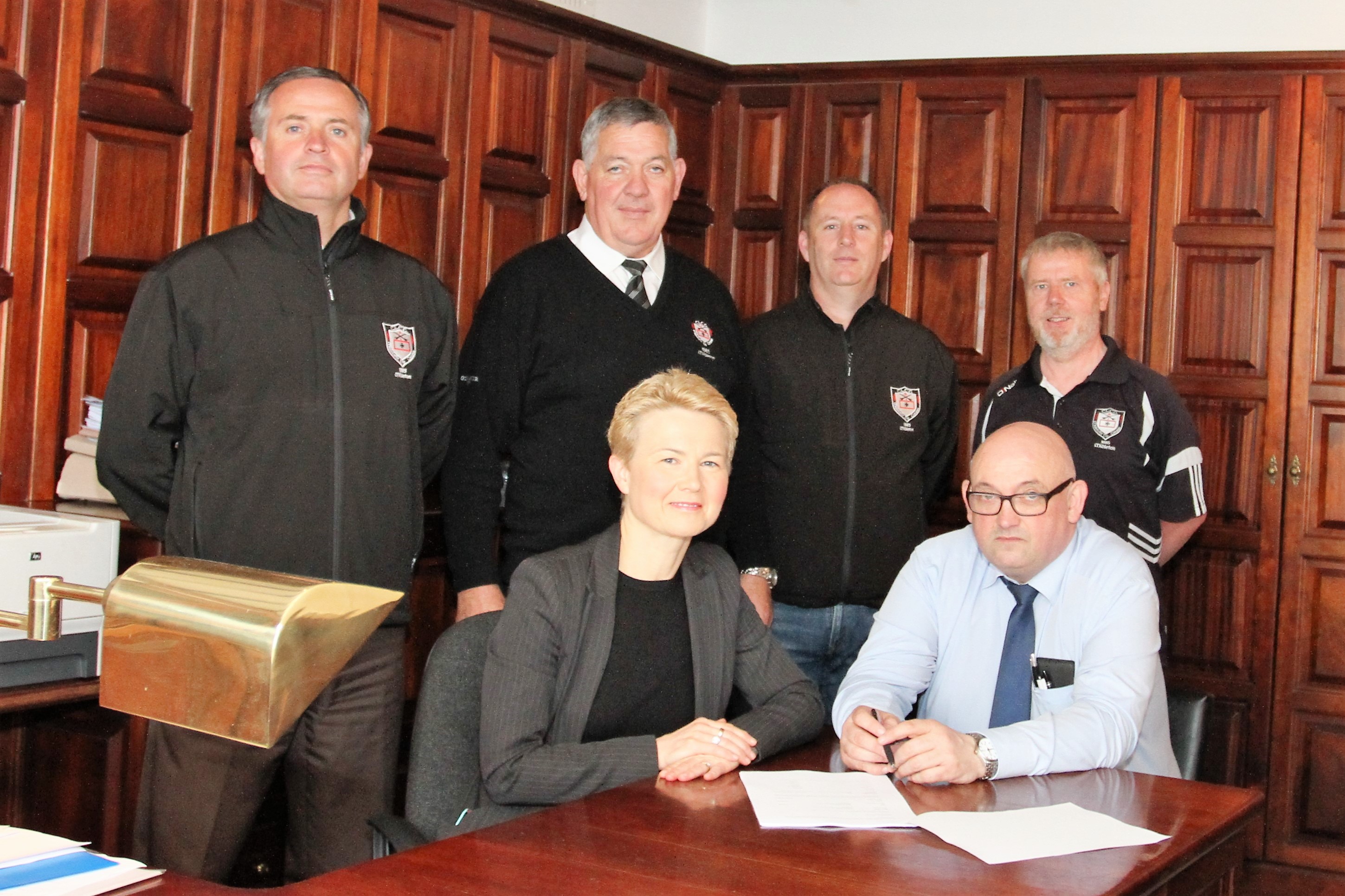 Gaa Golf Classic
With only one month to go to our Golf Classic, there are only a limited number of tee times available for both afternoon's on Wednesday & Thursday 5/6th of July at East Cork Club.
Please contact Coleman Quirke 087/2523759 or Anthony Wall 086/3154016 to reserve your time.
If you are unable to play Tee Box sponsorship is available for only €50 which insures a quality sign on a Tee Box, further advertising in the local media and outside our Clubhouse for twelve months.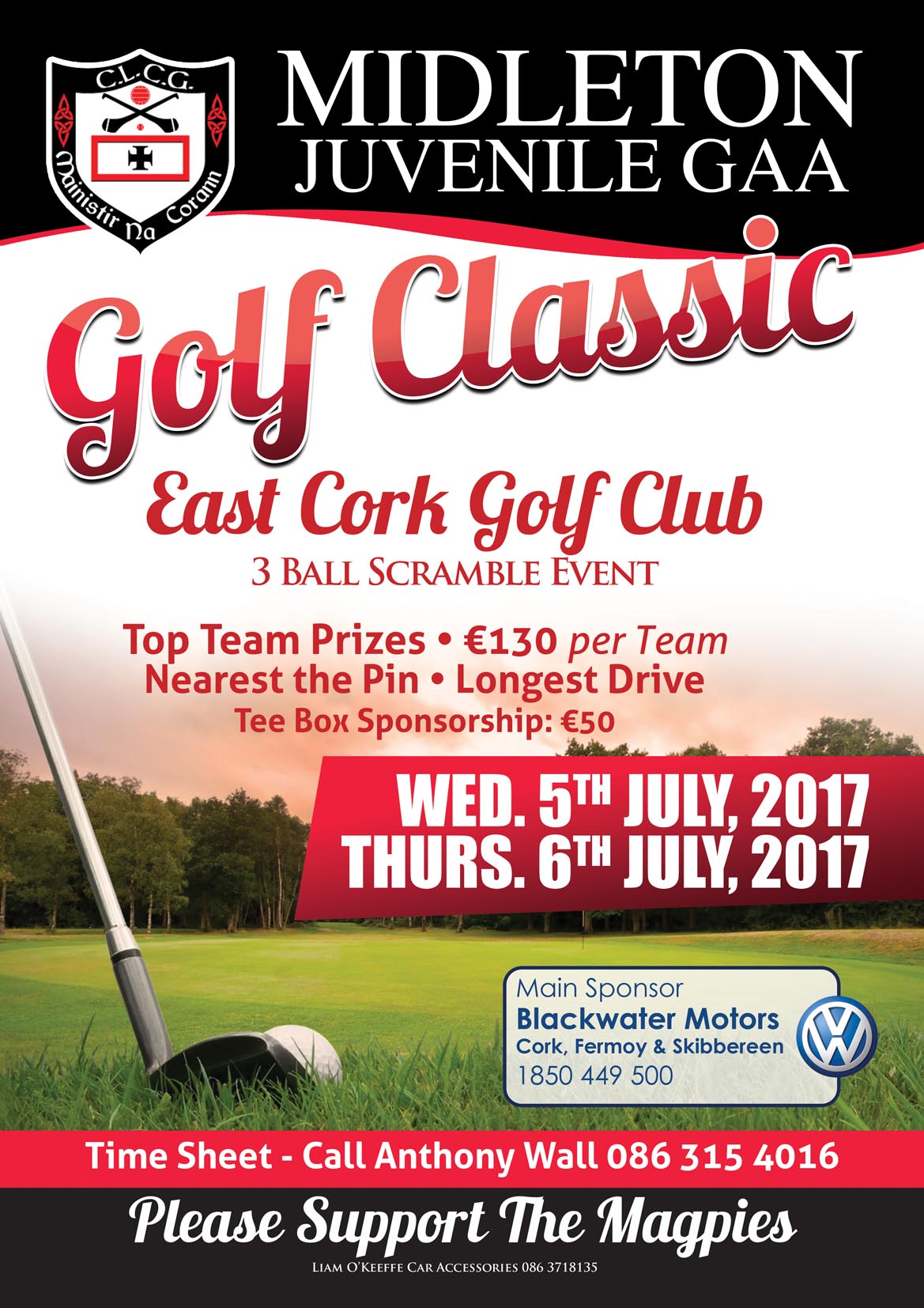 Golf Society Outing
Our next outing is on Saturday next June 17th in Mitchelstown. Tee time is 12.00 to 1.10pm.
Hoping to see as many of you as possible there where visitors are very welcome.
Ladies Football
Training continues for all age groups at the Tech Pitch, please be mindful of residents on St Mary's Road when parking.
Many thanks to all those who have paid their registration, anyone who is still outstanding please ensure that membership is paid so you can play and train.
Best of luck to our U8 and U10 girls who are in action in the coming week.
Our U8 girls welcome Bride Rovers on Monday night while the U10's are travelling to Delaney's on Tuesday night.
Can Parents please respond asap to texts regarding matches. It is very important that Coaches know who is able / unable to play matches when planning teams, thank you.
Camogie
U12 - We played our second league game away to Cobh on the bank holiday Monday 5th June, the weather was poor making the playing conditions difficult for both sides. Cobh got off to a strong start and scored three early points and led by 0-3 to 0-0 at half time. We conceded an early goal and were down by six points at the beginning of the second half, roles then reversed and our girls moved t up a gear dominating the next twenty minutes to score 4-02 and ran out eventual winners 4-02 to 1-03. Well done girls.
Next U12 match v Dungourney Tuesday the 13th 7.30pm Ballinacurra pitch.
U13 – We begin the Imokilly league Monday evening away to Youghal throw in 7.30pm.
U14 – We qualified for the county league quarterfinal on Sunday afternoon with a comprehensive win over St Fanahan's . At home in difficult overhead conditions the girls put in an outstanding performance throughout, availing of most of the scoring opportunities coupled with a solid defence and industrious in midfield the girls deserved their win. Well done to all involved. Thanks to St Fanahan's for travelling.
Congratulations to Vivienne Gleeson, and Leah Hogan playing their part with Cork U14's to win the James Hurley Blitz in Mournabbbey on Monday last and to Abby Foley, Caoimhe Murray and Chloe Garde who played with Imokilly U13's in the Peter Downey memorial Blitz in Inniscarra winning four out of four matches.
U15 – We begin the Imokilly league on Friday evening next v Dungourney at home 6.45pm.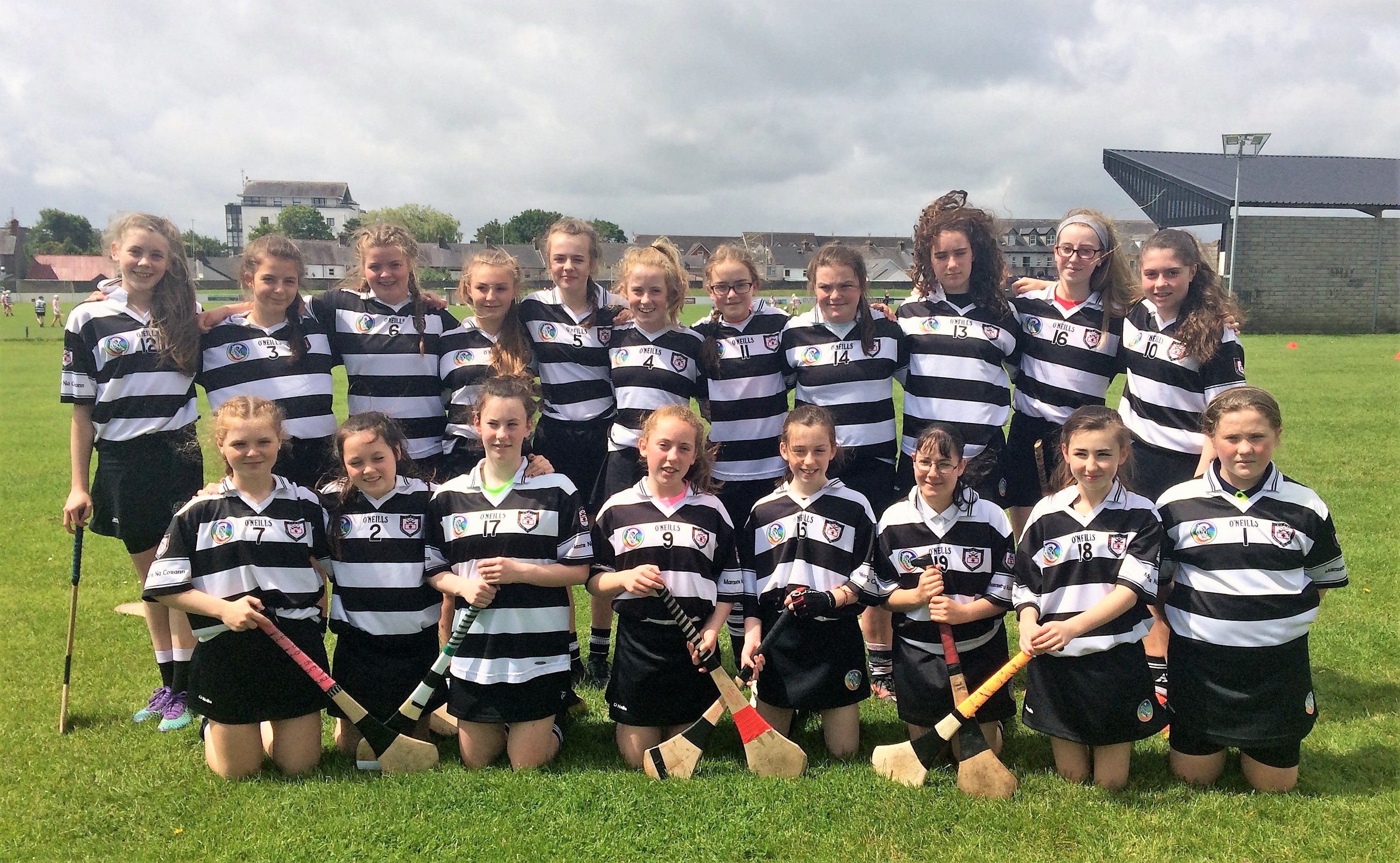 Lotto
Our Lotto Jackpot was €12,600, the numbers were 7,15,18 & 27 and there was no winner, the Lucky Dip winners of €40 were Banner & Tommy Duggan, Eileen O'Driscoll, Sinead Healy, Marie Kelly & Edel Horgan, next week's Jackpot will be €12,800
Tickets are on sale at the Club Bar, O'Neills Bar, Linehan's Bar, Maple Leaf Bar, O' Farrell's Butchers, Frank Murphy Butchers, Pat Walsh Paints, Chadwicks, Teach Beag & Niall Mac's Bars.
Our Online Lotto is now available, logon to the Club homepage www.midletongaa.com to purchase your ticket.
BINGO takes place next Friday evening @ 8pm in the GAA Pavilion with a weekly guaranteed Jackpot of €1,000.
Juvenile
Fe 9
Round five of the Fe9 hurling league involved a trip to Eire Og for a lunch time throw in last Saturday. We travelled with a large panel of 32 boys and were able to field three evenly matched teams. Cheered on by great travelling support & coaches, the lads performed extremely well showing some great skills & determination. All the lads continue to improve - keep up the good practice at home also!
Thanks to Eire Og for hosting & thanks to their referees who took charge of proceedings.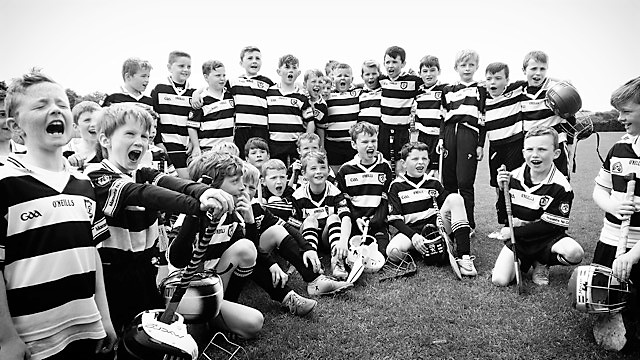 Fe 10
Another busy couple of weeks for our hard working U10's, with three matches in as many weeks. We travelled to Bandon for a Football League game. With the three teams evenly matched it was a tough outing for our lad's but as always the battled right to the end. A big thank you to Bandon Gaa for their hospitality. On the night they made us feel very welcome. We then switched to the small ball with two cracking outings first up was local rivals Sars in Learys Cross. After some heavy rain the evening cleared and the pitch was in super condition. We hurled very well on the night with some excellent individual and team performances. Once again we came up short. On Saturday morning last we welcomed Bandon for a hurling match. With 40 players and Bandon only having 25 some of our lad's donned the Bandon colours. In what turned out to be a couple of cracking games. On the morning we managed to come out with a draw. With some beautiful scores added to some excellent hooking and blocking the boys are definitely going in the right direction. Practice at home is essential for the lad's to progress. Cul Camp is nearly upon us again and I would encourage all the lad's to try and make it for the week.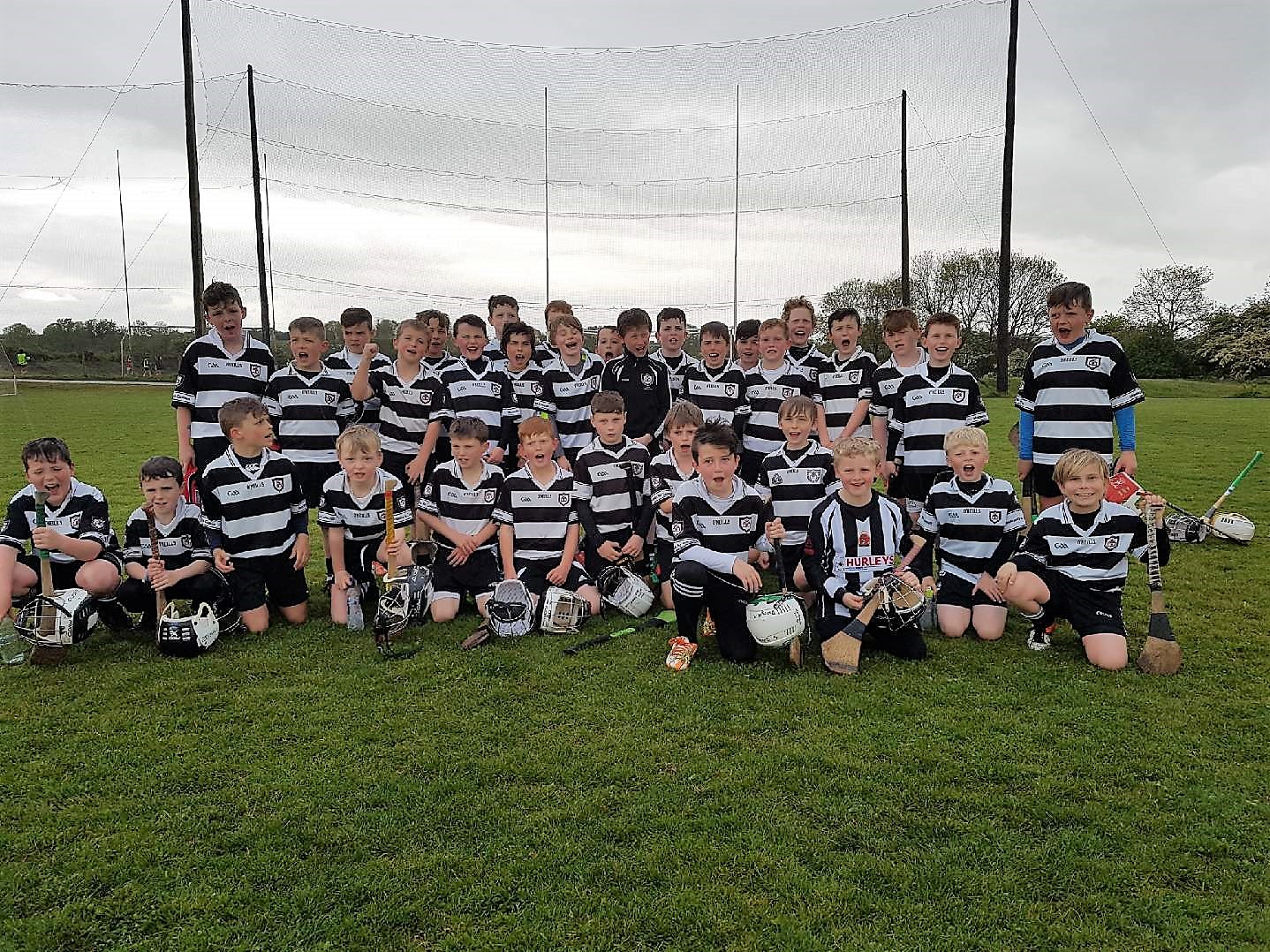 Fe 16
There will be no training this Wednesday as the Exams continue, the team management would like to wish all the Fe15 & 16's the very best of luck with their exams.
Kellogg's Cúl Camp
Midleton GAA Club will host two Kellogg's GAA Cúl Camps this summer.
Boys Only Hurling & Football Camp - Monday 3rd July – Friday 7th July – 10am to 2.30pm, Camp coordinator Aylwin Kearney
Boys & Girls Football, Hurling & Camogie - Tuesday 8th August – Friday 11th August – 10am to 2.30pm, Camp coordinator Ingrid Connaughton
Parents are encouraged to book early to avoid disappointment www.kelloggsculcamps.gaa.ie
National Hurling Development – Provincial Coaching Workshops
A who's who of hurling expertise and knowledge has been assembled for an innovative series of coaching workshops taking place across the country in the coming weeks. GAA National Hurling Development Manager, Martin Fogarty, in conjunction with each Provincial Games Development department, has scheduled a series of Hurling Coaching Workshops this summer. July 15th. Mallow GAA Centre, Co. Cork, Registration: 10.00 a.m., Workshop: 10.30 – 01.45 p.m.Lunch 1.45 p.m
FORMAT: Practical and station based with participants rotating to each station, followed by Q & A session with the guest coaches.
Coaches - Jamesie O' Connor (Clare), Ken McGrath (Waterford), Ollie Canning (Galway), Eamon O' Shea (Tipperary), Brendan Cummins (Tipperary), D.J. Carey (Kilkenny), Tommy Walsh (Kilkenny) , Michael Rice (Kilkenny), Jackie Tyrell (Kilkenny), Brian Hogan (Kilkenny) & Eoin Larkin (Kilkenny)
Session Content - Goalkeeping and goalkeeping plays, Fitness with the ball, the Basics of Defending, Attacking & Striking.
Each session will also provide a questions and answers opportunity for delegate coaches.
Tickets cost €20 per coach, and include lunch. Tickets are available to purchase online from: https://eventgen.ie/provincial-hurling-coaching-workshops.

Club Shop
The Club Shop is open each Saturday from 10-11.30am.