Midleton Hurling & Football, Camogie & Ladies Football Club News
28 May, 2017
Senior Hurling
Our hurlers had a good win over near neighbours Carrigtwohill last Sunday afternoon in Pairc Ui Rinn on a scoreline of 2-14 to 0-09 after the sides were level at the break at six points each. Two second half goals from Luke O'Farrell proved crucial in the end, we now progress to play Erins Own in the next round.
Team: Tommy Wallis, Killian Burke, Alywin Kearney, Seanaidh Smyth, James Nagle, Finbar O'Mahony, Seamus O' Farrell, Padraig O'Farrell, Paul Haughney (0-02), Aidan Ryan (0-01), Cormac Walsh (0-01), Conor Lehane (0-08, 5 frees, 1 65) , Luke O'Farrell (capt.) (2-00), Padraig O'Shea & Padraic Nagle (0-01).
Subs used Padraig O'Keeffe (temp blood sub) for Padraig O'Farrell and Patrick White (0-01) for Padraig O'Shea. Referee Diarmuid Kirwan of Eire Og.
Well done to the players and management on this victory.
Later on Sunday evening we hosted the 1st Round game of Erins Own against Killeagh which finished in victory for Erins Own by 1-14 to 1-10. Thanks to everybody who helped with the set up of the field and also to all those who helped out on the night.
Junior Hurling
Training takes place each Monday night in the Club @ 7.30pm for all players interested in playing Junior B & C.
Fixtures
Wednesday 31st May Senior Hurling League v Bishopstown at home @ 7.45pm
Friday 2nd June Intermediate Hurling League v Ballygarvan away @ 7.30pm
Saturday 10th June Senior Hurling League v Bandon at home @ 7.30pm
Friday 16th June Intermediate Hurling Championship v Glen Rovers in Caherlag @ 7.30pm
Sunday 18th June Munster Hurling semi final Cork v Waterford in Thurles @ 4pm
Check the Club website for regular updates on all fixtures.
Gaa Golf Classic
Our annual Juvenile Gaa Golf Classic has been confirmed for Wednesday & Thursday 5/6th of July at East Cork Club, the Time sheet is now open, please contact Coleman Quirke 087/2523759 or Anthony Wall 086/3154016 to reserve your time.
The format is a 3 Ball scramble costing €130 which includes a Goody bag, a Burger at the 9th and a meal afterwards not forgetting the chance to win one of our 25 prizes on offer.
If you are unable to play Tee Box sponsorship is available for only €50 which insures a quality sign on a Tee Box, further advertising in the local media and outside our Clubhouse for twelve months.
This is a vital fundraiser for the Club especially with the purchase of the land at Youghal Road and the future development of same.
Golf Society Outing
Our captain Frank O'Sullivan's prize will NOW take place on Wednesday 31st of May at East Cork Golf Club (note the change off date), there is a Shotgun start at 5.30pm. All members and intending members are welcome to attend and sign in at 5pm.
Ladies Football
Training continues for all age groups at the Tech pitch. Please note that the gate on St Marys road maybe locked so access to the pitch is through the Main Entrance of St Colmans school. Membership is now due so please ensure to return your forms to mentors as soon as you can. U10 v St Colmans – our girls played away to St Colmans on Wednesday night. They put on a great team performance and were deserving winners on the night.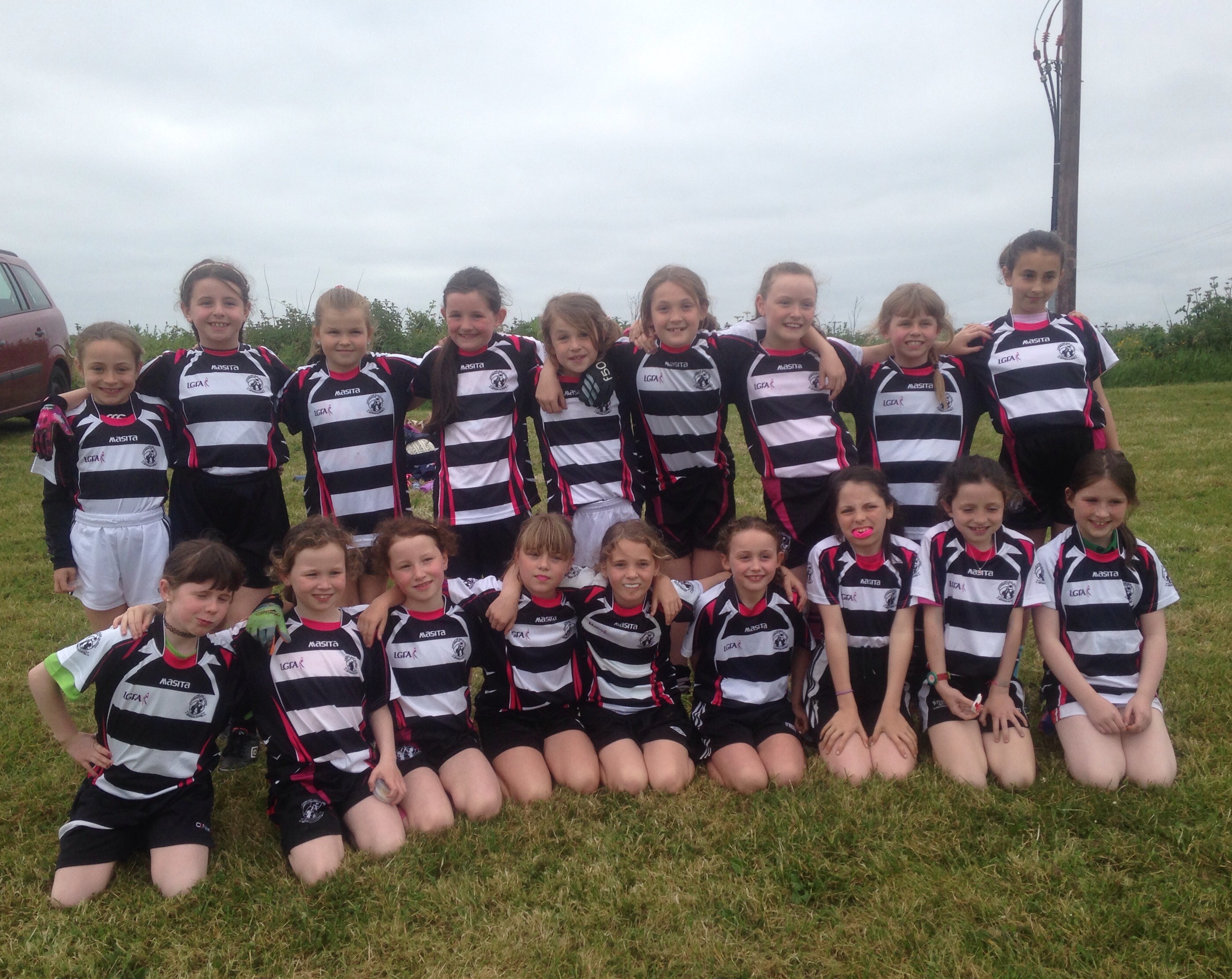 Camogie
U10: We welcomed Dungourney for a challenge match on Friday evening last, we had great numbers on the night with the weather holding and with some great skills on display it a great evening for the girls and very useful ahead of the forthcoming Fe 10 Go Game league.
U11: We attended a blitz in Aghada on Saturday afternoon on what was a glorious day for Camogie. With three matches to play the girls got off to a flying start against host team Aghada with some great tackling on display. The second match was against Fr. O'Neill's and again this was a very competitive match with very little between the sides. The final match was against Sars and our girls again kept up the work rate and the intensity throughout. Three great matches and three solid performances from this group of girls. Thanks to Aghada for hosting and their hospitality and to all the clubs who attended for 3 sporting matches.
U13: Opening match of Imokilly U13 league V Youghal - June 11th 11am in Youghal. U14: Final match U14 league playoffs - June 9th 7pm in Ballinacurra.
Huge congratulations to Gaelscoil Mhainistir na Corran on reaching the Sciath na Scoil Camogie for the first time in the school's history and to the fourteen girls from Midleton Camogie Club on the panel. Unfortunately the results did not go our way on the day but the girls put in an outstanding performance and were unlucky to come out behind on the final whistle. To Emma Domeney, Jill NíConnactáin, Rachel NicSuibhne, Ruthi Ní hAonghusa, Rachel Ní Riain, Abbie Ní Fhoghlú (C), Emily Ní Luain, Aoife Nic Gearailt, Elle Nic Mháinis, Aisling Ní Neachtain, Rebecca Ní Chrualaíoch, Ciara Ní Neachtain, Ríonach Ní Fhinn, Muireann Ní Chonchubhair your club, coaches & teammates are proud of what you have achieved.
Sciath na Scoil DC1 Camogie - Gaelscoil Mhainistir na Corann
The Sciath na Scoil 2017 campaign for Gaelscoil Mhainistir na Corann started back in March when Midleton played Glounthaune N.S. at home, the girls got off to a flying start winning their first match. Next was Innishannon away, the opposition put it up to them on this occasion but the girls pulled through to get a second win on the road to the final. Their third match was against their strongest opponents and the team they would eventually go on to meet in the final, Gaelscoil Dúglaise. It was an evenly matched game with both sides giving their all but GS Dúglaise were the stronger team on the day. The final two matches were against Carrig na bhFear away and Belgooly at home, with a win in both matches placing them second in the group securing a place DC1 final on Monday 22nd May @12.45pm in CIT Sports Grounds.
The girls along with their coaches Múinteoir Aisling, Múinteoir Criostóir and Brendan Foley put in great work in preparing for the final. Extra training sessions and a visit from local Cork Camogie star "Orla Cotter" with words of advice made sure the girls were prepared for the great task ahead. With huge support from their schoolmates, teachers, family and friends the girls lined out on the pitch in CIT last Monday ready to give it their all and that's exactly what they did! There was nothing between the two sides throughout the first half of the match and scores were hard to come by! A goal from a 45 in the second minute put GS Dúglaise ahead but GS Mhainistir Na Corann came back with two excellent points from play which meant they trailed by one point at half time. In the second half scores were no easier come by a point from play for GS Mhainistir Na Corann meant the sides were level with ten minutes to go. The strong defence, work rate in midfield and sheer determination of the forwards meant GS Mhainistir Na Corann were still in with a great chance up until eight minutes from the end when GS Dúglaise scored their second goal which broke from a melee in front of the goals. The final whistle blew with a result of GS Douglas 2-0, GS Mhainistir na Corann 0-3. The girls put their heart & soul into this match and every match throughout the Sciath na Scoil competition. This was a great achievement for this group of girls as it is the first time Gaelscoil Mhainistir na Corann has reached the Sciath na Scoil Camogie Final, but it most certainly will not be the last! Every one of the twenty five girls on the panel played a part in getting this team to the final and they represented their school and their clubs admirably throughout.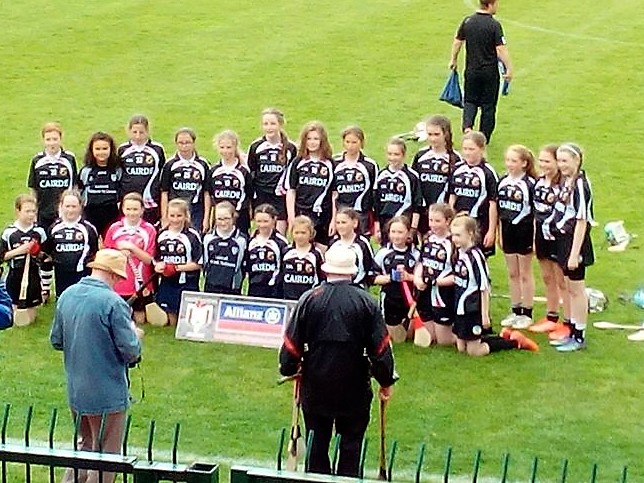 Lotto
Our Lotto Jackpot was €12,200 there was no winner, the Lucky Dip winners were Barrie Quinn, Steve Kane, James Murphy, Chris Sheedy & Leona Kelleher, next week's Jackpot will be €12,400
Tickets are on sale at the Club Bar, O'Neills Bar, Linehan's Bar, Maple Leaf Bar, O' Farrell's Butchers, Frank Murphy Butchers, Pat Walsh Paints, Chadwicks, Teach Beag & Niall Mac's Bars.
Our Online Lotto is now available, logon to the Club homepage www.midletongaa.com to purchase your ticket.
BINGO takes place next Friday evening @ 8pm in the GAA Pavilion with a weekly guaranteed Jackpot of €1,000.
Juvenile
Fe 9
A busy week this for the lads and they turned out in great numbers, 38 for hurling and 33 for the football. First up was a few cracking hurling games with Douglas in Midleton. End to end encounters with less than three points separating the teams in each of the three games . All very enjoyable games for the big attendance. Well done for giving their all in each game. Second up was football games v Cobh on Sunday morning. Again the sun shone and the lads entertained with some great scores, goals and points with us coming out ahead in the games.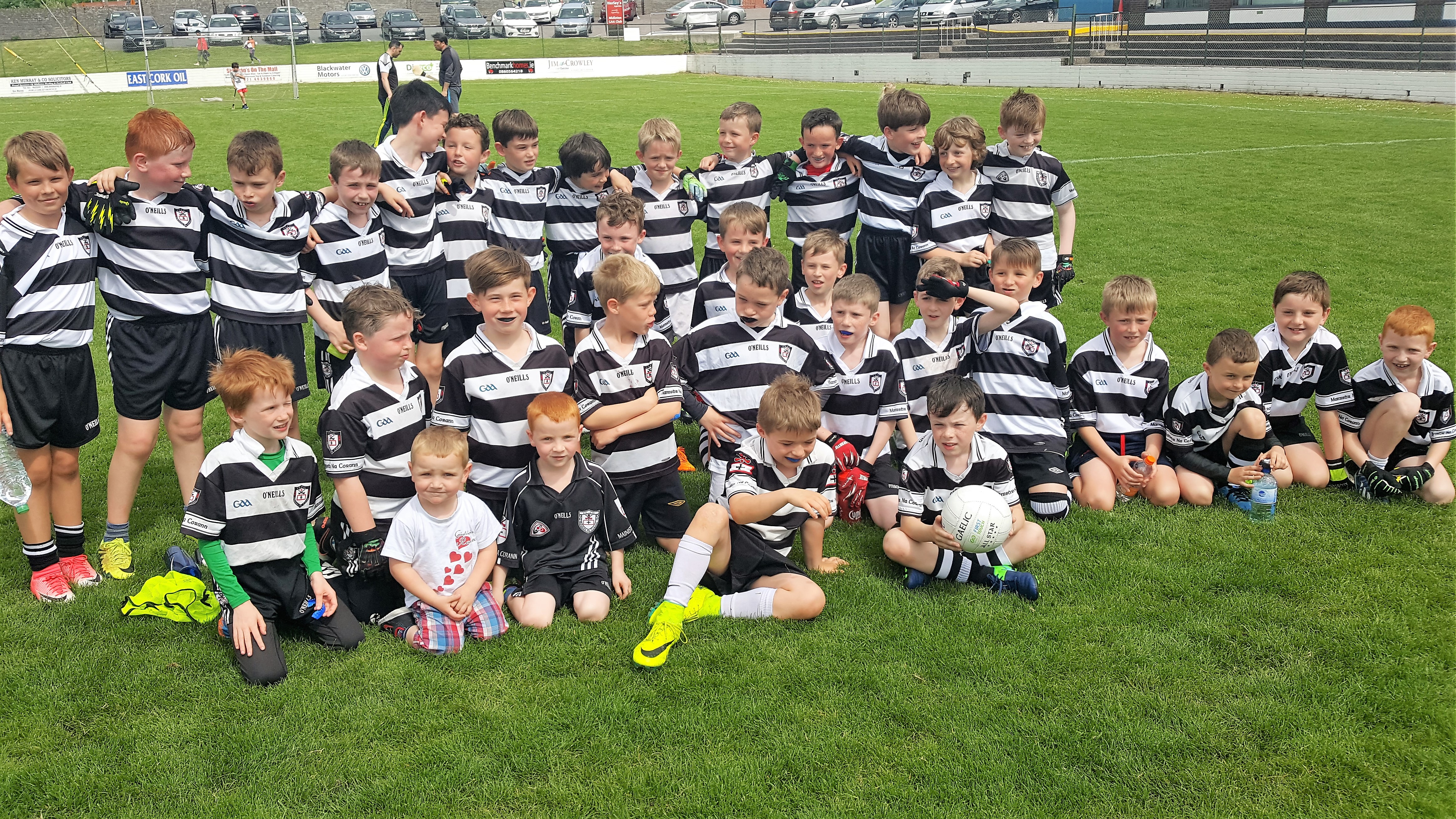 Fe 11
Youghal was the venue last Saturday for our latest Football league match, we played the hosts in a two match format on an excellent surface. Despite the earlier heavy rain it remained dry but slightly breezy for the duration of the matches. Both games were of the highest quality, with one win and a narrow loss we came away with a draw. Well done to the twenty five players who togged out on Saturday. Thanks to Youghal and their young whistlers for hosting us. We take a break from competitive action next weekend and return to hurling v Blackrock the following weekend.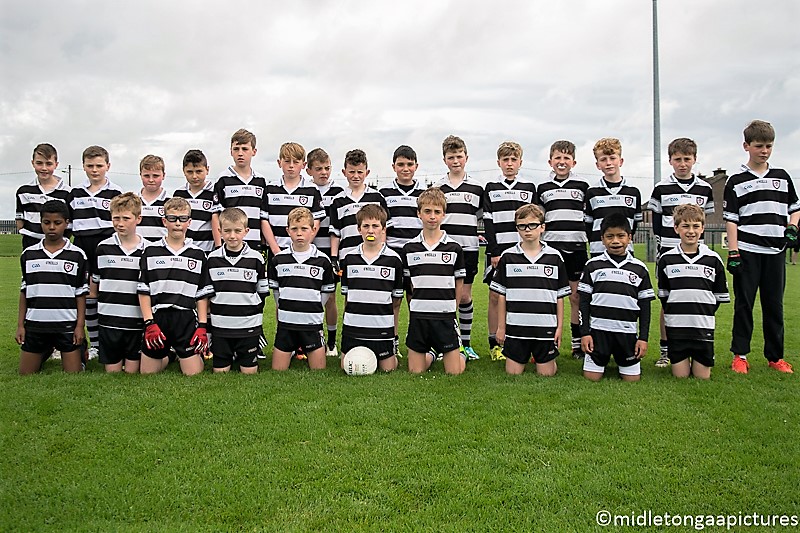 Fe 12
On Friday evening the Barrs travelled to Midleton in what turned out to be a cracking game of hurling by both sides. They started strongly going 1-02 to no score within the first five minutes of the game however the magpies rallied and Darragh Fitzgerald was in flying form knocking over three points in a row keeping us in the game. Conor Williams, Darragh Higgins and Rory Lester were battling hard to keep the bars forwards at bay. The score at half time was 2-05 to 0-05 in favour of the Barrs.
A strong team talk at half time saw the magpies burst into life for the second half two quick goals one from Evan Mc Grath and a second from Alex Howard turned the game for us.
With Darragh Fitzgerald covering every blade of glass on the pitch putting in a man of the match performance slotting over another three points followed on with points from Darragh Scanlon and Tadhg Bohane. Zach Smith was very efficient with his quick puck outs. The game came down to the wire with less than a minute to go the Barrs got a free at the edge of the box and were two points down. Five brave warriors stood on the line and when Darragh Scanlon blocked a rocket of a shot and also cleared it out the wing, the ref blew the final whistle. This was a wonderful game of hurling and was enjoyed by all who attended so much so that the lads were clapped off the pitch by the large crowd of supporters after the game. Once again the mentors would like to thank this great bunch of lads and really appreciate everyone's commitment to the team. Also the parents support on the night was greatly appreciated. Panel on the night was Tiernan O Connell, Darragh Scanlon, Tadhg Bohane, Alex Howard, Eoin Higgins, Liam o Neill, Oscar Brennan, Sean Cronin, Zach Smith, Darragh Higgins, Tadhg O' Leary Hayes, Rory Lester, Daniel Shine, Alex Cahill, Adam Collins, Alex Moloney, Evan Mc Grath, Darragh Aherne, Darragh Fitzgerald, Niall Lang, Cian Lambe, Conor Williams, Cormac Ryan, Diarmuid Murphy, Oisin Berdassa, Samuel Morrissey & Thomas O' Connor.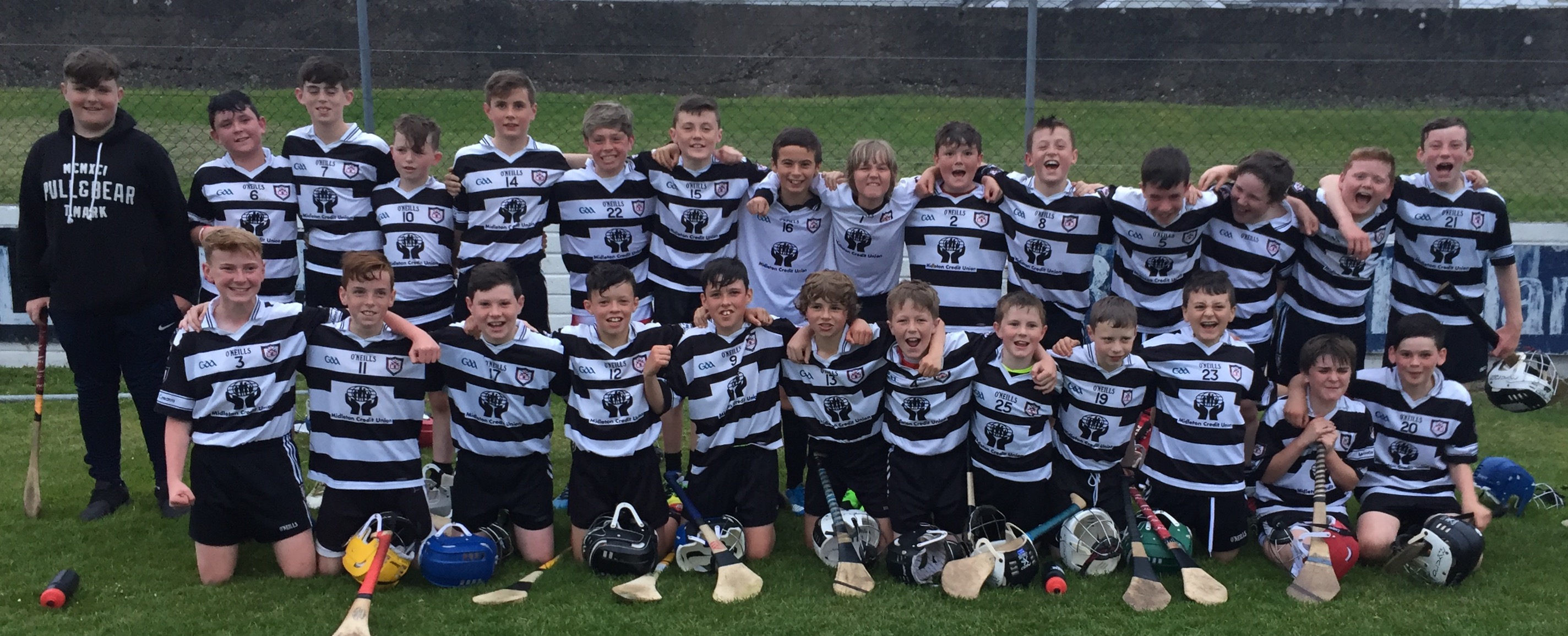 Kellogg's Cúl Camp
Midleton GAA Club will host two Kellogg's GAA Cúl Camps this summer.
Boys Only Hurling & Football Camp - Monday 3rd July – Friday 7th July – 10am to 2.30pm, Camp co-ordinator Aylwin Kearney, Parents are encouraged to book early to avoid disappointment. https://www.kelloggsculcamps.gaa.ie
Boys & Girls Football, Hurling & Camogie, Tuesday 8th August – Friday 11th August – 10am to 2.30pm, Camp co-ordinator: Ingrid Connaughton, Parents are encouraged to book early to avoid disappointment. https://www.kelloggsculcamps.gaa.ie
Please note that from next year onwards Kellogg's Cúl Camps at the club will be run on a mixed basis incorporating boys and girls.
National Hurling Development – Provincial Coaching Workshops
A who's who of hurling expertise and knowledge has been assembled for an innovative series of coaching workshops taking place across the country in the coming weeks. GAA National Hurling Development Manager, Martin Fogarty, in conjunction with each Provincial Games Development department, has scheduled a series of Hurling Coaching Workshops this summer. July 15th. Mallow GAA Centre, Co. Cork, Registration: 10.00 a.m., Workshop: 10.30 – 01.45 p.m.Lunch 1.45 p.m
FORMAT: Practical and station based with participants rotating to each station, followed by Q & A session with the guest coaches.
Coaches - Jamesie O' Connor (Clare), Ken McGrath (Waterford), Ollie Canning (Galway), Eamon O' Shea (Tipperary), Brendan Cummins (Tipperary), D.J. Carey (Kilkenny), Tommy Walsh (Kilkenny) , Michael Rice (Kilkenny), Jackie Tyrell (Kilkenny), Brian Hogan (Kilkenny) & Eoin Larkin (Kilkenny).
Session Content - Goalkeeping and goalkeeping plays, Fitness with the ball, the Basics of Defending, Attacking & Striking.
Each session will also provide a questions and answers opportunity for delegate coaches. Tickets cost €20 per coach, and include lunch. Tickets are available to purchase online from: https://eventgen.ie/provincial-hurling-coaching-workshops.

Cork Sports Partnership Public First Aid Course
Sports First Aid Training is advisable for anybody who is involved or participates in sport ie coaches, parents, teachers, physical activity leaders etc.
The 6 hour training is friendly and practical based. All training is carried out by Paramedic's and Doctor's from E.R Training.
Course Content: Asthma, Choking, Winding, Team Resuscitation, Cardiopulmonary Resuscitation CPR, Defibrillation, Respiratory Emergencies, Airway Management, Spinal Injuries, Concussion, Fractures, Dislocations, Sprains & Strains, Bleeding, Care of the unconscious patient & Scenario based training.
Details: Date: Saturday 3rd June 2017. Time: 9am - 3pm, Location: Cork Training Centre, Rossa Avenue, Bishopstown, Cork, Cost: €50 plus booking fee.
http://www.corksports.ie/index.cfm?page=sports-news&post=firstaid
Club Shop
The Club Shop is open each Saturday from 10-11.30am.