Midleton Gaa, Camogie & Ladies Football Club News
21 May, 2017
Senior Hurling
Our hurlers had a narrow win over Ballyhea in the League last Wednesday evening at Ballyhooly by 1-12 to 0-14. Thanks to the host club for facilitating this fixture.
Team: Tommy Wallis, Elliot Mulcahy, Alywin Kearney, Seanaidh Smyth, Eoin Walsh, James Nagle (0-01 free), Seamus O' Farrell, Padraig O'Farrell (0-01), Padraig O'Keeffe, Aidan Ryan (0-01), Ian Kennefick (0-02), Cormac Beausang (0-04, 2 frees), Cillian Hurley, Padraig O'Shea (0-01) & Darren Quirke (0-01).
Subs used Gavin Bagnal Harnett, Patrick White (1-01), Shane Finn & Michael Abernethy.
Best of luck to the players and management in the Championship 1st Round game next Sunday afternoon against Carrigtwohill at Pairc Ui Rinn @ 2.15pm.
Later next Sunday evening we host the 1st Round game of Erins Own against Killeagh @ 7.30pm, anybody who can assist at this fixture please be in the Club from 6pm.
Intermediate Hurling
Last Saturday evening our hurlers had a comprehensive win over Barryroe in the League at home by 4-18 to 0-17. The winning of the game came ten minutes before half time when our forwards clicked and struck four goals without reply to put us 4-07 to 0-08 ahead at the break.
The second half was a very even affair with both sides trading point for point.
Team: Joe Loftus, Pat Stack , Eoin Ferriter, Billy O'Shea, Darren Quirke, Declan Ryan, Shane Ryan, Shane Finn (0-02), Kieran Mulcahy (0-01), Padraig O'Shea (1-01), Ian Kennefick (1-00), Micheal Keohane (0-02), Cormac Beausang (1-09, 4 frees, 1 65) Padraic Nagle (1-01) & Michael Abernethy (0-01).
Subs used Harry Wall (0-01), Jerome Curtin, Byran Rossiter & Keith Ryan.
Referee Patrick O' Driscoll of Bride Rovers.
Minor Hurling
On route to the Cork and Tipperary game in Thurles last Sunday we had a very useful challenge game against hosts JK Brackens in Templemore.
Thanks to them for their great hospitality. Final score JK Brackens 0-15 v Midleton 6-18.
Junior B Football Championship
After a brave effort we were well beaten by a strong Glanmire outfit last Friday night in Killeagh in the third round of the East Cork Football Championship by 2-11 to 0-03.
Team: Brian Behan, Pat Stack, Sean Corcoran, Conor O'Farrell, Brendan Ferriter, Eoin Ferriter, Luke Smith, Paul Barry, Barry Fitzgerald, Ian Kennefick, Micheal Keohane (0-01), Jerome Curtin, Davy O'Brien (0-02 frees), Byran Rossiter & Declan Mc Inerney. Subs Alan Clarke & Coran Swayne.
Junior Hurling
Training takes place each Monday night in the Club @ 7.30pm for all players interested in playing Junior B & C.
Cork Senior Hurling
Congratulations to the Cork senior hurlers on their magnificent win over Tipperary in Thurles on Sunday last by 2-27 to 1-26 before a crowd of 30,000. What a game of hurling it was, end to end stuff with a great atmosphere. Conor Lehane was outstanding finishing with 0-10 (4 frees, 1 65), Luke O'Farrell was a late substitute and contributed with a great late point. Killian Burke was an unused substitute, Pat Hartnett selector will now be looking forward to meeting Waterford in the semi final on the 18th of June in Thurles.
In the Primary Go Game at halftime another star in the making made his debut in Thurles, club Fe 13 player David Cremin sporting the no. 11 jersey represented his school Scartleigh Saleen. No doubt his parents and indeed his grandad Steve will be very proud of him.
Fixtures
Sunday 28th Senior Hurling Championship v Carrigtwohill in Pairc Ui Rinn @ 2.15pm
Friday 2nd June Intermediate Hurling League v Ballygarvan away @ 7.30pm
Juvenile Fixtures
Friday 26th Fe 12 P1 Hurling League Midleton 1v St Finbarrs 1 home @ 7.30pm
Sunday 28th Fe 12 C3 Hurling League Douglas 2 v Midleton 2 away @ 3pm
Check the Club website for regular updates on all fixtures.
Last Man Standing
On the last day of the Premiership second and third places couldn't be decided but with six punters left after today's results it has been agreed to split the €300 between them.
Details of the presentation of prizes will be announced in the coming days.
Thanks to everyone who supported this and also well done to the organisers.
Gaa Golf Classic
Our annual Juvenile Gaa Golf Classic has been confirmed for Wednesday & Thursday 5/6th of July at East Cork Club, the Time sheet is now open, please contact Coleman Quirke 087/2523759 or Anthony Wall 086/3154016 to reserve your time.
The format is a 3 Ball scramble costing €130 which includes a Goody bag, a Burger at the 9th and a meal afterwards not forgetting the chance to win one of our 25 prizes on offer.
If you are unable to play Tee Box sponsorship is available for only €50 which insures a quality sign on a Tee Box, further advertising in the local media and outside our Clubhouse for twelve months.
This is a vital fundraiser for the Club especially with the purchase of the land at Youghal Road and the future development of same.
Golf Society Outing
Our captain Frank O'Sullivan's prize will NOW take place on Wednesday 31st of May at East Cork Golf Club (note the change off date), there is a Shotgun start at 5.30pm. All members and intending members are welcome to attend and sign in at 5pm.
Condolences
It was with great shock and sadness that we heard of the sudden passing of Michael (Mick) Allen late of Mill Road on Saturday morning last. Mick had only been in the Club on Friday night overseeing the Bingo as part of his usual routine, what a character he was, a proud Waterford man and an avid fan of both Gaa and Horse racing not forgetting his dancing exploits. I'm sure he'll soon be reunited with his old buddy Bonzo reminiscing about trips to Redbarn and Listowel, hunting with the Kilwatermoy Blazers and hurling with Tallow and the Shamrocks. Wouldn't he have looked forward to Cork v Waterford in four weeks' time!
The Club Executive would like to express their deepest sympathies to his wife Francis, his son and daughters, family and many friends. Ar dheis Dé go raibh a anam.
Michael John Roche
Michael was born in Castletownroche, Cork in June 1863. He played Senior Football with Midleton who won the Cork County Championship in 1889 and went on to represent Cork and win the 1890 All Ireland Championship. His honours with Midleton were as follows; Cork County Football Championship Winners 1889, Cork County Football Championship Winners 1890, Munster Senior Football Championship Runners up 1889, Munster Senior Football Championship Winners 1890, All Ireland Senior Football Championship Winners 1890 (The 1890 All Ireland Final was actually played in June 1892 – due to a delay).
The Roche family's Milling business in Midleton closed around 1893 and he was forced to immigrate to Liverpool for work. He died of sunstroke while working on Liverpool Docks on August 16th, 1893. As the Mill closed that year the family had no money available to give him a headstone or even a private grave plot in Liverpool. His grave in Ford's Cemetery, Liverpool is still unmarked. His plot number is Section BZ, Plot 988.
2017 marks the 125 year anniversary of the 1890 All Ireland Final: Midleton vs Wexford Blues & Whites, Sunday June 26th, 1892, (18 months after Semi Final)
Final Score – Midleton 2-4 v Blues & Whites 0-1.
Michael is the Great gran uncle of former Club players Kevin & Alan Roche who plan to honour him with a plaque in Liverpool.
Ladies Football
Membership is now due for all ages. Please ensure if you have not done so already that you collect a membership form from your Mentor. All girls must be registered to play and train for Insurance reasons. Training will continue at the Tech pitch for all age groups from 6-9pm. Please note that the side gate is now locked so you may access the pitch by the main entrance to St Colmans School. Drive around to the back of the school and walk up the path to the pitch.
U8 v St Colmans - On Wednesday evening our U8 girls played their first match of the year. This game was for some of our girls their very first time playing a competitive game. St Colmans were very tough opposition and proved too strong for us. Well done to all of our girls who tried their very best and this is all we can ask of them.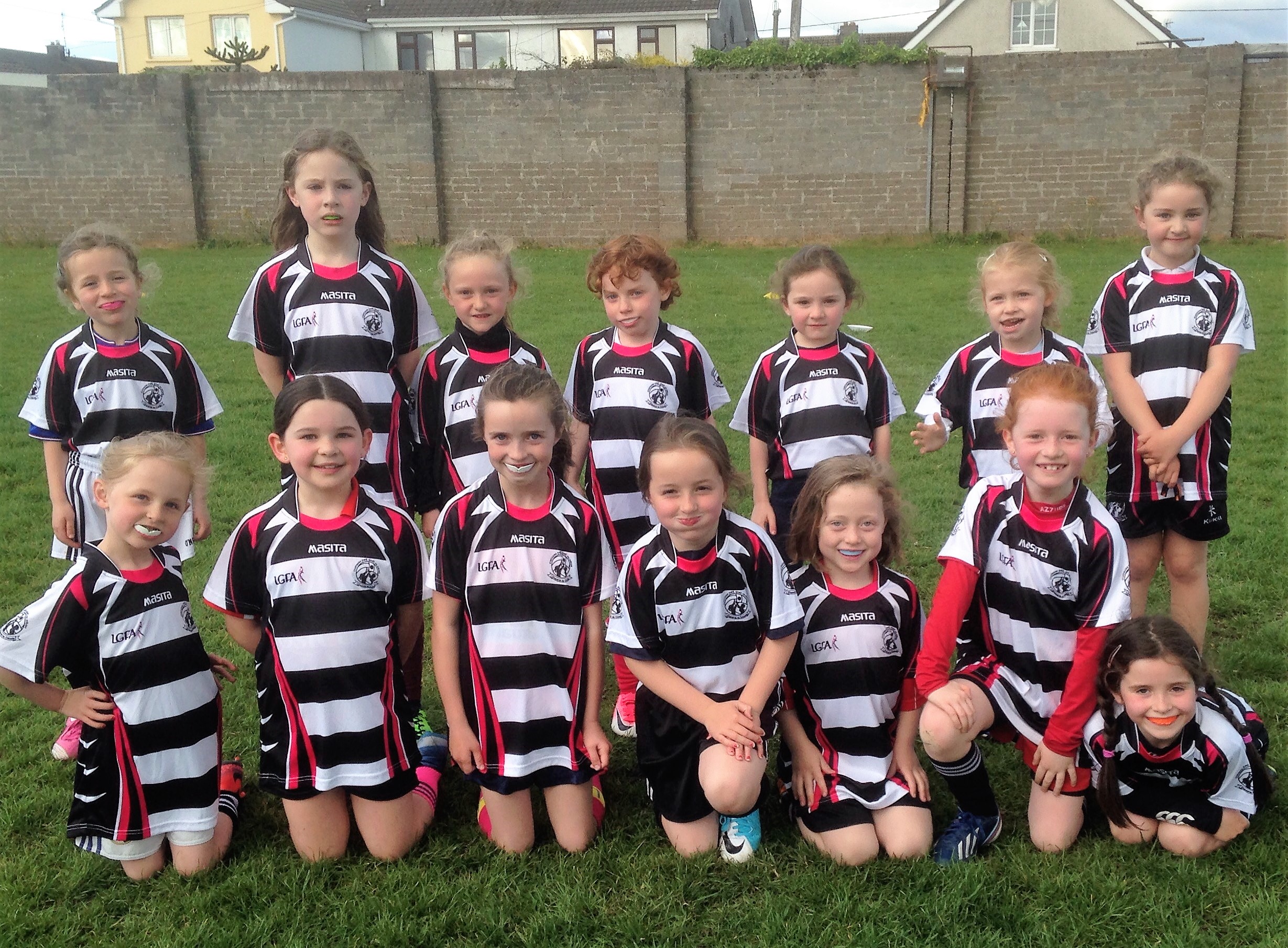 Camogie
U14: With no official match this week our under 14's played a challenge match v Fr O'Neill's on Tuesday last putting in another good performance, coming out on top on the night. We play St Fanahan's on June 9th in the last of our league playoffs.
Congratulations: Well done to, Caoimhe Murray, Chloe Garde and Abbie Foley making their debut with Imokilly U13 team on Friday evening last with Imokilly securing a win v Waterford's U14's.
Training for all age groups each Friday from 6.30pm- 7.30pm in Midleton GAA Club. Under 12/14/16's train also on Tuesday's at 7.30pm in St Colman's.
New players welcome in all age groups, contact 0876822916 with any queries. Follow us on Facebook : Midleton Camogie Club and twitter @midletoncamogie.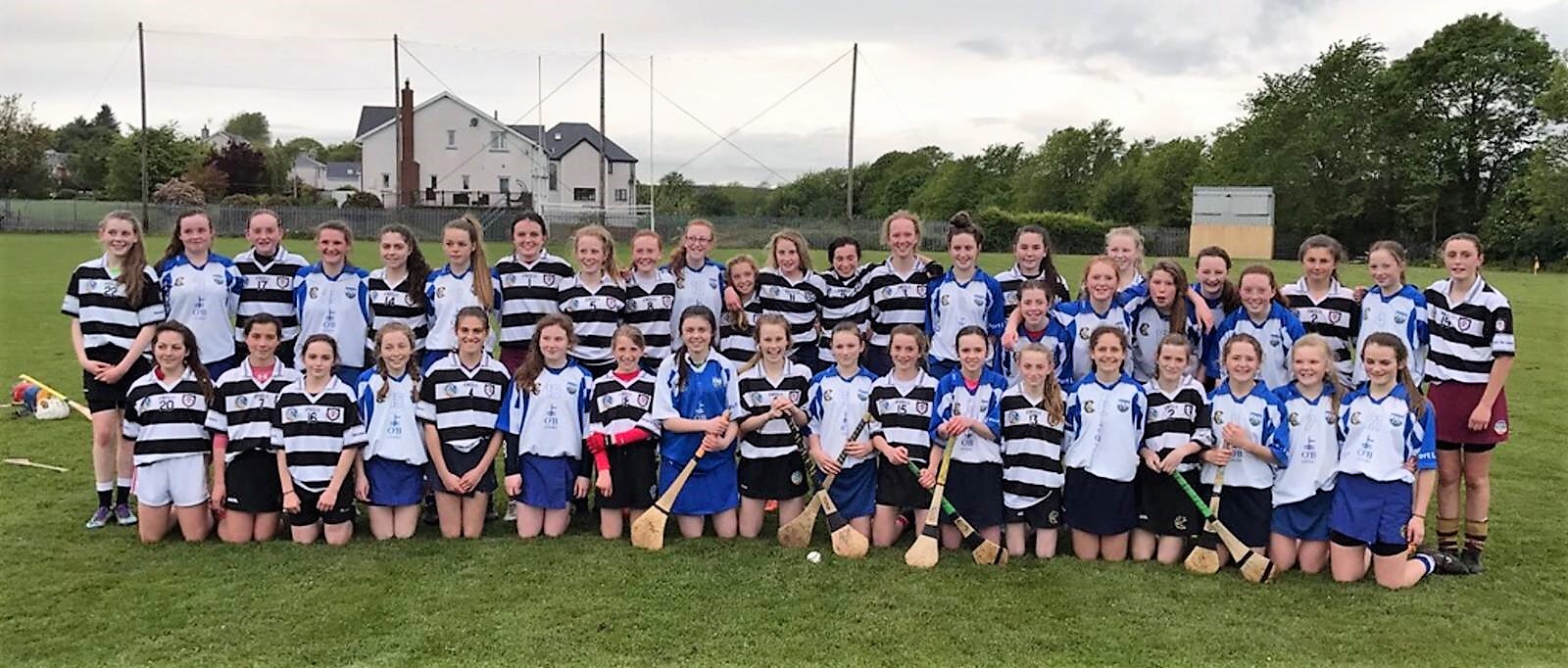 Lotto
Our Lotto Jackpot was €12,000 there was no winner, the Lucky Dip winners were Ann Lynch, Gary Meaney, Willie Ring, Deirdre O'Brien & Frank Bransfield, next week's Jackpot will be €12,200
Tickets are on sale at the Club Bar, O'Neills Bar, Linehan's Bar, Maple Leaf Bar, O' Farrell's Butchers, Frank Murphy Butchers, Pat Walsh Paints, Chadwicks, Teach Beag & Niall Mac's Bars.
Our Online Lotto is now available, logon to the Club homepage www.midletongaa.com to purchase your ticket.
BINGO takes place next Friday evening @ 8pm in the GAA Pavilion with a weekly guaranteed Jackpot of €1,000.
Juvenile
Fe 7
It was a very busy week for the Fé 7 squad. On Wednesday evening we travelled to Carrigtwohill to take on our hosts in Football as our preparation continues for the monster blitz on the 27th. It was a wonderful evening of football and it was great to see the hard work that all the players have been putting in at training over the last number of weeks is paying off as the skills on show were of a very high standard. Each of our teams got three games and all our players got plenty of touches on the ball.
We were back in Carrigtwohill once again on Saturday morning as we swapped codes to take on our hosts in hurling. Once again all our players played three games. The standard on show was once again of a very high standard and all the matches were very competitive. It was very encouraging to see the improvement right across the panel and great execution of the basic skills. The lads had a brilliant week and showed great club spirit throughout it all.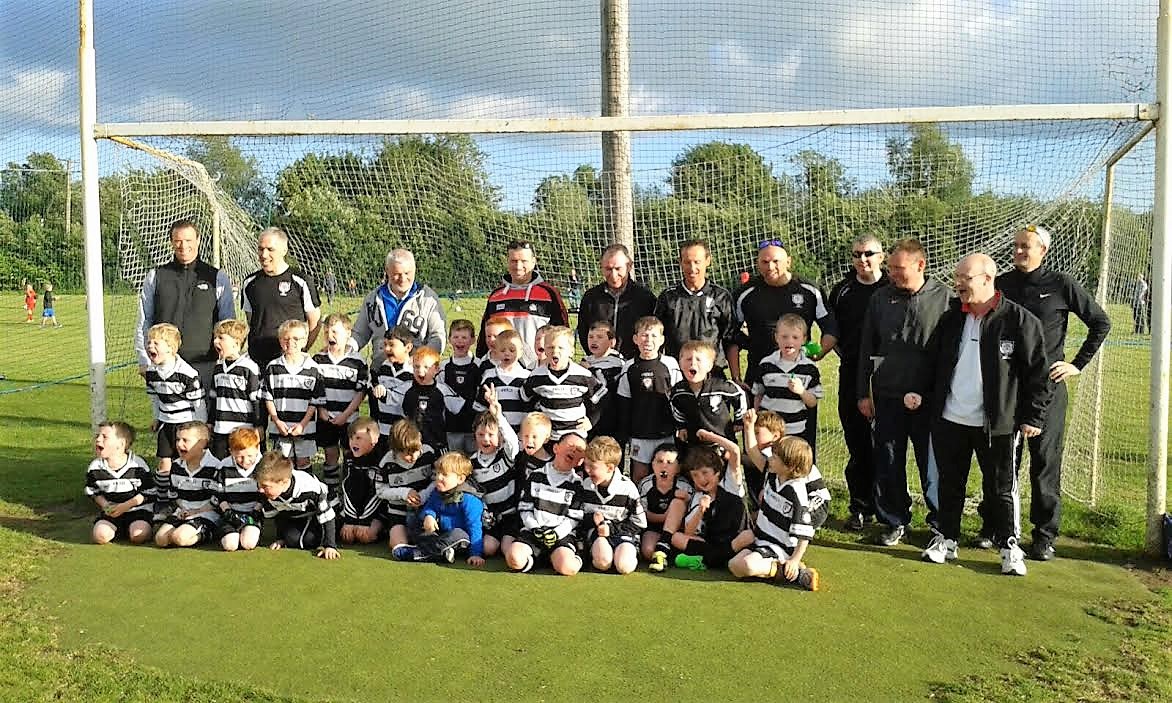 Fe 12
Once again we travelled in large numbers to Douglas on Friday evening. We started strongly with a goal from Eoin Higgins in the opening minutes of the game. This was followed up with points from Cian Lambe, Darragh Fitzgerald and Niall Lang. The Douglas forwards were finding it hard to score with the magpies full back line of Darragh Higgins, Alex Moloney and Sean Cronin hassling and making life difficult for them. Goalkeeper Alex Howard was very effective with his kick outs finding a Midleton player every time. Tadhg O' Leary Hayes and Tadhg Bohane were covering an awful lot of ground between them. Eoin Higgins got in for a second goal just before half time leaving the score line 2-5 to 1-2.
The second half started brightly for us with Alex Cahill giving a lovely pass to Evan Mc Grath for the opening score. Adam Collins and Conor Williams kept the pressure on the Douglas forwards. Darragh Fitzgerald slotted over our final point leaving the final score line of Midleton 2-07 v Douglas 1-03. The mentors would like to thank all players and parents that travelled on the evening this group are improving greatly as the season goes on.
Panel Darragh Higgins, Rory Lester, Mark Twomey, Alex Moloney, Oscar Brennan, Eoin Higgins, Tadhg Bohane, Alex Howard, Evan Mc Grath, Liam O' Neill, Tadhg O' Leary Hayes, Alex Cahill, Adam Collins, Zak Smith, Daniel Shine, Sam Morrissey, Tomas O Connor, Darragh Fitzgerald, Sean Cronin, Niall Lang, Cormac Ryan, Conor Williams, Cian Lambe & Andrew Burke.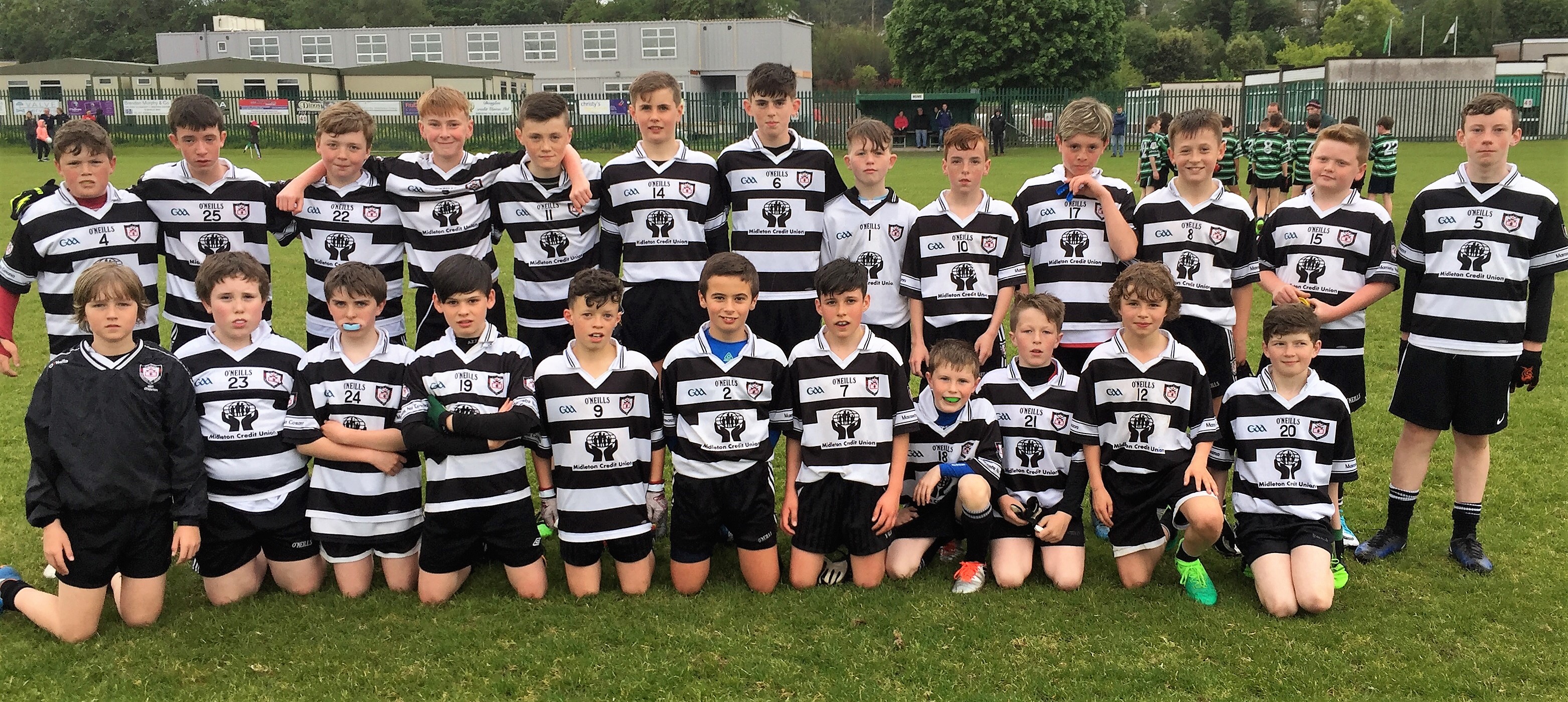 Fe 13
Midleton 3-05 v Valley Rovers 2-05 What a game! What a win! What a team! Our outing away to Valley Rovers in Brinny, for the Premier 2 Football League fixture last Thursday, became a thrilling and exciting contest, a game that ebbed and flowed throughout. This reporter could list many highlights, the fact that Valley Rovers struck the crossbar five times, or that we struck the post twice, or the fabulous penalty save from Alex Howard – but one fact stands above all others, this was the fifth win from five games for this excellent group of footballers.
Short of a few regulars, every player contributed enormously and battled to hold out Valley Rovers in the first half. While Mikey Finn's goal gave us a 1-0 to 0-2 lead at halftime, the first ten minutes of the second half saw us dominate and build up a vital lead of five points at the three quarter mark. TJ, Ben, Alex, Tadhg B and Michael Roe played with great energy, and half backs Tadhg O'Leary and Niall soared up the field given every opportunity. Cathal, Sean, Brian, and the two Daras looked very threatening every time our forwards got possession. Yes, the opposition came back and yes they scored, but the game saw David Green at his best when he grabbed 1-3 in the second half, having combined very well with Cian and Odhran, to push us forward to a winning position. Big effort also came from our younger players, Tadhg, Cian, and Evan. Big thanks to man of the match, Mairead Beausang, for transporting five players to the match; must mention Peter for the amusing reason the ball hit the bar a freakish number of times in one game – we were playing near Crossbarry!
Panel from: Dara Scanlon, TJ Murphy, Ben Kenneally, Odhran Mahony, Tadhg O'Leary, Michael Roe, Cathal Beausang, David Green, Sean Fraser, Niall Lang, Cian Lamb, Evan McGrath, Mikey Finn, Brian O'Connell, Dara Fitzgerald, Alex Moloney, Tadhg Bohan & Alex Howard.
Fe 14
Feile na Gael results; Midleton 1-04 v Glen Rovers 2-04, Midleton 2-04 v Ballincollig 1-07 and Midleton 5-07 v Blackrock 1-01.
It was a case of not meant to be for our gallant group of hurlers who participated in the Feile na nGael in Blackpool last Saturday. Preparations were being put in place for the last number of months, but on the day it was just not to be. As usual with this group of warriors everything they had was left on the field. They battled through all three games and with just a small bit more luck would have easily advanced to the semifinals. But lessons were learnt and they will be sure to dust themselves down and bounce back even better.
Kellogg's Cúl Camp
Midleton GAA Club will host two Kellogg's GAA Cúl Camps this summer.
Boys Only Hurling & Football Camp on Monday 3rd July – Friday 7th July – 10am to 2.30pm, Camp co-ordinator is Aylwin Kearney
Parents are advised to book early at https://www.kelloggsculcamps.gaa.ie
Boys & Girls Football, Hurling & Camogie on Tuesday 8th August – Friday 11th August – 10am to 2.30pm, Camp co-ordinator is Ingrid Connaughton
Parents are advised to book early at https://www.kelloggsculcamps.gaa.ie
Please note that from next year onwards Kellogg's Cúl Camps at the club will be run on a mixed basis incorporating boys and girls.
GRMA (Go raibh maith agat)
grma (go raibh maith agat) is the new GAA Membership Card and rewards programme enabling GAA Members and supporters to avail of rewards and offers as a 'thank you' or 'go raibh maith agat' for engaging in GAA activities and going to games.
Win a GAA Legend Coaching Session - Clubs who get 50 members to sign up to grma between now and 30th June 2017 will be entered into a draw to win a coaching session with GAA icons DJ Carey or Peter Canavan for club players and mentors.
All clubs who get 50 members signed up between now and the end of June will be entered into the draw. Winners will be announced in July 2017. We would love to be in a chance of winning this coaching session for Midleton.
Please register today it is quick and easy to do! https://grma.gaa.ie
Club Shop
The Club Shop is open each Saturday from 10-11.30am, we now have Kids Hoodys in stock costing only €25 each.