Midleton Gaa, Camogie & Ladies Football Club News
14 May, 2017
Intermediate Hurling
Last Sunday afternoon our hurlers had a great win over Milford in the first round of the Championship at Kilworth. Having played against the wind in the first half we trailed by 0-07 to 0-03 at the break. Immediately after the restart we upped our game with some fine points and came within a single point only for them to score three in a row. A long range effort from Padraig O' Shea was challenged in the air by Eoghan Walsh which finished with the ball going directly to the net. This was followed shortly by a great individual goal from Ian Kennefick who beat two defenders before billowing the back of the net. A late goal from Milford ensured a tense last few minutes but two well struck free's from Padraig O'Keeffe ensured our second victory in this competition.
We now await the winners of Glen Rovers or Drispey on or about Friday 23rd of June.
This game doubled up for League points and as a result of our win we now are in second place. Well done to the players and management on this well deserved victory.
Team: Joe Loftus, Cillian Hurley, Gavin Bagnell Harnett, Elliot Mulcahy, Seanaidh Smyth, Sean O'Leary Hayes, Luke Dineen, Leslie Coughlan, Sean O'Farrell (0-01), Eoin Walsh, Padraic Nagle, Padraig O'Keeffe (0-04, 1 sideline & 2 free's) Cormac Beausang (0-05, 4 free's), Padraig O'Shea (1-00) & Darren Quirke. Subs used Kieran Mulcahy & Ian Kennefick (1-00), not used Billy O'Shea, Byran Rossiter, Shane Finn, Padraig O'Brien, Pat Stack, Micheál Keohane, Luke Smith, Harry Wall, Conor Evans, Cathal Gunning & Conor O'Farrell.
Junior Hurling
Training takes place each Monday night in the Club @ 7.30pm for all players interested in playing Junior B & C.
Cork Senior Hurling
Best of luck to all our lads involved with the Cork senior hurlers next Sunday when they take on Tipperary in the first round of the Munster Championship in Thurles @ 4pm.
Tickets for this game are now on sale at Hurley's SuperValu.
Post Primary Games
Congrats to our club players with St. Colman's Secondary school who overcame Scoile Mhuire Kanturk during last week at Delaney's GAA in the Fe 16 "D" County Football Final and also to the lads involved with Midleton CBS who defeated St Colman's Fermoy in the Lord Mayor Cup Cork Colleges Fe 17 1/2 "A" Hurling final at Pairc Ui Rinn last Friday by 4-12 to 1-18.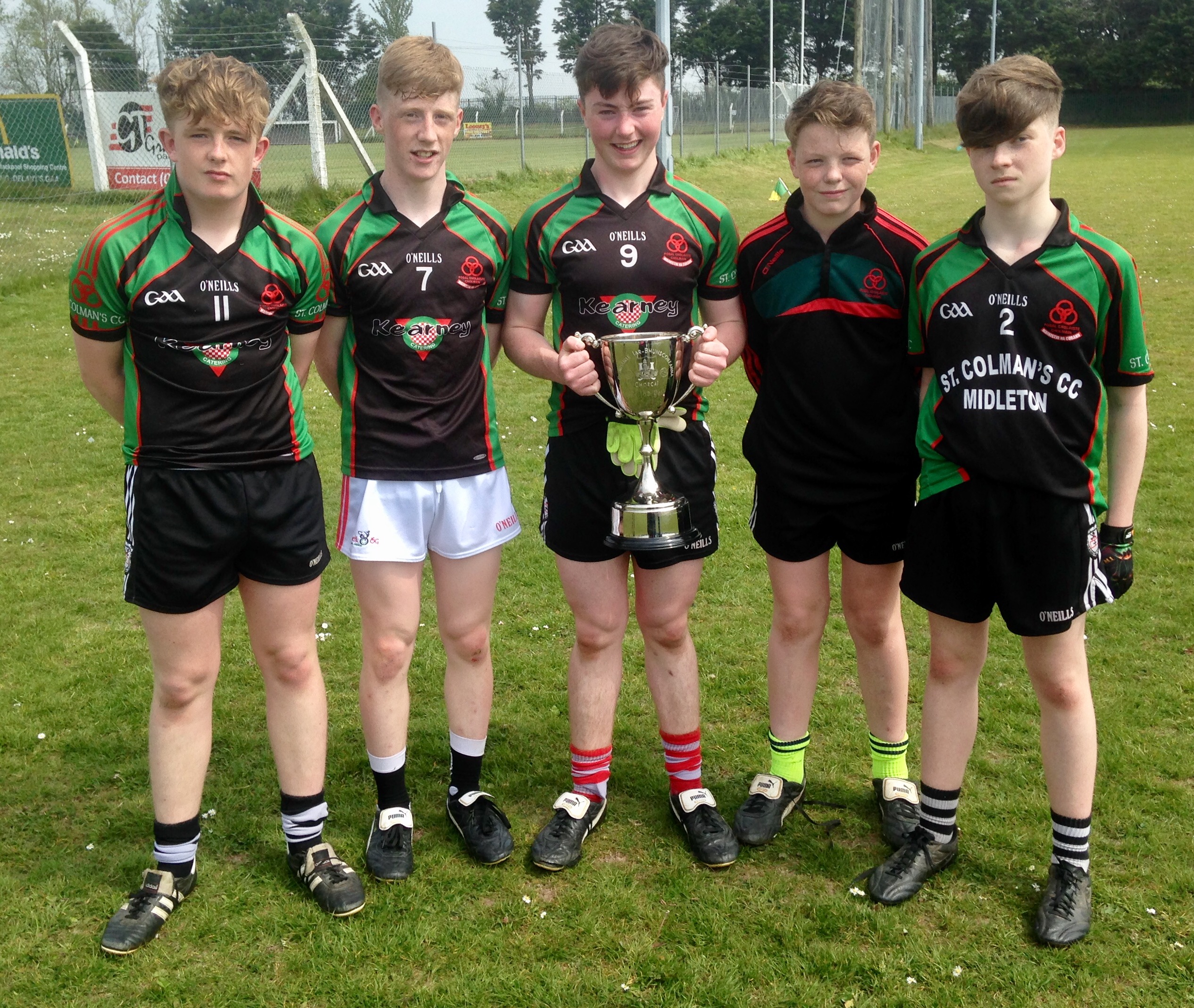 Fixtures
Wednesday 17th Senior Hurling League v Ballyhea in Ballyhooly @ 7.30pm
Saturday 20th Intermediate Hurling League v Barryroe at home @ 7.30pm
Sunday 28th Senior Hurling Championship v Carrigtwohill in Pairc Ui Rinn @ 2.15pm
Friday 2nd June Intermediate Hurling League v Ballygarvan away @ 7.30pm
Juvenile Fixtures
Monday 15th Fe 14 P1 Hurling League Midleton v Ballincollig at home @ 7pm
Saturday 20th Feile Hurling at the Glen Field from 11am.
Monday 22nd Fe 14 P1 Hurling League St Finbarrs v Midleton away @ 7pm
Sunday 16th Fe 14C3 Hurling League Douglas 2 v Midleton 2 away @ 7pm
Sunday 23rd Fe 14 C3 Hurling League Ballincollig 2 v Midleton 2 away @ 7pm
Thursday 18th Fe 13 P2 Football League Valley Rovers v Midleton away @ 7.30pm
Friday 26th Fe 12 P1 Hurling League Midleton 1v St Finbarrs 1 home @ 7.30pm
Sunday 28th Fe 12 C3 Hurling League Douglas 2 v Midleton 2 away @ 3pm
Friday 19th Fe 12 P2 Football League Douglas 2 v Midleton 1 away @ 7pm
Check the Club website for regular updates on all fixtures.
Last Man Standing
The fight for second and third places will continue next week as 8 out of the 9 counters left came up trumps at the weekend, details of the presentation of prizes will be announced later.
Gaa Golf Classic
Our annual Juvenile Gaa Golf Classic has been confirmed for Wednesday & Thursday 5/6th of July at East Cork Club, the Time sheet is now open, please contact Coleman Quirke 087/2523759 or Anthony Wall 086/3154016 to reserve your time.
The format is a 3 Ball scramble costing €130 which includes a Goody bag, a Burger at the 9th and a meal afterwards not forgetting the chance to win one of our 25 prizes on offer.
If you are unable to play Tee Box sponsorship is available for only €50 which insures a quality sign on a Tee Box, further advertising in the local media and outside our Clubhouse for twelve months.
This is a vital fundraiser for the Club especially with the purchase of the land at Youghal Road and the future development of same.
Golf Society Outing
Our captain Frank O'Sullivan's prize will take place on Thursday 25th of May at East Cork Golf Club, there is a Shotgun start at 5.30pm. All members and intending members are welcome to attend and sign in at 5pm.
Oíche Ghaelach
There is a Traditional Music and Singing session on Friday next the 19th at 9.30pm in the Club Lounge, everybody is welcome. Fáilte roimh chách.
Camogie
U13 - we played Millstreet on Saturday afternoon last in a challenge match. It was a very sporting match in very wet conditions, we finished the first half well on top but they came back strong in the second half, credit is due to both team as conditions at times were challenging, at the final whistle we finished ahead. Thanks to Millstreet for travelling.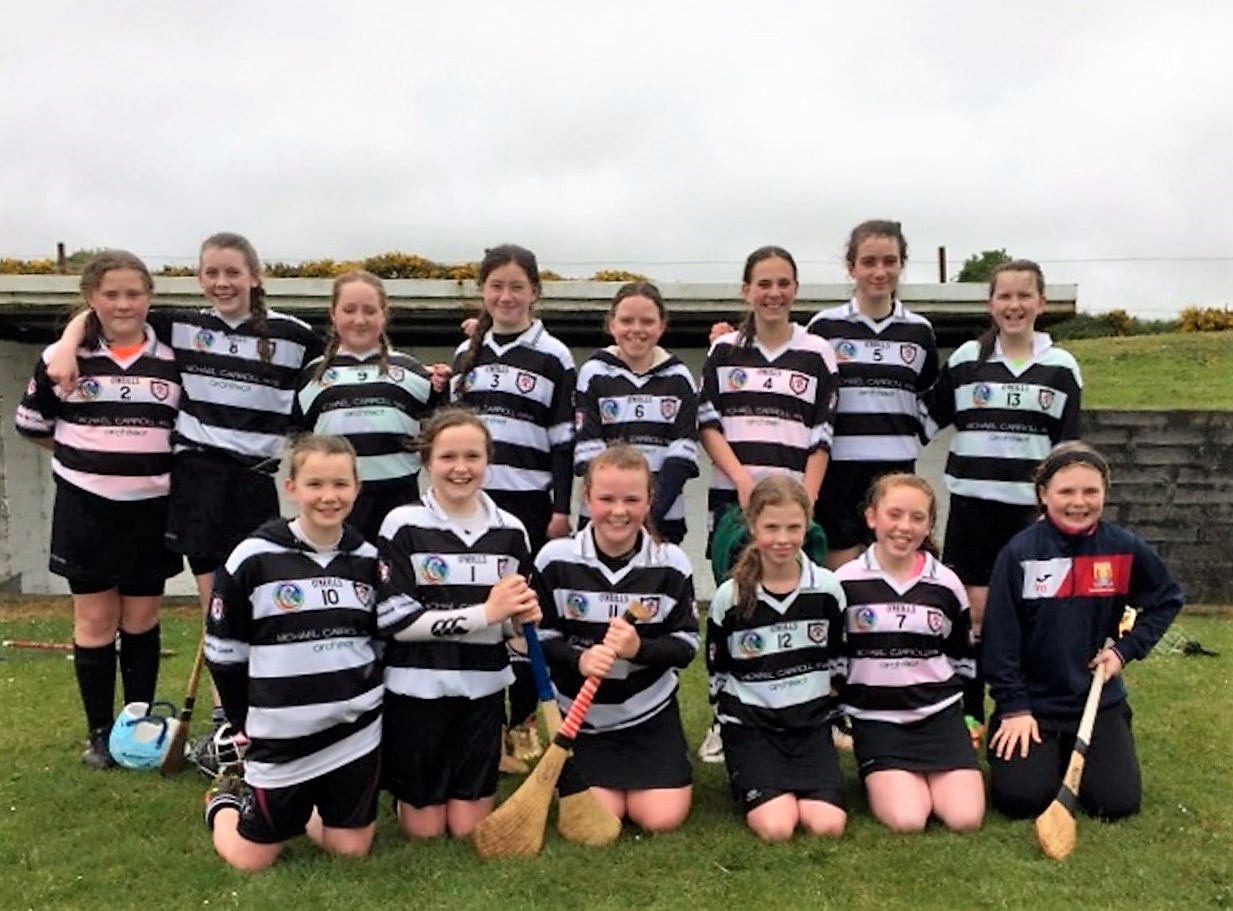 U14 - We continued our league play offs on Thursday evening last v Dungourney away. The result did not go our way on this occasion but the girls put in a huge effort and battled for every ball until the final whistle with some great individual performances throughout the team. We have one more match left in the play offs v St Fanahan's, the date is to be confirmed. We have a challenge match v Fr O Neill's Tuesday 6.30pm.
Well done to both Orla Evans and Leah Hogan who represented Midleton in the Féile Skills completion in Castle Rd last weekend.
Training: U6 and U8 and U10 Friday 7pm -8pm Midleton GAA Club. U12 Tuesday St Colman's pitch 7.30pm -8.30pm and Friday 7pm Midleton GAA Club.
New players welcome in all age groups, contact 0876822916 with any queries. Follow us on facebook : Midleton Camogie Club and twitter @midletoncamogie.
Lotto
Our Lotto Jackpot was €11,800 there was no winner, the Lucky Dip winners were Louis Doyle, Eva Bransfield, Ann Mullaney, Ciaran Kelly & Sarah O'Brien, next week's Jackpot will be €12,000
Tickets are on sale at the Club Bar, O'Neills Bar, Linehan's Bar, Maple Leaf Bar, O' Farrell's Butchers, Frank Murphy Butchers, Pat Walsh Paints, Chadwicks, Teach Beag & Niall Mac's Bars.
Our Online Lotto is now available, logon to the Club homepage www.midletongaa.com to purchase your ticket.
Our weekly GAA lotto is a vital ingredient in raising funds to help finance the 'day to day' running of our club. We are urgently seeking some volunteers on a Friday evening to help in the administration of the Lotto. So if you can spare some time on a Friday evening, on a rotational basis, please contact John Fenton at your earliest convenience.

BINGO takes place next Friday evening @ 8pm in the GAA Pavilion with a weekly guaranteed Jackpot of €1,000.
Juvenile
Fe 9
On Thursday night last we travelled to Youghal for football league games versus the hosts. Thanks to Brendan Coleman and the Youghal lads for two very good games with a big crowd in support of the games. We had a great turn out of 27 players and both teams we had played their best games of the year which was rewarded with the results. Great also to see different lads coming to the fore in both the hurling and football codes. Best of luck to all the lads and parents who have already or will on the 20th get their communions.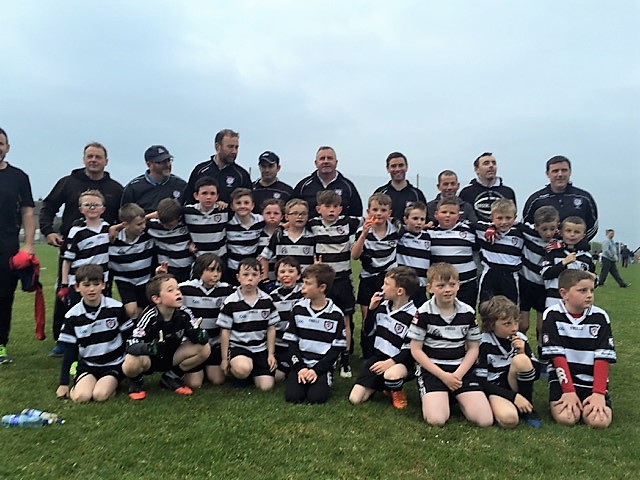 Fe 10
Over the last number of weeks our U10 leagues have been in full swing. The boys have played Bishopstown, Glanmire and Douglas in football. Some of these games have been difficult at times with some clubs far superior in football, but the majority have been very competitive. The boys have shown their battling qualities in recent weeks and the attitude in training has been excellent.
On the hurling front we have played Sars which ended in a draw and Bandon which ended in defeat. The hurling has been very good at times and again the attitude of the players is second to none. With the next three to four weeks action packed we are looking forward to the challenges ahead. I would like to thank the young referees for helping out for all the home games. A big thank you to all who helped out with teas, coffees, sandwiches etc for the visit of the Bandon team. It was greatly appreciated by the visiting mentors, parents and players and created a good friendly atmosphere in the club on the night.
Our next two confirmed fixtures are SARS away on the 19th of May (hurling) at Buck Leary's Cross and Bandon away on the 26th of May (football) both are Friday evening games. Well done to all again. Magpies ABÙ.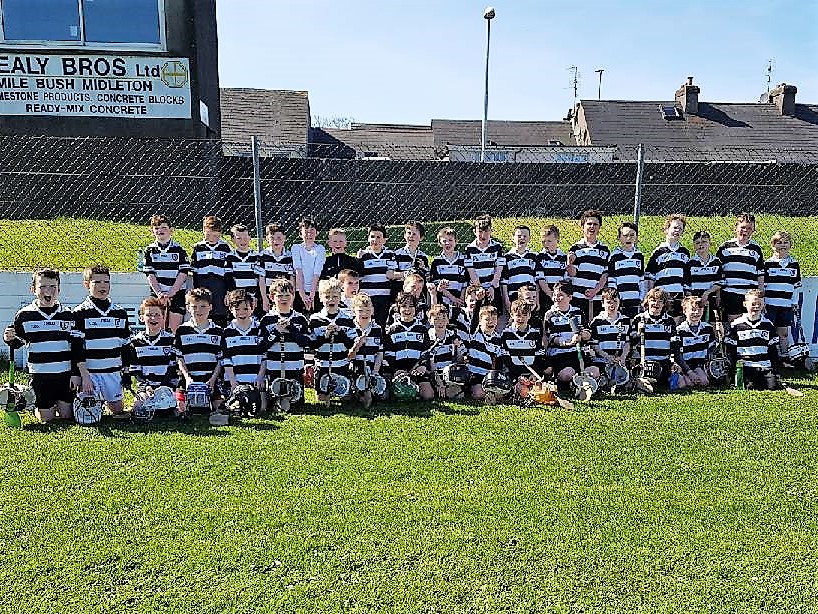 Fe 11
It was a very busy week for us, on Saturday last we trained, on Wednesday we travelled to Glen Rovers for a hurling league match and on Friday we played Cobh away in a football league match. In Glen Rovers, in excellent weather conditions we managed to field three teams, despite very tight pitches three fantastic games were served up, there was hardly a puck of the ball between the teams. It was fantastic to see both the collective and individual effort of the lads being rewarded with a very credible draw. In Cobh on friday evening we fielded two teams of 11 a side, on a breezy night and on a rock hard pitch conditions were difficult for both teams, to their credit both teams performed admirably , both games were very high scoring and played in a very sporting manor. With a win and a loss it is recorded as a draw and we remain unbeaten in the football league to date. Thanks to both Glen Rovers and Cobh for hosting and thanks to the parents and families for travelling to support the lads.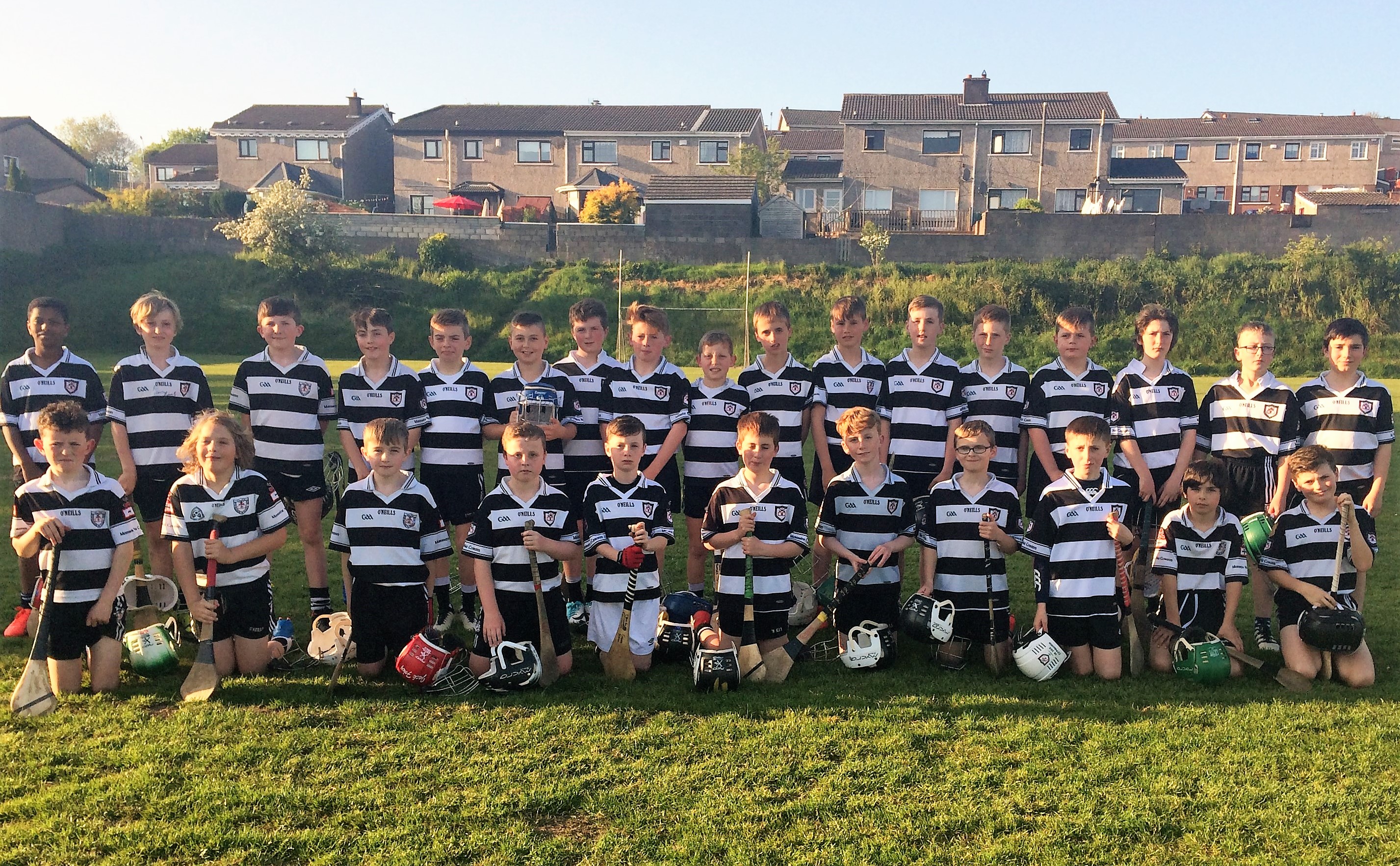 Fe 12
On Friday evening in the tech field the magpies took on Mitchelstown in a tight contest that ended with us being pipped at the post in the final minute of the game. The first half was very evenly matched with the score 1.02 a piece at half time. Darragh Higgins kept us in the game with some fine saves during the course of the game. Evan Mc Grath and Cian Lambe kicked some fine scores throughout the game. Tadgh O' Leary Hayes and Eoin Higgins put in a strong midfield effort. Unfortunately they got a goal in the dying minute's of the game leaving the final score line at Midleton 1-05 v Mitchelstown 2-03. A fantastic effort by all magpies on the evening well done all.
Panel Darragh Higgins, Tomas O'Connor, Alex Moloney, Oisin Berdassa, Conor Williams, Tadhg Bohane, Niall Lang, Tadhg O Leary Hayes, Eoin Higgins, Cormac Ryan, Evan McGrath, Darragh Aherne, Cian Lambe, Darragh Scanlon, Samuel Morrisey, Sean Cronin, Liam O Neill, Alex Howard, Oscar Brennan, Zak Smith, Alex Cahill Rory Lester, Darragh Fitzgerald, Daniel Shine, Andrew Burke, Diarmuid Murphy & Tiernan O' Connell.
Fe 13
Midleton 2-08 v Douglas 4-11
On Saturday afternoon, our U13 lads came up short against a strong and physical Douglas side, in the Premier 1 Hurling league. They started the first half strongly, but Michael Roe, TJ Murphy and Ben Kenneally hurled well to prevent scores, with Davy Cremin, Dara Scanlon and Brian O'Connell also contributing. Having defended well, our forwards stepped up a gear, but were denied numerous goal opportunities by the Douglas goalkeeper. Busy up front were David Green, Cathal Beausang and Alex Moloney, with Odhran Prenter retiring with a knee injury. We deserved to finish level at half time with 1-4 each, Mickey Finn and Tiarnán Roche getting on the scoreboard. Happy enough with our first half performance, the second half started with a downpour of rain lasting ten minutes, which saw our lads concede two soft goals and a number of points. Douglas built further on their lead and the game ran away from us. Niall Lang, the two Tadhgs, Bohan and O'Leary, tried very hard throughout. On a positive note, while we were beaten by a better side, our lads battled to the end and showed great heart. This team never gives up, and is improving with every game – well done lads, on a brave and hard fought outing.
Panel from: Dara Scanlon, Riain de Barra, TJ Murphy, Ben Kenneally, Odhran Prenter, Tiarnán Roche, Tadhg O'Leary, Michael Roe, David Cremin, Cathal Beausang, David Green, Niall Lang, Mikey Finn, Brian O'Connell, Dara Fitzgerald, Alex Moloney, Tadhg Bohan, Alex Howard.
Fe 14
Premier 1 Hurling League - Midleton 2-07 v Sars 2-07.
Our first league game of the season was played on the Midleton CBS pitch versus Sarsfields. A great rivalry and respect has been built up between the two teams as they have progressed through their different age groups. From the first game between the two panels 'way back' in 2010 the winner's is always almost impossible to predict. This match would prove to be no different.
Alex Quirke was first to score with a point from a free. James Condon's point from play was followed up by cracking goal from Niall Corcoran. Alex completed our scoring for the half with two further points from frees. Half time score: Midleton 1-04 v Sars 1-05.
Mickey Finn pounced for an important goal at the start of the second half as Sars had begun to get a foothold on the game. Darragh McCarthy registered two points from play and James Condon's second point also from play completed our scoring on the day.
Final score Midleton 2-07 Sarsfields 2-07 .
Scores: Alex Quirke 0-03 (frees), Niall Corcoran 1-00, Mickey Finn 1-00, James Condon 0-02, Darragh McCarthy 0-02.
Fe 14 P1 Hurling League - Midleton 0-18 v Glen Rovers 2-12
This was a cracking game of hurling played on the Glen field. Both teams were at full strength and again the result of this game shows how closely contested the P1 hurling league is for 2017. The first half saw a great spread of scores from our forwards Darragh McCarthy one point, Alex Quirke three points, James Condon and Kelvin Barry one point each. Half time score Midleton 0-08 v Glen Rovers 1-06. We scored ten points in the second half. The last one coming from the stick of Darragh McCarthy being the important one to draw us back level in the dying seconds of the game. Final score: Glen Rovers 2-12 v Midleton 0-18.
Scores: Alex Quirke 0-08 ( 0-05 frees, 0-02 65's), Darragh McCarthy 0-07 (0-01 free), James Condon 0-02 & Kelvin Barry 0-01.
Fe 14 P1 Hurling Midleton 1-10 v Douglas 1-07
The third game of the P1 hurling league was an away game to Douglas. The game was played last Monday evening in perfect conditions allowed both teams play to their full potential. The young Magpies took an early lead and maintained it for the remainder of the game. Brion Saunderson, in goals, coped admirably with any shots that came his way. Our defence were solid throughout when tested by a very good Douglas forward line. Our midfield came out on top in most exchanges and a return of 1-10 from our forward division was commendable on the evening. Final Score: Douglas 1-07 Midleton 1-10.
Scores: Darragh McCarthy 1-06, Alex Quirke 0-01 ( 0-01 free), James Condon 0-01, Kelvin Barry 0-01 & D Cremin 0-01.
Fe 14 Midleton play Hurling Feile Na nGael.
Best of luck to our panel of Fe14 hurlers who will participate in Division 1 Hurling Feile next weekend in Blackpool (The Glen field). The first game of three on Saturday 20th May will be against Glen Rovers and throw-in is timed for 11 am. Games are 15 minutes aside. The other teams in our league are Ballincollig and Blackrock. We will play these teams at 12pm and 1pm respectively. We're looking forward to the competition and relish the prospect at taking on the best in the county at U14. If you can be at the Glen field to support the panel on Saturday then it will be greatly appreciated.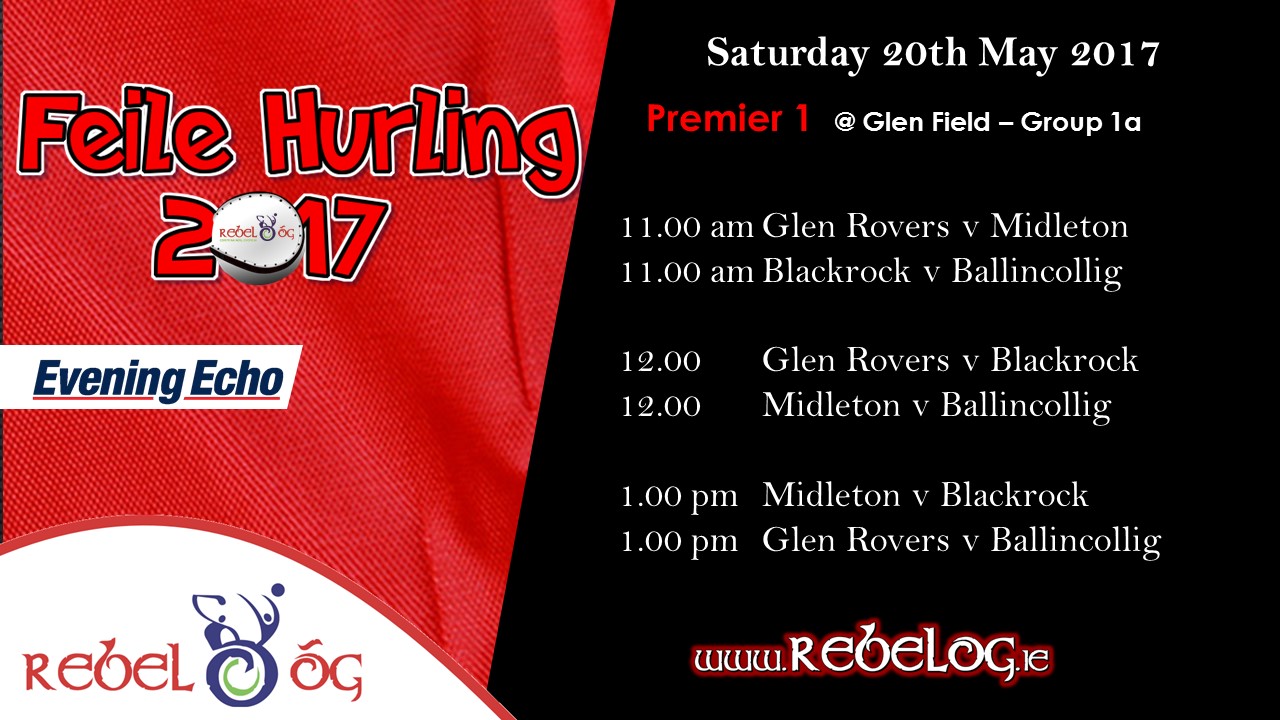 Club Shop
The Club Shop is open each Saturday from 10-11.30am, we now have Kids Hoodys in stock costing only €25 each.