Midleton Gaa, Camogie & Ladies Football Club News
07 May, 2017
Senior Hurling
We were defeated in the League on Tuesday evening last by Na Piarsaigh away. In preparation for the Championship our next League game is against Ballyhea on the 17th.
Final score: Na Piarsaigh 1-20 v Midleton 2-15
Team: Tommy Wallis, Seanaidh Smyth, Alywin Kearney, Padraig O Farrell, James Nagle, Killian Burke, Padraig O' Keeffe, Seamus O Farrell, Paul Haughney, Aidan Ryan, Padraic Nagle, Declan Ryan, Cormac Beausang, Ian Kennefick & Luke O' Farrell. Subs used Cillian Hurley, Sean O'Farrell & Billy O'Shea.
Intermediate Hurling
After our victory over Grenagh in the Preliminary round, our first round of the Championship has been confirmed for Sunday the 14th of May v Milford in Kilworth @ 3.30pm, we wish the players and management the very best in this game.
Junior Hurling
Training takes place each Monday night in the Club @ 7.30pm for all players interested in playing Junior B & C.
Minor Hurling
Our hurlers had a good win over Blarney in the C3 league recently by 0-16 to 1-10.
Team: Cormac Higgins, Mark Daly, Conor O'Farrell, Cian Murray, Luke Smith, Andrew Nestor, John O Dwyer, Kian Farmer (0-08, 4 frees), Griffin Hurley, Eoin Mitchell, Jake Shanahan, Tom Scanlon & Harry Wall (0-02, 1 free). Subs Alan Power, Evan Rowlands (0-02), Ronan Lynch (0-01), Adam O'Connell, Craig Barry & Coleman Quinn.
Cork Minor Hurling
Congrats to Sean O'Leary Hayes who captained the Cork minor hurlers last Wednesday when they comprehensively defeated Waterford in Pairc Ui Rinn by 1-24 to 0-08 in the first round of the Munster Championship, Shane Finn was a member of the extended panel. Cork now play Tipperary in the semi final.
Fixtures
Sunday 14th Intermediate Hurling Championship v Milford in Kilworth @ 3.30pm
Wednesday 17th Senior Hurling League v Ballyhea in Ballyhooly @ 7.30pm
Saturday 20th Intermediate Hurling League v Barryroe at home @ 7.30pm
Sunday 28th Senior Hurling Championship v Carrigtwohill in Pairc Ui Rinn @ 2.15pm
Friday 2nd June Intermediate Hurling League v Ballygarvan away @ 7.30pm
Juvenile Fixtures
Monday 15th Fe 14 P1 Hurling League Midleton v Ballincollig at home @ 7pm
Monday 22nd Fe 14 P1 Hurling League St Finbarrs v Midleton away @ 7pm
Monday 9th Fe 14 C3 Hurling League Midleton 2v Valley Rovers 2 at home @ 7pm
Sunday 16th Fe 14C3 Hurling League Douglas 2 v Midleton 2 away @ 7pm
Sunday 23rd Fe 14 C3 Hurling League Ballincollig 2 v Midleton 2 away @ 7pm
Saturday 13th Fe 13 P1 Hurling League Midleton v Douglas home @ 3pm
Thursday 18th Fe 13 P2 Football League Valley Rovers v Midleton away @ 7.30pm
Friday 26th Fe 12 P1 Hurling League Midleton 1v St Finbarrs 1 home @ 7.30pm
Sunday 28th Fe 12 C3 Hurling League Douglas 2 v Midleton 2 away @ 3pm
Friday 12th May Fe 12 P2 Football League Midleton 1v Mitchelstown home @ 7pm
Friday 19th Fe 12 P2 Football League Douglas 2 v Midleton 1 away @ 7pm
Check the Club website for regular updates on all fixtures.
Last Man Standing
After twelve weeks of Premiership action we finally have an outright winner of our Last Man Standing competition. We were down to ten punters but losses for Hull and Burnley left Ken Matson in pole position after Leicester came up triumphs. The battle for second and third places will continue next week, details of the presentation of prizes will be announced later.
Healthy Club Project
The Health & Wellbeing Committee would like to thank most sincerely all those who woke up early and took part in Darkness Into Light walk last Saturday morning. It was absolutely fantastic to see so many of our club members especially our juvenile members some as young as 5!! You were part of an army of over 150,000 participants across 150 venues around the world you all should be so proud of your achievement - each of us bringing comfort and solidarity to those bereaved by suicide in our community and raising much needed funds for Pieta House to continue the wonderful work that they do. Many thanks to Mairead Beausang, Paul O'Meara, Ingrid Connaughton, Tracy Saunderson, Coleman Quirke, Shane Goulding, Ruth Walsh, Mary Quinn and Sheila Kelly for their help over the past few weeks, it was very much appreciated. Pieta House can be contacted on 021-4341400 or www.pietahouse.ie.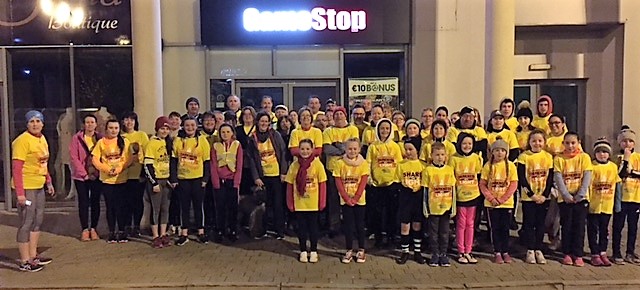 Love Gluten Free Hurley's SuperValu Midleton will hold an in-store event on Monday 8th of May from 7pm to 9pm – find out about living with Coeliac Disease. All welcome.
Gaa Golf Classic
Our annual Juvenile Gaa Golf Classic has been confirmed for Wednesday & Thursday 5/6th of July at East Cork Club, the Time sheet is now open, please contact Coleman Quirke 087/2523759 or Anthony Wall 086/3154016 to reserve your time.
The format is a 3 Ball scramble costing €130 which includes a Goody bag, a Burger at the 9th and a meal afterwards not forgetting the chance to win one of our 25 prizes on offer.
If you are unable to play Tee Box sponsorship is available for only €50 which insures a quality sign on a Tee Box, further advertising in the local media and outside our Clubhouse for twelve months.
This is a vital fundraiser for the Club especially with the purchase of the land at Youghal Road and the future development of same.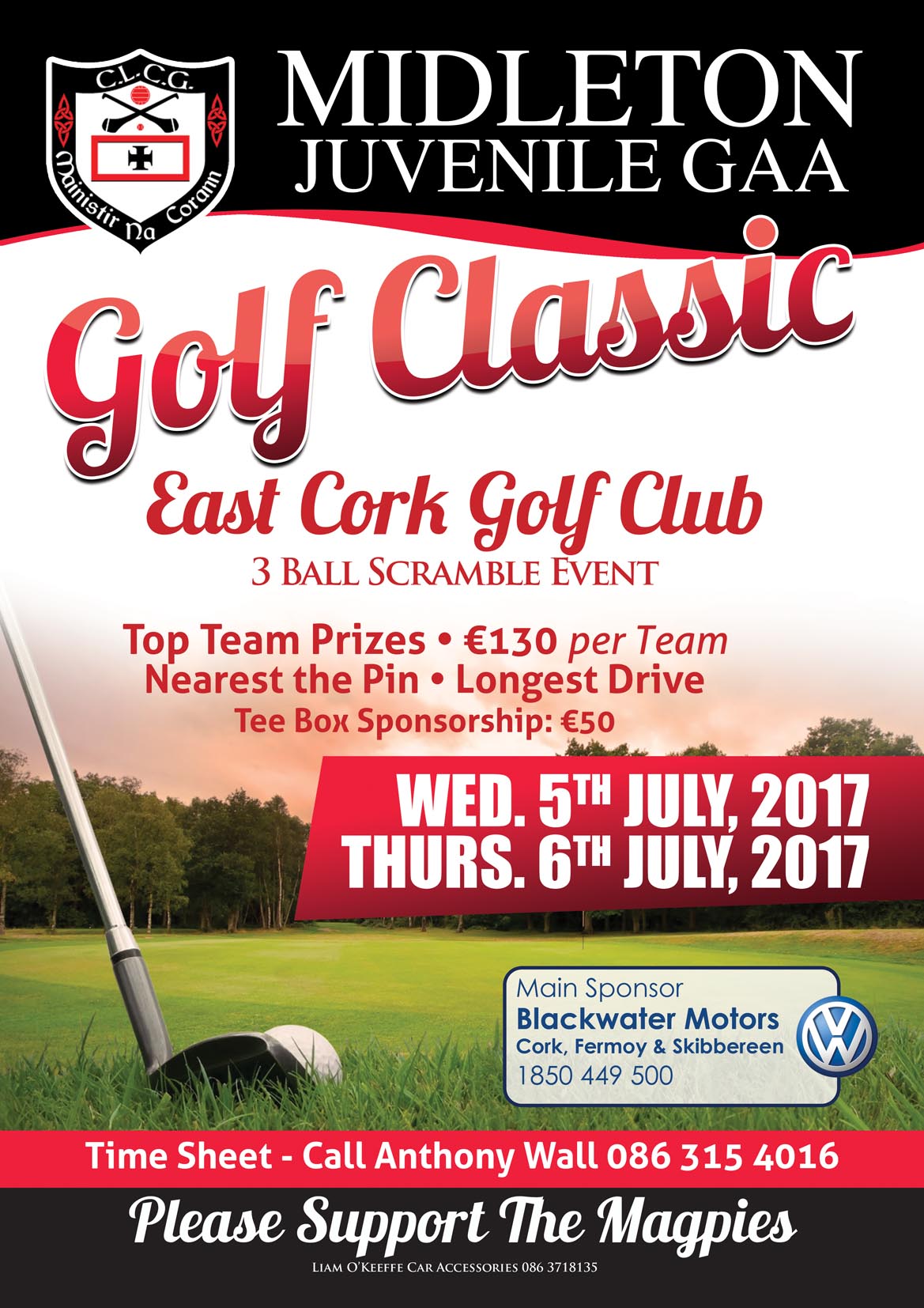 Ladies Football
Well done to everyone on Team Midleton Gaa who took park in the Darkness into Light Walk on Saturday morning last. What a fantastic turnout it was for such a worthy cause. Training for all age groups continues at the Tech pitch.
Well done to Orlagh Farmer and the Cork Ladies Football Team who are once again Division 1 League Winners. It was a very close contest but the Cork Ladies came out on top. Final score Cork 2-15 v Donegal 2-14
Camogie
Fe 11
We attended a blitz in Fermoy on Sunday morning, playing against Fermoy & Kilworth. The girls showed great effort and determination throughout both matches. The time & effort spent at training is showing on the pitch, we can see there is more to be done but the girls are more than up for the challenge. Well done to our U11's who played against two U12 teams and didn't look out of place at all.
Thanks to Fermoy and Kilworth for two sporting and enjoyable matches.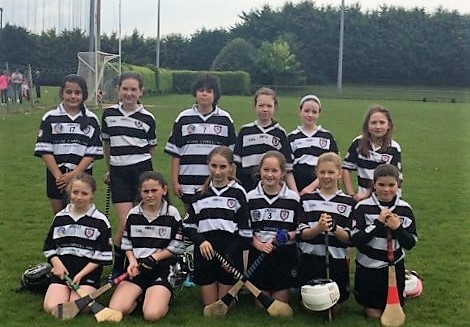 U14
We play Dungourney away on Thursday evening next at 7pm in the next of our league matches.
U16
With a break in league matches we met Castlemartyr in a challenge match on Friday evening last, it was great for our girls to get the opportunity to play on our home ground in what will be the last match u16 match until after the Junior Cert exams.
Thanks to Castlemartyr for travelling.
Training: U6 and U8 and U10 Friday 7pm -8pm Midleton GAA Club. U12 and U14 and U16 Tuesday St Coleman's pitch 7.30pm -8.30pm and Friday 7pm Midleton GAA Club.
Lotto
Our Lotto Jackpot was €11,600 there was no winner, the Lucky Dip winners were Mary Fitzgerald, Noreen O'Flynn, Charlie Moore, Michael O'Mahony & Willie Lawton, next week's Jackpot will be €11,800
Tickets are on sale at the Club Bar, O'Neills Bar, Linehan's Bar, Maple Leaf Bar, O' Farrell's Butchers, Frank Murphy Butchers, Pat Walsh Paints, Chadwicks, Teach Beag & Niall Mac's Bars.
Our Online Lotto is now available, logon to the Club homepage www.midletongaa.com to purchase your ticket.
Our weekly GAA lotto is a vital ingredient in raising funds to help finance the 'day to day' running of our club. We are urgently seeking some volunteers on a Friday evening to help in the administration of the Lotto. So if you can spare some time on a Friday evening, on a rotational basis, please contact John Fenton at your earliest convenience.

BINGO takes place next Friday evening @ 8pm in the GAA Pavilion with a weekly guaranteed Jackpot of €1,000.
Juvenile
Fe 9
We took the field on Sunday morning last for the third hurling game in the U9s noncompetitive league. It was a lovely dry sunny calm morning in Midleton for the three games versus Carrigaline. The coaches were delighted with the three evenly matched teams we put out on their commitment, hurling skills, team work and 100% involvement of every player on the 3 teams which made it very difficult for Carrigaline. Great stuff lads and it showed in the positive outcomes across each game. Keep it up lads. Well done.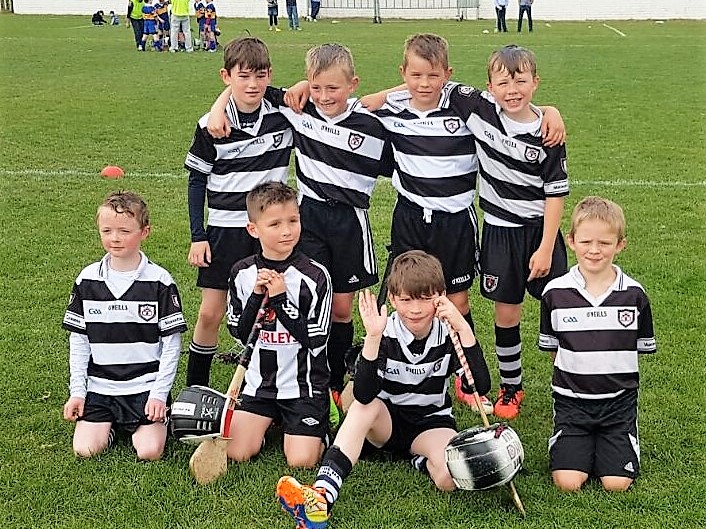 Fe 13
Midleton 7-11 v Youghal 0-2
On bank holiday Monday evening our lads hosted Youghal in the Premier 2 Football league. We started very brightly and got a few early scores from Mikey Finn and Dara Scanlon. With the majority of possession, our lads built up a big lead by halftime and defended very well when required. An outstanding team performance, everyone contributed and played their part, in a very one sided game. This league has proved very beneficial to our lads, growing in confidence and ability, and now with a semi-final to look forward to.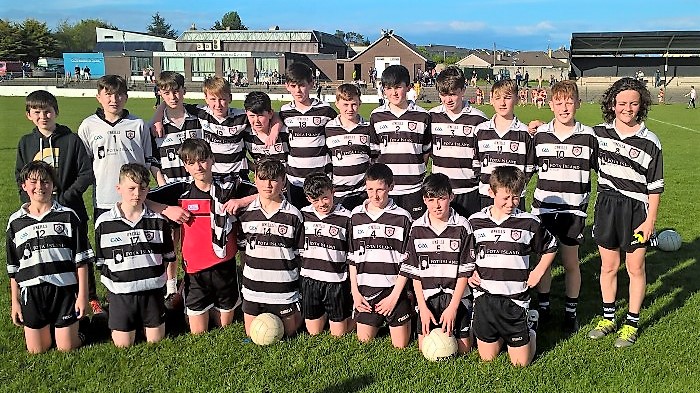 Midleton 2-07 v Blackrock 0-08
Always a tough encounter between ourselves and Blackrock, our lads improved on a draw last year by beating the Rockies, at home last week, in the P1 Hurling league. Having played excellent hurling throughout the first half we led by three points at halftime, with Brian O'Connell, Niall Lang, and Cathal Beausang standing out. Dara Scanlon, in his new role as goalkeeper, impressed with his puck outs and saves but couldn't prevent Blackrock from surging forward and leading with ten minutes remaining. Typical of this team, we dug deep and with graft and plenty skill, got the vital scores to run out winners at the end.
A great win, hard fought, and backed up with talent.
Ballincollig 2-08 v Midleton 2-04
We travelled to a spirited Ballincollig side, in the P1 Hurling league last Saturday afternoon, and unfortunately came up short. Playing against the wind in the first half, our lads played some great hurling and were level with the hosts at half time. Ballincollig hurled well in the second half and with our lads tiring, they pushed on to win the game by four points. It's a tough league, with most teams beating each other, but we're as good as any other team on the day. We're very proud of our lads who always give everything, and conduct themselves well. Roll on Douglas next weekend.
Panel from: Dara Scanlon, Riain de Barra, Fionn Dalton, TJ Murphy, Ben Kenneally, Odhran Prenter, Tiarnán Roche, Tadhg O'Leary, Michael Roe, David Cremin, Cathal Beausang, Odhran O'Mahony, David Green, Niall Lang, Mikey Finn, Brian O'Connell, Dara Fitzgerald, Alex Moloney, Evan McGrath, Tadhg Bohan & Alex Howard.
La na gClub
Big congratulations to our Health & Well Being Committee for all their hard work in organising the 'Midleton GAA Team' who took part in the Darkness Into Light Walk on Saturday morning last. Great to see such a great turnout for a 4.15am start. Thanks to all those who took part it was a great way to mark La na gClub in such a positive and meaningful way.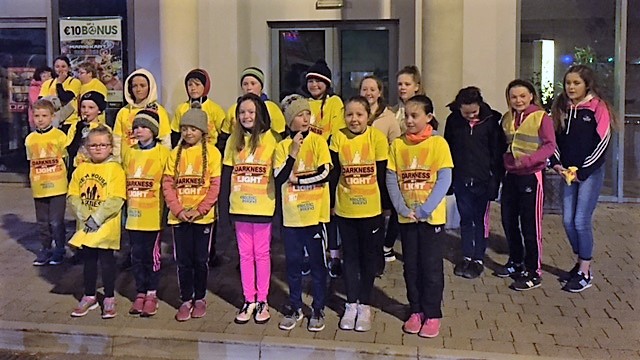 First Aid Training
Midleton GAA Club will run a First Aid Awareness Course on Wednesday May 10th from 7-9pm at the Club. To book a place on this course please email Liam Wade on secretarybng.midleton.cork@gaa.ie
Responding to Texts for Match Availability
We would like to remind parents of Juvenile players that it is very important to respond to texts issued by your son's team coach. A considerable amount of time is needed to arrange matches with other clubs for your son's participation and enjoyment. When fielding teams in leagues and competitions coaches need to know as soon as possible which players are, or in some cases are not available to play a given match. We would please ask parents to ensure that as soon as possible after receiving a text from a team manager that you respond and confirm if your son is, or is not available to play.
Club Shop
The Club Shop will be open each Saturday from 11-12.