Midleton Gaa, Camogie & Ladies Football Club News
19 March, 2017
Senior Hurling
Our hurlers had a very narrow victory over Killeagh last Thursday morning in Midleton by 0-16 v 1-12. We led at the break by 0-08 to 0-06 and had to work hard in the second half to withstand a late comeback.
Team: Tommy Wallace, Seanaidh Smyth, Aylwin Kearney, Padraig O'Farrell, James Nagle, Leslie Coughlan, Seamus O'Farrell, Sean O'Farrell, Eoin Walsh, Conor Lehane, Cormac Walsh, Cormac Beausang, Aidan Ryan & Luke O'Farrell.
Subs used Luke Dineen, Cillian Hurley, Michael Abernethy & Padraig O'Shea, not used Joe Loftus, Darren Quirke, Padraic Nagle, Gavin Bagnell, Billy O'Shea & Ian Kennefick
Referee Brian Murphy (Carrigtwohill)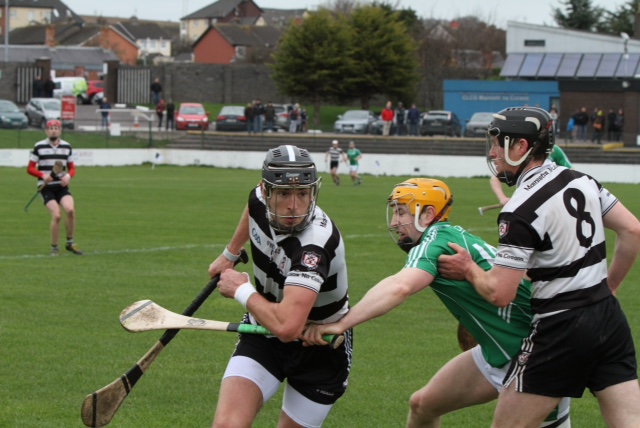 U21 Football
Our footballers defeated Castlemartyr in the first round of the East Cork Championship last Tuesday evening in Youghal after extra time by 4-16 to 2-08.
Team: Arthur Nganou , Luke Smith, Gavin Bagnell, Eoin Mitchell, Adam Daly, Luke Dineen, Seanaidh Smyth, Eoin Moloney, Kieran Moloney, Cathal Gunning (0-01), Sean O'Leary Hayes (1-01), Conor O'Neill, Padraig O' Brien (3-03), Cormac Beausang (0-07, 3 frees) & Luke Finnerty (0-03). Subs Conor Evans, Christopher Power, Jordan Roche, John O'Dwyer & Eoin Collins. Referee Jim Daly (Youghal)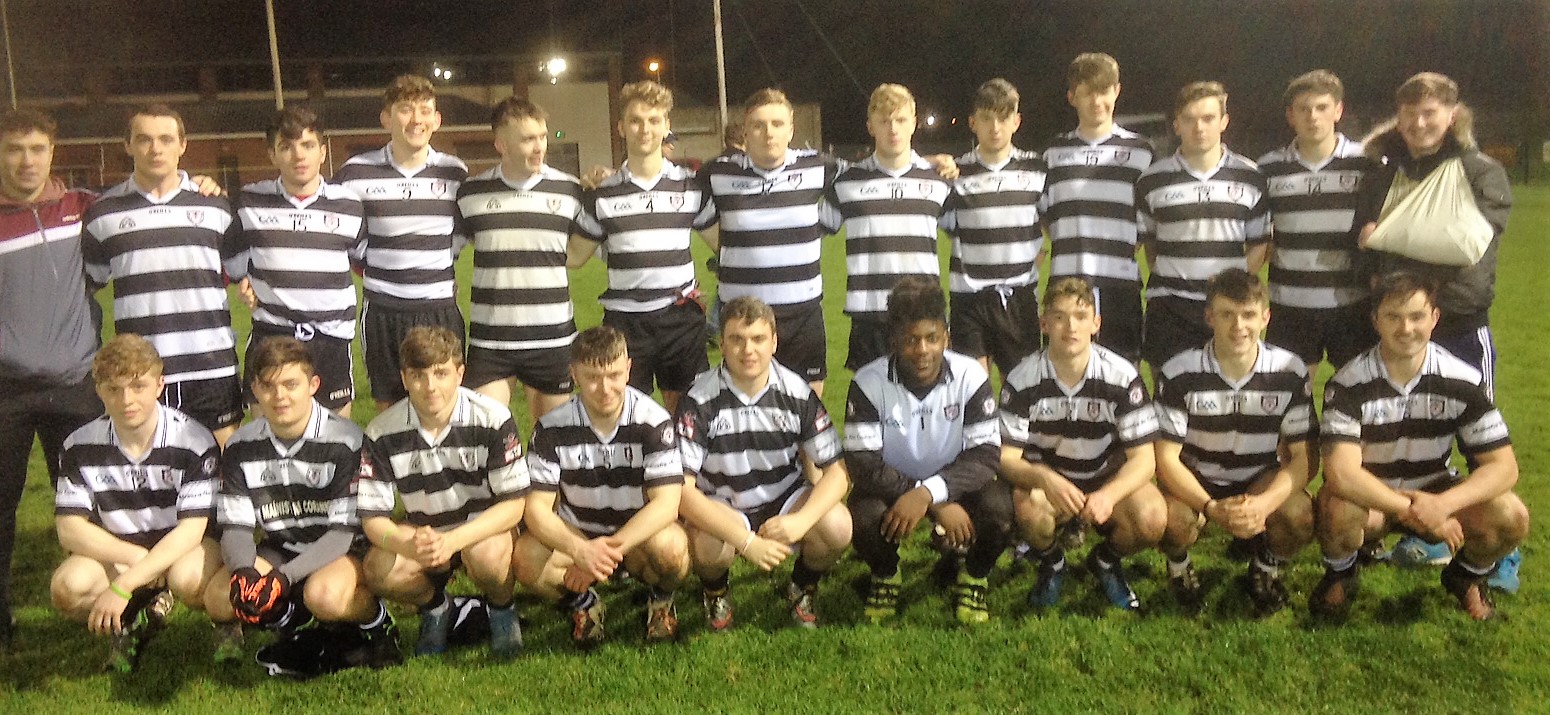 Then on Sunday morning last in Rathcormac we defeated Castlelyons in the quarter final by 4-08 to 1-03. The first half score was 0-07 to 1-00 in our favour having played with the wind, however in the scond half we turned on the style and ran out convincing winners. We now play Glanmire in the semi final on Saturday the 1st of April @ 5pm, venue to be decided.
Team: Conor O'Farrell, Luke Smith, Gavin Bagnell, Jordan Roche, Seanaidh Smyth (1-00), Luke Dineen, Shane Finn, Eoin Moloney, Sean O'Leary Hayes, Cathal Gunning, Cormac Beausang (1-04), Tommy O' Connell (0-01), Kevin Daly, Padraig O'Brien (0-01) & Luke Finnerty. Subs Conor O'Neill, Eoin Collins (1-00), Cian Murray (1-02) & Conor Evans.
Fixtures
Tuesday 21st Junior A Football League v Aghada in Rostellan @ 8.15pm
Saturday 25th - Junior A Football Championship v St Catherines in Youghal @ 5.30pm

Membership
Last Wednesday evening a good crowd attended a Special General Meeting regarding membership where it was decided that the rates for the coming year would be the same as last year. A number of meetings had been held over the past few weeks but with no agreement reached on the finances and with the time line for Registration fast approaching at the end of March the Executive had proposed the return to the 2016 rates.
Our Membership Rates for 2017 are as follows;
Adult: Waged, Player (Gym inclusive) €150, Adult: Student, Player (Gym inclusive €100, Adult: Unemployed, Player (Gym inclusive) €100, Adult: Waged, Non Player + Gym €150, Adult: Waged, Non Player (Without Gym) €80, Adult OAP > 66yrs €30.
Please contact our membership Officer Terence Mc McCarthy to arrange payment.
Ladies Football
Training for all age groups continues on Monday nights. U8's are at the Community Centre from 6-7pm. U10's upwards are at the Hockey Pitch from 7-8pm. Gum shields are now compulsory so please remember to bring them to training. We are looking for new players to come and join our Club at all ages. If you would like to come along and give it a go please contact Tracy on 087-6625544.
This year a number of our girls took part in the St Patrick's Day Parade. We would like to thank all the girls who took part and for behaving so well. We hoped ye enjoyed it. Thank you to the Parents who helped out. There are some photos on our Facebook page (Midleton Ladies Football Gaa).
U16 League Midleton v Watergrasshill
We had our first league game against Watergrasshill this morning. The girls had a very convincing win for their first outing, with the whole team and subs playing their part. The u14s who are now merging with the u16s for the league were very strong and well able for u16 level. Our next game will be in two weeks time.
Team: Amy O' Neill, Megan Kelly, Denise Collins, Rhia Buckley, Ellen Ryan,Leah Daly, Lizzie, Lucy Wallace, Ali Smith, Orla Evans, Lauren Hodnett, Katie Horgan, Rhianna Power, Lucy Keneally, Sadhbh Beausang. Subs: Clodagh Finn & Mischa Harkin.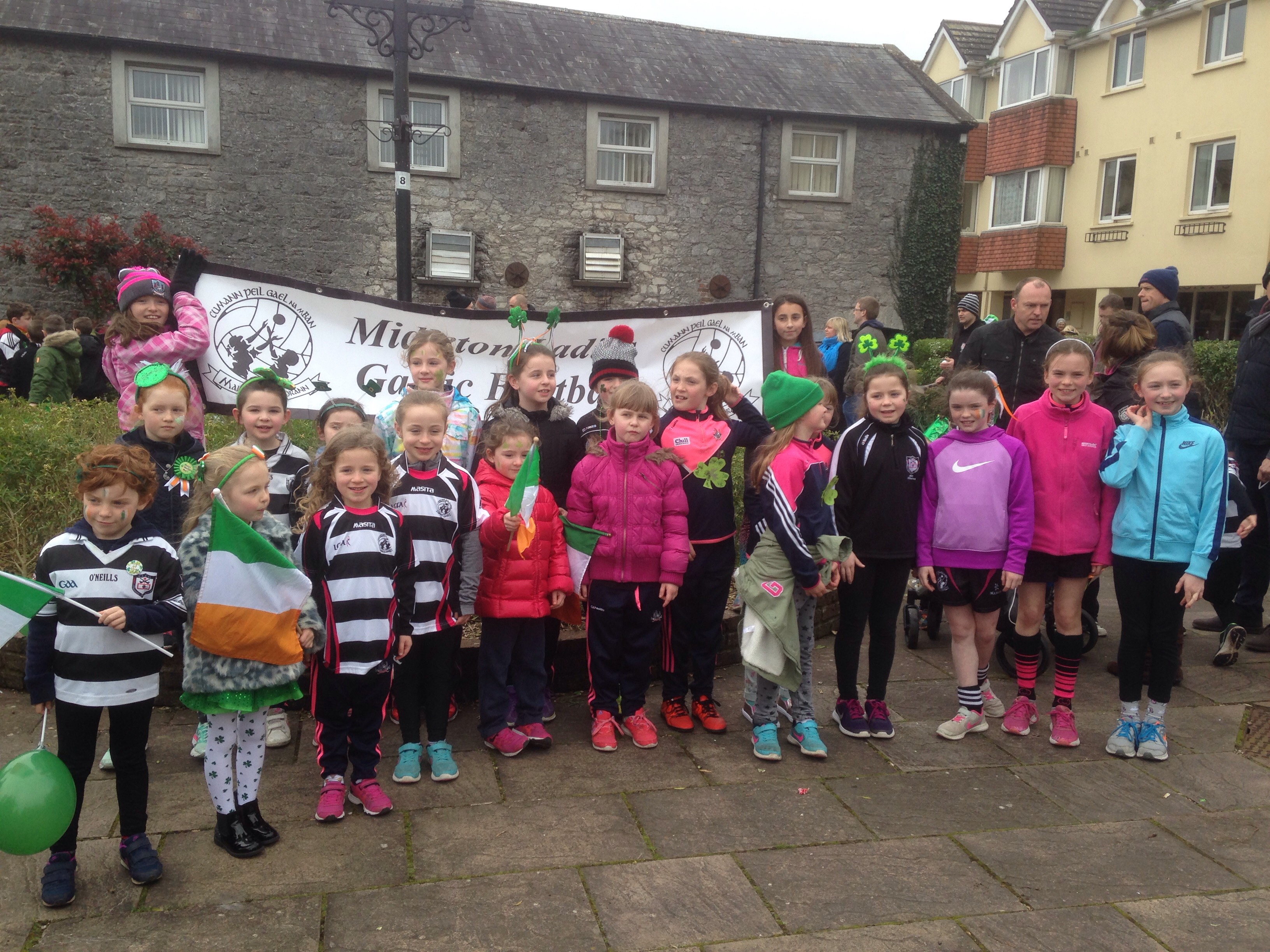 Camogie
Training times for the coming week:
Under 9's / 10's Friday evening Ballinacurra pitch 7pm-8pm, U 12: Tuesday evenings 6pm -7pm, Midleton All Weather pitch & Friday Ballinacurra pitch 7pm-8pm.
U14 /U16 : Tuesday 6pm -7pm, Midleton All Weather pitch & Friday Midleton Community Centre.
St Patrick's Day Parade - Thanks to all the girls and their families who came along to walk with the club for the St Patricks day parade, thanks to the Juvenile section of the club for facilitating the celebrations afterwards.
Registration for 2017 takes place this Friday evening 24th from 7pm – 8.30pm in the Midleton Community Centre. New players welcome in all age groups contact 087 6822916 with any enquiries.
Follow us on Face Book: Midleton Camogie and on twitter@Midleton Camogie Club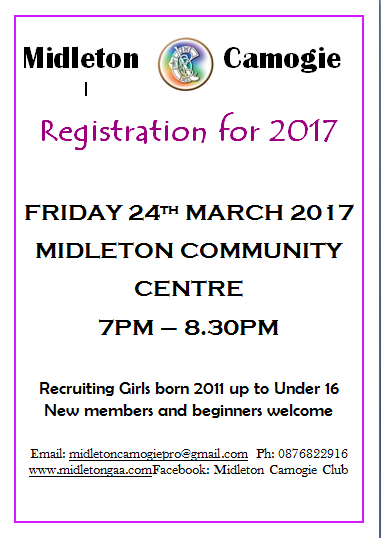 Lotto
Our Lotto Jackpot was €10,200, there was no winner, the numbers were 3,17,18 & 27, the Lucky Dip winners were Will Hodnett, Jim Tobin, Ellen/Dave Mc Crea, Bridgett Botrel & Paddy Fitzgerald, next week's Jackpot will be €10,400
Tickets are on sale at the Club Bar, O'Neills Bar, Linehan's Bar, Maple Leaf Bar, O' Farrell's Butchers, Frank Murphy Butchers, Pat Walsh Paints, Chadwicks, Teach Beag & Niall Mac's Bars.
The Online Lotto was launched on St Patrick's Day in the Club after the parade.
We would hope for your continued support for this very important fundraiser.
Logon to the Club homepage www.midletongaa.com to purchase your ticket.
BINGO takes place next Friday evening @ 8pm in the GAA Pavilion with a weekly guaranteed Jackpot of €1,000.
Job Vacancy
There is a Community Employment vacancy in the Midleton Gaa Club. If you have been in receipt of Social Welfare payments for twelve months and are interested in this job please call Margaret at 086 8501566.

Juvenile
Fe 10
On Saturday morning last, our Fe 10's took to the field for our first game in the Rebel Og hurling and football league. In a very competitive morning's football, our 30 young magpies never gave in to what was a very good Ballincollig outfit. The boys also showed great commitment throughout the morning. With a long year ahead I've no doubt that this committed bunch will improve with each training session and game they play. With matches now every Saturday, training will be limited to once a week. Practice at home is essential for the boys to improve their skills. The league continues next Saturday the 25th with a hurling match against Sars at home.

Fe 11
We started our extensive league programme on Saturday last with a home football match v Kiltha Óg, fielding two teams. While the pitch was in perfect conditions the wind made it difficult for both teams but to their credit both sides served up some excellent passages of play, it was great to see long accurate kick passing being used as opposed to the relentless hand passing that can sometimes plague the adult version of the game. Thanks to our young referees Evan Rowlands and Mark Daly whose job was made easy due to the sporting way both clubs approached the game. After an excellent hour entertainment we came out on top, a great start to the season for our boys. Our next outing is Tuesday the 21st when we play Aghada in a hurling challenge match in Rostellan. Followed by another visit to Rostellan on Sat next for our second football league match, time TBC.
Panel: Yohannis Mehigan, Tomas Dunlea, Paddy Walsh, John Paul McManus, James McSweeney, Callum McSweeney, Carthaigh Cronin, Luca Brodkorb, Sean McSharry, Philip Costigan, Jake Kirby, Senan Gleeson, Marcas Lambe, Peter Barrett, Daragh Egan, Conor Morley, Danile Garde, Ben Fitzpatrick, Jack Foley, Adam O Connor, Billy Keating, Gearoid Cashman & Fionn Kelly.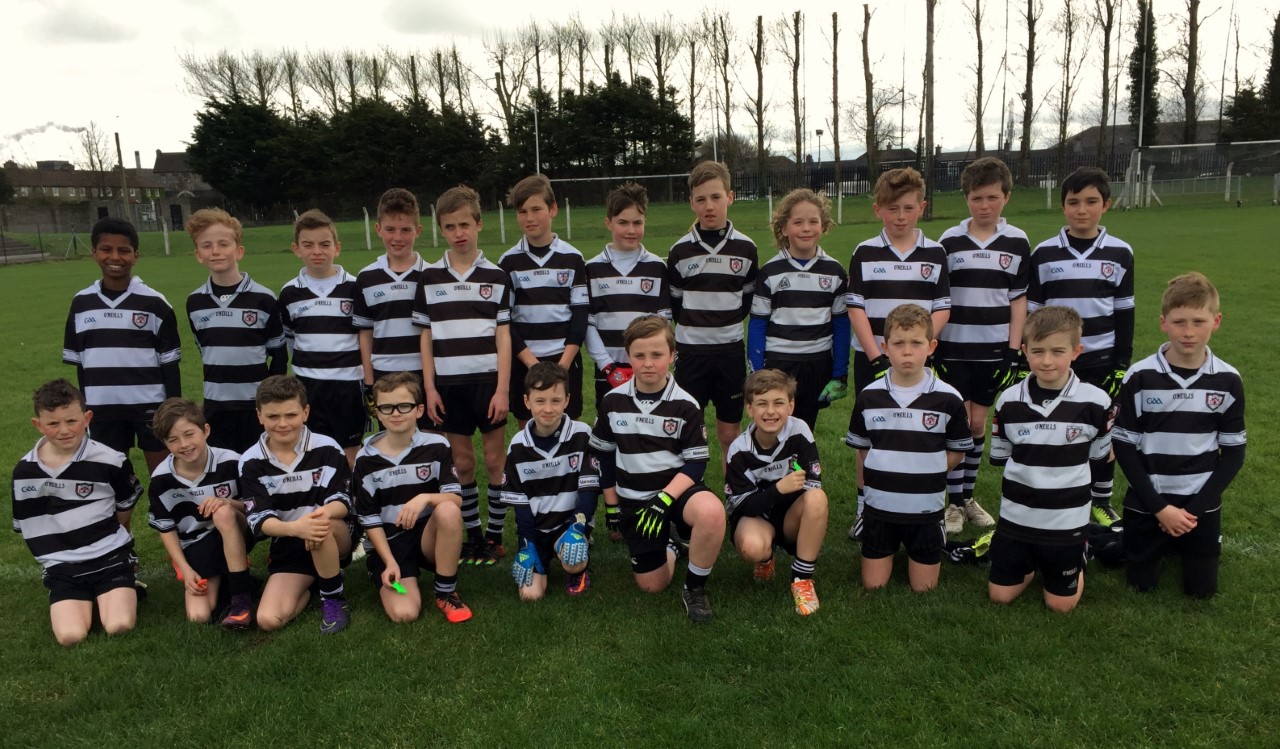 Fe 12
Our footballers started their league campaign with a fine win in Cobh on Saturday. The magpies travelled with a strong squad of 33 players, Cobh opted to play with the breeze in the first half but we opened well with the first score on the board with a fine goal from captain Zak Smyth, Cobh responded well kicking two fine points from play. Our backs kept their forwards at bay with Sean Cronin and Niall Lang doing a lot of running and defending well at times. Alex Moloney made some very good interceptions as Cobh kept piling on the pressure. Darragh Fitzgerald and Darragh Scanlon kicked two fine points to give us the edge. Tadhg O' Leary and Tadhg Bohane were playing well at midfield with Eoin Higgins kicking a fine point just before half time which left them with a score line of 1-4 to 4 points at half time.
We started very strong in the second half with Cain Lambe having a stormer kicking two fine goals in the space of two minutes, Eoin Higgins and Darragh Scanlon followed this up with two points each which really seemed to rally us when Cain got in for another goal and added two points to his tally. We made numerous changes in the second half with the substitutes making big impressions Thomas O Connor kicked a lovely point in the final minutes.
Final score Midleton 4-11 v Cobh 1-05.Scorers for Cain Lambe 3.02, Zak Smyth 1.0 Eoin Higgins 0-04, Darragh Scanlon 0-03, Darragh Fitzgerald & Thomas O Connor 0-01 each.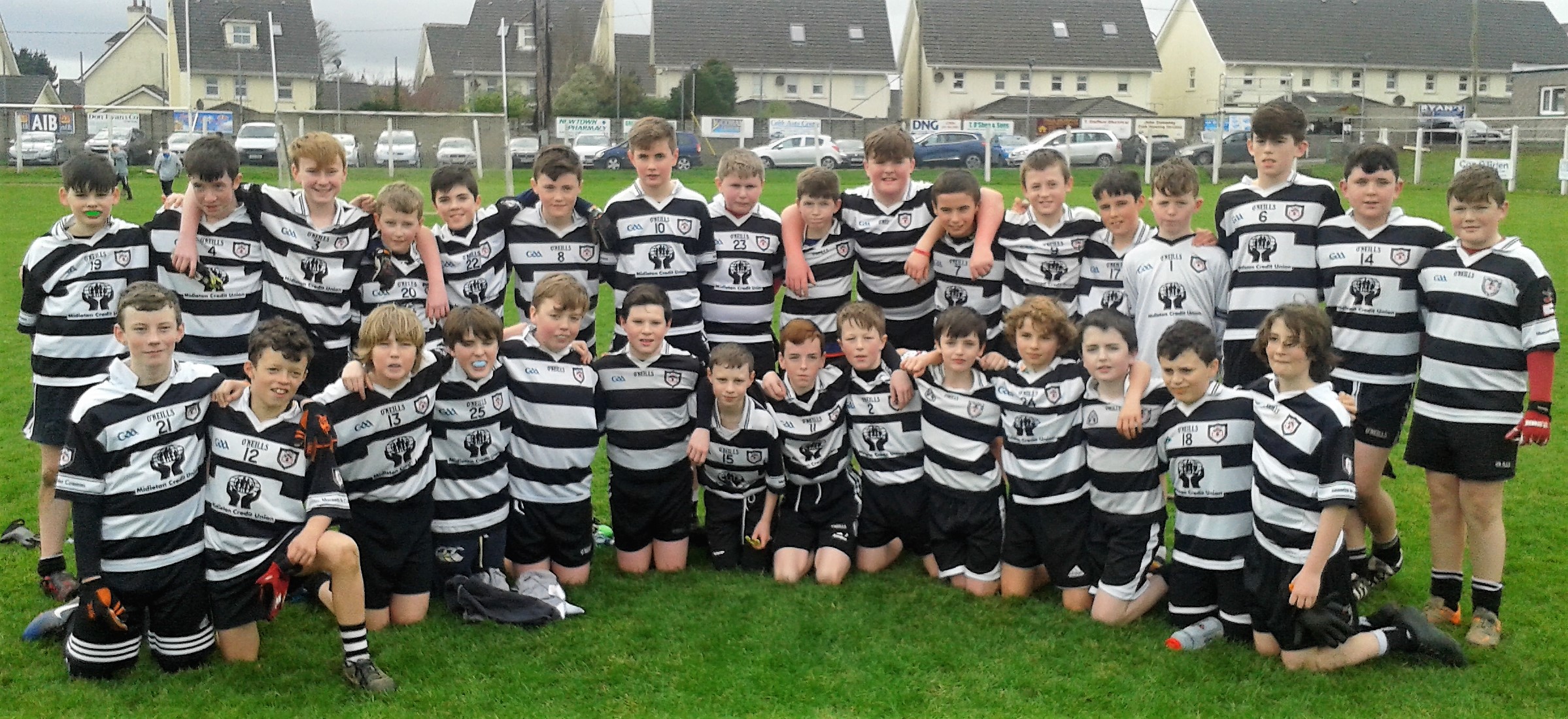 Fe 14
Our first competitive match of the season was played last Saturday in Sallybrook v Glanmire. They started in a frenzy and before five minutes had elapsed were two goals up and we were on the back foot. But as has happened many a times before with this special bunch of players there was no throwing in the towel. Brion Saunderson, Shay Bohan, Niall Corcoran, Fintan Greenwood, Adam Fay, Liam McGrath and Darragh McCarthy started to dominate in their respective positions. Darragh McCarthy was first to score with a kicked point. Adam Fay then slotted home a well taken goal. The final play of the half was a goal from the ever alert John Spellman (John's third goal in two weeks across hurling and football). The young Magpies had a number of opportunities in the closing ten minutes of the half to draw level but unfortunately their shots went just wide of the uprights.
Half Time score: Midleton 2-01 v Glanmire 2-04.
The second half started somewhat like the first, with Glanmire grabbing the initiative; they had three unanswered points. Our forwards on a number of occasions in the second half cut through the Glanmire backline but the final shot on goal's was just not being converted into a score. Darragh McCarthy's two points and a cracking goal from an always busy Ciarmhac Smyth were the Midleton scores during the half. Great credit to Evan Kelly, Neil Fitzgerald, Darragh Codd, Daire Mooney, Rory Hartnett and Ben O'Neill for their never say die attitude. Full Time score: Midleton 3-03 v Glanmire 2-14.
Panel: B Saunderson, N Corcoran, F Greenwood, N Fitzgerald, D Codd, F Greenwood, E Kelly, A Fay, L McGrath, C Murray, D McCarthy (0-03), K Rowlands, R Hartnett, B. O'Neill, , J Spellman (1-00), D Mooney & C Smyth.
Leading football scorers for the season thus far: D McCarthy (0-05), J Spellman (1-00), A Fay (1-00), C Smyth (1-00), B O'Neill (1-00), L McGrath (0-01), C Murray (0-01) & K Rowlands (0-01).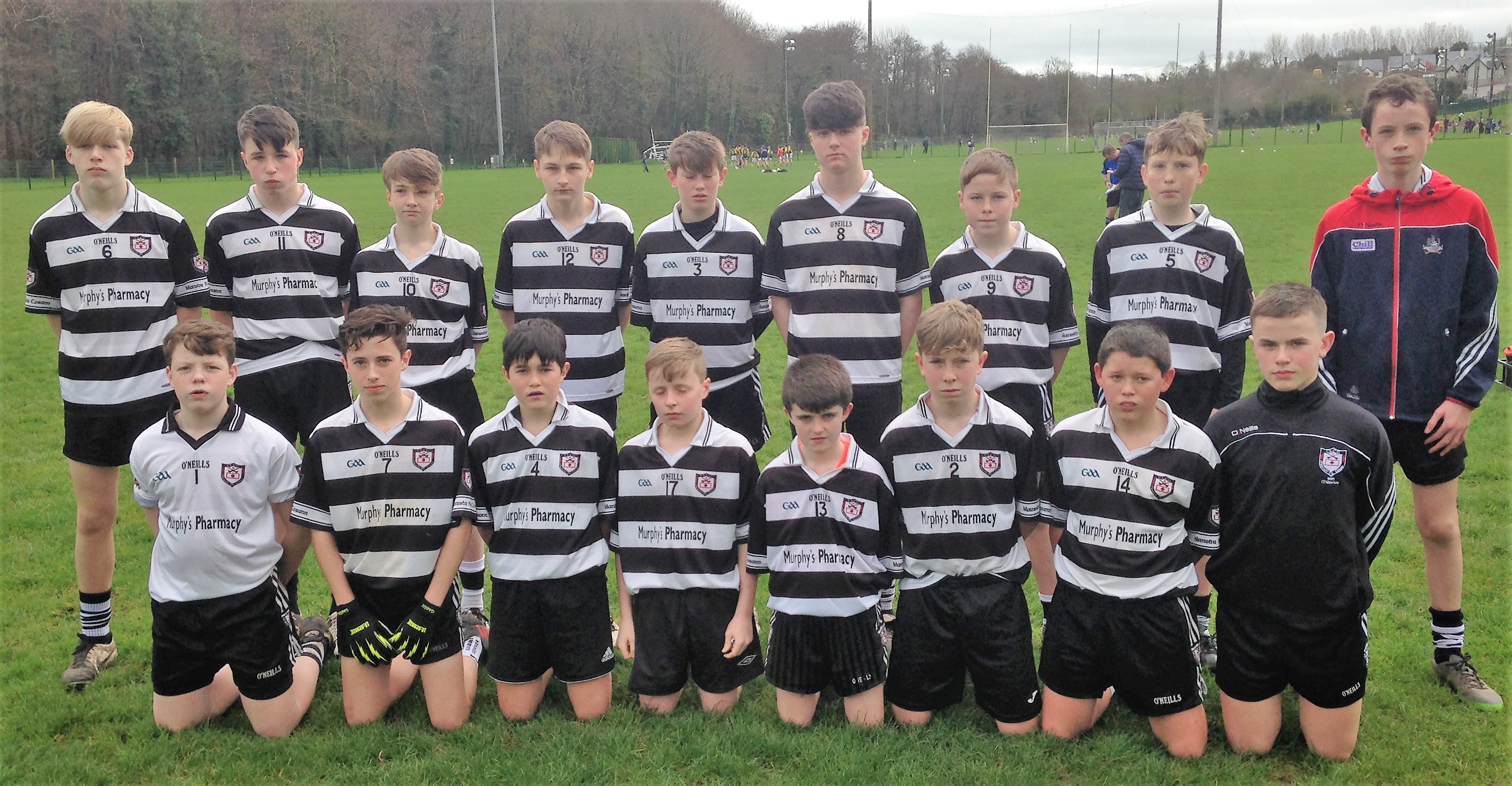 Fe 16
We travelled to Innishannon and Valley Rovers for our first match this year.
Football was the code and a stern test for the lads was on the cards. Valley Rovers started the stronger and took an early lead. We worked hard and despite a good deal of the possession went into half time well behind. The second half saw Valley Rovers come out strong and despite some fine scores from us the home side proved too strong.
Final score - Valley Rovers 5-16 v Midleton 2-05
Panel William O'Sullivan , Tim O'Sullivan, Christian Murphy, Dan O'Sullivan, Adam Meade, David Scanlon, Samuel Quirke, Cian Crowley, Aaron Mulcahy, Ethan Daly, Charlie Walsh, Gary Carroll, Rory Donegan, Jack Fitzpatrick, Conor Fitzgerald, Gavin Reddy, Patrick Kane, Paul Connaghton & Leo Hennessy.
Juvenile Registrations
Juvenile Registration will take place in the GAA Club on Wednesday the 29th of March from 7.00pm – 9.30pm. Coaches will give out registration forms this week at training. We would ask that parents complete these forms and bring them along to the Club completed on Wednesday the 29th of March. Kindly ensure that your son signs the player section on the new registration form. We would ask that you bring exact monies due for your son(s) membership, we will have a large number of players registering and want to ensure we don't run into difficulties trying to give change. There is a facility to pay on line, as we only have one payment machine, we would ask you to be patient if choosing to pay by this method. The Juvenile membership rates for 2017 are as follows; Coaches & Committee Members €80.00 Membership, Players Rates: 1st Child €70.00/ 2nd Child €50.00/ 3rd Child €40.00, First Child of a Team Mentor of Fe11 down: 1st Child €20.00/ 2nd Child €50.00/ 3rd Child €40.00.
Please note that Fe6 players who registered in October are already registered for 2017 and do not need to attend this registration evening. This registration is for Fe7-Fe16 players and all Juvenile Coaches and Juvenile Committee members of the Juvenile Club.
Young Whistler Referees Workshop
On Tuesday the 14th of March Midleton GAA Club together with Rebel ÓG hosted a young whistler referees workshop. This training was facilitated by Pa Beausang and Shane Supple, GDA Rebel ÓG. The course had over 80 in attendance. The leagues for the Fe9's, Fe10's and Fe11's all got underway on Saturday March 18th.
Code of Behaviour Underage
Midleton Juvenile Club, Midleton Camogie Club and Midleton Ladies Football Club have adopted a Code of Behaviour for our Underage players aged 5 to 18 years. The document outlines the main points of the code of ethics, conduct & practice for all club officials, officers, members, mentors, players, parents/guardians associated across all Clubs.
We encourage all our members to review this information and familiarise yourself with the standards expected by and in the club. membership
Club Shop
The Club Shop will be open on Saturday next from 11 to 12.