Midleton Gaa, Camogie & Ladies Football Club News
05 March, 2017
Senior Hurling
Our hurlers got their League campaign off to a great start with a convincing win over County champions Glen Rovers in the Glen field last Saturday afternoon by 3-15 to 2-11. In bitter cold conditions we hurled very well and led at the break by 2-07 to 1-06.
We carried on the second half as we finished the first and ran out deserved winners.
Team: Tommy Wallace, Seanaidh Smyth, Aylwin Kearney, Padraig O'Farrell, Padraig O' Keeffe, James Nagle, Elliot Mulcahy, Seamus O'Farrell, Leslie Coughlan, Eoin Walsh, Padraic Nagle, Cormac Walsh, Cormac Beausang, Cillian Hurley & Michael Abernethy.
Subs used Sean O'Farrell, Luke Dineen & Gavin Bagnell, not used Sean O'Meara, Padraig O'Brien, Adam Daly & Padraig O' Shea.
Inter County Hurling
Last Sunday afternoon in Nowlan Park Kilkenny the Cork senior hurlers were defeated by the hosts on a score line of 0-22 v 0-15 in the Allianz League. The first half was very even with the hosts leading by the mininium at the break 0-11 to 0-10 but despite Cork levelling the game Kilkenny raised the tempo and took control and ran out convincing winners.
Kilian Burke played at corner back, Conor Lehane at centre forward scoring 0-10 (4 frees, 3 65's) and Luke O'Farrell was a late substitute.
Minor Football
Last Wednesday evening in Na Piarsaigh our footballers had their second victory in the Premier 2 League with a win over the hosts by 1-06 to 1-05.
Team: Conor O'Farrell, John O Dwyer, Sean O'Sullivan, Luke Smith, Kevin Finn (1-00),Eoin Mitchell, Mark Daly , Eoin Moloney (0-05, 3 frees), Shane Finn , Christopher Power ,Tommy O' Connell (0-01), Cathal Gunning, Sean O' Leary Hayes ,Arthur Nganou. Subs used Cormac O'Brien, Griffin Hurley & Evan Rowlands.
Fixtures
Wed 8th @ 8pm - Fe 21 Football Championship v Castlemartyr in Youghal
Sat 11th @ 4pm - Senior Hurling League v Youghal in Youghal
Sun 12th @ 3pm – Intermediate Hurling League v Blackrock in Midleton
Fri 17th @ 11:30am – Senior Hurling League v Killeagh in Midleton
Sun 19th @ 12 - Junior A Football League v Lisgoold in Lisgoold
Last Man Standing
In week four a defeat for Man Utd took out 120 odd punters leaving about 200 still alive.

Ladies Football
Training for all age groups continues at Midleton Hockey Pitch. Welcome back to our U12's after their break. New Players are always welcome to come and join our Club. Come along to our training nights and take part to see if it would be of interest to you.
U8's are from 6-7pm at the Community Centre while our U10's upwards are from 7-8pm at the Hockey Pitch. Check out our Facebook page- Midleton Ladies Football Gaa for all upto date information regarding our Club.
Junior Ladies v Dohenys League
A tough opening encounter against Dohenys in the Cork Junior League Round 1. A panel of 18 made the long road trip earlier today in horrendous conditions to the West Cork town of Dunmanway. On a very heavy pitch we found the going extremely tough playing into a gale force wind. Our first game of the season our touch was away off and we allowed Dohenys too much room in that opening half. Tried as the girls did we just couldn't contain them. We did make a few worthwhile ventures into the oppositions half and one such move resulted in a fine point from the boot of Molly Beausang. Kate Mary in goal was the busiest player on the pitch and only for her the score would have been very painful at the break. 4:5 down at the break was a good result considering the conditions.
In the second half we started brightly and took the game to Dohenys. We played much better in the second half and outscored our opposition by 1:3 to 1 goal. The goal was a screamer from Claire O'Brien, with our full back Lucy also getting in on the scoring with a fine point. Abby Quirke finished off a fine passage of off the shoulder passing with a point which she started and ably assisted by Niamh O'Farrell who also scored a fine point. The wind dying off also didn't do us any favours, but a much better performance in the second half.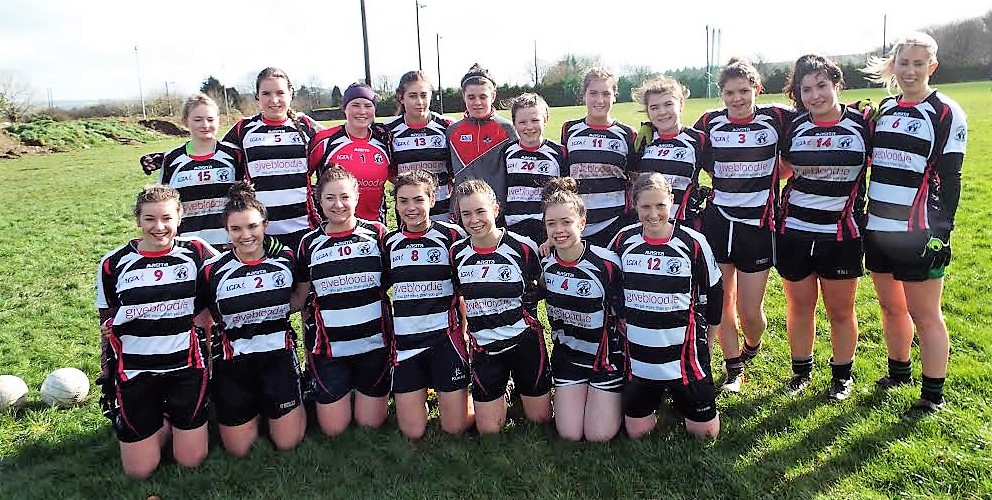 Camogie
Over the past week we began the playing season with two challenge games. All members of our U13/14/15 and 16 groups have participated in these games. On Wednesday evening last the girls took on Cobh away under lights. Conditions were very cold, windy and occasional heavy showers but it did not deter our girls who all played with tremendous determination and work rate against a side a grade above them. With a constant stream of players swapping in and out the girls lost out by just two points. All the girls were outstanding.
Next up on a very cold, windy and showery Sunday morning on Carrigtwohill's all weather surface we met the Imokilly U14 divisional side. The girls continued on from the Cobh match and over 3 x 25 minute periods put in a phenomenal effort in very tough conditions and were very unfortunate to lose out again by 2 points. All the girls played superbly including Caoimhe Murray who lined out for Imokilly, with some outstanding individual Midleton performances, that no doubt Imokilly selectors could not have but noticed. With the level of commitment shown by the girls over the last week in terrible weather conditions, been amazing it promises to be a busy and long year ahead and we look forward to seeing the girls playing Camogie under some "normal" conditions soon. Well done girls.
Training times for the coming week:
Under 8's: Friday 7-8pm Midleton Community Centre. Under 9/10's: Friday 7pm- 8pm, Ballinacurra pitch...weather permitting. Under 12's: Tuesday evenings 6pm -7pm, Midleton All Weather pitch. Under 14's & Under 16's: Tuesday evenings 6pm - &pm Midleton All Weather pitch and on Friday evening in Midleton Community Centre, 8pm -9pm.
New players welcome in all age groups contact 087 6822916 with any queries.
Follow us on Face Book: Midleton Camogie and on twitter@Midleton Camogie Club
Scor na nÓg
Representing CLG Mainistir na Corann recently in Scor na nOg were: Aine O' Neill, Luke Galligan, Amy O' Neill and Caoimhe Hartnett.
Irish Traditional Night
Great Trad session and singing session on next Friday 10th March in Midleton GAA clubhouse at 9.30p.m. and a special fáilte for those with ceoil or cúpla focal. Beidh Oíche Ghaelach le ceol amhranaíoch i gClub CLG Mhainistir na Corann Dé hAoine seo chughainn ag 9.30.i.n.. Fáilte roimh chách.'
Fair amach /Watch out for next week, Tráth na gCeist Bord do chlanna / Bilingual family Table Quiz, Féile Lá 'le Pádraig / St Patricks Festival, Scéalaiocht na nóg / Bilingual storytelling for children 1- 7, Go raibh maith agaibh, Scaip an focal led thoil / Spread the word please.
Condolences
The Club Executive would like to express their deepest sympathy to the family of late Con O' Brien, Ballinascarta, father of Strictly dancer Mary O'Farrell and grandfather of minor player Conor.
Lotto
Our Lotto Jackpot was €9,800, there was no winner, the numbers were 17,20,21 & 22, the Lucky Dip winners were Darragh O' Keeffe, Martin O' Brien, Matthew & Jack Mc Sweeney, Aylwin Kearney & Olive Maguire, next week's Jackpot will be €10,000
Tickets are on sale at the Club Bar, O'Neills Bar, Linehan's Bar, Maple Leaf Bar, O' Farrell's Butchers, Frank Murphy Butchers, Pat Walsh Paints, Chadwicks, Teach Beag & Niall Mac's Bars.
BINGO takes place next Friday evening @ 8pm in the GAA Pavilion with a weekly guaranteed Jackpot of €1,000.
Juvenile

Fe 14
Midleton v Dicksboro (Kilkenny) Hurling Challenge Game.
Our Fe 14s travelled to Kilkenny on Sunday last to support the Cork senior hurling team as they took on the might of Kilkenny. Prior to the senior game we had our own 'big game' versus Dickboro. Dicksboro is located on the outskirts of Kilkenny city. The persistent rain that we encountered as we travelled through Tipperary had completely disappeared as we arrived into Kilkenny. So near perfect conditions were in place as the game began. Darragh McCarthy hit a purple patch for the first 15 minutes of the game. He scored all of our first four points. Alex Quirke registered his first score of the day with a superb long distance point. This was followed by a point from Cian Murray who soloed into a scoring position and then neatly slotted the ball between the uprights. The last score of the half was a goal from Ben O'Neill. Ben collected the ball on the 20 meter line and calmly dispatched the ball to the back of the Dicksboro net. Half Time Score: Midleton 1-06 Dicksboro 1-01
The second half had only just started when Alex registered his second point. Rory Hartnett was next to score and this was followed by a point from the ever improving Evan Kelly. Darragh McCarthy finished the game with our final two scores, a cracking goal and a deft point. There were some fine performances on the day. Players to shine included Fintan Greenwood, Craig Collins, Adam Fay, Liam McGrath, Darragh Codd, Darragh Mooney & James Condon. Final Score: Midleton 2-10 Dicksboro 2-02.
Panel: B Saunderson, J O'Sullivan, F Greenwood, N Fitzgerald, A Fay, C Smyth, E Kelly (0-01), A Quirke (0-02), L McGrath, C Murray, D McCarthy (1-05), K Rowlands, R Hartnett (0-01), P Magan, B. O'Neill (1-00), E McCarthy, J Condon, C Collins D Codd, K Barry, D Mooney & J Spellman.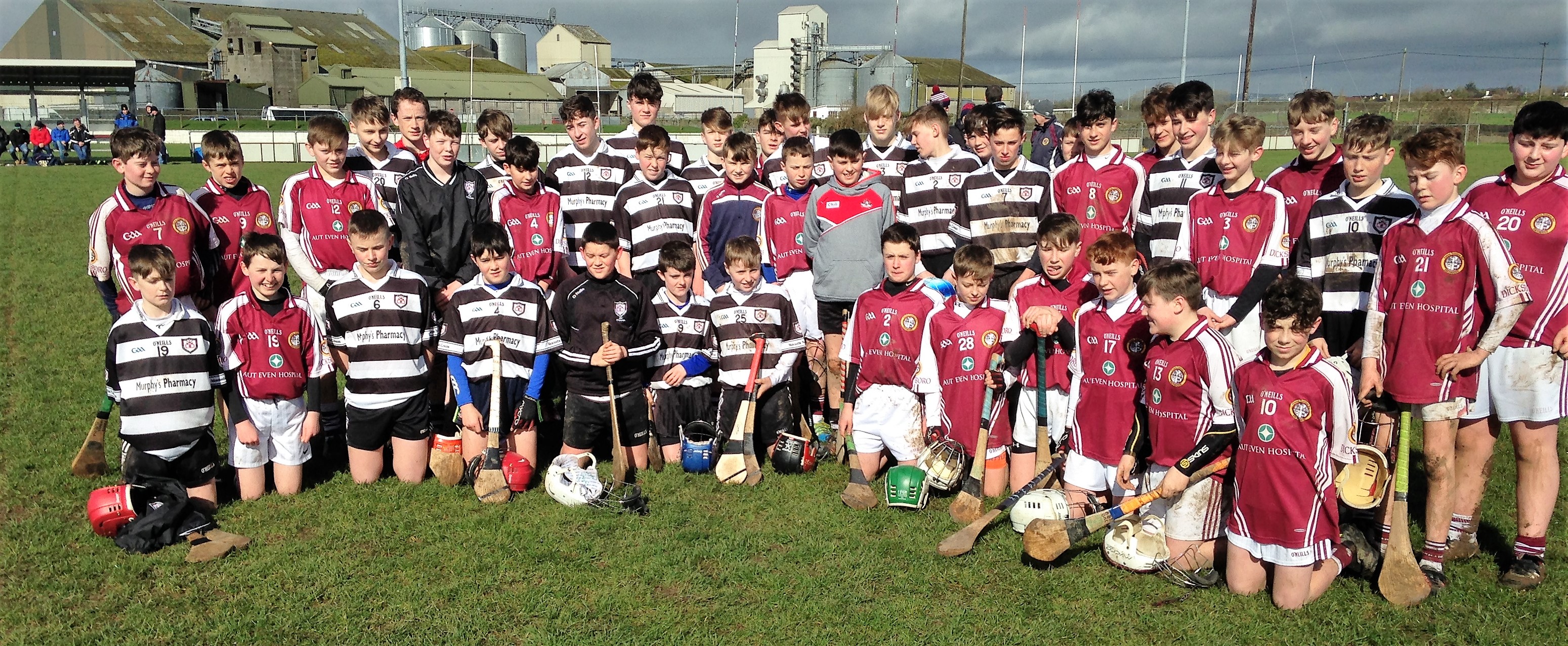 Code of Behaviour Underage
Midleton Juvenile Club, Midleton Camogie Club and Midleton Ladies Football Club have adopted a Code of Behaviour for our Underage players aged 5 to 18 years. The document outlines the main points of the code of ethics, conduct & practice for all club officials, officers, members, mentors, players, parents/guardians associated across all Clubs.
We encourage all our members to review this information and familiarise yourself with the standards expected by and in the club. membership
Foundation Training Course, Midleton GAA Club
On Tuesday night last at Midleton GAA Club we had over 20 coaches in attendance for the first night of their two-night course to complete their Foundation Training. The course was given by Shane Supple, GDA Rebel ÓG. The first night of Training focused on Theory, on Tuesday next the 7th of March at 7pm will see the coaches take to the ball alley for their final night to complete their training and achieve their coaching certificates. We would like to acknowledge of all these coaches for giving up their time over two nights.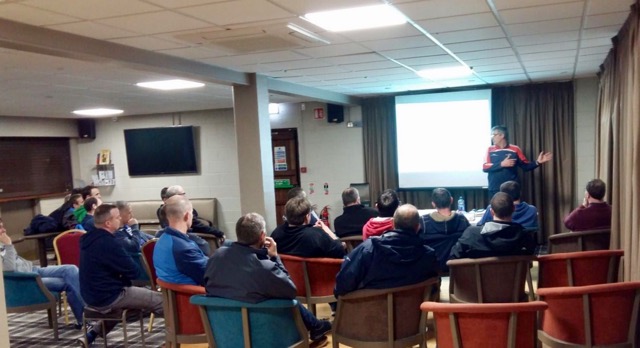 Young Whistler Referees Workshop, Midleton GAA Club
On Tuesday the 14th of March Midleton GAA Club will host a Young Referees Workshop in conjunction with Rebel ÓG. This training will be facilitated by Pa Beausang and Shane Supple, GDA Rebel ÓG. The course will take place in the Club Lounge from 7-9pm. This will be Midleton GAA Clubs second year to host such a training course and we would like to pay particular thanks to Pa Beausang for giving of his time to train all the Young Whistler Referees who will take part in the various up and coming juvenile Rebel ÓG leagues commencing in the next few weeks.
St. Patrick's Day Parade
Our Underage players will march in the St Patrick's Day Parade again this year. The Parade starting time is 3pm and a time for assembly will be TEXTED out to all parents closer to the date. We will march back to the Clubhouse afterwards where refreshments will be served for both players and parents.
Club Shop
The Club Shop will be open on Saturday next from 11 to 12.