Midleton Gaa, Camogie & Ladies Football Club News
19 February, 2017
Inter County Hurling
Last Saturday evening the Cork senior hurlers were very disappointingly defeated by Dublin in round 2 of the Allianz League in Pairc Ui Rinn. On a perfect night for hurling and despite taking an early lead of 0-04 to 0-01 the Dubs kicked on and won by 2-19 to 1-14. Killian Burke played at corner back, Conor Lehane (0-01) and Paul Haughney were both second half substitutes.
Junior Football
Our footballers continued their winning ways in the East Cork League last Saturday afternoon when they overcame the challenge of hosts Russell Rovers in Shanagarry by 2-08 to 1-08.
Team: Patrick Dunlea, Lesie Coughlan, Eoin Walsh, Sean O'Farrell (0-01), Seanaidh Symth (0-01), Cillian Hurley, Darren Quirke, Aidan Ryan, Padraig O'Farrell (0-01), Cormac Walsh, Cormac Beausang ,Alan Stanton, Brian O'Sullivan (1-00), Johnny Comer (0-05, 4 frees) & Brendan Ferriter. Subs used Seamus O Farrell, Conor O'Neill (1-00), Declan Ryan, Patrice Tschmanga and Michael Kitching.
Retirement
The Club executive would like to wish Michael & Phil Butler the very best on their recent retirement. For forty odd years they have been ferrying our teams throughout the county and country and also looked after the Bingo "runs" each Friday night.
Jury's Croke Park Hotel
JURYS CROKE PARK HOTEL are offering an incentive to GAA clubs whereby the hotel will donate funds to any club nominated by a person who stays in the hotel. They will donate 5% of the amount spent in the hotel and recently we were the recipient of one such donation. Many thanks to the person who nominated Midleton GAA club during their recent stay there.
Ladies Football
Well Done to the Cork Senior Ladies on their great win over Dublin by 2-11 v 1-08.
Training continues next week for most age groups. Our U12's will return on March 6th, a text will be sent to all Parents confirming this.
Orlagh Farmer & Orla Finn Cork Senior Footballers will hold a Football Camp (girls & boys) on Thurs 23rd Feb at Midleton GAA Club from 10am-2pm. Pay €10 on the day...to book a place text Orlagh 086-3509870.Keep an eye on our Facebook page for all up to date information on our Club - Midleton Ladies Football Gaa.
Health & Wellbeing
Last Saturday members of our Healthy Club Team attended the GAA Healthy Clubs Munster Roadshow. GAA Clubs from all over Munster were invited to Nemo Rangers GAA Club where Croke Park's Healthy Club team of Aoife, Colin, Stacy and Ronan together with GAA Ambassadors Mickey Harte, Michael Fennelly, Cillian O'Connor and Anna Geary showcased the work of the Healthy Club Project thus far – the focus areas were Physical Activity (Michael Fennelly), Mental Fitness (Cillian O'Connor), Healthy Eating (Anna Geary) and Community (Mickey Harte).
Under the Mental Fitness banner St Finbarr's and ourselves both spoke on how they came together off the pitch to collaborate with the HSE to run a hugely successful 6 week course "Cork Beats Stress" in 2014. This was such a success that we ran a second course in early 2016. It was stressed how important it is to support one another and it was agreed that GAA clubs are in a position to do this as our clubs are embedded within communities.
Our near neighbours Killeagh Healthy Club team spoke on Healthy Eating and they provided us with a delightful snack "protein balls" this recipe will be on our website www.midletongaa.com/healthyclubproject
The roadshow was fantastic, great atmosphere, very informative speakers and some wonderful food!! – well done to Aoife and the guys in Croke Park for putting this together.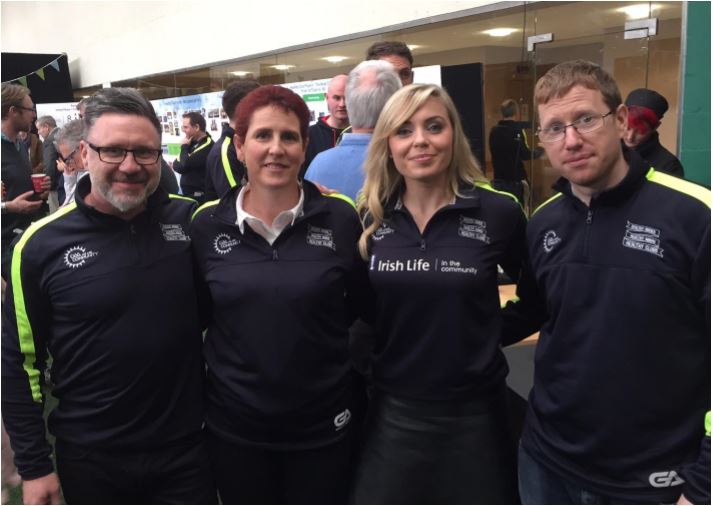 Paul O' Meara, Mairead Beausang, Anna Geary & Cian Mc Carthy
Lotto
Our Lotto Jackpot was €9,400, there was no winner, the numbers were 5,8,9 &11, the Lucky Dip winners were Catherine Desmond, Olive Maguire, Karen O Brien, Valerie Connors Fogarty & Seamus Murphy, next week's Jackpot will be €9,600.
Tickets are on sale at the Club Bar, O'Neills Bar, Linehan's Bar, Maple Leaf Bar, O' Farrell's Butchers, Frank Murphy Butchers, Pat Walsh Paints, Chadwicks, Teach Beag & Niall Mac's Bars.
BINGO takes place next Friday evening @ 8pm in the GAA Pavilion with a weekly guaranteed Jackpot of €1,000.
Juvenile
Fe 14
With the last five weeks our Fe 14's have been back training twice a week. Our Wednesdays session is spend in the Station Gym for a full hour of intensive physical exercise with a professional trainer. The panel are finding these sessions very beneficial and the feedback so far from the players is that they are feeling much stronger as a result of these gatherings.
One hour on Saturdays is set aside for both hurling and football training on the Tech field. We have been extremely lucky so far this year in that the Midleton hurlers that are currently on the Cork Senior hurling panel have taken turns to take time out of their busy schedules and attend our training sessions. Killian Burke attended the first week followed by Paul Haughney, Conor Lehane and Luke O'Farrell. Not only have our Fe14 players benefited from their experience and expertise but the our trainers have also picked up some great hurling drills. A really big thanks to the four boys for helping us out.
Midleton V Youghal, U14 Hurling Challenge Game.
Our first game of the year was played last Sunday February 19th in Copper Alley versus a very competitive Youghal side. Field conditions for this time of the year were quite good so it contributed to a very worthwhile game. It was only a couple of minutes old when Darragh McCarthy registered our first score of the year; a point from a free. Darragh followed up with another point, again from a free before James Condon struck a great goal from play which was well taken as it was from a very acute angle. We were playing very well as this stage. Ciarmhac Smyth, James O'Sullivan and Evan Kelly were prominent in defence. Cian Murray was industrious at midfield while Ben O'Neill and Rory Hartnett were winning a lot of ball in the inside forward line. We finished the first half with points from Phelim Magann (1) and Darragh McCarthy (2). Half Time score Midleton 2-05 v Youghal 1-03.
The very high standard of hurling resumed again with the second half. A spirited Youghal team took a hold of the game. Brion Saunderson brought off at least one great save. Adam Fay, Fintan Greenwood and Neil Fitzgerald kept their concentration to prevent Youghal from converting a lot of their possession into scores. Darragh Codd and Kelvin Barry also worked very hard around the center of the field. Midleton had a very strong final quarter of the game. A point apiece from Darragh McCarthy and Phelim Magann was followed with the final score of the game a goal from Darragh McCarthy. Final Score: Midleton 3-06, Youghal 2-05.
Panel: B Saunderson, J O'Sullivan, F Greenwood, N Fitzgerald, A Fay, C Smyth, E Kelly, D Codd, C Murray, K Barry, D McCarthy (2-04), J Condon (1-00), R Hartnett, P Magann (0-02) & B. O'Neill.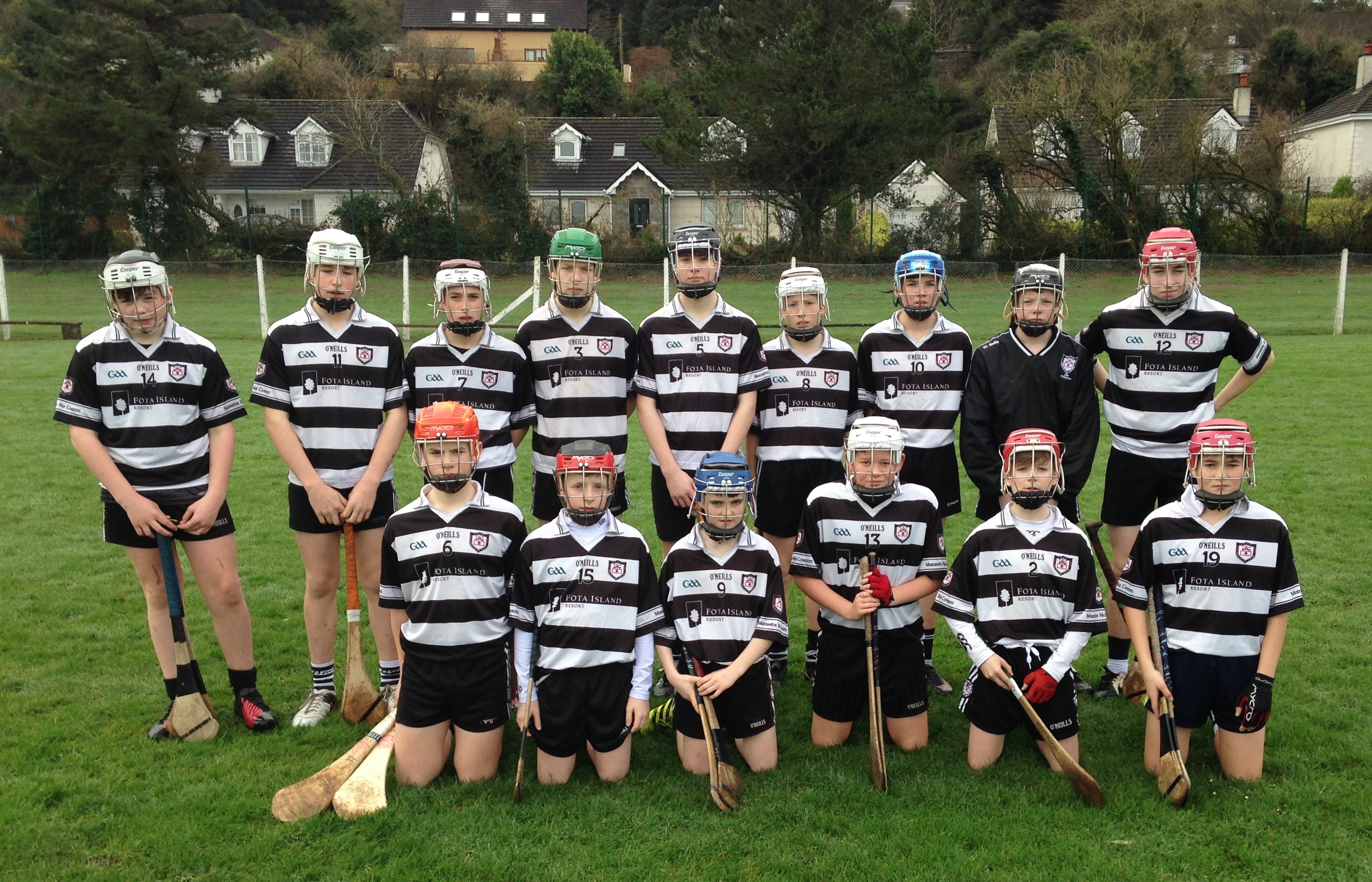 Child Protection & Welfare Training Course
To facilitate the new coaches across the clubs Midleton GAA will host a Child Protection & Welfare Training Course on Tuesday the 21st of February from 6.45 to 9.30pm at Midleton GAA Club. To book your place on this course please email Ingrid Connaughton, Childrens Officer Midleton GAA Club on childrensofficermidletongaa@gmail.com or via text on 087 6374748.
Child Protection & Welfare Training together with Garda Vetting and Foundation Training certification are mandatory requirements to coach in Midleton GAA Club.
Workshops for Coaches of Youth Players - Physical Preparation of Youth Players (13-18)
Dr Wesley O' Brien (UCC) will host a series of workshops aimed at coaches of youth players aged 13-18 years old at three different venues during the month of February.
These workshops will be practical sessions where coaches can watch Wesley roll out a typical coaching session through exercises and routines, specifically aimed at preventing injury and improving overall physical fitness among youth. Club coaches will be able to explore standard physical fitness norms for teenage players and measure key performance indicators over time. Topics to be covered;
Warm-up considerations, Injury prevention strategies, On-field body weight conditioning exercises for training, Assessing players physical fitness for coaches.
Mallow 21st February 7pm - 8.30pm
For more information and to book your place please click on the link below.
http://rebelogcoaching.com/workshops/
Foundation Training Course, Midleton GAA Club
We are running a Foundation Training course at the Club on Tuesday the 28th of February and Tuesday the 7th of March at 7pm. The course will be facilitated by a Rebel Og Tutor. In order to attend Foundation Training you need to Garda Vetted and have completed the Child Protection Awareness Training. To book your place on this course please email Ruth Walsh, Juvenile PRO at walshruth100@gmail.com.
Please note that this is will be the only Foundation Course running at Midleton GAA this year.
Rebel Og Nursery Workshop
On Saturday 25th February Rebel Og Coaching will host a Coaching Nursery (4-7 yr olds) Coaching/Best Practice Workshops in RANDAL ÓG followed by one in MALLOW (a choice of 2 venues to pick from).
Stephen Behan: Former GPO of Clontarf GAA (Biggest Nursery in Dublin)
Kevin Murray: Coaching Movement and experienced child coach
Dr Wesley O' Brien: Lecturer and expert in Child/Youth Movement
This is a can't miss event for anyone coaching or teaching children between the ages of 4 and 7. Some information will be suitable for older ages, so mentors of all groups are welcome. The theme of the Workshop will be "Play and Stay with Cork GAA: Building a sustainable Child & Mentor Friendly Nursery" http://rebelogcoaching.com/nursery-workshop-2017/
Club Shop
The Club Shop will be open on Saturday next from 11 to 12.