Midleton Gaa, Camogie & Ladies Football Club News
08 January, 2017
Inter County Hurling
Last Friday night a very young Cork Senior hurling team which included Conor Lehane (0-06, 1 free) took on a seasoned UCC side in the annual Canon O'Brien Cup at the Mardyke. The College emerged victorious on a scoreline of 0-22 to 1-13.
On Sunday afternoon in Mallow a more experienced Cork team defeated Kerry by 1-28 to 0-18 in the Co Op Superstores Munster Senior Hurling league, Killian Burke played a corner back but unfortunately had to come off early injured.
Colleges Hurling
On Wednesday next a number of our Club players will represent their respective schools in the Harty Cup Munster Colleges hurling quarter finals.
At Bansha Midleton CBS will take on Ard Scoil Rís and at Church Rd Blackrock the derby game between CBC and St Colman's takes place, both games start at 1.30pm.
Hurling & Football Meeting
The first meeting of the Club Executive will take place on Monday next the 9th at 8.30pm, all officers, board reps, subcommittee reps and team managers are requested to attend.
The Hurling & Football Officers of 1967
50 year ago the Officers and the Committee of the Hurling & Football Club were as follows; President – E.J. Canon Fox P.P Dean of Cloyne
Chairman – Bob Parker, Vice Chairman – William Ramsell,
Secretary – Billy Cody , Treasurer – Tim Kirby, Football Secretary – Tony O'Donoghue,
County Board Rep – Seamus Durkin.
The appointment of Billy Cody as Secretary at the exceptionally young age of only 16 years old was the subject of a lengthy discussion at a County Board meeting, concerns were raised about the huge responsibility trust upon him. The Chairman Sean Barrett concluded "that this might not be too young an age if the boy had the capacity for the work".
Billy was to prove him so right becoming a more than able officer of the Club and the East Cork Board for many years.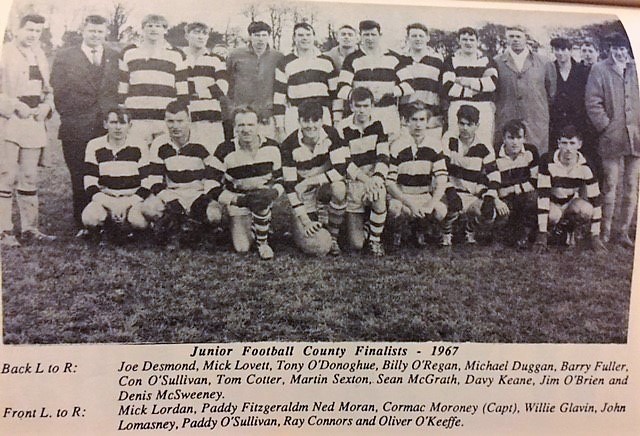 Congratulations
Love was certainly in the air on the Austrian slopes last weekend when on the "piste" Aidan Ryan proposed to his long term girlfriend Lisa O'Sullivan, congratulations on your engagement, we wish you both much happiness in the years ahead.
Diploma in Local and Regional Studies
UCC's Diploma in Local and Regional Studies will take place on Thursday next the 12th in the Gaa Club from 6.30pm.
The programme is taught over two years. Lectures will take place on Thursday evenings from 6.30 – 9.30pm, while there will be seminars in UCC and fieldtrips on some Saturdays.
The modules being taught in Midleton are as follows:
Year 1: Celtic Ireland (5 credits), Studying Folklore: The Sayings and Doings of Common People (10 credits), Historical Geography (5 credits), Aspects of Modern Irish History (10 credits).
Year 2: Local Food Studies: History, Tradition and Identity (5 credits), The Irish Medieval Church (5 credits), Research Skills for Local and Regional Studies (5 credits), Local and Regional Studies Research Project (15 credits).
There are a number of places still available on this course, if interested please contact Dr Griffin Murray BA, MA, MBS, PhD, Acting Centre Manager, Adult Continuing Education, University College Cork. 021 4904712 g.murray@ucc.ie
Ladies Football
We hope all our members and their families had an enjoyable Christmas. Happy New Year to you all. Some of our teams will return to training tomorrow night. Please keep an eye in Facebook and text messages as all times and venues will be posted here. For the moment the U14's & U16's back training tomorrow night. U12's and U10's will return in a few weeks. Our U8's will return indoors at the end of January. A date will be confirmed soon and all parents will be contacted. New Guidelines have been issued from Croke Park. From 1st January gum shields are COMPULSORY for all ages. Please ensure you have one at training and matches at all times. You will not be allowed to play or train without one.
We are looking forward to catching up with everyone over the coming weeks.
Lotto
Our Lotto Jackpot was €8,200 there was no winner, the numbers were 3,5, 8 & 20, the Lucky Dip winners were Sharon O'Driscoll, Irene Budds, Frances/Amy Budds, Brian Smith & Sheila Bulman, next week's Jackpot will be €8,400.
Tickets are on sale at the Club Bar, O'Neills Bar, Linehan's Bar, Maple Leaf Bar, O' Farrell's Butchers, Frank Murphy Butchers, Pat Walsh Paints, Chadwicks, Teach Beag & Niall Mac's Bars.
BINGO takes place next Friday evening @ 8pm in the GAA Pavilion with a weekly guaranteed Jackpot of €1,000.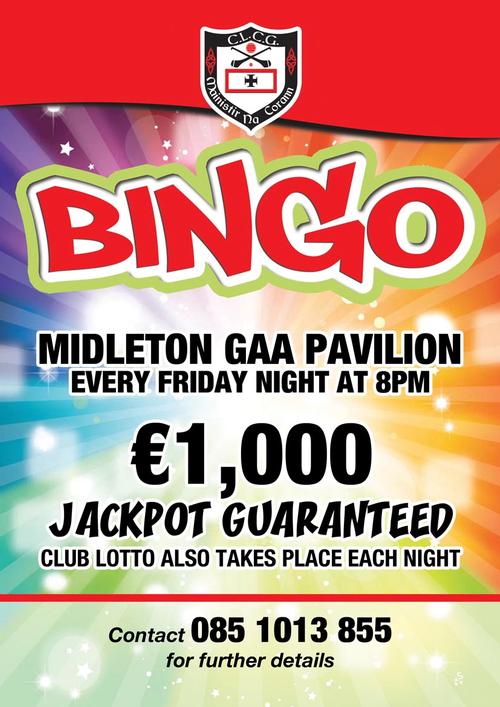 Club Shop
The Club Shop is CLOSED and will re open on Saturday the 4th of February from 10 to 12.