Midleton GAA Club News
14 September, 2014
Midleton Hurling & Football Notes

Junior Football Championship
Last Saturday evening our Junior A Footballers took on Dungourney in the East Cork Junior Football Championship in Castlemartyr. Despite trailing at half time we made a great comeback in the second half and totally dominated the game but when it looked like a draw was on the cards a late free earned Dungourney the spoils.
Hard luck to the players and management and well done on your efforts.
Final Score: Midleton 3-07 v Dungourney 3-08.
Team: Josh Deady, Joe Collins, Barry Fitzgerald, Seanaidh Smyth, Leslie Coughlan, Seamus O'Farrell (0-01), Brian O'Sullivan, Aidan Ryan (0-01), Patrick O'Mahony, Darren Quirke, Padraig O'Shea (1-00), John Keane (2-00), Cillian Hurley (0-03), Sean Corcoran & Cristeoir O Cathasaigh (0-02). Subs used Cormac Beausang & Killian Burke.
Junior C Hurling Championship
On Wednesday last our Junior C hurlers played Bride Rovers in the semi final of the Championship at Caherlag. After our first round victory in this Championship confidence was high going into this game but after a great hour's hurling Bride Rovers took the honour's very late on in the game. Many thanks to all the players and management for their commitment and efforts throughout the year.
Final Score: Midleton 3-10 v Bride Rovers 3-12.
Team: Byran Rossiter, James O' Brien, Patrick Dunlea, Ian Cooney, Jerome Curtin, Barry Fitzgerald, Alan Stanton (0-01), Josh Deady (0-01), Killian Deady, Tommy Wallace (1-06), John Keane (0-02), Shane Buckley (1-00), Muiris Quirke (1-00), Micheal Keohane & Paul O' Brien. Sub used Coleman Quirke.
Sports Capital Programme grant for St. Colman's & Midleton GAA
St Colman's Community College in partnership with Midleton GAA are delighted to
have successfully secured a grant of €25, 000.00 through the Sports Capital
Programme. Both parties have a great long standing relationship which is set to
continue into the future, highlighted by a recently signed 15 year agreement for
Midleton GAA to use St. Colman's GAA pitch facilities. This agreement will continue St. Colman's vision of serving the wider community while also assisting Midleton GAA to provide top class facilities to cater for its growing juvenile sector.
St. Colman's & Midleton GAA are both working hard to actively promote physical
activity and healthy lifestyles within the community. Through initiatives like the Sports Capital Programme it will allow us to improve facilities even further to the benefit of both parties.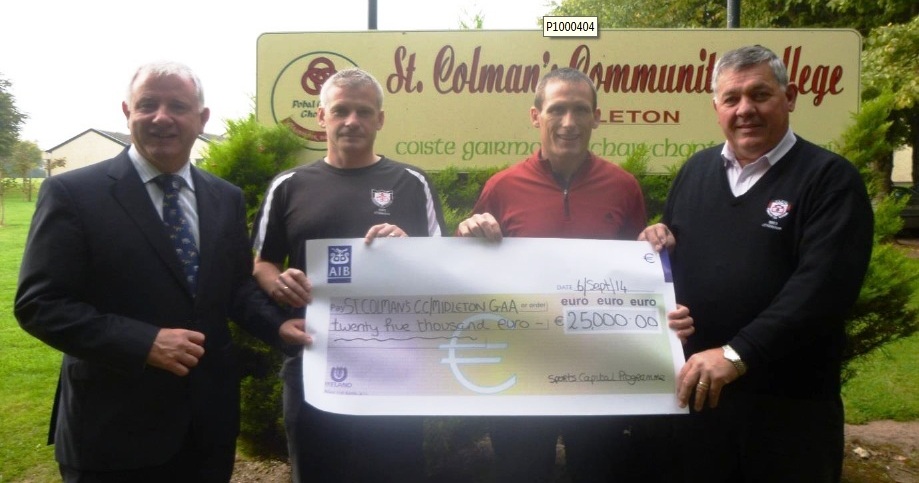 Pictured are Gerry Kelly (Principal, St Colman's), Cormac Quirke (Chairman Juvenile GAA), Noel Furlong (PE teacher St Colman's) & Liam Ryan (Chairman Adult GAA )​
Hurley's Super Valu Super Kit
Many thanks to Tommy Grimes of Hurleys Super Valu who recently presented Kevin Hennessy on behalf of the club with €1,000 worth of training gear.
Once again this was a wonderful gesture on their behalf, the kit includes gear bags, water bottles, bibs, footballs and sliotars.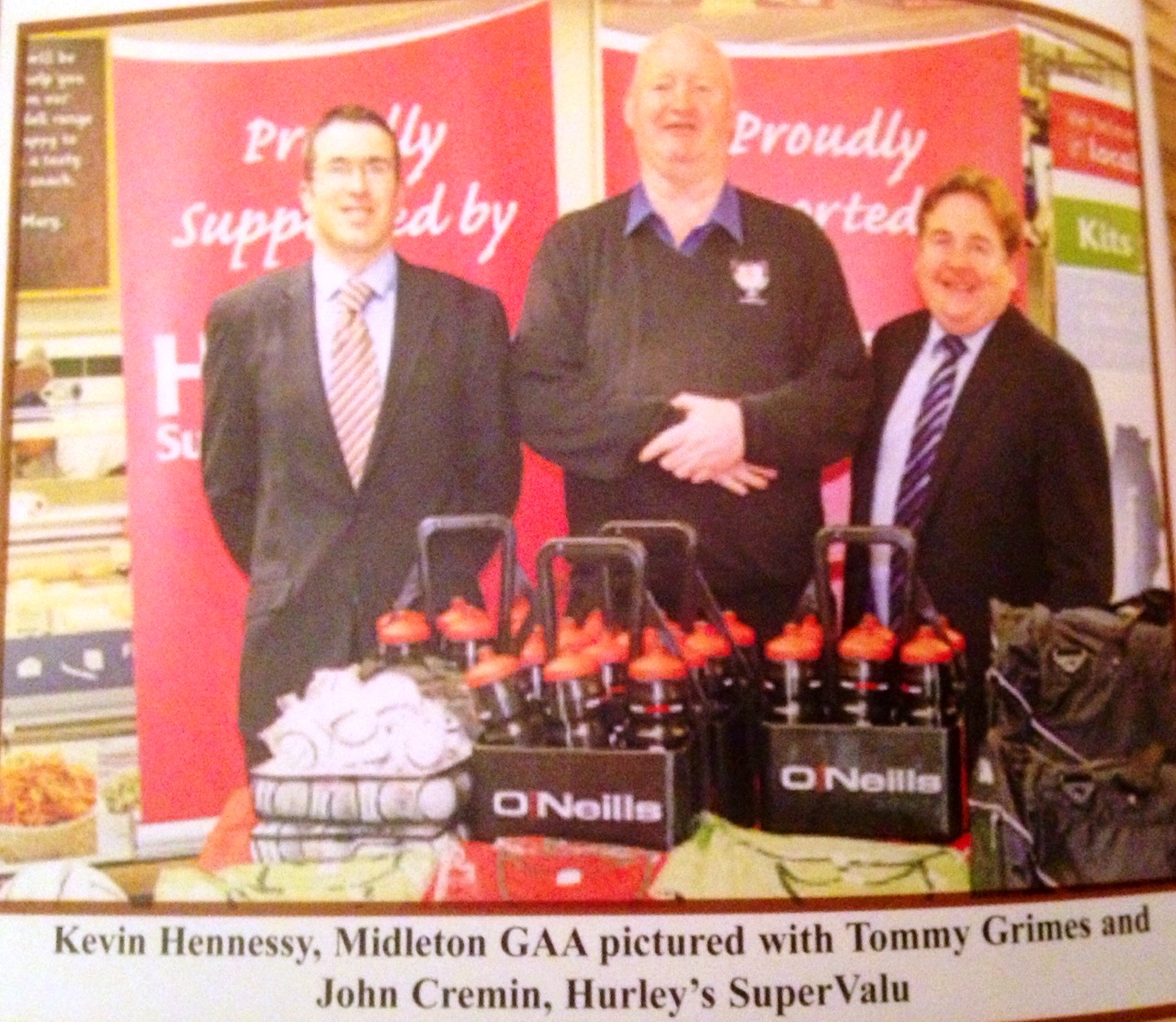 Ladies Football
Commiserations to our Junior A Ladies Footballers team and management who were defeated in the County Final by Fermoy last Saturday by 4-04 2-06.
Camogie
Midleton Camogie Club enjoyed their first outing last Sunday the 14th September when they travelled from Midleton GAA grounds by coach to Croke Park for the Camogie All Ireland final. The eager Midleton supporters shouted on their heroes from the Hogan stand with anticipation and enthusiasm none more than when the sliothar crossed the line for the final score of the match making Cork the Camogie All Ireland champions.
There was no signs of tiredness from the girls when they arrived back in Midleton late on Sunday night following a most enjoyable and memorable day. We look forward to seeing the same energy from the girls on the field next their training session on Friday evening. Corcaigh abu !Training for all groups Fé8, Fé10, Fé12 continues each Friday 7.15pm at Midleton GAA club. Players are required to bring Hurley, helmet, shinguards and a drink.
Lotto
Jackpot was €6,400 the numbers were 9, 11,16 & 21there was no winner, the Lucky dip winners were James Murphy, Kieran O' Shea, Phil Shanahan, Jim Deane & Deirdre Doyle, many thanks for your continued support.
Next weeks Jackpot will be €6,600. Tickets are on sale at the Club Bar, O 'Neills Bar, Linehans Bar, Maple Leaf Bar, O' Farrells Butchers, Frank Murphy Butchers, Pat Walsh Paints & Chadwicks. The Lotto draw takes place each Friday in the Club.
BINGO for all every Friday night in the GAA Pavilion from 8pm, guaranteed Jackpot of 1,000 euro!!
Juvenile Notes
Fe 8
Last Sat morning the under 8 panel and their coaches left the club by bus at 9am followed by a convoy of parents and supporters for the annual Roanmore charity Blitz. We fielded 3 teams against opposition from Waterford, Wexford and Kilkenny, with the boys proving themselves to be strong competitors. In the glorious sunshine and encouraged by great support from the side lines the lads produced champagne hurling. Each player deserves great credit for the way they represented themselves and Midleton. A very proud bunch of players and mentors arrived back on home turf at 7pm tired but happy. A fantastic day out for all.
Panel: Aaron Crotty, Odhran Dennigan, Sam Murphy, Sean McSharry, Darragh Egan, Thomas Dunlea, James McSweeney, Marcus Lambe, Billy Keating, Paddy Walsh, Cathal Dalton, Jack O'Connell, Sennan Gleeson, Carthaig Cronin, Ben Fitzpartick, Conor Morley, Darragh Prenter, Fionn Kelly, Calllum O'Brien, Evan O'Sullivan, Jake Kirby, Callum McSweeeny, Peter Barrett, John Paul McManus, Adam O' Connor, Luca Brodkord, Matthew Gregory, Sam Geary, Ryan Woods.
Fe 9
The Fe9 hurlers travelled to the annual Roanmore Blitz in Waterford last Saturday, we had 3 under 9 teams and we played games v Ballygunner (Waterford) Wind gap (Kilkenny) Barrow Rangers (Kilkenny) Barrow/Ballymitty (Wexford) Mount Sion (Waterford) and Kilsheelan/Kilcash (Tipperary) we were based in Mount Sion club for the day and had a great day.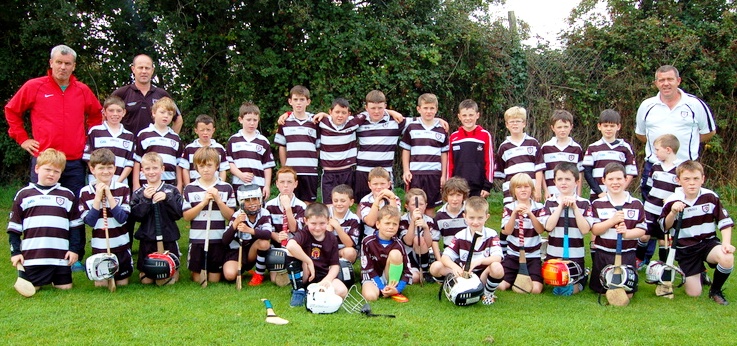 Fe12
Our hurlers had a great win last Saturday in the annual Colman Dillon Blitz in Erins Own. On the way to the final we defeated Lisgoold, Carrignavar, Erins Own and in the final Carrigtwohill after a great game by 4-04 to 0-09. This Blitz is run each year to honour the great man that is Colman Dillion, to acknowledge the great work he done down through the years for the underage. Many thanks to the Erins Own club and the Ladies committee for their fantastic hospitality throughout the day.
Fe14
Midleton U14 hurlers had a very useful workout against Abbeyside at home on Sunday last. Despite being short a number of players, all of our lads played well and we came out ahead at the final whistle on a scoreline of 1-19 to 4-8. Our next game is our final league game away to NaPiarsaigh next Thursday night at 18.30. A win here would see us reach the P1 U14 League Semi Final with hopefully a home fixture. So we need to hurl well to have any chance of beating NaPiarsaigh.
Fe 16
Our Fe16 footballers qualified for the P2 Football semi-final last Friday when after making the long trip to Brinny for an early throw in they defeated a strong Clonakilty outfit. Playing into a slight breeze in the opening half our lads led by a single point 1-03 to 0-05 with a well taken goal from Adam Daly being the difference between the sides. On the resumption Clonakilty started the better side but our defence led well by Jordan Roche and Kevin Mulcahy in the pivotal positions ensured that only 3 pts were conceded in this period when Clon were well on top. Our midfield and half forward gradually took a hold of the game and we raced into a 10 point lead thanks in part to 2 well executed goals from Padraig O'Brien, However Clon never gave up and they kept tacking on the points from distance as our defence were leaving no gaps in close to goal and they had dominated again in closing parts of game while we were thankful to the clinical finishing of Cathal Gunning who added 1-3 in the closing stages to help us hold out for a 2pt win on a scoreline of 4-10 to 1-17. A tremendous effort from all 19 players who contributed to the game and the results of the effort put in training over the last number of weeks showed in the work rate and intensity shown which comes from the competition for places in training from all on the panel which on the night consisted of - Sean O'Meara (Capt), Adam Daly, Kevin Daly, Kevin Mulcahy, Cathal Gunning, Conor Evans, Conor O'Farrell, Ciaran Evans, Conor O'Neill, Chris Power, Christian Daly, Eoin Moloney, Jordan Roche, Liam Franklin, Luke Smyth, Padraig O'Brien, Ryan McConville, Ryan O'Regan, Ronan O'Donovan, Shane O Brien, John O'Dwyer, Sean O'Leary, Sean O'Sullivan and Tom Scanlon while we had Eoin Mitchel, David Mulcahy, Ross O'Connor and Tommy O'Connell all unavoidably missing on the night.
Juvenile Training
The training and coffee mornings are back on Saturday mornings at the Main Pitch at the normal times for each group. FE13,12 and 11's from 09.45 to 11, FE9,8 and 7's from 11 to 12 and FE10 and 6's from 12 to 1.
Please check website our Club website www.midletongaa.com for each TEAM COACH and contact number. New players are always welcome.