Midleton GAA Club News
27 November, 2013
REDFM County Senior Hurling League Semi Final
On Thursday night we play Na Piarsaigh in the League semi final in CIT @ 8pm, we wish the selectors and management the very best of luck.
We would like to congratulate Conor Lehane on being awarded a place on the GAA GPA Opel Hurling All Stars who travel to Shanghai, China this week, as everyonewould agree a most deserved award after the fantastic year he's had, enjoy Conor.
Rearden's Club Hurling Team of the Year
Congrats to eight of our Senior Hurling team Tommy Wallace, Killian Burke, Patrick O' Mahony, James Nagle, Finbar O' Mahony, Paul Haughney, Aidan Ryan and Conor Leahane who collected Club All Star awards in Reardens last Monday night, to Conor on his award for Player of the Club Championship and also to the other members of our team who recieved nominations.
A large crowd attended the presentation with selectors, club officers, parents and friends all there in support, thanks to Reardens for their hospitality, see their report below.
MIDLETON dominated the 2013 Reardens' SHC All-Stars the recent awards, picking up eight of the 15 awards.Runners-up Sars received three berths, Michael Cussen, Eoin Quigley and Daniel Kearney; Cussen and Quigley were also picked last year.
It was difficult to argue with Midleton's dominance, given how impressive they were all summer, though they needed Conor Lehane at his sharpest to get over the line against a quality Sars unit going for a fourth county in six years.
The Magpies grabbed four of the six positions at the back, as well as the keeper in Tommy Wallis. This was down to their collective defensive strength, and also some noteworthy individual displays across their five games. Darren Mannix from Na Piarsaigh got the nod at corner-back, after hurling efficiently as the club got back to the semi-finals. Conor Lehane was an automatic at 11, and there won't be any argument with the choice of Paul Haughney and Kearney in midfield. The attacking slots were hotly contested, with Darren McCarthy, Cork's sub keeper, again securing a place up front. He was one of just three hurlers to make back-to-back club All-Star teams, with Aidan Ryan (Midleton), the Glen's Paul Virgo and Alan Cadogan (Douglas) getting their first awards in attack.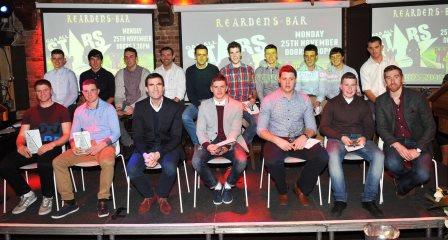 1. Tommy Wallis (Midleton): A very capable netminder, this U21 — the son of former Cork physical trainer Jerry — was the model of consistency for the Magpies.
With a booming puck-out and an eye for long range frees, Wallis was a vital cog in his club's county triumph.
2. Killian Burke (Midleton): The Midleton rearguard was extremely miserly all summer, holding Bishopstown to 0-8 and Na Piarsaigh to 1-6, and this dynamic U21 played a key role. Quick and wristy, a very modern corner-back.
3. Patrick O'Mahony (Midleton): County final man of the match at minor level back in 2010, this tall but skilful defender came of age this summer. A member of Jimmy Barry-Murphy's extended Cork panel already, he could be set to make his mark at the top.
4. Darren Mannix (Na Piarsaigh): A survivor of Na Piarsaigh's county win back in 2004, Mannix was his club's best player as they returned to the last four for the first time since. A no-nonsense and teak tough northsider, he epitomises the club's spirit.
5. Eoin Quigley (Sarsfields): County final man of the match in midfield last year, the Wexford senior hurler relocated to the half-back line this season.
Solid in the early stages, he was excellent in the second half of this year's decider against Midleton, offering leadership when Sars were shipping water.
6. Finbarr O'Mahony (Midleton): Like his cousin Patrick in the full-back berth, Finbarr showed why he was so highly regarded underage. He has the touch to compliment his height and aggression and commanded the rearguard with authority.
7. James Nagle (Midleton): It might seem like overkill to include four of the Midleton back six, but their county success was very much built from the back. Nagle was involved with Cork under Denis Walsh, and his aerial prowess and drives from wing-back were certainly impressive in 2013.
8. Paul Haughney (Midleton): Traditionally an inside forward — and scorer of 0-5 from play when Midleton won the 2011 U21 county — he blossomed after a switch to midfield.
Nimble, quick and excellent at first-time deliveries he was an automatic in this selection.
9. Daniel Kearney (Sarsfields): Another essential pick, Kearney managed to excel for both Cork and his club in the same season, which doesn't often happen. He was particularly heroic in the county final, landing three monster points, and hoovering up breaks from the throw-in.
10. Aidan Ryan (Midleton): The rest of the forwards in this All-Star selection were among the sharpest shooters from play in the county. Ryan, a converted half-back and former Cork minor and U21, was however a ball-winner supreme for the Magpies. His power and paw proved critical to the club's county triumph.
11. Conor Lehane (Midleton): One of the greatest county final appearances of the modern era, to the tune of 2-10, made national headlines, but Lehane was rampant in every match. His season haul was a staggering 5-48, and his general play was as breathtaking as his finishing.
12. Darren McCarthy (Ballymartle): Despite being back-up to Anthony Nash, McCarthy continues to shine outfield in the SHC — whether at corner-forward, midfield, or more usually half-forward. He contributed 6-19, all bar 1-3 from play, to Ballymartle's second successive semi-final appearance. Is it time for JBM to try him at 12 for Cork!
13. Alan Cadogan (Douglas): None of the county finalists' corner-forwards were consistently deadly, but dual Cork U21 Cadogan was unmarkable at times for Douglas.
He took Ballymartle for 1-5 and Newtown for 0-6, and — after some fine tallies on the football field too — showed why he could emulate his older brother Eoin and play at the highest level.
14. Michael Cussen (Sarsfields): A total of 3-12 from play made the giant Sars man the obvious choice for full-forward in the team of the year, and he set up even more than that, using his size and awareness. While he's never got a run at 14 with Cork, Cussen has been a match-winner time and again for his club since their first county in 2008.
15. Paul Virgo (Glen Rovers): When the chips were down for the Glen last summer, one man came up trumps. Paul Virgo is not a marquee player, yet he plundered 3-7 from play in just three games and was the chief reason Rovers reached the county quarter-finals.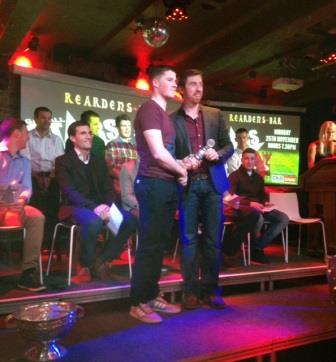 Conor recieves the Hurling Player of the Championship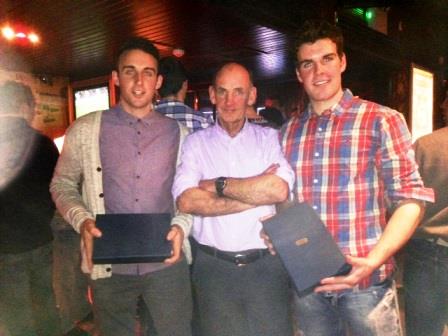 Patrick, Sylvie and Finbar O' Mahony at the awards, some half back line !!
GAA Season Ticket 2014 on sale NOW!!
To buy now, go to www.seasontickets.ie - order by November 29th for pre-Christmas delivery! NB: All queries should be sent to seasonticket@gaa.ie , Nothing beats being there.The GAA Season Ticket can be purchased at a base price of €85 for adults, juveniles are €10.Loyalty rewarded - qualify for All-Ireland Final tickets if you attend 60% of your county's games in your chosen code.
Great value - great price plus more discounts throughout the Championship.
Convenience - you have your ticket for your team.
Exclusive Extras - 'bring a friend' options, special purchase options for other matches
What's included?
All your County's Allianz League round matches plus all League semi finals, play-offs and finals in that code
Your County's opening Championship fixture
All Allianz League round matches in your selected code. So if you have a Longford Football Season Ticket you can go to any Allianz League Football match.*
AIB GAA Club All-Ireland Finals in Croke Park on St. Patrick's Day.*
You will also enjoy discount prices during the Championship - Pay & Play kicks in after your opening Championship fixture. Find out more athttp://www.gaa.ie/tickets-and-merchandise/tickets/gaa-season-ticket/price-and-payment/
About the GAA Season Ticket: http://www.gaa.ie/tickets-and-merchandise/tickets/gaa-season-ticket/about-the-gaa-season-ticket/
Terms and Conditions: http://www.gaa.ie/tickets-and-merchandise/tickets/gaa-season-ticket/terms-and-conditions/
Season Ticket 2014 Booking System Guidelines: http://www.gaa.ie/tickets-and-merchandise/tickets/gaa-season-ticket/season-ticket-2012/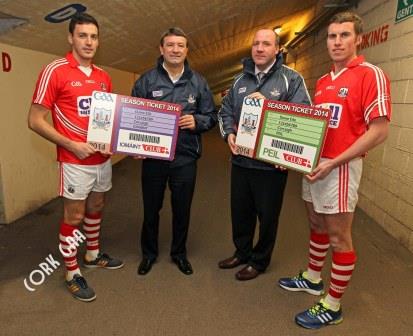 Liberty Insurance Offer Extended until April 2014
Don't foget to support your Club .....
We've actually extended the offer now to April 30th 2014, whereas it was previously due to end this October. Please logon to http://www.libertyinsurance.ie/car-insurance/, We're just hoping to make it as easy as possible for people to find all of the details they need so that clubs can get the most from this offer.