Senior County Hurling Final week
30 October, 2013
County Senior Hurling Final Week
Clár an Lae (All times approx)
1.15pm IHC Final Throw-in
1.45pm Half-time mini-games: Éire Óg and Kanturk
Music: Barrack Street Band
2.30pm Presentation of Paddy Walsh Cup
2.45pm Presentation of 1988 County Senior Hurling Champions, St. Finbarr's
2.55pm Parade; Amhrán na bhFiann – Barrack Street Band
3.00pm SHC Final Throw-in
3.30pm Half-time mini-games – Midleton and Sarsfields
4.15pm Presentation of Seán Óg Murphy Cup
Big Match Preview: Denis Hurley
Before the county SFC final between Castlehaven and Nemo Rangers, there was little doubting that the two best sides have reached the decider, and that the positive attitude of both would lead to good game.
Ahead of Sunday's hurling equivalent between reigning champions Sarsfields and Midleton, it would be hard to make a case that either is undeserving of a place in the showpiece.
For Sars, it is almost an autumnal ritual to be getting ready to play for the Seán Óg Murphy Cup, as since 2008 they have only failed to reach the final once. Three times in the past five campaigns they have emerged victorious, quite a change from the 51-year gap between their 1957 and '08 wins.
It is a different story for Midleton, who have not been champions since 1991, but their sustained underage success of recent years mirrors the foundations laid by Sars before finally laying claim to senior silverware. Like their neighbours, the Magpies' side is still relatively young and while it could be argued that they left a great chance behind them in 2011, they have matured since then.
Conor Lehane has been the MVP for them since they resumed action following the All-Ireland final replay, and while it might have been feared that U21 commitments could hamper them, so far that has not proven to be the case.
In theory, all Sars have to do is stop Lehane and that will go a long way towards stopping Midleton, but a) it's not that easy, and b) even if they do, they have to deal with Luke O'Farrell and Brian Hartnett among others.
Aidan Ryan gives Midleton a good ball-winning presence at half-forward and Paul Haughney and Séamus O'Farrell have both impressed at midfield during their run to the final while a solid defensive unit has proven difficult to breach. In addition, manager Peter Smith has won the county as a player and so will be able to impart his wisdom.
There is no doubting Midleton's quality, but there is also doubting that in Sars they will face a tougher challenge than any that they have come up against in the championship to date. The experience gleaned from winning the title so often in the recent past cannot be quantified, especially as all three final wins were battles where victory had to be chiselled out in the closing stages.
It goes without saying that Sars have a pick that is the envy of anybody else in the county and manager Eamonn Kelleher and coach John Considine face a headache in choosing who will start as William Kearney and Kieran Murphy are likely to be fit again.
Wexford pair Eoin Quigley and Éanna Martin form an excellent half-back line with Craig Leahy and Daniel Kearney has manned midfield with authority despite being paired with a number of partners.
In the semi-final, he had Eoin O'Sullivan for company and he imposed himself well, but that was hardly a surprise given that he is a younger brother of Conor. In attack, Michael Cussen has been excellent at full-forward, with Robert O'Driscoll able to feed off his lay-offs while Cian McCarthy's free-taking is a valuable asset.
It is likely to be close, but Sars' experience could just about help them to shade it.
Man in the Middle: Colm Lyons
Sunday's Senior Final will be refereed by one of the county's top referees, Colm Lyons, who is also rapidly making a name for himself on the inter-county stage. A primary school teacher, the Nemo Rangers man has already refereed the All-Ireland Minor Final in 2012 and was handed the whistle for this year's All-Ireland U21 decider. We caught up with him ahead of the game on Sunday...
When and where did you first begin refereeing? I began refereeing Sciath na Scol matches and having enjoyed them I attended an official referees course in January 2003.
Who was the biggest influence on your career as a ref? I've got great guidance from a lot of people, but the referee courses and in-service courses run here in Cork by John Motherway are second to none. John has a great knowledge of the games and always has some good pointers to give.
What has been your greatest moment in sport? Refereeing the Munster Minor Hurling Final in 2009.
What has been your biggest disappointment? Thankfully as regards refereeing I've been very fortunate so far and get great satisfaction being involved as a match official. Being dropped for a Junior B league final did hit a sore point with me a few years ago though!!
Who is the greatest player you have ever seen? Hard call between Henry Shefflin and Brian Corcoran.
Who is the referee that you admire most? I admire any referee who has the courage to put a whistle in his mouth. John Moloney (RIP) Tipperary managed to referee at inter-county level in both codes.
If you could change any rule of the game, what would it be? I think the rules of hurling are just fine the way they are, however I'd like the sin-bin rule to be given a chance, as I think it would cut out a lot of foul play.
Favourite sport other than GAA: Athletics, especially middle distance and long distance running.
Best book read or film seen: 'Fidel and Che' by Simon Reid-Henry is a fascinating read, while another great read is 'Hurling, The Revolution Years' by Denis Walsh.
Best concert or gig you've ever attended: Coldplay concert in Toronto.
When I was a child I wanted to be: able to fly and hurl like John Fenton.
How do you relax away from sport? Going for a nice meal with my wife.
Person that you would most like to meet: Micheál Ó Muircheartaigh
Marooned on a desert island what could you not do without? MacGuyver
In ten years time I hope to be: healthy, happy and still blowing my whistle!
Club Focus
As Gaeilge: Mainistir na Corann
Colours: Black and white
Division: Imokilly
Club Website: www.midletongaa.com
Club Twitter: @MidletonGaa
Player Profile: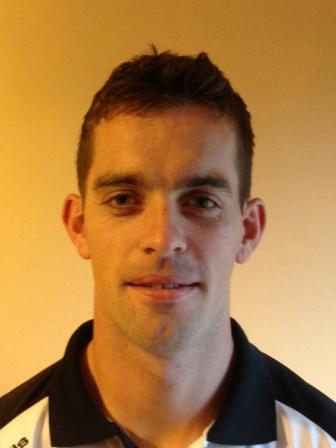 Aidan Ryan
Club: Midleton
Height: 6'4"
Weight: 15st
Honours won: 2 East Cork U21 Hurling, 2 Munster U21 Hurling, 1 SHL
When and where did you first play Hurling? In my back garden aged 3 hurling with spuds.
Best career advice you were given: Enjoy it because it flies by
What skill do you think is the most important in Hurling? Catching/fielding
What would you like to change about the game? A somewhat structured club season.
Best Hurling memory outside of playing: Being at Munster Final 2003
Best Hurling memory as a player: Winning U21 East Cork 2006
Who is the greatest player you have seen? Joe Deane
If there was a 'transfer market' who would you buy? Joe Canning
Toughest opponent: Ronan Curran (got an awful lesson once! )
Favourite sport other than Hurling or Football: Golf
Books you are currently reading or have just finished: Welcome to Hell : Colin Martin
When I was a child I wanted to be… A Ninja turtle
You may not know it, but I'm good at… Soccer
The best invention ever… The wheel surely.
Person you would most like to meet: Tiger Woods
Marooned on a desert island what could you not be without? Bear Grylls DVD set.
In ten years' time I hope to be… Happy and still playing a bit of sport.
History of Midleton's Senior County Titles
On Sunday November 3rd this youthful Midleton team aims to add to the 6 titles that the Club has won in the Cork County Senior Hurling Championship since it was first affiliated to the association by Jeremiah J Coffey in Thurles in January 1885.

But history records that in fact it was in Football that the Club first excelled in and in 1890 the Cork County Senior Football, Munster & All Ireland Championship titles were won. The successful route was as follows; victory's over Cloyne, Lisgoold, Kilmurray & Dromtariffe in the County, in the Munster Championship they defeated Kinsalebeg of Waterford and then Laune Rangers of Kerry in the final and over a weekend in Dublin they defeated Armagh in the semi-final and later in the final when Blues & Whites of Wexford failed to show up the Magpies were awarded the title.

In 1914 Midleton Senior hurlers began their campaign with a victory over Cloughduv, and then they defeated St Marys and Collegians to reach the County final against Blackrock. Unfortunately the Rockies failed to show up in Mallow for the final and the match and championship was awarded to Midleton, a most unsatisfactory conclusion but a first senior hurling title was recorded.
Midleton – G O Shea (capt), Jack Grandon, Dan Twomey, William Twomey, Jim O Connell, Tom Deasy, Pats Cahill, Dick Gorman, Jimmy Ramsell, Willaim Donovan, Pat O Leary, Jeremiah Egan, Bertie Walsh, John Horgan & Willie Williams.

Having lost the semi final in 1915 to Redmonds the Midleton team despite the "Political conditions" of the times trained diligently to be ready for the 1916 campaign. In the first round they defeated Charleville, in the semi final they eventually got to play Blackrock and in the Cork Athletic grounds before a huge crowd Midleton avenged the defeats of previous years by winning comfortably on a score line of 5-02 to 2-03. In the County final they defeated Shamrocks after a very close encounter by a single point.
Midleton - Jim O Connell (capt), Jack Grandon, Pats Cahill, Dan Twomey, Tom Deasy, Michael Kearney, Jeremiah Egan, Gerald O Shea, Bertie Walsh, Jimmy Ramsell, Dave O Keeffe, Tom Twomey, Dick O Gorman, William Twomey & Johnny Desmond.

All of 67 years later in 1983 they had to wait for the next Senior Hurling title having defeated Duhallow, Muskerry & Youghal in the earlier rounds they reached the final on the 9th of October against the mighty St Finbarrs. After decades in the doldrums, all was forgotten in the golden moment of success when captain John Fenton proudly held the Sean Og Murphy Cup aloft having won on a scoreline of 1-18 to 2-09. It was a moment for all Midleton folk young and old to savour forever and tears of joy were shed unashamedly. Led by the local Holy Rosary Brass & Reed band the team was led on a victory parade through the town that evening before a huge crowd of over 8,000 people.
Midleton – Ger Power, Denis Mulcahy, Michael Boylan, Dave Crotty, Sylvie O Mahony, Sean O Brien, Pat Hartnett, John Fenton, Tadgh Mc Carthy, John Hartnett, Colm O Neill, Kevin Hennessy, David Boylan, Ger Fitzgerald & John Boylan. Subs Kevin Coakley, Edser Cleary, Jude O Keeffe, Ger Glavin, Malcom Adams, John Hennessy, Liam Williams, Jerry Smyth, Michael Hartnett & Des Hurley.

Three years later in 1986 the Championship campaign began with a win over Muskerry in the Pairc, in the second round the team played brilliantly to defeat the Barrs by 4-16 to 2-13 and in the semi final after receiving a fright they defeated Carrigdhoun by 3-14 to 1-15 to reach the final against Blackrock. Having lost the previous years final to the Rockies the magpies showed great heart and conviction to win by 1-18 to 1-10 helped in no small way by their captain Kevin Hennessy who played a major role in this victory.
Midleton – Ger Power, Denis Mulcahy, Jerry Smyth, Michael Boylan, Edser Cleary, Sean O Brien, Pat Hartnett, Tadgh Mc Carthy, Michael Crotty, Ger Glavin, John Hartnett, John Boylan, David Boylan, Ger Fitzgerald & Kevin Hennessy (capt). Subs Sylvie O Mahony, Colm O Neill, Kevin Coakley, John Fenton, Donal Fenton, Liam Ryan, Coleman Quirke, & Michael O Mahony.
Back to back County titles were secured in 1987 when the Magpies defeated Seandun, Avondhu, and St Finbarrs to reach the final when after an exhilarating hour they eventually defeated a gallant Na Piarsaigh side by 2-12 to 0-15. In the Munster Club campaign Clarecastle were defeated in Ennis and Ballyduff from Waterford were accounted for in Midleton to secure a Munster Club final place against Cappawhite from Tipperary. After a pulsating hour at Kilmallock Midleton emerged winners on a scoreline of 1.12 v 1.11 to qualify for the All Ireland semi final against Antrim and Ulster champions Cushendall. Creating another piece of history Midleton became the first club from the south to travel and stay with their hosts in the Glens of Antrim. Before a large crowd of 5, 000 people, Midleton dominated the game and ran out easy winners on a score line of 3.11 v 2.05 having led 2.05 v 0.03 at the interval. They now qualified to play Athenry in the Club final on St Patrick's Day where history was made on that never to be forgotten day when they emerged victorious on a score line of 3.08 v 0.09, All Ireland Club Champions !
Midleton – Ger Power (capt), Denis Mulcahy, Michael Boylan, Sylvie O Mahony, Edser Cleary, Sean O Brien, Pat Hartnett, Tadgh Mc Carthy, Michael Crotty, John Fenton, John Hartnett, John Boylan, Ger Fitzgerald, Colm O Neill & Kevin Hennessy. Subs Ger Glavin, Vincent O Neill, Jerry Smyth, Kevin Coakley, Michael O Mahony, Coleman Quirke, David Quirke & Jerry O Farrell.
Midletons last Senior Hurling County title was 22 years ago in 1991 when Avondhu, Carbery, and Ballyhea were all defeated to secure a final place against Glen Rovers. This was the first championship meeting of the clubs in modern times and after a vigorous challenge Midleton deservedly clinched the title on a scoreline of 1-17 to 1-08.
Midleton – Ger Power, Michael Boylan, Denis Mulcahy, Sean O Brien, Peter Smith, Pat Hartnett, David Quirke, John Fenton, John Hartnett, Vincent O Neill, Ger Fitzgerald (capt) , John Boylan, Padraig O Brien, Michael O Mahony & Kevin hennessy. Subs Cormac Quirke, Tom Abernethy, Robbie Fitzgerald, Coleman Quirke, Edser Cleary, Eamon Crotty, Kevin Roche & Willie Wallis.
Thirty years after the memorable County final victory of 1983 the Club has experienced many high and lows in the interim. The eighty's and early ninety's brought great success and excitement to the club and were great years but after the feast came some lean years. However, following tremendous work at street league level and in the schools success is beginning to flow again. Presently the club is in good hands and under the watchful eye's of Hurling & Football Chairman Liam Ryan, Juvenile Chairman Cormac Quirke and Pavilion Chairman Alan Donegan the future is bright both on and off the field. While the expanding population around the area will bring its own opportunities and problems the members of Midleton GAA club are determined to keep the flag of the association flying proudly within the town and wherever the games of hurling and football will take them.
Supporting the Senior Hurling Team
Many thanks to the following companys for their contribution towards the preparation of the Senior Hurling Team ; East Cork Oil, Hurleys Super Valu, O Briens Garage, Mc Carthy investment Services, Healy Agri Supplies, Blackwater Motors & Bank of Ireland Midleton. Also many thanks to those supporters who also contributed anonymously.
Phillip O Brien of O' Brien's Garage presenting Tops to Midleton players Aylwin Kearney, Padraig O' Shea (capt.), Brian Hartnett & Peter Dowling.
County Senior Hurling Final
This eagerly awaited final takes place on Sunday, November 3rd at Páirc Uí Chaoimh, with the Intermediate Hurling decider also on the programme for the day.
Defending champions Sarsfields meet East Cork neighbours Midleton in the Senior Final, while Kanturk take on Eire Óg in the curtain-raiser on the day, and what a host of Cork stars will be on show across both games!!
As well as two mouth-watering games, fans can also enjoy half-time mini-games and live music by the legendary Barrack Street Band, while the 1988 County Senior Champions, St. Finbarr's, will also be honoured.
Admission: €20 (adult covered stand), €18 (adult uncovered stand), €10 (concessions) and U16s FREE!!
Both games will be live on C103, with updates here on the Cork GAA website and on our Twitter page, @MidletonGaa and @OfficialCorkGAA, but of course, nothing beats being there!! NB: TG4 are NOT showing the Senior Final.
Our build-up to the big day will continue all week with news, player profiles, previews and more!
County Senior Hurling Final
Midleton v Sarsfields
Sunday November 3rd
3pm at Páirc Uí Chaoimh
This year's County Senior Hurling Final is an all East-Cork affair, the first since 2006 when Erin's Own beat Cloyne. For Sars, it's an attempt to put together back-to-back wins, while Midleton go in search of a first title since 1991.
Recent Winners
2012 Sarsfields
2011 Carrigtwohill
2010 Sarsfields
2009 Newtownshandrum
2008 Sarsfields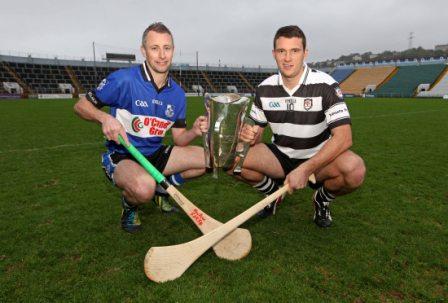 Rival captains with one hand each on the Sean Og Murphy Cup, Ray Ryan Sars & Padraig O' Shea Midleton.
Seán Óg Murphy Cup
A native of Cork city, Sean Og Murphy (1897-1956) played hurling for Blackrock and football for Nils. With Nils he won junior football titles in 1913 and 1914, while with his beloved Blackrock hurling team he won county titles in 1913, 1920, 1924, 1925 and 1927. The last three wins featured Murphy as captain of the side. He won three All-Ireland medals with Cork (1919, 1926 and 1928), along with six Munster medals. Murphy also lined out with Munster in the inter-provincial hurling competition. He first played for his province as captain in the inaugural year of the Railway Cup competition in 1927, however, Leinster were the victors on that occasion. Murphy served as captain again in 1928 and 1929 as he collected two Railway Cup winners' medals. Murphy also served as a selector on various Cork hurling teams over a period of four decades. While still a player he was a selector on the Cork teams that won the All-Ireland title sunder his captaincy in 1926 and 1928. Even though an injury brought his hurling career to an end Murphy served as a selector as Cork won two more All-Ireland titles in 1929 and 1931. He was a key member of the backroom team again as Cork won six more All-Ireland titles in 1941, 1943, 1944, 1952, 1953 and 1954. He served as secretary of Cork County Board from 1929 until his death in 1956, and in 2000 was named as full-back on the Cork Hurling Team of the Century.
Paths to the Final
Round 1
Midleton 1-17 Douglas 1-13
Sarsfields 2-14 Ballinhassig 1-15
Round 4
Midleton 1-24 Bride Rovers 1-11
Sarsfields 1-19 UCC 5-7
Round 4 Replay
Sarsfields 2-14 UCC 0-9
Quarter-Finals
Midleton 2-18 Bishopstown 0-8
Sarsfields 5-12 Killeagh 2-9
Semi-Finals
Midleton 2-21 Na Piarsaigh 1-6
Sarsfields 0-24 Ballymartle 1-12