Championship Weekend
10 October, 2013
Championship Weekend
This weekend is a very busy one for a number of our Club Hurling teams.

First out are the Senior hurlers on Saturday afternoon against Bishopstown in Pairc Ui Chaoimh @ 4pm, the lads have prepared very well and are eager to go since their last round victory over Bride Rovers.
Did you know that 30 years ago today the 9th of October 1983 our senior hurlers won the County title for the first time in 67 years defeating St Finbarr's. Hopefully this will inspire our current players ahead of this weekends tough fixture.

On Sunday morning the Junior C hurlers cross camans with Dungourney in the first round at home @ 11am and later that afternoon our Junior A hurlers take on Sars in Cobh @ 3.30pm in the semi final of the East Cork Championship with the winners set to play Castlemartyr on the 19th.
The Club executive wish all the players and management the very best of luck in all the games and hope we can look foward to a few more equally busy weekends. It would be great to see all Midleton folk to turn out in our colours to support all these teams.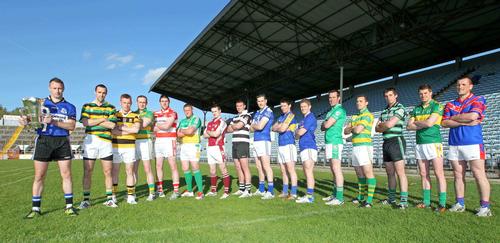 County Championship Programme
Saturday October 12th
@ Pairc Uí Rinn P.I.H.C. Final Youghal v Castlelyons 7.30pm
@ Pairc Uí Chaoímh S.H.C. QF Sarsfields v Killeagh 2.15pm ET
@ Pairc Uí Chaoímh S.H.C. QF Bishopstown v Midleton ET 4.00pm
@ Ballyhea I.H.C. SF Kanturk v Fermoy 4.00pm
@ Kilmurry J.F.C. St Finbarrs v Lyre ET 4.00pm
@ Adrigole, J.F.C. QF St Colums v Garnish 4.00pm ET
@ Newcestown, J.H.C. QF Grenagh v Dohenys 4.00pm ET
@ Kinsale U21 'B' H.C. SF Mayfield v Ballinascarthy 4.00pm
@ Buttevant, Division 3 Hurling League Final, Charleville v Kildorrery, 4.00pm (ET)
Sunday October 13th
@ Pairc Uí Chaoímh County S.F.C final Castlehaven v Nemo Rangers 3.45pm
@ Pairc Uí Chaoímh P.I.F.C. Final Clyda v Macroom 2.00pm
@ Passage U21 'A' H.C. QF Carrigaline v Blackrock ET 12.00pm
Friday October 18th
@ Dunmanway, Division 2 Football League Final: Naomh Abán v Clonakilty, 8pm (ET)
@ Páirc Uí Rinn, Division 3 Football League Final: Macroom v Glanworth, 8.00pm (ET)
Saturday October 19th
@ Cavan International Rules Ireland v Australia
@ Kanturk I.F.C.QF Ballydesmond v Grenagh 3.30pm ET Alt.26th
@ Pairc Uí Rinn, J.H.C. 'A' Semi-final Blackrock v Grenagh/Dohenys 7.45pm
@ Pairc Uí Rinn, U21 'B' Final Watergrasshill v Mayfield/Ballinascarthy 6.00pm
@ Buttevant J.H.C QF Duhallow v Newtownshandrum ET 3.00pm
@ Trabeg, Division 1 Football League (Kelleher Shield) Semi-Final: Nemo Rangers v St. Finbarr's, 3pm (ET)
@ Rosscarbery, Division 1 Football League (Kelleher Shield) Semi-Final: Carbery Rangers v Castlehaven, 3pm (ET)
@ Mourneabbey, Junior 'A' Hurling League Final, Freemount v Ballinhassig 4.45pm (ET)
Sunday October 20th
@ Pairc Uí Chaoímh S.H.C. SF Ballymartle v Sarsfields/Killeagh 2.00pm
@ Pairc Uí Chaoímh S.H.C. SF Bishopstown/Midleton v Na Piarsaigh 3.45pm
@ TBC J.F.C. 'A' Semi-final Garnish/St. Colums v Lyre/St Finbarrs
@ Dromina U21 'A' H.C. Duhallow v Avondhu, 4.00pm (B Murphy)
@ Páirc Uí Rinn, Rochestown Park Hotel Division 1 Hurling League Final, Bandon v Youghal 12 noon (ET) (C. Lyons)
@ Rathcormac, Rochestown Park Hotel Division 2 Hurling League Final, Fermoy v Castlelyons, 12 noon (ET) (M. Moynihan) Prov on Fermoy in IHC
Thursday October 24th
@ Pairc Uí Rinn, J.F.C. QF Imokilly v Belgooly ET (T O'Donovan)
Saturday October 26th
@ Croke Park International Rules Ireland v Australia
@ TBC I.F.C. Glanmire v Kanturk (D. Farrell)
@ TBC J.H.C 'A' Semi-final Imokilly v Newtownshandrum/Duhallow
@ Watergrasshill, Division 4 Football League Final: Ballinora v Fermoy, 3pm (ET) Provisional on Fermoy in IHC
@ Time & Venue TBC, Kelleher Shield Final
@ Time & Venue TBC, RedFM Senior Hurling League Quarter-Final, Courcey Rovers v Ballymartle ET Provisional on SHC
@ Time & Venue TBC, RedFM Senior Hurling League Quarter-Final, Newtownshandrum v Na Piarsaigh, ET Provisional on SHC
Sunday October 27th
@ Pairc Uí Chaoímh County S.H.C. Final 3.00pm Alt Sunday Nov 3rd
@ Pairc Uí Rinn I.H.C. Final Kanturk/Fermoy v Eire Og 1.45pm
@ Cork Venue Munster Club I.H.C. Cork v Waterford
Monday October 28th
@ Pairc Uí Rinn, J.F.C. 'A' Semi-final Mitchelstown v Belgooly/Imokilly
@ Knocknagree or Banteer I.F.C. SF Rockchapel v Ballydesmond/Grenagh Alt Nov 2nd
Saturday November 2nd
@ TBC I.F.C. Glanmire/Kanturk v Glanworth ET
@ TBC U21 'A' Hurling SF Newcestown v Carrigaline/Blackrock
@ TBC U21 'A' Hurling SF Duhallow/Avondhu v Imokilly
Sunday November 3rd
@ Pairc Uí Rinn J.F.C County Final
@ Pairc Uí Rinn J.H.C County Final Alt 10th
@ Kerry Venue Munster SF Club Championship Kerry v Cork
Sunday November 10th
@ Cork Munster Club S.H.C. Cork V Clare
@ Tipperary or Waterford Venue Munster Club I.F.C Tipperary/Waterford v Cork
@ TBC I.F.C. SF Glanmire/Kanturk/Glanworth v Aghabullogue
Sunday November 17th
@ Cork Venue Munster J.F.C SF Cork V Kerry
@ Waterford Venue, Munster J.H.C., Cork v Waterford. Prov.
@ Pairc Uí Rinn I.F.C County Final Rockchapel/Ballydesmond/Grenagh v Glanmire/Kanturk/Glanworth/Aghabullogue Alt Nov 10th