Midleton GAA Club News
01 October, 2013
Midleton Hurling & Football Notes
Junior B Hurling Championship
Midleton 2-14 Ballinacurra 2-15
Our Junior B hurlers exited this year's championship when they lost to Ballinacurra by a single point. This was the a second round tie for those who had lost their first round game. The game went ahead under lights in Rostellan on Thursday last. We were chasing the game for large periods and in the end came up just short. A big thank you to all the players and the management team of Gavin Power, Mick Tobin and Ger Lawton for their efforts this year. They have had a great run in this competition over the last number of years and have give the Club some great days out during that time.
All Ireland Hurling Final Replay
It was to be disappointment in the end for Cork Senior Hurlers on Saturday evening last after another memorable game. While we congratulate Clare on their win we must recognise the huge enjoyment and excitement this Cork team has given its supporters in 2013. The great efforts of the players and management team to get Cork to an All Ireland and to come up just short after the early season setback of relegation from the League must be acknowledged. Their great run also afforded a lot of our younger members an opportunity for some memorable days out be it in Limerick, Thurles or Croke Park. The Club would like to thank Conor, Luke, Patrick and Brian for their efforts this year.
For those who did not travel to Croke Park on Saturday evening the game was shown live in the Club. There was a good crowd in attendance and light refreshments were served. The Club would like to thank both Hurley's Super Valu and The Boston Chipper who once again sponsored the refreshments which were served on the day.
Ladies Football All Ireland
Congratulations to Orla Farmer from Midleton Ladies Gaelic Football Club who added to her All Ireland medal tally on Sunday last when the Cork Ladies finished the stronger to snatch victory over a gallant Monaghan side.
Junior A Hurling Championship
Our Junior A hurlers are in action in the East Cork quarter final this coming Friday night when we play St. Ita's in Killeagh at 8pm. Midleton were last in action on the 12th July when we overcame Erins Own to qualify for the quarter final. The other three quarter finals were concluded at the end of July. Now that the Cork senior hurlers have finished their campaign the games will all be run off quickly. The Junior management team have been endeavouring to play a number of challenge games to make sure they are ready for Friday evening.
Church Gate Collection
Midleton Hurling & Football Club held their annual Church Gate Collection this past weekend. The Club would like to thank all those who contributed to the collection for their generousity. Also a word of thanks to all those members who made themselves available to help out on the day.
Cork GAA Clubs Draw
The 22nd annual Cork GAA Clubs Draw was launched on Thursday September 19th at Áras Ráonaithe Nemo at 8.30pm. Over 250 representatives from clubs all over Cork attended.The Cork GAA Clubs' Draw plays an important role in the financing of Cork Clubs, the promotion and development of the county Coaching and Games Development structures and the County Board Grounds Development Fund.
A minimum €45 out of every €100 ticket sold is returned to the club of the purchaser. Clubs throughout Cork have benefitted by €18 million since the Draw began in 1992. These funds have been used for building development, all-weather pitch development, floodlight installation etc.
The draw fund also plays a huge role in funding the county's Coaching and Games Development Strategy. Each year €275,000 is spent on projects that are part of our Strategy Plan. These projects include Games Promotions, Developments Squads and grants to Under-Age and Schools and Third Level bodies.
The third strand to benefit from the Draw is the County Board's Grounds Development Funds. Ten per cent of the annual Draw profit is transferred to these funds. It is intended that the draw will play a major role in the raising of finance for the Pairc Uí Chaoímh re-development plan.
This year's draw has a fantastic range of 435 prizes. There are nine cars, 12 luxury holidays, cash prizes, a fantastic ranges of Apple products, dozens of holiday mini-breaks, travel vouchers, hundreds of shopping vouchers, plus the usual range of promoters and paid up members prizes available to be won by subscribers.
Draw Management Committee are grateful to motor dealers and businesses throughout Cork who have come on board to support the GAA Clubs Draw.
The Cork GAA Clubs Draw can be entered by our Club co ordinator Steve Sheehan @ 085/1741460 or any Club officer.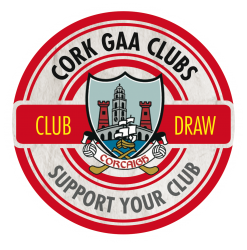 Lotto
The Jackpot was €1,400 on Friday night last, 27th. The numbers drawn were 1, 6, 23, 27. There was no winner of the Jackpot. The lucky dip winners of €40 were Ted Murphy, Kieren O'Shea, Denis Cashman, Helen Cannon and Ellen O' Driscoll. Next weeks jackpot will be €1,600. Thank you for your continued support.
BINGO for all every Friday night in the GAA Pavilion from 8pm, guaranteed Jackpot of 1,000 euro!!

Juvenile Notes

Davy Hogan Street Leagues

Cork = A Kilkenny = B Limerick = C
1 Daniel Cagney Alex Quirke Darragh Crowley
2 Ben Cummins Shane Newcombe Oran Ryan
3 Charlie Walsh Aaron Coughlan Bradley Savage
4 Christopher Leahy James Coffey Brion Sanderson
5 Conor Fitzgerald Cian Keohane Conor Hayes
6 Daniel o Donovan Evan Mc Carthy Kyle Cullinane
7 Darragh Ryan Darragh Codd Rian Cahill
8 Rory Hartnett Adam Fay Niall Corcoran
9 Phelim Mc Gann Roan Spillane Conor Mc Carthy
10 James Lambe James Murphy Destiny
11 Sam Judd Billy Foley Josh Mulcahy
12 Craig Collins Sean Hennessy Rian Barry

Waterford = D Clare = E Tipperary = F
1 Patrick Kane Patrick Kelly Paul Connaughton
2 Kevin o Brien Thomas Mc Grath David Connolly
3 Jack Fitzgerald Daithi Mc Gann Jack Mc Kay
4 Oliver Murray Liam Kelly Gavin Reddy
5 Luke Deane Kane Rollands Alex Pranger
6 Craig Murray Daire Mooney Mark o Connor
7 Trevor Shine Shay Bohan Nicky Hayes
8 Darragh Mc Carthy Ciarbhac Smith Cian Murray
9 James o Sullivan Ronan Gies Neil Fitzgerald
10 Ben O Neill Adam Mc Carthy Fintan Greenwood
11 Evan Kelly Shadrach Liam Mc Grath
12 Adam Mc Carthy Bradley Hickey Ben Lowen

Goals of the Street Leagues
• For as many children as possible to participate and enjoy the game of hurling.
• To provide a fun and fair environment while competing.
• To help children to have a better understanding of the game.
• To encourage the children to play hurling and also make new friends while doing so.
• To wear the Midleton Black and White Jersey and take pride in wearing it.

Results Round 1 Sat 21st September 13
GAMES TEAMS GP GF PF GA PA pts
1 Waterford 7-5 v Cork 4-7 Limerick 2 10 15 9 3 4
2 Kilkenny 2-4 v Clare 1-2 Kilkenny 2 8 12 6 4 4
3 Tipperary 4-0 v Limerick 7-4 Waterford 2 12 8 7 18 2
4 Limerick 3-11 v Waterford 5-3 Cork 2 10 12 10 8 2
5 Kilkenny 6-8 v Tipperary 5-2 Tipperary 2 9 2 12 6 0
6 Cork 6-5 v Clare 3-3 Clare 2 4 5 8 9 0
Results Round 2 Sat 05th October 13
GAMES TEAMS GP GF PF GA PA pts
1 Cork v Kilkenny 4
2 Limerick v Clare 4
3 Tipperary v Waterford 4
4 Cork v Limerick 4
5 Kilkenny v Waterford 4
6 Clare v Tipperary 4
Results Round 3 and Final Day Sat 12th October 13
GAMES TEAMS GP GF PF GA PA pts
1 Cork v Tipperary 5
2 Kilkenny v Limerick 5
3 Clare v Waterford 5
Final

• For Fe10 / Fe11 player's registered to play with Midleton.
• League Games are 15 min's a side with 5 min's for half time. Teams are to be divided equally Six Fe11s and Six Fe10s.
• Each team plays 5 league games with the top two qualifying for the final.
• Scores to be kept from every game and updated on league table.
• Two league points are to be awarded for a win and 1pt for a draw.
• If teams are level after 5 league games the team with the highest scoring. difference over the games goes through to the final.
• If scoring difference is the same it will go to the team with the most goals score.
• Final game will be Twenty Min's a side with 5 min for half time.

The Street leagues final will take place on October the 12th,From now on it will be called the Davy Hogan Street Leagues Cup.This competition will be for FE10s and FE11s annually.
James O Brien Cup
The annual James O Brien Cup will be on October the 19th,This will be 15 aside for FE12s,the FE10s will play at the CBS.The Cup will be for the winners of the FE12 competition.
Bag Pack at Tesco
The TESCO BAG PACK is on SATURDAY NOVEMBER the 23rd,we will be looking for players from the FE12,FE13 and FE14 groups to help out on the day.Last year each group done a two hour slot each.

Christmas Social/Draw
The annual JUVENILE CHRISTMAS social night is on DECEMBER 14th and the annual CHRISTMAS Draw will take place on the same night.
Club Gear
The Club shop is open each Saturday morning from 11am to 12, a full selection of gear is available. Anyone looking for presents can also buy gift vouchers from the club shop. Full price lists are available on the club website www.midletongaa.com
Social Media
Keep up to date with all of the Club's activity's by following us on our Website, Facebook and Twitter @MidletonGaa