Midleton GAA Club News
15 September, 2013
Midleton Hurling & Football Notes
Senior Hurling
Our Senior Hurling Championship quarter final game against either Carrigtwohill or Bishopstown will now be played on Saturday the 12th of October in Pairc Ui Chaoimh @ 4.15pm. With only one game left to play against Glen Rovers in the Red FM Hurling League we currently top the table.

Junior Hurling
Our Junior 2 hurlers played two league games in the past week, on Friday at home they defeated St Ita's by 3-17 v 1-09 and Sunday morning at home to Dungourney they also won on a score of 0-15 v 0-07.
Grade A Litter status for Midleton GAA Club
In the latest litter league survey ten sites in the town were graded by An Taisce inspectors and Midleton GAA Club were given a Grade A. This achievement was helped in no small way by the great work being done by our Fas staff under the supervision of Denis Mc Sweeney and Alan Donegan, well done to all and keep up the good work.
Gaa Golf Society
Last Saturday in bright sunshine a fine crowd turned out for Conor O' Briens Captain's prize which took place at East Cork Golf Club. The prize winners were as follows; Winner Bernard Cashman, 2nd John Droog, 3rd Michael Morrison & 4th Willie Ring, Front 9 Anthony Wall and Back 9 Liam Walsh.

BINGO for all every Friday night in the GAA Pavilion from 8pm, guaranteed Jackpot of 1,000 euro!!
Dancing next week to Sam Doherty will take place in Midleton Park Hotel as there is a Disco in the GAA Club.

Lotto, our Jackpot which was €3,400 last week was won by our very loyal supporter Michael O' Brien from the Rocky Rd, the numbers were 3,13,26 &28, next week's Jackpot is €1,200.


Juvenile Notes

Junior Infants
Registration for this year's Junior Infants only will take place on Sunday the 12th of October in the GAA Club, time and details to follow soon.
James O Brien & Davy Hogan Blitz's
Our annual hurling Blitz's will take place on Saturday the 19th of October, time and more details to follow soon.

Fe 6
Our young Magpies travelled to Riverstown last Saturday to play Sars and Ballygarvan in mini hurling games, we had over 40 boys who all played and really enjoyed the occasion. Thanks to the parents for their support and to Sars for inviting us to this well run event.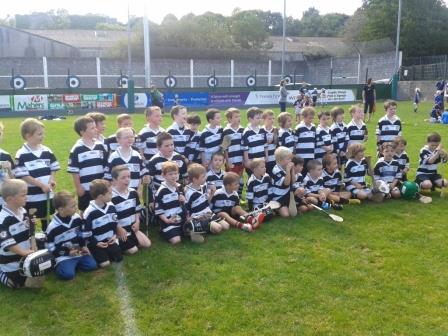 Fe8/9
Our hurlers travelled to the sunny south east of Roanmore in Waterford last Saturday to participate in the annual Ground Hurling Blitz. This was the 18th year of this fabulous Blitz, run in the main by Liam Cheasty. This year a record 125 teams participated throughout the day.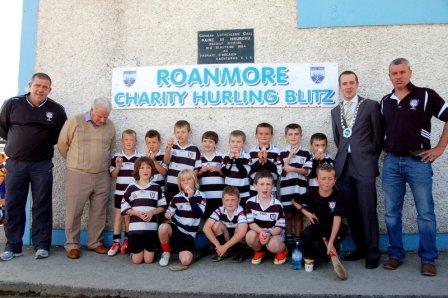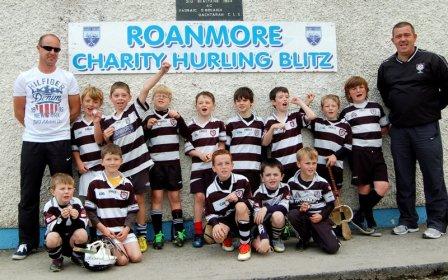 Fe10/11
Last Saturday our Fe10 hurlers participated in a very well-run Blitz in St Vincents GAA, next Saturday in the GAA Club our Fe10/11's will play in the first round of our Street League hurling games which will commence at 11.15am.

Fe12
Our Fe 12 hurlers along with some help from our Fe 11 club mates took to the field in Caherlag for the Colman Dillon Fe 12 hurling tournament on Saturday last.Our opponents would be Liam Mellows (Galway), Cobh and Kilmacud Crokes (Dublin). First up were the Galway team and after a slow enough start we took control and ultimately came away winning by 3-03 to 2-01.Next were our near neighbours Cobh. This turned out to be a lacklustre performance by the magpies and resulted in a loss to Cobh on a scoreline of 0-04 to 0-03.
Our lads went into the game against Dublin team Kilmacud Crokes knowing that a win was required to progress to a final. To give the lads their due they upped their game hugely and from the early stages showed more of a will to win. In a close and hard fought game Kilmacud Crokes emerged winners by a three point margin.
Well done to the lads for some great hurling and we'll see you all back at training.
Ethan Daly gave his all and left with a hand injury. We wish him a speedy recovery.
Thanks go to the Fe 11 players who helped us out on the day.
Midleton GAA Juvenile Club would like to express their thanks to the Erins Own Club and our friend Colman Dillon for a wonderfully organised tournament. From the moment we arrived to see the Midleton flag flying it was to be a great day. The hot food provided to the players went down very well and the stewards and organising committee made sure it all ran smoothly.
Fe13
On last Saturday 7th Sept, Midleton Fe 13 Hurlers played in the Kilmacud Crokes All Ireland "Sevens" competition. This was an Eleven - a - Side competition with each game being two 10 minutes halves. There were two groups of four teams in each Group: Kilmacud Crokes (Dublin), Clarenbridge (Galway), Kilconerin (Galway) and Midleton made up the first Group, while the other Group comprised of: Whitehall (Dublin), Erins Own (Kilkenny), Sarsfields (Cork) and Nass (Kildare). In our opening game again Kilmacud Crokes, we opened strongly and hurled hard and fast against a very big physical skilful team. It was touch and go all the way and eventually a draw at 1-5 a piece was a fair result in a game that Midleton could have won. The next game was against Clarenbridge (winners in 2012). They turned out to be a very skilful and determined team. The game was in balance up to the very last minute and ended up Midleton 1-5: Clarenbridge 2-2. So after two hard games we had two draws. In the next game against Kilconerin, Midleton had the upper hand from the off and ended up easy winners on a scoreline of 5-3 to 1-3. In the final game of this group Kilmacud beat Clarenbridge and thus we qualified for the Semi Final ( without losing a game) in second place behind Kilmacud. In the Semi Final we faced the Winners of Group 2, Whitehall who had beaten Sars, Naas and Erins Own to top their Group with Naas as runners up. Whitehall proved to be a big powerful team who were physically imposing with lists of speed. Yet Midleton hurled fast and strong and with a never say die attitude ended up winners at 3-1 to 1-3 to stun the Whitehall mentors. In the other Semi Final Naas overcame Kilmacud to win through to the final. The final was played on Kilmacud's main pitch in Glenalbyn in front of a huge crowd at 16.15 hrs. Our lads had been on the go since 05.30 or so that morning travelling and playing games, with little rest time in between. In the final the long day and hard matches caught up with us and after all the lads "emptied the tank" we came up short on a scoreline of Naas 1-3: Midleton 0-2. Kilmacud were great hosts and this was a thoroughly competition that pitted the Magpies up against some of the best teams at this grade in other counties.
Our Team was represented by: Tommy O Connell (c), Ross Shanahan, Fergus Wade, Alan Power, Ciaran Evans, Kian Murray, Coleman Quinn, Cian Farmer, Ronan Lynch, Sean O Sullivan, Tunde Olotu Jubril, Ross O Regan, Mark Daly, Evan Rowlands, Cormac O Brien & Jake Shanahan.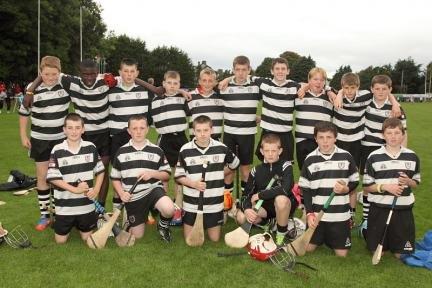 Fe 14
Our hurlers took on Shandrum in the semi-final in Mallow on Sunday afternoon last and after an exhilarating hour the sides were deadlocked. After ex time despite a herculean effort we lost out by a single score 4-13 v 3-13. Well done to the all the players, selectors and supporters for their great work throughput the year.
Fe15
In "preparation" for their next game some of our players decided on an unusual venture that was to participate in the Evening Echo "Womens" Mini Marathon on Sunday last.
Dressed up in their sisters and wives finery the lads covered the distance in aid of the East Cork Mentally Handicapped. Well done to Martin Mc Conville, Paul O Meara, Sean O Meara, Ryan Mc Conville, Jordan Roche, David Mulcahy, Kevin Mulcahy, Ciaran Evans, Adam Daly, Kevin Daly and Conor O Neill.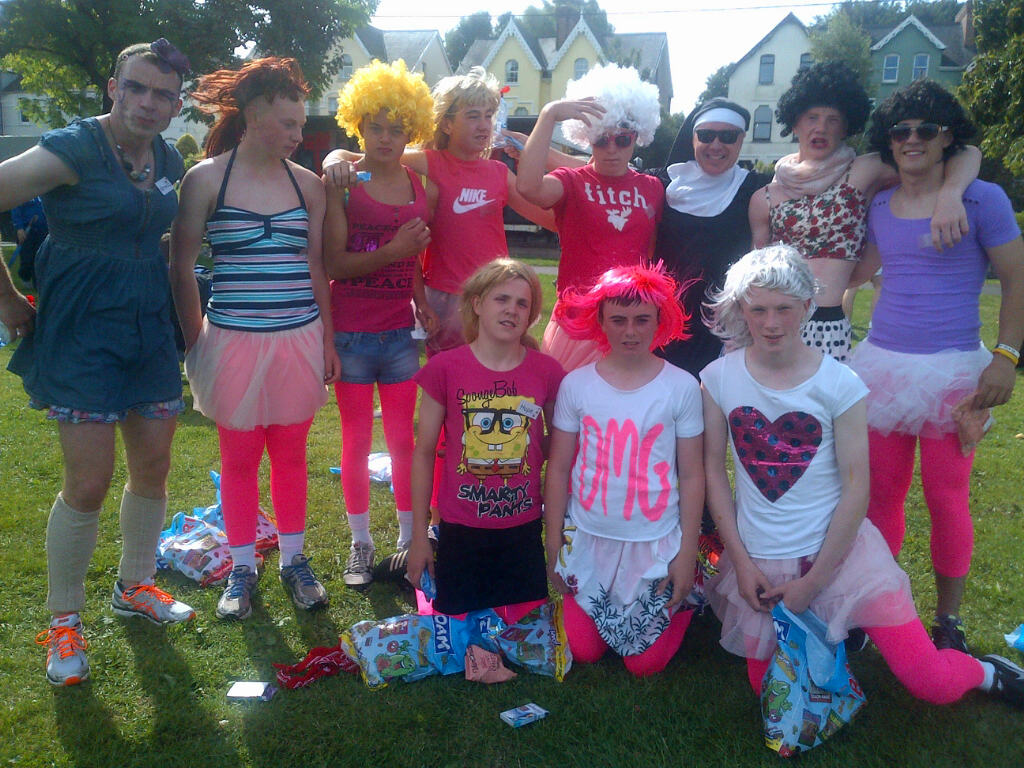 Club Gear
The Club shop is open each Saturday morning from 11am to 12, a full selection of gear is available including new Cork and Midleton club flags. Anyone looking for presents can also buy gift vouchers from the club shop. Full price lists are available on the club website www.midletongaa.com
Social Media
Keep up to date with all of the Club's activity's by following us on our Website, Facebook and Twitter.